This page contains affiliate links. Please read our disclosure for more info.
Lecce is one of the best places in Puglia to eat as there's a wide range of quality restaurants from simple takeaways to traditional trattorias serving delicious regional cuisine.
It's a compact city and all our recommended restaurants are easily accessible on foot, so you don't have to worry about driving after sampling the local wine.
We spent a month renting an apartment in the historic centre and these are the best Lecce restaurants we discovered.
Contents
Italy Travel Restrictions in 2022
As of 1 May 2022, a Green Pass (showing proof of vaccination or a negative test) is no longer required in Italy.
Masks are also not required.
I still highly recommend purchasing travel insurance that covers COVID-19 medical expenses. SafetyWing Insurance is an excellent budget option, especially for travellers on longer trips and families (as children under 10 are free). It's available worldwide.
Or if you need cancellation cover, Heymondo travel insurance is another great option that we've used for our Italy trip.
Video: Food Etiquette in Italy
Traditional Lecce Food to Try
Each region of Italy has a unique cuisine with dishes that you won't find elsewhere in the country.
Puglia is one of our favourite Italian regions for eating—the food is simple, fresh and vegetarian-friendly.
The Salento, the area of far south Puglia where Lecce is located, has even more specific food traditions. Here are some typical dishes to look out for:
Caffè Leccese (or Caffè in Ghiaccio) – A refreshing coffee consisting of an espresso mixed with almond milk (more like syrup) and ice cubes. I'm not a coffee drinker and even I like this.
Pasticiotto – A pastry stuffed with cream that's often eaten for breakfast. Unfortunately, the pastry is made with lard so we couldn't try it.
Rustico Leccese – Puff pastry stuffed with mozzarella, tomato and béchamel. It's best warm and melty.
Frisa – A hard bread often topped with tomatoes as a bruschetta.
Pizzo Leccese – A bread roll made with tomatoes, olives, onions and a little chilli.
Ciceri e Tria – Pasta (some of which is fried) and chickpeas.
Orecchiette – "Little ears", the classic Puglian pasta shape. Usually served with tomato sauce or cima di rape (turnip top greens).
Sagne 'ncannulate – Long twisty pasta strands often served with tomato sauce and cacioricotta cheese.
Fave e Cicoria – Mashed fava beans with chicory greens.
And of course, don't miss the local Salento wines like Negroamaro and Primitivo. See our Puglia food guide for more dishes to try in the region.
Bear in mind that restaurants in Italy have set meal times and in the south eating times are a little later.
Lecce restaurants are usually open for lunch from 12.30pm or 1 pm until 2–3pm and for dinner from 7.30pm or 8 pm until 10 or 11 pm.
It's often difficult to figure out exact opening hours—restaurant Facebook pages are usually the best place to look. I have noted opening times below that are outside the norm.
If you want to eat outside the usual meal times, see the bars and cheap eats sections below as they usually have longer opening hours.
Lecce Restaurants
1) Osteria da Angiulino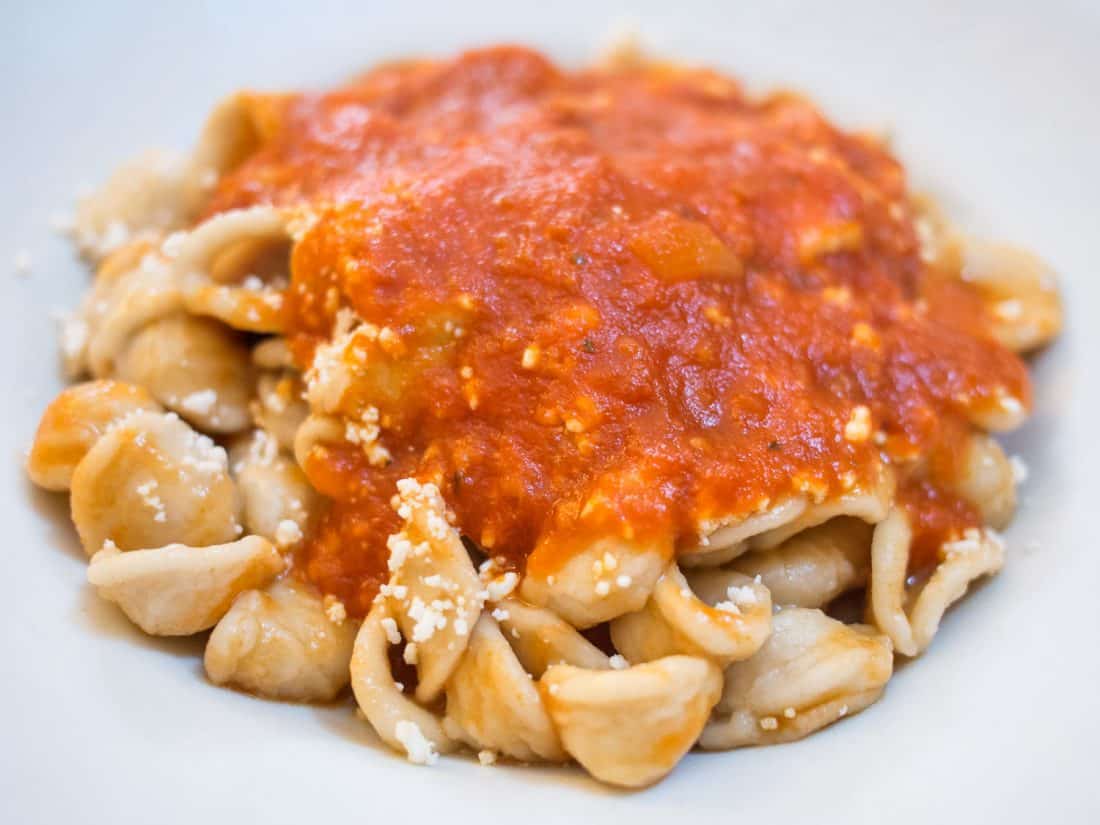 Osteria da Angiulino is a simple, traditional restaurant that's always busy and is excellent value.
We started with the antipasto della casa (which is always a good option in Puglia), a large plate of flavourful marinated vegetables—peppers, courgettes, aubergine, mushrooms, and beetroot.
For mains we had the classic orecchiette with tomato and cacioricotta cheese—simple but delicious—and one of the specials of the day—a tasty dish of baked vegetables with cheese and breadcrumbs that was so good Simon was tempted to order seconds.
With pasta dishes at just €6 and half a litre of house wine for €2, it was our cheapest restaurant meal in Lecce.
Details: Via Principi di Savoia, 24. Closed Sundays. Officially it opens at 8 pm but it was already busy when we arrived then. Get there earlier or ideally book.
Website: TripAdvisor listing.
2) Alle Due Corti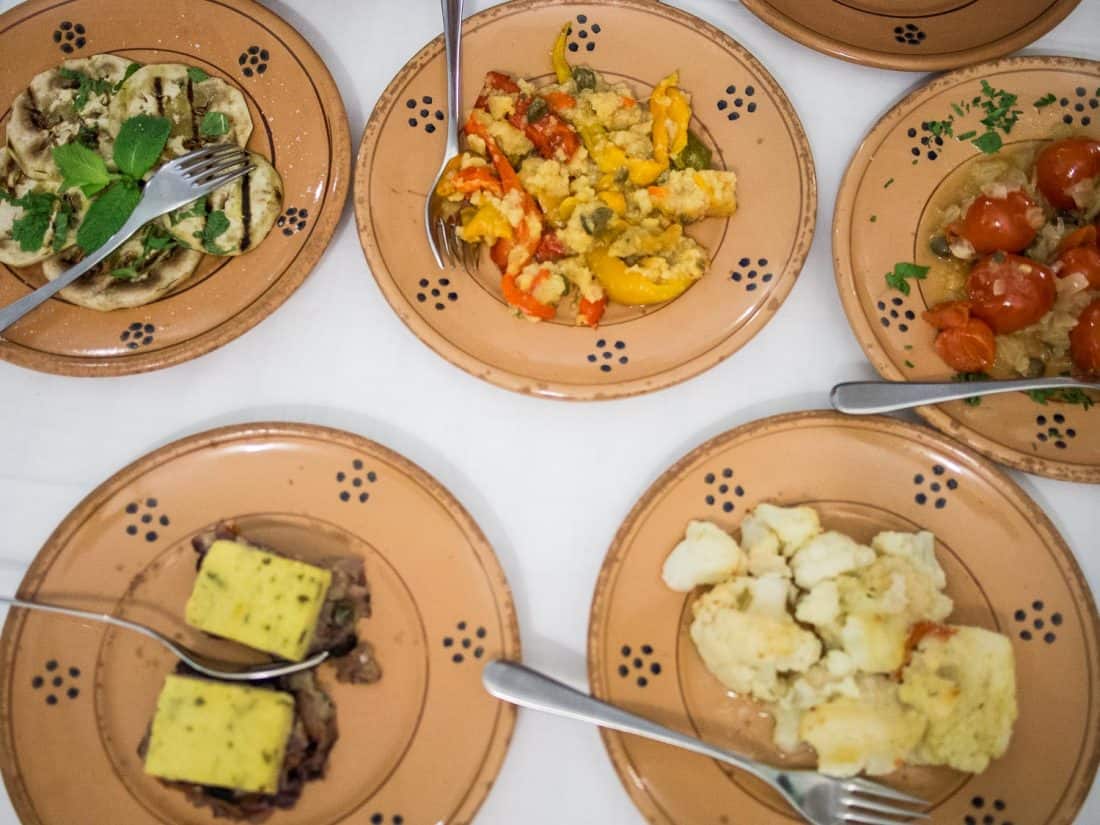 Alle Due Corti is another great restaurant in Lecce to try the simple regional cuisine.
We loved the large vegetarian antipasti plate that included some local dishes along with the vegetables like pitta di patate which they translated as mashed potato bread.
There's a good number of vegetarian dishes on the menu. We enjoyed the classic Ciceri e Tria, a comforting dish of long thick pasta strands with chickpeas and black pepper. Some of the pasta strands are fried for heartiness—a sign of the region's poor history when it had to innovate to make up for the lack of meat.
Unusually for Italy, Alle Due Corti has a vegetarian secondo (usually the meat course) of aubergine balls in tomato sauce.
Details: Corte dei Giugni, 1. Closed Sundays.
Website: Alle Due Corti.
3) La Cucina di Mamma Elvira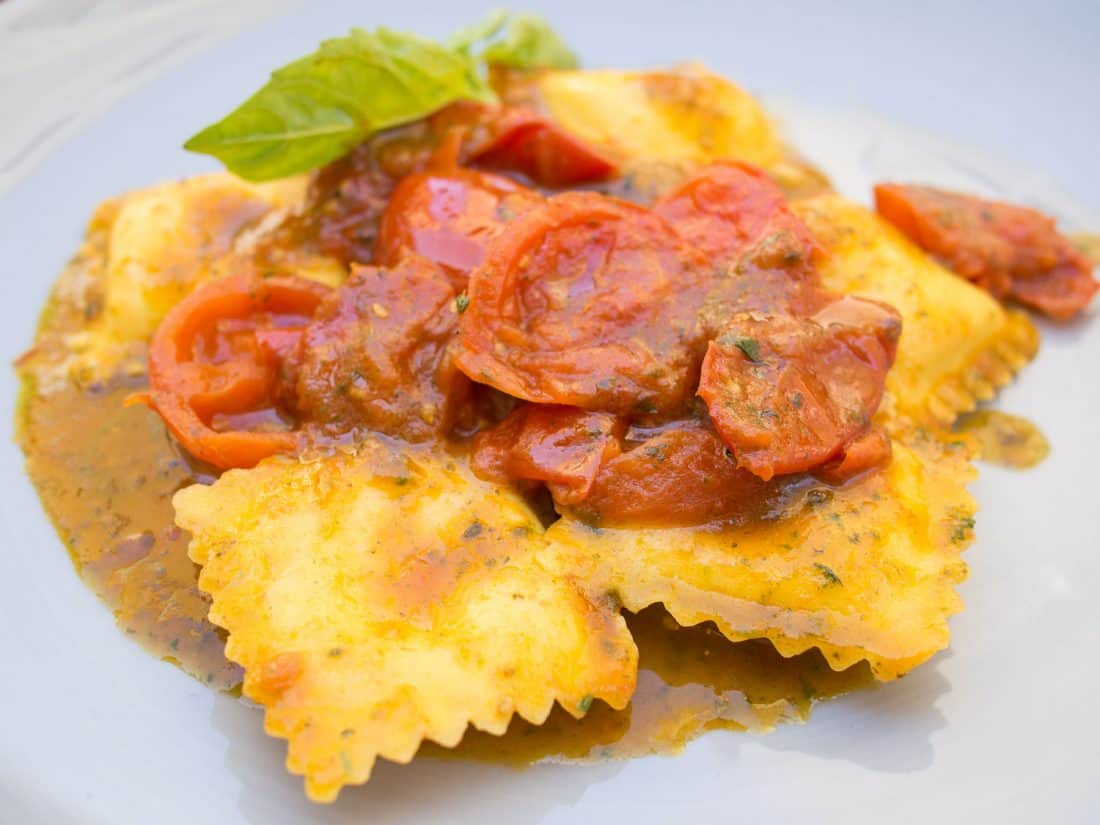 Enoteca Mamma Elvira (see below) is our favourite wine bar in Lecce and La Cucina di Mamma Elvira is their restaurant.
It's ideal if you want a heartier meal but still want to enjoy their selection of excellent wine by the glass (from €5). The staff speaks English and is helpful in choosing the best wine for you.
The restaurant describes itself as a contemporary osteria and it's more modern and stylish than the simple places above.
They serve modernised versions of classic local dishes as well as some interesting options you don't find on other menus in Lecce.
We started with a wonderful bruschetta of semi-cooked tomatoes and pecorino cheese.
For mains we shared the excellent burrata ravioli in a cherry tomato sauce and the traditional fave e cicoria, which was beautifully presented (see top photo). The fruits of the forest cheesecake served in a glass was also delicious.
Details: Via Ludovico Maremonti, 33. Closed Tuesdays. Bookings recommended for dinner.
Website: Mamma Elvira.
4) Osteria Degli Spiriti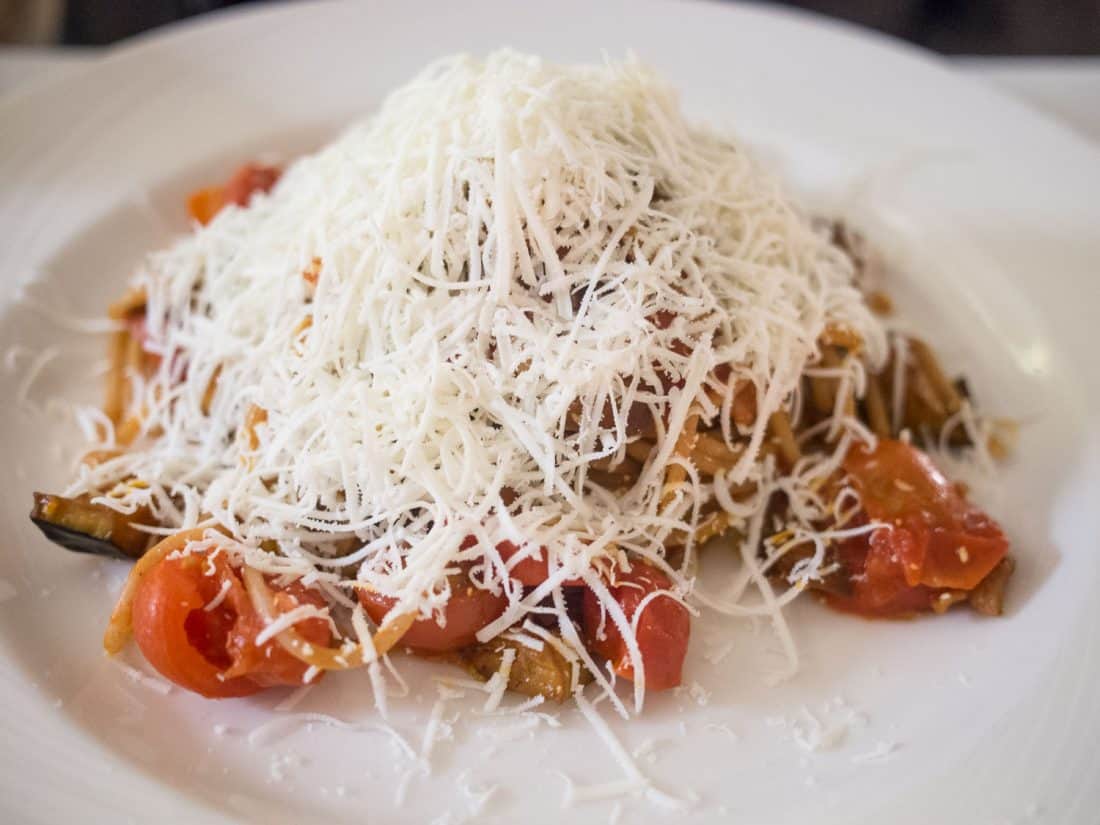 Osteria degli Spiriti is another upmarket Lecce restaurant that serves the classics along with some more unusual dishes.
We highly recommend the €20 vegetarian antipasto platter for two people. The dishes just kept on coming—mixed vegetable rice, creamy burrata, cheese souffle, zucchini and mushroom tart, sweet and sour aubergine. All served with their excellent bread.
It was a lot of food and we probably could have shared one pasta dish as their portions are generous. The ciceri e tria wasn't my favourite version, but we enjoyed the farro spaghetti with tomatoes, aubergine and ricotta cheese.
Details: Via Cesare Battisti, 4 (just outside the centre). Closed Sunday evening and Mondays. Bookings recommended especially on weekends.
Website: Osteria degli Spiriti.
5) Dall'Antiquario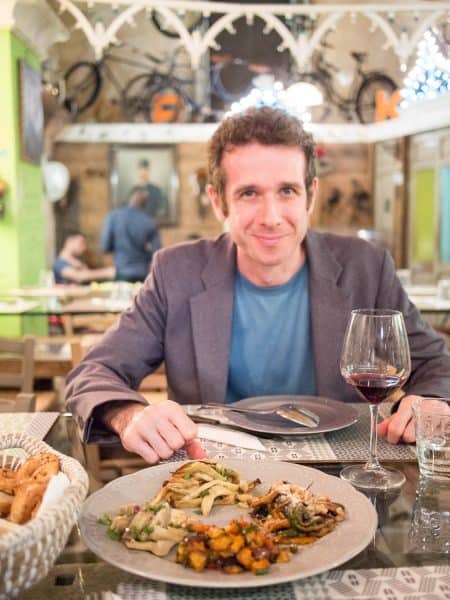 We didn't know what to make of this quirky place at first and almost walked out. It feels more like a bar than a restaurant with English pop music, bikes hung on the walls, and a young diverse staff (one with an impressive hipster moustache).
We didn't have a reservation so we were seated on high stools at a large shared table which wasn't the comfortable and intimate atmosphere we were looking for.
I'm so glad we didn't leave, though. Despite the bar vibe, the menu is traditional and great for vegetarians.
We had an excellent mixed vegetable plate, which isn't on the menu but includes four of the vegetable antipasti dishes for €10 including a very good caponata. The melanzana parmigiana was also delicious and the ciceri e tria was my favourite in Lecce.
Details: Via Ludovico Maremonti, 3 on Piazzetta Santa Chiara.
Website: Dall'Antiquario.
6) Trattoria Le Zie – Cucina Casareccia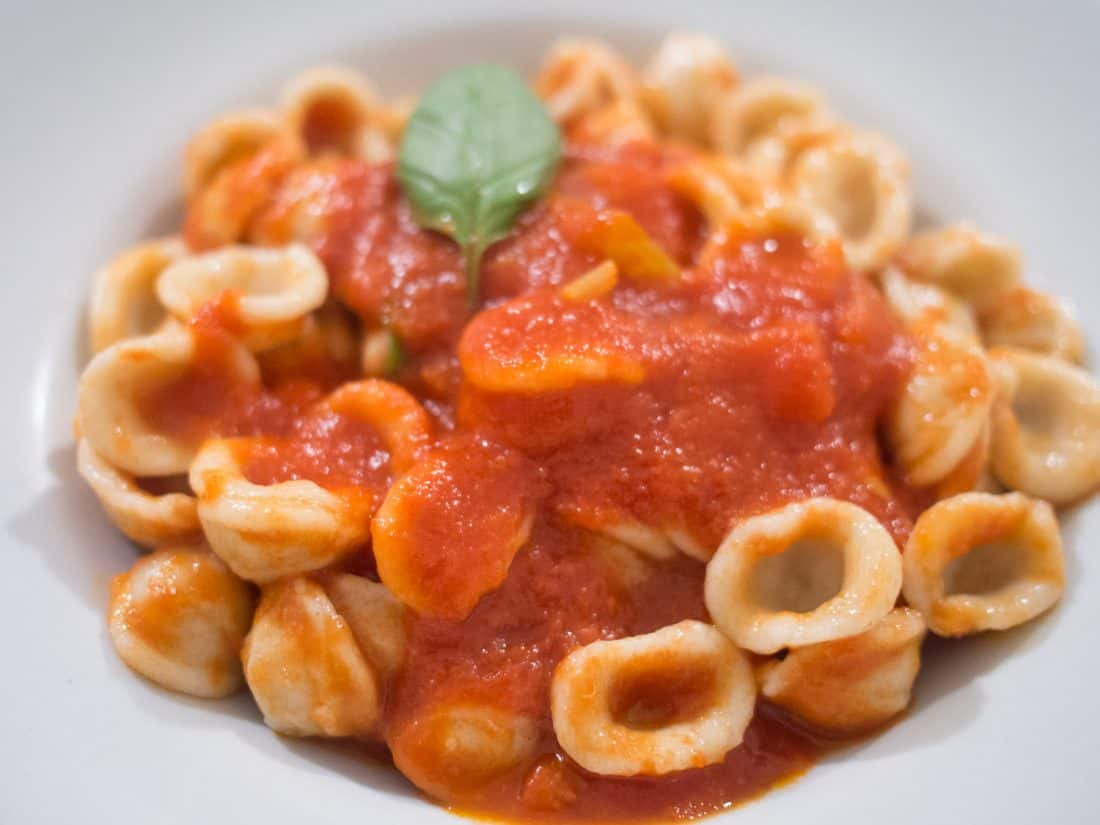 Trattoria Le Zie feels a bit like eating in someone's house—you have to ring the doorbell to get in and it has an informal vibe with the ladies rushing back and forth from the kitchen. It's not a secret any more, though, and it was full of foreigners.
We enjoyed the vegetarian house antipasti of cannellini beans, vegetable tart, potato, olive and tomato salad, and pittule fried dough balls. But we didn't find the mains of ciceri e tria and orecchiette with tomato to be particularly special.
Although we enjoyed our meal, it felt a bit rushed and I recommend Da Angiulino or Alle Due Corti instead for a traditional meal.
Details: Via Colonnello Archimede Costadura, 19. Just outside the centre. Closed Mondays. Bookings essential.
Website: Tripadvisor listing.
Lecce Bars
Bars in Italy aren't just for drinking alcohol. They are often open from early morning for coffee and pastries and are family-friendly.
As well as being the place to head for breakfast, afternoon snack, or aperitivo (pre-dinner drink), bars are great for a light meal (sometimes you just crave a salad after days of pasta) or an early dinner (some bars are open throughout the afternoon or at least open earlier than restaurants).
7) Caffe Alvino
Caffe Alvino is a Lecce institution. It has outdoor seating on the main piazza so it's perfect for watching Lecce life at any time of day.
They have a wide range of pastries and cakes as well as savoury snacks like Rustico Leccese.
We were disappointed that our Spritz didn't come with free aperitivo snacks (as is common elsewhere in Italy), but we realised that free snacks are rare in central Lecce—you have to pay a few euros and order them separately.
Details: Piazza Sant'Oronzo, 30. Open all day from 7 am until late.
8) Enoteca Mamma Elvira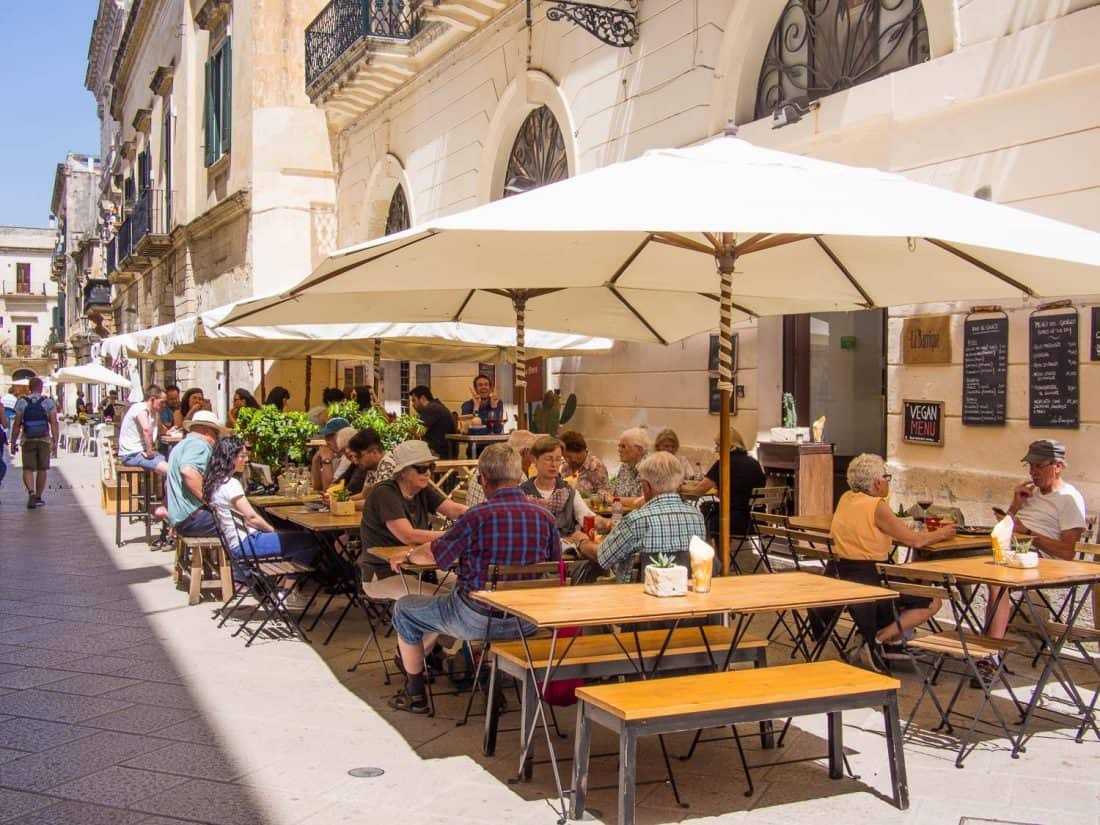 Our favourite wine bar in Lecce. Enoteca Mamma Elvira has outdoor seating on the pretty wine bar street just past Basilica di Santa Croce and is ideal for lunch, aperitivo or a light dinner.
It's the only place in town with a long list of wines by the glass (most about €5) which you can taste before you commit. We worked our way through the rosé ranging from pale pink to bright purple and all were excellent—I loved the refreshing Zimara.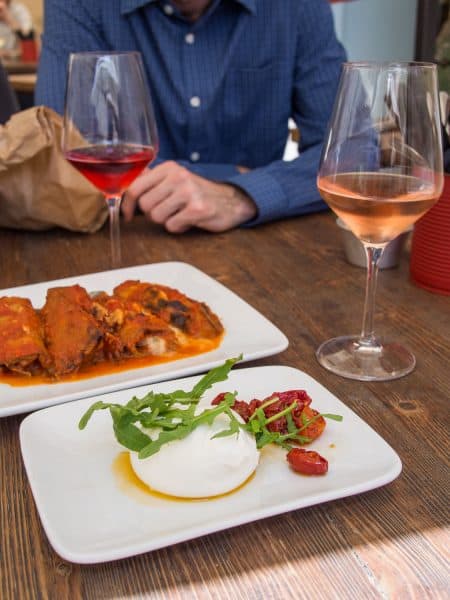 The food is also very good and it's best to share like tapas. There aren't a huge number of vegetarian options but there's enough for a meal.
The creamy burratina was the best we had in Puglia and paired perfectly with semi-dried tomatoes, and we also enjoyed the tomato crostone and involtini di melanzane—rolls of aubergine, cheese and tomato sauce.
Details: Via Umberto I, 19. Open all afternoon/evening from 12.15pm until late.
Website: Mamma Elvira.
Lecce Cheap Eats
There are plenty of options in Lecce for quick, inexpensive meals (it is a University town after all).
These places are set up for takeaway or have a few casual seats. If you want a cheap restaurant meal, we spent under €30 for two people at Osteria Da Angiulino (see above) for two courses each, wine, water and coffee.
9) Pizza & Co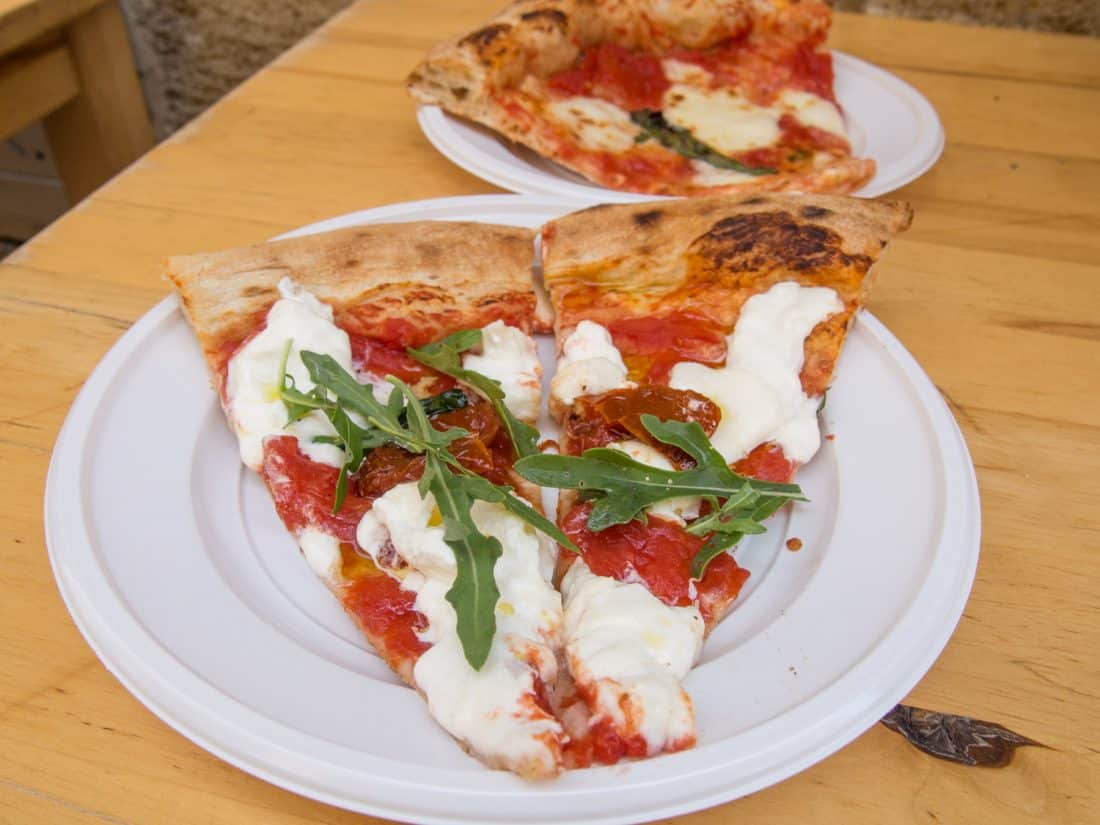 Pizza & Co is the place we ate at most during our month in Lecce—their pizza is some of the best we've had in all of Italy.
They serve pizza by the slice, but unusually it's not the typical thick crust squares cut into chunks. Instead, they make massive round Neapolitan style pizzas and sell big slices.
You can order what's already out on the counter or choose from the menu and they'll cook a slice to order. You can also order a whole pizza and get two slices free (€12 for eight big slices of Margherita).
Our favourites were the classic Margherita (€2), the Greek (€3.50) with feta and olives, and Burrata (€3.50) which they made for us with sundried tomato and rocket instead of meat.
There are a couple of seats inside or on the street.
Details: Via Giuseppe Libertini, 39. From 7pm–11.30pm. Closed Mondays. Cash only.
Website: Facebook page.
10) Come Vuoi Pane
We were also regulars for lunch at Come Vuoi Pane on the main square where they make excellent sandwiches to order.
They have forms in a number of languages where you tick the boxes of the ingredients you want. There's a huge variety of grilled and raw vegetables, cheeses, spreads, and meats plus white, wholemeal and six grain (our favourite) baguettes. A vegetarian sandwich with four ingredients is €4.
Details: Piazza Sant'Oronzo, 34. Open all day 10 am until late.
Website: Come Vuoi.
11) Piadina Salentina
Another cheap option on the main square is this piadina (flatbread) takeaway. You can choose meat, seitan, vegetables or cheese and it's only €2 for a piadina with two vegetarian ingredients (€0.50 for extra toppings).
If it's busy you'll have to wait for ages, though, and we didn't find our veggie option very flavourful.
Details: Via Vito Fazzi, 2 (Piazza Sant'Oronzo). Open all day 12 pm until midnight.
Website: Facebook page.
12) Il Pizzicotto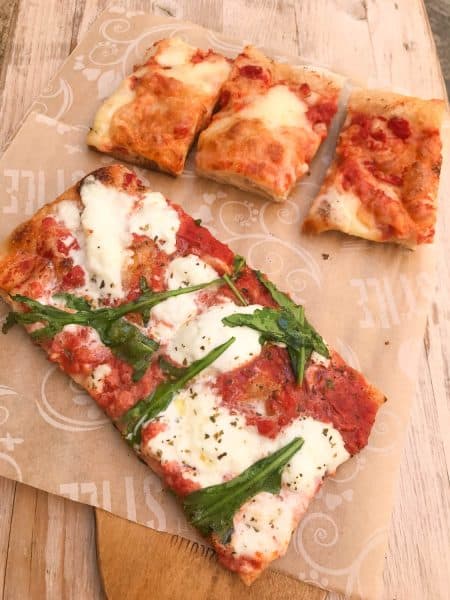 As Pizza & Co isn't open at lunchtime, Il Pizzicotto is a good option for a quick slice of pizza to take away (or sit on a bench outside).
They serve the more typical square pizza slices—choose how much you want and you'll pay by weight (a large slice is around €2–3).
Details: Via degli Ammirati, 14/D. 12pm–3pm and 6.30pm–11.30pm. Closed Sunday lunchtime.
Website: Il Pizzicotto.
13) Ciro Il Pizzaiolo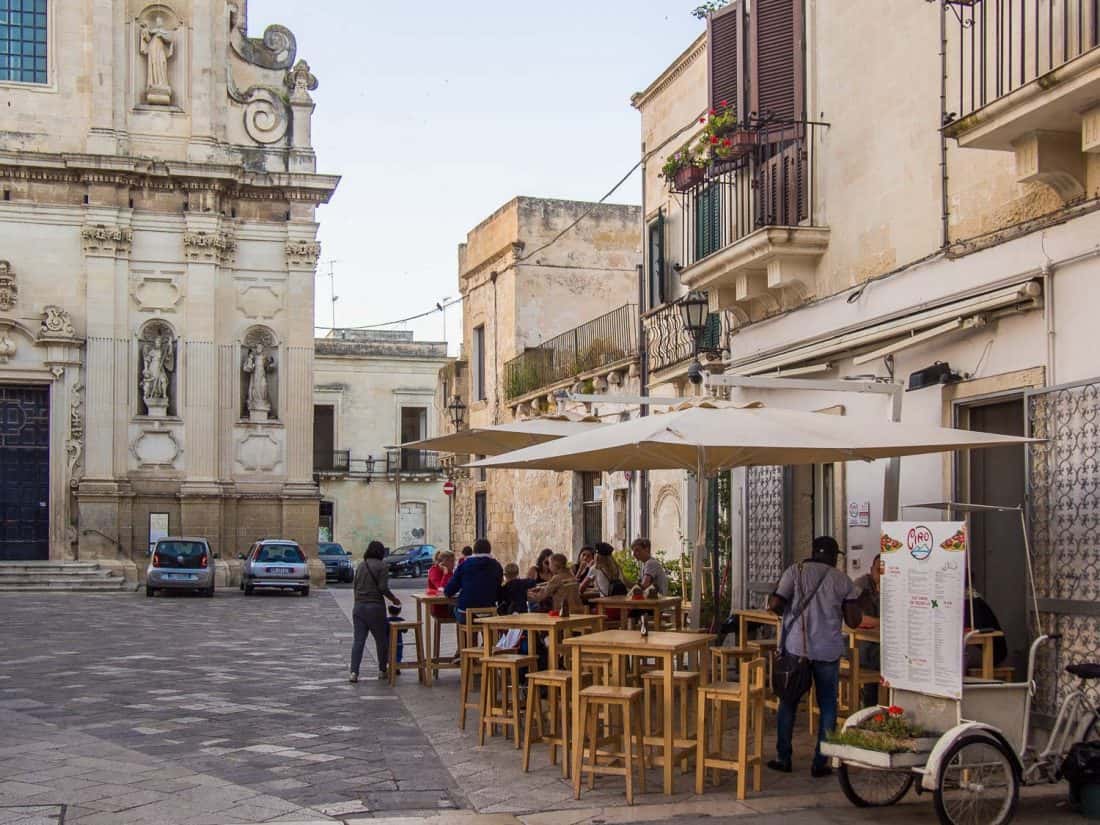 If you'd prefer a sit-down pizzeria, Ciro has outdoor seating on a cute little piazza with a view of a church.
It's a simple place and we preferred Pizza & Co's pizza, but at €4 for a large round Margherita (€6 for a Vegetarian) and no cover charge, it's great value.
Details: Via Principe di Savoia, 18. Open 7 pm – midnight. Closed Wednesdays.
Website: Tripadvisor listing.
14) Prendici Gusto
Prendici Gusto is a takeaway with a few tables run by a friendly couple. You can choose from the counter of premade dishes including vegetables, tarts, melanzana parmigiana, pasta salads, and meat or they can make sandwiches or pasta to order. Everything is inexpensive (around €3–4).
Details: Via Euippa, 1/C. Open 12–3pm and 7–10pm. Closed Monday and Wednesday evenings.
Website: Facebook page.
15) Zenzero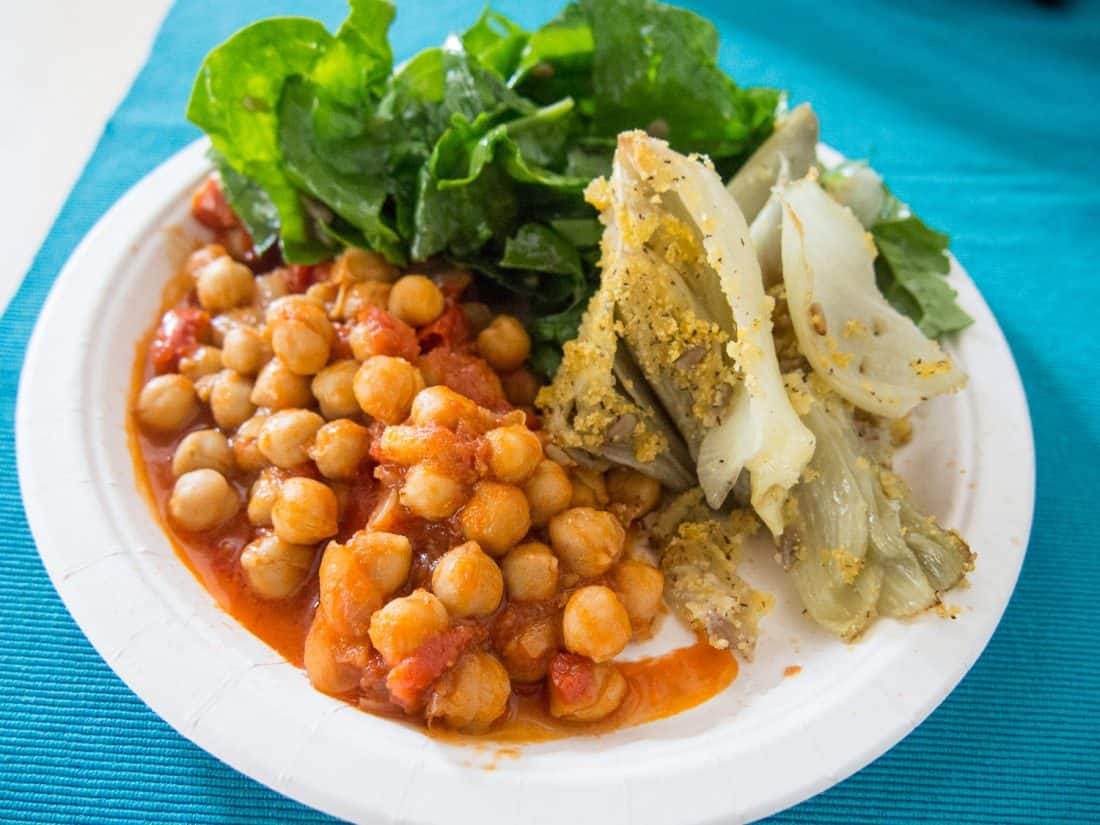 Zenzero is similar to Prendici Gusto in that you order one of the prepared dishes at the counter to eat in or take away, but it's mostly vegetarian and is a mix of Italian and international.
It's more expensive, but it's the healthiest quick meal you can get in Lecce.
You can order a mixed plate and pay by weight—my plate of chickpeas in tomato sauce, baked fennel, and spinach and orange salad cost €5.50 while Simon's heartier plate of pumpkin lasagna, stuffed zucchini flowers, and potato rice was €7.50.
Details: Viale dell'Università, 49. Open 11 am–3 pm and 7–11 pm. Just outside the centre. Closed Sundays.
Website: Facebook page.
16) Mamma Lupa Bruschetteria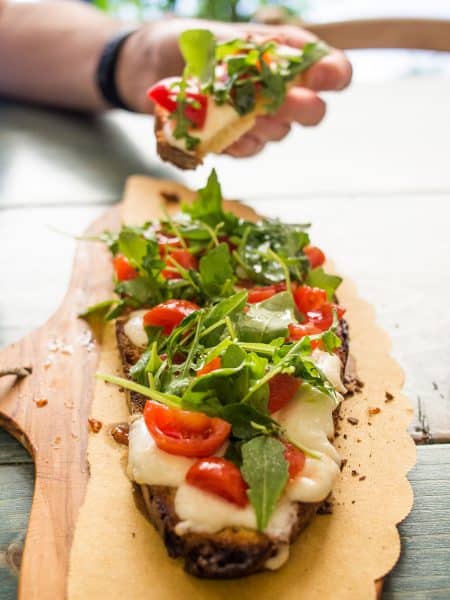 A simple sit down restaurant with a range of bruschetta (toast with toppings) for €5.50. We had stracciatella/tomato/rocket and aubergine/tomato which were good if nothing special.
Details: Via Acaja, 12.
17) L'Angolino di Via Matteotti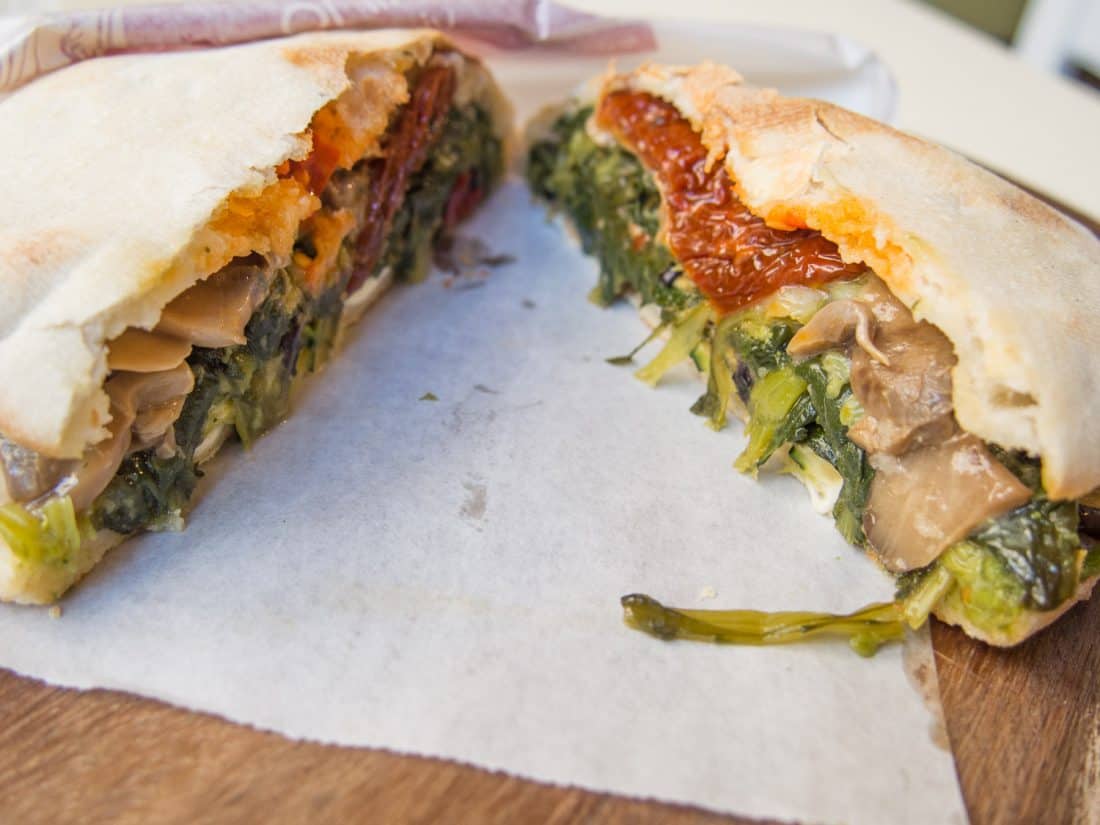 L'Angolino di Via Matteotti serves typical Salento sandwiches called puccia, which are like pitta bread stuffed with fillings. You can eat in (but pay €6 instead of €5) or take it to the nearby park.
This place gets rave reviews so I included it here even though we didn't particularly enjoy our sandwich. This is probably because we ordered the vegetarian which includes lots of cima di rape (a local cooked green) and mushrooms which we're not fans of.
Details: Via Giacomo Matteotti, 31. 11.30am – 3pm and 6.30pm–11pm.
Website: Facebook page.
Best Gelato in Lecce
18) Baldo Gelato
We ate a lot of gelato in Lecce and Baldo was our favourite. It's freshly made using natural ingredients.
They do classics like dark chocolate and pistachio really well and I also loved their salted caramel and stracciatella with huge chunks of chocolate. A small cone or cup is €2.50.
Details: Via Idomeneo, 78. Open 11.30am – 11pm.
Website: Facebook page.
19) Natale Pasticceria
Natale is the most popular gelato place in Lecce with a convenient location just off the main square.
We were regulars here working our way through the huge range of flavours including unusual ones like pasticiotto (the Leccese pastry). My favourite combo was coconut and cherry. A small is €2.
Details: Via Salvatore Trinchese, 7. Open all day 8.45am – midnight.
Website: Natale.
Map of Restaurants in Lecce
This map shows our recommendations for where to eat in Lecce. Blue markers are for restaurants, pink for bars, green for cheap eats, and purple for gelaterias.
More Puglia Tips
You might find these other posts useful:
I hope our Lecce food guide helps you enjoy some delicious meals in this beautiful city. Let us know if you have any favourite restaurants in Lecce that we've missed.
If you enjoyed this post, pin it!