This page contains affiliate links. Please read our disclosure for more info.
Castro is one of the prettiest seaside towns in the Italian region of Puglia.
Located on the Adriatic Coast, it's a town of two parts. Castro Marina is a rocky bay of crystalline blue-green sea that attracts sunbathers and swimmers in summer.
On the hilltop above, the walled Castro old town features a 16th-century castle, Byzantine church, and clifftop piazza with stunning sea views.
Its rich history dates back to before the Romans, who named it Castrum Minervae.
Castro is a quieter alternative to the popular Salento coastal towns of Gallipoli and Otranto. Even in August peak season, we found it lively rather than overwhelmingly crowded.
Here are our tips for exploring Castro including where to eat and stay. You'll find a map with all these things to do in Castro at the end of the post.
Contents
Where is Castro Italy?
Castro is located in the far south of Italy on the Salento peninsula of the Puglia region.
It's best reached by car and is a 10-minute drive from Santa Cesarea Terme (famous for its thermal baths), 30 minutes from Otranto, 40 minutes from Lecce, and an hour from Gallipoli.
The nearest airport is Brindisi, 1 hour and 15 minutes away.
From Castro, I highly recommend driving the stunning coastal road, the SP358, south to Santa Maria di Leuca (40 minutes plus allow time for stops).
See our Salento Italy guide for more tips on the area and our post on the best places to visit in Puglia for the rest of this beautiful region.
Castro Marina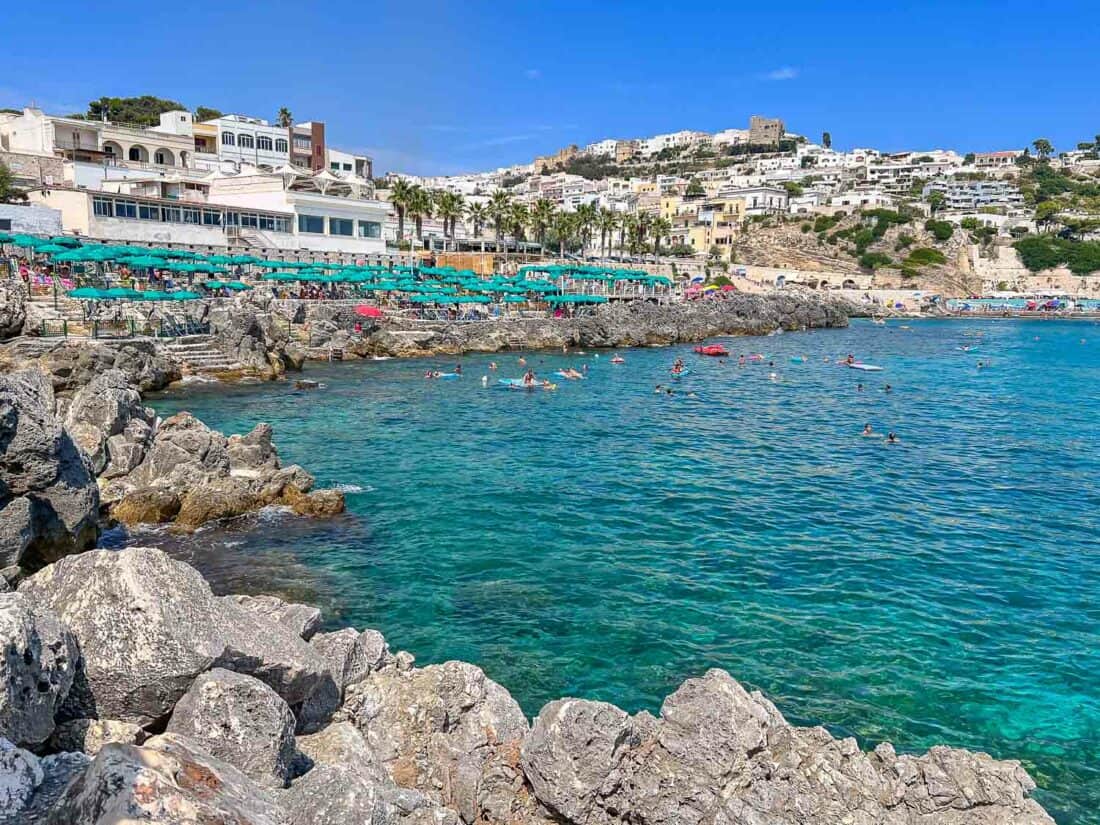 Castro Marina is the heart of the action in summer and reverts to a sleepy fishing village in the cooler months.
The small port overlooks a bay of limestone cliffs and gloriously clear sea in shades of green and blue.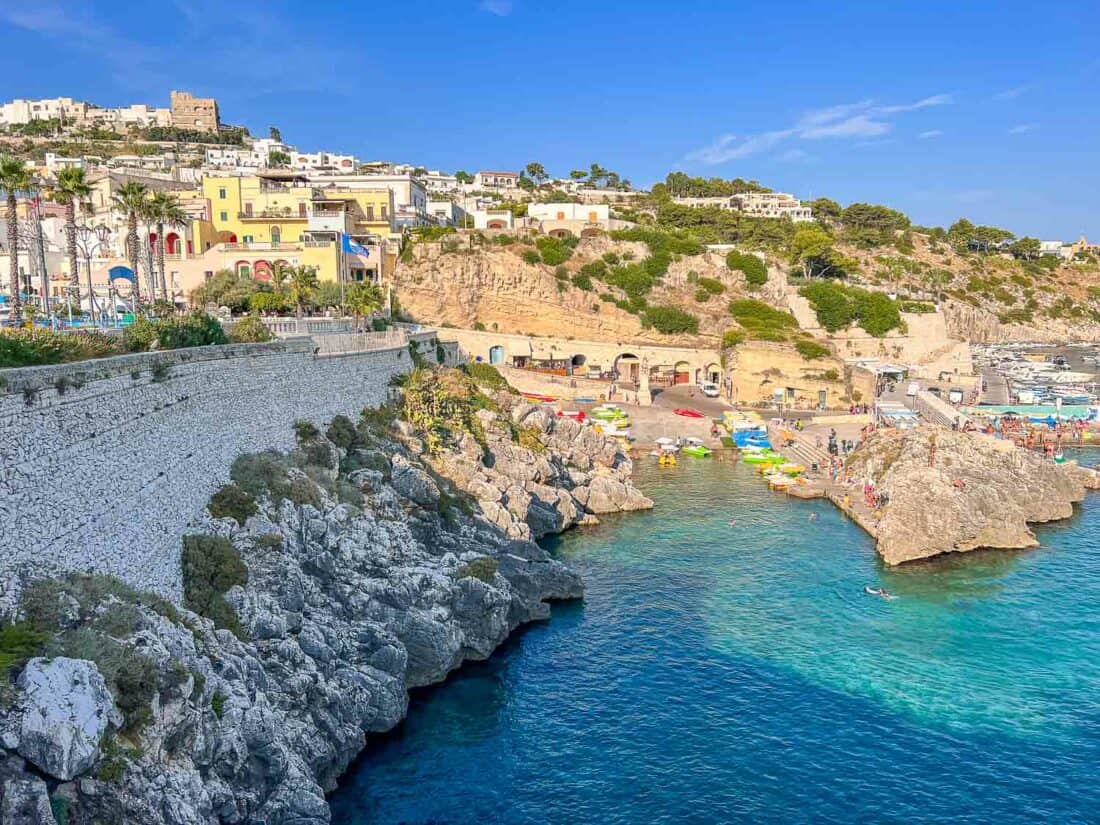 There's no sandy beach, but lidos (beach clubs) set up from June to September with platforms of deck chairs and umbrellas on the rocks, so I still included it as one of the best beaches in Puglia.
Rocky steps make access to the water fairly easy.
Lido La Sorgente has a prime location, bar, toilets, and showers. Expect to pay around €20 in high season for two chairs and an umbrella.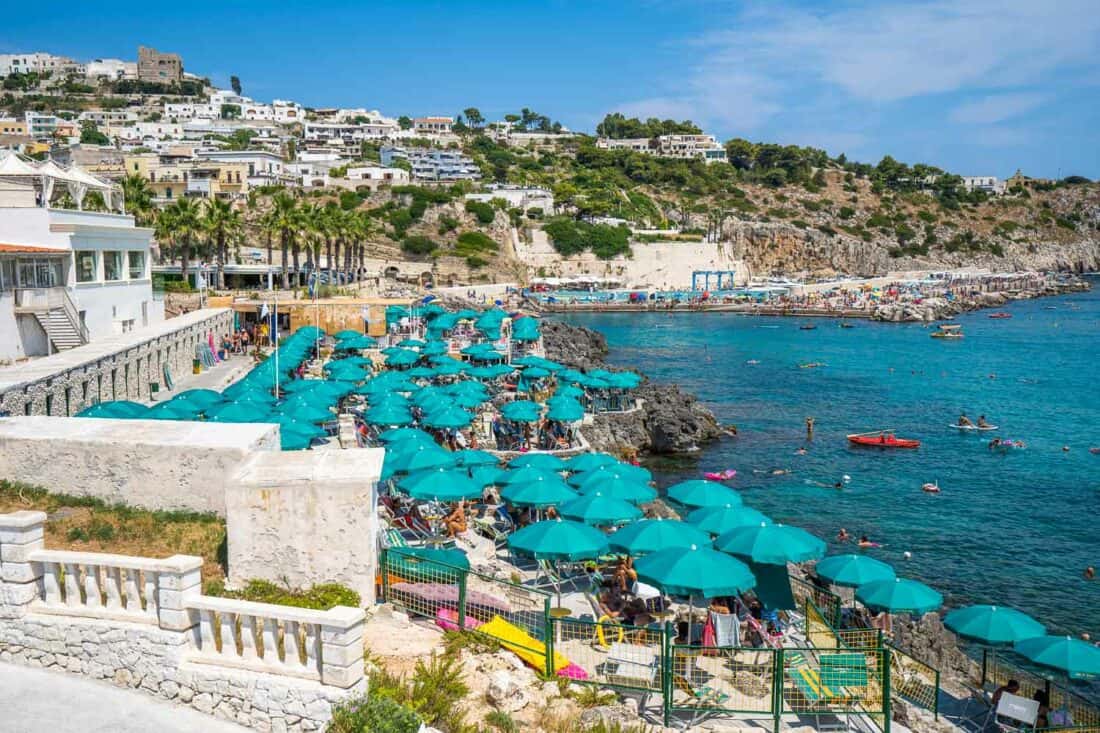 Hotel La Roccia, where we stayed, has a public lido too. Hotel guests have a reserved area closer to the water. The public area is higher up away from the water, but it's more spacious than Lido La Sorgente and you get sunbeds rather than deckchairs.
If you don't want to pay, there are concrete steps in the port where many people set up for the day. In July and August, arrive early to get a good spot.
Castro Marina is a lovely place to swim with scenic views of the castle above. Snorkelling was surprisingly decent and I saw big schools of large blue and yellow striped cow bream.
Other than swimming and sunbathing, the main activity in Castro Marina is taking a boat trip to explore the coastline dotted with caves.
In Barca Nel Salento is one option with two-hour tours (€25) to three of the most beautiful caves, Palombara, Azzurra, and Zinzulusa.
You can also drive to Grotta Zinzulusa and take a walking tour.
Piazza Dante is the main square in Castro Marina with a few restaurants and bars including the local chain Martinucci, which is a solid choice for coffee, pastries, and gelato.
From here you can walk down the steps to the port where there are a few bars. The views aren't the best (it's a working port), but it's away from the road and the bars were quieter than the ones on the piazza.
We asked for aperitivo at Ilios Bar to accompany our Spritz and they brought us a generous array of snacks including local favourites panzerotti (fried dough pockets) and rustico leccese (puff pastry filled with mozzarella and tomato).
It was half the price we paid for drinks on the Gallipoli seafront and the food was much better.
In the other direction from the piazza is the lungomare (promenade) where you can stroll past more bars and restaurants. On summer evenings, food stalls and kid's rides are set up too.
Quick eats dominate in this beach town with casual spots like Le Currenti and Le Stuzzicherie del Porto offering puccia (sandwiches). Fried seafood is popular too.
We had a late night crepe and limoncello at Lu Picciu, which also has create-your-own sandwiches.
We snacked our way around Castro, but for a sit-down meal, there are a couple of large seafood restaurants (like Ristorante Aragosta) that have mixed reviews but wonderful locations overlooking the water.
Castro Old Town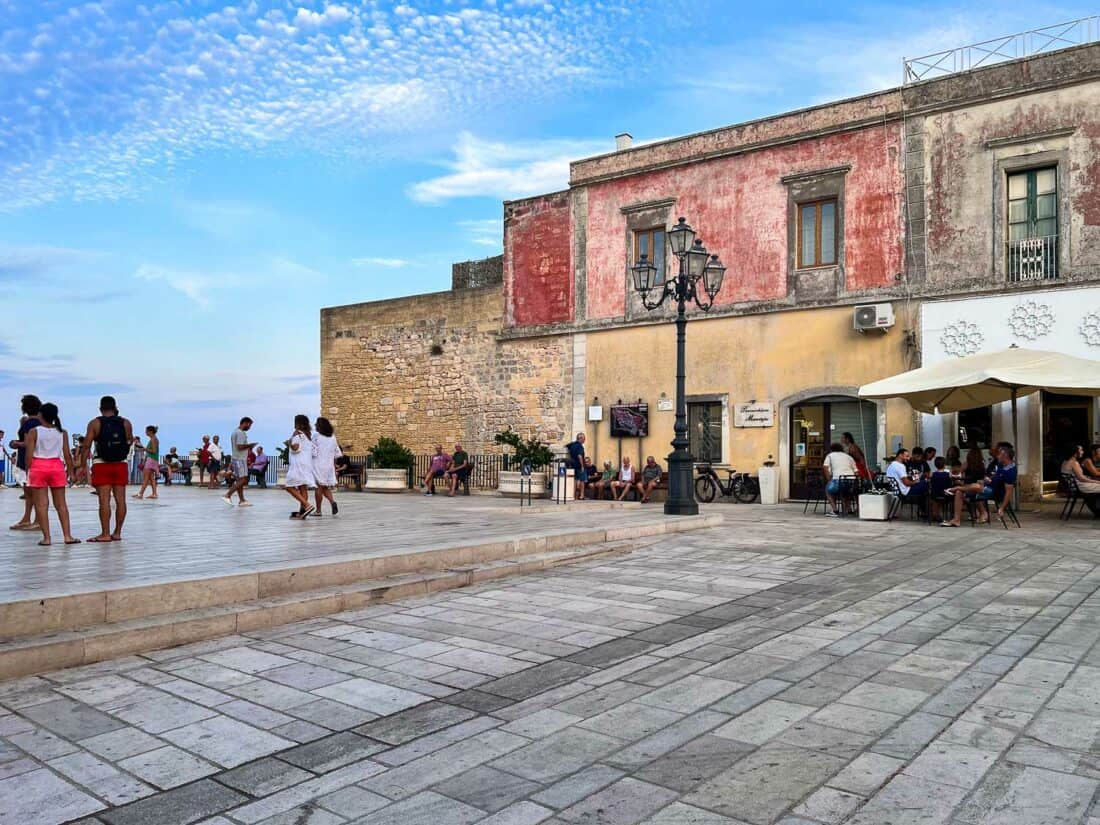 After a day in the sun at Castro Marina, you definitely want to head up to the walled medieval old town.
I recommend getting here just before sunset to see it by daylight and after dark. It gets busier around 9pm when everyone heads up for dinner.
It's up a hill so you'll have a steep 20-minute walk up the staircases or in summer, you can take a shuttle train (€2 one way/€3 return). It runs every 30 minutes from Piazza Dante.
With the wait for it to leave and getting stuck in traffic, it took us nearly 30 minutes to get there on the train.
Castro's centro storico (historic centre) is small but charming. It's one of the prettiest small towns in Salento and much of it is pedestrianised so it's a pleasure to wander.
Start with the Belvedere di Castro, a large piazza with panoramic sea views. Bar Fonte Dei Messapi is a popular spot for a drink.
Next to it is the 16th-century castle, Castello Aragonese, which dominates the view both in the old town and down at the marina. There's an archaeological museum you can visit.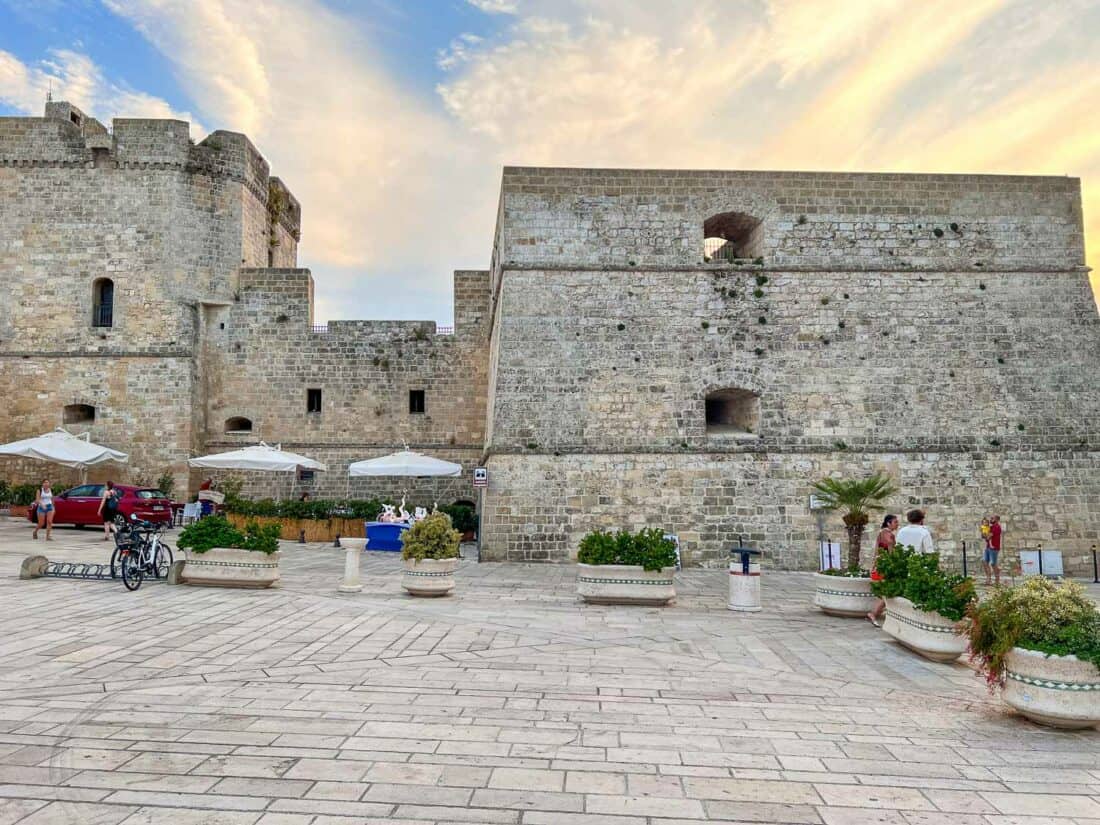 You can also walk along the city walls which loop around the castle and centro storico.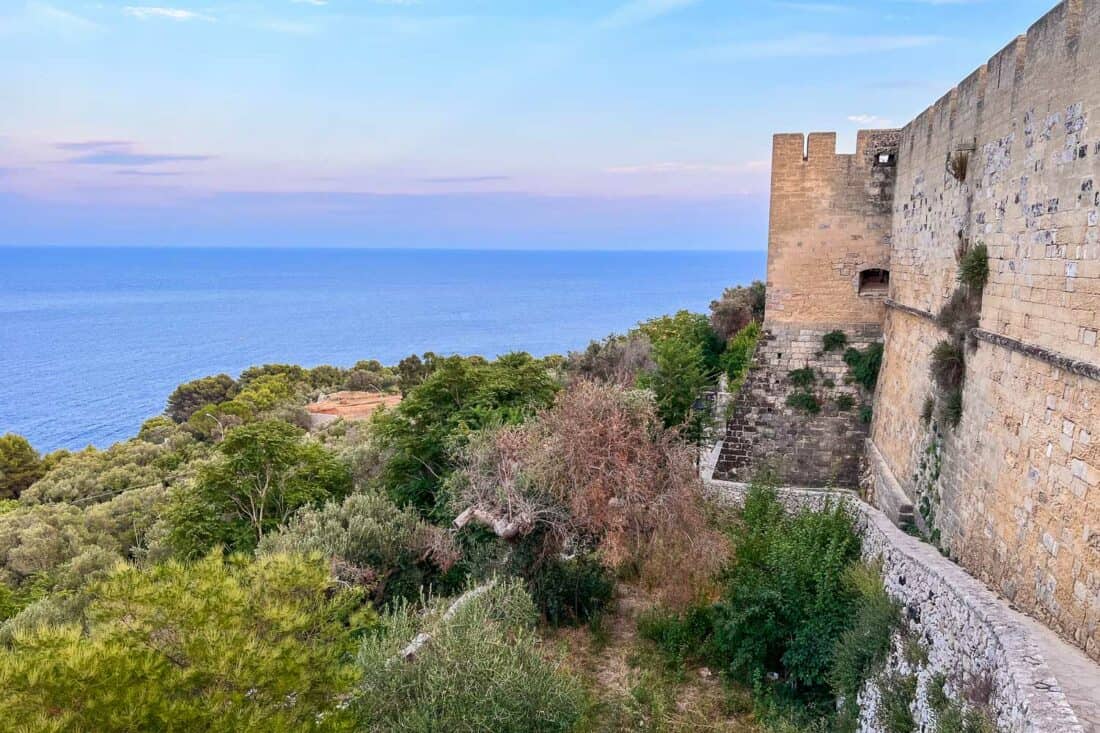 From the castle, walk a few minutes down narrow Via Roma to the lovely Piazza della Vittoria, where you'll find Castro's two other main sights.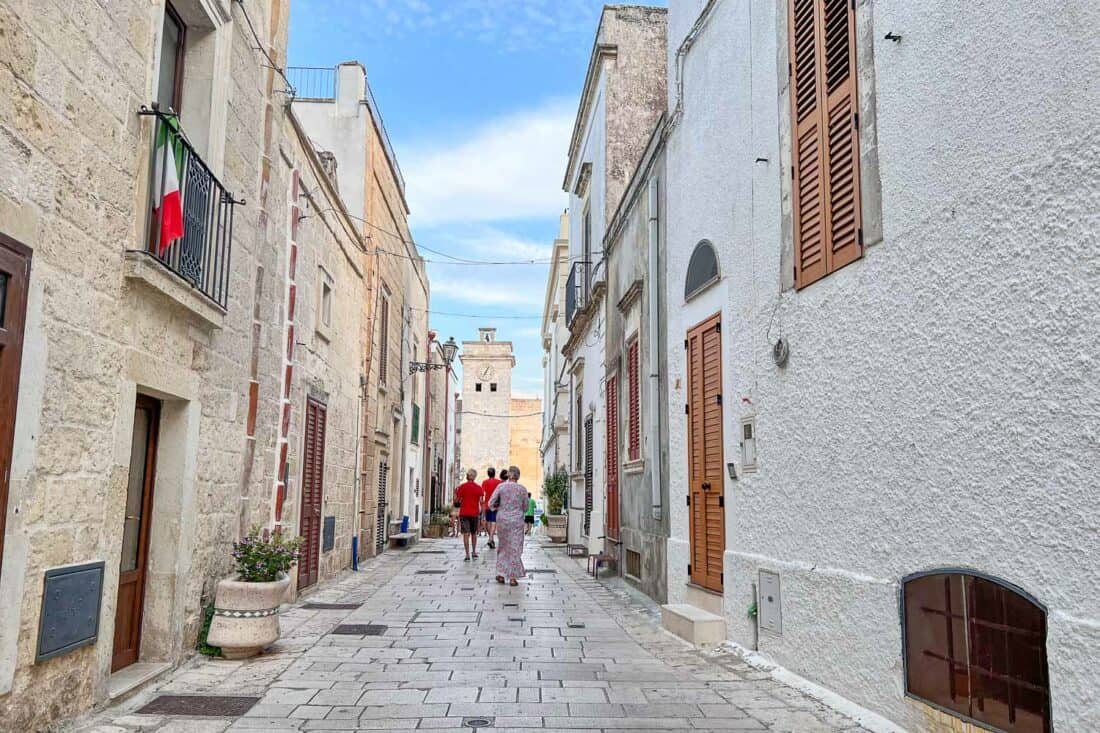 Castro's cathedral, Chiesa dell'Annunziata was built in 1171 and has a beautiful Romanesque facade and starkly plain interior. Attached to it are the remains of a 10th-century Byzantine church with traces of frescoes still visible.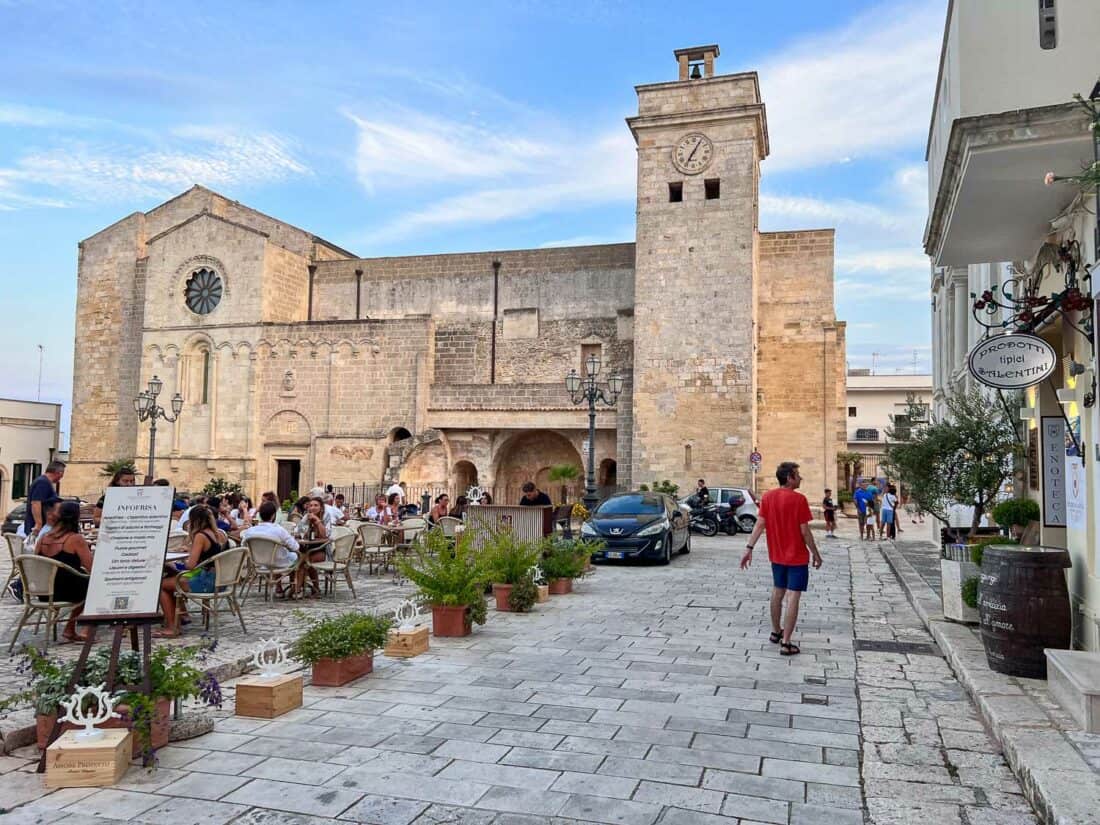 On Piazza della Vittoria there's also a fish restaurant and the wine bar, Delizie in Contea.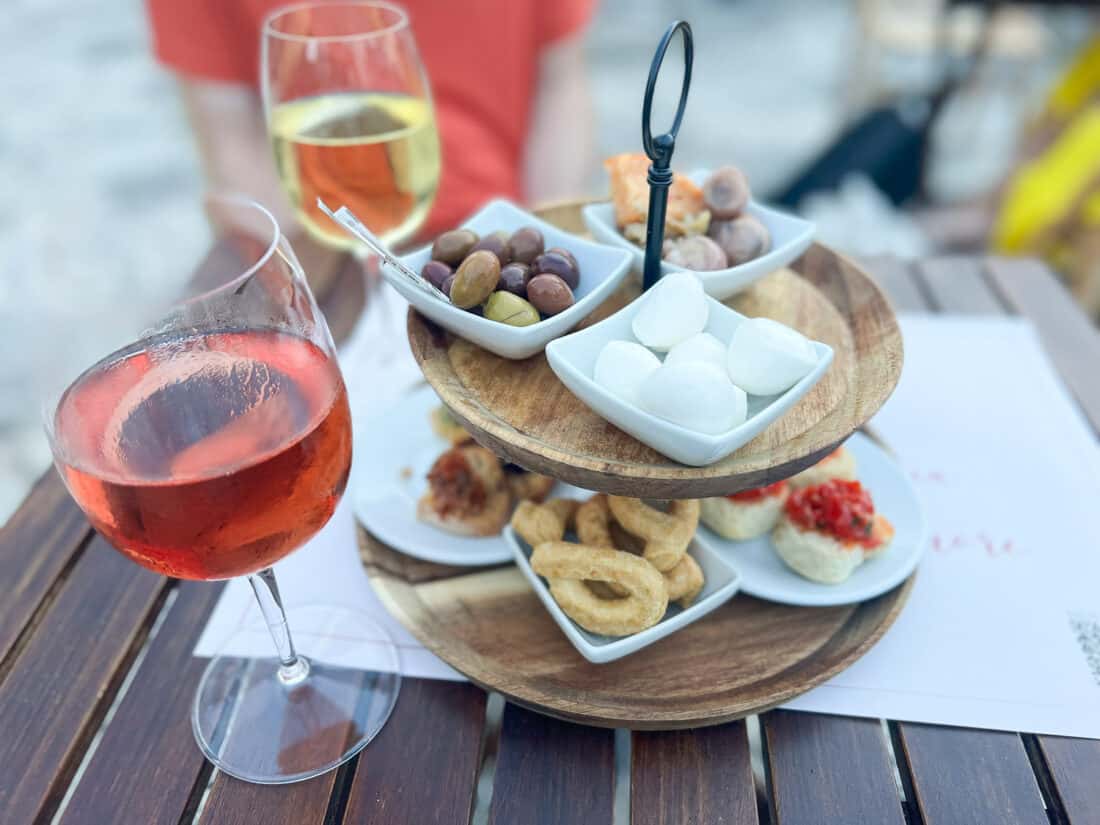 We highly recommend Delizie in Contea for platters of local products (which you can also buy in their store). It's an excellent option for vegetarians as most Castro restaurants focus on seafood.
We ordered the Aperifrisa which included olives, mozzarella balls, taralli (local pretzel-like crackers), frisa (local dried bread) topped with fresh tomatoes and patés, and vegetables preserved in oil.
For a more substantial meal, you could add a puccia or meat/cheese plates.
The outdoor seating on the piazza is a picturesque spot to eat and it does get busy. In summer, I recommend booking a table or going early (Delizie in Contea opens at 6pm).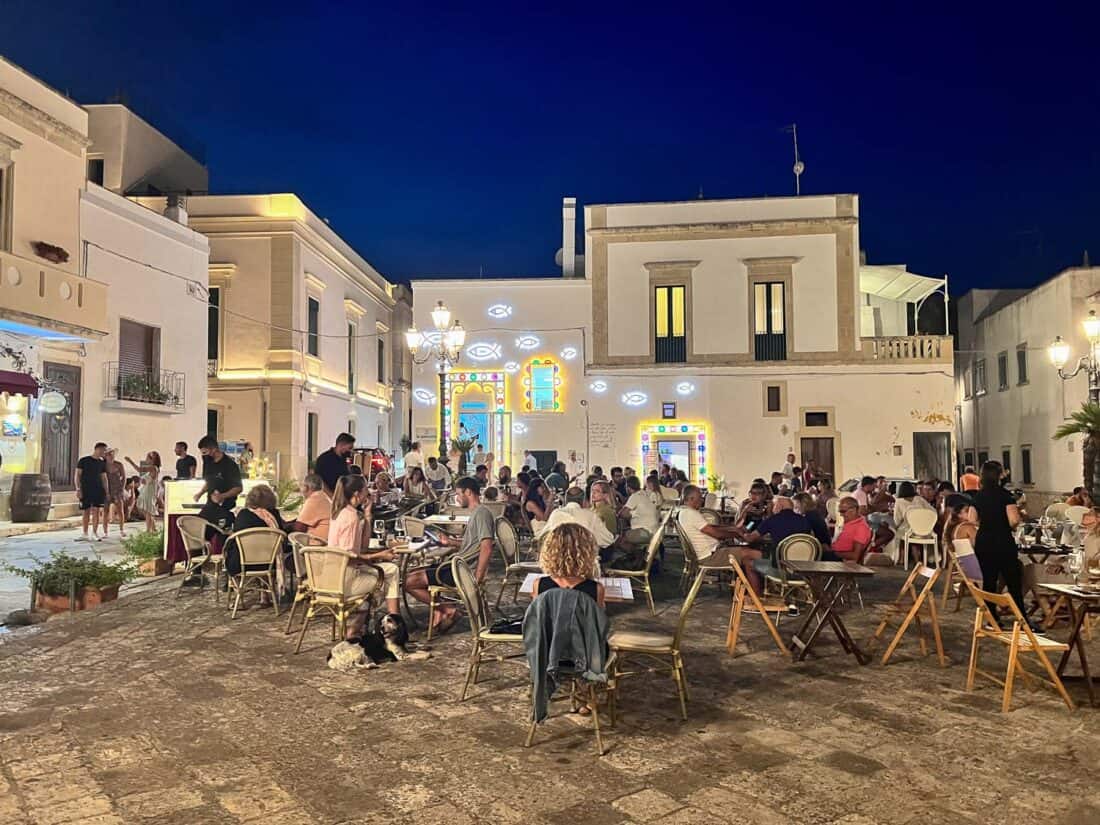 A few steps past the piazza we came across Palazzo Vescovile. It's a privately owned palace that has been restored by the owner.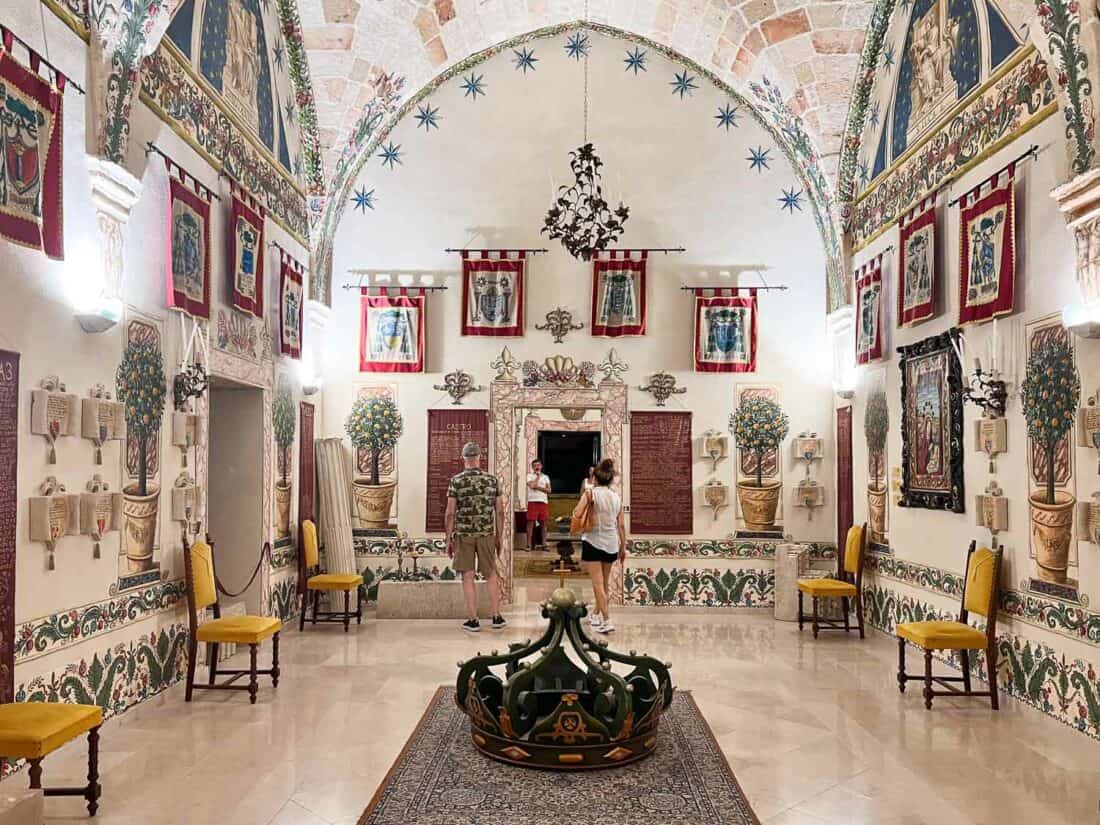 I'm not sure if it's always open, but on a summer's evening, it was free entry and the owner was giving guided tours in Italian.
You can also wander around on your own so it's worth popping in. It's very colourful and ornate and the terrace at the back has a lovely sea view.
Past the palace, we continued down the stairs and eventually reached Castro's port. The walk was fairly easy if you're ok with stairs and is worth it for the view of the town lit up at night.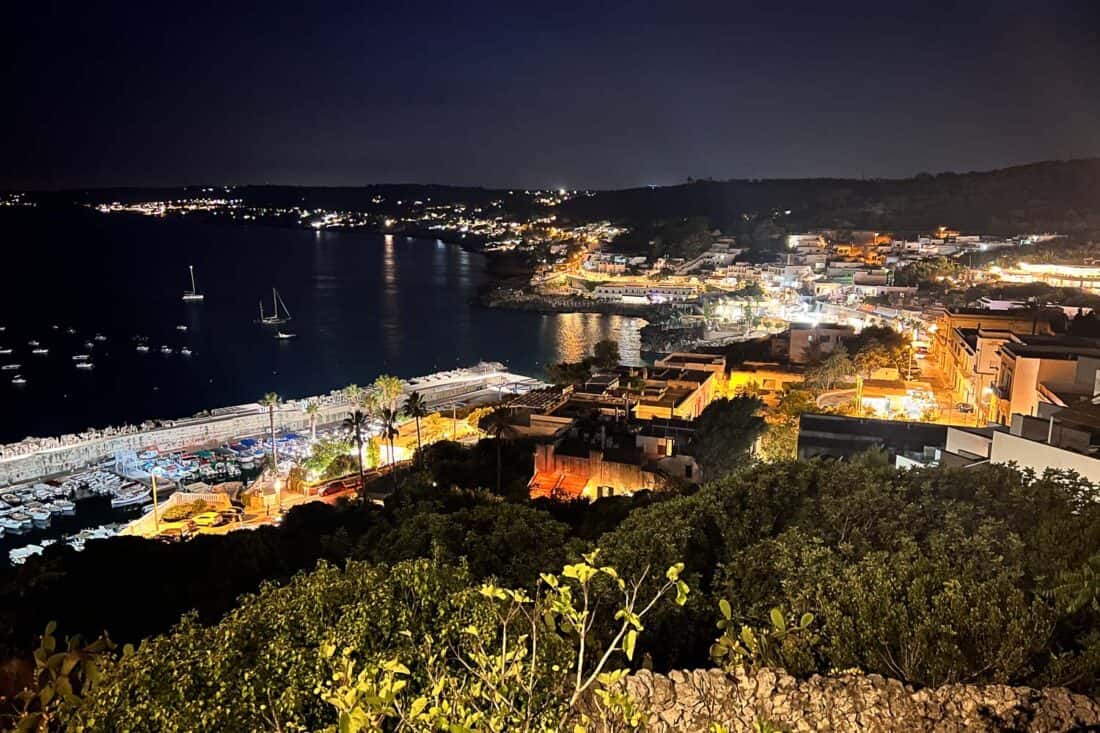 It was even more beautiful with a luminous full moon and I couldn't resist a final dip in the now quiet bay.
Where to Stay in Castro Puglia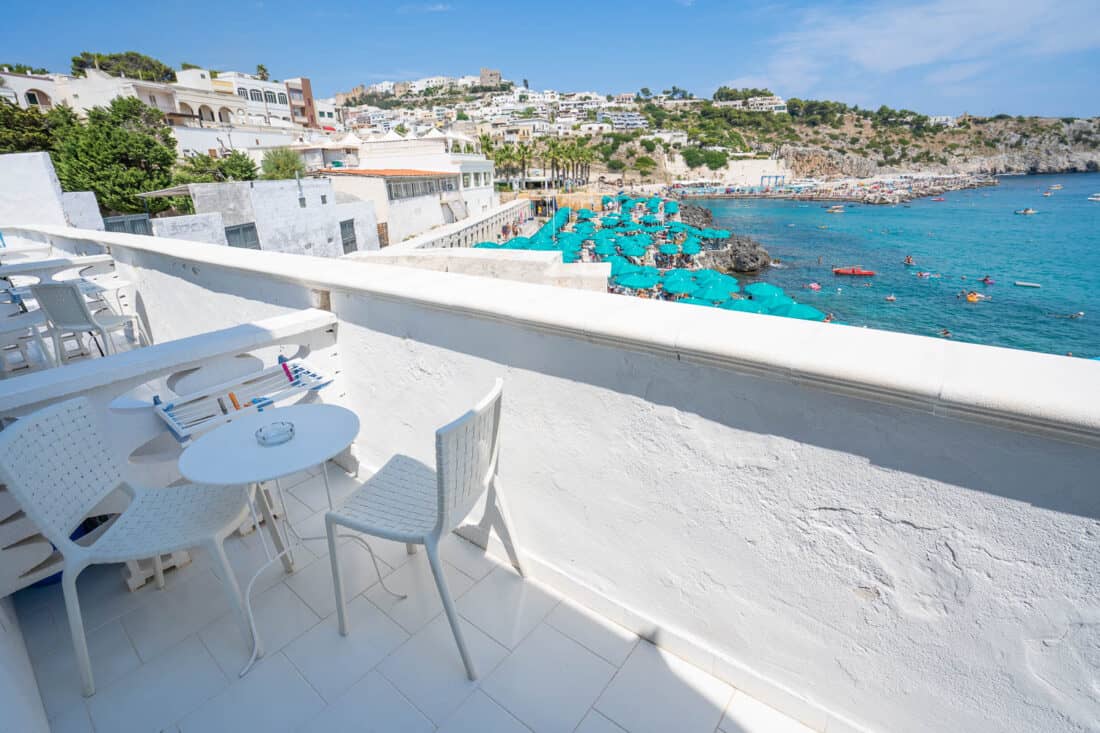 We stayed at Hotel La Roccia, which has the perfect location in Castro Marina right on the water with views of the marina and old town.
Rooms are simple but comfortable enough, and most importantly, they all have balconies with sea views.
It was perfect for an August visit (the busiest time of year) as all rooms are allocated a free umbrella and chairs in their lido on the rocks.
We were able to turn up in the afternoon, park at the hotel (€10 a day, book in advance), and head straight to our chairs in a relatively uncrowded area.
If we hadn't been staying at the hotel, there's no way we would have found parking or a lido spot without arriving really early.
There's an onsite restaurant with sea views. We only had breakfast here (a buffet is included), which didn't have the best selection, but we were happy with the excellent cornetti and fresh fruit.
Check availability for Hotel La Roccia here.
Or search for more accommodation in Castro.
Castro Italy Map
Is Castro Italy Worth Visiting?
Yes, Castro is absolutely worth visiting! We fell in love with this charming town and its picturesque castle, pretty piazzas, and crystalline sea.
In summer high season it's a welcome break from the intense crowds of Puglia's more popular coastal towns.
More Puglia Posts
Salento
Elsewhere in Puglia
If you enjoyed this post, pin for later!