This page contains affiliate links. Please read our disclosure for more info.
Ostuni is one of Puglia's most beautiful cities, a tumble of white-washed buildings perched strategically atop a hill.
Known as the White City, Ostuni has views of the endless olive trees in the Valle d'Itria countryside and the glimmering Adriatic Sea just 8 km away, home to some of the region's best beach resorts.
Whenever we visit Puglia, we always include a stop in Ostuni to wander its maze of lanes, eat some delicious food, and explore the nearby countryside (ideally with a stay on an olive farm).
In this post, we share our picks for the best things to do in Ostuni (including day trips), as well as tips on where to stay and how to get there.
You'll find a map with all these Ostuni attractions near the end of the post.
Contents
Where is Ostuni Italy?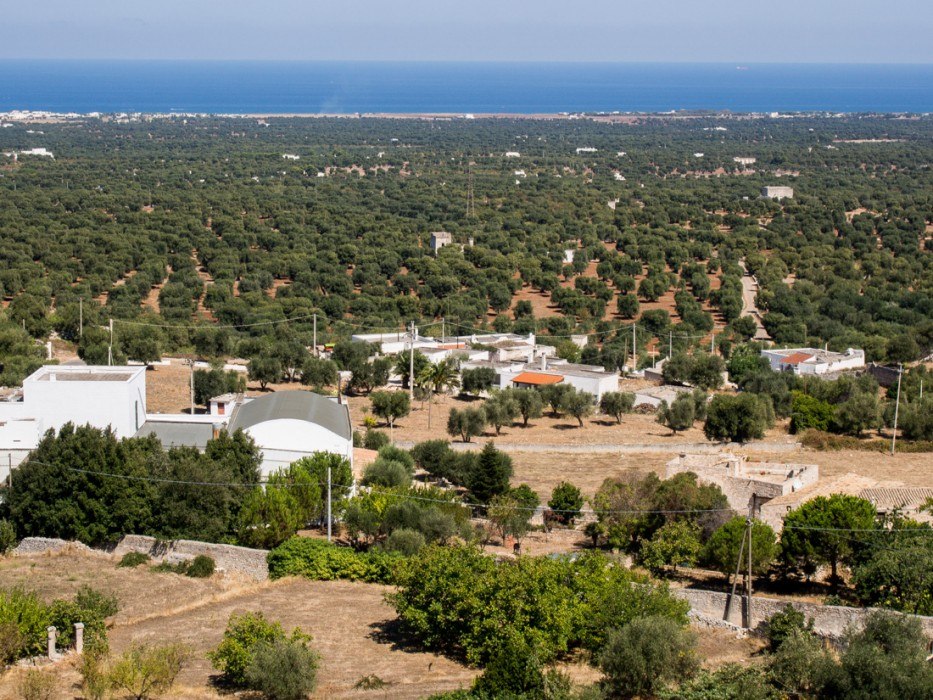 Ostuni is located in the heart of Puglia, a region in southern Italy (the heel of the boot).
It's in the province of Brindisi, and the port city of Brindisi is 42km away (a 30-minute drive). This is where the nearest airport is located.
Bari (north of Ostuni) and Lecce (south) are both about a one-hour drive away.
The trulli town of Alberobello is a 40-minute drive from Ostuni.
See our Ostuni map and details on how to get there below.
Best Things to Do in Ostuni Italy
1) Get Lost in Ostuni Old Town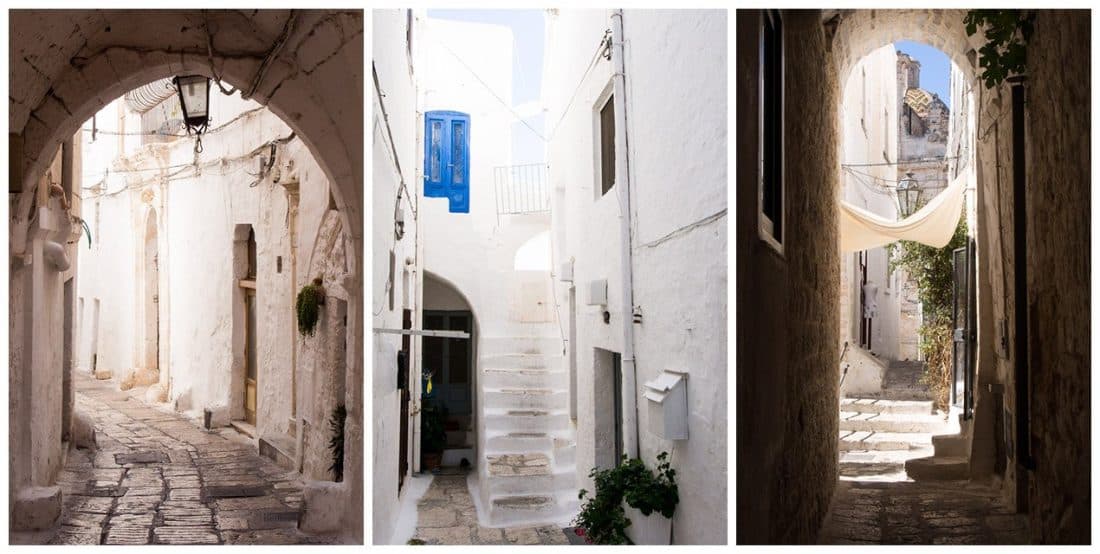 The Old Town is an Ostuni must see and is where you'll spend most of your time.
The medieval walled city was built without a plan, and it shows. The web of streets is confusing, a maze of alleyways, staircases, and arches.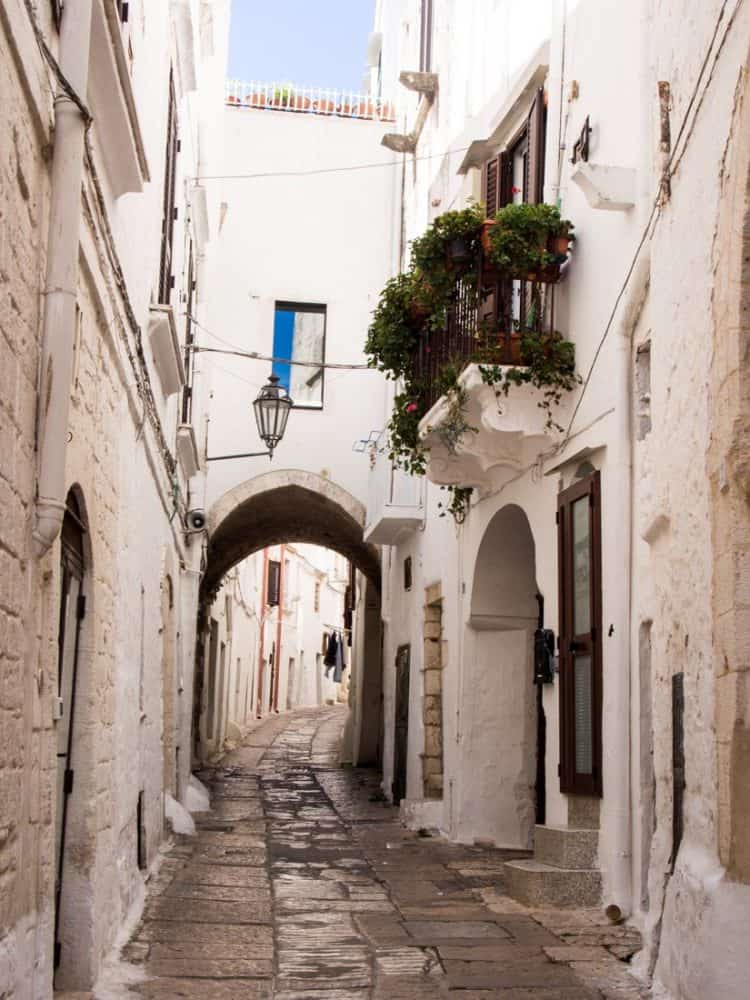 Buildings were built on top of each other, and the archways support the houses they connect, making up for the lack of strong foundations.
You turn one way and find a dead end, another and get a glimpse of the sapphire sea.
Puglia has seen a stream of invaders—Greeks, Romans, Goths, Byzantines, Normans—and the labyrinth of Ostuni is the perfect way to confuse the enemy.
The best way to experience the White City these days is by diving down the narrow side streets, and like the invaders once did, getting lost.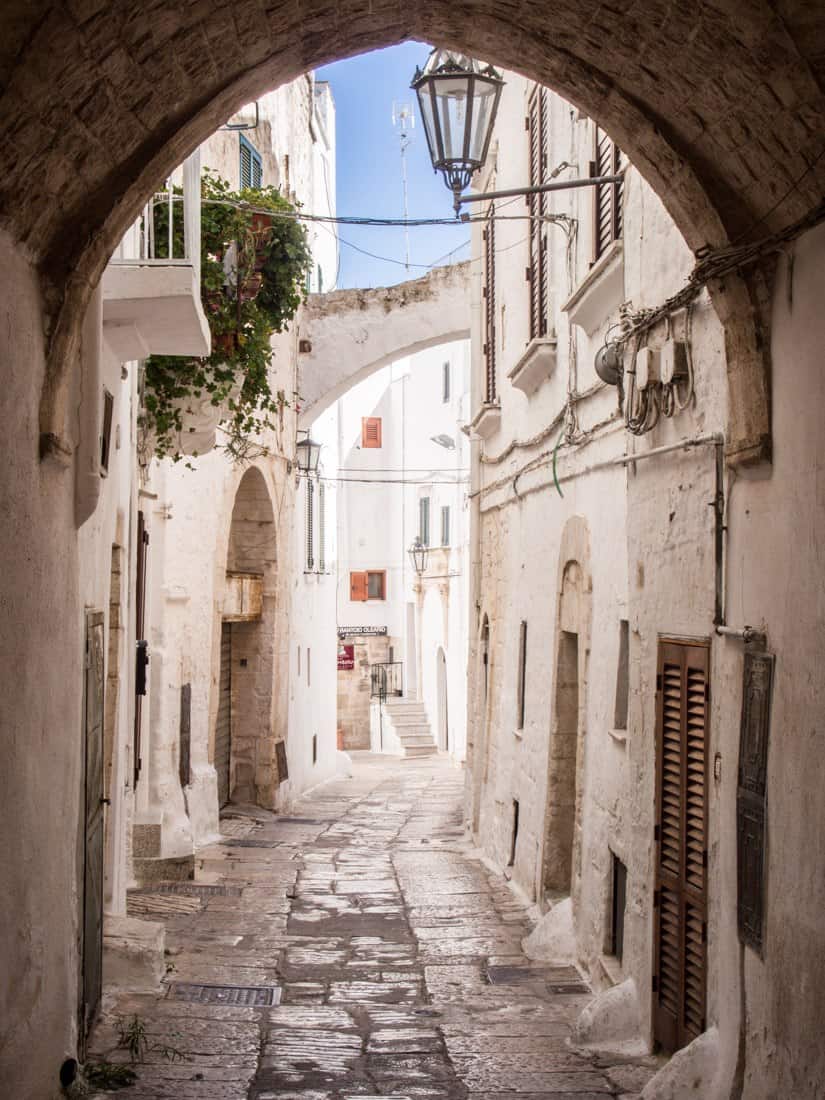 The stark white buildings are dazzling in the southern sun and are brightened by vivid green and blue wooden doors, pots of red geraniums and cacti.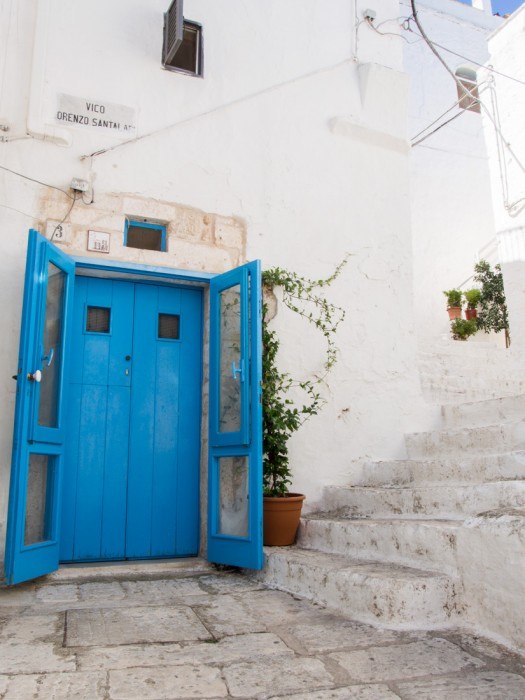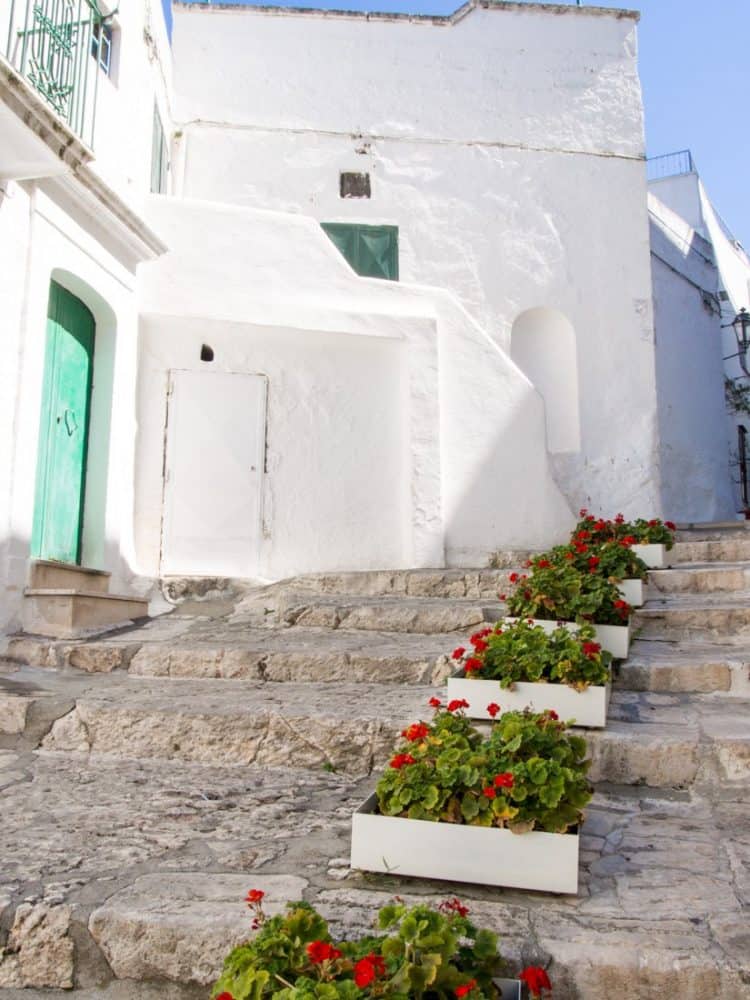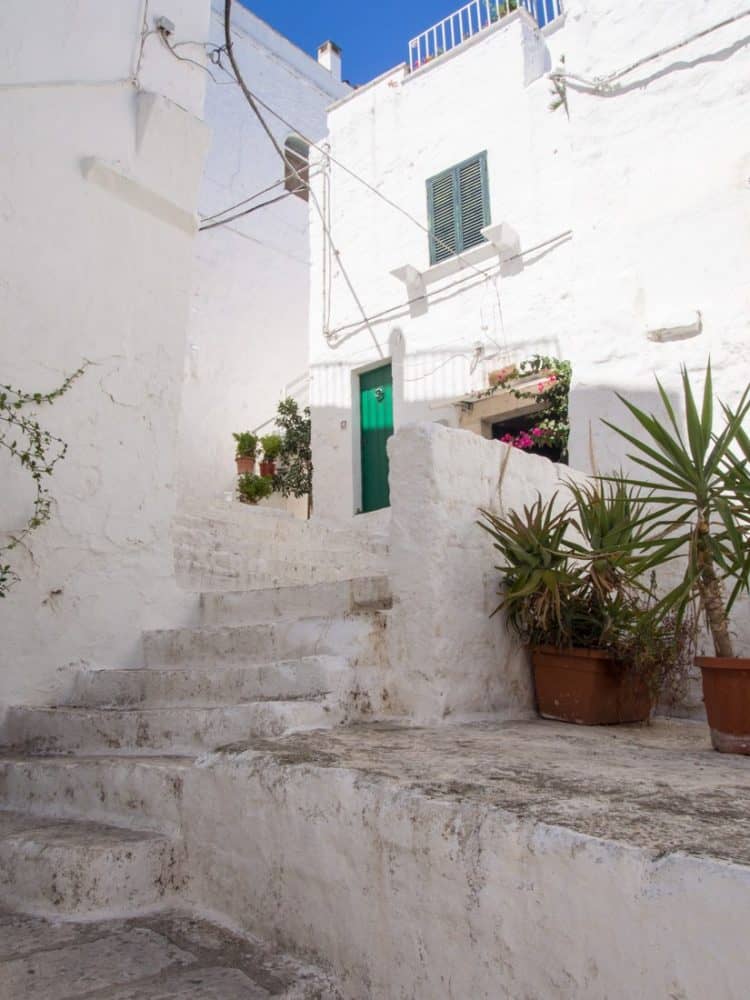 In the 17th century, a plague killed millions in the area and infected houses were painted white by mixing limestone dust with water.
Locals noticed that there was less illness around the white houses and attributed it to a miracle; most likely it was the antibacterial effect of the calcium carbonate.
Nowadays, the white houses attract tourists, and the local government encourages everyone to repaint every two years by paying for half the cost.
2) Shop for Souvenirs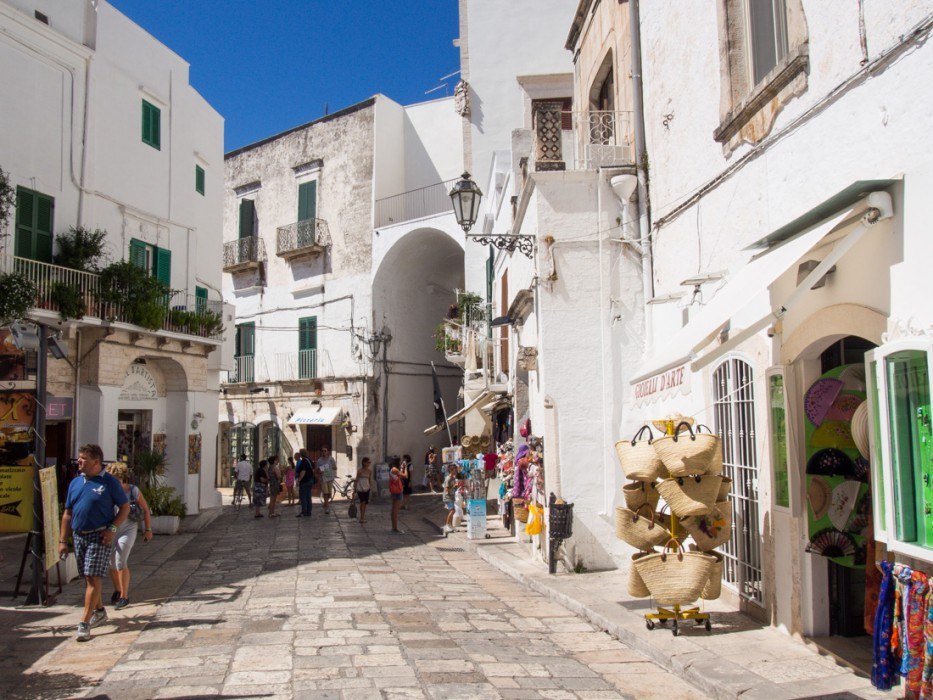 The main street in Ostuni Old Town is Via Cattedrale, which winds its way from Piazza della Libertà at the bottom of the hill up to Ostuni Cathedral.
The street is lined with boutiques and souvenir shops selling local olive oil and wine, Salentino sandals and beach wear.
In summer, Via Cattedrale can be crowded with visitors. We prefer to explore in the quieter shoulder season, but even in high season, you can escape the throng by heading down an alleyway.
Down a side street, we came across this craftsman in his workshop, making kitchen spoons out of olive wood. He's been crafting them by hand for 40 years and was proud to show them off.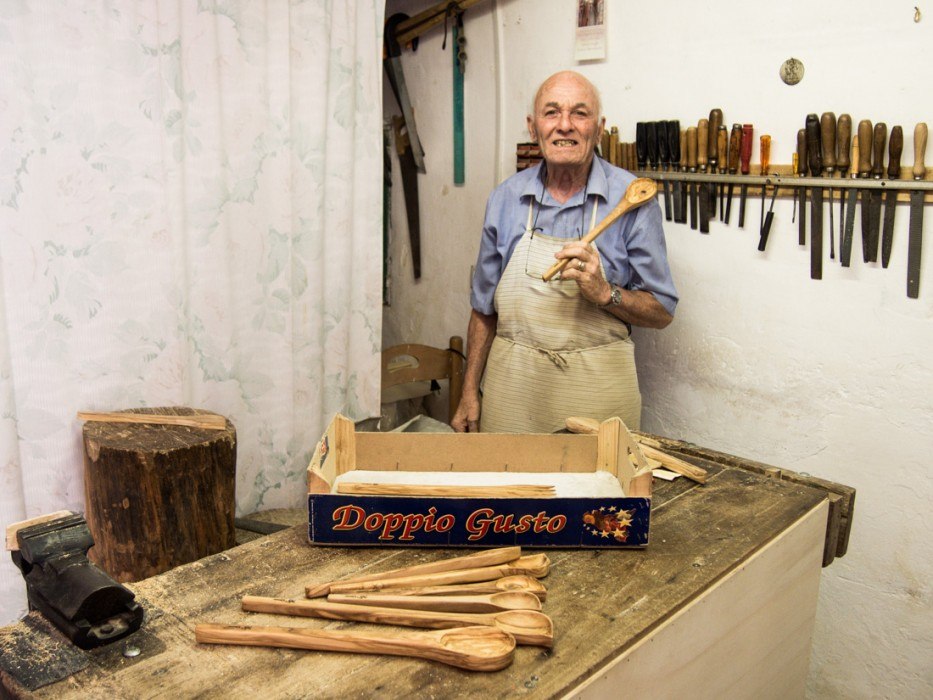 3) Visit Ostuni Cathedral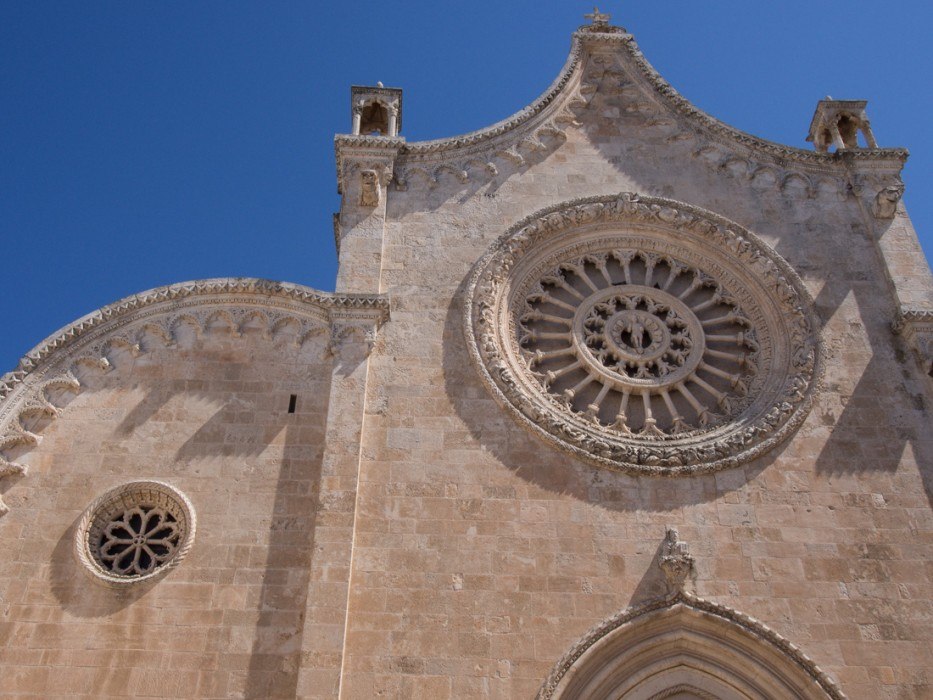 At Ostuni's highest point, you'll find Ostuni's Cathedral, Cattedrale Santa Maria Assunta.
It was built in the 15th century in the late Gothic style, rare in Puglia where most of the churches are austere Romanesque or ornate Baroque.
Its graceful lines lead to the sky. The magnificent rose window has Christ at the centre surrounded by 24 finely carved columns representing the hours of the day.
Gelateria Borgo Antico on the little piazza outside the Cathedral is a good place for a drink to enjoy the view. Our Aperol Spritz came with an array of aperitivo snacks.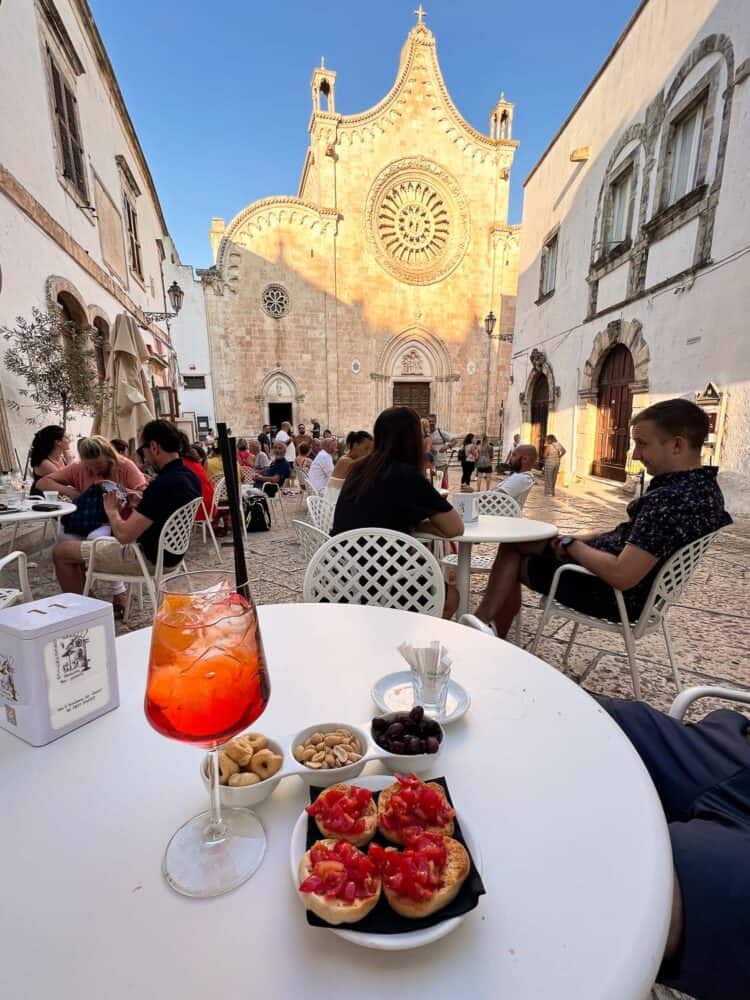 4) Take an Ostuni Sightseeing Tour
While Ostuni's historic centre is fairly compact (if hilly) and easily explored alone, if you want to learn more about the history of the city, you might want to explore with a guide, as we did on our first visit.
This 1.5 hour Ostuni Walking Tour is private for your group and includes a visit to the Cathedral.
If you have limited mobility, you can take an Ostuni tour in an Ape (open-sided tuk-tuk), which is the only way to get to the top of the hill without walking.
5) Enjoy the View from the Top of Ostuni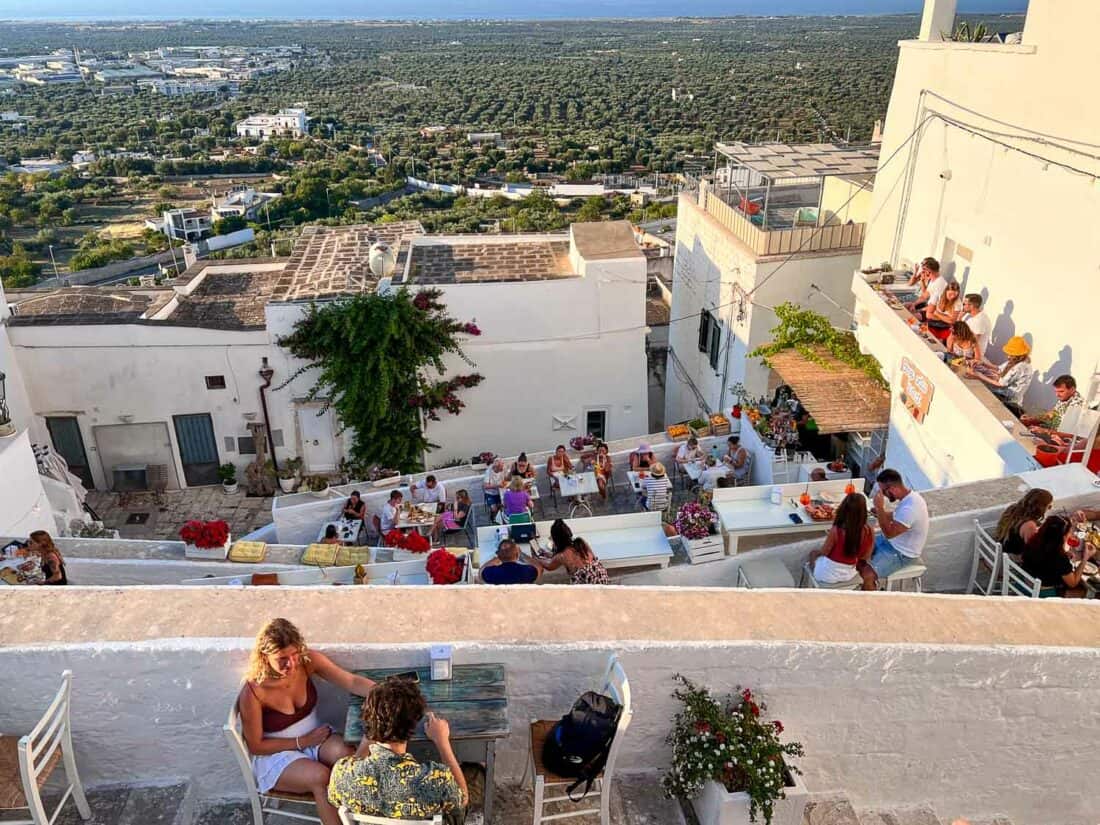 For the best view of the countryside surrounding Ostuni, head to the top of the Old Town.
From the Cathedral, pass through the Arco Scoppa, a pedestrian bridge that connects two buildings and was originally made from wood. It's now an ornate stone arch.
Turn the corner, and you'll find a panoramic view of the olive groves and Adriatic Sea.
Borgo Antico Bistrot up here is the perfect spot to enjoy a drink with a view. They also do amazing looking platters of local products.
As one of the best places for aperitivo in Ostuni, this bar is very popular and you can't book.
In July at 7pm, there was a long queue to get in, so we had to skip it. It's best to go early.
6) Snack in Piazza della Libertà
Piazza della Libertà is Ostuni's largest square and a bustling hub on the edge of the Old Town.
You'll likely start your climb up through the lanes of the historic centre from here.
The main sights are the baroque obelisk, Colonna di Sant'Oronzo, which honours the patron saint of Ostuni, and the Chiesa di San Francesco d'Assisi.
Piazza della Libertà is a good place for a drink or snack, and it can be cheaper than the places further up the hill.
Cafe Fanelli has a prime spot with outdoor seating, and an Aperol Spritz with snacks is only €4.90.
We had a panzerotto (a fried savoury pastry, typically stuffed with mozzarella and tomato) from nearby Les Crepes Fantastique, which is good for an inexpensive snack.
For something more substantial but still affordable, La Pastasciutta is a small pasta shop on Via Vito Tamborrino, a cute piazza down some steps from the main piazza.
They have a daily changing menu of pasta dishes, which you can take away or enjoy at one of their outdoor tables.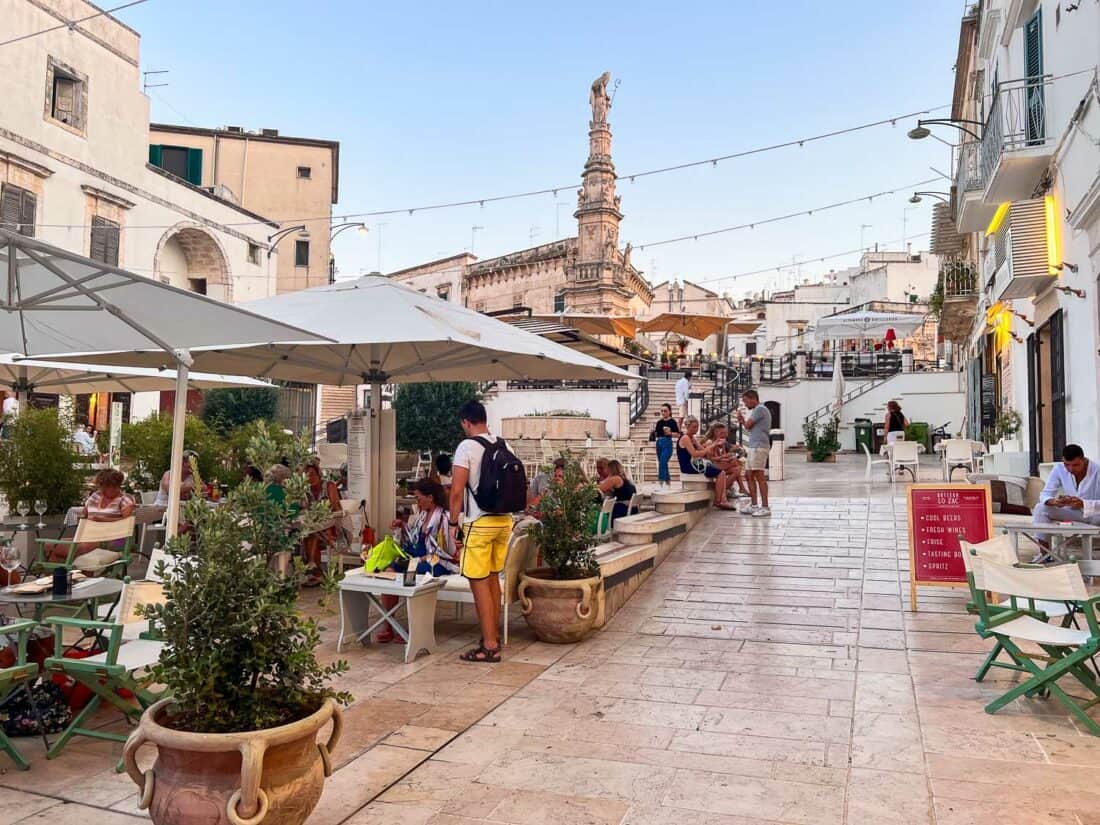 7) Stroll with a Gelato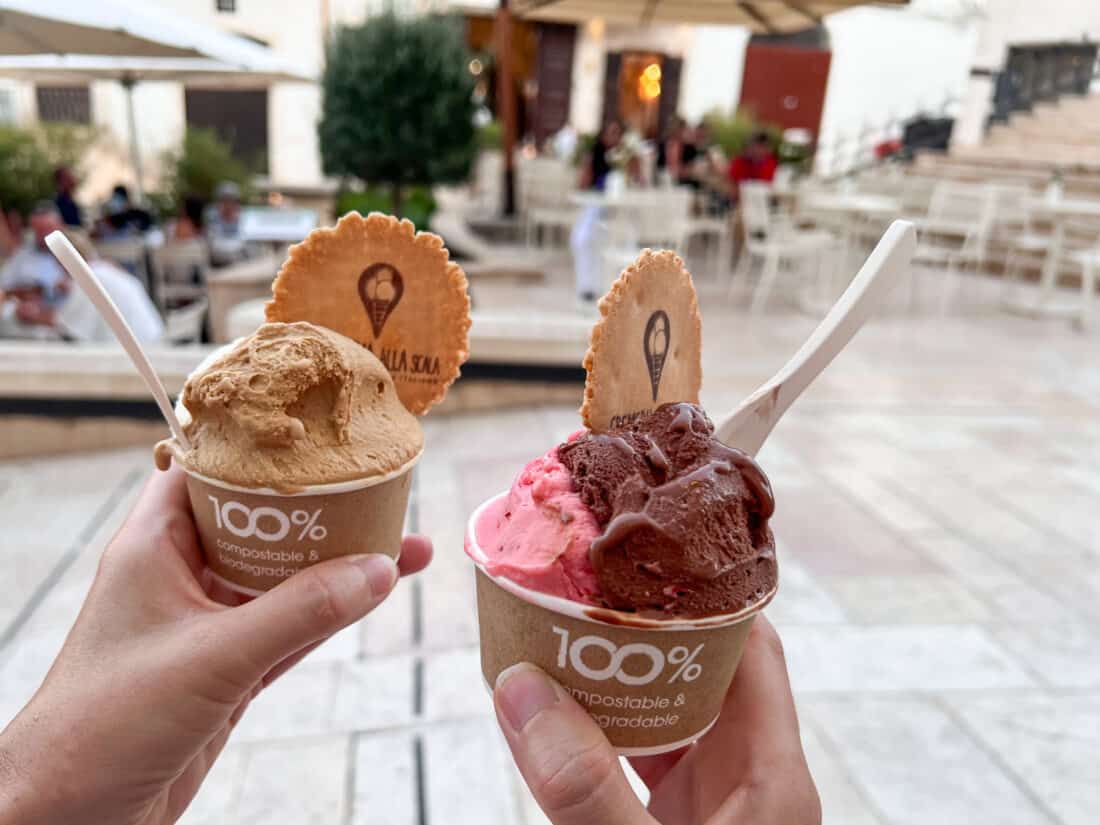 Of course, a visit to an Italian town wouldn't be complete without a gelato to accompany your stroll.
Next to the pasta shop on Via Vito Tamborrino is Cremeria La Scala, where you can find excellent gelato. They do the classics as well as less obvious flavours in Italy like a delicious salted caramel.
8) Shop at Ostuni Market
If you visit Ostuni on a Saturday, you're in luck as it's market day.
Ostuni Market is very much a local place—most tourists don't make it here on the edge of town—and it's foodie heaven.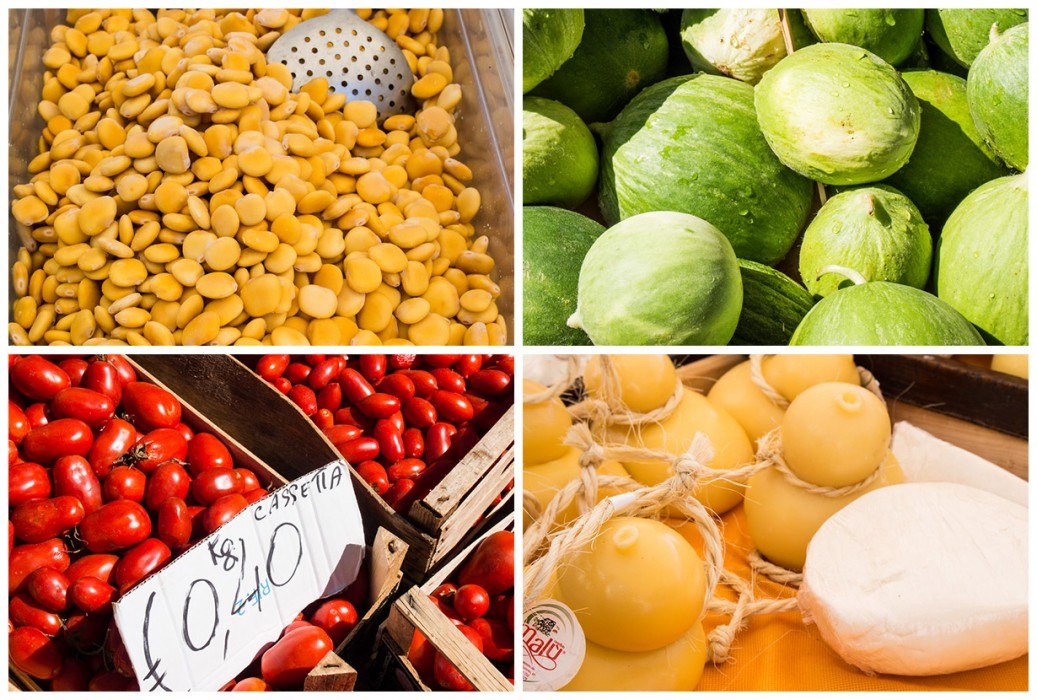 We browsed the stalls of bulbous round cucumbers, fresh almonds in brine, dried figs, piles of walnuts, aromatic bunches of oregano, twin balls of caciocavallo cheese dangling from string, trays of snails, entire octopus, and mounds of vibrant red chiles, sweet and spicy, round, bell-shaped and long.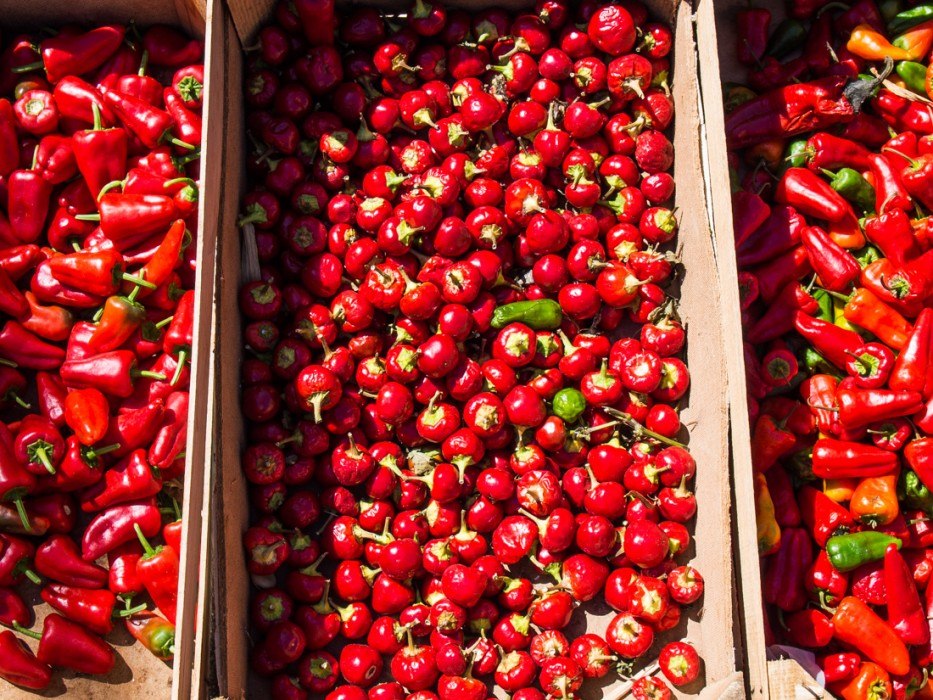 One vendor encouraged us to try his homemade taralli, crunchy bread stick rings that are a typical local snack. He had them in all different flavours including fennel, chile, onion, pizza, and bacon.
We also tried lupini for the first time, a yellow bean pickled in brine that you eat by piercing the skin with your teeth and pushing the bean into your mouth.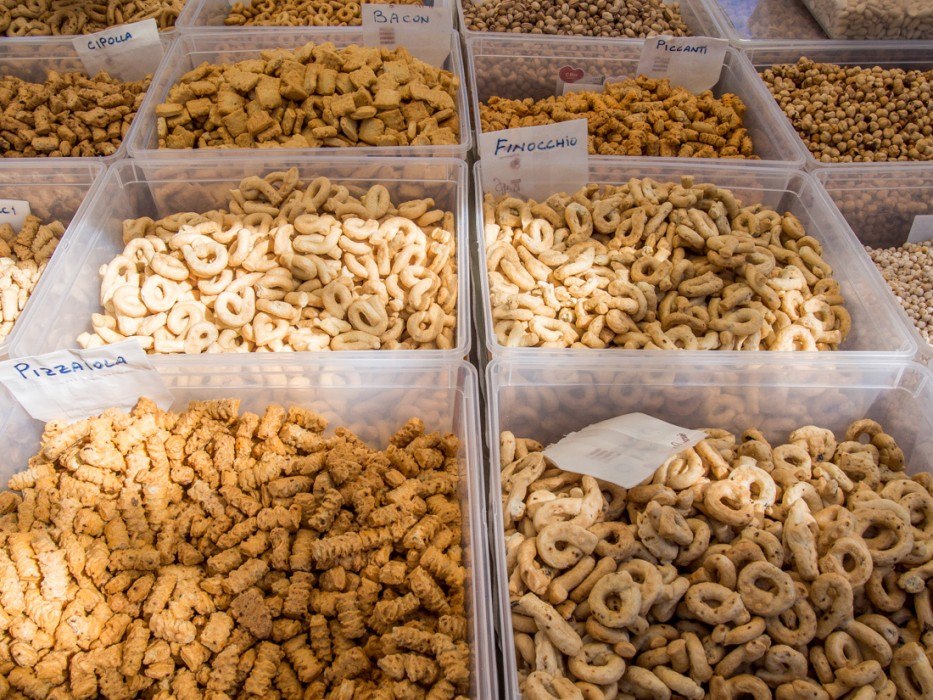 Make sure not to touch the fresh produce. In Italy, you ask for what you need (or point if you don't speak Italian).
We were amazed by the variety of fresh local produce on offer and at such low prices. We wished we were staying longer and had a kitchen to take advantage of the riches.
Ostuni market is called Mercato del Sabato (Saturday Market) and takes place on Saturday mornings (around 8am-1pm) on Via Nino Sansone, a five-minute drive or 15-minute walk from Piazza della Libertà.
9) Visit a Masseria in the Countryside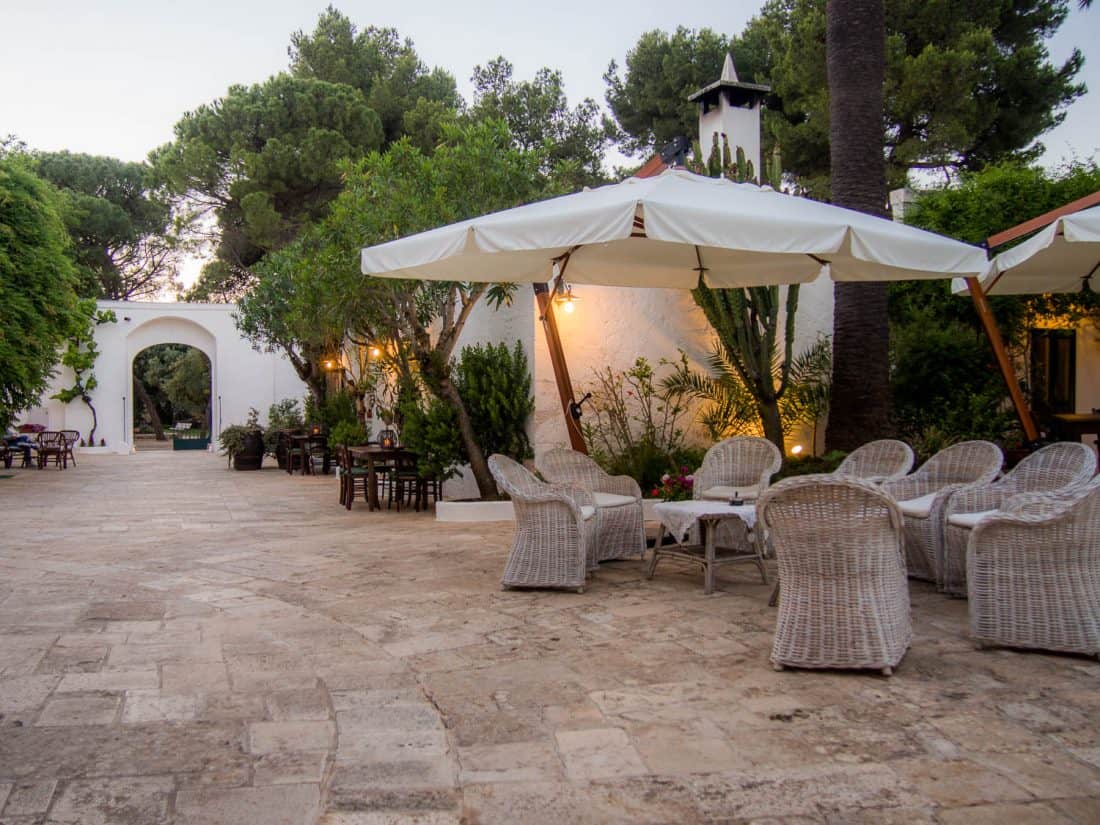 Masseria are traditional farmhouses that offer guest accommodation and usually meals.
You can find many of them amongst the olive groves outside Ostuni.
I recommend staying in one if possible (easiest with a car). My favourite is Masseria Il Frantoio, a 500-year-old organic olive farm 10 minutes outside Ostuni. See below for details.
You can also visit some masseria (including Il Frantoio) for a meal featuring produce and olive oil made on the farm. They are some of the best meals we've had in Italy.
10) Sample Local Olive Oil From Ancient Trees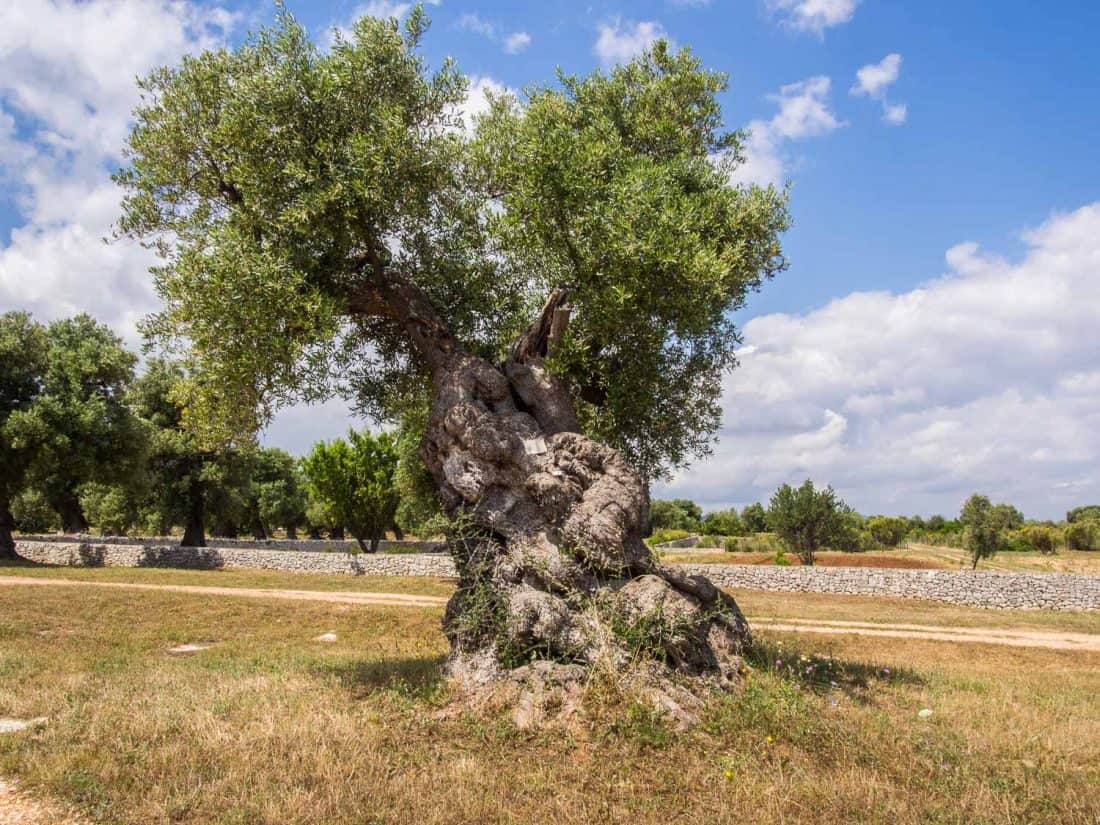 One of the things we loved about Masseria Il Frantoio was sampling their delicious olive oil (and buying some to take home).
Puglia is famous for its olive oil, and this is the real deal—nothing like the stuff you'll find in supermarkets.
Wandering amongst the olive trees is also a pleasure as many of them are hundreds of years old, some thought to be 1000 years old!
If you aren't staying in a masseria, you could take this Ostuni olive oil tasting tour, which involves a visit to a masseria outside Ostuni for an olive oil tasting and tour of the groves.
If you are feeling more energetic, this three-hour cycling tour focuses on the history of olive oil and includes a visit to an olive mill and masseria.
11) Relax on a Nearby Beach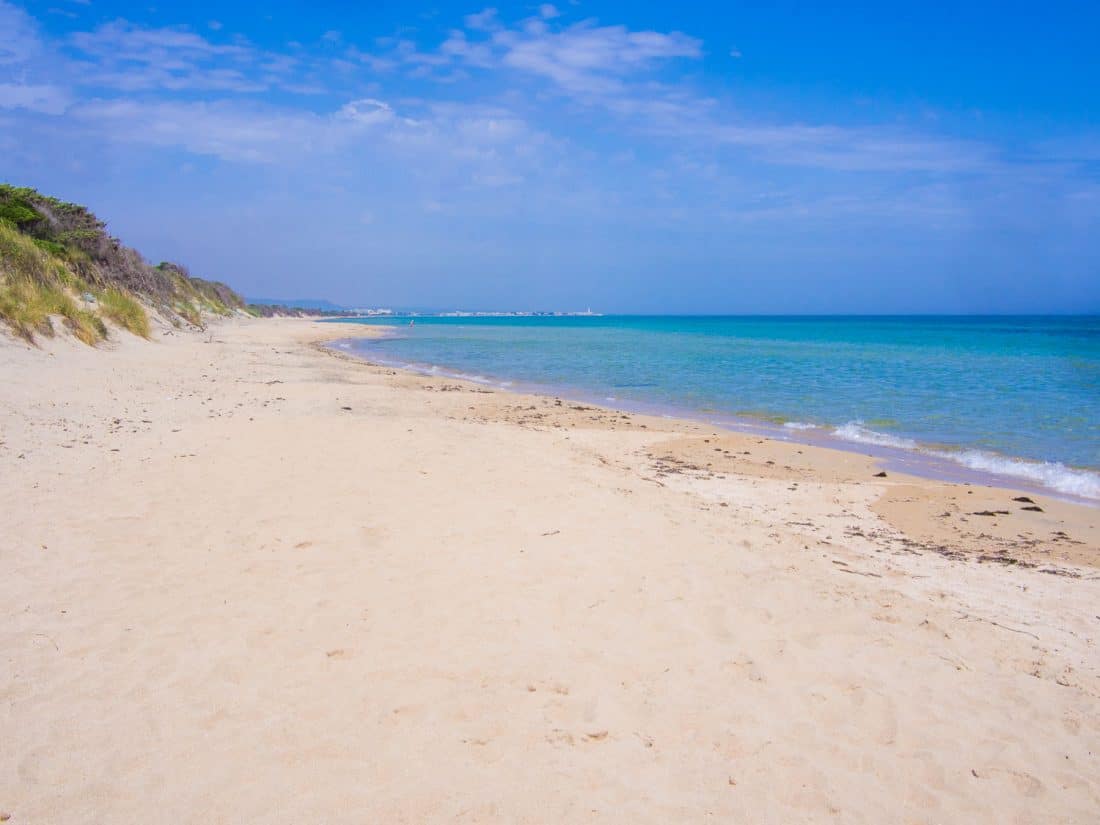 The Adriatic Coast is only a 15-minute drive from Ostuni, so you can easily combine a morning wandering the town with an afternoon relaxing on the beach.
We've visited Lido Morelli beach near Ostuni a few times. We preferred it in May when most of the white sand backed by dunes was empty.
In July, the crowds were intense but floating in the warm turquoise water was lovely.
See our guide to the best beaches in Puglia for more details.
12) Admire Ostuni from the Viewpoint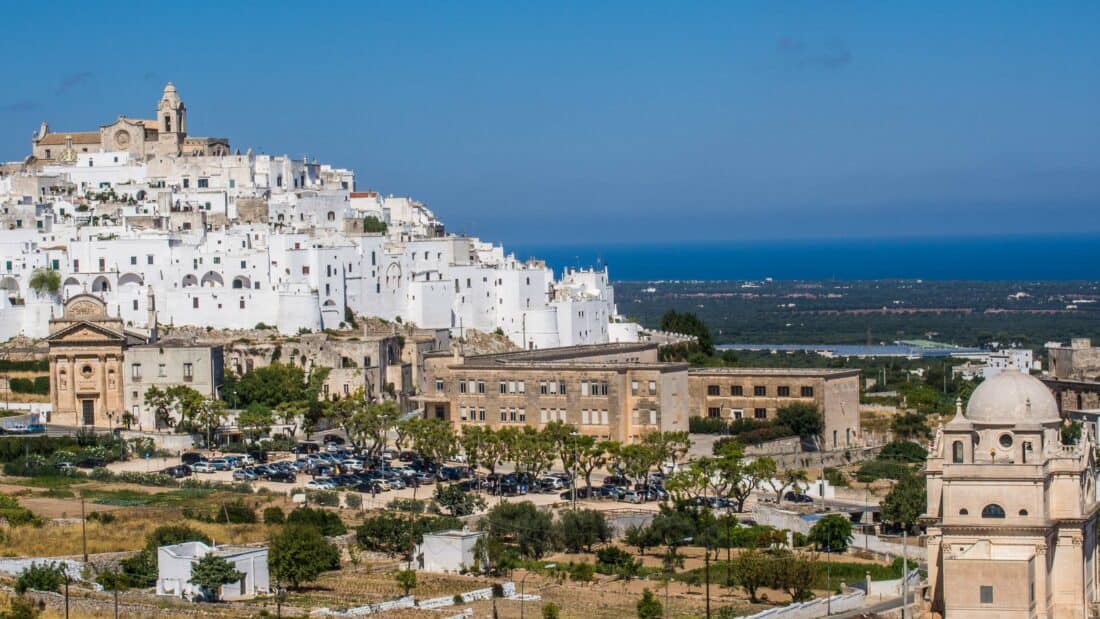 When you are driving in or out of Ostuni, be sure to stop at Piazzetta Martiri delle Foibe on Corso Vittorio Emmanuele II.
From this Belvedere (viewpoint), you can admire Ostuni from a distance, its white houses and golden churches rising up from the olive groves with the sea beyond.
Day Trips from Ostuni
There are many things to do near Ostuni, so it makes a fabulous base for exploring the Valle d'Itria's trulli (conical stone huts), olive groves, coastline, and many charming towns.
Within 40 minutes you can reach all the main attractions of the area. This is much easier by car than by public transport.
You could easily combine three or four of these towns on a full day trip from Ostuni, as they are all quite small.
See our post on the best places to visit in Puglia for more ideas as there are many lovely towns near Ostuni.
While it's less than an hour south to the beautiful baroque city of Lecce, other Salento Peninsula attractions are an hour or so further, so I recommend staying for a few days if possible.
13) Cisternino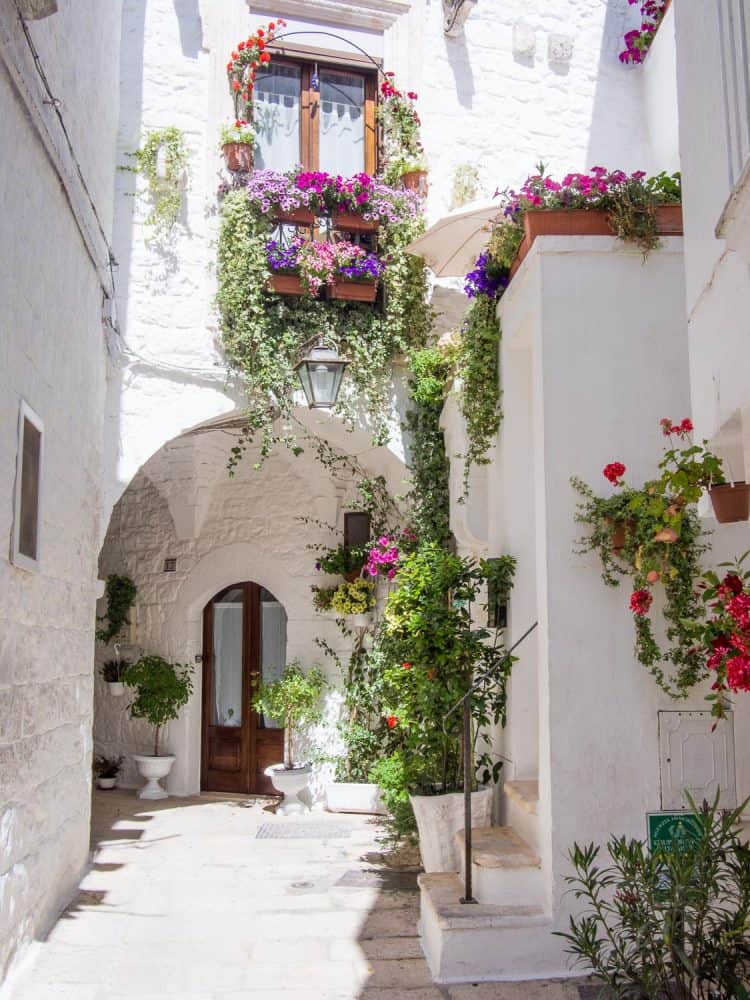 Cisternino is a 25-minute drive from Ostuni. It's a lovely white hill town that's quieter than Ostuni.
There aren't many major sights, but the narrow lanes are a pleasure to wander, and there are views of the surrounding countryside from Villa Comunale.
Many restaurants set up tables on the streets. Cisternino is famous for its meat.
As vegetarians, we stuck to a lovely aperitivo platter at the fancy cocktail bar Kimera on a pretty piazza.
14) Locorotondo
Similar to Cisternino, but I think even prettier, Locorotondo is a white-washed hill town 30 minutes from Ostuni.
The labyrinth of streets is a great place for a wander, and there are plenty of places to eat.
It's become more popular since we first visited this quiet town over a decade ago, but it's still much less busy than Ostuni.
15) Alberobello
The third town I recommend visiting on your day out from Ostuni is Alberobello. It's 40 minutes from Ostuni and closer to Cisternino and Locorotondo.
This is the most touristy town in Puglia, but it's worth visiting to see the largest concentration of trulli houses.
Read my post on the trulli of Alberobello for more details.
16) Polignano a Mare
40 minutes from Ostuni is Polignano a Mare, one of Puglia's most famous coastal towns. It really is spectacular, perched on a cliff above the sea.
As well as the usual wandering and eating, you can swim in the pretty little cove with views of the town.
Where to Stay in Ostuni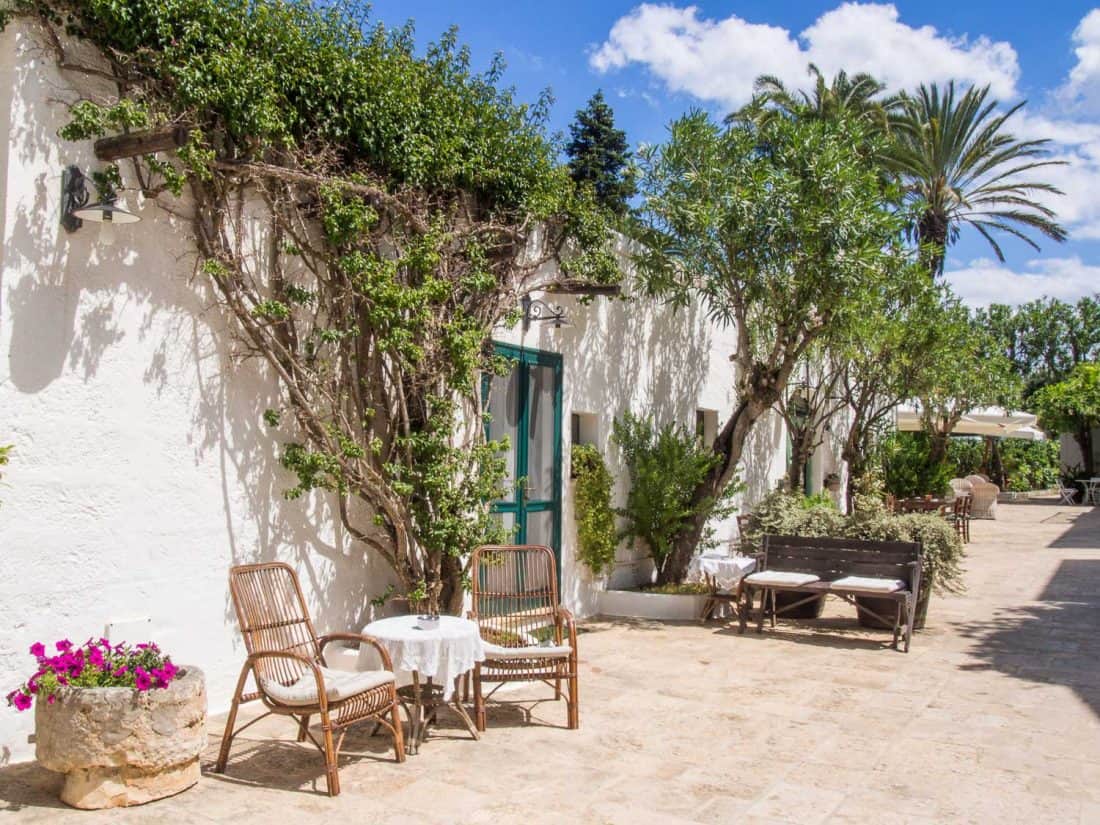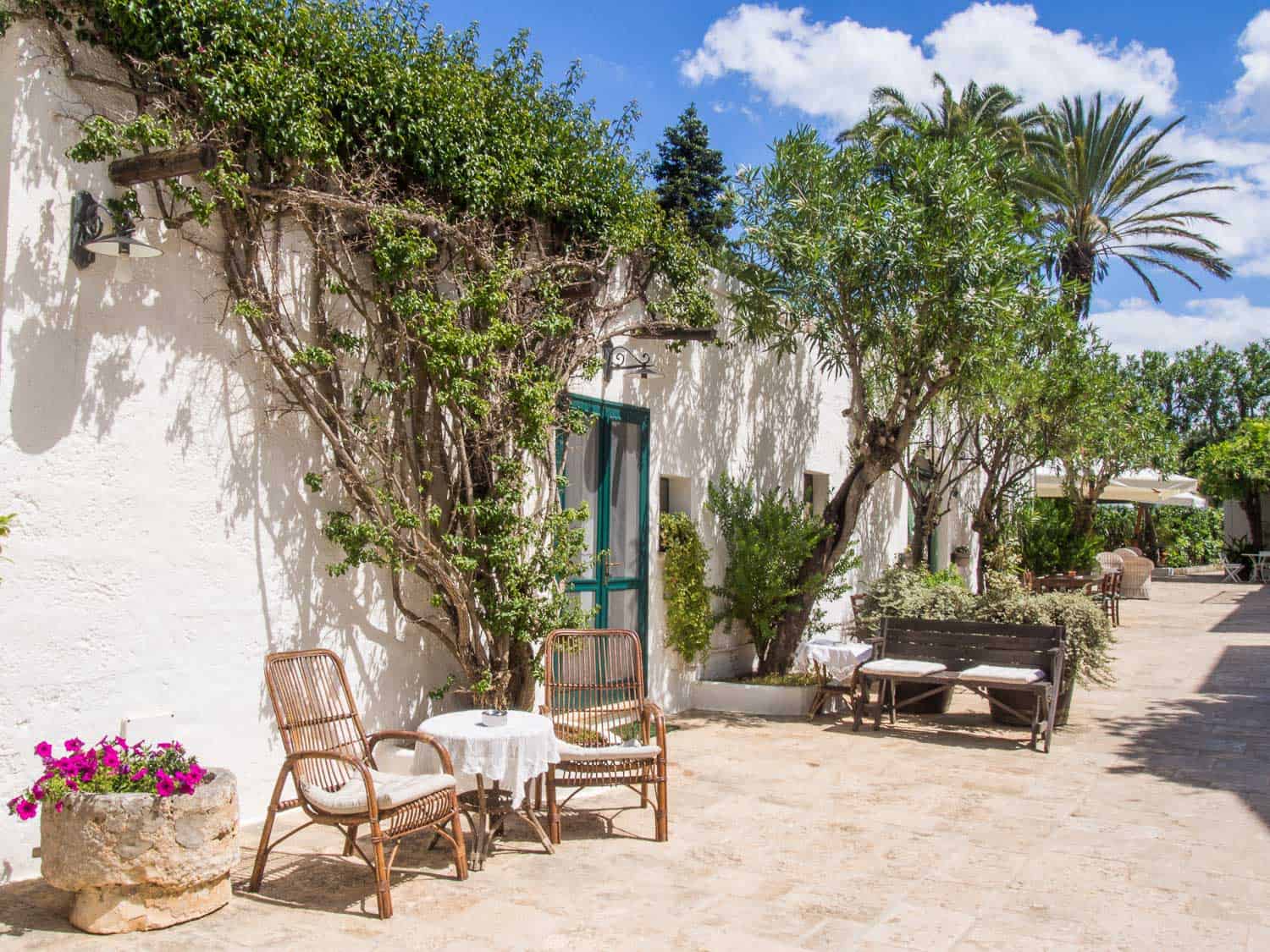 In the Countryside Near Ostuni
Masseria Il Frantoio
If you have a car, staying in a Puglia masseria (fortified farmhouse) in the countryside surrounding Ostuni is a wonderful option.
Our favourite is Masseria Il Frantoio on an olive farm just 10 minutes outside Ostuni.
The old stables and grain mill have been lovingly restored and converted to comfortable guest rooms.
The beautiful grounds and pool are perfect for relaxing, and the tasting menus using produce and oil from the farm are incredible.
Read more about it in our Masseria Il Frantoio review or check availability here.
Masseria Spetterata
On our last visit, we stayed at Masseria Spetterata. It's not quite as convenient for Ostuni, a 20-minute drive away, but it's still central for exploring the area.
Rooms are simple, but our superior double room had a large terrace with a couch and sea views—perfect for warm summer nights.
The pool is a highlight with even better views of the Adriatic Sea and surrounding olive groves.
There are no evening meals, but the breakfast buffet and pasta lunch were delicious.
The owner and staff are extremely friendly and will go out of their way to help.
Check availability for Masseria Spetterata here.
In The Centre of Ostuni
If you want to stay in Ostuni, consider Biancadamari, a stylish B&B with stunning views of the old town and sea.
It's in the modern part of town, a 10-minute walk from Piazza della Libertà, with the bonus of free onsite parking.
If you want to stay in the maze of the historic centre, bear in mind that you will have a long uphill walk from the car parks (as it's pedestrian-only).
There are quite a few small B&Bs and apartments to rent such as the beautifully renovated White Dream apartment.
Search for more places to stay in Ostuni here.
How to Get to Ostuni, Puglia
Rental Car
While you don't need a car in the historic centre, Ostuni is best reached with your own vehicle so that you'll have transport to visit the nearby beaches and hill towns.
You can rent cars at Brindisi Airport (30 minutes away) and Bari Airport (1 hour and 10 minutes away). We use Rental Cars to find the best deals.
Ostuni Parking
Parking in Ostuni can be a challenge in the summer high season.
The historic centre is pedestrianised and on a steep hill, and the car parks are located at the bottom near Piazza della Libertà.
On our last visit, we parked at the large car park marked Parcheggio Ostuni "Al Giardino" on Google Maps, a few minutes walk from the main piazza.
It costs €2.50 for two hours and you pay at the machine with coins or a card (although I never rely on cards working on Italian parking machines).
Ostuni by Public Transport
Visiting Ostuni by public transport is possible with some patience. Avoid travelling on Sundays if possible as services are reduced.
It's on the Trenitalia train line with direct connections to Bari, Polignano a Mare, Monopoli, Cisternino, Brindisi, and Lecce.
Unfortunately, Ostuni train station is a 3km (40 minute) walk from the historic centre of Ostuni.
Buses do run from the train station to Piazza della Libertà but not that frequently. You can check this Ostuni bus schedule. You can buy bus tickets from the bar in the station for €1.10.
Ostuni Italy Map
Is Ostuni Worth Visiting?
La Città Bianca, the white city of Ostuni, is one of Puglia's highlights and shouldn't be missed on a trip to this beautiful region of Italy.
While it is busier than other hill towns in the area, the maze of streets is undeniably charming, and the views of the countryside are beautiful.
Whether you visit Ostuni for half a day from elsewhere in the region or choose it as a base to explore the Valle d'Itria, it's certainly worth visiting.
I hope this post has given you some ideas of what to do in Ostuni, but really the best activity is to wander aimlessly, stopping to enjoy delicious food along the way.
More Puglia Posts
If you enjoyed this post, pin it!