This page contains affiliate links. Please read our disclosure for more info.
Ostuni is one of Puglia's most beautiful cities, a tumble of white-washed buildings perched strategically atop a hill with views of the endless olive trees in the Valle d'Itria countryside, and the glimmering Adriatic Sea just 8 km away, home to some of the region's most exclusive resorts.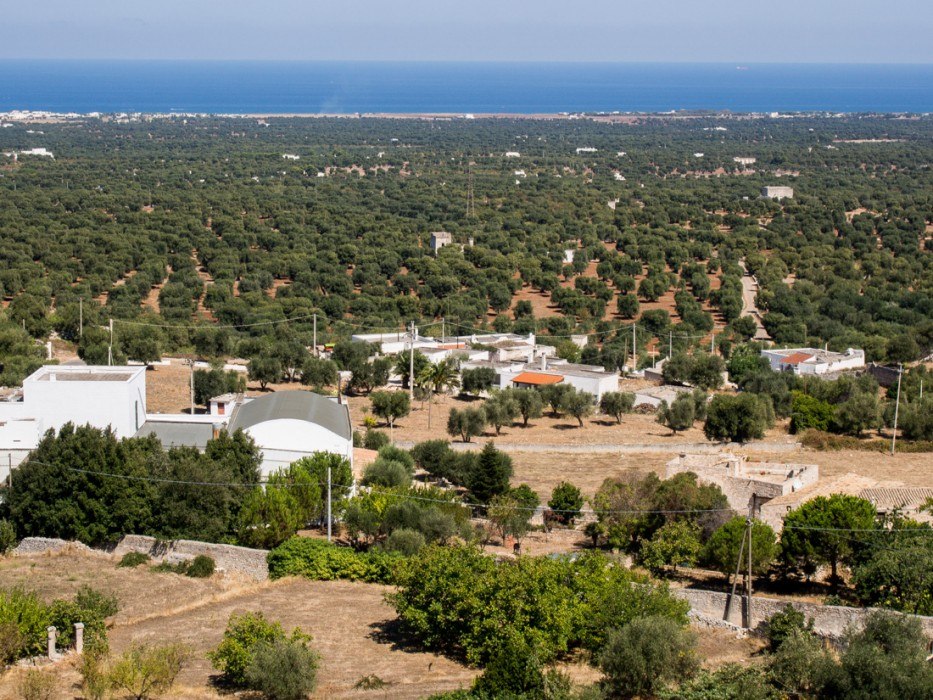 The medieval walled city was built without a plan, and it shows. The web of streets is confusing, a maze of alleyways, staircases and arches. Buildings were built on top of each other, and the archways support the houses they connect, making up for the lack of strong foundations.
You turn one way and find a dead end, another and get a glimpse of the sapphire sea. Puglia has seen a stream of invaders—Greeks, Romans, Goths, Byzantines, Normans—and the labyrinth of Ostuni is the perfect way to confuse the enemy.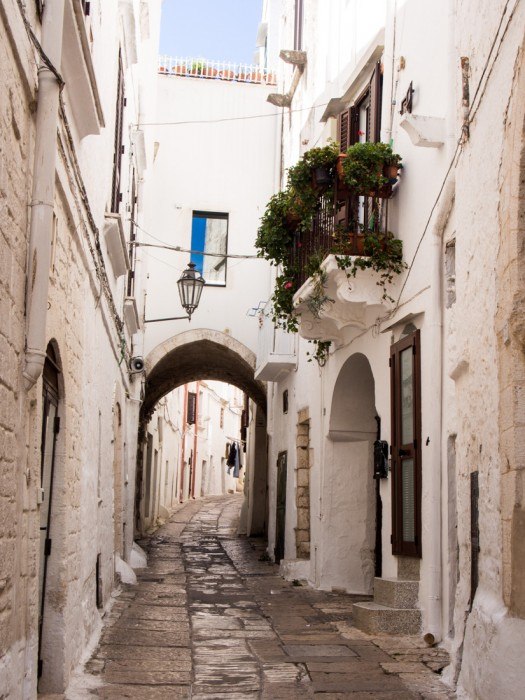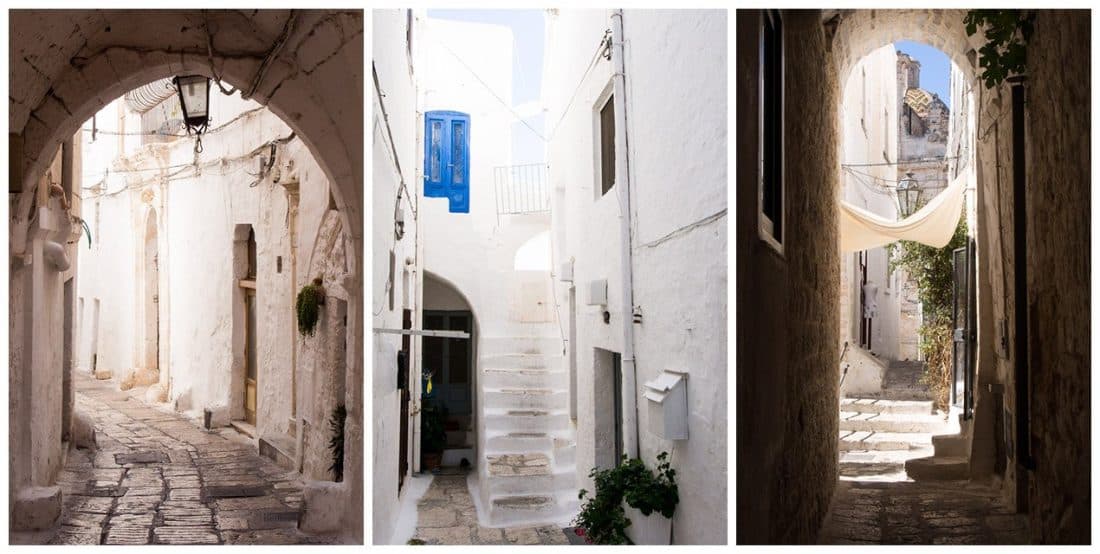 The stark white buildings are dazzling in the southern sun and are brightened by vivid green and blue wooden doors, pots of red geraniums and cacti.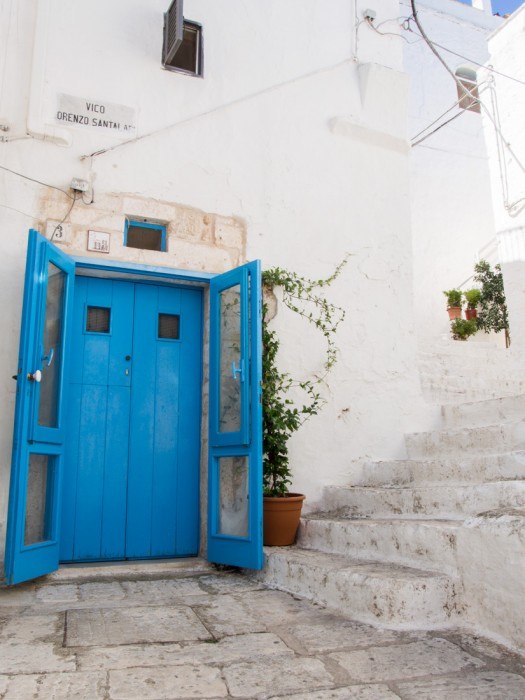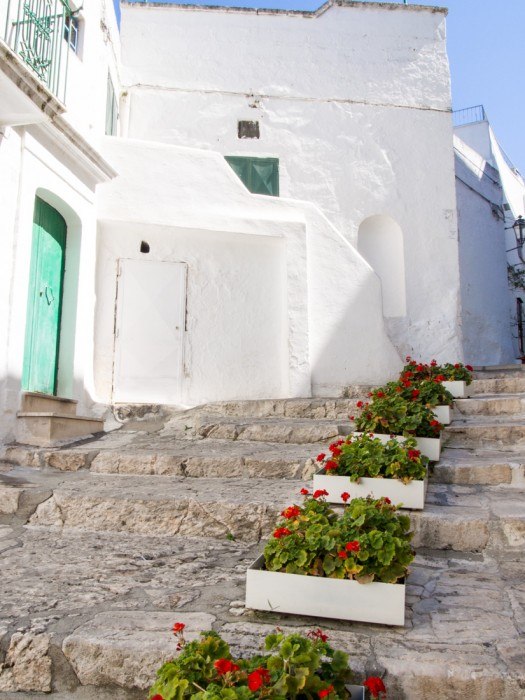 In the 17th century a plague killed millions in the area and infected houses were painted white by mixing limestone dust with water. Locals noticed that there was less illness around the white houses and attributed it to a miracle; most likely it was the antibacterial effect of the calcium carbonate.
Nowadays the white houses attract tourists and the local government encourages everyone to repaint every two years by paying for half the cost.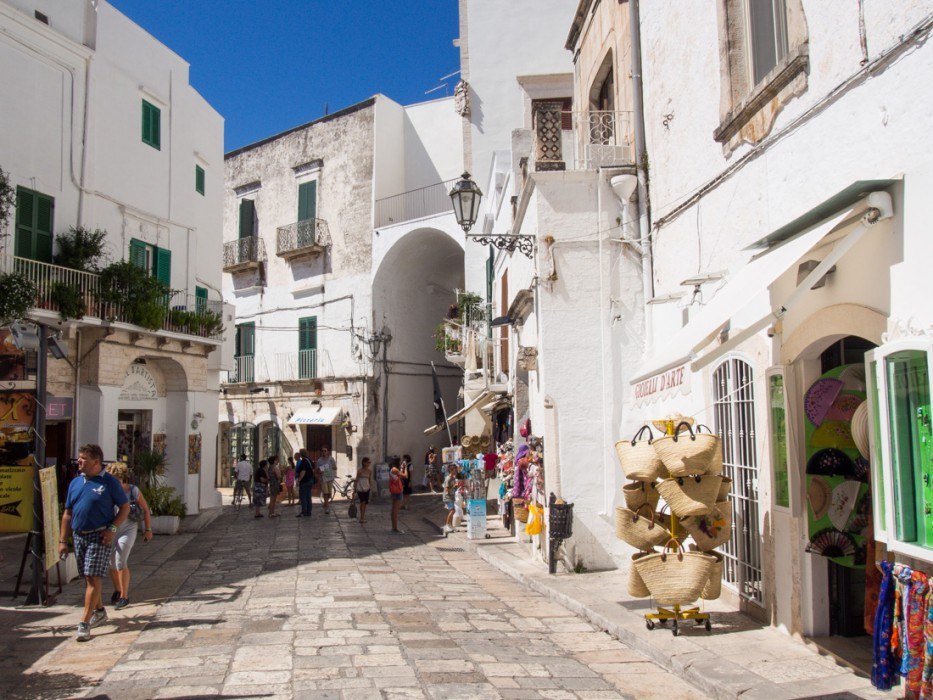 The main street in Ostuni is lined with boutiques and souvenir shops selling local olive oil and Salentino sandals, but the best way to experience the town is by diving down the narrow side streets and like the invaders once did, getting lost.
We came across this craftsman in his workshop, making kitchen spoons out of olive wood. He's been crafting them by hand for 40 years and was proud to show them off.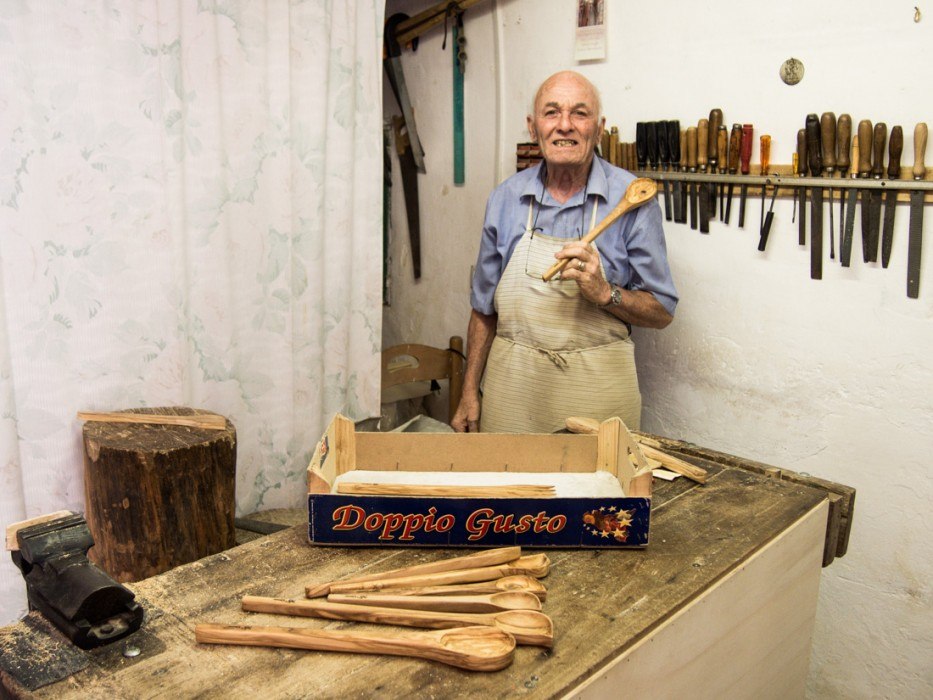 At Ostuni's highest point you'll find the Cathedral, built in the 15th century in the late Gothic style, rare in Puglia where most of the churches are austere Romanesque or ornate Baroque.
Its graceful lines lead to the sky and there's a magnificent rose window with Christ at the centre surrounded by 24 finely carved columns representing the hours of the day.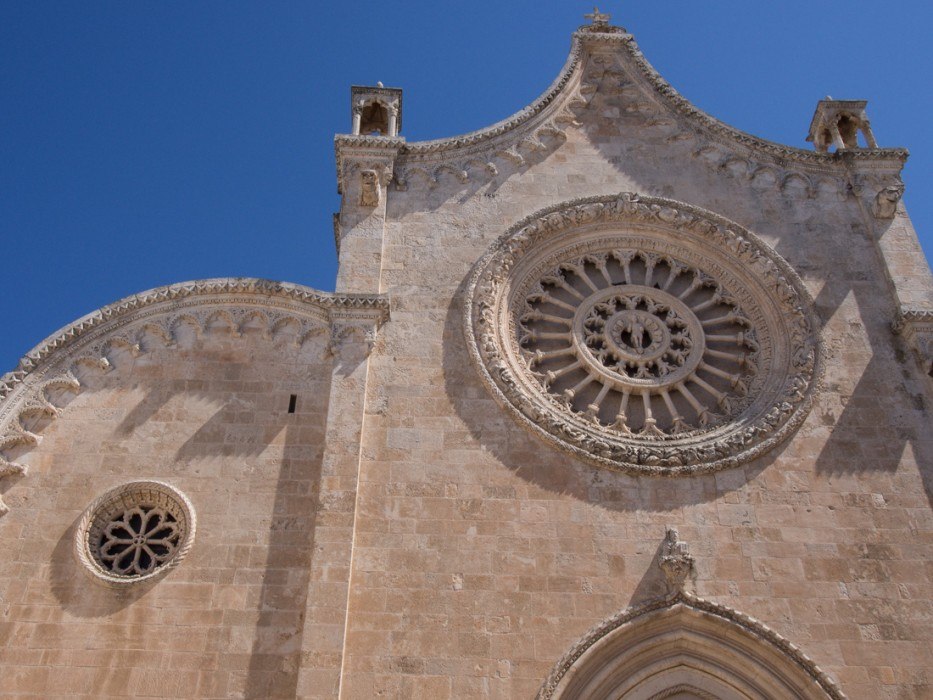 Ostuni Market
We visited on a Saturday, Ostuni's market day. It's very much a local place—most tourists don't make it here on the edge of town—and is foodie heaven.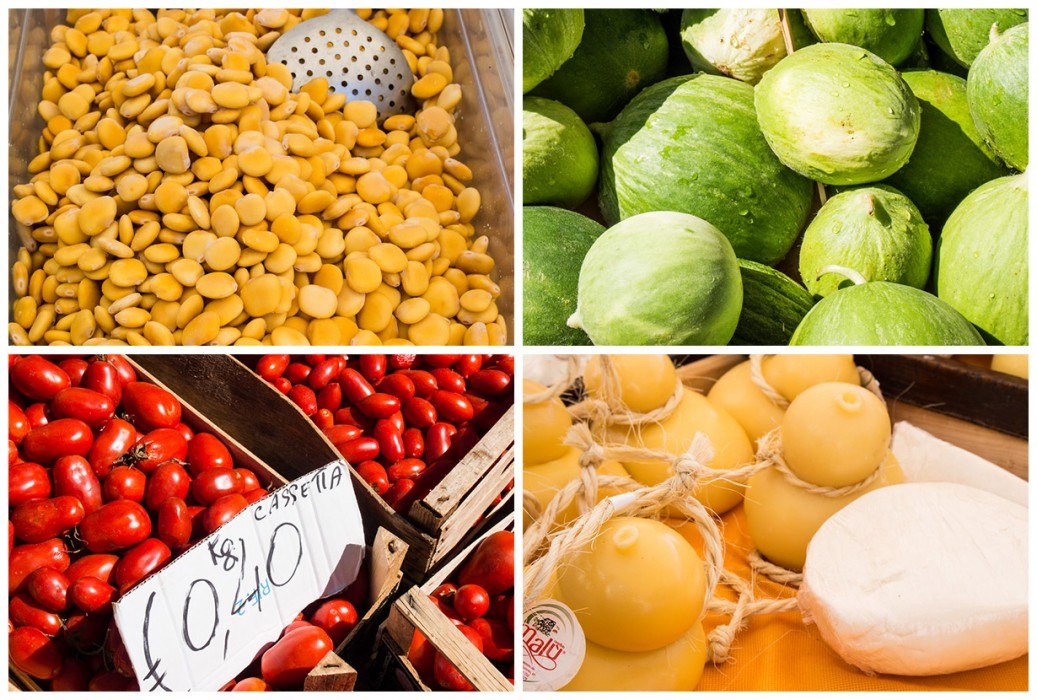 We browsed the stalls of bulbous round cucumbers, fresh almonds in brine, dried figs, piles of walnuts, aromatic bunches of oregano, twin balls of caciocavallo cheese dangling from string, trays of snails, entire octopus, and mounds of vibrant red chiles, sweet and spicy, round, bell-shaped and long.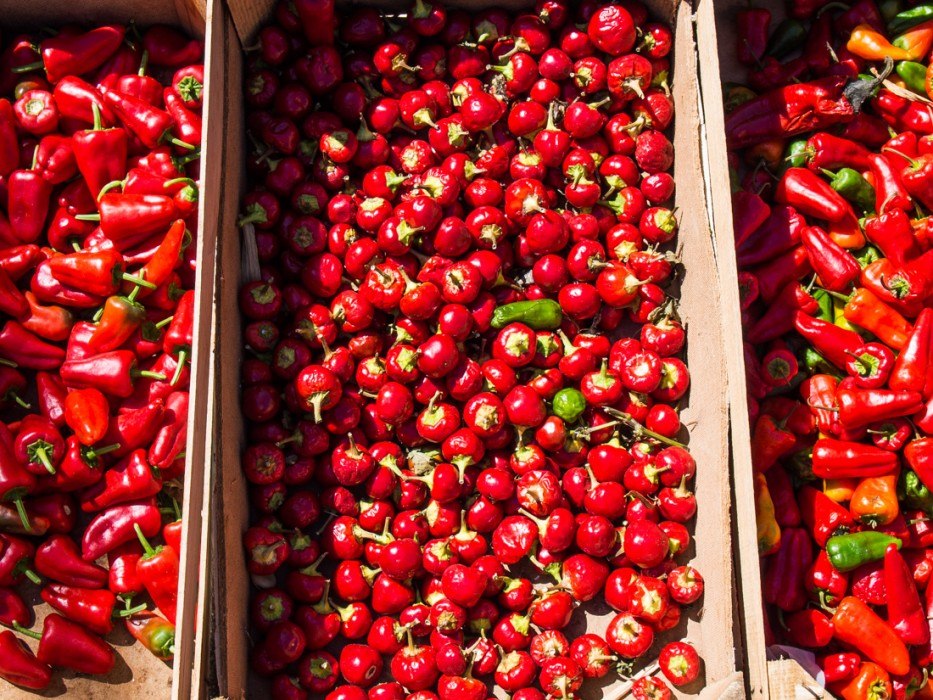 One vendor encouraged us to try his home-made taralli, crunchy bread stick rings that are a typical local snack. He had them in all different flavours including fennel, chile, onion, pizza, and bacon.
We also tried lupini for the first time, a yellow bean pickled in brine that you eat by piercing the skin with your teeth and pushing the bean into your mouth.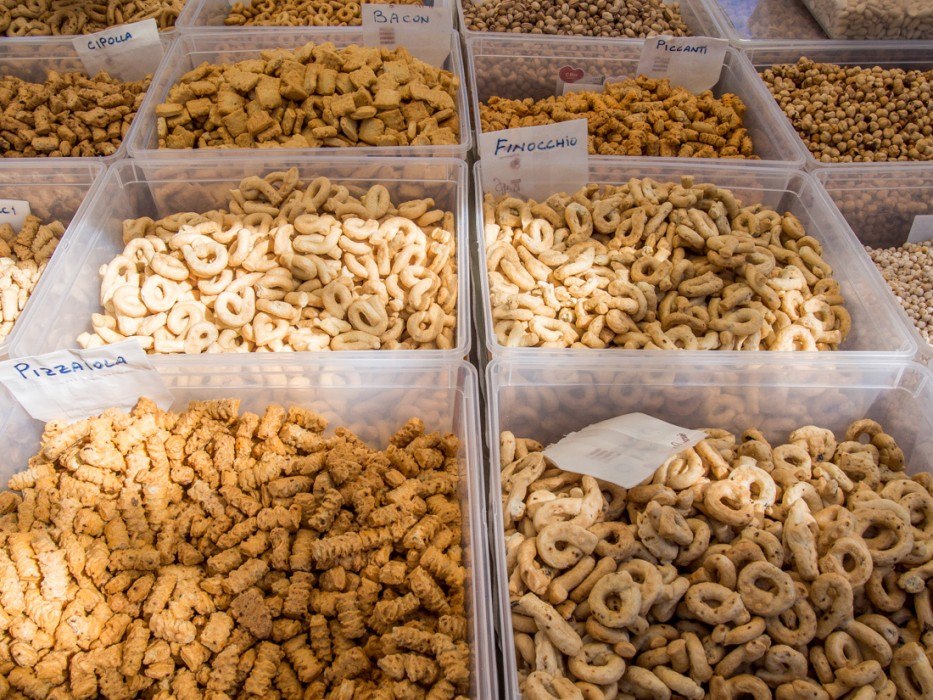 We were amazed by the variety of fresh local produce on offer and at such low prices—most things were under €1 a kilo, grapes were €0.50 a kilo, and giant watermelon just €0.25 a kilo. We wished we were staying longer and had a kitchen to take advantage of the riches.
Where to Stay in Ostuni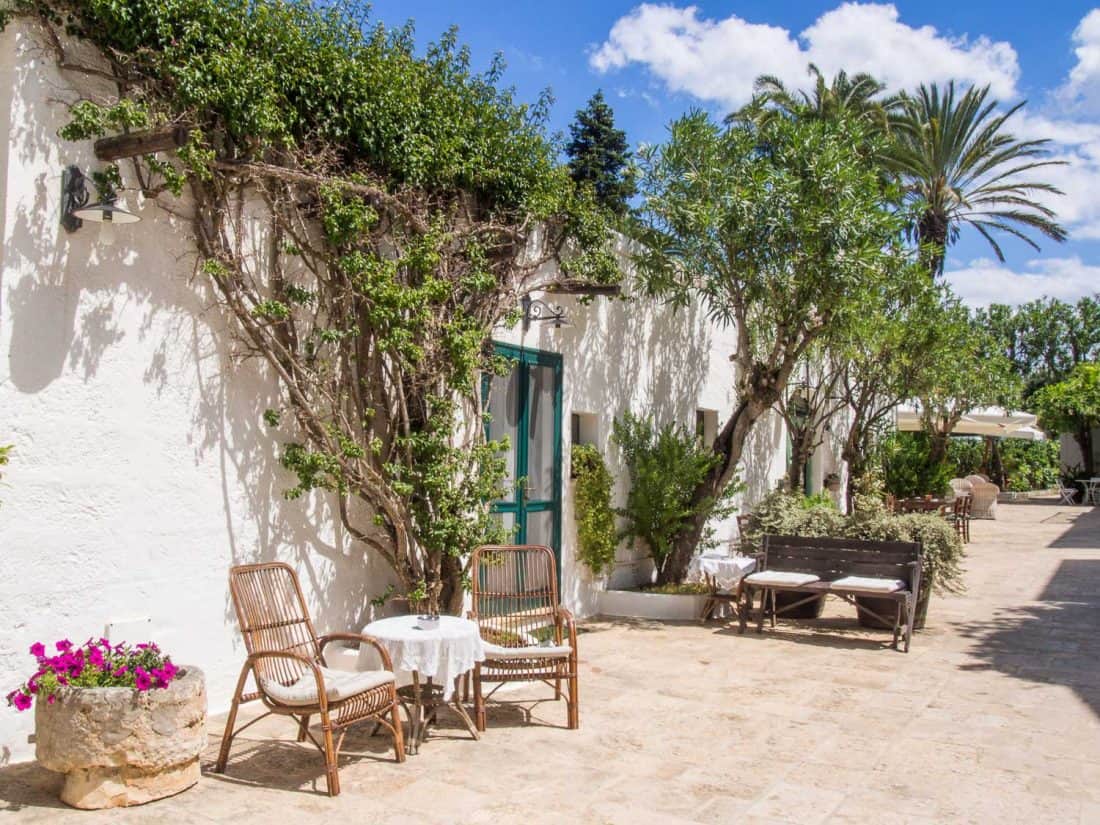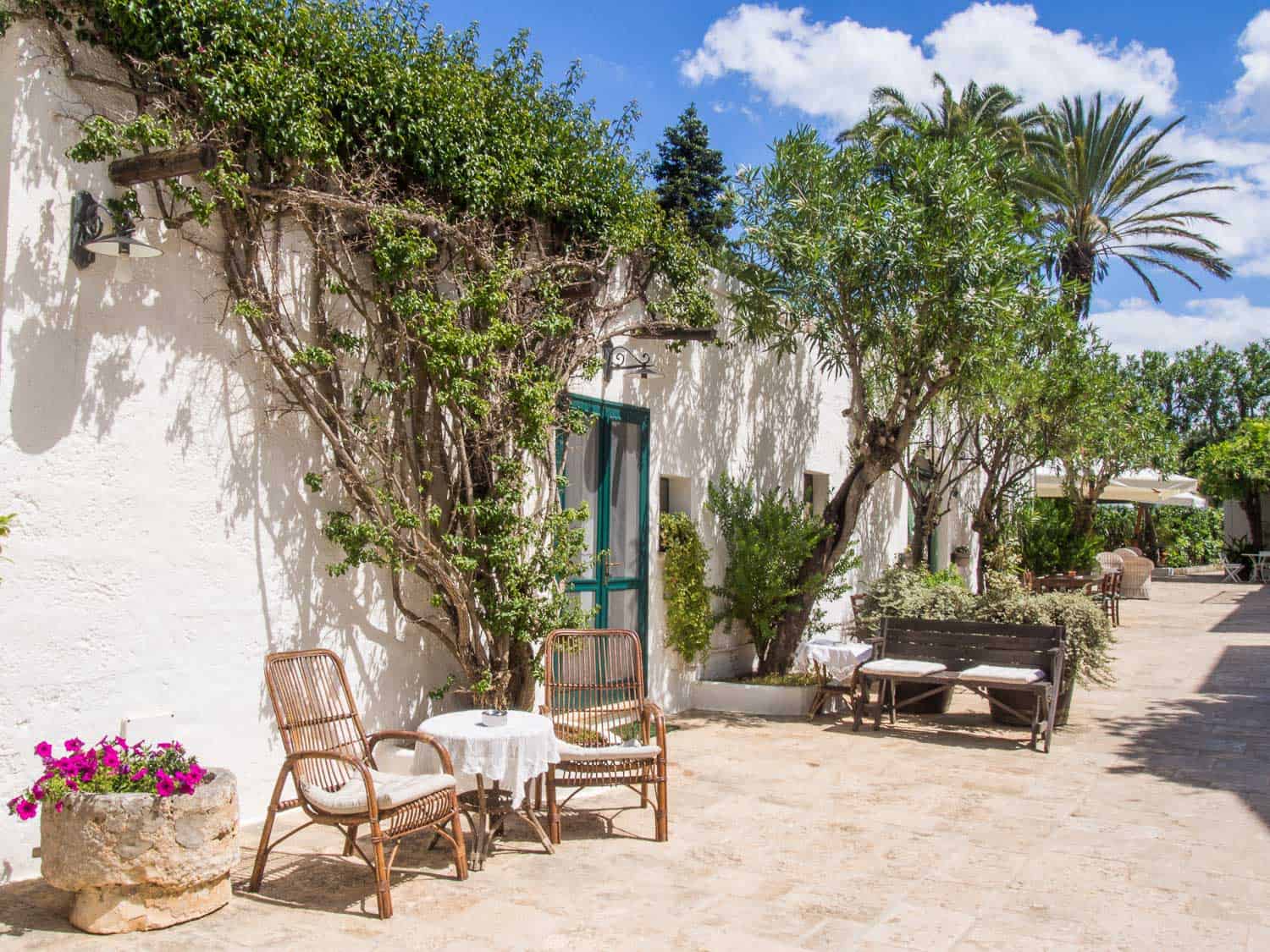 Ostuni makes a fabulous base for exploring the Valle d'Itria's trulli (conical stone huts), olive groves, coastline, and many charming Puglia towns like Locorotondo, Alberobello and Cisternino.
In the Countryside Near Ostuni
If you have a car, staying in a masseria (fortified farmhouse) in the surrounding countryside is a wonderful option. On our last visit we stayed at Masseria Il Frantoio, a 500-year-old organic olive farm 10 minutes outside Ostuni, and it was magical.
The old stables and grain mill have been lovingly restored and converted to 16 comfortable guest rooms. The beautiful grounds and pool are perfect for relaxing and the tasting menus using produce and oil from the farm are incredible. Read more about it in our Masseria Il Frantoio review.
In The Centre of Ostuni
If you want to stay in the centre of Ostuni, Biancadamari is a stylish B&B with stunning views of the old town and sea. Or there are many budget apartments in the historic centre like 30 Metri Quadri.
You can find more places to stay in Ostuni here.
La Città Bianca, the white city of Ostuni, is one of Puglia's highlights and shouldn't be missed on a trip to this beautiful region of Italy.
If you enjoyed this post, pin it!