This page contains affiliate links. Please read our disclosure for more info.
This post is a little late as we're nearly half way through our sixth year as digital nomads, but here's what we spent in our fifth year of living and working on the road.
Our annual expenses are broken down into four areas:
Daily Expenses – Day to day living costs including visas, accommodation, food, in country transport, toiletries, clothes, and low cost activities.
Flights – Domestic and international flights.
Extras – Insurance, major medical expenses, expensive activities, and other large unusual costs.
Business – These expenses aren't related to travel but to running our online business. They include technology (laptops, hard drives, iPhone, camera), website hosting, domains, software, and cloud storage.
These are our expenses for year 5 of our travels from March 2014-February 2015. This is for two people in British pounds. The second row has the amounts converted into US dollars at the current exchange rate in July 2015.
| | Daily Expenses | Flights | Extras | Business | Total |
| --- | --- | --- | --- | --- | --- |
| GBP | £13,812 | £3,948 | £1,127 | £3,313 | £22,200 |
| USD | $21,550 | $6,160 | $1,758 | $5,169 | $34,637 |
This works out at £1,850 ($2,886) a month for us both with an average of £1,150 ($1,794) a month spent on general living expenses with the extras spent at various points during the year.
We spent almost £2000 less than in year 4 (which was itself £1000 less than year 3), but have stayed in the range of £21,000 to £25,000 for the last four years, averaging around £23,000 ($35,880) a year or £1900 ($2964) a month.
We haven't tried to stick to a particular budget. Although we track all of our expenses with an app and set target budgets for each destination, we aren't very strict about it. We prefer comfortable accommodation, often splurge on fancy meals, and do whatever activities we're interested in.
To give you a better idea of what we spent our money on here's a breakdown of each area of spending.
Daily Expenses
In year 5 we travelled to 10 countries in Southeast Asia, Europe, and North and Central America. Fairly typically we spent five months in more expensive destinations (Europe and the US) and the rest of the year in cheaper countries.
We started the year travelling around Cambodia and Malaysia, staying in most places for about a week. We splurged on a five day sailing course on a live aboard yacht in Langkawi, but have included that expense in Extras below. Next we spent six weeks on our favourite Thai island Koh Lanta where our expenses were quite low as it was low season and friends let us stay in their gorgeous villas for free. We stayed with Simon's brother in Singapore for a week before heading to Europe.
We spent the summer travelling slowly around Turkey, housesitting on a remote farm in Spain, and visiting friends and family in England. In the US we attended a festival in Portland, stayed with friends in San Francisco and San Diego, and I ran my first half marathon in Sonoma.
It was a busy summer and autumn so from November we settled down for nearly three months in the tiny village of San Marcos on stunning Lake Atitlan, Guatemala. When our visa expired we crossed the border to Mexico, travelled to a couple of places before renting a house with friends in beach town Puerto Escondido for a month.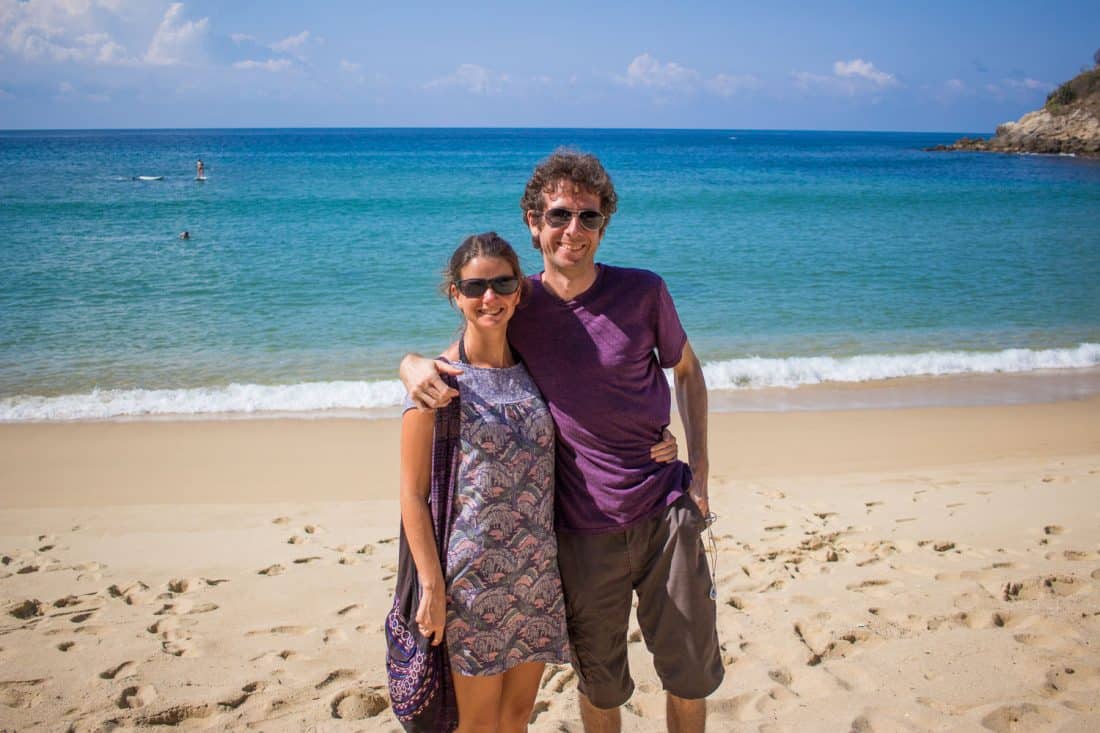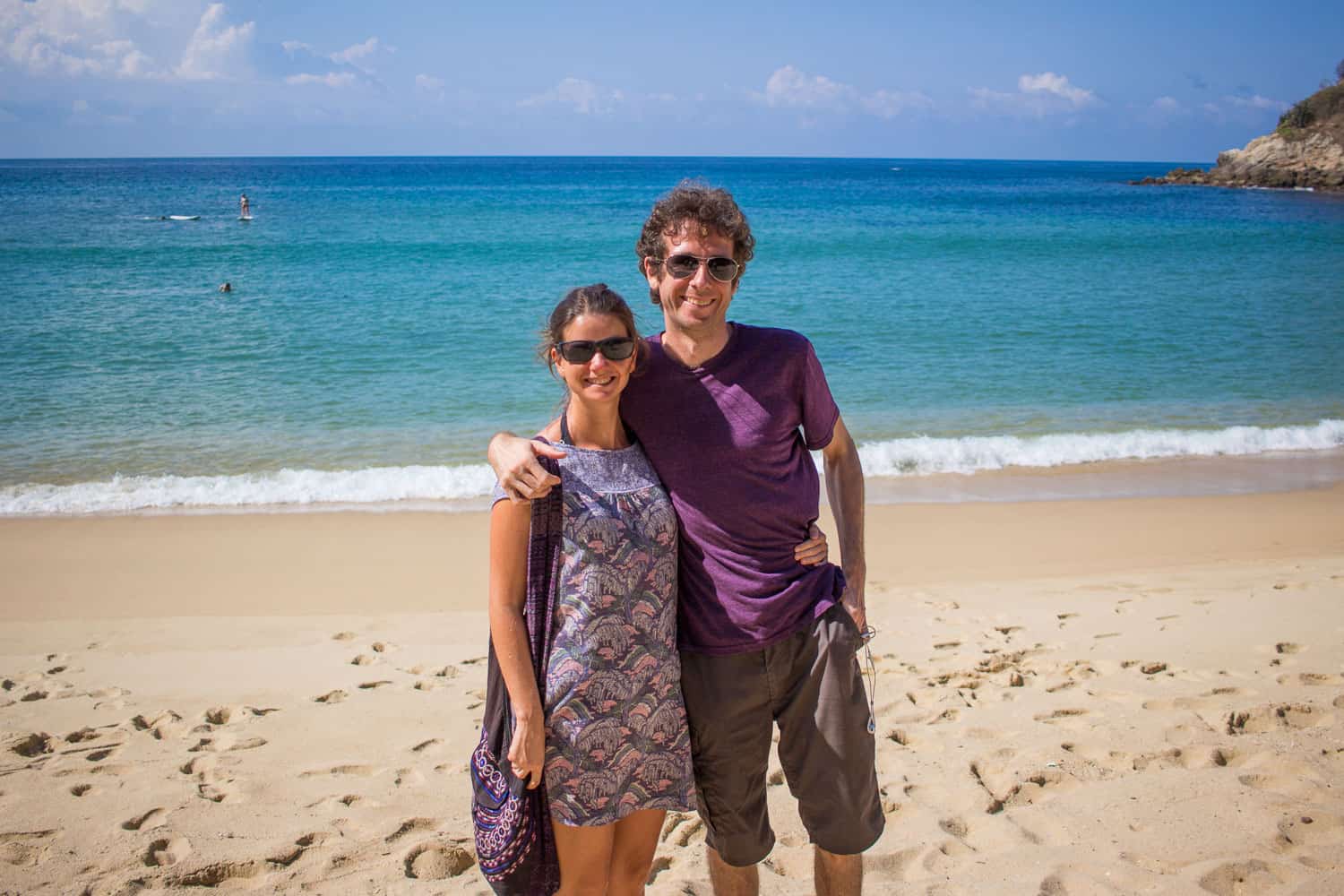 Although we spent a lot of time in expensive destinations we balanced out the costs by housesitting and staying with friends, and by ending the year in Guatemala. We always spend less when we slow down and rent a place for a few months. Although our daily expenses were a little lower this year, when we did pay for accommodation we chose comfortable guesthouses (in Asia) or nice Airbnb apartments (in Europe and the US).
You can read our highlights from year 5 here.
Flights
We flew a lot this year as we've become less tolerant of overnight buses which aren't much fun and leave us tired for days afterwards. We flew between countries in Southeast Asia (mostly with Air Asia) and Europe, and cities in the US. Our major flights were between Singapore and Istanbul, London to Los Angeles (quite reasonable on Norwegian Air), and San Diego to Guatemala City. We also booked a cheap Norwegian flight from New York to London so that we'd have proof of onward travel for entering the US, and then changed the date later—even with the flight change fee it was cheaper than other airlines. We don't usually bother with proof of onward travel but the US is one country we don't like to mess with.
Extras
This includes the sailing course we did in Malaysia, Simon's CBT (the first stage in getting a motorbike licence), a new backpack, and travel insurance (we use True Traveller who are one of the few digital nomad friendly insurance companies).
Business
Our regular expenses to run our business include hosting, domains, cloud storage, newsletter (Mailchimp), VPN (Witopia), and software (Adobe Creative Cloud). We also experimented a little with Facebook advertising. Our National Insurance payments in the UK (where we are registered self employed) are also included here.
New gear included an iPhone 6 and a hard drive. Business costs were lower than the previous year as we didn't buy a new laptop or camera.
Destination Budgets for Year 5
We've written more detailed budget breakdowns for the following places:
How We Track Our Expenses
App
Even if you aren't on a strict budget we believe that tracking your expenses is important so that you are aware of your spending. We enter each item we spend into our iPhone app. We created Trail Wallet over two years ago to help us and other travellers easily track expenses while travelling (Update: after 10 years, we have taken the sad decision to remove Trail Wallet from the App Store so it is no longer available).
Other Methods
I also use a spreadsheet to track our income and overall expenses (in the way we've shared above). On the first of each month I check every bank balance, plus our Paypal accounts and the amount of cash we have on hand, and enter the totals in another spreadsheet so I have a clear picture of exactly how much money we have. It's a good idea to check internet banking regularly for any discrepancies.
We have multiple credit and debit cards in case we lose any, plus some emergency dollars. We manage everything by internet banking. You can read a more detailed post about how to manage your money while travelling.
Our Income
Our income comes from advertising and affiliate commissions on this site, the iPhone apps Simon makes at Voyage Travel Apps, the freelance writing I occasionally do, and rental income from a house we still own in the UK. For more details see our post on how we fund our travels.
For the last three years we broke even and year 5 was about the same, although there was a little more in our bank account by the end of the year. Our goal is to be able to start adding to our savings and this is starting to happen in year 6. We could earn more but we're not motivated by money and prefer to work on things that interest us. It finally feels like that's beginning to work out for us.
This isn't a post to show how cheaply you can live on the road as sticking to a low budget isn't a priority for us. It is an example of a realistic digital nomad budget for a couple staying in comfortable apartments and hotels, eating good food, and mixing slow and fast travel. In year 5 we learnt to sail a yacht, stayed in a beachfront villa in Thailand, learnt to cook Turkish food, hot air ballooned over Cappadocia, rode horses in the Alpujarras, ran a half marathon through Californian vineyards, rented an apartment with lake and volcano views in Guatemala, and released baby turtles in Mexico—all while working on what we love and spending every day together. For the quality of life we live our expenses feel like a bargain.