This page contains affiliate links. Please read our disclosure for more info.
If a business was a car, Apple would be a Mercedes SLS in silver. Sleek, beautifully designed and carefully engineered, causing heads to turn as it cruised its way confidently down the highway of life.
Our business would also cause heads to turn, just for different reasons.
Picture, if you will, an old VW van. It's painted orange except for the sliding door on the side which is an incongruous sky blue. It's engine has a weird clicky sound that really should be looked at but other than that it runs perfectly if you're not in a hurry. Inside, it's decorated with mismatched curtains and a thick, purple rug. It has what appears to be a child's drawings hung up around the walls.
But we've been digital nomads for over 1000 days now. In that time, we've visited 21 countries and somehow managed to keep this little van of ours from turning into a fiery wreck by the side of the road.
Here's how.
Web Design and Development Freelancing
Our main income for the first year came from our web design and development business, Line In. In the nine months prior to embarking on this voyage, I had my first (and only) job as a designer at a web agency, and at the same time I designed a few sites for friends and family to build up my portfolio. We didn't get the business properly up and running until we'd already left the UK, but this initial work later led to more work from friends of friends. For us, the old adage has borne out: word of mouth has been our best marketing tool.
The next best tool has been this here blog you're reading. Through our travel tales and photos, people have got to know and trust us. Now, when they have a web-based project and it's a choice between Random Internet Agency and Li'l Ol' Me, they pick me (at least some of the time). Running a blog about one of your other interests can be a great way of getting business, especially if you're the only person who does your line of work in a particular interest or hobby niche: you can become known in Historical Horse Saddle circles as the web design guy, or accountant, or designer, or DJ, or whatever.
However, this form of marketing does take a lot of work. This blog is Erin's full time job and it can't be faked. You're only going to get a community that trusts you enough to hire you if you're genuine and you engage fully within that community. Starting HorseSaddlesFromThe1800s.com just to get business will probably fail—you really have to be passionate about Victorian riding gear for this to work.
Thirdly (and this should be obvious), do a great job.
I am passionate about what I do, and I'm willing to work hard at it to give clients (almost) exactly what they want (sometimes you have to say no to the animated dancing cat—you know who you are).
This has led to some mutually beneficial long-term relationships with clients that have brought in a lot of repeat business and those magical word-of-mouth recommendations.
There is a down side to Doing Great Work, though: it takes time.
For a long time we struggled to estimate how long projects would take and often undercharged. It's something we still have issues with, although this year I have become a lot more exclusive about who I work with and only take on projects where I can charge an hourly, rather than a fixed, rate.
The other problem that we've had is my ADD-like obsession with the new and the shiny. I tend to go for the interesting or challenging jobs over the easy and profitable. This approach flies in the face of traditional business advice and, frankly, there's a good reason why that advice exists: The way we do it is crazy.
How can you come up with a decent estimate for coding a multi-faceted web app when your last job was drawing pictures of a dude lounging at the beach?
This is only a problem until you remember that the whole purpose of this lifestyle is to enable you to do what you want, not what makes the most money. Sometimes it's worth taking the financial hit to do what you love.
Freelance work is also inconsistent—there can be moments where you find yourself sitting on a street in Buenos Aires with a sign that reads "will code plugins for food" (actually, it reads puedo modificar plugins por comida). Other times, you'll have to mainline coffee and you won't get to see a pillow for a week.
For all these reasons and the fact that trading time for money isn't scalable, this year we've moved away from client work into creating iPhone apps, which seem to be the perfect intersection of all of my many and varied interests.
It's difficult to turn down money now for potential earnings later but one of the many glorious things about running your own business is that you get to say "You know what, honey? Today we're going into the App Business!".
Our Freelancing Tips
Develop your portfolio and get some clients before you start travelling if possible
Let everyone know you are available for freelance work
Look for work on sites like elance.com—the fees are low but it'll help you get started
Have some savings to tide you over when you haven't got a lot of work coming in
Have a detailed contract and take a deposit (for us, usually 50%) before you start work
Keep track of every minute you spend on a project and on what—it'll help with estimating jobs later
Do Great Work
Recommended Reading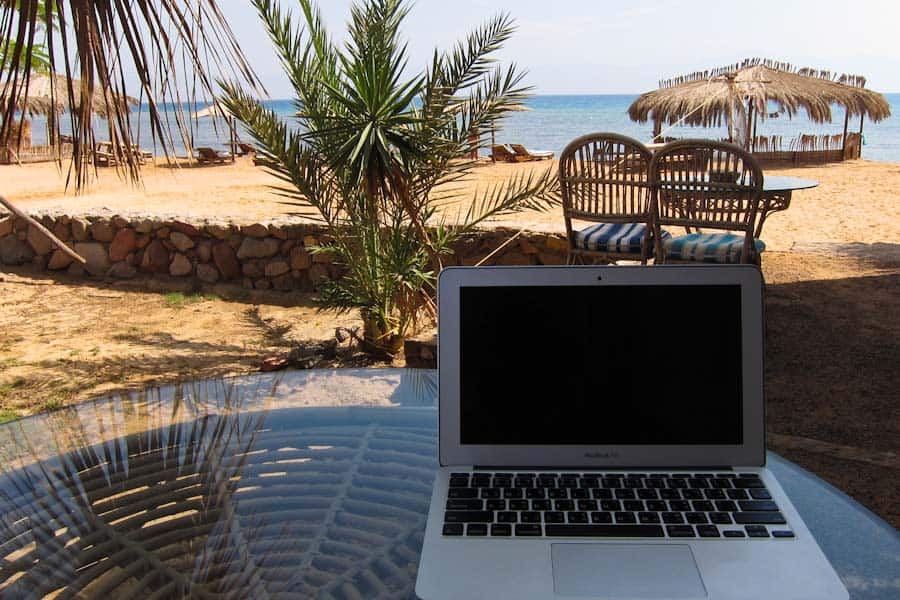 Travel Blog
If you really want to make money online, you definitely need start a travel blog.
Hold for laugh.
Seriously, though, if you want to work for less than minimum wage; be continually frustrated at web hosts; wonder why the hell this block of PHP code is causing your logo to appear upside down in Firefox; and spend too much of your time documenting your travels and not enough living them, then you should start a travel blog.
This travel blog is Erin's full time job. As well as the writing and the taking and editing of photos, there's the researching and planning our next destinations, the liaising with advertisers and sponsors, and many other tasks. If our responses to you on Twitter or Facebook are coherent and sane, you're likely talking to Erin. If you get timely email responses in grammatically correct English, that's her. If you ask a question in a comment, she'll be there answering it.
We run this blog because we love to travel and we want to help other people travel, perhaps even permanently. We had stuff we wanted to share and this was the perfect platform to share it. We didn't actively monetize this site until about 18 months after we started it. Our priority was (and still is) creating the best content we can and reaching the people we hope it will benefit.
From the lovely messages and emails that we get daily, it seems to be working. Unfortunately, and as wonderful as those messages are, we still haven't found a way to eat Facebook posts.
Thankfully the site is now generating income, primarily from advertising and some from affiliate programmes—sometimes, if we recommend a product and you buy it through our link, then we'll get a small commission. As with freelance work our income isn't consistent and earnings each month vary widely.
We also receive some sponsorship through press trips. This could be a hotel or tour, or a fully paid trip by a tourism board like our trips to Flanders, Douro Valley and Jordan. We don't earn an income from these sponsorships but they help our money stretch further.
Unlike guide books and travel sections in newspapers, however, we always let you know when a trip has been sponsored.
Our Blogging Tips
If you're insane enough to leap into this madhouse, here are some ideas to help you:
Use wordpress.org and buy your own hosting and domain
Find a way to stand out from the crowd—having a specific niche can help
Assume you'll need to work hard with no income for at least a year, probably more
Focus on content and building your audience and the advertisers will come to you
Recommended Reading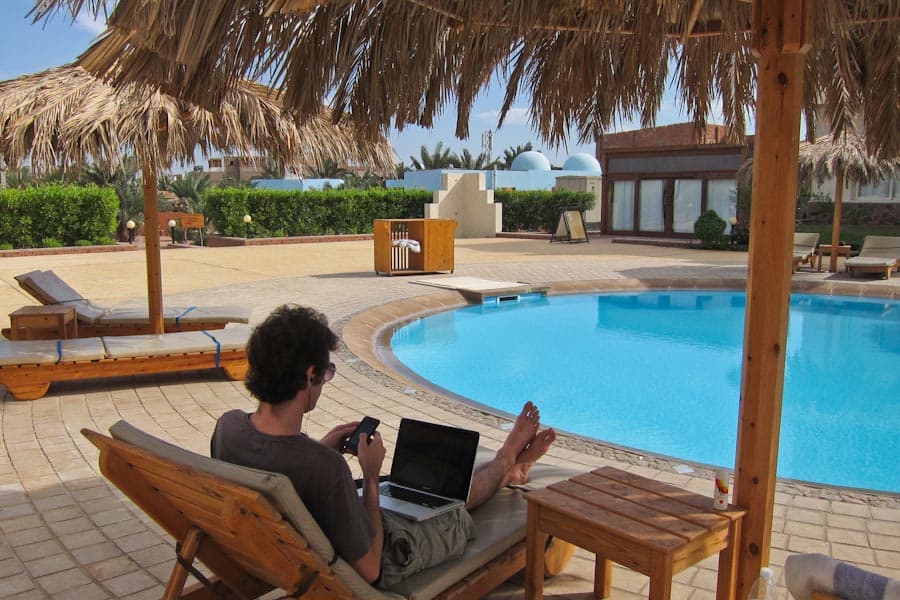 Travel Niche Site
As we explained in our background story Erin got started learning about online marketing by setting up a niche site in 30 days. She has hardly spent any time on the site she created, Kerala India Travel, since we left nearly three years ago but the content on there is still useful and the traffic has continued to grow by itself (almost entirely from Google searches).
We now have a fairly small but still significant and consistent income from the site from Google Adsense ads and affiliate sales. There is much more we could do to the site (it's on our really, really long to-do list) but it truly is passive income requiring no work after the initial set up.
Running multiple websites is one way to increase revenue, although each site will take a significant investment of time and effort up front (it was hard work for the first few months) and may not show results for many months or even years.
Erin also chose her topic very carefully. It was something she was interested in and had a lot of information about and she spent time creating quality content. You don't want to be in the position where you're worrying that the next Google update will delist you for being spammy (our experience has been the opposite—every Google update has seen a bump in traffic).
Recommended Reading
Kirsty from Nerdy Nomad shares her monthly income reports from her many niche travel sites
iOS Apps
Our new business venture is Voyage Travel Apps and we just released our first major iPhone app Trail Wallet, an easy travel expense tracker (Update: after 10 years, Trail Wallet is sadly no longer available).
It's only been a week, but so far it's going really well and people have been saying lots of nice things about it. We're already working on the next version and we have plans for a whole range of other apps.
Recommended Reading
House Rent
The housing market crashed just before we left and unfortunately we've been unable to sell our house back in England. At various points we've had tenants which has brought in some income but, honestly, it hasn't been worth the hassle to deal with while we are away so we'd much rather sell it.
Anyone want to buy a three-bedroomed house in Manchester?
Living The Life
We don't need to make a huge amount of money. In fact, it can actually be cheaper to travel than to live in the UK or the US. We don't have bills to pay, we don't buy a lot of stuff we don't need, and when we need to keep our expenses down we can housesit or travel to a cheaper destination like Thailand.
We don't really consider ourselves budget travellers any more—we tend to avoid hostels—but we've found that renting nice apartments for a month or more can be just as affordable. Our total monthly expenses for two people average between £1500 and £2000 a month, including flights, insurance, gear, and business expenses (which are pretty low) and that's with spending a significant amount of time in expensive countries like the US, Japan, and Italy, and not trying too hard to keep our costs down.
Everyone has money worries, and we're no exception. Our income is variable and there are times when we're glad to have our savings to tide us over. None of those worries come close to making us think twice about what we're doing though, and somehow it always works out.
Our little business van just keeps on trucking.
Update: You can see how much we spend each year in our 3.5 year digital nomad budget, as well as year 4 and year 5.
Update October 2015
We've been travelling for five and a half years now. Simon hasn't done any freelance work for the last few years and has focused entirely on making his own apps, primarily Trail Wallet. It took a few years and a lot of work but Trail Wallet has now become one of our main sources of income and sales continues to grow.
We still earn income from the blog. Advertising isn't as lucrative as it used to be but our affiliate income (if we recommend a product we use like our backpacks then we get a small commission) has increased a lot as our site traffic has grown. We also get sponsorships occasionally (like working with Trover or Visit Finland), but as we are very careful about the companies we work with this isn't a regular income source. I have done a few freelance writing assignments for travel companies but I don't actively pursue this.
I barely make anything from my Kerala site anymore. Not surprising as I haven't worked on it in five years!
We used to be on an interest only mortgage but we're now making full repayments on our house back in Manchester so the rent only covers the mortgage and agent fees and it's no longer a source of income for us.
To read more about our digital nomad life see our reflections on 2000 days of travel.