This page contains affiliate links. Please read our disclosure for more info.
One of the things we loved about Jordan was its diversity and compact size. This was most apparent on the last leg of our trip when we woke up in a Bedouin tent in the Wadi Rum desert and just a few hours later were sailing out into the ocean.
The Red Sea was the perfect place to wash off our desert dust and relax after a week of hectic travel around Jordan. The sudden transition was disconcerting though, and still wearing our dirty hiking shoes, we didn't feel prepared for our scuba dive.
Diving in the Red Sea is easy—our boat didn't have to travel far from Aqaba, and the shore was a swimmable distance from our dive site. Our diving skills were rusty so we didn't dive anywhere too challenging, but the visibility was great and any dive where you see a turtle is always a win.
Our favourite sight didn't require a tank and bulky gear though—as we returned to Aqaba a huge (although apparently small) whale shark swam alongside our boat. It was our first sighting of these beautiful creatures, and they are unlike any shark we've seen, with a spotted grey-blue body and wide flat nose. An incredible sight and definitely a good introduction to Aqaba.
For the next few days all we wanted to do was relax and that's what Aqaba is all about. It's a small town overlooking a golden beach and crystal clear green-blue water with a backdrop of rocky desert mountains. The call to prayer from the nearby mosque was our beach soundtrack.
The Kempinski
We stayed at the Kempinski Hotel Aqaba, a luxury hotel right on the beach. We stayed in a few five star hotels on our Jordan trip but the Kempinski far exceeded them all. We usually prefer small boutique hotels to large chains but we fell in love with the Kempinski. We extended our one night stay to three, and then four nights, and we may never have left if our bank balance had allowed it. We still dream of that ultra comfy bed, and that breakfast buffet…
Our Room
The Kempinski isn't the most attractive hotel from the outside, but its fortress look is one of its benefits—one side of the hotel has small, slit-like windows to keep it cool, but all the rooms are on the other side, so every room has a sea view.
Our room was spacious and bright, simple but stylish. The sliding doors lead to a balcony where you can enjoy the sea view and sunset, although you don't need to leave your bed (or the bath!) to gaze at the sea.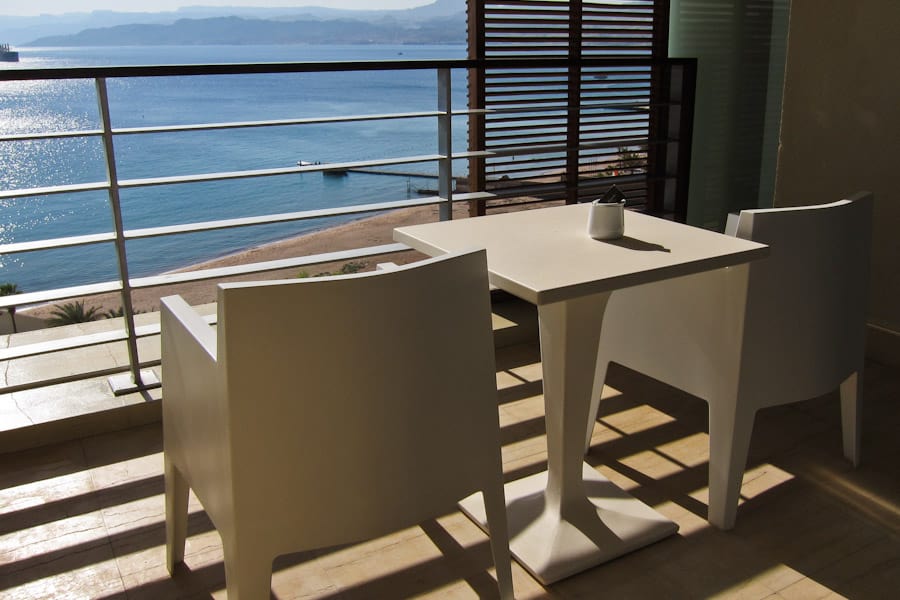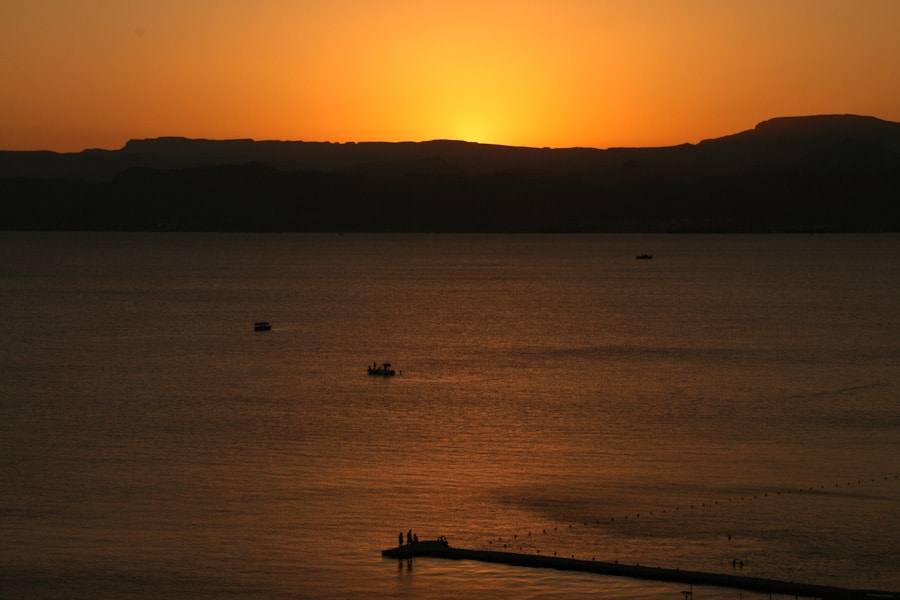 The bed was ridiculously, decadently, dangerously comfortable, and the sheets silky soft. And you know you've made it when there's a pillow menu :)
The sparkling clean and modern bathroom has a glass wall so you can enjoy that sea view from the bath—don't worry you can pull the blind down for privacy.
Unlike many hotel chains the Kempinski doesn't screw you on the extras. There's free wired internet in the room, and WiFi elsewhere. The minibar is kept stocked with free soft drinks and water. They even left tasty afternoon snacks in our room on some days.
The Pool and Beach
The Kempinski has a quiet and classy atmosphere, with more couples than families, which suited us for our relaxing break. A beautiful pool, sunshine and a comfy sun lounger make me very happy and the hotel delivered them all.
We alternated between the loungers on the private beach with swims in the ultra calm water; and the oddly shaped, angular infinity pool with a choice of seating areas: regular lounger, snuggly couch, sunbed actually in a shallow section of the pool, or the swim up bar. All with sea views of course. The water was a little chilly in October, but we could warm up in the large jacuzzi.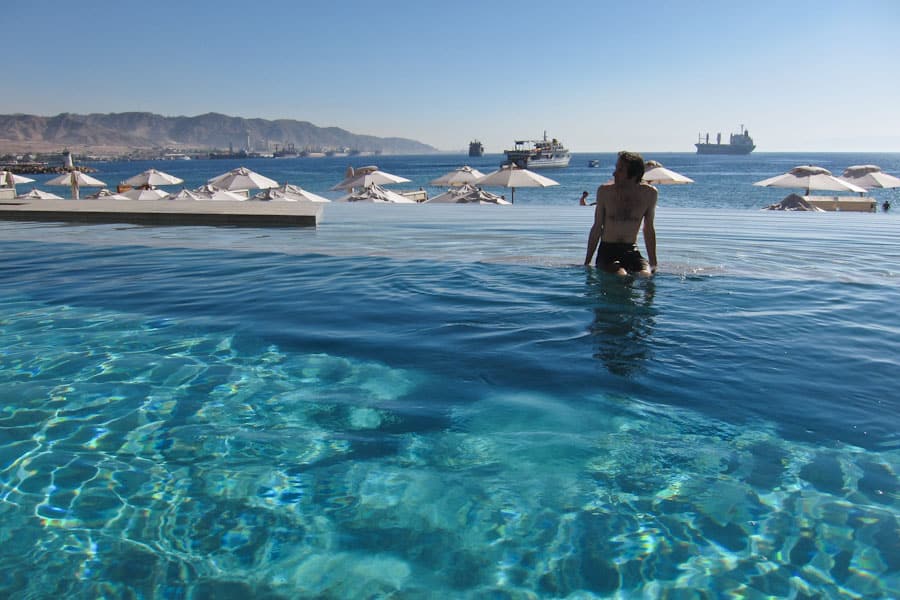 Add in a cocktail and you have serious relaxation.
The Breakfast
Oh. My. God.
Seriously, the best breakfast buffet we have ever had. It has everything you could possibly want: a full range of Jordanian breakfast dishes (which I love), a bounteous array of bread and baked goods (mmm, cinnamon rolls), honey straight from the honeycomb(!), fruit, cereal, and lots of hot dishes including made to order eggs, pancakes and waffles.
We ate for hours every morning on the terrace overlooking the sea, pacing ourselves so we could try everything (four days later we still hadn't). There's no need for lunch.
We only ate at the hotel restaurant for one dinner, but it was excellent. I'm not usually a buffet fan (except at breakfast of course) but their mezze buffet was created with love. Each Jordanian dish was served in a shot glass and we got to try some unusual mezze that we hadn't tried before.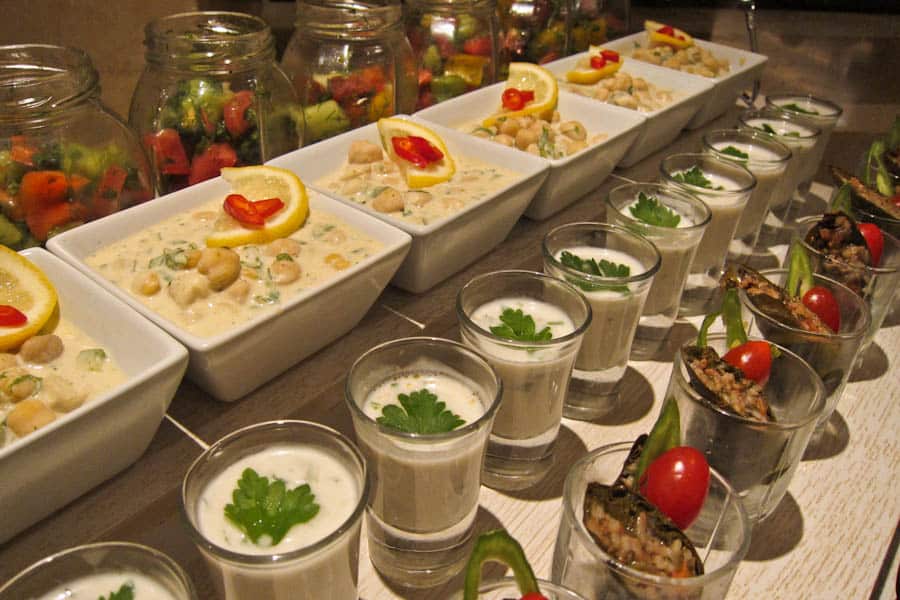 The Staff
The staff were another reason that the Kempinski is the best large hotel we've ever stayed in. All were very attentive and helpful, and went above and beyond. One staff member gave us a great recommendation for falafel at a local restaurant where the dining experience couldn't have been more different to the Kempinski—plastic chairs and a total meal cost of $1.40.
We loved that he recommended somewhere that he eats, and not a tourist restaurant. As much as we love the Kempinski the food is expensive there so we recommend getting out of the hotel bubble and trying the local restaurants a short walk away. Look out for Al Muhandas for a real local experience and tasty, cheap falafel sandwiches.
Another member of staff gave us directions to the Egyptian Consulate and when we came back unsuccessful he offered to take us there himself when his shift ended. We got him to call us a taxi and explain the directions in Arabic instead. Customer service like that really makes a hotel experience.
We definitely recommend including Aqaba on your Jordan itinerary. It's only an hour from Wadi Rum and you can explore the underwater world of the Red Sea and take it easy after your adventures in the rest of the country. If you are looking for a tranquil, luxurious retreat then the Kempinski is ideal.
A big thank you to Visit Jordan who hosted us in Jordan, and to the Kempinski who gave us a complimentary stay (although we loved it so much we paid for the last night ourselves).