This page contains affiliate links. Please read our disclosure for more info.
When we first arranged our visit to Jordan we planned to end our trip in Aqaba, on the Red Sea in the south of the country and travel on to Egypt by ferry. The ferry to Nuweiba on Egypt's Red Sea coast seemed like a good option as it was only supposed to take a few hours. When we arrived in Aqaba and tried to book a ticket though, things turned out not to be as simple as they seemed.
This is a very practical post—we wanted to share our experience in detail to help you make the decision on how to travel from Jordan to Egypt.
Ferry from Aqaba to Nuweiba
We went to the AB Maritime office (near Humman supermarket) in Aqaba two days before we planned to leave, but we were told that they wouldn't know if the 6pm fast boat (1 hour crossing) was running until the morning of departure, but the slow boat (2-3 hours) goes every day at midnight or 1am.
Hmm, we didn't like this vagueness and leaving at midnight wasn't appealing. We went back to our hotel and did some research and found many horror stories about the ferry crossing. The slow boat in particular is pretty much guaranteed to be delayed and even if the crossing is only 3 hours it can actually take 12 hours because of delays at either end—in the middle of the night this wouldn't be fun. At $60/75 (slow/fast ferry) it wasn't cheap either.
We began to look into alternatives.
Overland Via Israel
We could go overland via the thin sliver of Israel that divides Jordan from Egypt but we didn't like this option for two reasons:
1) An Israeli passport stamp would prevent us from being able to visit countries like Syria, Lebanon, Iran and Pakistan.
2) You can't get a full Egyptian visa at the Taba border, only a 14 day free Sinai pass that wouldn't be long enough for us or enable us to travel outside of the Sinai to Cairo or anywhere else.
Tourist Boat
We heard that a tourist boat run by Meenagate was a reliable, if expensive option for $100. But when we went to their office opposite the Kempinski Hotel they said the boat to Taba, Egypt was only available for return journeys, and really set up more for tour groups than independent travellers.
Getting an Egyptian Visa in Aqaba
We were running out of options but overland was looking more appealing than the unreliable ferry, so we decided to go to the Egyptian consulate to see if it was possible to get a visa in advance.
The Egyptian Consulate is located in the Third District of Aqaba and is a short taxi ride from the centre. We didn't have an address and after the first taxi driver drove aimlessly with no idea where we were talking about we got our hotel to call a taxi and explain it for us. We paid 3 JOD but were probably overcharged.
We arrived at the consulate at 11am and it was almost empty, so we were hopeful it wouldn't take too long. We were told to take a seat and then it took them 30 minutes to bring us the form, and another 30 minutes for them to collect it from us, along with two passport photos and the 12 JOD fee. We then waited 2 hours 15 minutes to get the visa. We had no idea why it took so long, but they gave back everyone's passports just after 2pm, so maybe it's a set collection time. In total it took us 3 hours 15 minutes to get the 3 month single entry visa that is valid for 6 months.
The consulate is open from 9am to 3pm Sunday-Thursday and is closed on Fridays and Saturdays. They actually have a Facebook page but it's in Arabic. Make sure you take two passport photos, your passport, the 12 JOD fee and a book for the wait.
Now that we had an Egyptian visa we decided to forget the ferry and travel overland. We had no definite plans to visit countries that don't allow you to enter if you've been to Israel, so we decided to worry about that later. We planned to try asking Israeli immigration to stamp a piece of paper rather than our passport, although that would still leave us with the telltale exit stamp from Jordan and entrance stamp to Egypt.
Getting From Aqaba to Israel
We took a taxi from Aqaba to the Wadi Araba border with Israel for 8 JOD—it's only a ten minute ride. The Jordan exit tax is 10 JOD.
The border was empty and the process was quick, except the Israelis checked our bags very carefully and swabbed mine.
We weren't questioned by Israeli immigration as we heard could happen and when we asked they stamped a separate piece of paper (they have a small form for this purpose) instead of our passport without questions.
After immigration there's a place to change money. We changed US $22 for 71.50 shekels, and got a taxi just outside. The taxi driver used the meter and the journey to the Egyptian border took 20 minutes and cost 76.50 shekels, so we gave him an extra 3 JOD to make up the amount. I think he would have accepted payment in dollars or Jordanian dinar so we probably didn't need to change money.
A cheaper option would be to get a taxi to Eilat and then a #15 bus to the border which runs once an hour. This could cost around 40 shekels for the taxi and 7.20 each for the bus. For us it wasn't worth the saving, and the taxi was quick and easy.
Note that Israel and Egypt are one hour behind Jordan time.
Getting From Israel to Egypt
At the Israel/Egypt border at Taba things were slower as we were caught behind a tour group.
Leaving Israel we had to pay 103 shekels exit tax (yes, despite only being in the country for 20 minutes!), which we paid by credit card, but there's also the option of changing money. Immigration asked why we had stamped the separate sheet instead of our passport but they accepted it without comment when we said we might be going to Lebanon.
It's a few minutes walk to the Egyptian side, and trolleys are available if you have lots of luggage.
On the Egyptian side you need to scan your bags and fill in an immigration form before going through the immigration desk, which was easy. There's an ATM just before the immigration desk which you'll want to use as there didn't seem to be much in Taba.
Getting From Taba to Nuweiba
Taxis wait outside. This is the trickiest bit of the journey as you need to bargain hard. They tried to charge us 500 EGP for the whole minivan but we got him down to 200 EGP for the trip to Nuweiba. As buses only run a few times a day you are at their mercy and the drivers seem to work together, not in competition. As there were only two tour groups at the border we had no one to share a taxi with.
After a few hundred meters you stop at a checkpoint and pay 75 EGP entry tax for the Sinai.
The taxi took about 40 minutes down the coast to Nuweiba. You could also continue to Dahab.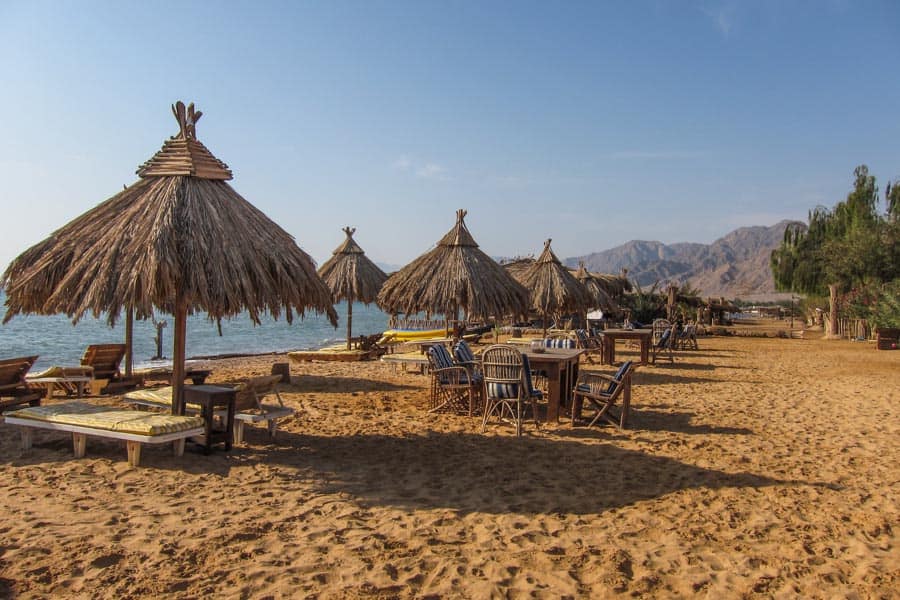 Door to door the whole trip took us 2 hours 30 minutes and was easy and stress free, so we are definitely glad we went overland rather than risking a long and nightmarish ferry experience.
Cost of Travelling Overland from Jordan to Egypt
12 JOD ($16.90) each Egyptian visa (it would have been free on arrival by boat)
8 JOD ($11.26) taxi from Aqaba to border
10 JOD ($14.07) each Jordan exit tax
76.50 ILS ($20.50) taxi from Israel to Egypt border
103 ILS ($27.60) each Israel exit tax
200 EGP ($31.42) taxi Taba to Nuweiba
75 EGP ($11.80) each Sinai entry tax
Total spent US $203.92 or $101.96 each.
The cost of travelling by ferry would only have been slightly less once you take into account taxis at both ends and the Jordan exit tax and Sinai entry tax you'd still have to pay, but could have potentially taken six times longer, been much more uncomfortable, and involved travelling in the middle of the night. We're glad we went with the overland option.
Note: AB Maritime does have a website but the ferry schedule listed there has no basis in reality.