This page contains affiliate links. Please read our disclosure for more info.
We had heard the rumours that it's possible to live in Chiang Mai in northern Thailand very cheaply. It's one of the reasons that it's such a popular destination for digital nomads and expats. And we found it to be true – it's a very inexpensive place to live while maintaining a high standard of living.
Our friend Shannon from A Little Adrift shared her monthly expenses which come in at only $500 a month. This is definitely possible if you stick to a simple studio apartment without a kitchen and eat local street food.
But we aren't very good at sticking to a rock bottom budget – we wanted a more comfortable apartment to work in, a kitchen to cook our own food, and although we do love Thai food we also like to splurge on the occasional Starbucks mocha frappuccino, pizza, or chocolate cake.
We haven't worried too much about our spending since being in Chiang Mai. We chose an apartment we love, eat out when we want to, and have hired a motorbike to get around town quickly.
So how much does this rather luxurious lifestyle in Chiang Mai cost? These are our monthly expenses (in USD) for two people:
Monthly Expenses in Chiang Mai
Apartment rent
$655
Electricity bill
$49
Water bill
$8
Internet
$33
Food
$492
Motorbike rental
$79
Petrol
$9
Entertainment
$26
Total Monthly Expenses
$1351 (£847) for 2 people
So what does $675 (£423) a month per person get us in Chiang Mai?
Apartment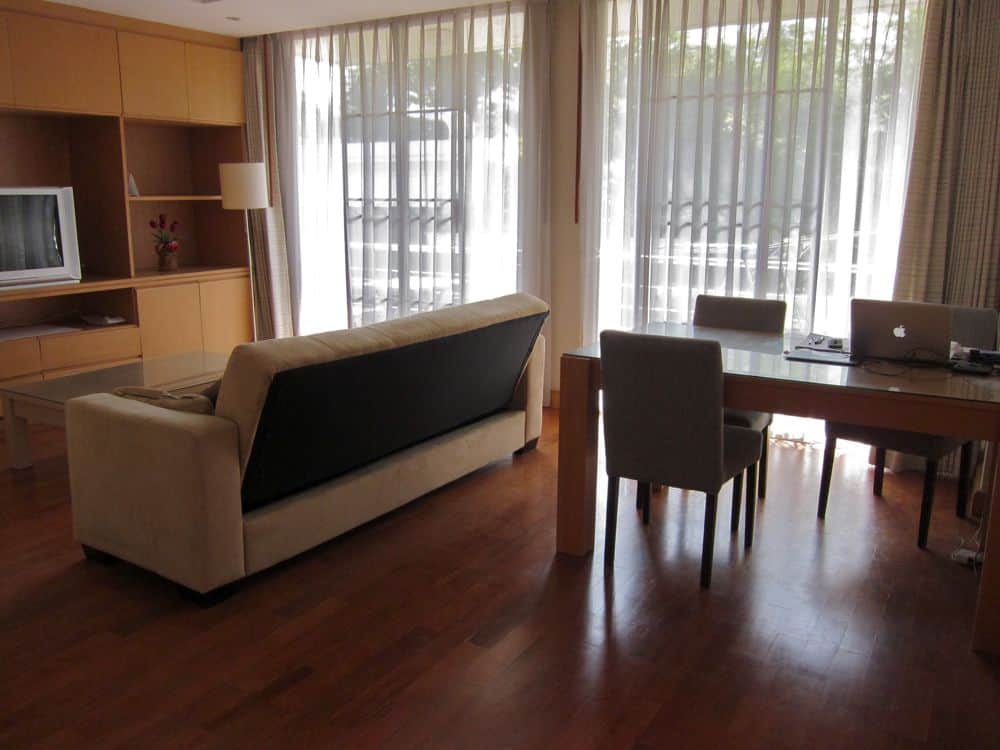 We've already written about our search for a Chiang Mai apartment and how we ended up spending a lot more than we planned. In the end the 20,000B we pay a month has been completely worth it for a comfortable place to work, separate bedroom, kitchen (rare in Thai apartments), gym, and our gorgeous pool.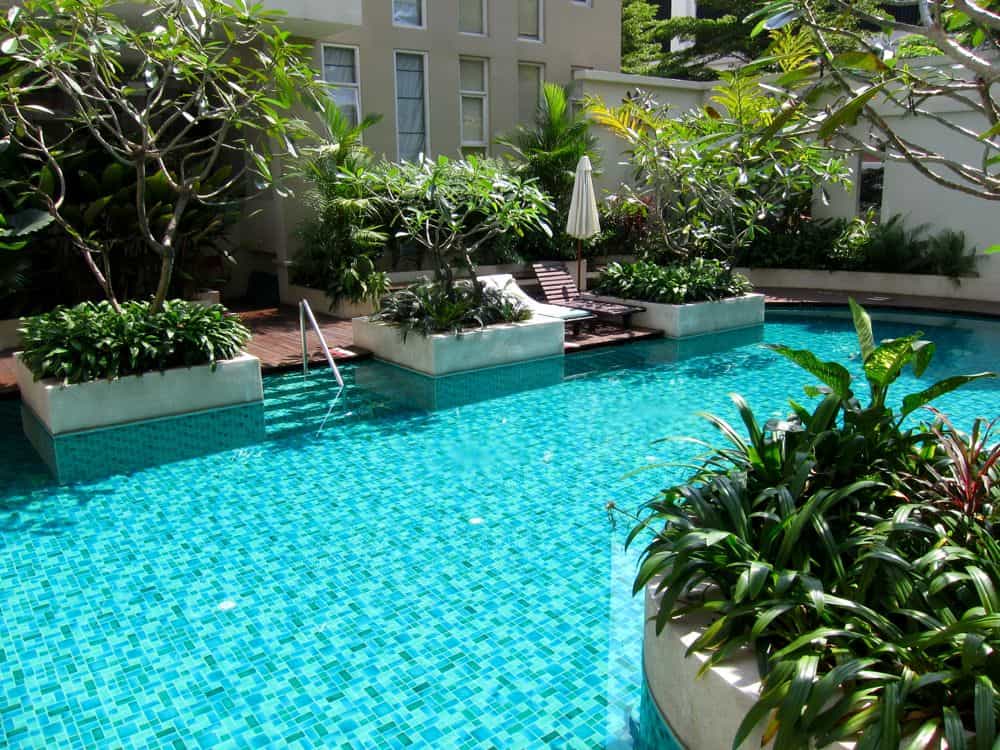 Our electricity and water bills are charged per usage. We use our air con quite frequently and our electricity bill increases in the hotter months. Some apartments include internet but we have to pay per computer (very annoying).
Food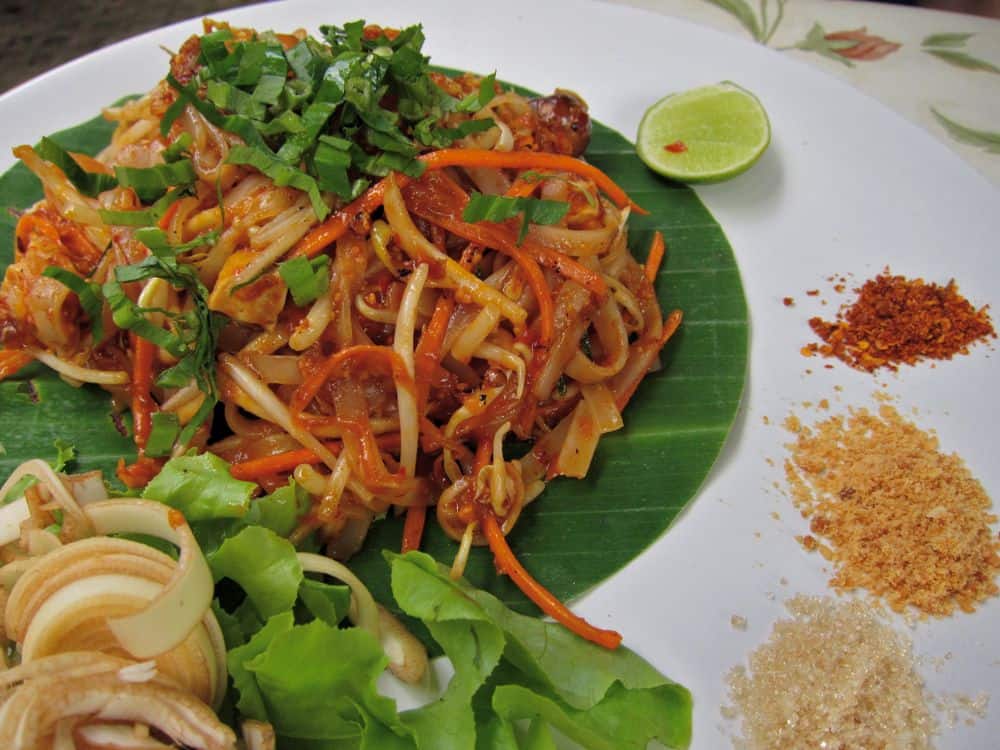 We often cook for ourselves and buying vegetables, fruit, rice, noodles, and tofu from the local market is very cheap. But we also splurge on bread and cheese from the supermarket which is a lot more expensive.
Although street food can be found for around $1 a meal we prefer our favourite vegetarian restaurants where we might pay $2 for a dish. We also eat Western food which is definitely more expensive but being here for so long we need some variety in our diet (and Simon can't survive without pizza). A pizza or large burrito costs around $5.
Other indulgences are Simon's cappuccinos and frappuccinos, and cookies and cakes from the Butter is Better bakery which is dangerously near to our apartment.
Motorbike Rental
Chiang Mai is a compact city and it's possible to manage by walking and taking inexpensive songthaew but we love the freedom of our moped and it's so much fun! We pay 2400B for monthly rental of our 125cc automatic scooter, but it is possible to find one for less.
Entertainment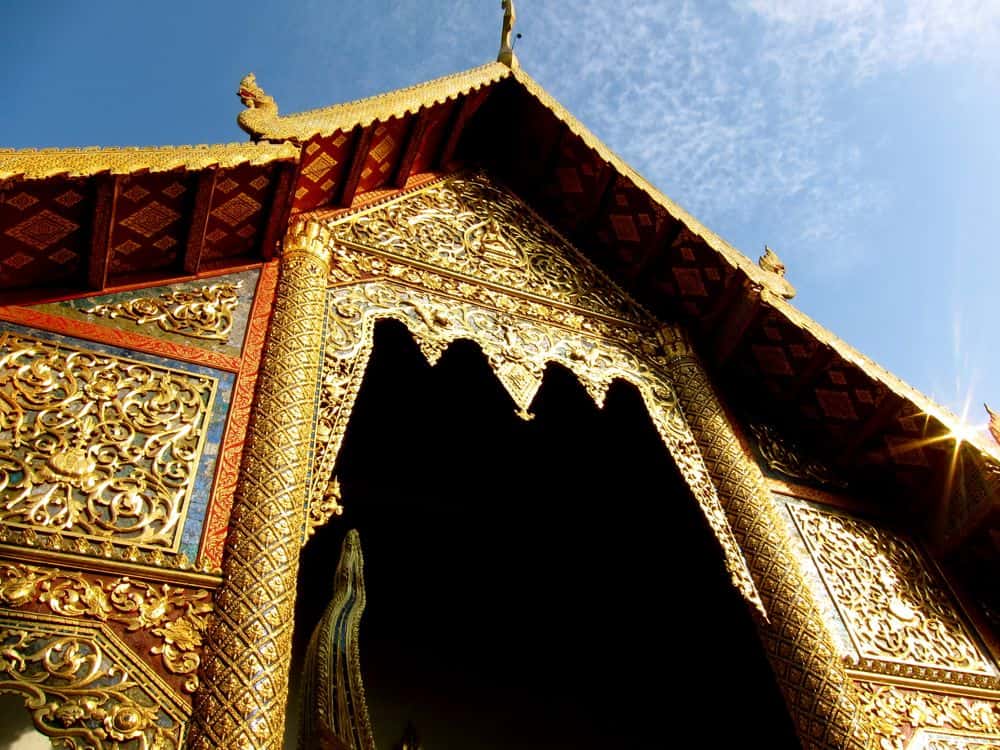 Our entertainment spending is very low because we rarely drink alcohol. Most of the socialising we do is at restaurants and those costs are included in our food budget. We do go to the cinema at times which costs about $3 each. We also enjoy free activities like hanging out by our pool or visiting the local wats (temples). Trips to nearby lakes, waterfalls, and botanical gardens don't cost much either.
Other Expenses
There are some extra expenses that we haven't included above as we don't have them every month.
We have extended our visa twice in six months which costs 1900B/ $62 per person each time. This gives us an extra month on each entry of our two month tourist visa.
We did a visa run once after three months to activate the second entry of our visa. The cost of this depends on where you go. We rode our moped to the Burmese border at Mae Sai which cost about 450B in petrol, 500B each to enter Burma, and 400B for a hotel in Chiang Rai. In total the two day trip (not including food) was 925B/ $30 per person.
Medical care is very inexpensive here but the quality is excellent. I've been to the doctors a number of times. A basic examination is $7 and a blood test costs from $15.
A haircut was about $7.50 each.
Even including some extras we can live very comfortably in Chiang Mai for $1500/ £944 a month for two people. It's definitely an inexpensive place to live, even if you don't choose the cheapest accommodation and food options.
Read our detailed guide to living in Chiang Mai for everything you need to know.
The reason we've spent so long in Chiang Mai isn't the low cost of living though. It's a very comfortable and easy place to live which is just what we needed to focus on work. We love the food, the weather, the friendly Thai people, the rich and fascinating culture, the mountain views, and the youthful vibe. It has been the perfect base for the last five months and although we'll be leaving soon, we'll miss it.