This page contains affiliate links. Please read our disclosure for more info.
The Finns love their coffee and have one of the highest consumptions in the world. In Helsinki we discovered a vibrant and rapidly growing independent cafe scene serving quality coffee from local roasteries. Chains don't dominate here—it took us four days of walking around before we came across our first Starbucks. Instead we found many wonderful cafes, each with a unique style. Espressos and cappuccinos are widely available but the trend is for filter coffee—AeroPress was served in all the serious coffee shops which made Simon happy as he loves its smooth rich flavour.
Helsinki's cafes aren't just for coffee drinkers. I don't drink coffee but I enjoyed the raw vegan cakes that are popular in the city, and the comfortable, stylish cafes were retreats from the chilly weather outside. Fruit smoothies, hot chocolate, and teas are usually available too.
Good Life Coffee
Good Life is a small cosy cafe in the trendy Kallio neighbourhood. It's well known as making the best coffee in Helsinki (they roast their own) and Simon agrees, although there are some close contenders. They specialise in filter coffee and offer a range of beans—Simon enjoyed the Ethiopian AeroPress with its pale colour and fruity, nutty flavour.
Good Life Coffee: Kolmas Linja 17.
Cafe Kokko
Cafe Kokko was the closest contender for the best coffee in Helsinki, although that might be because they serve Good Life coffee. Simon ordered a filter coffee (Ethiopian was the blend of the day) and automatically got served an AeroPress—he loves that it's the norm here.
The cafe is so hipster that it hurts, but the service is friendly and unpretentious. It shares a loft space with a vintage store, and there's lots of space and light with random couches and armchairs scattered throughout the space.
What I loved most were the many raw vegan gluten-free cakes they serve—the blackcurrant cheesecake was amazing. They even had a savoury vegan tart made with cashew cheese. Smoothies, juices, and teas are also available.
Sadly, it now looks like this café has closed. Let us know if it pops back up!
Johan & Nyström
I love the Johan & Nyström space with its high ceilings, brick walls, wood beams, and cushions and lampshades decorated in brightly coloured fabrics. Despite its large size it feels cosy with lots of little alcoves and comfy seating.
Simon had an AeroPress with the coffee of the day—Pineapple Thief from Panama which has a hint of tropical fruit. There were many delicious looking cakes on offer including raw cheesecakes and chocolates. Sadly we didn't enjoy our raspberry and mango raw cheesecake—it tasted too strongly of coconut oil. A shame considering it cost €7.50 (the usual rate for raw cakes in Helsinki) and everything else looked so good.
Johan & Nyström: Kanavaranta 7 C
La Torrefazione
La Torrefazione saved us on a national holiday when all the vegetarian restaurants were closed and we were getting hangry. It has a central location on a shopping street, great coffee and hot chocolate, and delicious sandwiches with a couple of vegetarian options—I had goats cheese, rocket, red pesto, and tomato on ciabatta. The menu is in Finnish but as always the staff were happy to translate and explain the meat-free options.
La Torrefazione: Aleksanterinkatu 50 B
Cafe Regatta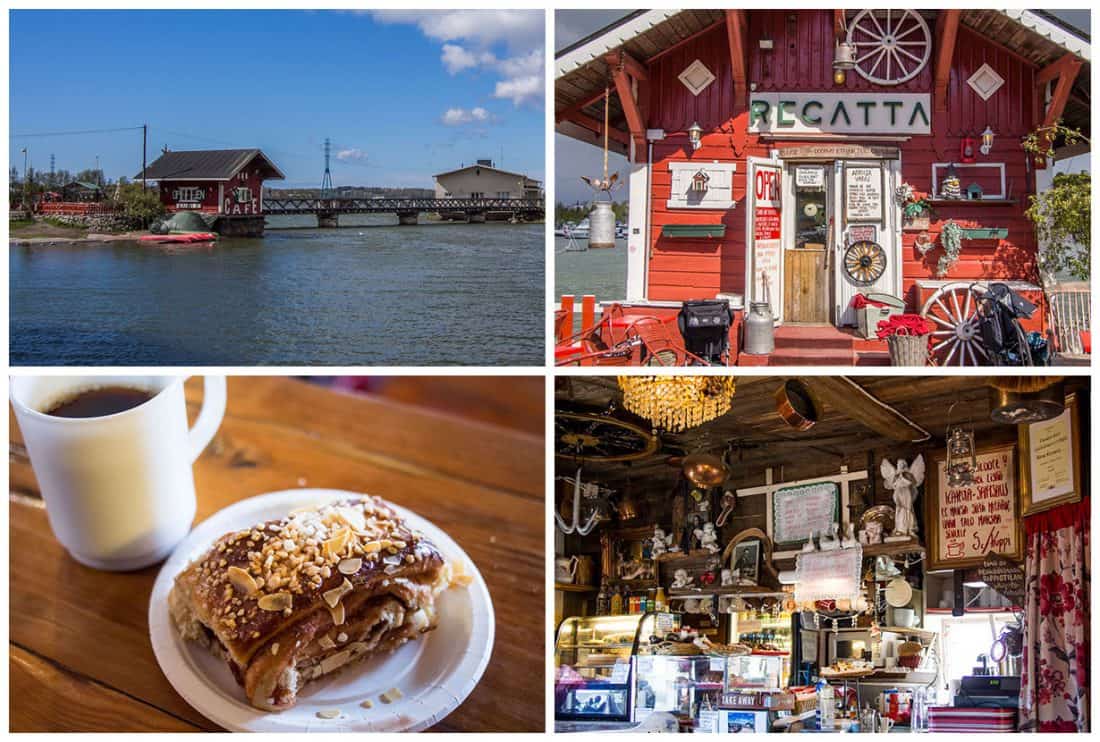 Cafe Regatta is not the place to come for great coffee—it's the average filter stuff, although at €2 with free refills it is cheap. We visited because it's a Helsinki institution and is close to the Sibelius monument. The cosy fishing cottage by the sea is crammed with vintage relics with everything from old shoes to pots and pans hanging from the ceiling. The cinnamon buns are good and there's plenty of outside seating where you can even grill sausages over the fire.
Cafe Regatta: Merikannontie 10
Kahvila Sävy
Kahvila Sävy take their coffee seriously and offer all the usual options including AeroPress. This is a great option if you're in Kallio, but it didn't stand out enough to us from the other more central options to make it worth the trip out there.
Kahvila Sävy: Aleksis Kiven katu 12
Our Helsinki Cafe Awards
Best Coffee: Good Life Coffee
Best Raw Cake: Hymy Raw Food Cafe
Best Design: Johan & Nyström
Quirkiest: Cafe Regatta
Overall Favourite: Cafe Kokko for its great coffee, delicious raw cakes, and comfortable seating.
Best Cafes in Helsinki Map
Our self-guided Helsinki cafe tour was one of our favourite experiences in the city. We love supporting businesses that are passionate about what they do and that's certainly the case with these cafes who are making excellent cups of coffee and sweet treats with love.
For more about the city's food scene see our guide to the best vegetarian restaurants in Helsinki.
If you enjoyed this post, pin it!
Many thanks to Visit Finland who sponsored our trip.