This page contains affiliate links. Please read our disclosure for more info.
Hoi An doesn't have as big a digital nomad scene as Saigon, but it's worth considering if you prefer quieter towns. There's a beautiful ancient centre, rice paddies, rivers, beaches, plenty of cafes, and a new co-working space. The Wi-Fi is good, and it's easy to rent a house for stays of a month or more.
We didn't love Hoi An as much as Ubud or Chiang Mai, but we did enjoy our two-month stay there. We chose a house in the countryside between the old town and the beach and loved experiencing rural life next to vegetable gardens and rice fields, a world away from the touristy centre. Despite what we'd heard about Vietnam, we found the people very friendly and were never ripped off.
If you are considering living in Hoi An, here are some tips to help you get settled.
Visas
Some nationalities (including the UK and some European and Asian countries) can enter Vietnam without a visa for stays of up to 15 days (non-extendable), but most people are going to want to apply for a visa in advance. You can do this at your local Vietnamese embassy or online—we used VOA Vietnam. Within a few days, they provide you with an approval letter from the Vietnamese government, which allows you enter the country and collect the visa on arrival at the airport. When you collect it you need to provide your approval letter, a printed and completed immigration form, two passport photos, and the visa fee in cash (US dollars is best). We found the process very easy and didn't have to wait long at the airport.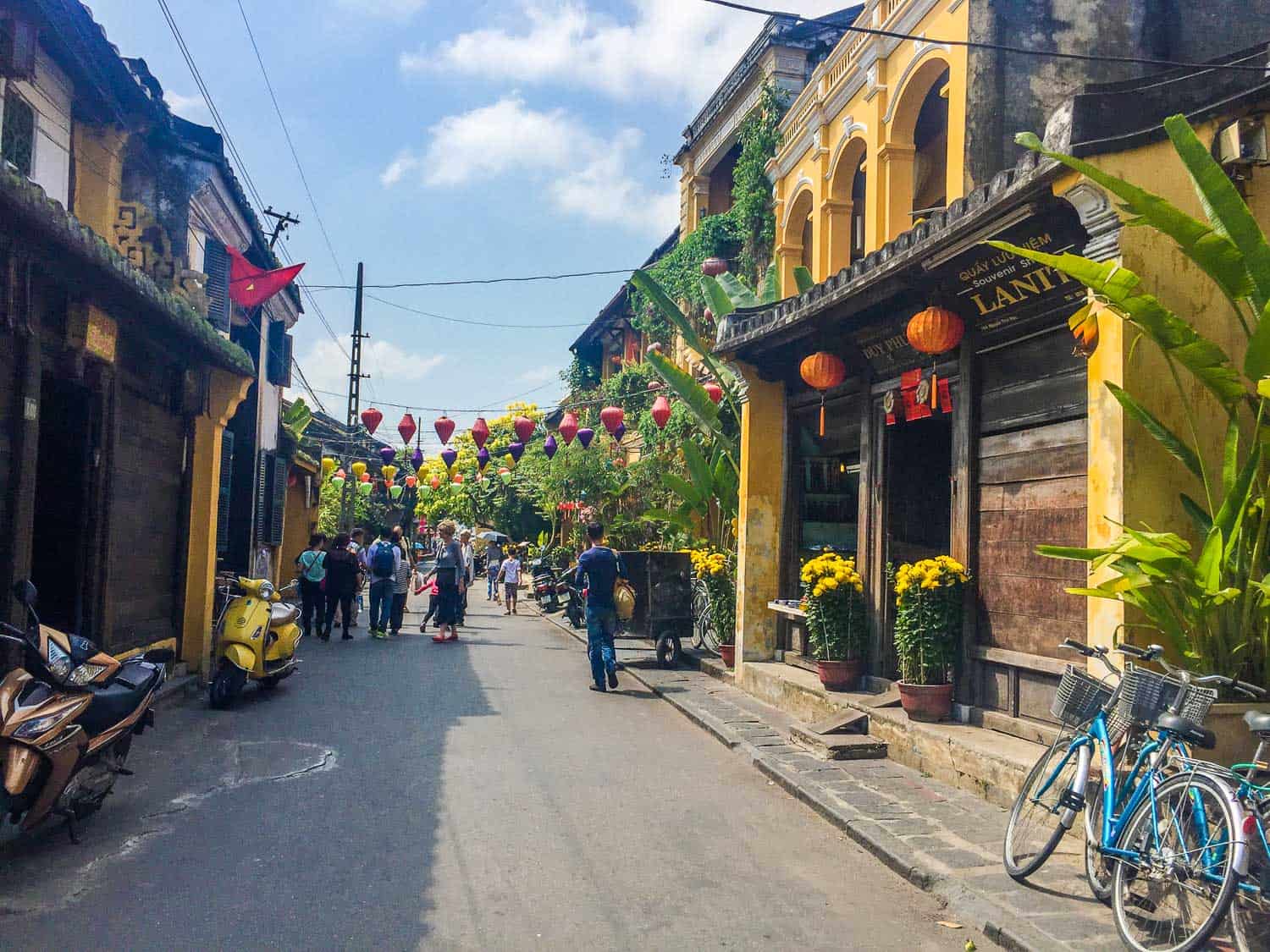 You can apply for a one-month or three-month single or multiple-entry visa. If you want to rent a house or apartment in Vietnam, you'll need a three-month visa. Our single-entry three-month visa cost $28 each for the approval letter and $25 for the visa at Ho Chi Minh City airport.

When to Go and Weather
The weather patterns in Hoi An are different from the rest of Southeast Asia (and even Saigon). The rainy season is from September to January, the weather is much colder from November to January, and from then temperatures increase with the hottest months from June to August.
We heard that February to May was the best time to visit—no rain and not too cold or too hot with average temperatures around 25ºC. Unfortunately, it didn't work out like that, and we found the weather very strange. We arrived in early February just before Tet (Vietnamese New Year) and most of the month was cold and grey. By cold I mean 18ºC, but I swear it felt colder than that (we may just be used to tropical heat) and like the locals, we were bundled up in all our layers. Some tourists still walked around in t-shirts and shorts, though.
It did warm up in March but the weather was mixed—some perfect beach days, some cold and drizzly. Then suddenly in April, it got really hot—up to 38ºC for a few days. It was quite a shock after all the cold weather. I also didn't like that we never had clear blue skies—it went from cloudy to hazy, apparently caused by a fog that forms when the hot air meets the cold sea.
I'm not sure if this weather is typical, but be prepared for cold weather early in the year and much higher temperatures in late spring/summer.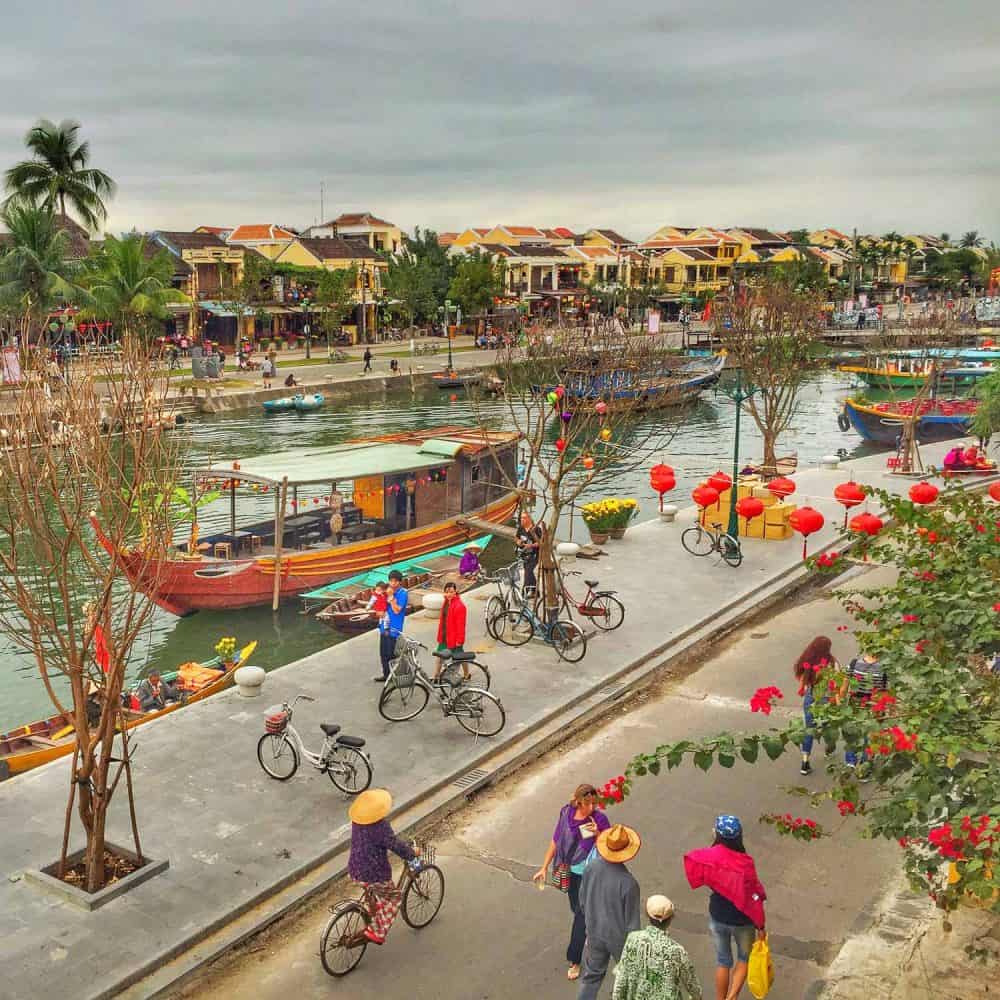 Getting There
Hoi An's nearest airport is Da Nang, which is about 45 minutes away by taxi (around 300,000 VND/$13). A few international airlines fly here including HK Express from Hong Kong, Jetstar from Singapore, and Air Asia from Kuala Lumpur.
We flew into Ho Chi Minh City and then took an inexpensive domestic flight with Jetstar. Vietjet also has cheap domestic flights.
I found Kiwi (previously Skypicker) the most useful flight comparison tool for finding the cheapest routes, as not all websites include Vietjet.
You can also get an overnight train from Ho Chi Minh City or Hanoi.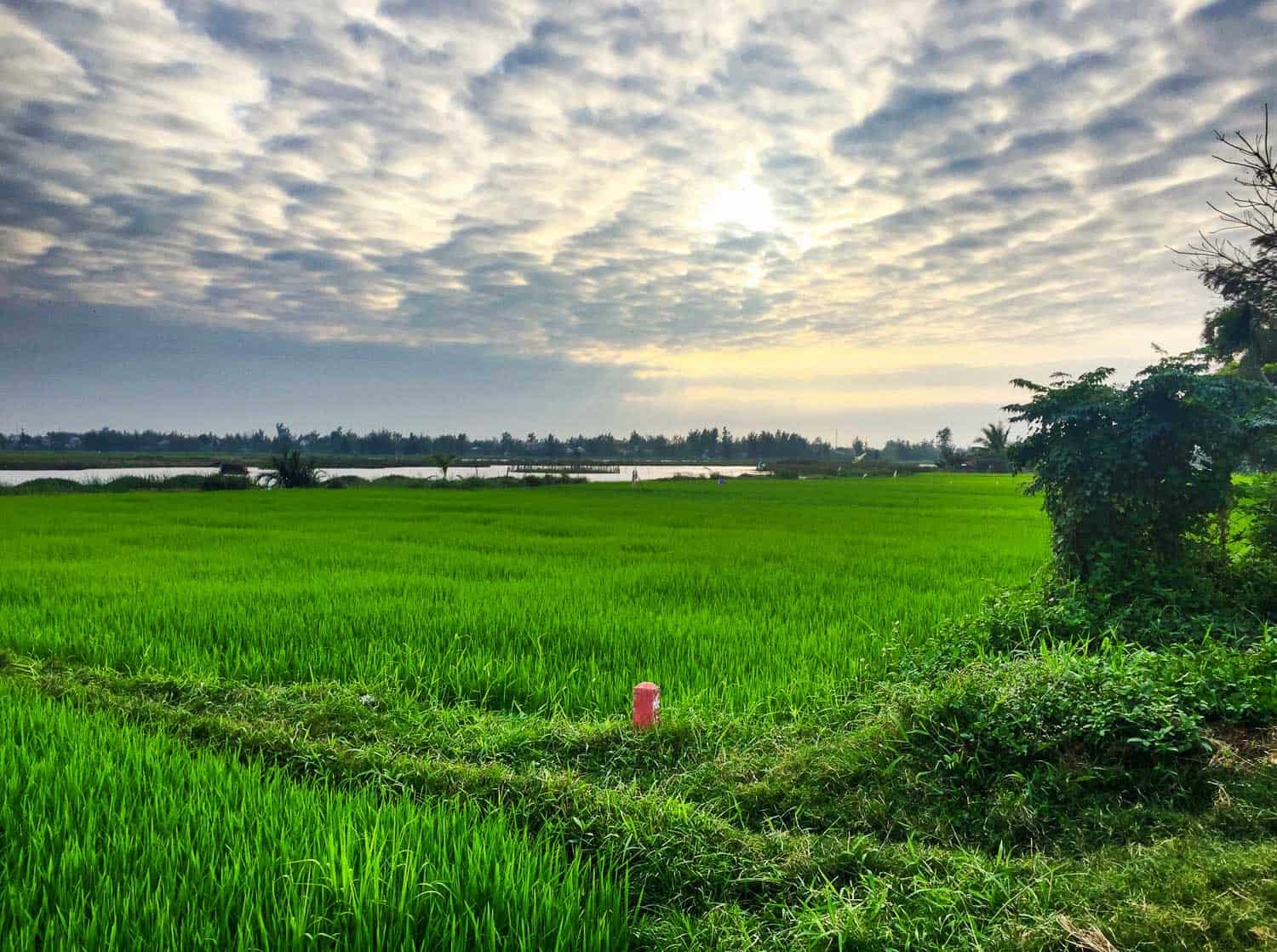 Getting Around
Most rentals are a few kilometres from the old city. There isn't any public transport in Hoi An, and while you could manage with walking and taxis, a motorbike or bicycle will give you more flexibility. There are plenty of rental places and they don't ask for a deposit or to see your driving licence. We paid $5 a day while we looked for a house and then found a long term motorbike rental for 1 million VND ($45) a month from Tay Do Tailors at 95 Hung Vuong (Tel: 0982 692 552). They have the cheapest prices in town and are very helpful—when our bike broke down they brought a new one out to us straight away.
Although there is a lot less traffic in Hoi An than in Ho Chi Minh City or Hanoi, it's not the best place to learn to drive. We found the driving the worst we've experienced in Southeast Asia as local drivers don't obey traffic rules or look at junctions. The motorbikes were also low quality–if your speedometer and fuel gauge work you are lucky, and the ignition is flaky. That said, as Simon has a motorbike licence, he felt safer on a motorbike than a bicycle, and it was a great way to get around.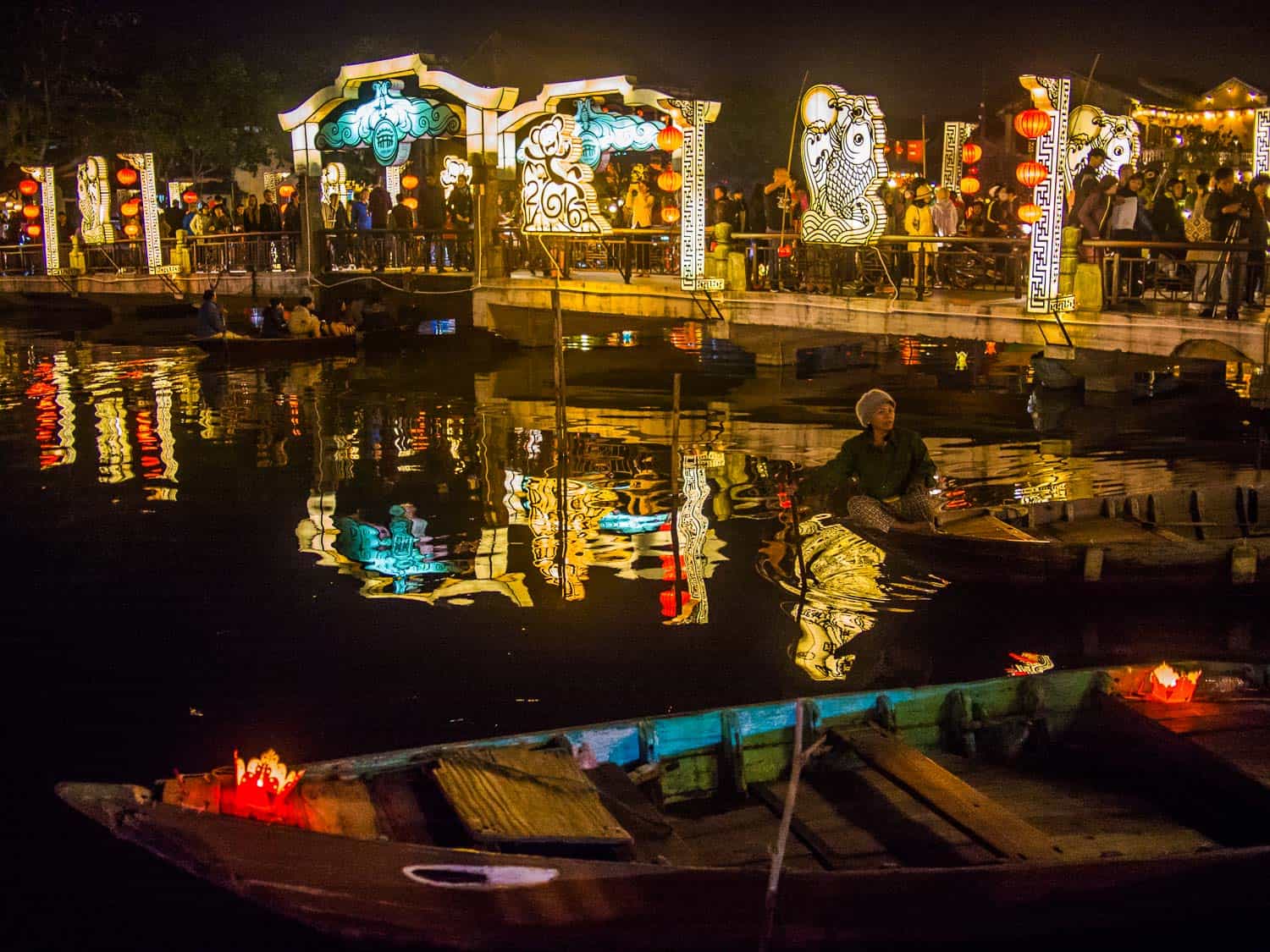 Money
The currency is the Vietnamese dong. Exchange rates fluctuate but are currently US$1 = 22,300 VND, £1 = 31,600, and €1 = 25,000 VND.
Most ATMs only allow you to withdraw a few million dong and charge fees. The best ATM to use is at MB Bank on Hai Ba Trung (near the junction with Ba Trieu), which doesn't charge. We could withdraw 5 million VND ($224) at one time, but I've heard it's possible to get 15 million ($672). If the machine says there isn't enough cash available, try getting 3 million instead—they may just have run out of larger bills.
Accommodation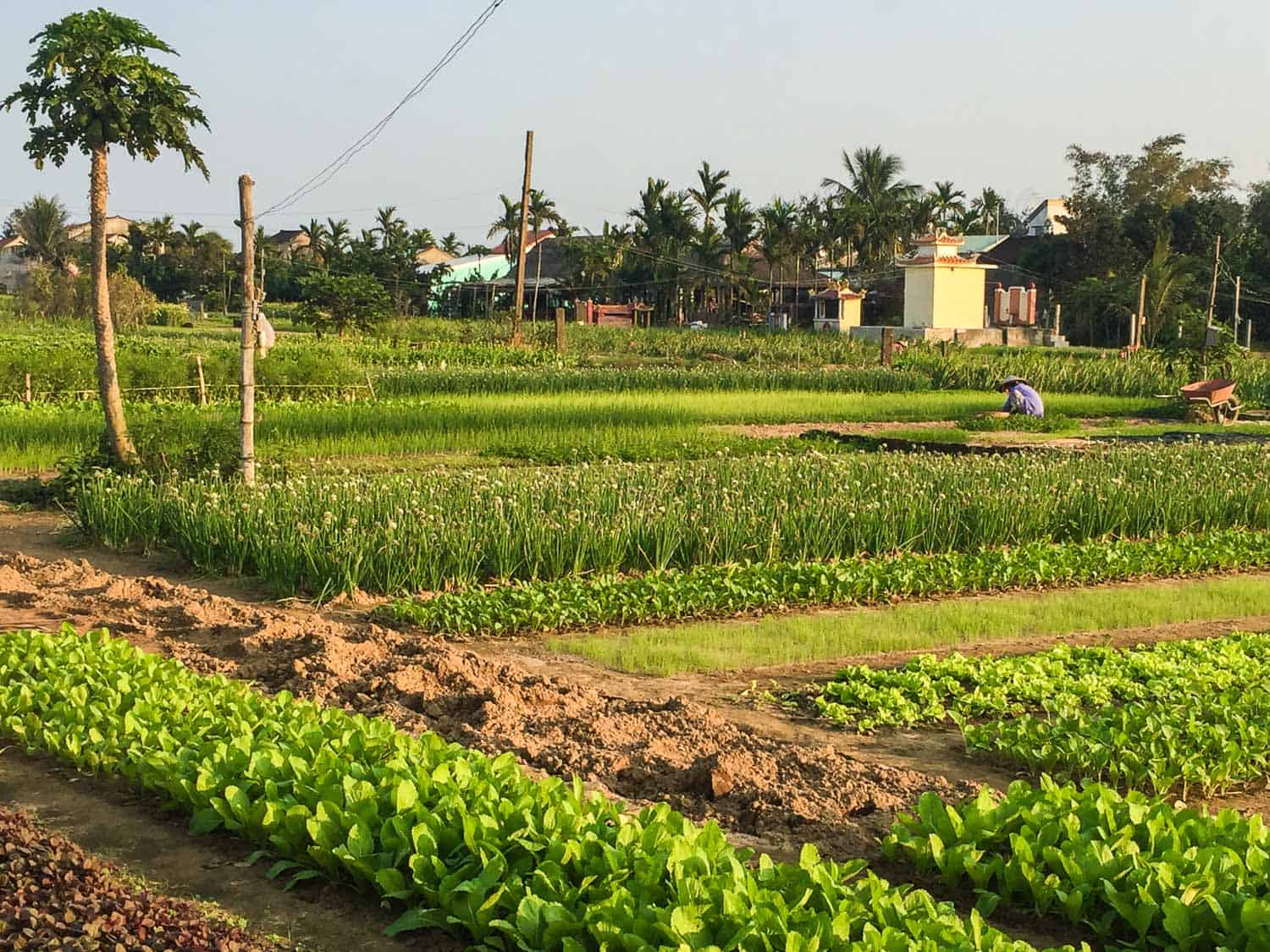 If you are staying for a month or more, it's worth renting a house or (less common) apartment. It's much cheaper to look around when you arrive. We found a two-bedroom apartment for $500 (including all bills) within 24 hours of arriving. Prices start from $300 a month, but you might get lucky and find somewhere cheaper. Read my post on how to find a house to rent in Hoi An.
We stayed at the lovely Lemongrass Homestay while we house hunted. It's in a quiet location by rice paddies a few kilometres from the old city, but they provide free bikes. At $25 a night, it's great value as the rooms are really nice, they run free cooking classes and other activities, you can use the pool at a neighbouring hotel, and the Wi-Fi is really fast (35 Mbps up and down). I'd recommend an upstairs room, though, as our downstairs room was a bit damp and had loud roosters outside the window.
Internet & Co-Working
Wi-Fi is generally good but it depends on your accommodation—do a speed test before you commit. Some houses we looked at had fibre optic, but we chose a house in the countryside with speeds of only 5 Mbps down and 0.3 up. Most of the time it was fine, but on evenings and weekends it could get really slow, and we struggled to watch Netflix or even do basic internet browsing. We got 3G speeds of 20 Mbps, so we sometimes tethered to our phone when the internet got really bad.
Since we left, a new co-working space has opened and has great reviews. Hub Hoi An is situated in the rice fields and you can choose to work inside with A/C or outside in the garden. They have high-speed WiFi and organise meetups to get to know other digital nomads.
There are plenty of cafes in the old town, but Dingo Deli is probably the best place to work. The Wi-Fi is usually fast (23 Mbps down and up), there's comfortable seating, power sockets, and good coffee and cakes.
Power cuts do happen in Hoi An, but we only had about one a month, ranging from an hour to a whole day.
Mobile Data Plans
Mobile data plans are inexpensive and speeds are good (we got 20 Mbps down, 3 Mbps up).
Viettel, Mobifone, and Vinaphone all seem similar. You can buy SIMs and credit vouchers from convenience stores, but the airports offer the best deals. We bought a Vinaphone SIM at Hoi Chi Minh airport for 100,000 VND ($4.50) including 5GB data valid for 30 days. 100,000 VND usually only gets you 1.2GB data. Once this expired after 30 days, we bought the 1.2 GB data plan by texting "DK MAX100" to 888.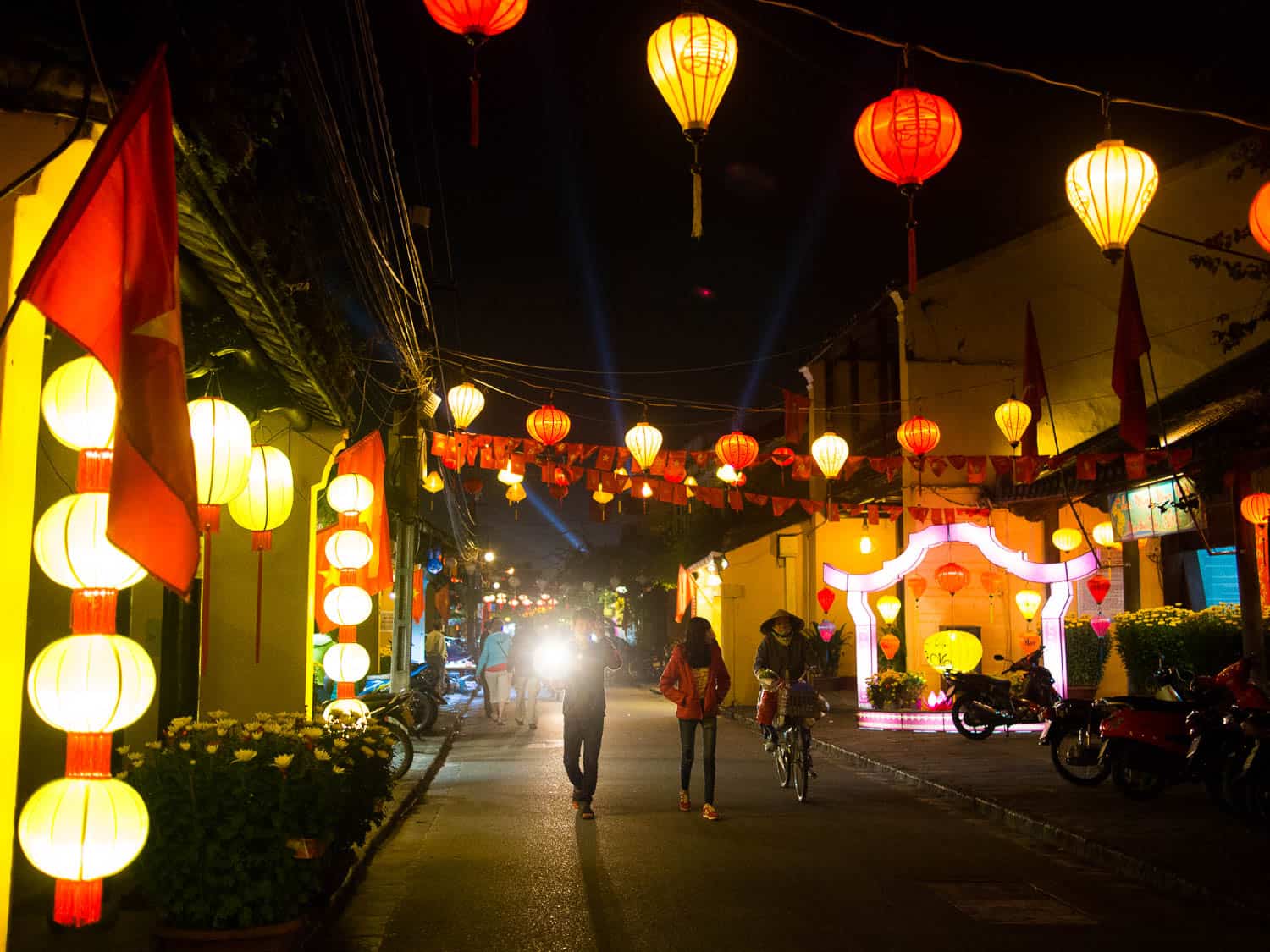 Laundry
Most house rentals come with washing machines or many of the tourist shops offer laundry services.
Water
The tap water isn't drinkable. You can buy reusable 19-litre jugs at local shops for 10,000 VND ($0.45).
Homeware Shopping
When we first moved in we needed to buy towels, a blanket, and basic supplies like washing up liquid, sponges, and soap. We found it quite frustrating at first figuring out where to go. There's no big supermarket in Hoi An—for that you have to head to the Big C in Da Nang, but we didn't want to go that far.
Instead, we had to go to a series of small and chaotic shops and market stalls, ask for what we wanted, and attempt to bargain the price. You can find homewares at the local markets, including the upstairs section of the covered central market. Unsurprisingly, the prices we were quoted at the central market were a lot more expensive that the Tan An market (at Nguyễn Đình Chiểu) near our house, so we bought most things there. We ended up finding everything we needed including a rice cooker and frying pan, so we didn't need to go to Da Nang.
Food Shopping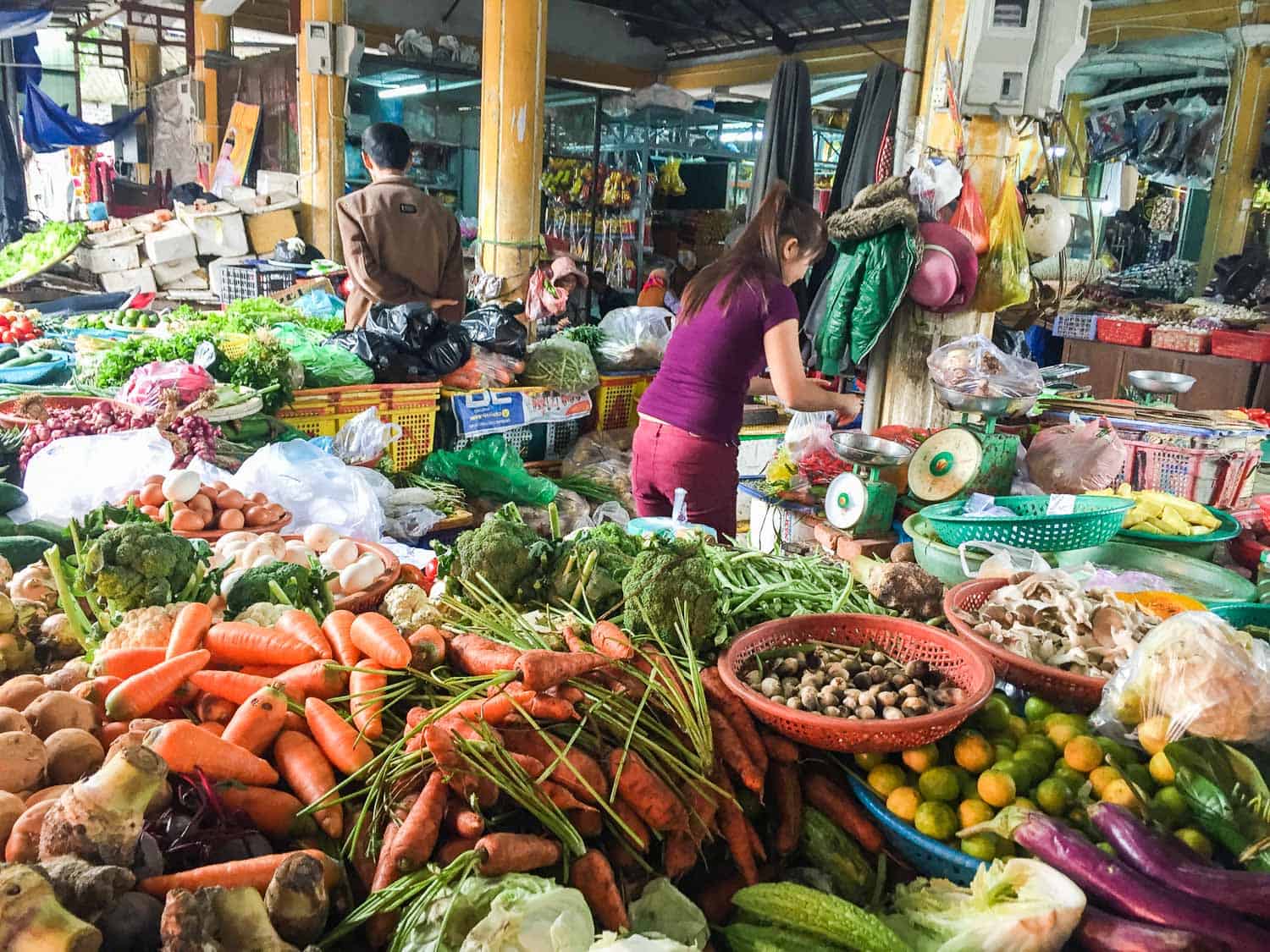 We did most of our shopping at the Tan An market (Nguyễn Đình Chiểu), which is less touristy than the central market, with lower prices. Most vendors don't speak English, but we managed to ask for what we needed using Google Translate and sign language. Here we bought vegetables, fruit, tofu, fresh rice noodles, eggs, and basics like rice, peanuts, oil, and soy sauce.
Opposite the market, there's a shop called Hanh Nga, which stocks basic supplies as well as some Western products like butter and muesli.
Our landlady showed us where to buy the cheapest cheese in town at Nhat Nguyet, 63 Thai Phien. We would never have gone into this small, chaotic shop, but the New Zealand cheddar is much cheaper than elsewhere. Just go to the fridge and ask them to cut off how much you want.
Le Croissant sells the cheapest bread at 14,000 VND ($0.60) for a white country loaf. 9 Grains and Dingo Deli make wholemeal and rye bread, but they are much more expensive. We also loved the banh mi rolls (around 2000 VND/$0.10 each) fresh from the oven at the simple bakery a few doors down from popular Banh My Phuong.
For imported products like oats, chocolate, and crisps, we found AP Mart at 501 Hai Ba Trung had the best prices. Dingo Deli also sells lots of imported goods and housemade bread, hummus, pesto etc.
Simon bought freshly ground coffee beans from Mia Coffee for 120,000 VND ($5.40).
Eating Out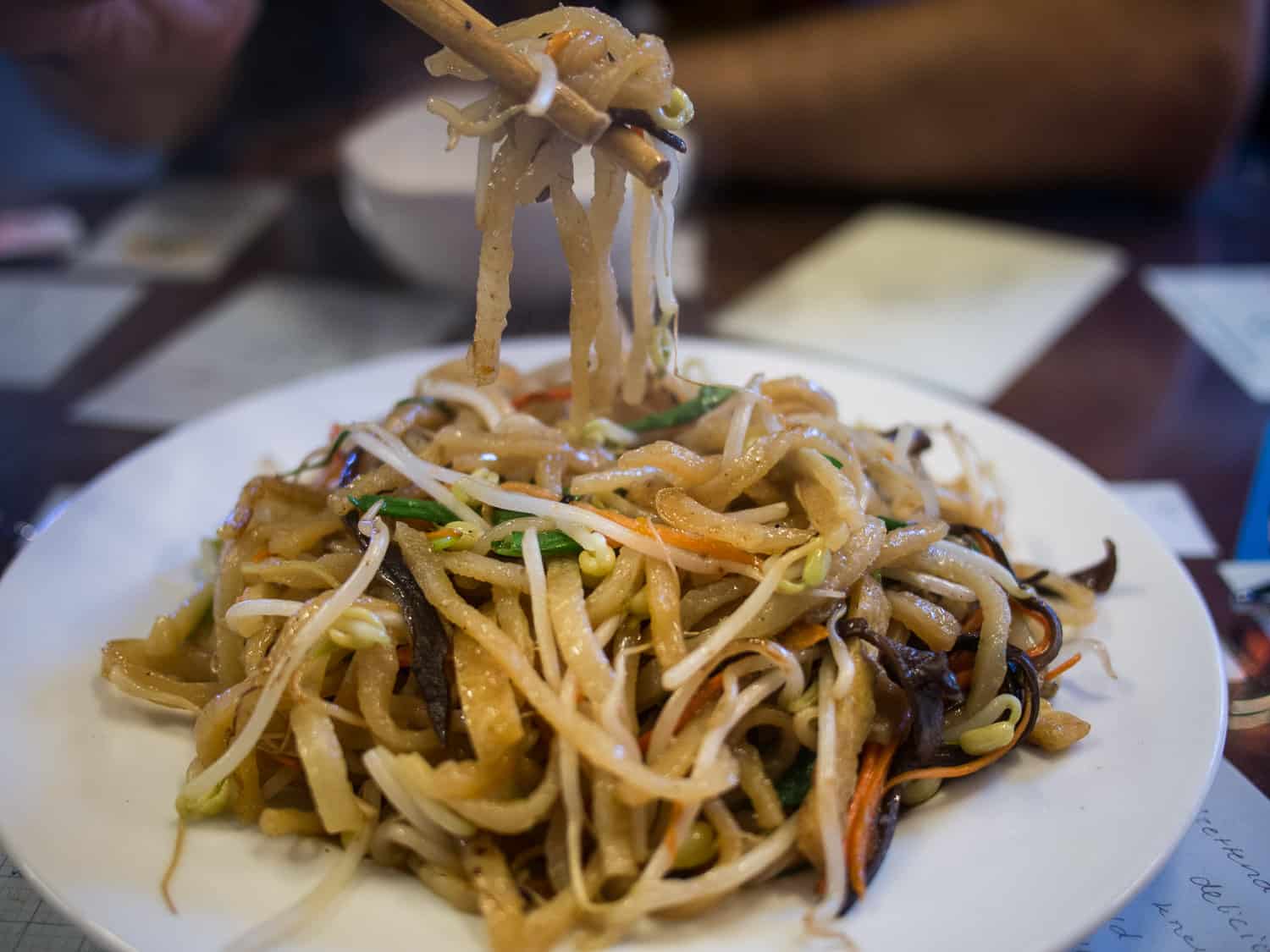 There are plenty of cheap places to eat in Hoi An. The street food isn't great for vegetarians, but there are plenty of meat-free restaurants—see our favourite Hoi An vegetarian and international restaurants.
Cost of Living
The cost of living depends on how you live. If you rent a cheap house and eat street food, you could live off $500 a month or less. We spent $1300 a month for two people as we rented a more expensive apartment and often ate Western food. Read our Hoi An cost of living breakdown for more details.
Yoga
There isn't a big yoga scene in Hoi An, but there are a few options.
Nomad Yoga has three Hatha or Ashtanga classes a day. Unfortunately, I didn't enjoy the yoga style, which was different from what I am used to. The Indian teachers change every three months, so it's worth giving it a go. Update: Unfortunately, it now seems they are closed.
Running
The advantage of the cold weather was that it was perfect for running. It helped that we lived in the countryside, so I had instant access to quiet paths through rice fields and vegetable gardens. For longer runs, I ran down to An Bang beach. It was a bit sloping and soft, depending on the tides, but it's good for getting away from traffic.
I recommend picking up the free Live Hoi An map and looking for the cycle routes through the green areas—these will also be good for running. (Update November 2019: This map no longer appears to be available, but cycling routes around Hoi An are available on Bikemap.)
Healthcare
Expats agree that the best medical care is in Da Nang. We went to Dr Chris at Family Medical Practice. It's the most expensive option ($60 for a consultation), but they were professional and spoke good English. Another option is the much bigger and cheaper Hoan My Hospital (300,000 VND/ $13.50 for a consultation), but it felt more chaotic and the doctor didn't speak great English.
Travel Insurance
Travel insurance is essential, as if you need serious surgery, you'll need to be flown to Saigon or beyond. We used our usual travel insurance, True Traveller, which we've found is the cheapest option for long-term travellers from the UK and Europe. Heymondo is a good choice for travellers from elsewhere. Read my travel insurance guide for more information.
Things to Do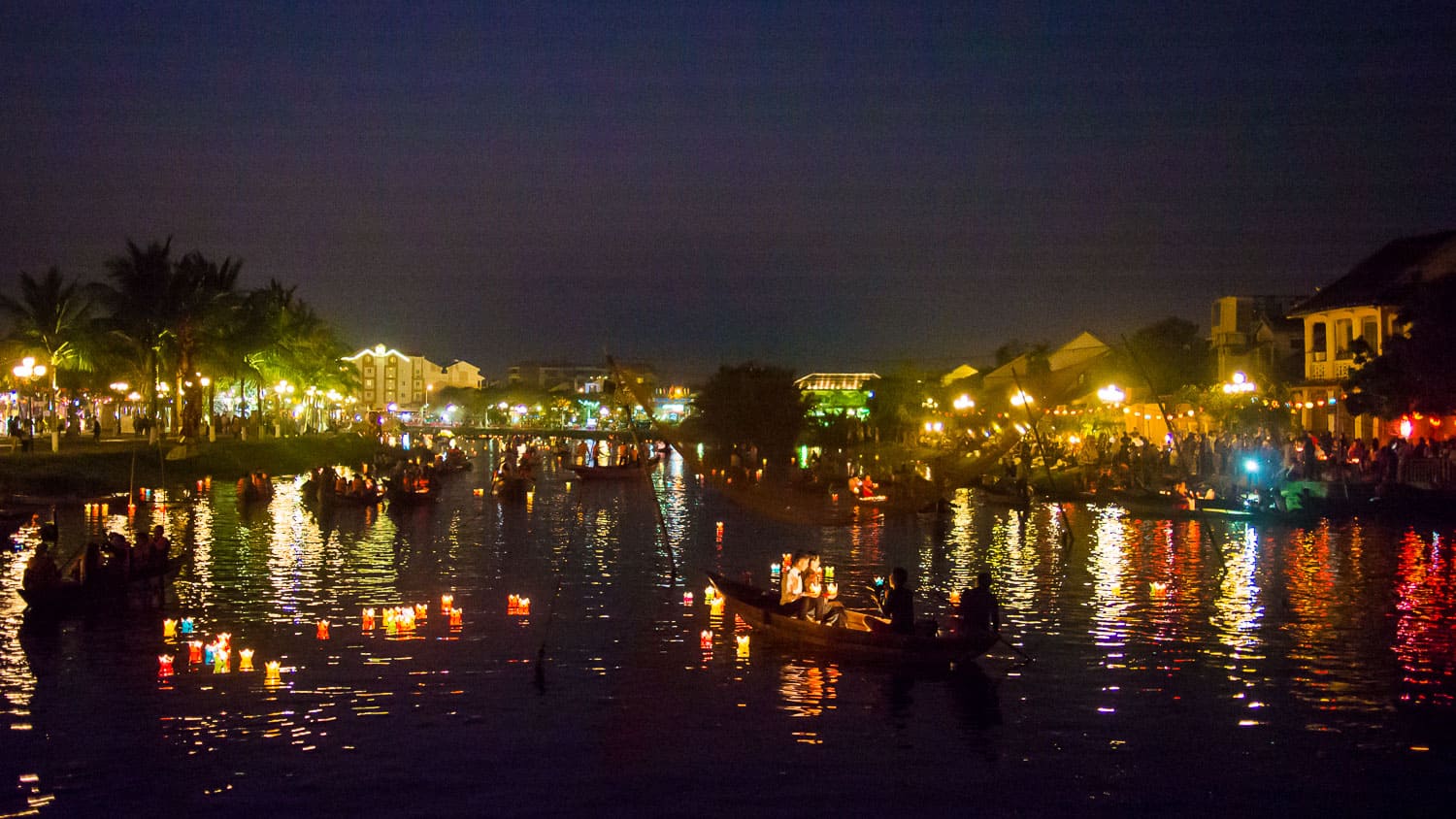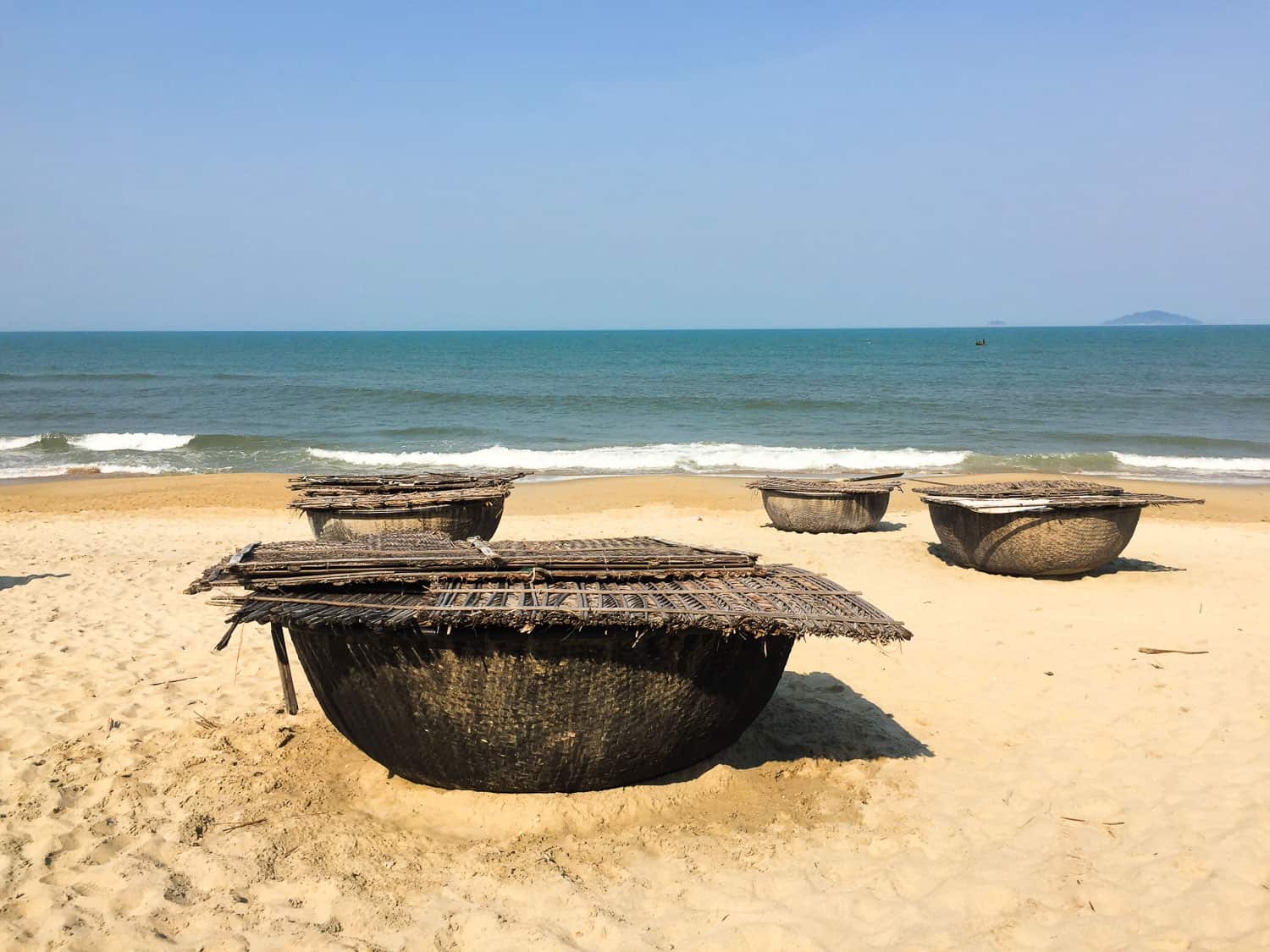 You can also do day trips to the My Son ruins or snorkelling/diving in the Cham Islands, but we didn't make it there.
More Resources
Our Hoi An Posts
As long as you aren't looking for nightlife or lots to do, Hoi An makes a relaxed, affordable digital nomad base with easy access to rice fields and beaches. If you want a bit more action (still close to beaches), you might prefer Da Nang, but we didn't find it as attractive.
If you enjoyed this post, pin it!