This page contains affiliate links. Please read our disclosure for more info.
Vietnam is an increasingly popular digital nomad hotspot. Most people head to Hoi Chi Minh City or (to a lesser extent) Hanoi, but we knew those cities would be too hectic for us. A few years ago we looked into Hoi An, a much smaller town in the centre of the country, but it seemed impossible for find rentals for just one or two months. Thankfully, things have changed, and it's now easy to find a house to rent.
If you are looking for an alternative base to busy Hoi Chi Minh City, Hoi An is worth considering. The streets are much less traffic-clogged, the atmosphere is relaxed, the ancient town centre is one of the prettiest places in the country, and the beach is only a few kilometres away.
Although it's worth looking on Airbnb if you'd like to book in advance, the options are limited, and you will find cheaper places once you arrive. We spent two nights at the lovely Lemongrass Homestay and managed to find an apartment within 24 hours of arriving.
Apply for a 3-Month Visa
You can't rent a house in Vietnam unless you have a three-month tourist visa (not a one-month visa). We applied online before arriving in the country with VOA Vietnam and it was easy. The three-month visa can be extended if you want to stay longer.
Get a SIM Card and Motorbike
A local SIM card could come in useful when communicating with house owners. Viettel, Mobifone, and Vinaphone all seem similar with good coverage and speeds and affordable data plans. You can buy SIMs and credit vouchers from convenience stores all over the country, but the airports offer the best deals. We got a free Vinaphone SIM at Hoi Chi Minh airport with a 5GB data plan for 100,000 VND ($4.50). 100,000 VND usually only gets you 1.2GB data.
You will likely be renting somewhere a few kilometres from the old city. There isn't any public transport in Hoi An, and while you could manage with walking and taxis, a motorbike or bicycle will give you more flexibility. There are plenty of rental places and they don't ask for a deposit or to see your driving licence. We paid $5 a day while we looked for a house, and then found a long term motorbike rental for 1 million VND ($45) a month.
Withdraw Cash
You are usually expected to pay all the rent in advance, although you might be able to arrange to pay monthly. Most ATMs charge and have low withdrawal limits, so it's worth starting to gather your cash when you arrive. The best ATM to use is at MB Bank on Hai Ba Trung (near the junction with Ba Trieu), which doesn't charge. We could withdraw 5 million VND ($224) at one time, but I've heard it's possible to get 15 million ($672).
We didn't have to pay a damage deposit.
Decide Your Budget and Requirements
Before you start your search it helps to decide your budget and what you are looking for. We paid $500 a month including all bills for a two bedroom apartment. Apartments are actually unusual here, and most rentals are two or three bedroom houses from $300 a month. You may be able to find even cheaper than that, but you'll need local contacts.
If you are renting for 6-12 months, you'll have more choice and the best rates, but some landlords are willing to rent for a month.
This was our wish list:
Apartment or house
1 bedroom
Good Wi-Fi – We used the Speed Test app on our iPhone for places we were considering.
Quiet location
Kitchen
Hot water
Sofa
Table big enough for working and eating
Air conditioning in bedrooms – Most living areas don't have A/C.
$500 a month or less
We didn't have definite ideas about the location, as we weren't familiar with the town. We just wanted to be within a 10-15 minute motorbike ride of the old town and the beach. Staying near An Bang beach would be nice but prices are higher.
Contact An Agent
The easiest way to find a house to rent is to contact Nha Toi Real Estate who are used to working with foreigners. We contacted Alex before we arrived and arranged an appointment for our first day. Our options were limited as we were only initially renting for one month, and we arrived just before Tet, the biggest holiday of the year.
We saw three houses ranging from $400-500. All had at least two bedrooms, A/C in the bedrooms, a washing machine, couch, dining table, and basic Vietnamese wet room bathroom. They were decent and could have worked, but they felt a bit gloomy to us and lacked homely touches. They are really set up for longer term rentals, although landlords were open to lending us kitchen equipment when it wasn't included.
Post in Facebook Groups
Before we arrived, we also posted messages in the Facebook groups Hoi An Expats and Danang Hoi An Expats. We received a number of responses, the most promising from Nigel at Hoi An Lotus Apartments. As we weren't too keen on the houses we'd seen, we went to see the apartment later the same day and ended up renting it (details below).
Ask Around
The cheapest houses can be found from local contacts. "To Rent" signs seem rare in Hoi An, though, and this approach would take a lot more time.
Our Apartment in Hoi An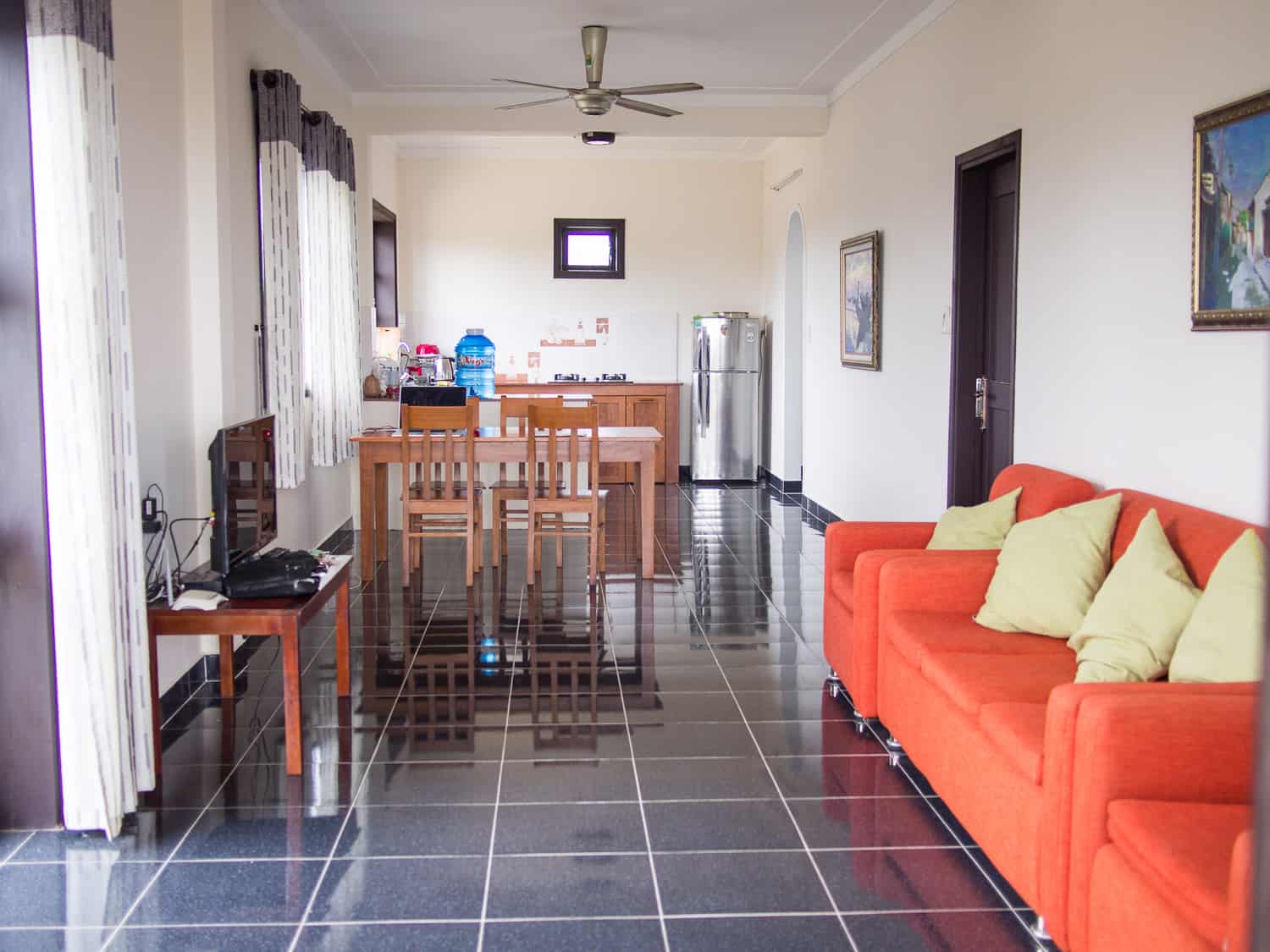 Hoi An Lotus Apartments is owned by Nigel and Sally, a friendly Australian/Vietnamese couple. The three-storey house has an apartment on each level —they live in the ground floor apartment and rent the two above. We rented the top floor apartment for $500 including all bills (the one below is slightly cheaper).
We chose our apartment over the houses we saw because we liked the quiet location in the countryside of Cam Ha. All the other houses were on suburban streets, whereas we were surrounded by farmers and rice fields. It was perfect for walks and runs as there isn't much traffic on the narrow paths through the rice fields and nearby Tra Que vegetable gardens. It's about 3 km from the old town and the same from An Bang beach.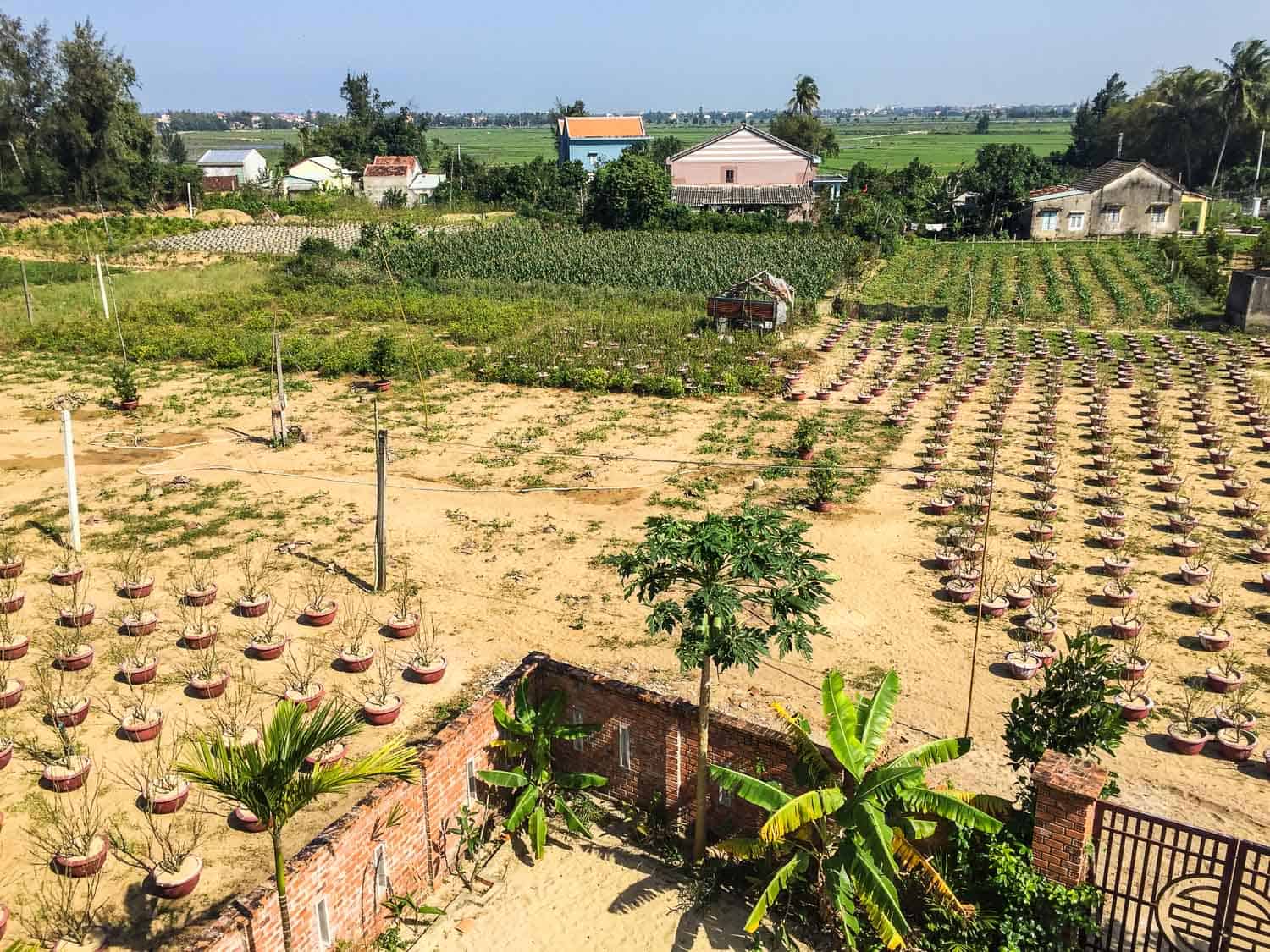 As it's the top floor apartment with lots of windows and glass doors, it also felt brighter than the houses we saw, and a more pleasant place to work.
The apartment is quite spacious with a long living room/dining room/kitchen with two double bedrooms and one bathroom leading off it. There's a good size kitchen (complete with a weird but cool glass countertop oven), large dining table, washing machine, TV, and a decent couch (not super comfy but fine).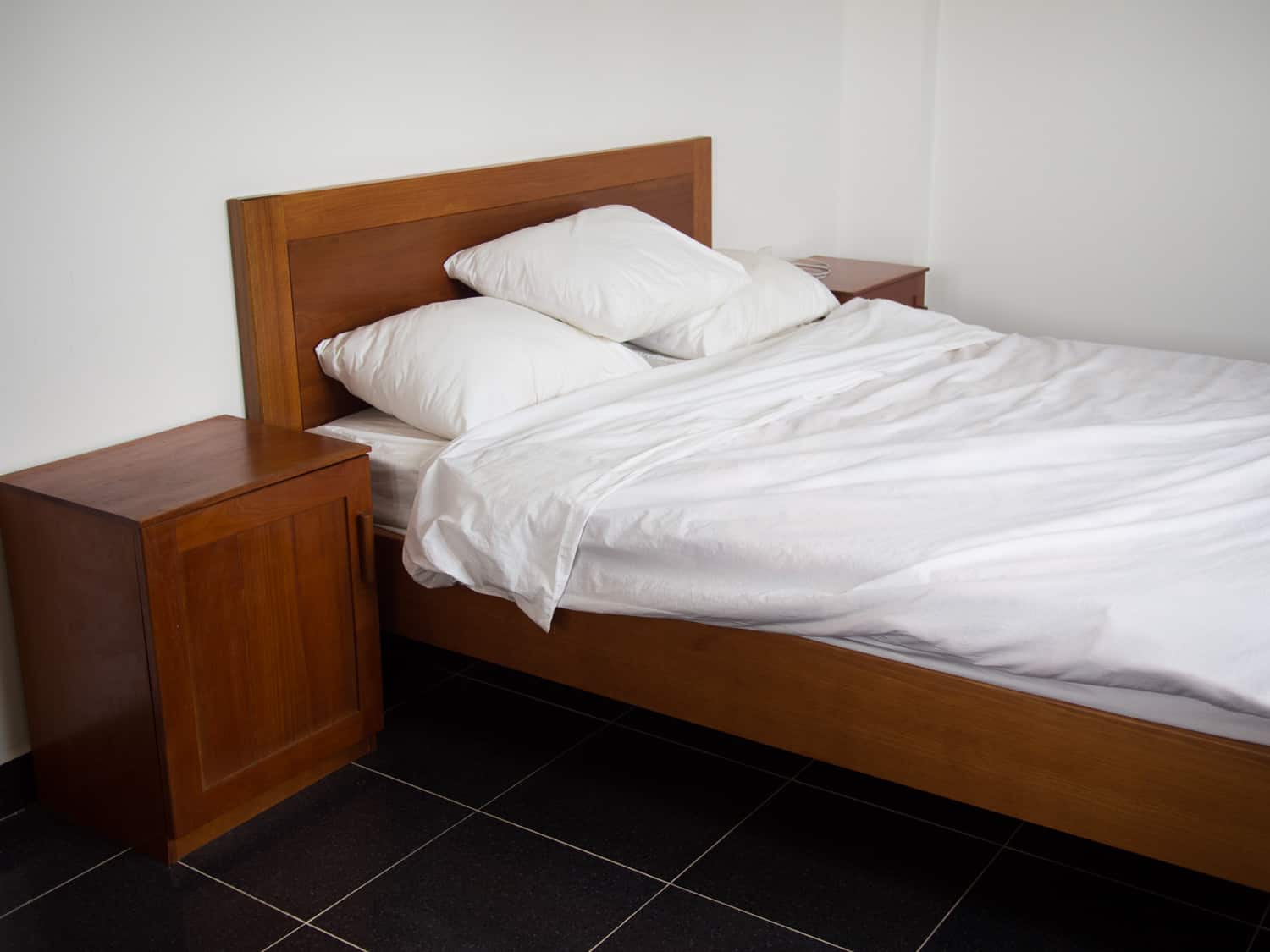 The wet room bathroom is basic but typical for Vietnam, and the hot water pressure was mostly good but temperamental. There's air conditioning in the bedrooms and ceiling fans in the living room. The fluorescent lighting isn't very attractive, and the living room was a bit dark at night—it really needed some lamps. A large balcony stretches around the apartment with views of the gardens and rice fields, but unfortunately, there's no furniture for it.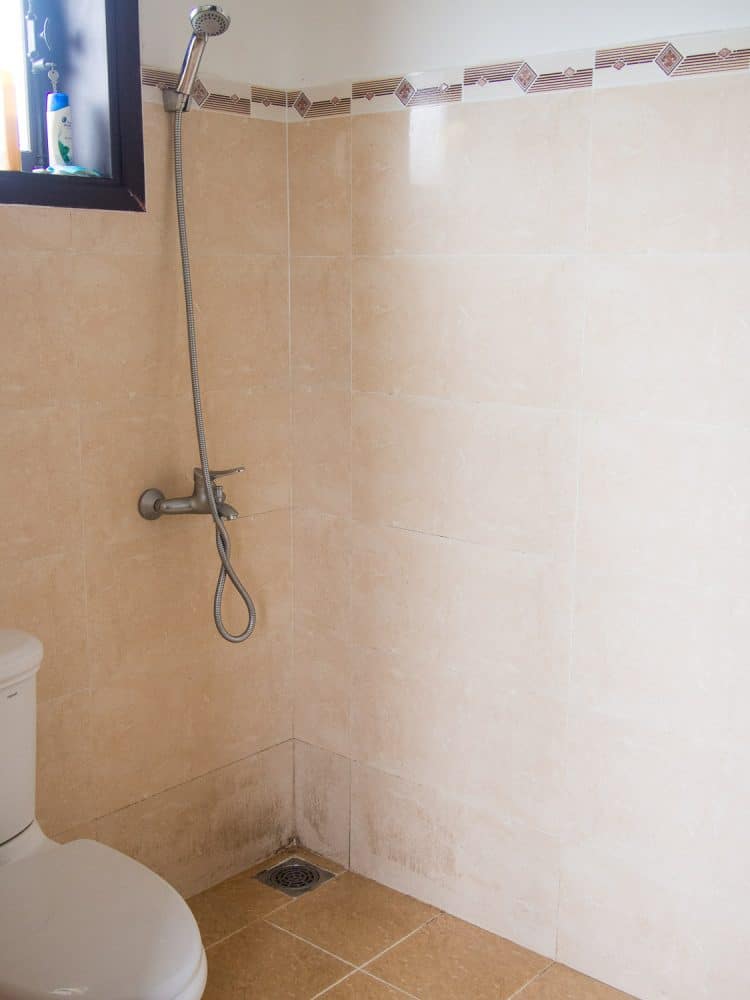 Like other rentals in Hoi An, it wasn't that well-equipped for short-term rentals. Sheets and basic kitchen equipment were provided, but we had to buy towels, a blanket, some extra kitchen equipment, and all the basics like soap, sponges, and washing up liquid. Sally is very helpful, though, and she gave us some things that were missing. She even took us to her favourite stalls at the local market and told us which shops sell the cheapest bread and cheese.
The biggest drawback of the apartment is the Wi-Fi. Some houses we looked at had fibre optic, and it is possible to get download and upload speeds of 30 Mbps, but our place was only 5 Mbps down and 0.3 up. It didn't help that our connection was shared with the ground floor apartment. Most of the time it was fine, but on evenings and weekends it could get really slow, and we'd struggle to watch Netflix or even do basic internet browsing. We got 3G speeds of 20 Mbps, so we sometimes tethered to our phone when the internet got really bad.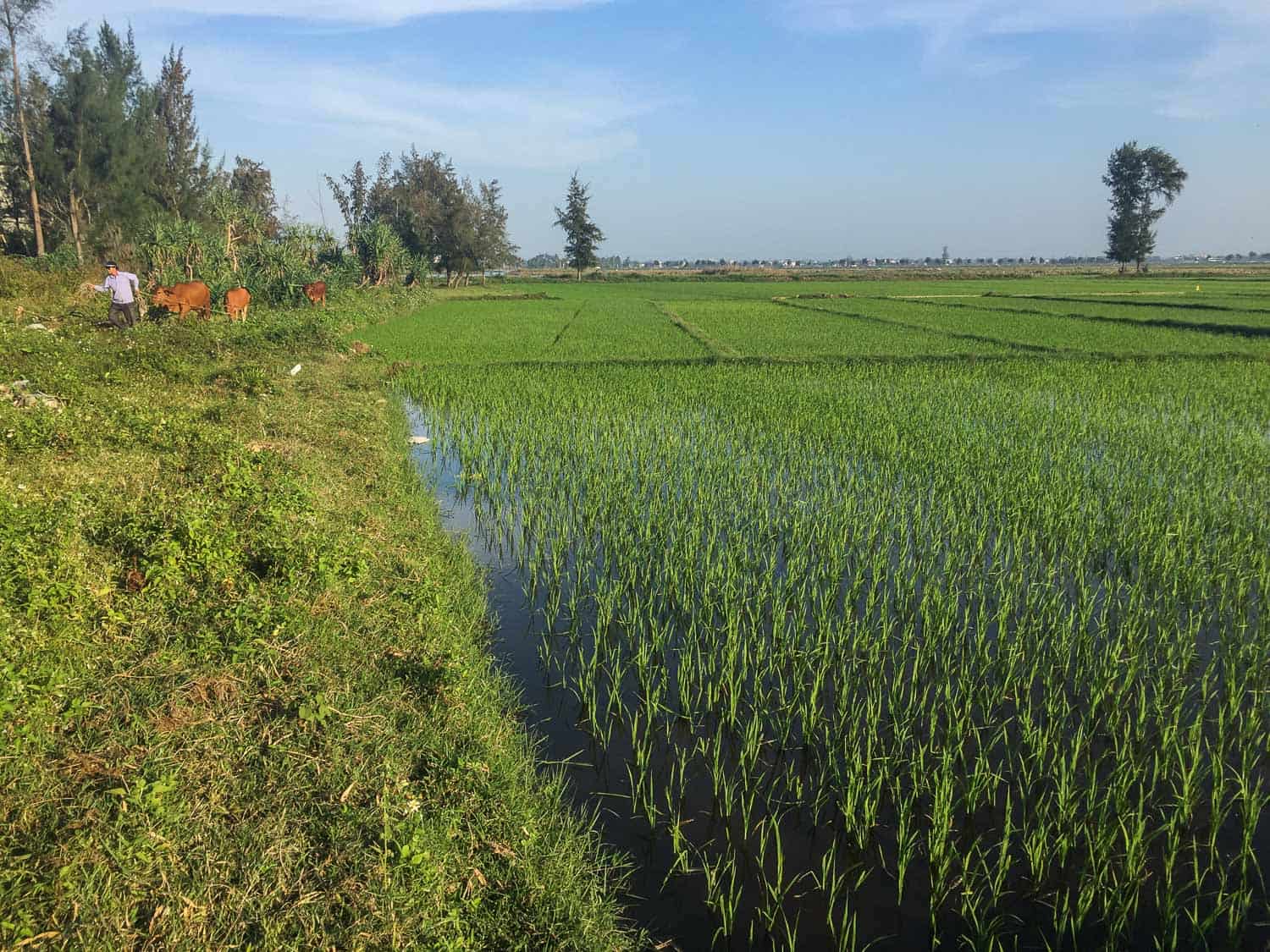 Although we could have found somewhere less expensive to rent in Hoi An, we're happy with our choice, mainly because we loved the countryside location. On our walks we'd pass kids shouting joyful hellos, rice farmers with their buffalos, elderly ladies in conical hats leading their herd of cows down the narrow paths, and gardeners watering neat rows of herbs and lettuce. It felt a world away from the touristy centre, and we loved experiencing a different side of the town.
For more information on living in Hoi An see our digital nomad guide to Hoi An and our Hoi An cost of living.