This page contains affiliate links. Please read our disclosure for more info.
Last month we celebrated our six-year nomadiversary of living and working on the road. As usual, we share our expenses from the last year.
Our annual expenses are broken down into four areas:
Daily Expenses – Day to day living costs including visas, accommodation, food, in-country transport, toiletries, clothes, gifts, books, apps, and low-cost activities.
Flights – Domestic and international flights.
Extras – Insurance, major medical expenses, expensive activities, and other large unusual costs.
Business – These expenses aren't related to travel but to running our online business. They include technology (laptops, hard drives, iPhone, camera), website hosting, domains, software, and cloud storage.
These are our expenses for year 6 of our travels from March 2015-February 2016. This is for two people in British pounds. The second row has the amounts converted into US dollars at the current exchange rate (April 2016) of £1 = $1.40.
| | Daily Expenses | Flights | Extras | Business | Total |
| --- | --- | --- | --- | --- | --- |
| GBP | £19,595 | £1,402 | £1,896 | £3,560 | £26,453 |
| USD | $27,433 | $1,963 | $2,654 | $4,984 | $37,034 |
Comparison to Previous Years
The last year was by far our most expensive year since becoming digital nomads—we spent £4253 ($5954) more than last year. Our increased expenses are a reflection of two things.
One, after six years on the road, we are no longer budget travellers. Although we track all of our expenses with an app and set target budgets for each destination, we aren't strict about it. We have no interest in staying in hostels anymore. We prefer comfortable accommodation, often splurge on fancy meals, and do whatever activities we're interested in.
Two, we earned significantly more than in previous years, so we could afford to spend more.
Here's what we have spent each year for the six years we've been digital nomads: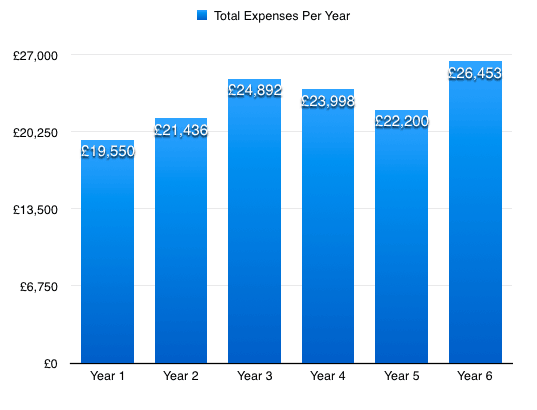 This is the average we've spent per month over the last six years: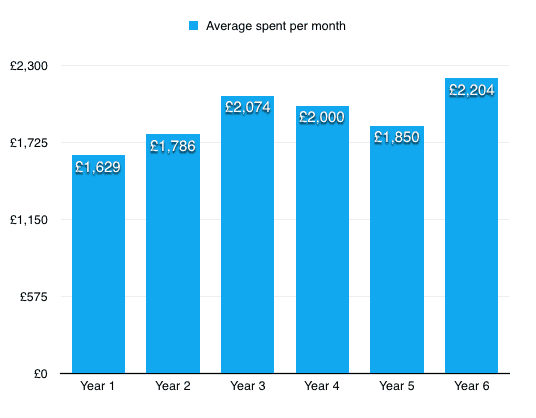 Bear in mind that this is literally everything we spent on all aspects of our lives including clothes, gifts, and business expenses, so not all the costs were travel related. To give you a better idea of what we spent our money on this year, here's a breakdown of each area of spending.
Daily Expenses
In year 6 we travelled to 10 countries in North America, Europe, and Southeast Asia. We spent five months in expensive destinations (USA and Europe) and the rest of the year in cheaper countries. This is a typical pattern for us, as we like spending the summer in Europe and winter in Asia or Latin America, with side trips to the US whenever we are on that side of the world.
These are our average daily expenses (for two people) in each destination.
Oaxaca, Mexico – £24 ($34). 38 days. – We rented a house for six weeks (see our budget breakdown). From our cheapest place of the year to…
Disney World, Orlando – £153 ($214). 10 days. – Our most expensive destination of the year! But totally worth it. We had such fun visiting the four main parks (two of them twice), two water parks, two mini-golf courses, and the Disney Quest arcade. Despite staying in a $43 a night motel and eating fairly inexpensively, the six-day park ticket (£572 for two) and car rental increased our costs.
New York – £79 ($110). 11 days. – Our time was divided between renting an Airbnb apartment in Williamsburg and staying with family in Poughkeepsie. The average would have been a lot higher if we had stayed in the city the whole time.
Finland – £25 ($35). 10 days. – This was a sponsored trip to Lapland and Helsinki, so our only expenses were food and coffee in Helsinki.
Italy – £64 ($90). 59 days. – We wandered Rome, discovered a secret island, sailed and hiked along the Amalfi coast, ate our way around Orvieto, and housesat in rural Umbria. Most of the time we stayed in Airbnb apartments. We ate out a lot! Our average would have been higher if we hadn't housesat for the last two weeks.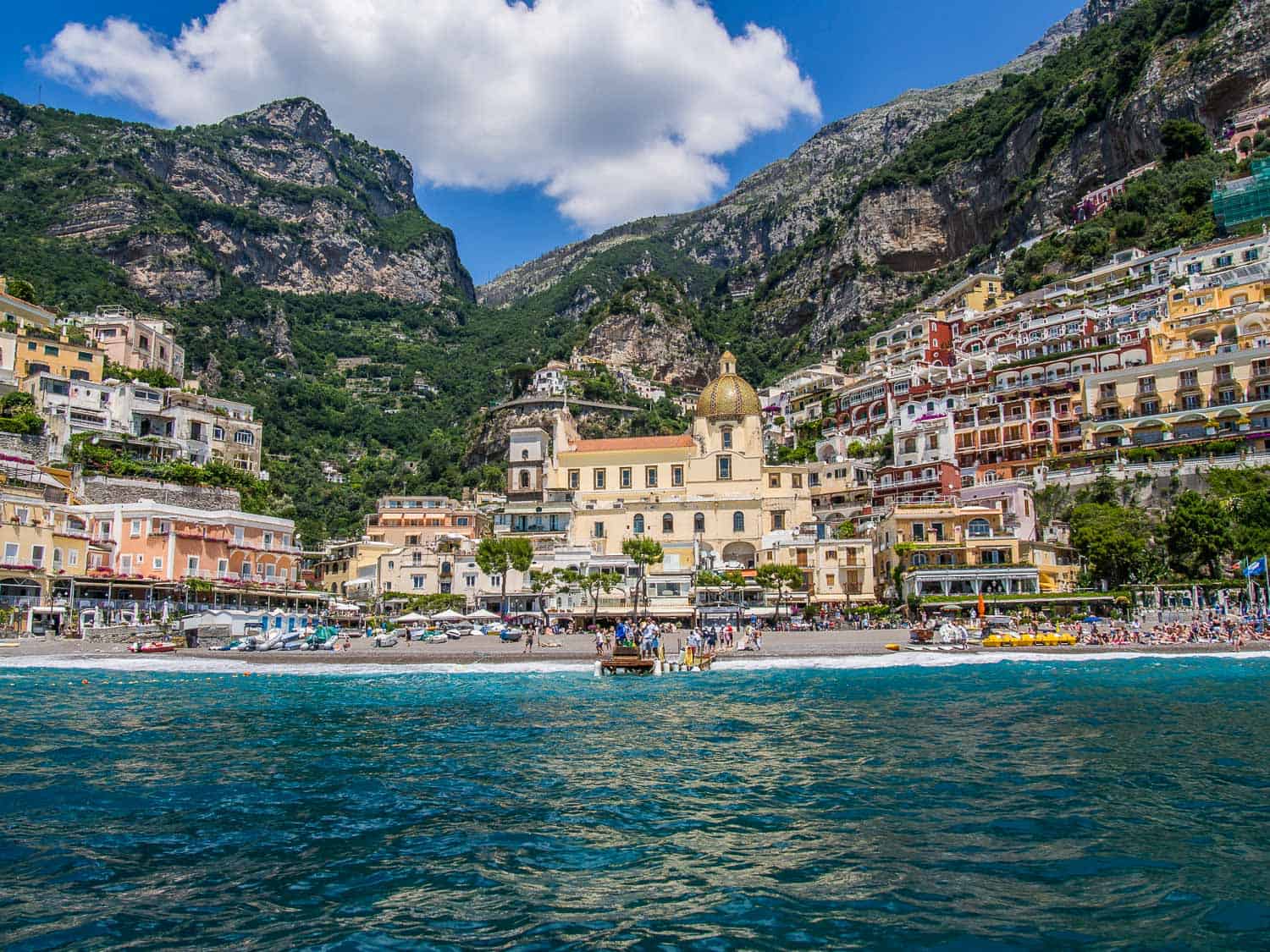 UK – £73 ($102). 32 days. – We spent three weeks housesitting in London. Despite having no accommodation costs, it's a very easy city to spend a lot in! Eating out was our biggest expense, and we also stocked up on new clothes. We also rented a car for a week in Cornwall, staying in an Airbnb cabin in the woods and a tipi for a magical wedding.
Amsterdam – £67 ($94). 3 days. – We arrived by train from London and stayed in a houseboat we found on Airbnb.
Ubud, Bali – £45 ($63). 132 days. – We fell in love with Ubud, where we spent nearly five months. Although our living expenses weren't very low, we lived a high-quality life for a reasonable amount. We rented a house with an amazing pool and jungle view, attended yoga classes most days, and ate tons of delicious food. See our cost of living in Ubud post for more details.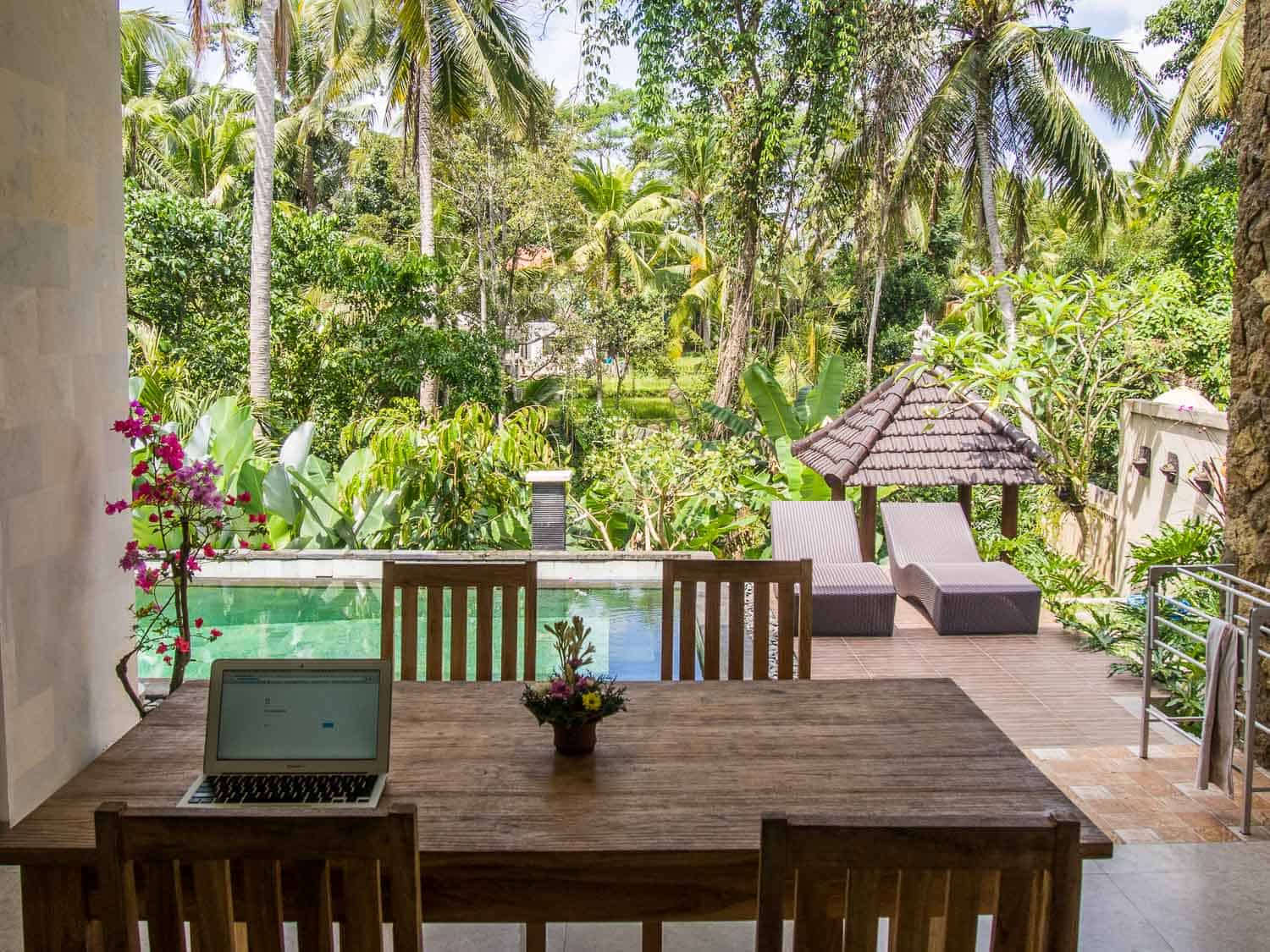 Canggu, Bali – £24 ($34). 7 days. – We used Airbnb credit for our apartment rental, so most of this was spent on eating out.
Singapore – £50 ($70). 7 days. – We stayed with Simon's brother, so our major expense was eating out, which can be very expensive here.
Vietnam – £42 ($59). 7 days. – We stayed in guesthouses in Ho Chi Minh City and Hoi An when we first arrived.
Hoi An – £33 ($46). 28 days. – We rented an apartment in the countryside between the old town and the beach.
Our average daily expense for the year was £54 ($75), not including flights and business expenses below.
You can read our year 6 highlights here.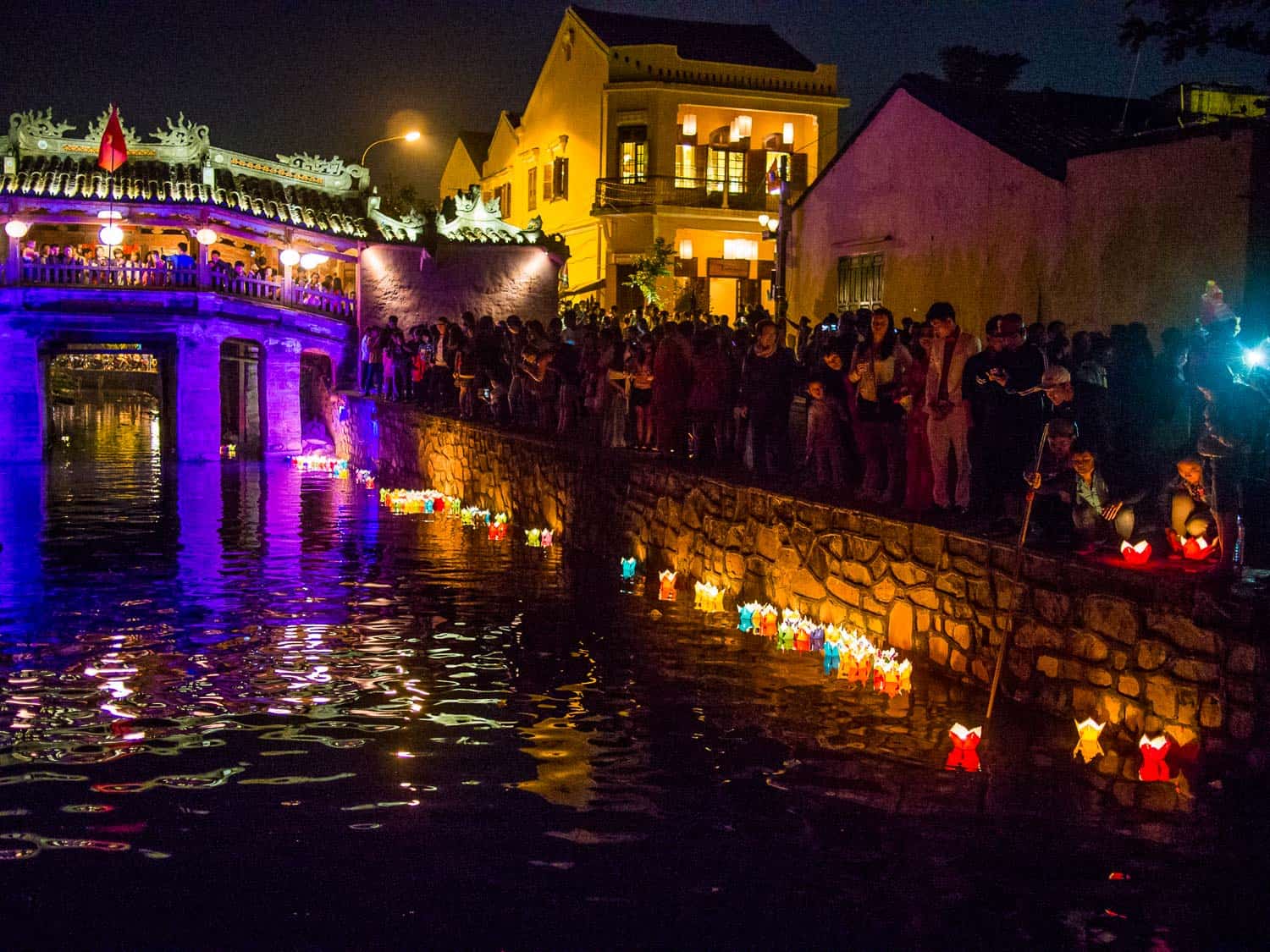 Flights
This year was the least amount we've spent on flights since we started travelling. We made a conscious decision to fly less this year and took the train from Italy to London and London to Amsterdam. We also found a great deal from Amsterdam to Bali using my new favourite flight search website, Skypicker. Flights within Southeast Asia on Air Asia, Jetstar, and Vietjet are inexpensive.
Extras
This includes Simon's motorbike course in England, Disney tickets, Photoguard camera/laptop insurance, and True Traveller travel insurance, which is still the cheapest option we've found for UK and EU citizens (for everyone else we recommend Heymondo).
Business
Our regular expenses to run our business include domains, hosting (Linode), cloud storage (Backblaze), newsletter (Mailchimp), VPN (Witopia), software (Adobe Creative Cloud), and the Apple developer fee. To edit my book, I bought Grammarly and hired a proofreader. Our National Insurance payments in the UK (where we are registered self-employed) are also included here.
New gear included an Apple Watch, iPad Pro, and Apple Pencil.
How We Track Our Expenses
App
Even if you aren't on a strict budget, we believe that tracking your expenses is important so that you are aware of your spending. We enter each item we spend into our iPhone app.
Other Methods
I also use a spreadsheet to track our income and overall expenses (in the way we've shared above). On the first of each month, I check every bank balance, plus our Paypal accounts and the amount of cash we have on hand, and enter the totals in another spreadsheet so I have a clear picture of exactly how much money we have. It's a good idea to check internet banking regularly for any discrepancies.
We have multiple credit and debit cards in case we lose any, plus some emergency dollars. We manage everything by internet banking. Last summer we got a new Halifax Clarity credit card, which doesn't charge foreign transaction fees, so that has saved us a lot on cash withdrawal fees (I pay it off straight away to avoid interest).
You can read a more detailed post about how we manage our finances while travelling.
Our Income
Our income comes from advertising, affiliate commissions, and sponsorships on this site; the iPhone apps Simon makes at Voyage Travel Apps; and the freelance writing I occasionally do. For more details, see our post on how we fund our travels.
Our income streams change each year. In the last year, our app and affiliate income grew substantially, while advertising declined. Having multiple sources of income means that we are not too dependent on any of them. We'd like to develop even more income streams, and are hoping that my new book, The Carry-On Traveller, will be another source in the coming year.
Here's our income breakdown by category from the past year: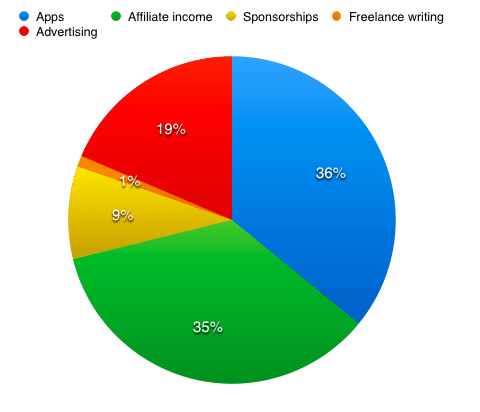 We also have rent from a house we still own in the UK, but that's used to pay off the mortgage, so it doesn't bring in extra income. We were previously making interest-only payments as we planned to sell the house to pay off the mortgage, but we've now started making full payments. We have had the same tenants for three years and with an agent managing it, we can forget it exists, so keeping it as an investment seems like a good idea (especially as we have no retirement plan).
The last year has seen a significant increase in our income. In our first year as digital nomads we had to use some of our savings to cover our expenses (as we planned to), in years 2-5 we broke even, and now we can finally afford to add to our savings. We still don't earn a huge amount, but we feel like things are moving in the right direction. We love all of the work we do and most of it brings in passive income, so we can take time off and still earn money—as we did last summer.
You can read more of our thoughts on choosing to do what we love vs making more money in our reflections on 2000 days as digital nomads.
In year 6 we finally felt on solid ground. We visited some amazing places, didn't work too hard, and our income grew. We may have spent more than in previous years, but we can afford to do so, and it was worth it for the experiences we had.