This page contains affiliate links. Please read our disclosure for more info.
With a UNESCO World Heritage ancient centre, lush rice paddies, and scenic beaches, Hoi An was a pleasant place to base ourselves for a few months. It was a quieter alternative to the more popular digital nomad hub Saigon, and we found it an affordable place to live.
We lived in Hoi An for two and a half months from February to April 2016. These are our monthly expenses in USD for two people:
Monthly Expenses in Hoi An
Accommodation
$500
Eating Out
$381
Food Shopping
$220
Drinking Water
$5
Transport
$57
Entertainment
$49
Miscellaneous
$80
Total Monthly Expenses
$1292 (£886) for 2 people
The amounts above were calculated with the exchange rate at the time of purchase. The amounts given below are in Vietnamese Dong (VND) with an approximate rate in USD based on the current rate: 1 USD = 22,300 VND.
Here's what $646 (£443) per person a month got us in Hoi An:
Accommodation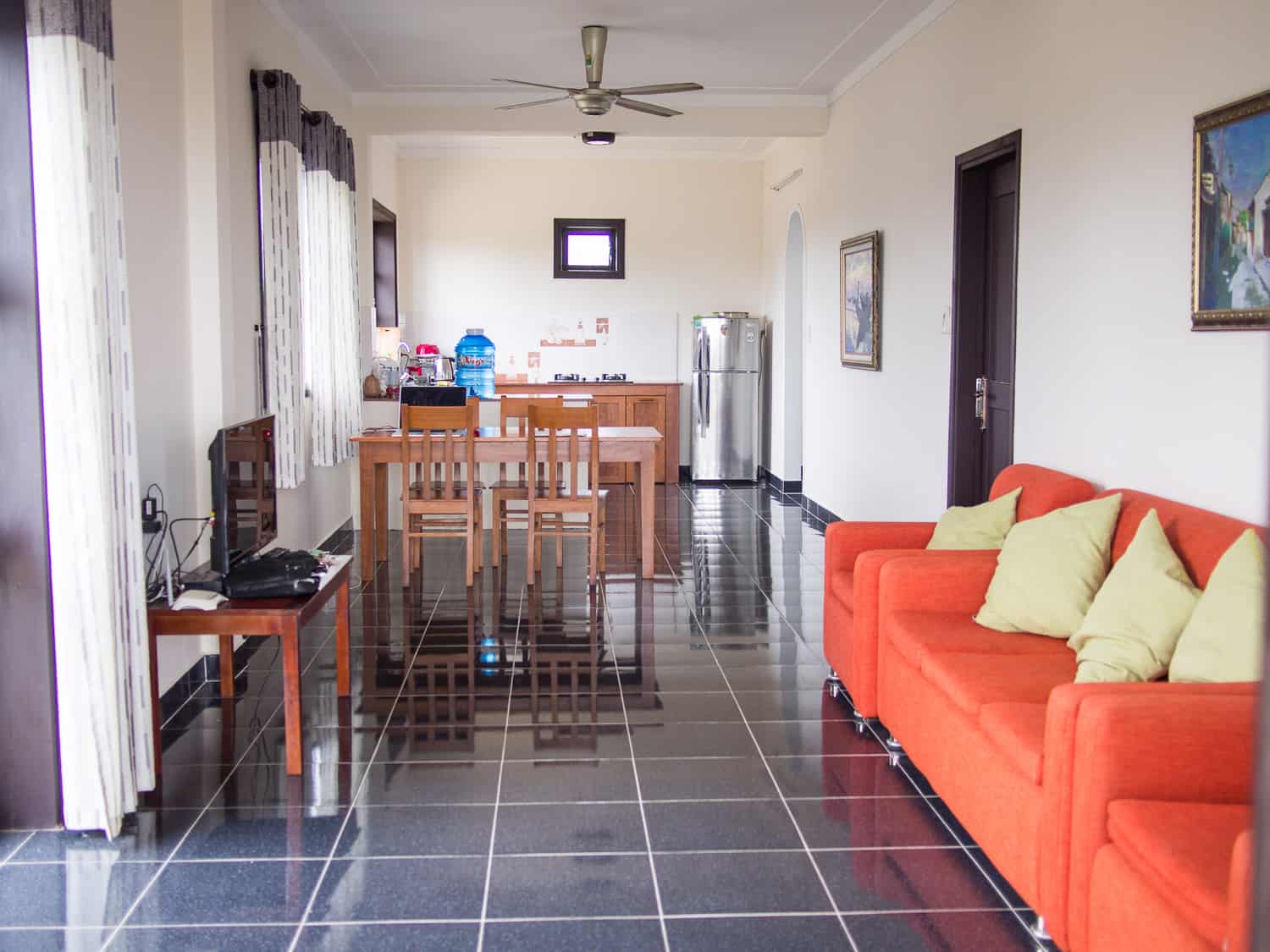 We paid $500 a month including all bills for a spacious, bright, two-bedroom apartment with washing machine, WiFi, and A/C in the bedrooms. It was in a quiet location in the rice fields a few kilometres from both the Ancient Town and An Bang beach. You can read more about it in my post on how to find a house to rent in Hoi An.
We arrived in Hoi An just before the big Tet festival so we didn't have a lot of choice. You can find houses to rent for $300 a month or even less. We initially rented for one month—prices will be lower if you rent for longer.
Eating Out
We ate out often. Street food in Vietnam isn't very vegetarian-friendly, so we mostly ate in vegetarian restaurants. Some of these are very inexpensive with meals from $1, but the places we preferred cost $2 or more per dish. In our favourite restaurant Minh Hien we usually spent 150,000 VND ($6.70) for three dishes, rice, two drinks, and tip.
Our eating out costs were increased by eating in international restaurants (Indian, Italian, Mexican) for a change from Vietnamese food. These were obviously more expensive and a meal for two could cost up to 400,000 VND ($18).
Simon usually had a beer with his meal. At Minh Hien, a glass of fresh beer was only 3000 VND ($0.15)! In other restaurants, a bottle of beer cost about $1. Wine (and other alcoholic drinks) are a lot more expensive, so we skipped it except on my birthday.
We usually have a separate Coffee budget for cafe trips, but we only went out for coffee once, so the costs were incorporated into Eating Out. Simon often had coffee with breakfast at Dingo Deli or with cake at Cargo Club.
For more restaurant costs, see our post about our favourite vegetarian restaurants in Hoi An.
Food Shopping
We did most of our food shopping at the Tan An market including fruit, vegetables, tofu, fresh rice noodles, and basics like oil and peanuts. We may have been charged foreigner prices, but it was still cheaper than shopping at the more touristy central market, and we found prices reasonable.
Our food shopping costs increased by buying imported items like cheese and oats from Dingo Deli and AP Mart. Simon also bought quality coffee from Mia Coffee for 120,000 VND ($5.40) a bag. Our costs would have been much lower if we had stuck to the market.
Drinking Water
We exchanged our reusable 19-litre jug at the local shop every two to three days for 10,000 VND ($0.45).
Transport
This includes motorbike rental, petrol, and parking. It cost 1 million VND ($45) a month to rent an automatic motorbike and 50,000 VND ($2.25) to fill our tank with petrol. As we lived outside town we drove everywhere.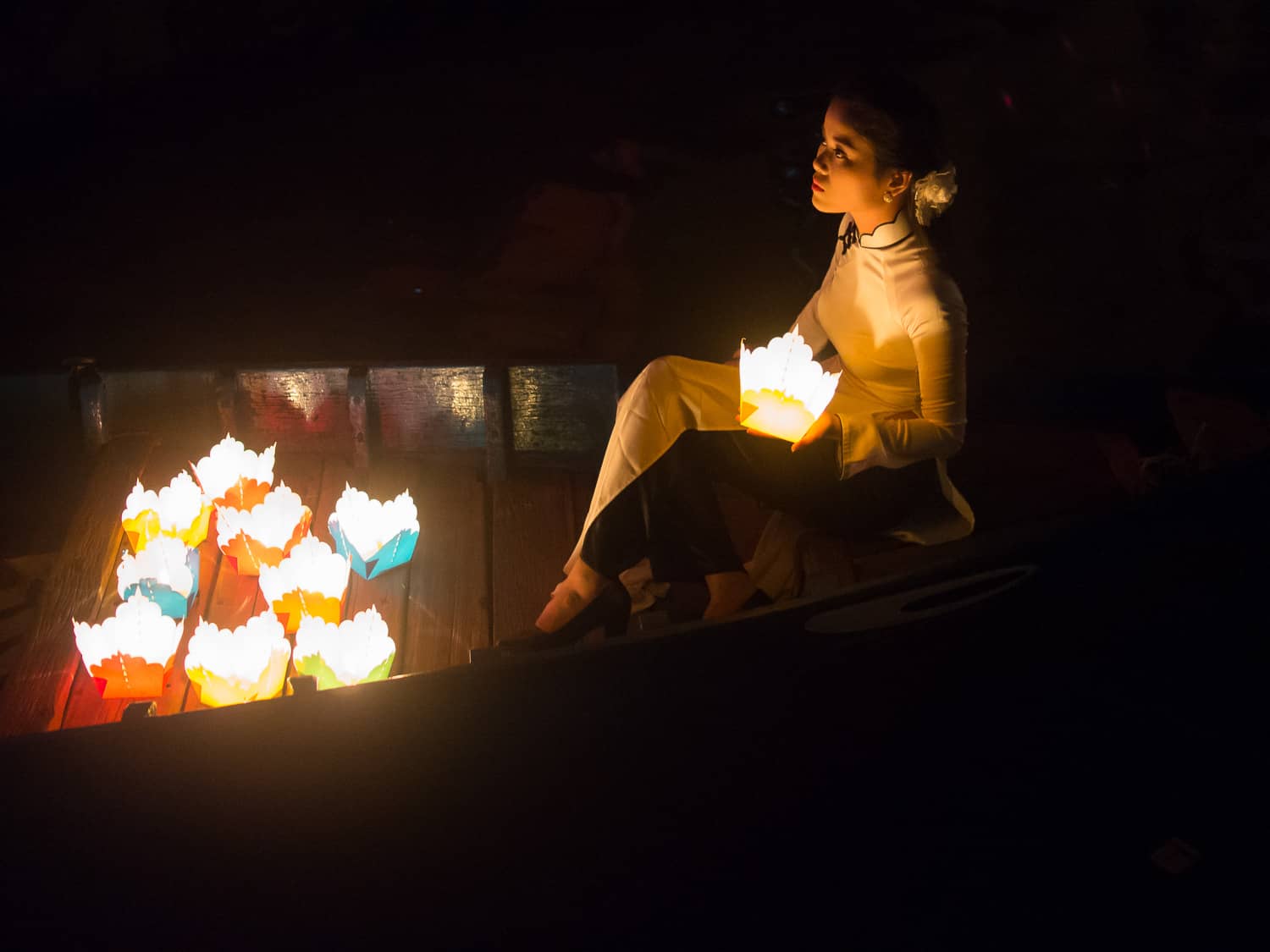 Entertainment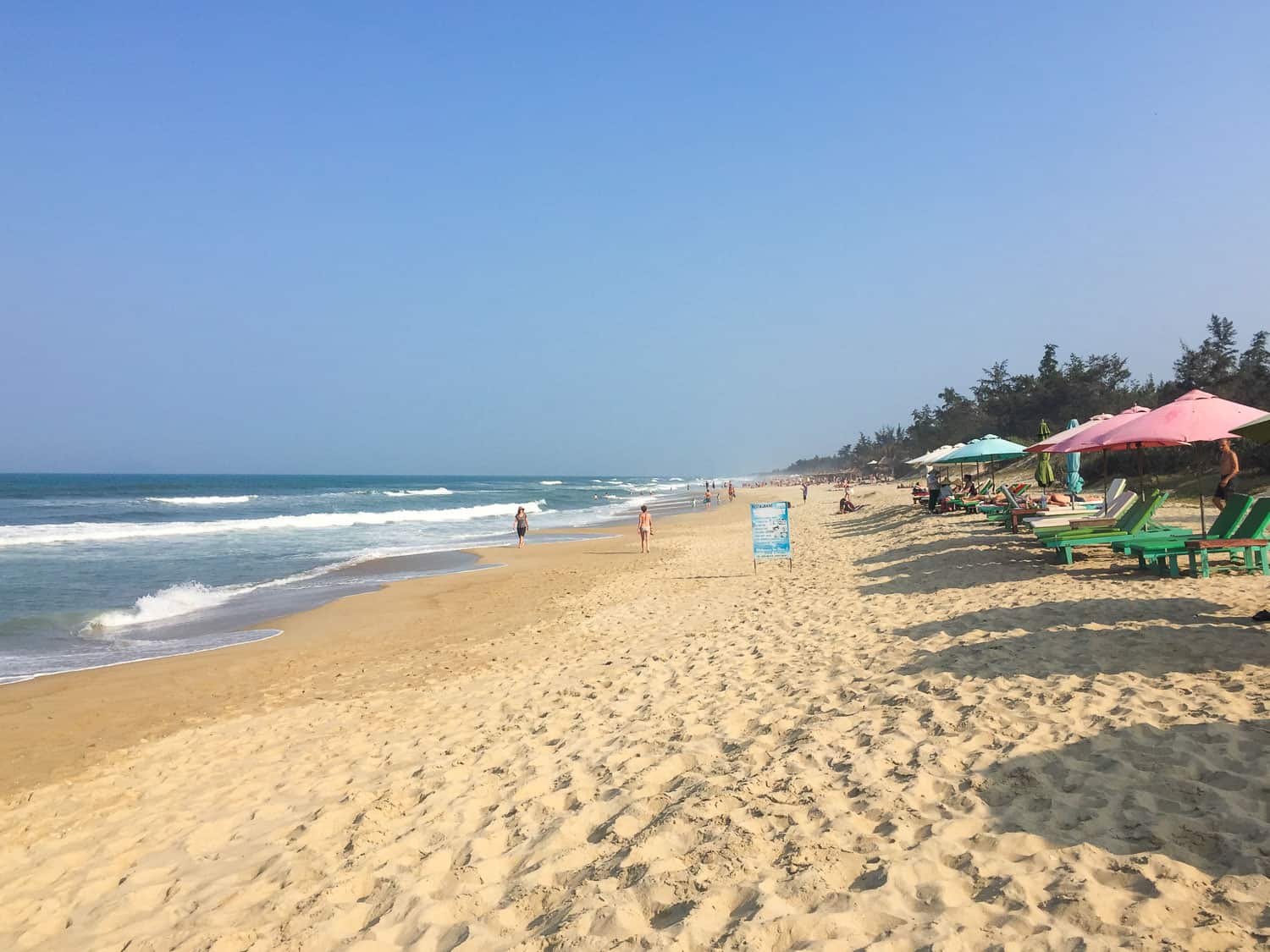 Entertainment costs included (per person):
Two yoga classes at Nomad Yoga for 130,000 VND ($5.80) each. I didn't enjoy the style of yoga, so I didn't continue with classes.
Drinks at the beach for around 70,000 VND ($3) for us both. If we bought drinks we didn't have to pay for sunbed rental.
Cinema in Da Nang for 80,000 VND ($3.60).
Cooking class at Minh Hien for $15.
Water puppet show for 80,000 VND ($3.60).
Day use of the pool at Sunrise Resort for 220,000 VND ($10).
Miscellaneous
Our miscellaneous costs included toiletries, medical supplies, and haircuts. We paid 150,000 VND ($6.70) once a fortnight to have our apartment cleaned. We also bought supplies for our apartment including towels, blanket, frying pan, and rice cooker.
We paid 100,000 VND ($4.50) a month for a Vinaphone 1.2 GB data plan for our phone.
Not Included Above
There are a few costs that I haven't included above as they aren't typical living expenses:
Our three-month Vietnam visa cost $53 each—we applied online with VOA Vietnam.
A doctor's visit and tests at Family Medical Practice in Da Nang cost $130 (a consultation is $60). We also saw a consultant at the Hoan My Hospital for 320,000 VND ($14).
I had a dress tailor made at Aobaba for $40.
Simon had a suit and shirt tailor made at Aobaba for $140.
Shipping the suit to the UK cost 1.6 million VND ($72). We paid more for airmail as we didn't have time for seamail.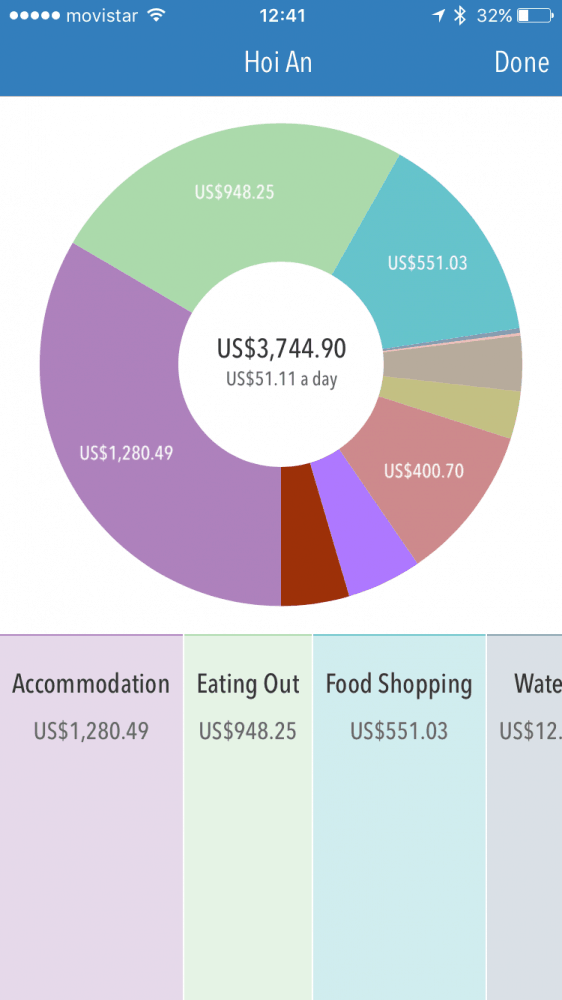 Hoi An is a very affordable digital nomad base. We found costs comparable to Chiang Mai in Thailand, although you get more accommodation space for your money in Hoi An (as houses are more common than apartments). If you found a cheaper rental, stuck to street food, and avoided imported food and international restaurants, you could get by on much less than we spent. As always, we were happy to spend a bit more for some home comforts.
You can also read my digital nomad's guide to Hoi An with tips for living in the town.
Other Digital Nomad Budget Posts
You might be interested in our other digital nomad cost of living posts:
If you enjoyed this post, pin it!