This page contains affiliate links. Please read our disclosure for more info.
To celebrate the launch of my new book, The Carry-On Traveller: The Ultimate Guide to Packing Light, I started this interview series with other travellers who also travel with just carry-on luggage.
Lucy Sheref (aka WanderLuce) is a beauty blogger and London native who has been travelling with her impressively bearded boyfriend since January 2014. She has a passion for seeing the world while keeping her favourite lipstick on. This is one of my favourite interviews in the book as while I chose not to wear makeup, Lucy shows that it is possible to travel carry-on only with lots of beauty products. I also love the very English luxury item that she packs!
1) Where have you travelled with just a carry-on?
I have been travelling with a carry-on for about six months. (I travelled with a 70L Berghaus backpack for most of 2014.) I have been to Indonesia, Thailand, Malaysia and Singapore with a 30L carry-on, and I've never been happier with my new packing style. I'd always admired other travellers who have successfully travelled with carry-on only, especially Erin and Simon, but as a beauty product junkie, I never thought I could do it. However if I can, anyone can!
2) What are the advantages and disadvantages of travelling with a carry-on? Do you think it's worth it?
Most people pack about a third too much stuff, whether they are going on a two-week or two-month trip. Having a smaller backpack automatically makes you think about everything you bring: "Is it worth it? Do I really need it?" Travelling with a carry-on means you have to be strict with yourself, so I never make impulse purchases and follow a pretty strict "one in, one out" rule.
There can be disadvantages, though, like never being able to bring your toiletries from home, which for me can be a pain as toiletries in Asia are pricey in comparison to the UK. I've become creative about packing, so it's not something that would make me change my style.
3) What luggage do you use and what do you like or not like about it?
I use a Karrimor Trail 35-litre backpack, which was about £16 ($26) on sale, and I love it! It's a traditional top-loading style, so you do have to be organised, but I prefer this style as it's so comfortable to wear. It's really sturdy and has a built-in rain cover, which is incredibly useful, especially in rainy season.
4) Do you travel with a day bag in addition to your main carry-on?
No, but I do have an awesome canvas tote, which folds up small so I can pack it in my backpack when I travel. We mostly stay places for more than a few weeks, so I tend to use it when we are settled. I chuck my camera, SPF, and water in it…and my Arden Eight Hour cream.
5) You're a beauty blogger, so you obviously love your products. What cosmetics and toiletries do you pack and how do you get around the liquids rule on flights?
It always surprises people how little I pack in the way of liquids. I use solid shampoo, soap, and sunblock bars from Lush, which are amazing. I really rely on Lush and happily there is a branch in Bangkok, so I can stock up if I need to. Lush does offer solid conditioner bars; however, I wouldn't recommend them for anyone who has thick, curly hair, like me, as they are hard to work with and don't give you the level of moisture you need. I pack a hair mask or intensive leave-in conditioner instead so that I can get away with a much smaller size.
SPF is super important, and if you have ever travelled to Asia you'll know how tricky it can be to get something decent for a good price, so along with my Lush solid sunblock, I take a Sisley SPF Face Stick (30 ml/1 oz), which lasts for ages (although it should, as it's very pricey!).
I take a few face mask sachets too, which are really lightweight and fit easily in my TSA-approved bag. I am never without my Eight Hour Cream; it multitasks as a moisturiser for anywhere super dry—be it your elbows, lips, or even the ends of your hair.
I have a small makeup bag—it's a Liberty waterproof one, so it's pretty and practical—and I pack seven products: 30 ml Clinique Even Better foundation, which is SPF15 and oil-free; a slimline Sleek palette with bronze, blush, and highlighter; a miniature mascara sample; Kat Von D eyeliner; MAC Costa Chic lipstick; Lancome Velours lip lacquer; and an Essie nail polish (normally Mint Candy Apple). Multitasking is the name of the game!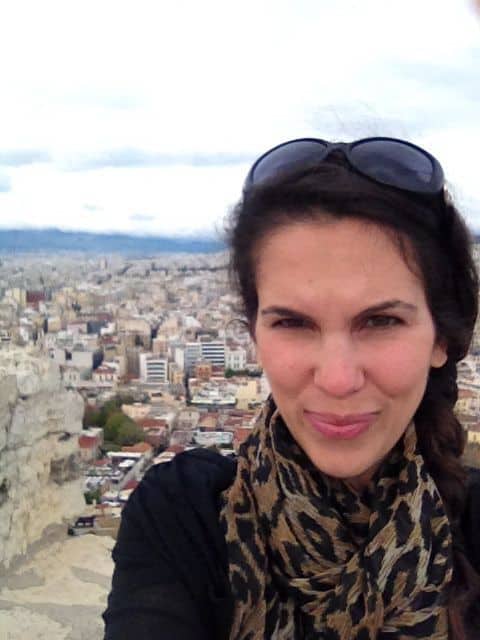 6) Is it possible to be stylish and pack light? What clothes and shoes do you travel with?
Absolutely! I find the key is sticking to a colour palette and taking things that will multitask. I mostly wear black, white, and grey, with some stripes/floral, which means that everything I pack goes together.
I'm a big fan of Kristin from Be My Travel Muse and Alex from Travel Fashion Girl, who are both super-stylish travellers who only take a carry-on, and I often check out their packing lists for inspiration by country.
Because I tend to travel to hot countries, I only need three pairs of shoes: trainers, flip-flops, and a nicer pair of sandals/espadrilles. If I were to travel to different climates, it might be a little harder.
My hardest working item of clothing is my black flippy skirt. Denim shorts and simple tank tops are also staples, and I cannot live without my black jersey peg trousers, which are super comfy, stylish, and perfect for long journeys, as they feel like pyjamas. (Note: not Ali Baba/harem trousers, which suit nobody!)
Something I picked up from the website Her Packing List is to take a sports bra. I do work out when I'm travelling, but I also use it on bus/train/plane journeys when underwire is not a comfortable option.
7) Have you travelled in cold weather and how did you pack for it?
Only Darjeeling in India, but that was incredibly cold! In colder weather I'll pack more lightweight sweaters and a few pairs of tights to wear with summer dresses (yep, it works!), as well as lots of leggings that I can double up on to keep really warm.
Uniqlo's HeatTech range is amazing. Leggings and tops made from super thin heat-retaining fabric—basically they're thermals. I love my thermals, and picking up mittens/scarves/woolly hats, etc. are often pretty cheap en route. In Darjeeling, travellers are often heading off on a big trek, so warm clothing was readily available.
8) What technology do you pack?
Because I work on the road, I pack a fair amount of technology, which I need to review as it's far too bulky. I take a 13-inch MacBook Pro, Canon EOS 1200 DSLR, unlocked iPhone 4s, small external hard drive (Western Digital My Passport), and a Canon PowerShot point-and-shoot digital camera. Oh, and all the chargers! They do all fit, but I have to carry my DSLR around my neck, which isn't ideal. I have toyed with the idea of selling it and switching to using my point-and-shoot, but I'm just not ready yet!
9) Do you travel with any luxury items?
I guess my excess of makeup/skincare could be considered non-essential, but I truly have cut it down a lot over the past couple of years, and I think it's a fairly tight edit now.
We take snorkels with us everywhere, which actually isn't necessary, but because we are both such water babies (Oli is training to be a dive instructor), we felt it was important to have them for practicality as well as saving a bit of money.
We also take Yorkshire tea bags, which is definitely our little luxury, but we love our tea and will never compromise! Everyone who comes to visit has to bring us more. We often get laughed at for playing up to the English stereotype, but when you're thousands of miles from home and having a little low moment, there's nothing nicer than a proper brew.
You can read about Lucy's travels and her beauty tips at Wanderluce.
If you'd like to learn more about how to travel carry-on only (and read more interviews like this one), see my book, The Carry-On Traveller: The Ultimate Guide to Packing Light, which is available for the Kindle or paperback on Amazon US.