This page contains affiliate links. Please read our disclosure for more info.
Last Sunday 12,600 Buddhist monks visited Chiang Mai. They had come to collect alms from people in celebration of the Buddha's enlightenment 2600 years ago. This year the offerings will be donated to the victims of Thailand's floods.
We hadn't planned to attend the event to be honest – the huge crowds and the 5.30am start put us off. But it was happening on the road where we live and we were woken at 6.30am by announcements on loud speakers, so decided to go and have a look.
We are glad we did.
At 6.45am the event hadn't begun but huge crowds had formed on the edges of Chang Klan Road, some kneeling in preparation of the monks' arrival. We managed to squeeze ourselves into a decent position at one end of the road.
Thai events start slowly with lots of speeches so we were glad we hadn't arrived too early. As we waited for the monks to arrive we observed the offerings the Thai people had brought. Most people had bulging shopping bags full of food, some had flowers and one proud couple even had a computer along with their piles of food. For those of us not quite as prepared (mostly the tourists) a smiling lady took monetary contributions and gave a packet of malted milk powder in exchange to offer to the monks. The notes were displayed on a colourful money tree.
Finally the monks began to take their places and we were all told to sit down. Unfortunately we were behind a banner at one end of the road so couldn't see anything as the monks approached. Tourists and Thais alike were itching to stand up and take a peek, and when the monks reached us we couldn't resist.
12,600 monks walked towards us. A never ending stream of orange.
It took quite some time for so many monks to get in position to receive alms so we had plenty of time to observe them on their procession. With closely shorn heads, one bare shoulder and bright orange robes they made a striking image.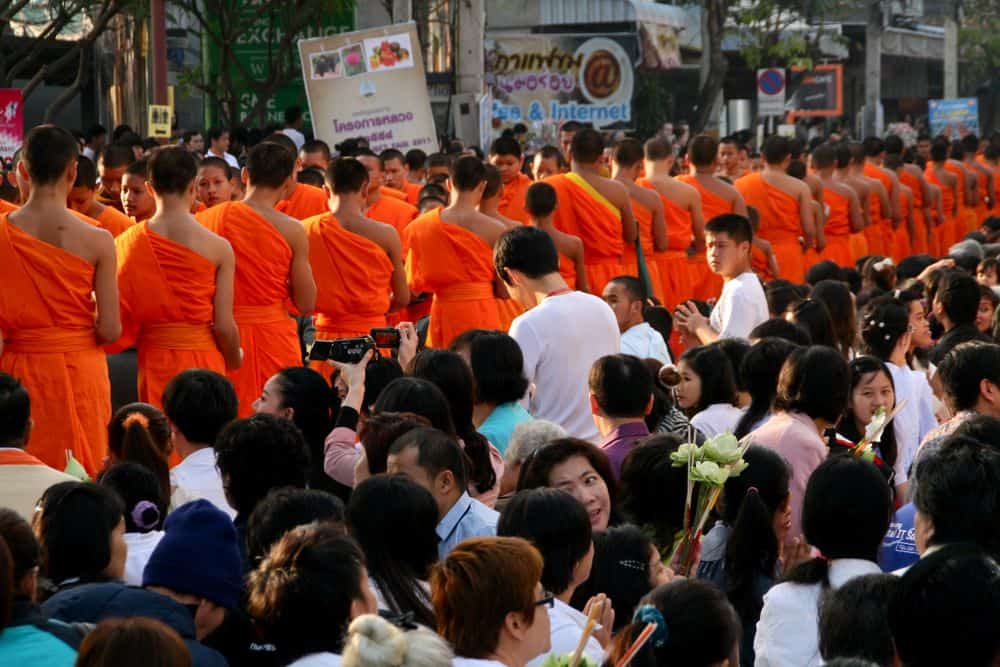 The monks had come from all over northern Thailand and were of all ages. Many young Thai boys spend time in a monastery, even if they don't stay monks all their lives.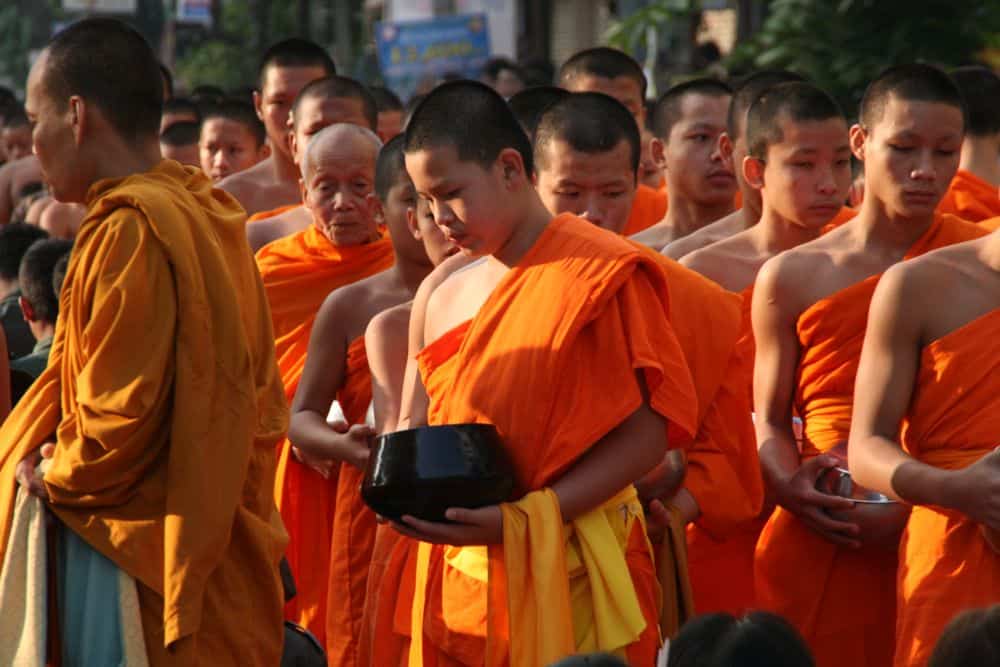 Mostly their expressions were serious.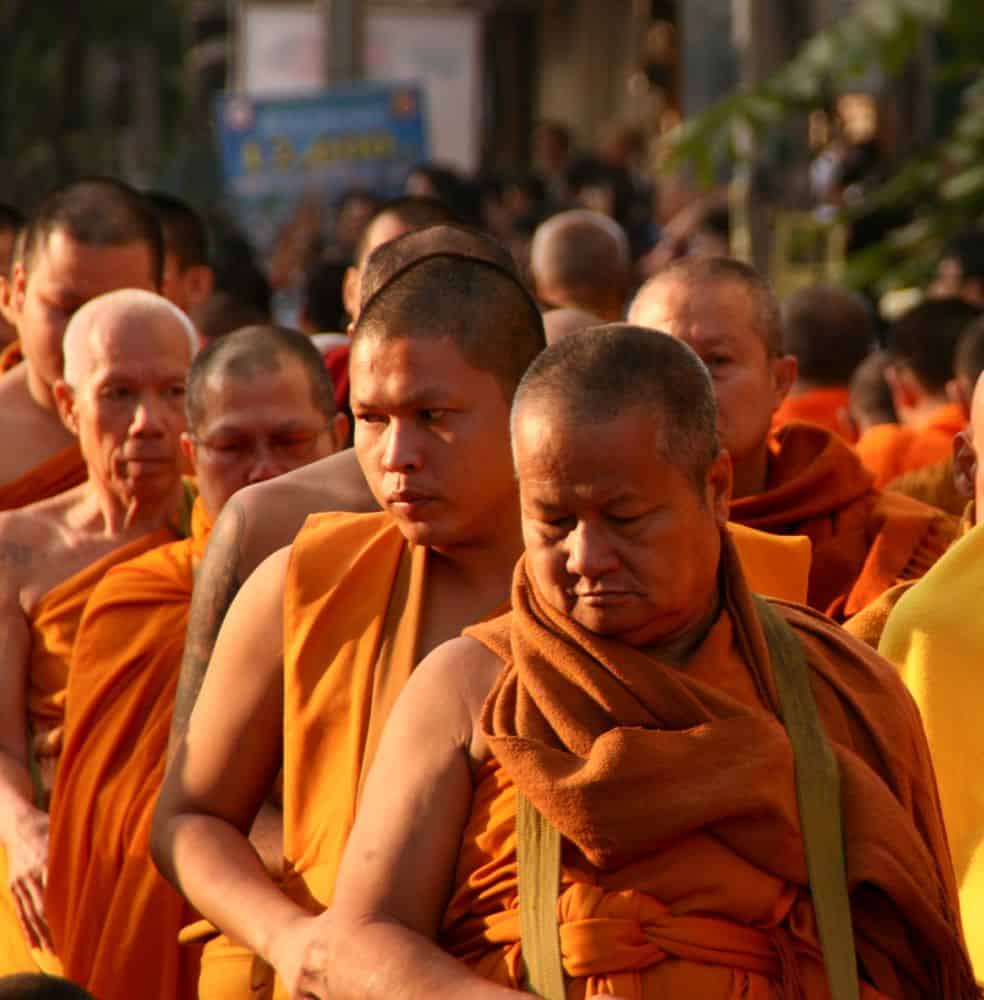 One smiling monk stood out.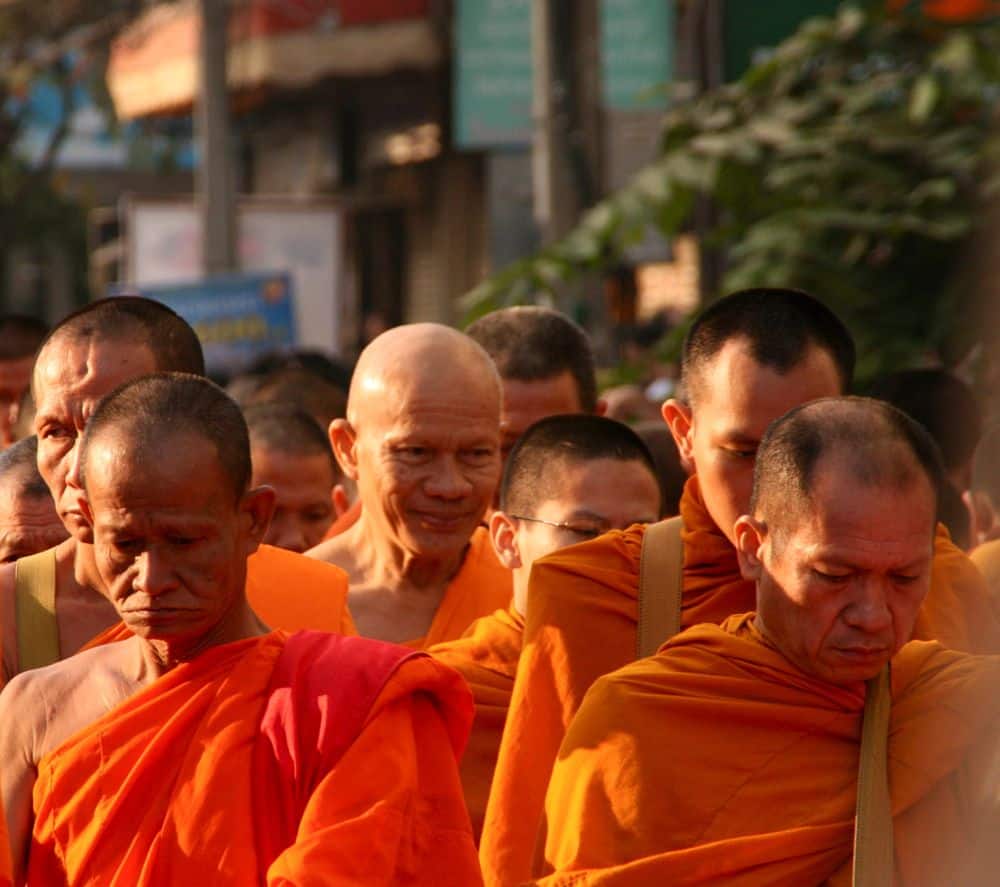 They all carried bowls to collect their alms.
Some more images of the monks as they took their places.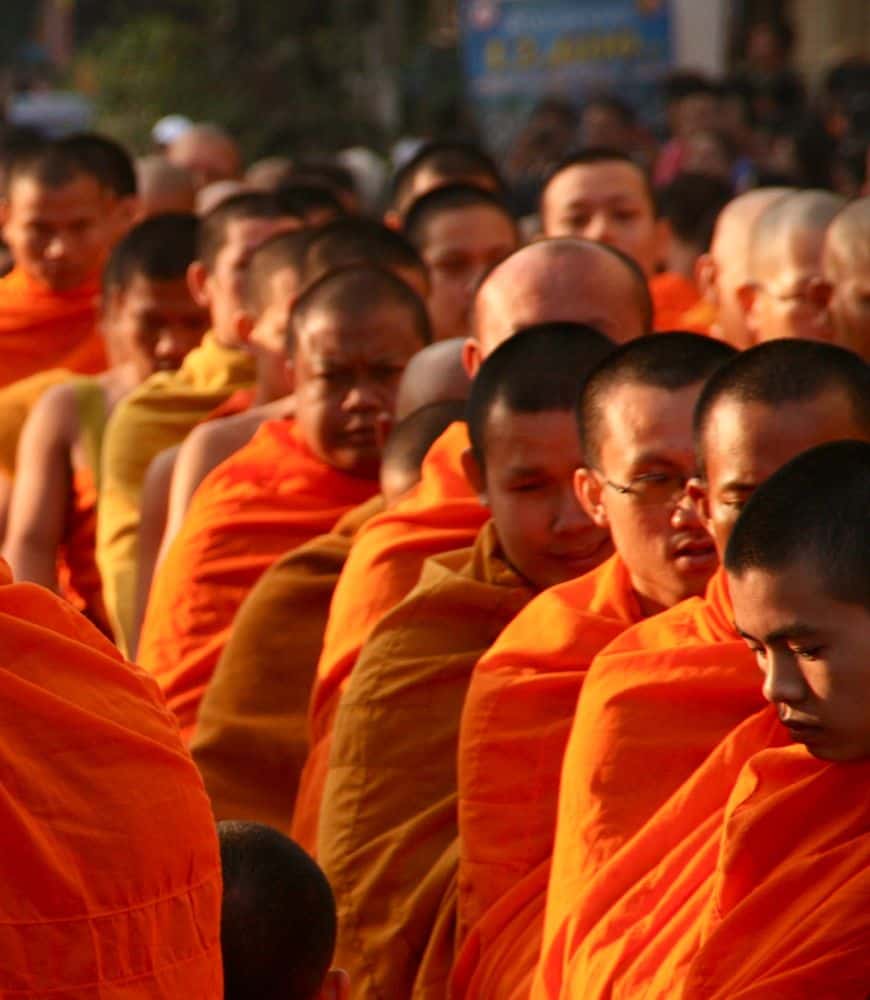 When the monks were in position the gathered people could make merit and present the monks with their offerings. The crowd surged forward and enveloped the monks until they could no longer be seen.
Reaching the monks seemed impossible so we left it to the devout Buddhists and popped our small offering in the bag of a Thai woman next to us, who was waiting patiently. We were impressed by the Thai people's eagerness to give alms to the monks and support the victims of the country's floods. Most of all we were glad we made the effort to see the astonishing sight of 12,600 saffron clad monks parading down our road. It's events and festivals like these that make being a temporary resident in Thailand always interesting.