This page contains affiliate links. Please read our disclosure for more info.
This month's Nomadic Interview is with fellow temporary Chiang Mai resident Shannon who shares her travel stories, cultural insights and veggie food explorations on A Little Adrift. Like many people (us included) a year of travelling wasn't enough and her nomadic life has now become permanent.
1)How long have you been travelling and where have you been?
I intended to travel around the world for a year mostly solo, and then perhaps head back to the US and resettle somewhere…that first year morphed into more of a perpetual lifestyle though and I have been on the road for three years. My travels bring me back to Southeast Asia a lot because I've discovered I really love it here, but I have also traveled pieces of Eastern and Western Europe, South Asia, and Central America. After that first year of rapid travel and several continents, I have slowed down a whole lot now that I realized I am in this for the long haul.
2) Did you plan to travel for so long? What made you stay on the road?
When I left on my first year of travels I wasn't even sure I would make it the full year, let alone continue traveling for several years now. When I left, all I knew is that I really wanted to travel and see pieces of that mysterious unknown I saw in the pages of my National Geographic magazines—the people, the cultures outside of my own that I had only seen slices of in the US in our immigrant and refugee communities …I had to know more.
The education of the road keeps me here now. There are new people around every corner, new stories, things to learn—it's interesting and though it is cliché to say I "learn something new every day," I do, and it fascinates me to be here.
3) How do you fund your travels?
I make money through the internet from a variety of sources, but mostly SEO (search engine optimization), writing, and a small bit from my web site. The money I make is modest, but I live very minimally and travel to countries where my money goes much farther than at home.
4) Do you find it difficult to balance travel and work? How do you manage it?
There are certainly days when balancing the two stresses me out—mostly the internet (or lack thereof) is tricky in some countries. The biggest stress reliever is to simply slow down, when I stay for several weeks or months in a new city, country and town I can hunker down, explore, and still find plenty of time to work. When I was on my one year round the world trip, I had locked myself into a certain itinerary, and I felt obligated to go everywhere, see everything. It was exhausting. If you plan to work on the road then go slowly—it's less stressful and you see more of the country you're visiting.
5) You have recently started travelling with and homeschooling your 11 year old niece Ana. What have been the highlights and challenges of travelling together so far?
Whew, hats-off to the moms and road-schooling parents who have come before me! There is definitely a different pace to traveling with a child. The things I find fascinating sometimes fall completely flat with her, but then she'll see these moments and piece of travel that completely escaped my notice. I also find myself visiting a lot more local parks, there is more downtime now so my niece Ana can just run around, join a local game of soccer in the park, and generally relax. I never quite gave myself those moments when I was on the road solo, but it's actually a wonderful change, I really should have been visiting more local parks everywhere because they have a slice of life contained within and I find the locals so accessible with my niece here to break the ice with a child's innocent smile.
As for challenges, empowering her, rather than having her simply tag along on the journey is constantly on my mind. When she feels in control of the experience and the decisions she is happier and gets more out of it…but after three years traveling solo, I'm a bit of a control freak, so that has been tough!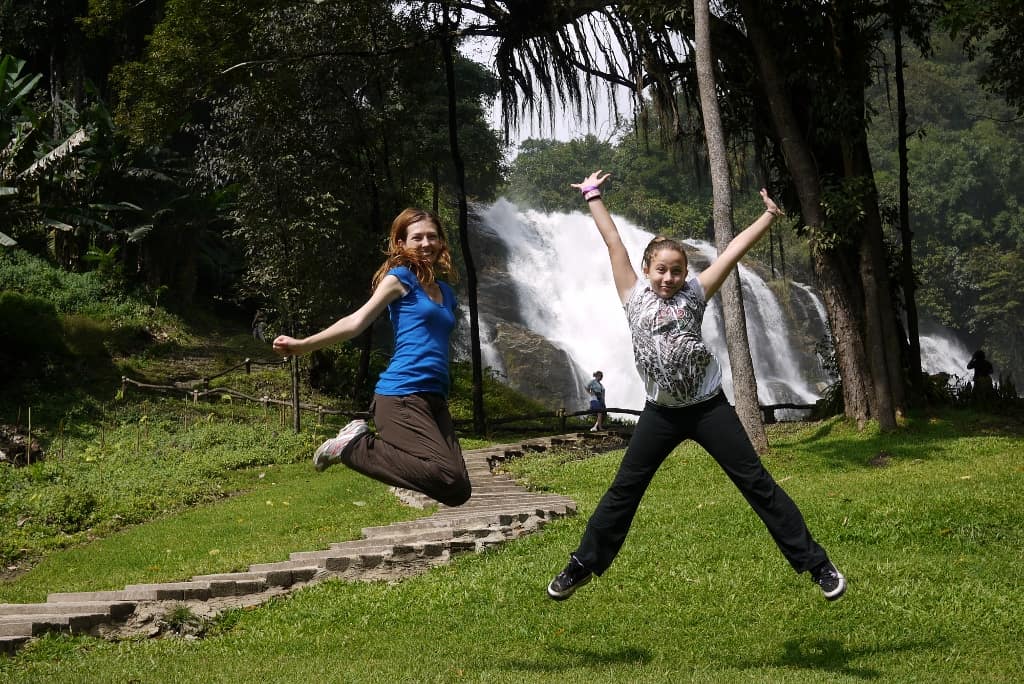 6) What are some of your favourite local dishes that you've eaten on your travels?
Nearly every country has a dish or two that won my heart over, even the countries I found nearly impossible. So, Bosnia was tricky as a vegetarian on the whole, but the spinach and cheese burkes were delicious. There are so many other dishes though, in SEA it's the flavorful sauces and fresh vegetables that bring their foods to the next level—it may just be a plate of veggies, but the dishes combine unique ingredients so the meals burst with flavor.
7) Which countries have you found to be best for vegetarians?
India is by far the easiest country to travel as a vegetarian because so much of the country is already predominantly vegetarian. Instead of finding the dishes locals specially make for you without meat, in India, all of the flavors and dishes are designed to taste delicious and complete without meat. I ate so well in India, it was fantastic!
8 ) You've spent months in Chiang Mai, Thailand and are back again at the moment. What keeps bringing you back and what are your tips for things to do in the area?
The people call me back to Chiang Mai, I have friends in the city, and I love the quality of life in Chiang Mai. It's a relatively large city, but it's small enough to feel comfortable. I love Thai food, and still haven't even remotely sampled all the different vegetarian dishes that I could taste test! The city simply has a great feel, the internet is solid and I can run my internet business easily.
As for things to do, there are so many daytrips outside of the city and if you're spending a couple of months in the area you can explore the Burmese culture in some of the border towns, the hilltribes and rural culture, and then the slow pace of life in the city. It's not so much what you can do in Chiang Mai, it's that the vibe is great and you can either settle into a slow routine and enjoy, or you could keep yourself plenty busy with visiting the wats in town, and the many temples, towns, hotsprings, and mountains around the pretty city.
9) What are some of your favourite off the beaten track destinations?
That's a tough call, there are few corners of the earth truly undiscovered at this point, and I've found that even in the most touristy areas if I merely wander into the side alleys and small winding streets there are things, people, and culture ripe for discovery. That being said, there are small towns in Laos and Guatemala that have truly captured my heart along the way. Both cultures are open and accessible if you're willing to ask questions, smile, and slow down long enough to settle into the culture and the smaller towns.
10) Where are you heading to next? Do you think you'll ever settle down in one place?
My niece and I are traveling in Southeast Asia for the next five months, and then in the late spring I head back to the United States. At that point, I truly have no idea what is next for me. I can't conceive of a time when travel will not be a part of my life, but I also anticipate that I will one day "settle down." That being said, my dream is to own a small place in perhaps Thailand, and another in the US…no idea when that will happen, but I would love to split my time between time in the US with family and friends, and time on the road, with other friends and the distinctly different pace of life outside of my home country. :)
You can follow Shannon's travels at A Little Adrift and on Facebook and Twitter. Also, don't miss her niece Ana's blog A Little Adrift Jr for an 11 year old's perspective on travel in Asia.
If you enjoyed this interview then read about other long term nomads in our Nomadic Interviews series.