This page contains affiliate links. Please read our disclosure for more info.
We are back in South East Asia, settled in Chiang Mai for the moment, but we can't help our thoughts turning to Laos, just six hours away and one of our favourite Asian countries.
Laos isn't undiscovered but it certainly receives far fewer visitors than its neighbour Thailand. The strange thing is that everyone who does visit sticks to the exact same route – Luang Prabang, Vang Vieng and Vientiane. While those places have their attractions, for us the highlights of Laos were found in less visited places further north, in quiet riverside villages overlooked by craggy green mountains. While there are some exciting activities we mostly enjoyed soaking up the very chilled atmosphere and beautiful views. We found Laos wonderfully relaxed, friendly and easy to travel around, without the hassle you find in more touristy countries.
If you are thinking of visiting Laos we encourage you to think beyond the obvious places and try some of our favourite destinations in northern Laos.
The Gibbon Experience
Many people enter Laos from Thailand at the Chiang Khong/Huay Xai border, but most don't bother staying in town but instead hop on the two day slow boat to Luang Prabang. That's a shame as they are missing out on one of the highlights of Laos and one of our favourite travel experiences.
Huay Xai is a sleepy river town (Laos has a lot of these!) and we enjoyed relaxing there for a few days. It's also the headquarters of the Gibbon Experience, a conservation project that gives visitors the opportunity to get a monkey's eye view of the rainforest via a network of ziplines and treehouses. This is no ordinary touristy ziplining tour though – you spend two nights sleeping in treehouses in the middle of the rainforest, far away from civilisation.
We were taken deep into the jungle by bumpy pickup truck and onwards on foot. When we reached the ziplining network we were given our harnesses, shown how to use the ziplines and dropped off at our treehouses. Then we were left alone to explore the forest. At first we were terrified – the ziplines are long and incredibly high up, and we'd been left without supervision. We had no choice though as the only way to get to your treehouse is to swoop in. Soon we were zipping around like pros, flying through the air and enjoying the exhilarating feeling of freedom as we soared far above the trees.
The project is run in collaboration with local villagers so they can create an income from tourism rather than logging and poaching, in order to protect the forest, and its inhabitants the endangered black gibbon. This isn't a wildlife watching trip though. The joy is in being in the jungle, sleeping in a treehouse and listening to the incredible night sounds. Gibbon sightings are rare and you won't see one while zipping around, but we did get lucky with a glimpse when sitting peacefully in our treehouse. In the morning you'll be woken by the gibbon's strange cries.
The Gibbon Experience is a unique place and one of our most memorable travel experiences.
How to get there: From Chiang Rai in Thailand it's a two hour bus trip to Chiang Khong where you can take a brief boat trip over to Huay Xai. The Gibbon Experience only take limited numbers so you'll need to book in advance.
Luang Nam Tha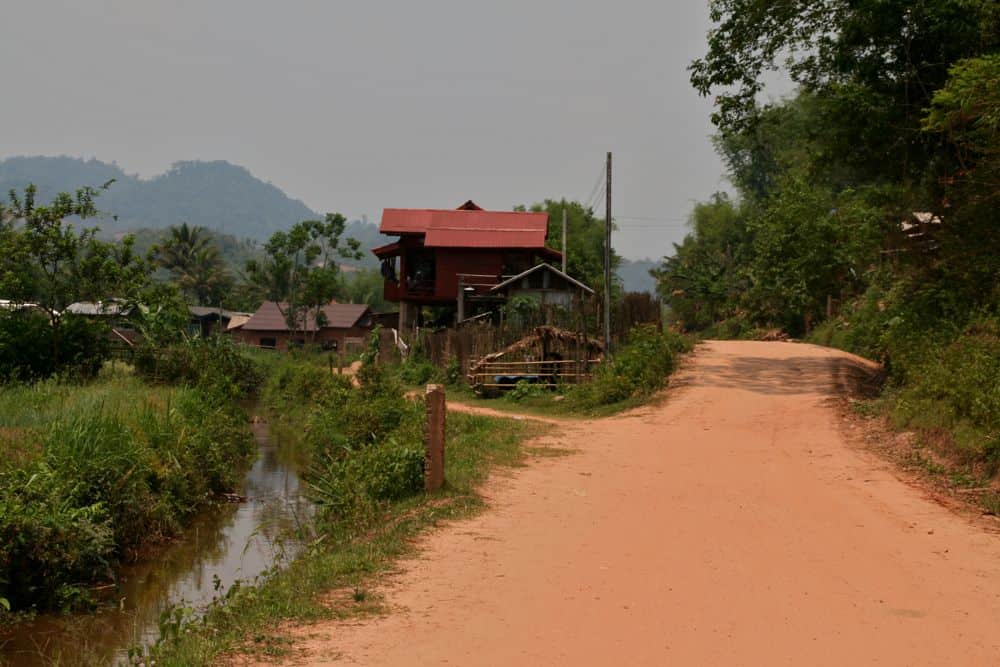 Our main reason for visiting Luang Nam Tha was to trek to one of the hilltribe villages in the area. We'd heard the treks were far less touristy and better run than the ones you find around Chiang Mai in Thailand. Well, I don't know how bad those are but we were very uncomfortable with our experience.
Despite choosing one of the best respected tour companies, our guide knew very little about the Akha village we visited and we had no interaction with the villagers. Instead we walked around the human zoo while the villagers stared at us staring and snapping photos of them. They weren't hostile but they certainly weren't friendly. It was fascinating to see the village but it wasn't worth the feeling that we were intruding. We've realised that these types of tours aren't for us.
Despite this we loved Luang Nam Tha. It's a small, quiet, dusty town by a river and surrounded by mountains. There isn't much to do besides trekking and kayaking, but we loved hiring bikes and cycling around the local villages. It has a decent tourist infrastructure but is not at all overdeveloped and not on the beaten track. It's a great place to relax for a while.
Where to stay: We loved Zuela Guesthouse. It's friendly, very clean and the dark wood rooms are fantastic for the price – 60,000 kip (US$7.50). We also enjoyed the food at the attached restaurant and there is free wifi.
How to get there: After the Gibbon Experience rather than going back to Huay Xai we were dropped at a small village Ban Don Chai where we waited for quite a while for the bus to Luang Nam Tha. The road was new though and a very smooth journey. From Huay Xai the bus takes four hours.
Nong Khiaw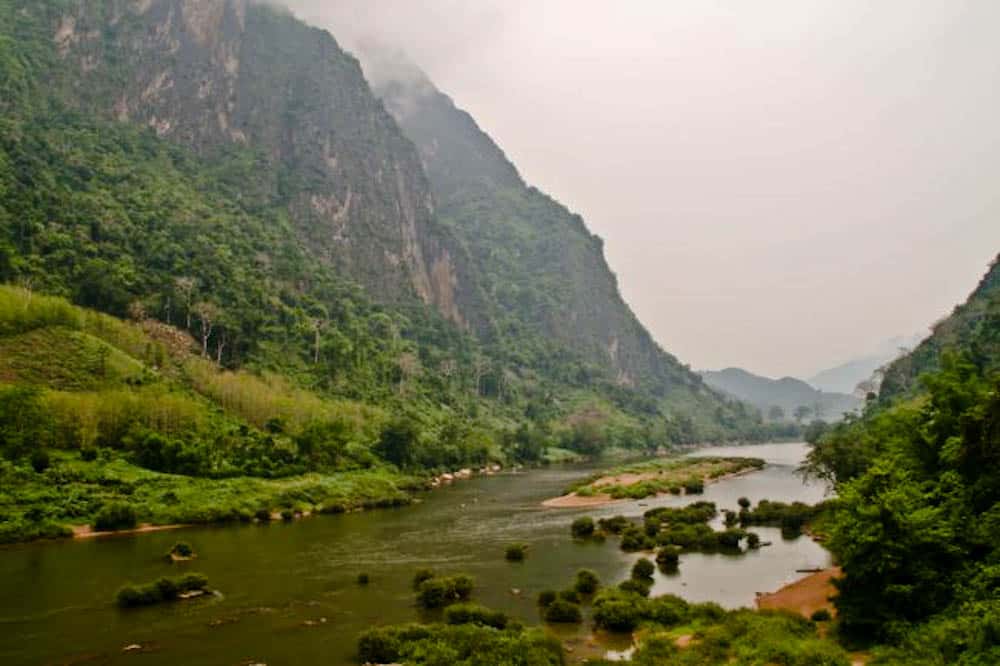 Nong Khiaw is a small riverside village that is becoming quite popular with backpackers as a place to relax and enjoy the dramatic views of limestone mountains. You can rent a cheap wooden bungalow overlooking the river and take in the views from your balcony or if you are feeling more energetic there are a few activities to try. Caving, kayaking and rock climbing are all possible, or you can explore the surrounding countryside of limestone peaks, waterfalls, green rice paddies and simple thatched houses on bike or foot.
We took a walk to the Tham Pha Thok caves and had them to ourselves. The huge network of caves was inhabited by villagers during the second Indochina war and it was interesting to clamber down bamboo ladders and explore the various "rooms".
Where to stay: It's a small place so it's easy to wander around and find a place you like. Most accommodation is simple bamboo huts with verandahs to enjoy the views. If you want to splurge then Nong Khiaw Riverside has beautiful big bungalows for $40.
How to get there: From Luang Nam Tha we took the bus to Udomxai, changed to another bus to Pak Mong, and from there took a shared jumbo to Nong Khiaw (about 8 hours in total). You can continue on to Luang Prabang in 4 hours.
Muang Ngoi Neua
If you are looking for an even slower pace then take a boat an hour down the Nam Ou River from Nong Khiaw to Muang Ngoi Neua. The village is only reachable by boat so has an isolated air about it, despite becoming more popular with backpackers. There is limited electricity, no internet, telephones or even cars, and accommodation is basic wooden huts overlooking the river. You can wander down the one orange dirt road and mingle with locals, perhaps joining them in a game of petanque.
There are a variety of activities on offer in the surrounding countryside– trekking, tubing, caving and kayaking, or just enjoy the views from a hammock.
Where to stay: Choose from a range of simple bungalows.
How to get there: You can only reach Muang Ngoi by boat. The nearest access point is Nong Khiaw one hour away and you can continue on to Muang Khua (4-5 hours) and get even more off the beaten track. We found the boat cramped and uncomfortable but the scenery is gorgeous and it's interesting to observe village life on the banks of the river.
Note: We visited Laos in April 2008 so things may have changed since then. April is the hottest month and the air is smoky from farmers burning the forest, so our photos don't do justice to the beautiful scenery. The best time to visit is the cooler dry season from November to February although we still loved our trip in April.