This page contains affiliate links. Please read our disclosure for more info.
South Africa isn't the cheapest place to travel, but for a developed country it's excellent value. Car hire is inexpensive so a road trip is the best way to explore.
We spent just over a month driving from Johannesburg to Cape Town via Kruger National Park, the Drakenberg Mountains, the Wild Coast and the Garden Route. Our trip included safaris, mountain hikes, horse riding, wild beaches, stunning national parks, impressive caves, and delicious wine tasting.
Read our South Africa road trip itinerary for all the details of what we did and where we stayed.
South Africa was a special trip for us and we'd saved up for it, so we didn't really try to stick to a particular budget. We stayed in mid-range accommodation (often with gorgeous views), did whatever activities we felt like, and ate out frequently.
You could certainly travel in South Africa for less by choosing cheaper accommodation (dorm beds cost around $10–15), self-catering, and travelling off-season (we travelled in the January-February summer months).
Our South Africa travel costs include three days in Johannesburg without a car at the start, but they don't include Cape Town, where we spent two months at the end. We'll share a separate Cape Town budget soon.
As always, we tracked our expenses with our travel budget app Trail Wallet (update: after 10 years, the app is sadly no longer available), which allows us to enter our expenses in the local currency (South African rand) and see how much we're spending in our home currency (British pounds). The summary screen displays our trip costs in pounds and, with a tap of the screen, converts to South African rand as well as US dollars.
Here's the total amount we spent for two people during our 36 day South Africa road trip:
Our average daily spend was £103/ $131 which is £52/ $65 per person. Here's what we spent it on:
Note: The current exchange rate is 1 GBP = 17 ZAR and 1 USD = 13 ZAR.
Transport
17% of total. £18/ $23 a day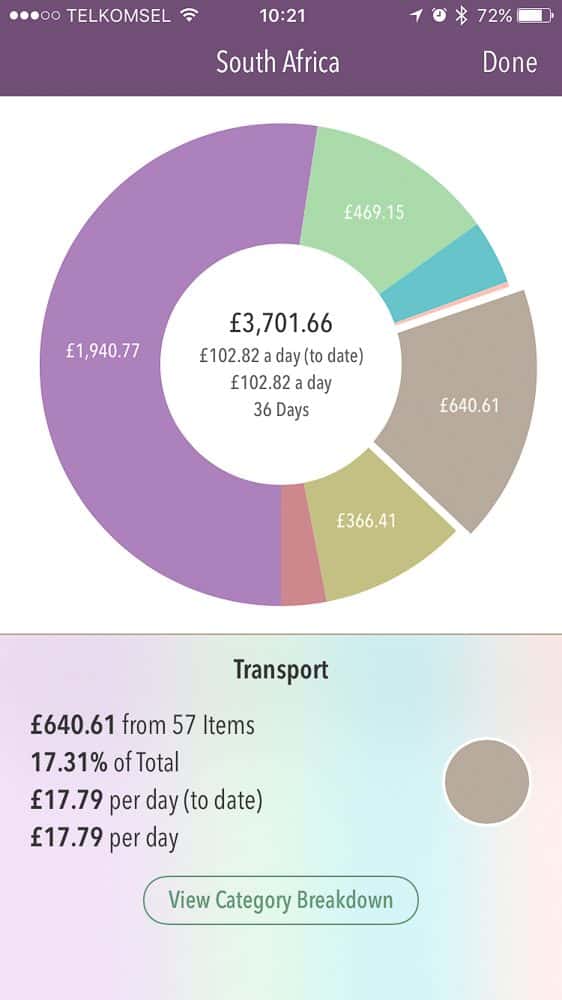 Car hire is reasonably priced in South Africa and you don't need a 4WD, so we rented the cheapest compact car with A/C.
You can usually find the best deals on comparison sites like Rental Cars, but it's also worth checking with local companies. As we were renting for a longer period (36 days), we were offered an extra discount from Around About Cars (who subcontract to Tempest in Johannesburg)—153R ($11.50) a day instead of 170R ($13) including unlimited kilometres and one additional driver.
There were a few extra charges on top of this including a 70R ($5) contract fee and 600R ($45) one-way fee, so make sure you take all the extras into account when comparing prices. We also paid a 6500R ($490) deposit on our credit card (the hold was removed on return).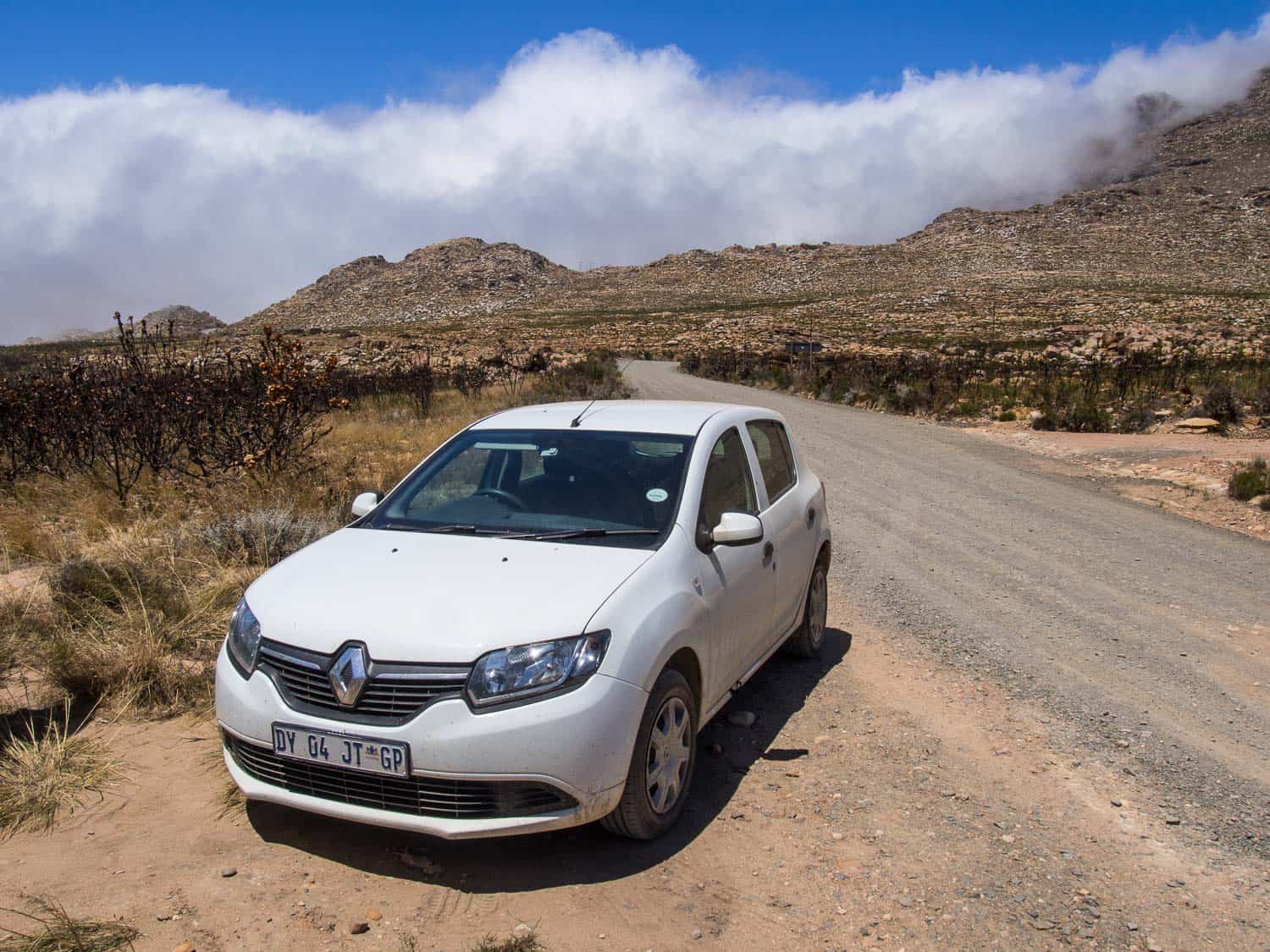 We spent 3565R ($268) on petrol and drove 4638km (2882 miles). The petrol costs include a tip for the petrol station attendant who fills up for you.
Other transport costs include five toll roads which ranged from 43–78R ($3–6) and three Uber trips in Johannesburg before we got the car—it cost 208R ($16) from the airport.
Our South Africa travel costs don't include our flights to South Africa as these will be different for everyone depending on where you come from. Our flights cost about £350 ($450) each one way from London to Johannesburg on Ethiopian Airlines. We use Kiwi and Skyscanner to search for the best deals.
Accommodation
53% of total. £54/ $69 a day
Accommodation was our biggest expense in South Africa. Most of the time we stayed in comfortable, mid-range, self-catering accommodation that we found on Booking.com. Self-catering is very popular in South Africa and we often ended up with a two or three bedroom bungalow with kitchen for the same price as a room.
Airbnb is a good option in cities but limited everywhere else. We stayed in great Airbnb apartments in Johannesburg, Plettenberg Bay, and Cape Town.
We also experimented with a few hostels, known as backpackers in South Africa. We rarely stay in hostels these days, but South Africa does have some good ones (and some really bad ones as we discovered in Coffee Bay).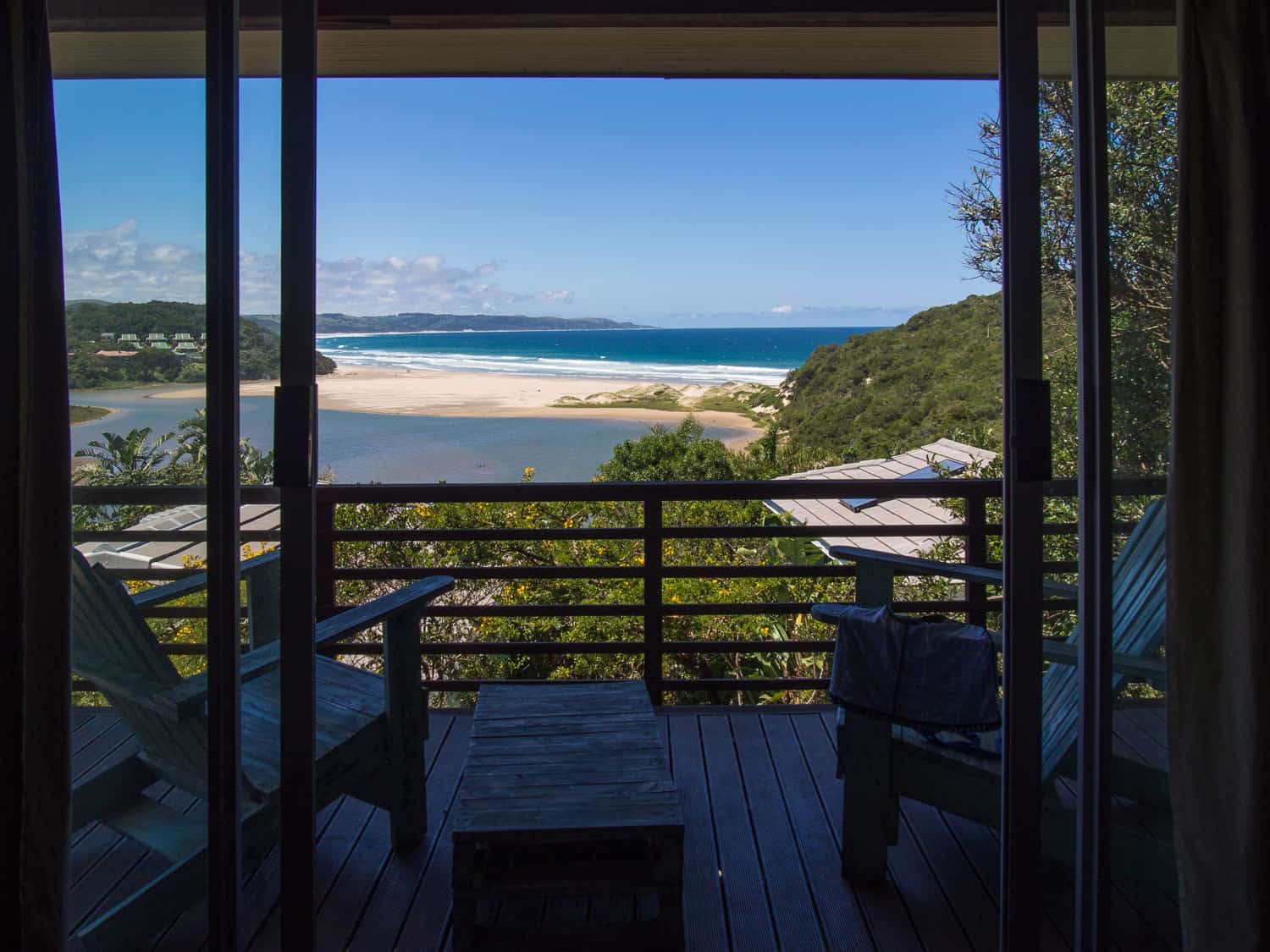 Here are some examples of places we stayed with the cost per night from cheapest to most expensive: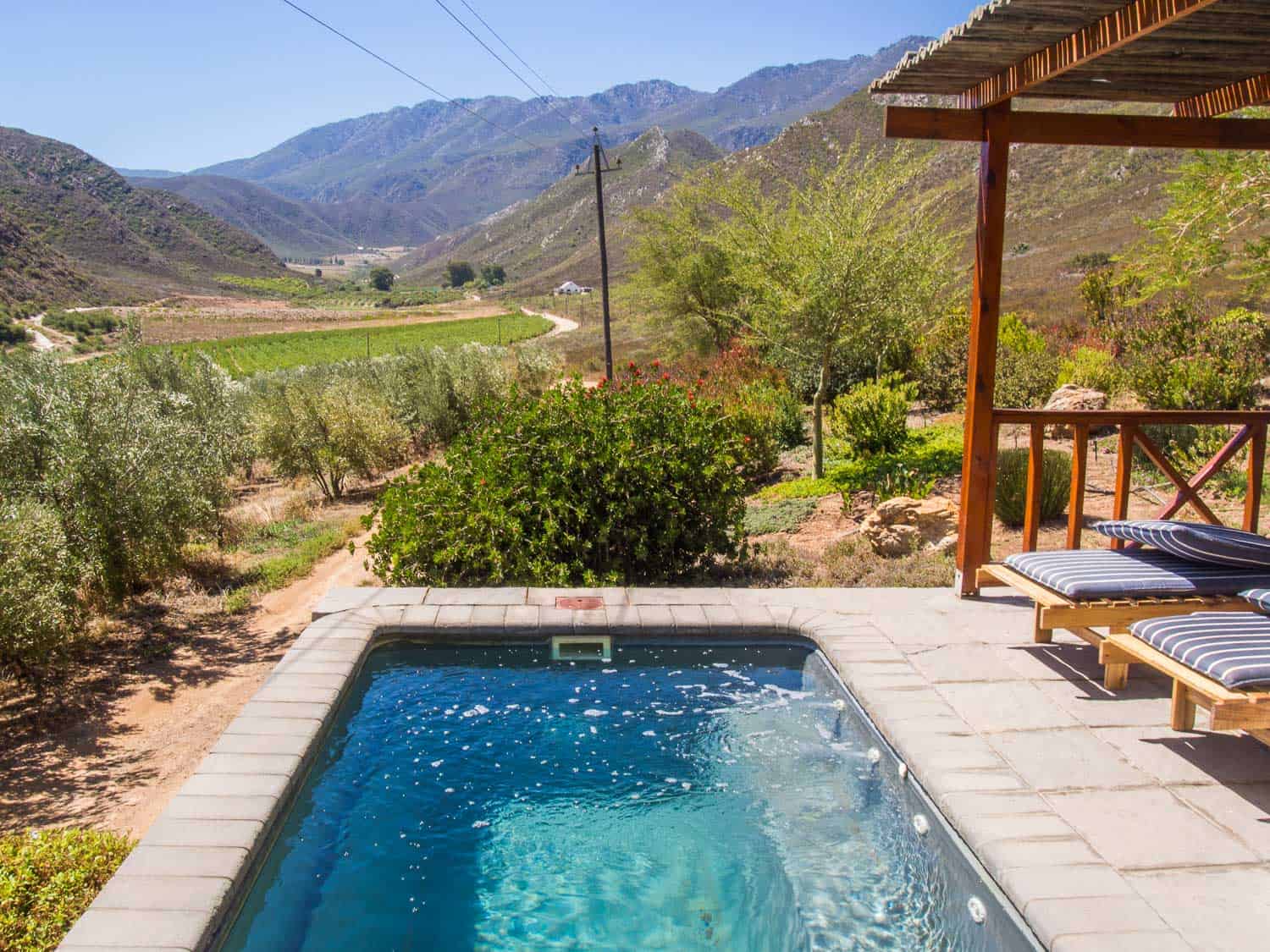 Our accommodation budget does not include the two safari lodges we stayed in as these were sponsored trips (although it does include the large tips we left). If we added the costs of two nights at Umlani Bushcamp ($233 per person a night) and three nights at Klaserie Sands River Camp ($327 per person a night) to our budget it would take our total average daily spend to £166/ $211 a day. If we had just stayed at Umlani, the average would have been £124/$157 a day.
Safari lodges do include all your (delicious) meals, drinks, and two game drives a day. We had an incredible time at both lodges and it's definitely worth the splurge. If you can't afford a safari lodge, a self-drive safari in Kruger National Park is much more affordable (our costs are included in this budget). See our Kruger self-drive guide for everything you need to plan your own safari.
Food
17% of total. £18/ $23 a day
This includes our eating out, food shopping, and coffee costs. We ate out frequently, but we often self-catered for breakfast and lunch and occasionally dinner.
We found eating out to be good value. A meal for two usually cost us from 100–300R ($8–23) depending on how much we ordered. Prices rose as we got nearer to Cape Town. We don't drink a huge amount but we often had a beer or glass of wine with a meal, which are very affordable.
Tap water is drinkable so we didn't spend anything on water.
Entertainment
10% of total. £10/ $13 a day
We did plenty of free things like hikes, beaches, and wine tasting. Other activities include (with the cost per person):
Soweto tour 450R ($34)
Apartheid Museum 80R ($6)
Kruger National Park entrance (3 days) 912R ($68)
Horse riding 400R ($30)
Yoga class 80R ($6)
National Park entrance fee 40R ($3)
Canoe hire 300R ($23)
Cango Caves 100R ($8)
Meerkat tour 600R ($45)
You can see our Kruger self-drive costs for a detailed breakdown of our self-drive safari budget (it's much cheaper than staying in a safari lodge).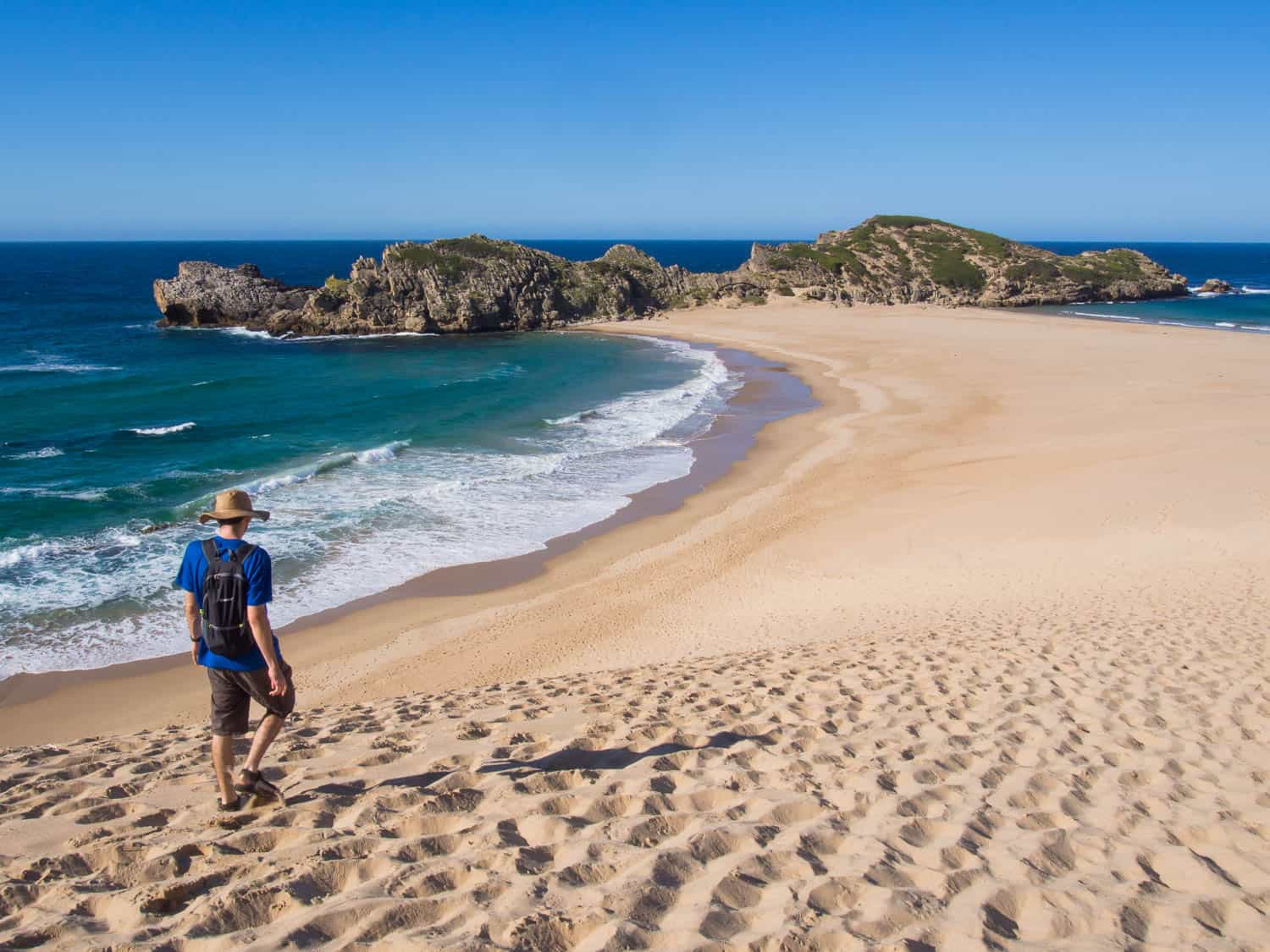 Miscellaneous
3% of total. £3/ $4 a day
These additional costs include tips, donations, toilet fees, laundry powder, Kruger guide book, flask, map, and a hat.
A Vodacom SIM cost 105R ($8) from Johannesburg airport and a 10GB data plan was 599R ($45). Not all of our accommodation had WiFi, some backpackers charge for it, and it is usually slow. A large data plan is worth it if you want to stay connected.
South Africa was one of the best trips we've ever taken and we think it's good value considering the incredible experiences, quality of accommodation, and ease of travel.
Don't miss our road trip itinerary for all the details of where we went and our guide to planning a perfect South Africa road trip.
If you enjoyed this post, pin it!