This page contains affiliate links. Please read our disclosure for more info.
Food is a universal need and one of the intrinsic pleasures of life, but often this feels as though it has been forgotten in a world where fast and cheap are prized over quality. Italians understand the importance of food, are passionate about what they eat, and obsessed with the quality of the food they put into their bodies.
In Tuscany we were struck by the creative simplicity of the cooking; how a few humble items are transformed into spectacular meals. This isn't food that needs expensive ingredients—it's a cuisine that originates from Tuscany's peasant roots when farmers had to make the best of the ingredients they grew in their gardens or foraged from the fields, even incorporating leftovers like stale bread, that nowadays we'd just throw away. This cucina povera style of cooking has been passed on through the generations because it's delicious, healthy, economical, and environmentally friendly—you can't get more local.
We are vegetarian so our Tuscan food highlights focus on meat-free antipasti (starters) and primi (first courses).
Traditional Tuscan Dishes
These first five dishes are typical to the Tuscany region.
1) Pappa al Pomodoro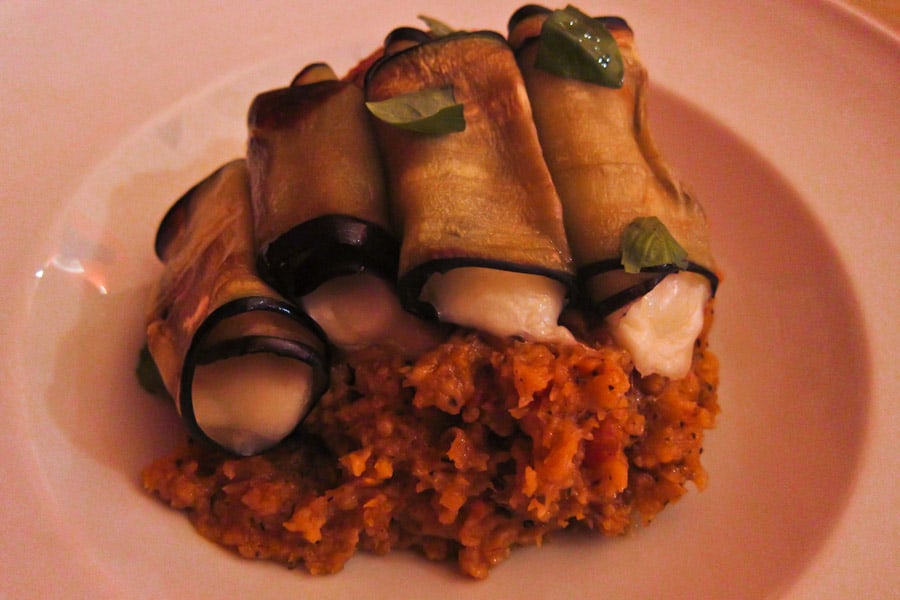 Pappa al pomodoro shows off the Tuscan's ingenious use of stale bread and ability to turn basic ingredients into something special. It's a simple but filling soup of stale bread and tomatoes with garlic, basil and olive oil. It's often so thick that you have to eat it with a fork.
Here the soup was unusually served with involtini di melanzana e mozzarella – thin slices of grilled aubergine stuffed with melty mozzarella.
Where: We enjoyed this pappa al pomodoro at Osteria Boccon del Prete, Via San Pietro 17, Siena. We also learnt to make the soup on our cooking course in the Garfagnana as part of our Sapori e Saperi food tour.
2) Panzanella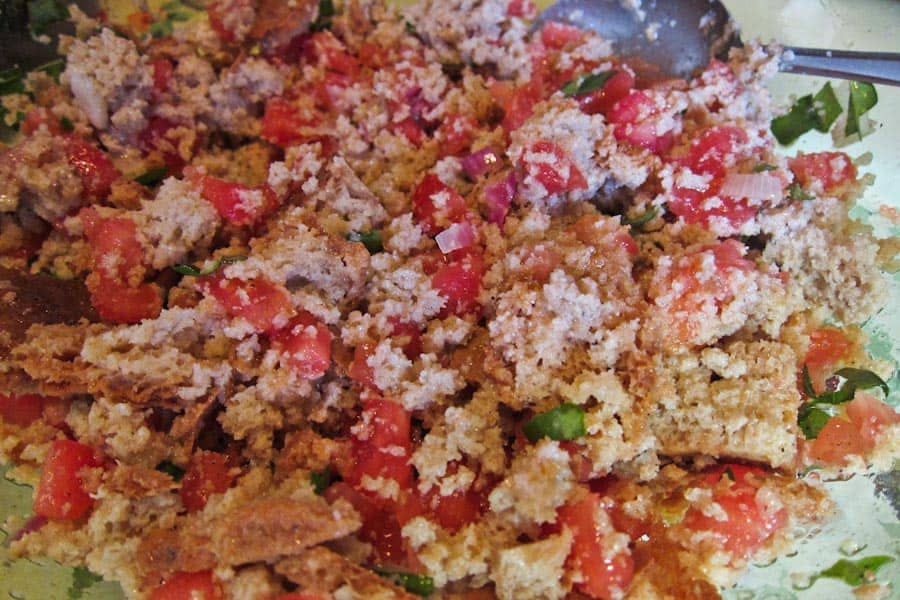 Like pappa al pomodoro, panzanella is a fantastic summer dish using tomatoes and stale bread (which is soaked in water). The salad usually has red onion, basil and perhaps cucumber added and is seasoned with olive oil, wine vinegar, salt and pepper.
Where: We learnt to make panzanella on our cooking course and often made it for lunch at home to use up old bread.
3) Ribollita
Ribollita is another thick, comforting soup packed with beans, vegetables, stale bread (again!) and flavoured with olive oil. It's usually served in winter.
Where: Osteria da Cice, Via San Pietro 32, Siena.
4) Scarpaccia di Camaiore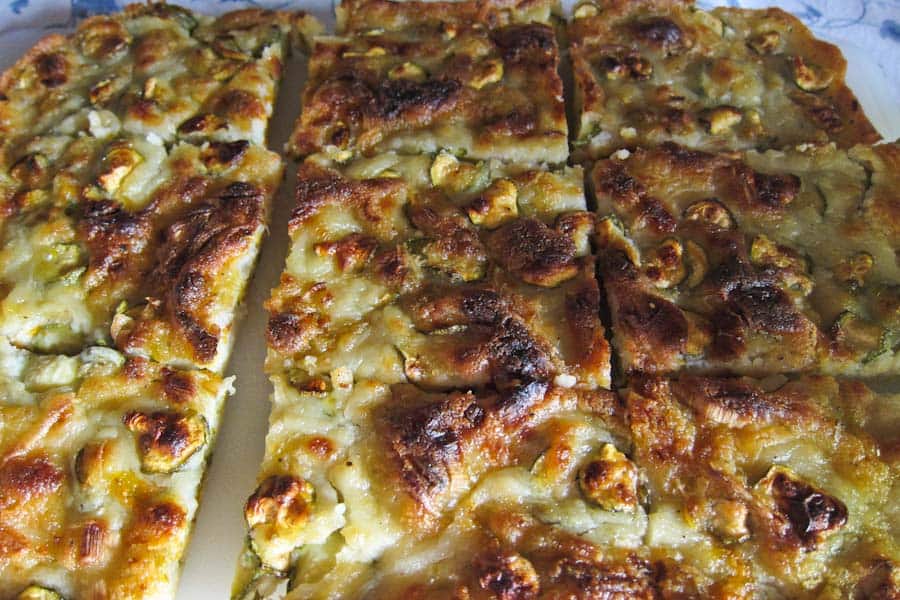 We had never heard of Scarpaccia di Camaiore before but it was our favourite dish on our cooking course. It's a courgette (zucchini) tart made with courgettes and their flowers, onion, flour, water, olive oil and seasoning. It turns crisp, golden and tasty when baked in the oven.
Where: We learnt to make this on our cooking course in the Garfagnana area of Tuscany where it originates from.
5) Pici Cacio e Pepe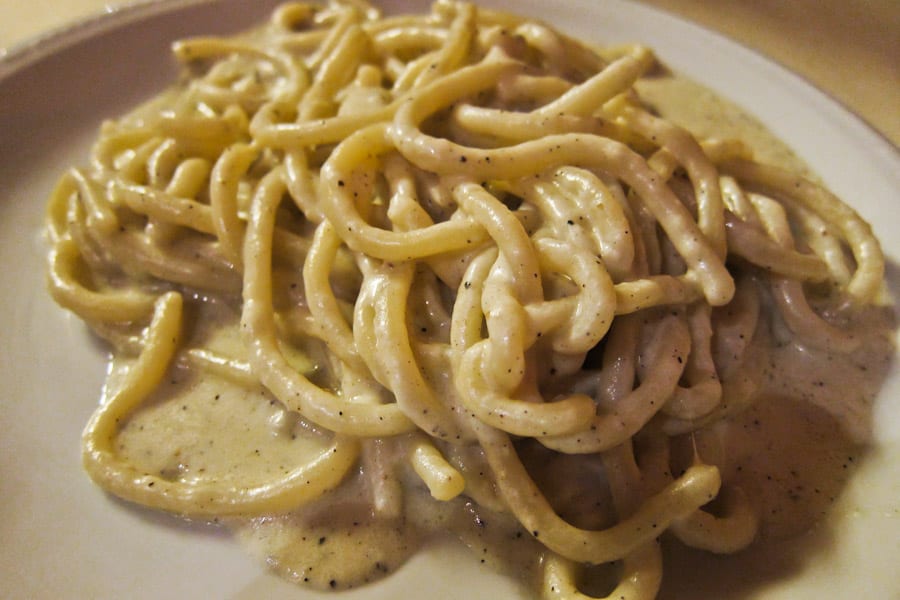 Pici are thick hand-rolled pasta like fat spaghetti that originate from the province of Siena in Tuscany. Cacio e pepe means cheese and pepper and although it's a Roman pasta dish it has been adapted to Tuscany by using the local pasta and pecorino toscano cheese.
In this Siena restaurant we discovered our love of this creamy, peppery comfort food; simple but decadent, and went on to eat lots more of it in Rome.
Where: Osteria da Cice, Via San Pietro 32, Siena.
Other Italian Dishes
We enjoyed these dishes in Tuscany but they aren't specific to this region of Italy.
6) Crostini with Buffalo Mozzarella, Tomato and Rocket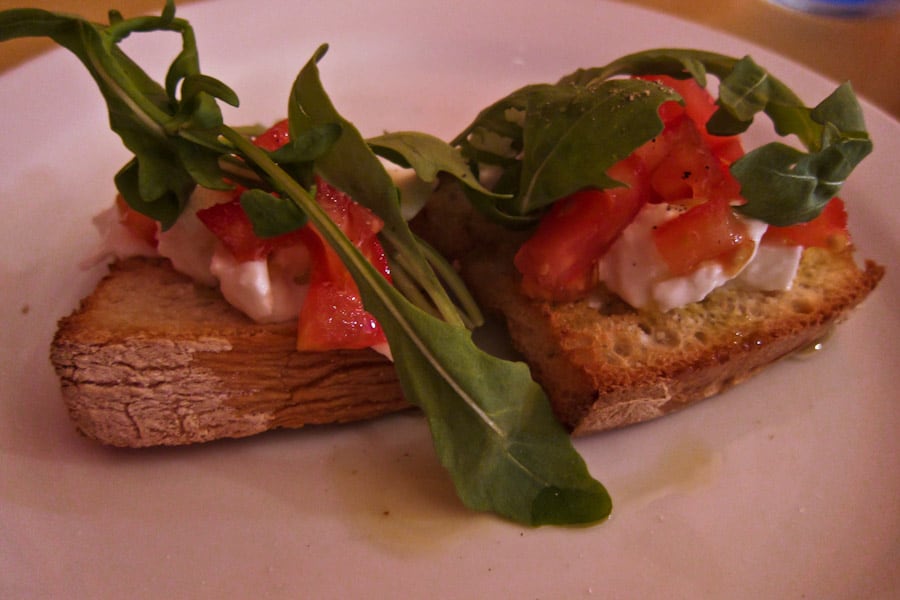 We enjoyed various crostini and bruschette (toasted bread with toppings) in Tuscany but the absolute best was this melt in the mouth buffalo mozzarella with flavourful tomatoes, rocket, and peppery olive oil. Simple but utterly delicious.
Where: Osteria Boccon del Prete, Via San Pietro 17, Siena.
7) Carpaccio di Zucchini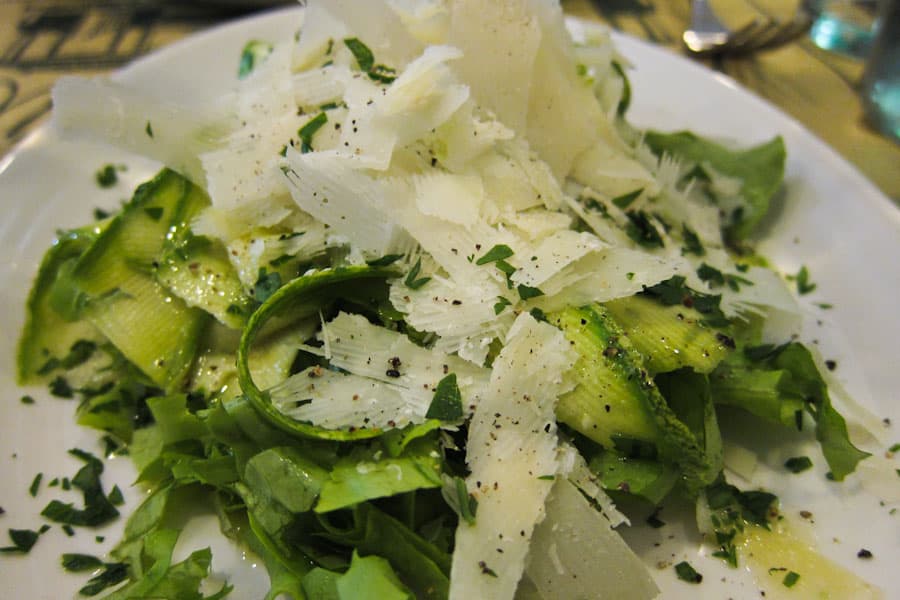 This starter of thinly sliced courgette with lemon, olive oil, parsley and parmesan shavings was bursting with flavour. We loved this cosy family-run trattoria away from the tourist crowds in Florence.
Where: Al Tranvai, Piazza Torquato Tasso, San Frediano, Florence.
8) Linguine All'arrabiata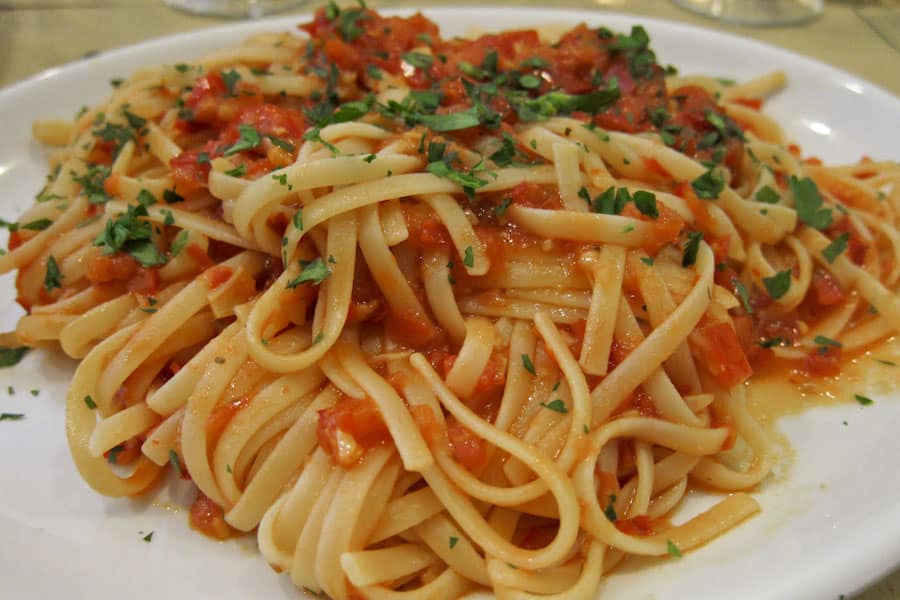 This classic Italian pasta sauce of tomato, chilli and garlic was wonderfully spicy. As always I'm in awe of how Italians make a few ingredients taste so good.
Where: Al Tranvai, Piazza Torquato Tasso, San Frediano, Florence.
9) Ravioli with Cherry Tomatoes, Pecorino and Basil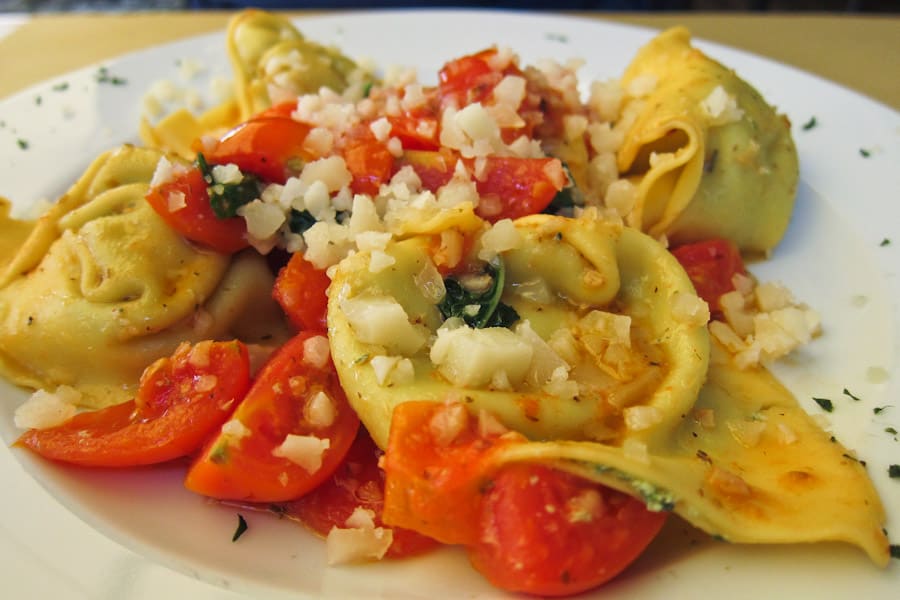 Like most of the ravioli in Italy these were stuffed with ricotta and spinach. We loved these beautiful handmade pasta parcels served with a light sauce of cherry tomatoes, pecorino cheese and basil.
Where: L'Osteria, Piazza Angelio, Barga.
10) Sformato di Rucola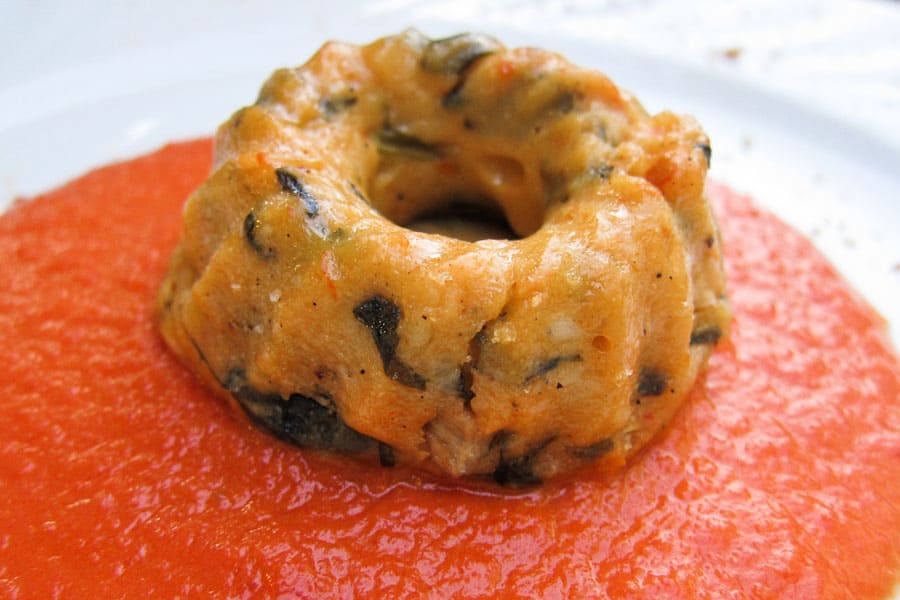 When we ordered this rocket sformato we didn't know what to expect. It turns out a sformato is an Italian soufflé but less airy than the French kind, almost a mousse. It was wonderfully creamy, cheesy and melted in our mouths; pairing well with the tomato sauce.
Everything we ate at this upmarket restaurant in the countryside near Montecarlo was delicious, including an amazing bread basket with fluffy doughnut-like rolls (see the top photo).
Where: La Nina, Via San Martino, Montecarlo.
Choosing just ten favourite dishes is an almost impossible task as pretty much everything we ate in Tuscany was delicious. Here's a special shout out to a few other tasty eats that we didn't get photos of (too busy eating):
Heavenly white chocolate mousse with raspberry sauce at Osteria del Vento, Montecarlo (everything at this restaurant was good too).
Crema di Santa Fina – saffron cream and pine nut gelato at Gelateria della Piazza in San Gimignano.
Gorgeous creamy homemade chocolate paired with vin santo at the Tuscan wine school in Siena.
Extra virgin olive oil from Tenuta del Buonamico, Montecarlo – it's liquid gold.