This page contains affiliate links. Please read our disclosure for more info.
We didn't expect Belgium to have many meat-free meal options so were surprised to discover that not only did the pretty city of Ghent have plenty of vegetarian restaurants to choose from, but it has even created a Thursday Veggie Day. It turned out to be one of the most vegetarian friendly cities in Europe.
Ghent is a university city with an active cultural scene, plenty of festivals and a youthful vibe, so it's no wonder that it's also so vegetarian friendly. The Thursday Veggie Day campaign was created by the Belgian vegetarian organisation EVA and in 2009 the City of Ghent began to officially support the campaign, making it the first city in the world with an official weekly vegetarian day.
Not everyone eats vegetarian food on Thursdays of course, but people are encouraged to do so by raising awareness of the health and environmental benefits of a lower meat consumption and the city has worked with restaurants, schools and the general public on different vegetarian events and cooking classes.
We've been vegetarian for so long that we don't actively think about the benefits of a vegetarian diet any more, so even we were surprised by some of the facts we learnt from the campaign. Apparently if all Europeans had one meatless day a week the amount of greenhouse gases saved would equal that of taking 35 million cars off European roads for an entire year!
For a vegetarian visitor to Ghent the best part of the campaign is the free map A Guide to Veggie Ghent that is distributed throughout the city. It lists restaurants, shops and even hotels that are vegetarian friendly, making it really easy to find a nearby meat-free meal. We loved that they even listed places to find frites that are fried in vegetable oil rather than lard. If only we had a map like this in every city we visited!
95 vegetarian friendly restaurants are listed on the map with 12 of then marked as 100% vegetarian. Not bad in a city of only 240,000 people. We only had time to try three of them.
De Warempel
De Warempel is a cosy restaurant that's very popular so it's best to get there early to get a table. The menu is small, offering soups, a couple of daily specials and desserts. When we visited the options were a vegetarian lasagna with a side salad and bread, and the day's plate which involved a terrine type dish with lots of different vegetables and salads. Beer and wine were also served.
The food wasn't particularly creative but it was good comfort food and the portions were huge.
De Warempel is located on Zandberg 8 and is open for lunch on Monday to Friday from 11.45am – 2pm.
Greenway
Greenway serves healthy, vegetarian fast food in a funky cafe style setting. The menu options were quite extensive with soup, sandwiches, burgers, salads, pasta and curries on offer. I had a big bowl of pea soup, served with a lovely wholemeal roll (€3.90) and Simon had the cheese and potato burger, packed full of salad (€5.50). There were a number of different veggie burgers to choose from including spinach and carrot. Ghent is the only place we've ever visited where we've had a choice of different kinds of veggie burgers (see Tasty below too).
Greenway was probably our favourite vegetarian restaurant in Ghent as it was healthy, tasty, good value and we liked the casual setting.
Greenway is located on Nederkouter 42 and is open Monday to Saturday 11am to 9pm.
Tasty
Like Greenway, Tasty is a healthy vegetarian fast food place with a focus on vegetarian burgers and smoothies. We loved the range of veggie burgers on offer in Ghent, and at €5.40 for a burger it made an affordable meal.
The choice of 15 burgers was really impressive including broccoli, soya, mushroom, and spinach. Simon went for the cheese burger again but found it a bit bland compared to the one at Greenway. I loved my flavourful spicy burger.
Tasty has two branches at Hoogpoort 1 and Walpoortstraat 38 and is open 11am to 8pm.
Chocolate
This isn't a vegetarian only recommendation of course, but one of the things we loved most in Flanders was being able to pop into one of the many chocolate shops and pick up a few chocolates from the huge range of pralines on offer.
Although Ghent doesn't have quite as many chocolate shops as Bruges there were enough to keep us happy. We sampled some at the upmarket Van Hoorebeke shop and at the Leonidas chain and loved them both.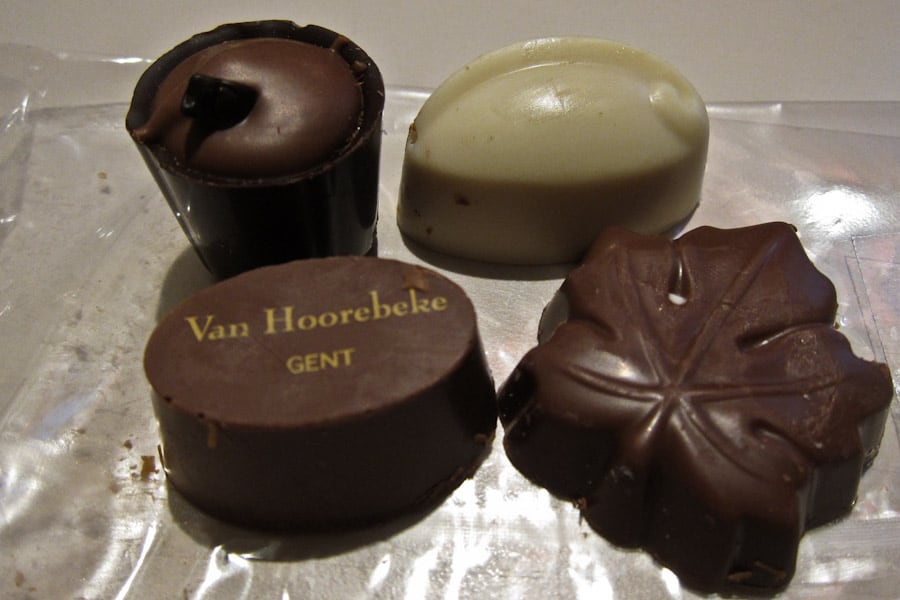 Ghent may not have quite as many 100% vegetarian restaurants as Chiang Mai or as innovative meat-free meals as San Francisco or London, but it is definitely one of the easiest cities we have visited for vegetarians. We wish we had a map like the Guide to Veggie Ghent in every city we visited.
Ghent is not a very touristy city so none of the restaurants we visited had menus in English. We found the people in Flanders to speak very good English though and they were always happy to explain the menus to us.
For more vegetarian restaurants in Ghent see these suggestions on the Visit Ghent website.
For the non food side of things you can read about our time in Flanders visiting indie and jazz festivals and exploring the picture perfect cities of Bruges and Ghent.
A big thank you to Tourism Flanders-Brussels for arranging our trip. See Visit Flanders for much more information about what is on offer in the region.