This page contains affiliate links. Please read our disclosure for more info.
Corfu is not a typical Greek Island—no whitewashed villages are tumbling down arid hillsides like in popular destinations like Santorini.
Instead, it's one of the greenest Greek islands and, in parts, resembles Tuscany with its rolling hills, olive groves, and cypress trees. Part of the Ionian Islands group, it's the closest major island to Italy and was ruled by the Venetians for over 400 years.
The coastline has the crystal clear turquoise water you expect from Greece, though, and the beaches range from golden sandy bays to picturesque pebble coves.
There are so many things to do in Corfu—relax on the beaches, explore the coastline by boat or on foot, snorkel with an array of colourful fish, eat al fresco at a taverna, and wander the historic lanes of the beautiful capital, Corfu Town (Kerkyra).
We spent six weeks on the island in June/July and still only managed to visit the northern half (which has the most dramatic scenery).
In this travel guide, we share our tips on what to do in Corfu as well as where to stay and eat plus a map of all these Corfu attractions.
Contents
Best Things to Do in Corfu Greece
Exploring Corfu is best done by renting a car as bus service is limited. The roads are very winding and potholed, though, so getting anywhere takes longer than you'd expect. And the summer heat makes slow-paced sightseeing (with frequent swims) a necessity.
1) Hike to Porto Timoni Twin Beach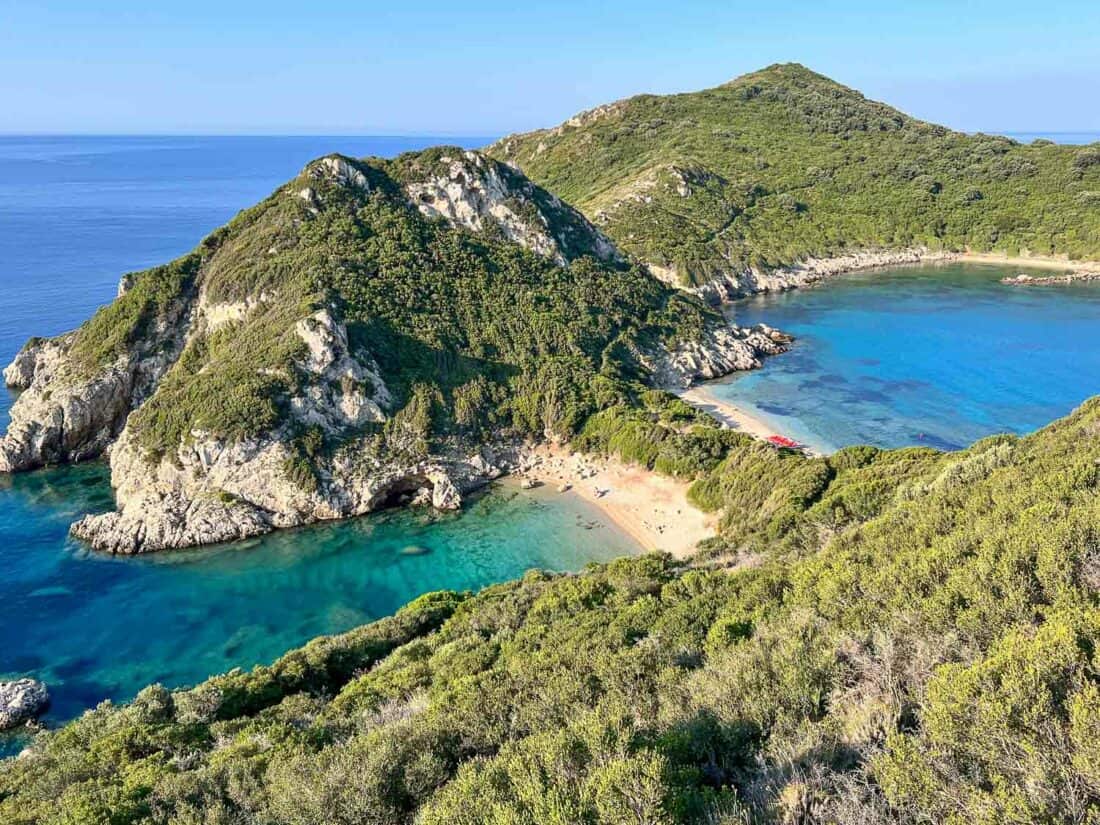 Visiting Porto Timoni is definitely one of the best things to do on Corfu. This beautiful double beach on a peninsula in the northwest of the island is undeveloped and can only be reached by a 30-minute hike from Afionas village or short boat trip from Agios Georgios Pagon.
The hike is well worth doing so you can admire the two bays from above. The trail is steep and rocky so decent shoes are essential.
Porto Timoni is one of the most popular places to visit in Corfu and it gets very crowded by midday. Visiting early in the morning is the best way to experience it at its most magical.
See my detailed guide to Porto Timoni beach for all my tips.
2) Relax on Agios Georgios Pagon Beach
Our favourite sandy beach on Corfu is Agios Georgios Pagon—we visited many times.
This long crescent of golden sand has dramatic rocky headlands at either end. Due to its size, it never feels too crowded, even in high season.
There's a mix of quiet beach bars with sunbed rentals and empty sections where you can spread out your towel (but bring an umbrella as there's no shade).
Agios Georgios is the best place to arrange a water taxi or pedalo to Porto Timoni.
As the bay is protected, it's also a good place for kayaking or standup paddleboarding (from €15 for one hour). The wind can pick up in the afternoons, so mornings are best for water sports.
The water is usually a clear blue and there are a few fish around if you want to snorkel—Porto Timoni is much better for snorkelling, though.
Our favourite beach bar is San George Food Bar. In high season it costs €8 to rent two sunbeds and an umbrella, and you can order food and drinks right to your sunbed. We love the Greek Panini—a Greek salad stuffed in a pitta with a few perfect chips on the side.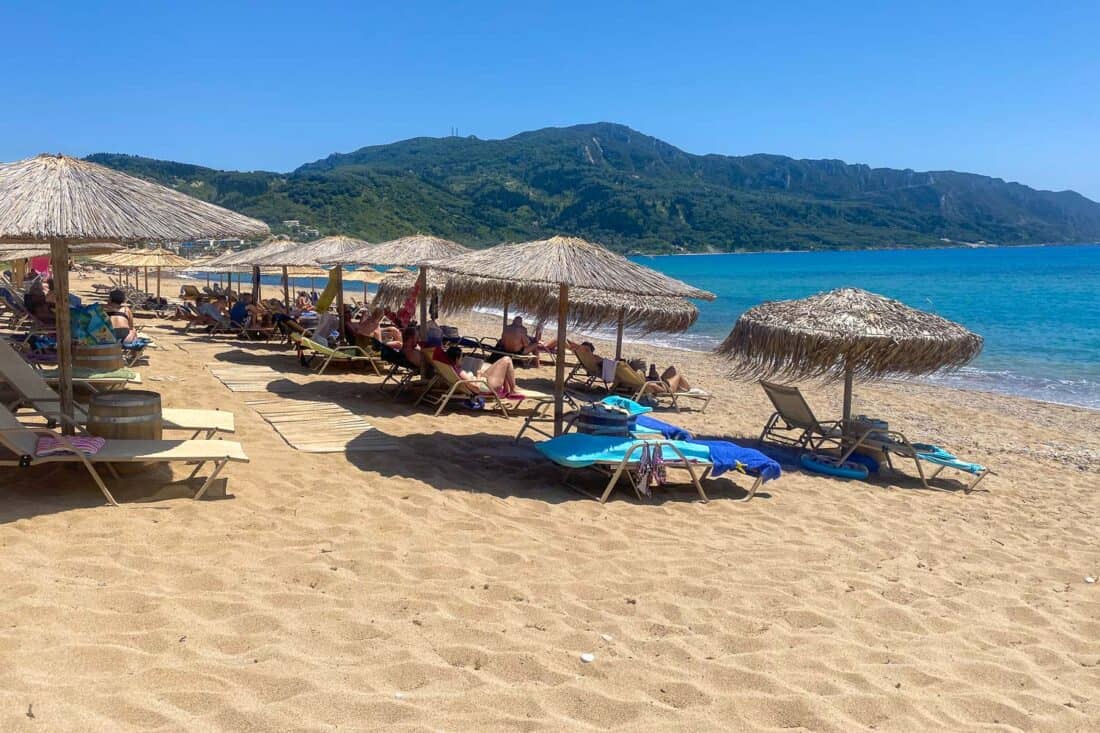 You can also eat at the tables next to the beach or on their roof terrace. The mini market next door is surprisingly well stocked with beach gear, fruit and vegetables, fresh bread, and local products.
Note that there is another Agios Georgios beach in the south of the island, which is why this one often has Pagon added to its name.
I think Agios Georgios is the best of the North West Corfu beaches, but Arillas is also worth visiting (mostly for some excellent tavernas). The sandy beach at Arillas is narrow, but the water is shallow so is a good option for kids.
Agios Stefanos is another long sandy beach in the area, but we didn't think it was as beautiful as Agios Georgios, and the sea is more exposed and wavier.
I would skip Sidari entirely—it's package holiday central and the beach is rammed with sunbeds.
3) Rent a Boat to Explore the Coastline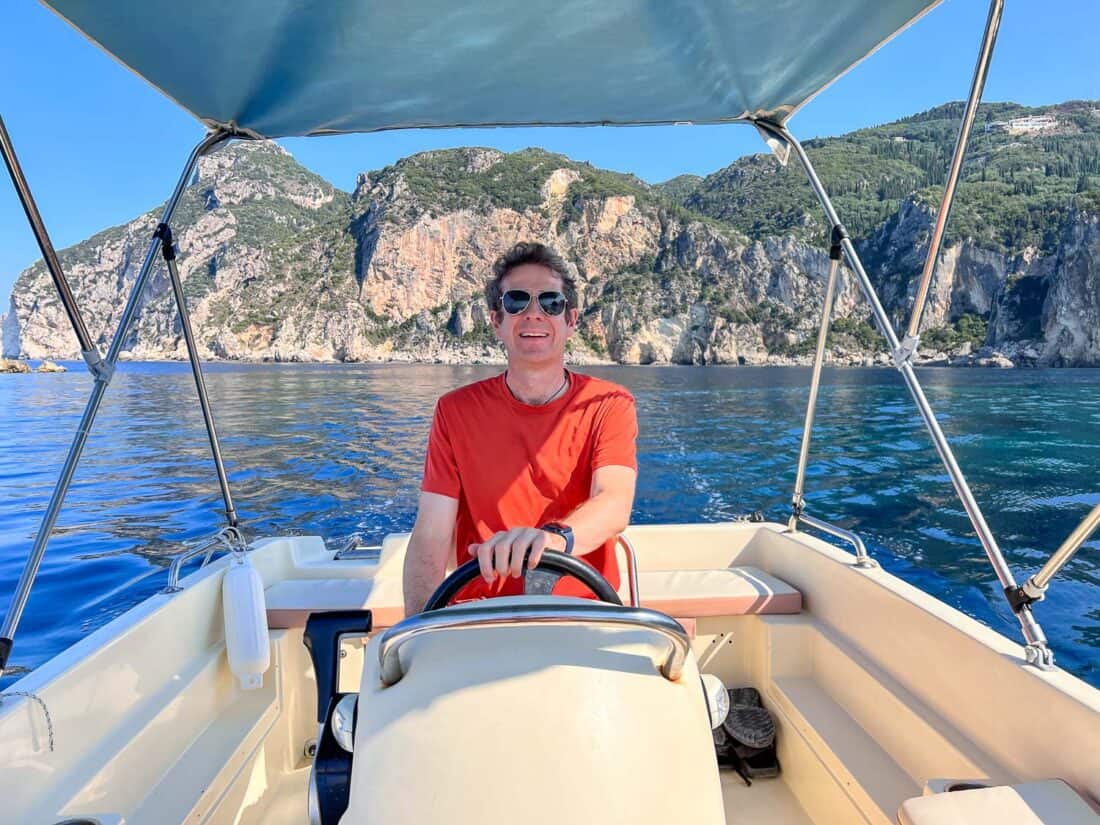 One of the must-do Corfu activities is to get out on a boat. You could take a tour like this family-run boat trip around the North East coast, which also includes a BBQ lunch, but I highly recommend renting your own boat if you can.
There's nothing like the freedom to zip along the coastline stopping at whichever beach takes your fancy, including many that aren't accessible by road or foot.
It's a great way to explore when it's too hot to hike to undeveloped beaches—the sea breezes keep you cool and boats come with canopies for shade.
You don't need a boat licence to rent a motorboat up to 30HP. The boats are easy to operate and you'll be given a lesson before you head out.
We hired boats in Paleokastritsa (on the west coast) and in the northeast. If you have limited time (or budget), we enjoyed Paleokastritsa the most.
We rented from Ampelaki Boats (Corfu Rent a Boat on Google Maps) and were really happy with the experience. Prices start from €80 a day plus fuel (ours cost €15), but we went for a slightly bigger 30HP boat for €95 euros, which was perfect with plenty of space to sunbathe at the front.
It's easy to book online—it's best to do so about a week in advance as the cheaper boats sell out.
They provide a map and a cooler with ice, so bring a picnic and plenty of water. I also recommend bringing snorkelling gear as there are some good spots.
Note that there is a limited area you are allowed to go to—Porto Timoni is the furthest north and Kolyvri Island is the furthest south.
You also have to anchor 20 metres offshore, so you'll need to swim to reach the beaches. If you want to spend a lot of time on the beach, bring a waterproof bag for your gear. We were fine making brief stops on the beaches and then relaxing on our boat.
In summer, there will be plenty of other boats out, but we did manage to find two coves to ourselves.
Here's where we visited, starting from the south:
Kolyvri Island – A little rocky island that we sailed around.
Stelari Beach – A gorgeous long beach with some sunbeds to rent. The water was incredibly clear, but we could see lots of jellyfish so we didn't go in.
Paradise Beach (aka Chomi) – Another narrow beach backed by dramatic cliffs. We were warned not to go onto the beach because of falling rocks.
Iliodoros Beach – Just round the headland is this tiny but picturesque cove.
Kolias Beach (aka Marmara) – Next door this little bay was mostly in the shade in the morning so we had it to ourselves. We anchored here and swam to a lone sunny rock on the beach. The snorkelling was good with big schools of fish.
Limni Beach – This looked pretty but a little too busy to stop at.
Klimatia Beach – A tiny, quieter cove on the other side of the headland from Limni (you can walk there). We stopped here for more good snorkelling.
Rovinia Beach – This is one of the most popular beaches to walk to, so it was really busy.
Liapades Beach – A major beach in the area with sunbeds and boat hire.
We then headed out of the bay past the port and Ampelaki Beach (where we started) and off in the other direction.
Mikro Kastelli Beach – Our last beach of the day was the best. See below.
We could have continued on to Agios Georgios and Porto Timoni, but we'd spent plenty of time there. We were out from 10am – 3pm but could have stayed out until 6pm.
You can see where we visited by boat on the east coast below.
Wherever you decide to explore, renting a boat is one of the most fun things to do in Corfu.
4) Swim at Mikro Kastelli Beach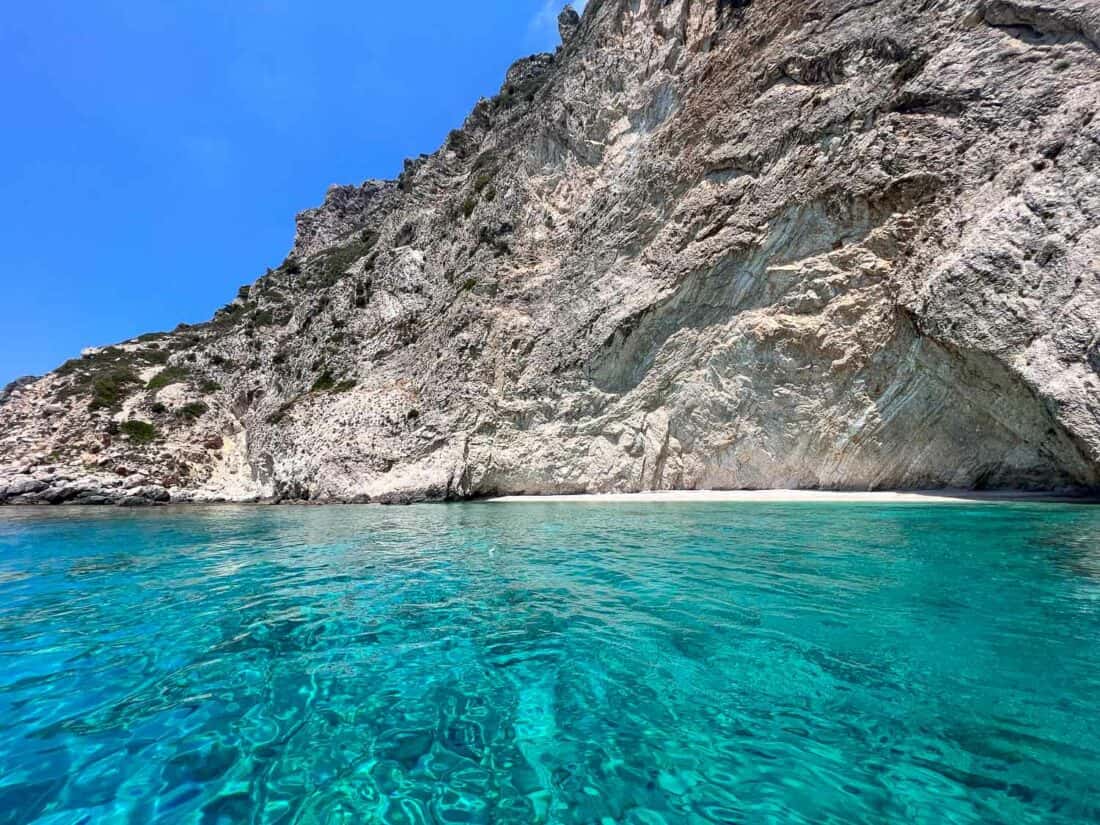 Kastelli and Mikro Kastelli are two gorgeous pebble beaches beneath dramatic sheer cliffs with the clearest aqua water. They can only be accessed by sea so rent a boat in Paleokastritsa or Agios Georgios Pagon to get there.
When we arrived by boat we were the only ones at Mikro Kastelli at first. It was dreamy floating in the swimming pool clear water and swimming to the empty beach.
Be careful of falling rocks, though—we had no issues, but the beach is narrow.
Snorkelling wasn't quite as good as the other Paleokastritsa spots, but there was still plenty to see.
5) Explore the Cliffside Beaches of Paleokastritsa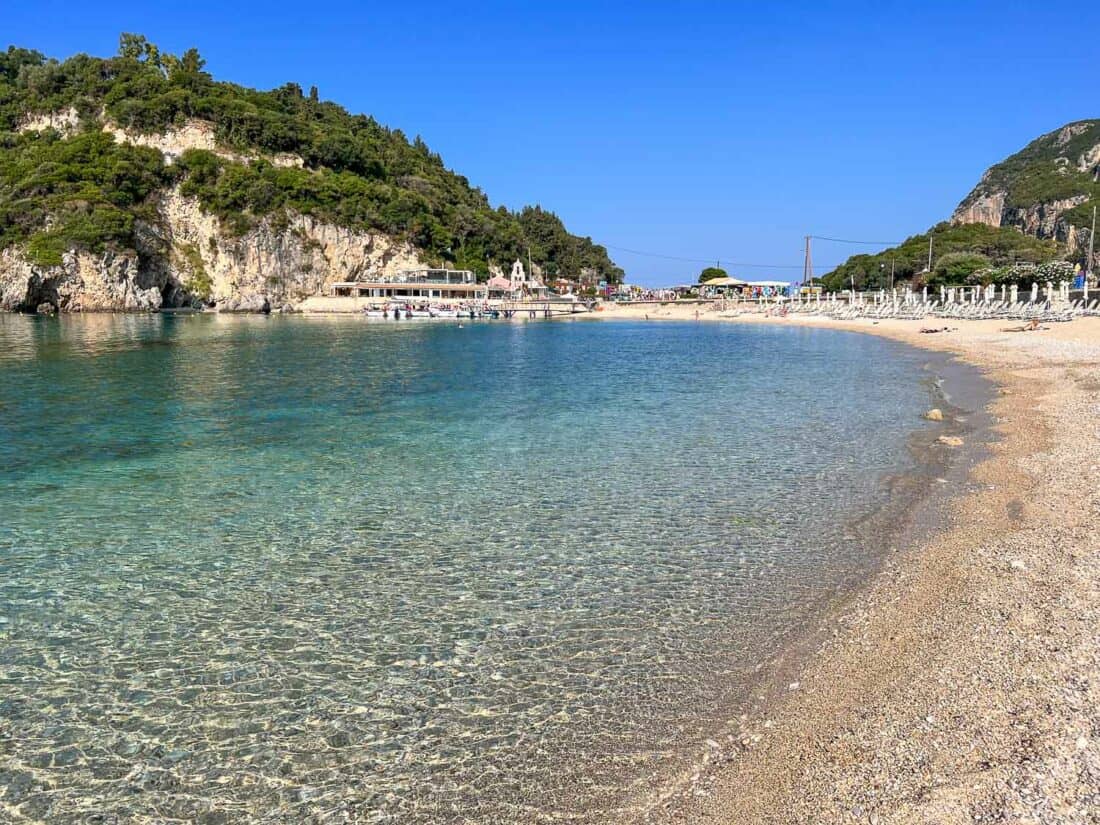 Paleokastritsa is a Corfu must see. This village in the northwest of the island consists of a series of small bays in a stunning location beneath dramatic mountains.
The beaches are beautiful with crystal clear water, but as they are small and this is a popular destination, they get very crowded.
Agios Spiridon is the main beach with a mix of sand and pebbles, sunbeds and umbrellas to rent, and plenty of restaurants nearby. Boat tours depart here.
You can walk up the hill to the Paleokastritsa Monastery, Moni Theotokou, which dates back to the 13th century. There are great views from the top. Entrance is free.
A more secluded beach a few minutes' walk away is Ampelaki Beach, where we rented our boat. Other beaches in Paleokastritsa accessible by car include Agia Triada and Liapades. La Grotta is a popular beach bar built into the rocks.
To reach less developed bays, it's best to rent your own boat (see the beaches we visited above) or take a water taxi from Agios Spiridon. Or you can hike to Rovinia Beach, but go early to avoid the crowds.
A boat ride is the best way to appreciate Paleokastritsa's stunning scenery.
6) Beach Hop on the North East Coast by Boat or on Foot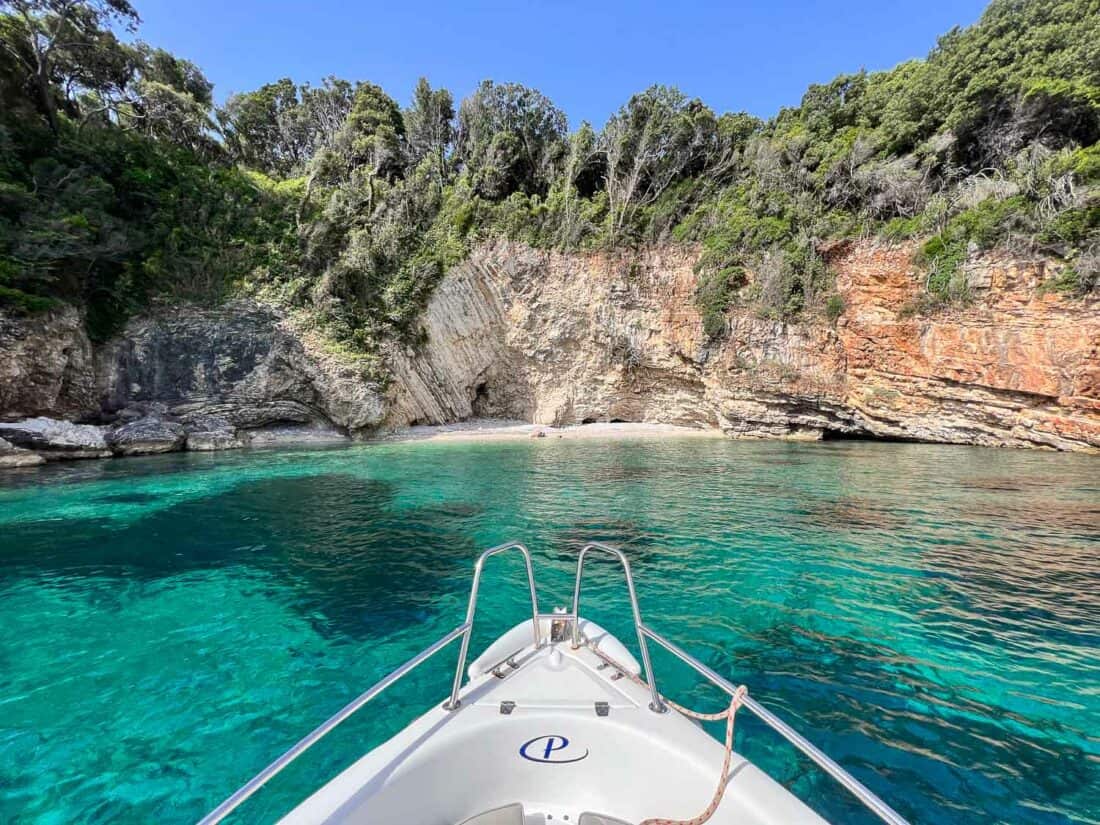 North East Corfu is also well worth visiting. The mountainous coastline features many small pebble coves with crystal water and views across to Albania.
This is a more upmarket and expensive part of Corfu with many fancy villas on the hillsides.
Places to visit in North East Corfu include the lively harbour town of Kassiopi, with its Byzantine castle, and Avlaki Beach, the longest beach in the area, so there's more space than most.
There are several picturesque villages with small pebble beaches and tavernas right on the water, including San Stefano, Kalami (famous for the White House where Lawrence Durrell lived), and Agni.
This is a good area for hiking as there are marked trails along the coast and you can stop at unspoilt beaches along the way. The Agios Stefanos to Avlaki coastal path is 6.5km (4 miles) and takes 1.5 hours each way (plus allow time for stops).
I really wanted to do the hike, but the 35ºC heat was too much for us, so we explored the coast by boat instead.
We rented from San Stefano boats and paid €130 for a day (plus €20 fuel). It was significantly more expensive than in Paleokastritsa and our boat was smaller. They provided a map and cooler.
We were allowed to take the boat from Kassiopi to Nissaki. To avoid the afternoon winds, we started by heading north to Kassiopi (about 15 minutes away direct) and drove south from there.
Our favourite section was the unspoilt Erimitis coast between Avlaki and San Stefano, where the beaches are undeveloped without sunbeds or tavernas.
In particular, we loved our stop at an unnamed bay around the headland from Avlaki. We didn't risk sitting on the beach beneath the crumbling cliffs, but we swam in the glorious turquoise water and into a cool little cave.
Continuing on are more gorgeous pebble beaches, including Vrachli, Vouvalomantria, Arias, and Akoli, where we stopped for another swim in the wonderfully translucent sea.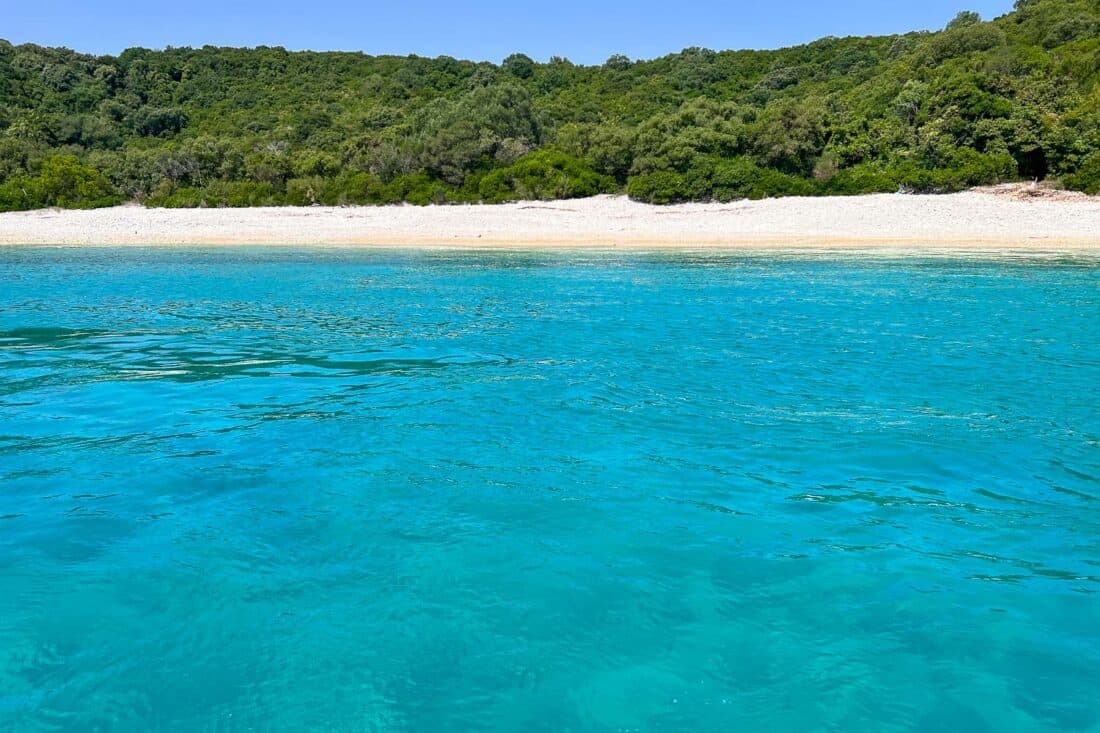 From San Stefano south to Nissaki, the coast is more developed, and the small beaches are full of sunbeds, making it harder to find a quiet cove to stop at.
It's hillier, though, so the scenery is beautiful and the waterside tavernas have jetties where you can stop for lunch (we had a picnic, though)—Agni is a particularly good choice.
We did manage to find a rocky area to anchor past Agni—there was no real beach, but the snorkelling was excellent.
After returning our boat and driving back towards the west coast, we stopped at Ice Dream in Perithia, which I recommend for excellent homemade ice cream (the chocolate is very decadent).
If we'd had the energy, we'd have liked to drive up the mountain to Old Perithia, Corfu's oldest village, where you can find medieval stone houses, churches, and some excellent tavernas.
7) Walk the Clifftop Path between Arillas and Agios Stefanos
From Arillas Beach on the northwest coast, you can do a beautiful and fairly easy hike on a clifftop path.
From the jetty in the centre of Arillas beach, head right (keeping the sea on your left) and walk towards the end of the beach where you'll see a dirt path up the hill. The views from the cliff path are fantastic as you look back towards Arillas.
After about 15 minutes, you'll reach Akrotiri Cafe, the perfect spot for a drink or meal with plenty of outside seating to admire the panoramic sea views. We enjoyed the vegetarian moussaka and Greek ciabatta. The sunset views would also be fantastic here.
After lunch we continued on the peninsula clifftop path enjoying views of Arillas and Gravia Island and Agios Stefanos on the other side.
You can continue on to a chapel and Agios Stefanos beach—maybe 20-30 minutes more—but in the heat of the day we turned back to Arillas.
8) Enjoy a Meal with a Panoramic Sea View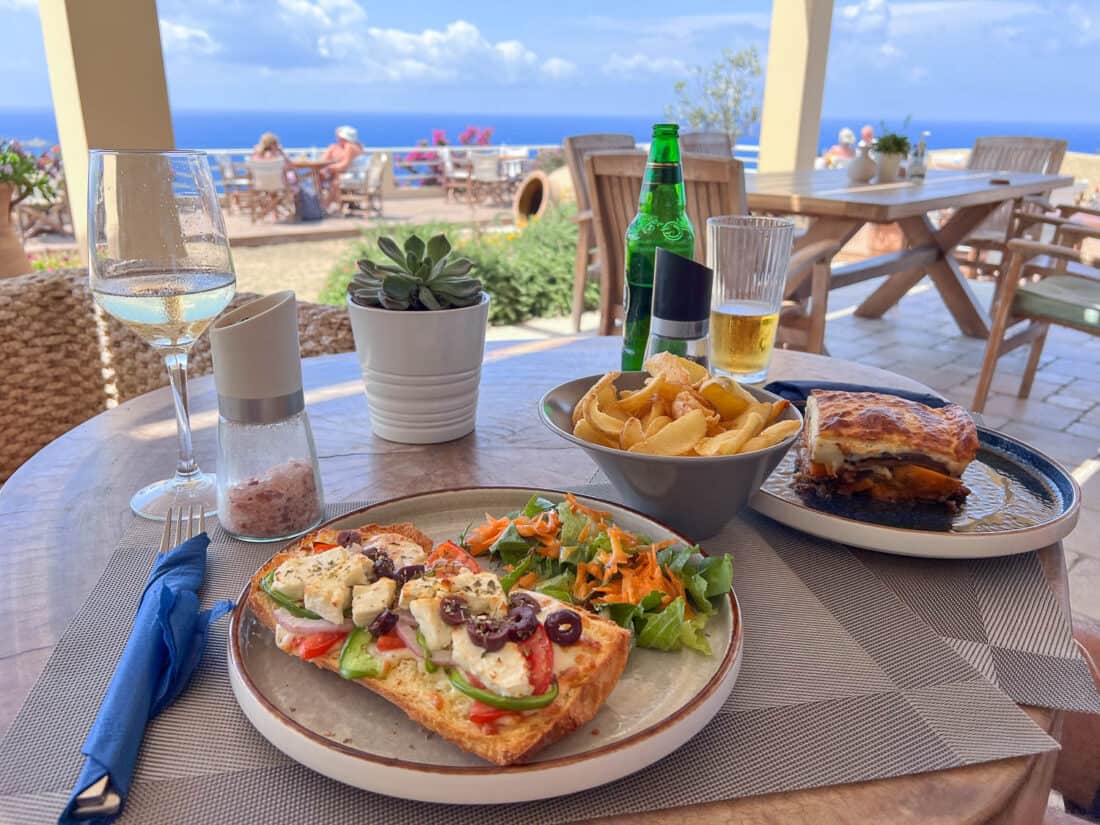 You can't beat a delicious Greek meal with a sea view. Our favourite elevated spots are Akrotiri Cafe in Arillas (see above for details of the beautiful hike to get there) and Evdemon in Afionas (where the hike to Porto Timoni starts).
Evdemon is a destination-worthy restaurant. Its clifftop terrace has amazing sea views and is the perfect spot to watch the sunset. We made the mistake of dining a few hours before sunset in summer and struggled in the heat as there's no shade when the sun is low.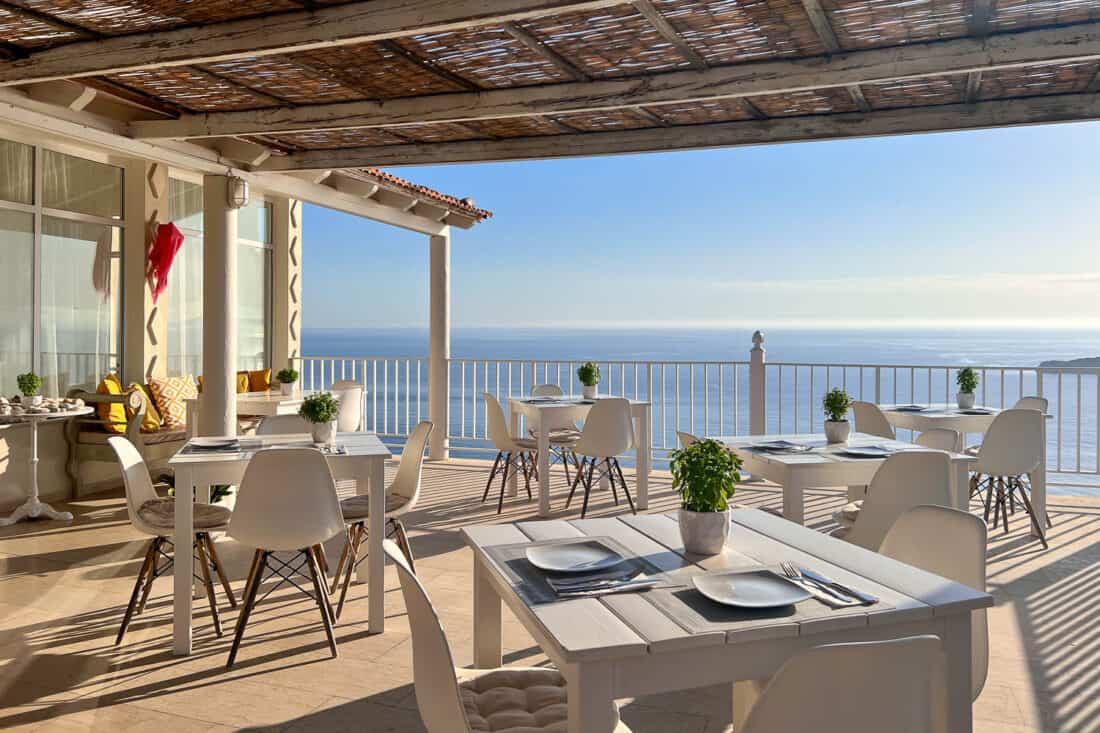 Despite the heat, we loved the views and the excellent food. This isn't a typical taverna menu—the small selection of seasonal dishes changes daily and includes good vegetarian options. Prices are higher than average but worth it for the quality.
We enjoyed the delicious Evdemon salad, stuffed aubergine, and a lovely fresh pasta with pesto.
Evdemon is open for dinner from 6pm and booking is highly recommended.
9) Admire the View at Cape Drastis
Cape Drastis in the far north of the island is known for one of the best views in Corfu, where chiselled white cliffs jut into the turquoise Ionian Sea.
While this is one of the most popular places to visit in Corfu, we found it a little underwhelming as there is no obvious viewpoint.
We parked at the area marked "Small car park of Cape Drastis" on Google Maps. The road does continue down from here, but it's unpaved and bumpy, so we chose to walk down. After about 10 minutes, there were a few spots where you can see the famous cliffs, but the view was a little obscured.
You can continue down to the small beach where boat tours are available, but we turned back due to the heat of the evening (even at 8pm!).
Perhaps we missed the best viewpoint. Either way, Cape Drastis is worth a quick stop as you can combine it with nearby Loggas Beach.
10) Watch the Sunset at Loggas Beach
A five-minute drive from Cape Drastis in the village of Peroulades is Loggas Beach (aka Sunset Beach). This is the most famous place in Corfu to watch the sunset.
In the evening, visitors flock to 7th Heaven bar, where you can enjoy a drink as the sun disappears into the sea. There's even a glass platform on the cliff's edge for an uninterrupted view (and Instagram spot).
It's a lively place so we walked down to the beach below, where it's quieter. It's a short but steep walk down including some rickety wooden steps—we sat at the top of the steps to watch the sun setting.
The beach is beautiful, backed by sheer white cliffs, but it's very narrow and only accessible at low tide on a calm day. Even then, to get to the main section we would have had to walk through water. I did regret not bringing a swimsuit as the sea was so calm when we visited.
11) Snorkel in the Crystal Clear Sea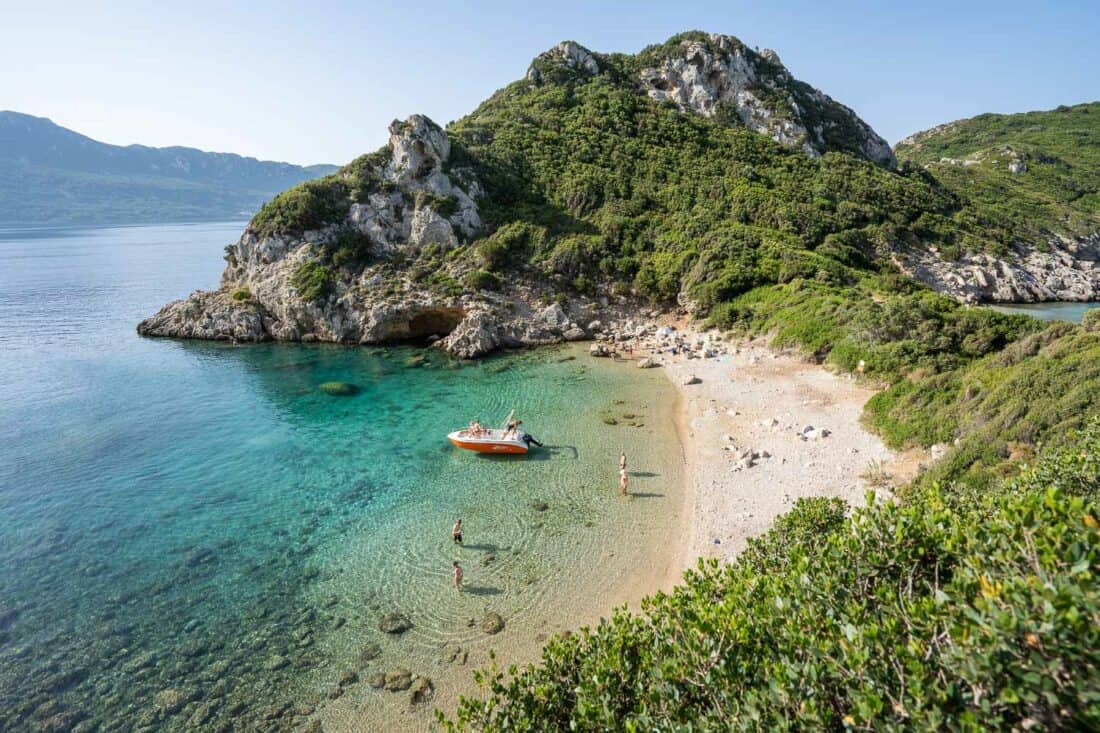 Corfu has some good snorkelling so it's worth buying a mask and snorkel for your time on the island.
Some of the fish I saw included rainbow wrasse, ornate wrasse, cow bream, five spotted wrasse, common two-banded sea bream, parrotfish, wide-eyed flounder, and a crab. I also swam through huge schools of tiny silver fish (Mediterranean sand smelt, I believe).
My favourite snorkelling spot is Porto Timoni—both beaches have plenty of fish, but on my visit, the visibility was better on the beach on the left (after hiking down) as it's more protected. You'll see the most along the rocks.
Hiring a boat to visit small coves near Paleokastritsa and in the northeast is another great way to find snorkelling opportunities (see above).
12) Get Lost in Corfu Old Town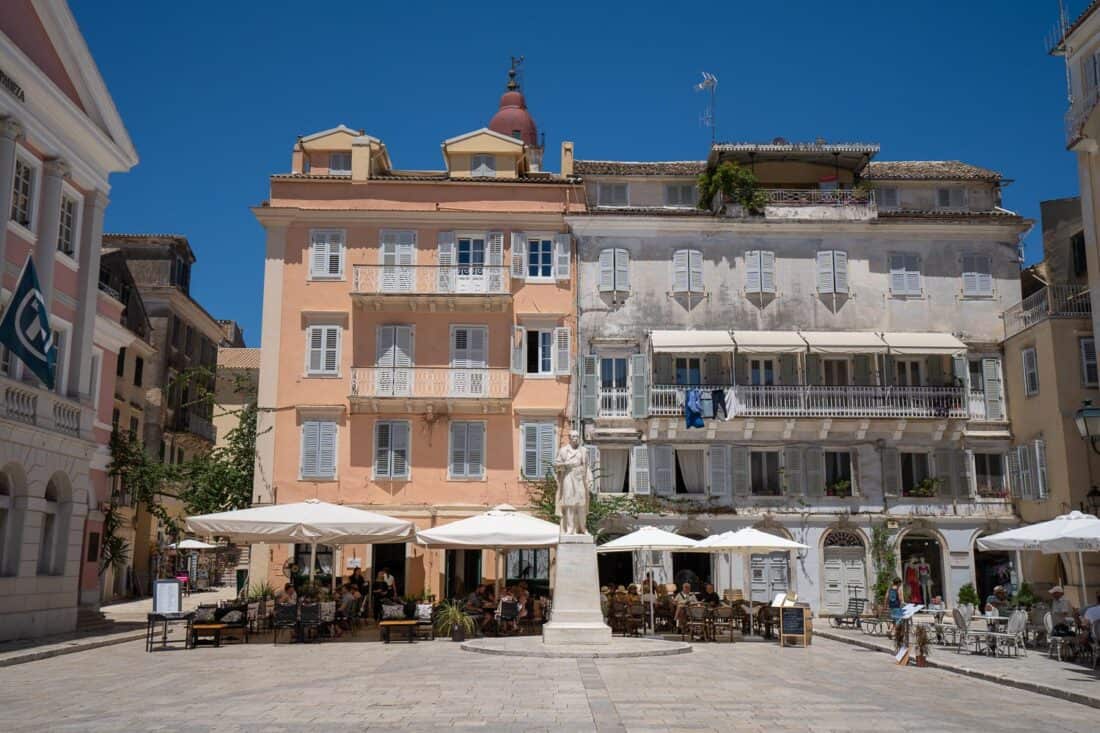 Visiting the island's capital, Corfu Town (Kerkyra in Greek), is one of the top things to do in Corfu.
The Old Town is very picturesque with narrow lanes and idyllic squares that reminded me of Italy. Unsurprisingly, because the Venetians ruled here for 400 years and built both the Old and New Forts (both are worth visiting).
Its long history dating back to the 8th century BC, with a mix of Venetian, French, British, and Greek influences, earned its place as a UNESCO World Heritage Site.
The compact area is ideal for wandering. With many tourists in summer, it has a lively but relaxed atmosphere and it's easy to turn down a side street to escape the crowds.
I recommend starting at the Liston, an arcade of restaurants with outdoor seating opposite the large Spianada Square. You can also see the Palace of St Michael and St George here, which houses the Asian Art Museum.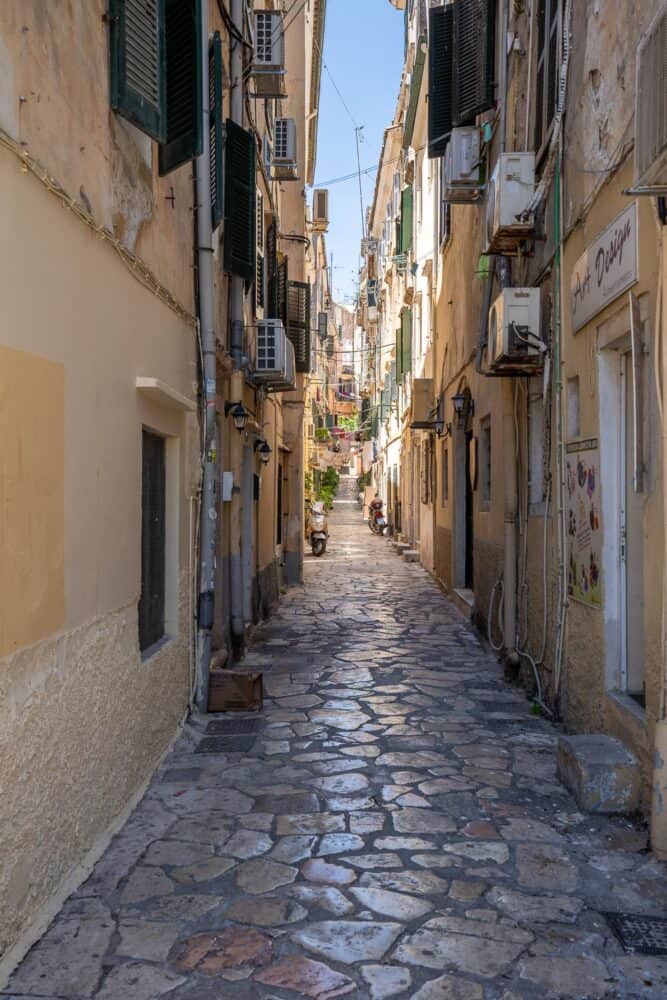 Then head down one of the main streets, Nikiforou Theotoki, where you'll find plenty of shops. Make sure you stop at Papagiorgis for Italian-level gelato (the pistachio and caramel were amazing).
If you keep going, you'll reach the New Fortress in about 15 minutes. It was closed on our visit, but it's worth seeing from outside.
Afterwards, delve back into the maze of streets and explore at random.
If you need to cool off, head to the Faliraki area for a swim off the rocks. It's nothing like the beaches you'll find elsewhere on the island, but there are a couple of bars for a drink with views of the Old Fortress (we went to En Plo).
To explore Corfu Town with a guide, check out this Corfu Town walking tour which includes local food tastings.
13) Visit Vlacherna Monastery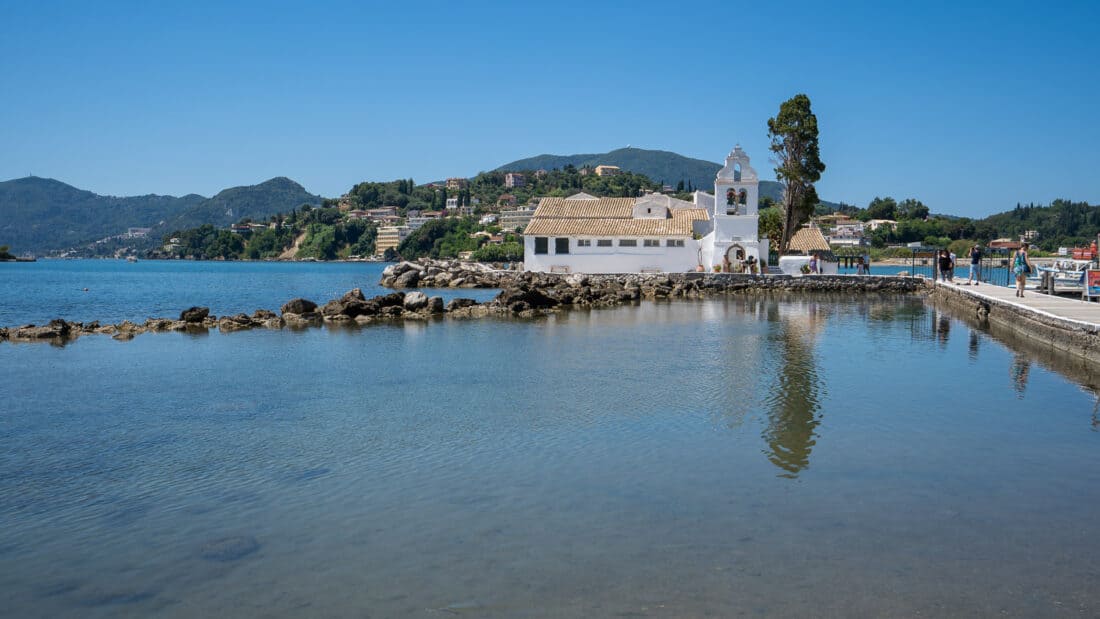 Vlacherna Monastery is a popular attraction in Corfu Town. It's on the edge of town near the airport so is easiest visited by car (there's a large free car park).
The cute little white monastery is located on an island with a walkway to reach it. There's not much to see inside.
There's another walkway into the sea where you can stand under the flight path of planes flying scarily low into the airport.
You can take a boat trip (€2.50) to nearby Mouse Island, but it's tiny so there's not much to see.
Flisvos Restaurant looks like a good spot for a drink or meal with views of the monastery. Or head up the hill to Cafe Kanoni for an elevated view of the planes flying in.
Vlacherna Monastery is a pretty spot that's worth a quick visit. It would be most scenic at sunset (especially combined with a drink).
14) Walk to the Old Fortress Viewpoint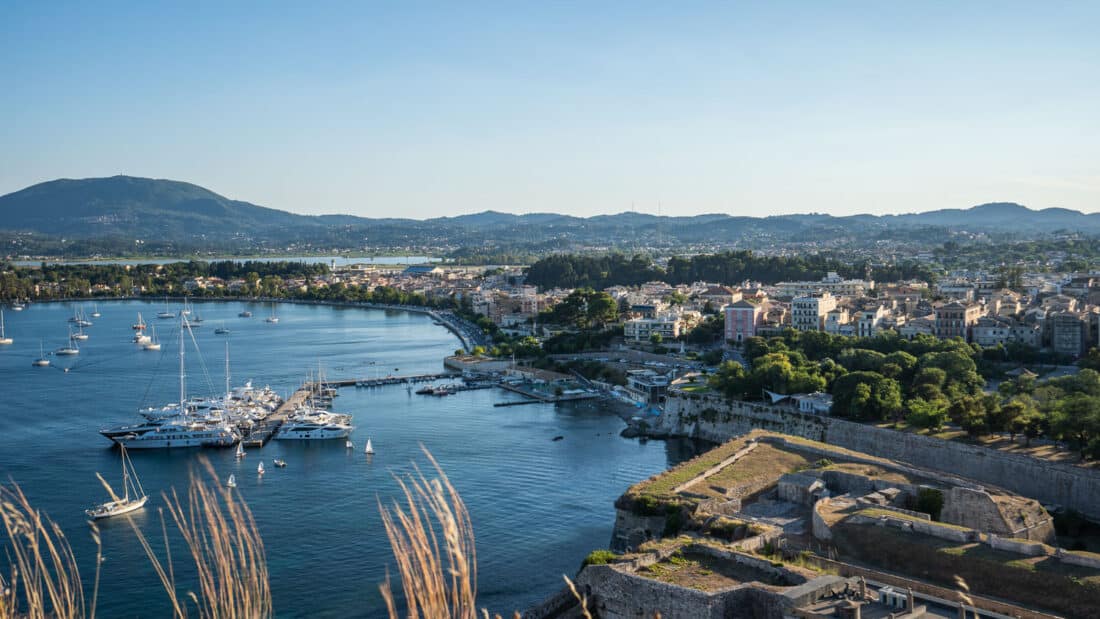 The 15th-century Old Fortress is one of the best things to do in Corfu Town. The dramatic Venetian fort dominates the view in the city, sitting on a rocky peninsula jutting into the sea. You won't be able to miss it, but it's worth heading up for a closer look.
It's a large complex with plenty to explore, but a highlight is the view of Corfu Town and the Ionian Sea from the cross at the top. We went in the evening, but the light would be better in the morning with the sun behind you.
We'd originally hoped to see the sunset here, but they close gate access to the top at 8pm. We entered at 7.30pm, just after they stopped charging (usually it's €6), and had to rush to get to the summit in time.
15) Eat a Delicious Taverna Meal
A highlight of any Greece trip is the food. These are our favourite restaurants in North West Corfu:
In Corfu Town we recommend these restaurants:
Aubergine – A vegetarian restaurant with outdoor seating under trees on the Liston. Lots of meat-free Greek classics like stuffed peppers and moussaka.
Pane e Souvlaki – A casual place with seating in a lovely plaza in the heart of the Old Town. Souvlaki (meat on a skewer) is popular, but they also have vegetarian options. The grilled vegetable skewers and falafel wrap were good, but the starters were the highlight for us, especially the tzatziki and grilled feta with spicy tomatoes.
Where to Stay in Corfu
Hotels in Corfu Town
For the best beaches I recommend staying outside the city, but it's well worth spending your first or last night in lovely Corfu Town. If you are only on the island for a few days, it would make a good base to explore.
On our last night we stayed at Locandiera, a boutique B&B down a quiet lane in the perfect location in the Old Town (close to the Liston).
The hosts are very friendly and gave us baklava on arrival and good information about exploring the city. Breakfast is included but we left too early to try it (they did offer to leave us something).
Rooms are simple but comfortable. The only downside is that sound travels easily so you can hear other guests walking around.
Check prices for Locandiera here or search for other hotels in Corfu Town.
Accommodation in North West Corfu
North West Corfu is a great option if you want to be close to long sandy beaches (the North East is also beautiful but has smaller rockier beaches).
Our Airbnb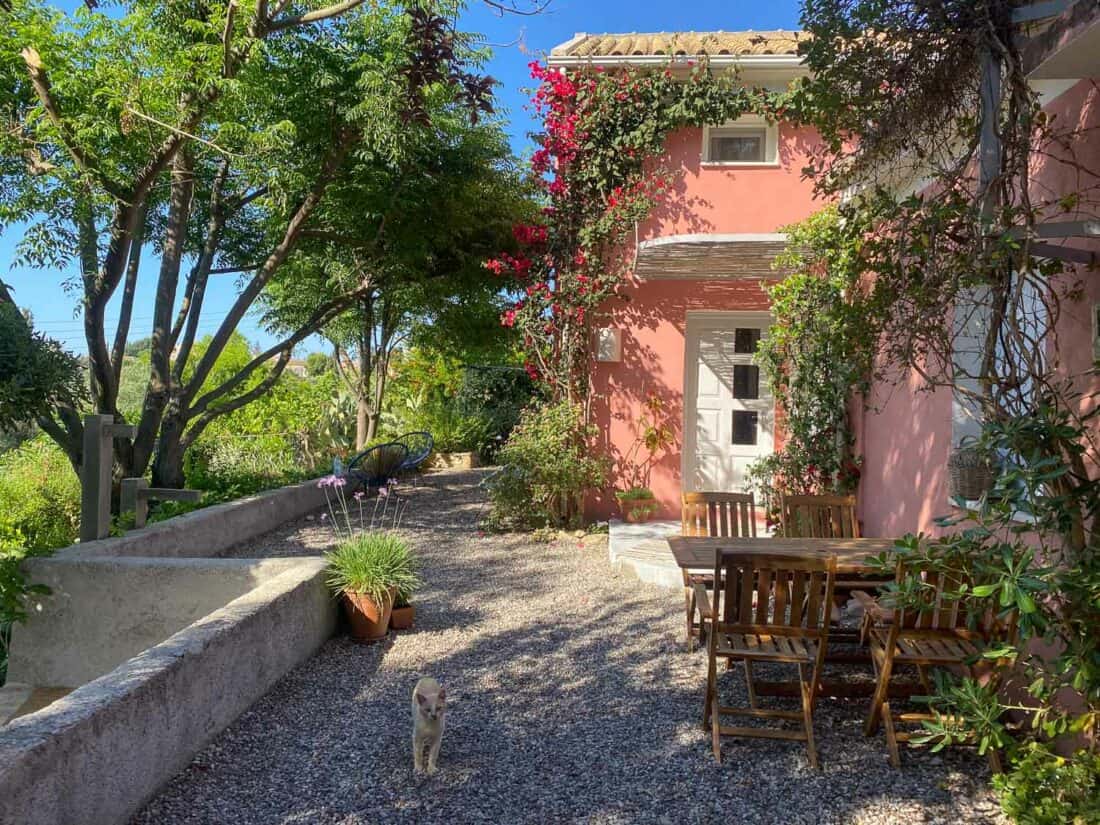 We spent six weeks at the Airbnb Country House on Top of the Hill. The remote location is an untouristy village won't be for everyone—it's a 15-minute drive to Agios Georgios and Arillas beaches and the roads are rough.
But we loved the tranquillity, beautiful garden, mountain views, and the cats who visited. It's very homely and well-equipped.
While there are technically three bedrooms, two of these are on an open plan mezzanine, so it's best for a couple or family with children who don't need a lot of privacy.
Beach Stays
If you want to be closer to the beach, Agios Georgios Pagon is our favourite (it's also close to Porto Timoni) and there are plenty of affordable apartments and guesthouse rooms available.
Search for accommodation in Agios Georgios Pagon here.
Corfu Greece Map
This Corfu sightseeing map has all the destinations mentioned in this post.
SIM Card For Greece
We usually buy a SIM card and data plan locally in each country we visit to avoid high roaming fees.
For visiting Corfu, though, we used an Airalo eSim for the first time and were really impressed.
Prices are very affordable (3GB of data for 30 days for US $9), and as there's no physical SIM card, you can keep your home country SIM in your phone to use as needed.
We signed up before we left and it was activated as soon as we arrived in Greece so we had internet access straight away.
It worked so well we got one for our next trip to Italy too.
The only downside is that it only works for data so you won't get a local phone number, but most people don't need that (we used WhatsApp to communicate with our Airbnb host).
Using an eSIM was so easy and convenient that I highly recommend it. Check out the Airalo eSIM options here.
Is Corfu Worth Visiting?
Corfu grew on us. At first we were disappointed that the villages weren't as pretty and charming as expected—outside gorgeous Corfu Old Town, the buildings are more modern.
But Corfu has a lot to offer including a green mountainous interior, golden sandy beaches, dramatic cliffs, good hiking and snorkelling, and affordable boat rental to find a cove to yourself.
In summer it was busy but not overly crowded, prices were very reasonable, and we ate well as vegetarians.
Corfu might not have the classic Greek Island scenery, but it's well worth visiting.
Don't miss our guide to Porto Timoni Beach in Corfu.
If you enjoyed this post, pin it!