This page contains affiliate links. Please read our disclosure for more info.
Porto Timoni is one of the most beautiful places in Corfu. This undeveloped double beach can only be reached on foot or by boat, but it's well worth the effort—the water is a gorgeous clear turquoise and perfect for swimming or snorkelling.
This is a popular spot so I highly recommend starting early to enjoy it at its most magical (and coolest). We love it so much that we hiked there three times.
In this post, I explain how to get to Porto Timoni with details of the hike and other methods, as well as tips to make the most of your visit.
Contents
Where is Porto Timoni Corfu?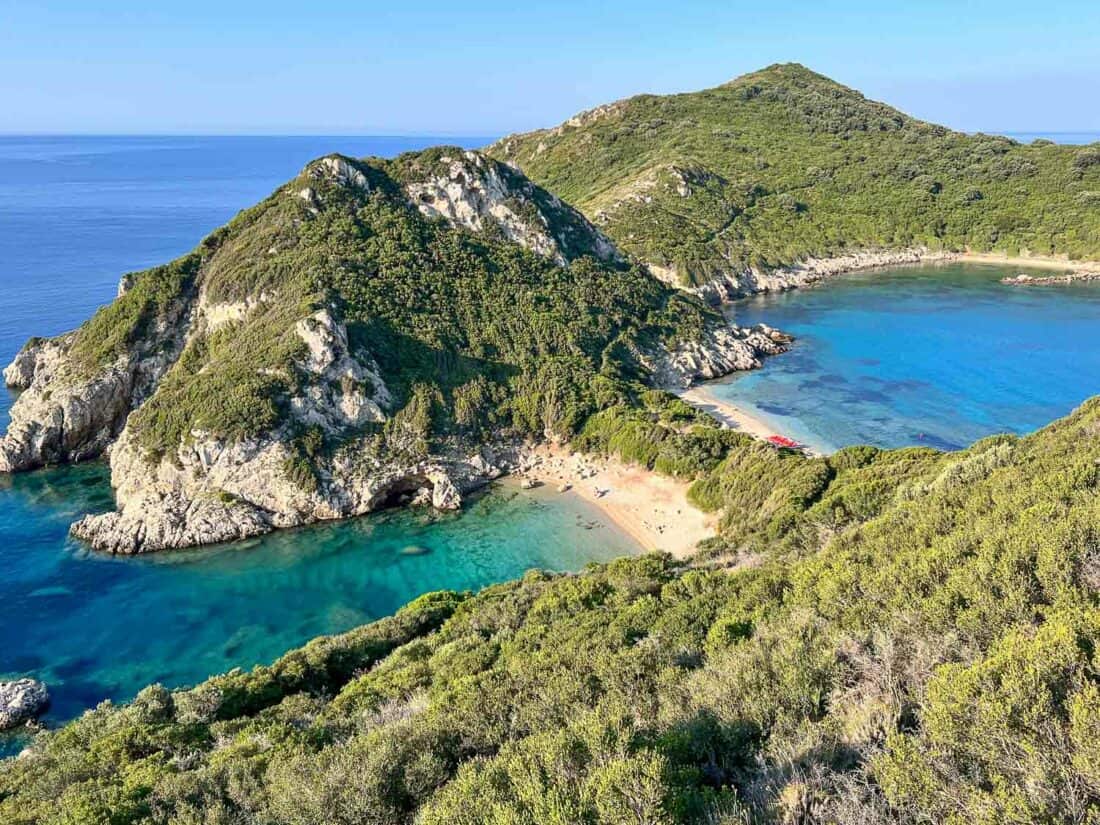 Porto Timoni is in northwest Corfu, one of the Ionian Islands in Greece. It's on the opposite side of the island from Corfu Town.
The nearest village, if you are hiking to the beach, is Afionas, up on a hilltop.
If you want to access it by boat or pedalo, the nearest place to do so is Agios Georgios Pagon, where you can find boat rental companies on the golden sandy bay.
The best way to reach Afionas or Agios Georgios if you are staying elsewhere on the island is to rent a car or motorbike.
There is a bus service to both villages from Corfu Town, but it has very limited service and is slow (up to 2 hours vs 1 hour if you drive yourself). Check the routes and timetables on Green Buses.
If you are staying in Agios Georgios you can walk up the hill to the start of the Porto Timoni hike in Afionas. It takes about 30 minutes to reach Afionas if you walk up the road.
We did see a trail marked to Agios Georgios from near the start of the Porto Timoni trail, but it looked quite overgrown and I doubt it is well maintained.
Here are approximate driving times to Afionas from other destinations in Corfu:
Agios Georgios Pagon – 5 minutes
Arillas – 10 minutes
Sidari – 20 minutes
Paleokastritsa – 45 minutes
Kassiopi – 50 minutes
Corfu Town (Kerkyra) – 1 hour
Kavos – 2 hours
At the end of the post, you'll find a Porto Timoni map with the hiking trail and boat rental companies.
Make sure to check out our guide to the best things to do in Corfu for lots more tips about the island.
Porto Timoni Parking in Afionas
Afionas is a small hilltop village with narrow streets and limited parking.
It's a popular destination due to Porto Timoni so free street parking fills up quickly. Please do not park in front of local houses that have no parking signs.
I recommend parking at the car park in the centre of Afionas marked "Parking Porton Timoni Afiona" on Google Maps.
It costs €5 for all day and is very close to the start of the hiking trail to Porto Timoni (you'll see signs). Look for the blue P sign at the end of the village.
The car park doesn't open until 9am, but if you arrive before then you can easily get street parking. We usually park opposite The 3 Brothers restaurant.
When is the Best Time to Visit Porto Timoni Beach?
Porto Timoni is an extremely popular destination and both of the beaches are small, so they fill up quickly.
The time you visit the beach will make all the difference between having a special or mediocre (and possibly unpleasant) experience.
The negative Porto Timoni reviews are all from people who arrived later in the day.
The best time to visit is off-season when the beach is quieter. Most people (including us) visit in the summer, though. In that case, you can beat the crowds (and heat) by visiting early—seriously, as early as you can manage.
You'll definitely want to arrive before 10am. By 9am is much better, and if you want a chance to have the beaches to yourself, get there before 8am.
We visited three times in June and July and arrived at the beach by 8am or 8.30am. We had the beach to ourselves (or with just a few others) until 9am when more people started to arrive.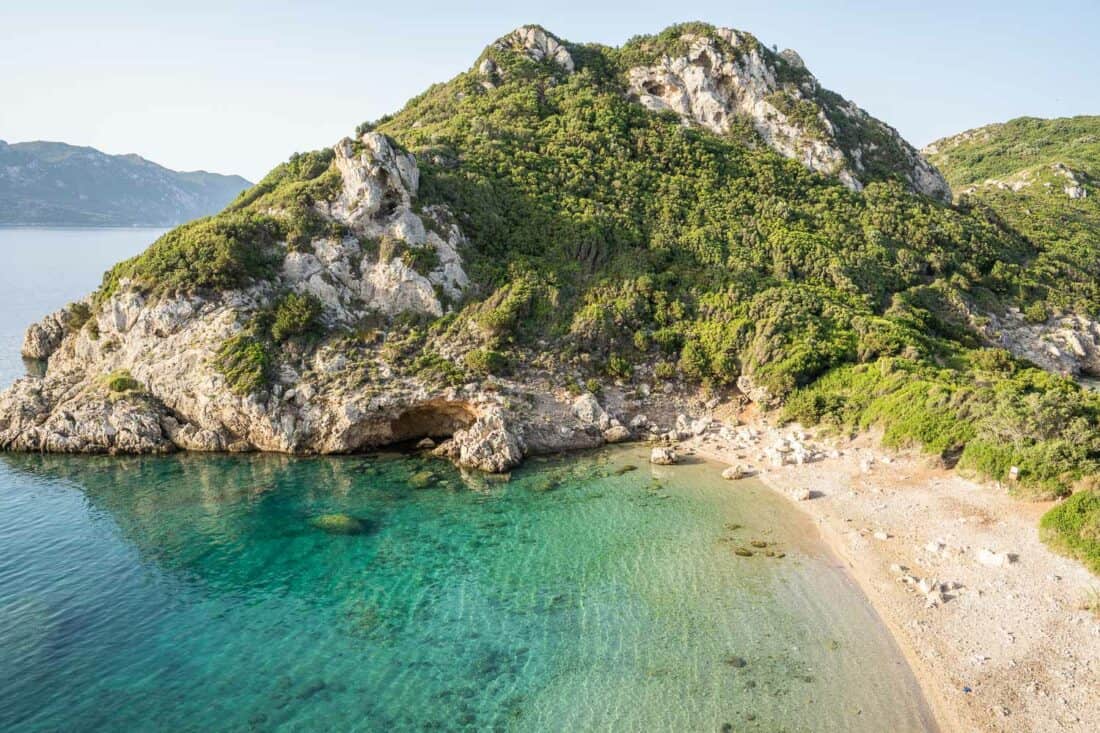 By mid-morning expect the beach to be crowded and by midday, it can be standing room only.
Starting early also means you climb back up the hill before the heat gets too unbearable (although it was still hot at 9am!).
For us, Porto Timoni is a place to come for an early morning walk and swim/snorkel and then we leave when it starts to get busy (and head to Agios Georgios beach afterwards).
Some people do spend all day there, but in that case, bring plenty of supplies (see What to Bring below).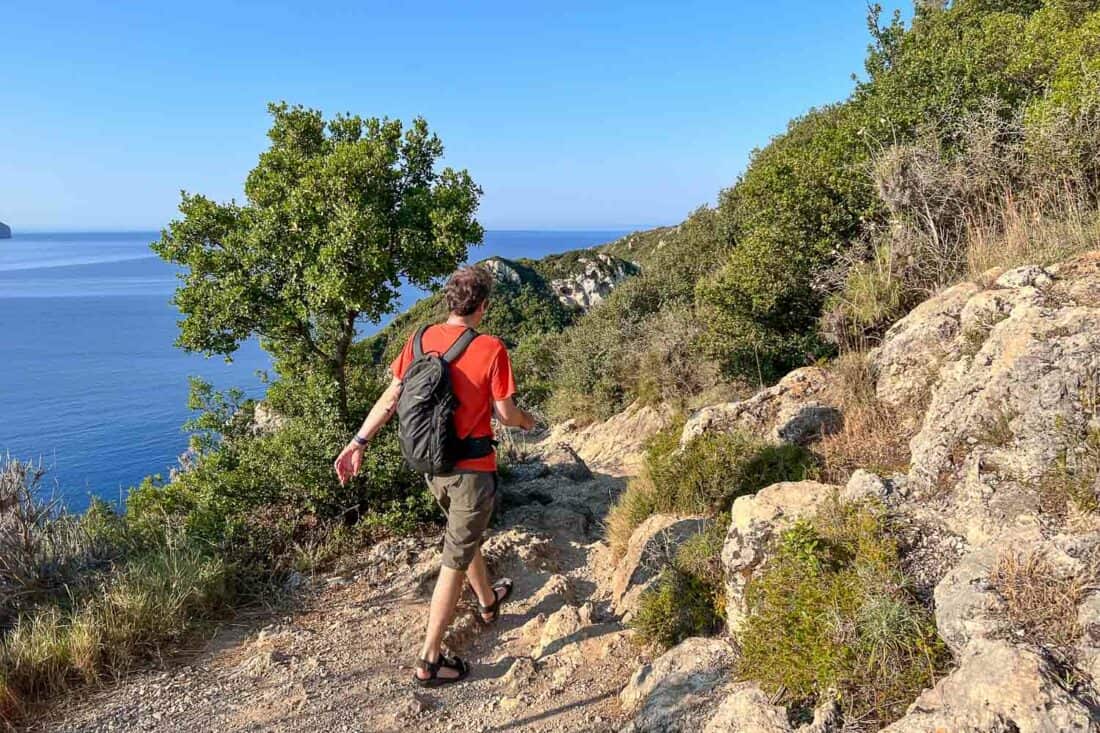 If you want to catch a Porto Timoni sunset, this is another option if you don't want to get up early. It'll be quieter than in the afternoon but don't expect it to yourself.
In the summer it's also much hotter in the evenings than in the mornings (it was often still 30ºC at 8pm).
In July the sun sets in Corfu around 9pm. Make sure you climb back up the hill before it gets dark.
Where is the Porto Timoni Viewpoint?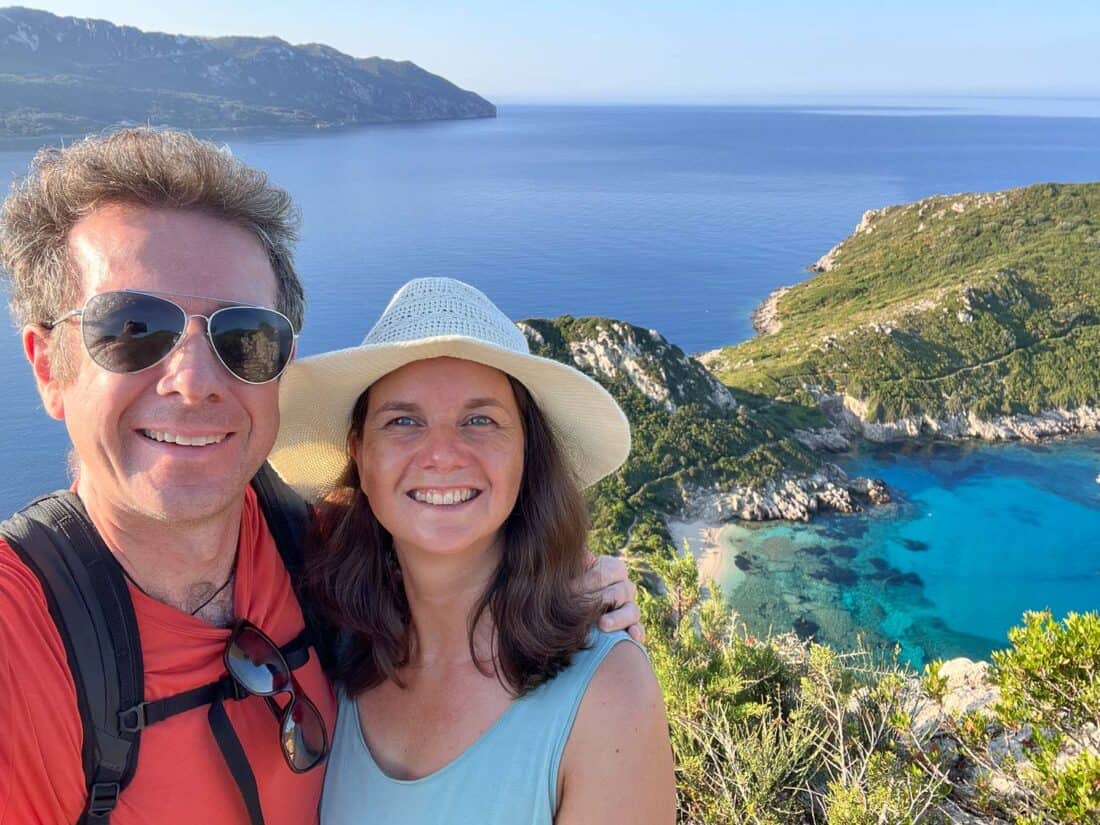 If you want to see the famous Porto Timoni viewpoint you'll need to hike in rather than arrive by boat so that you can see the double beaches from above. I think this is well worth doing as it's a stunning view.
We discovered that there are actually two excellent viewpoints and how to see them depends on the trail you take.
There are two trails down to Porto Timoni starting a few minutes apart in Afionas. The most direct route is marked Hiking Trail 1 with a blue flag on my map below. It starts near Zeus Throne restaurant. See the description below.
Hiking Trail 2 (marked with a red flag on my map) is slightly longer but gives you the opportunity to see the upper viewpoint. This involves a five-minute detour to the right (marked on the map) when you reach a fork and see a sign marked "Cartieri".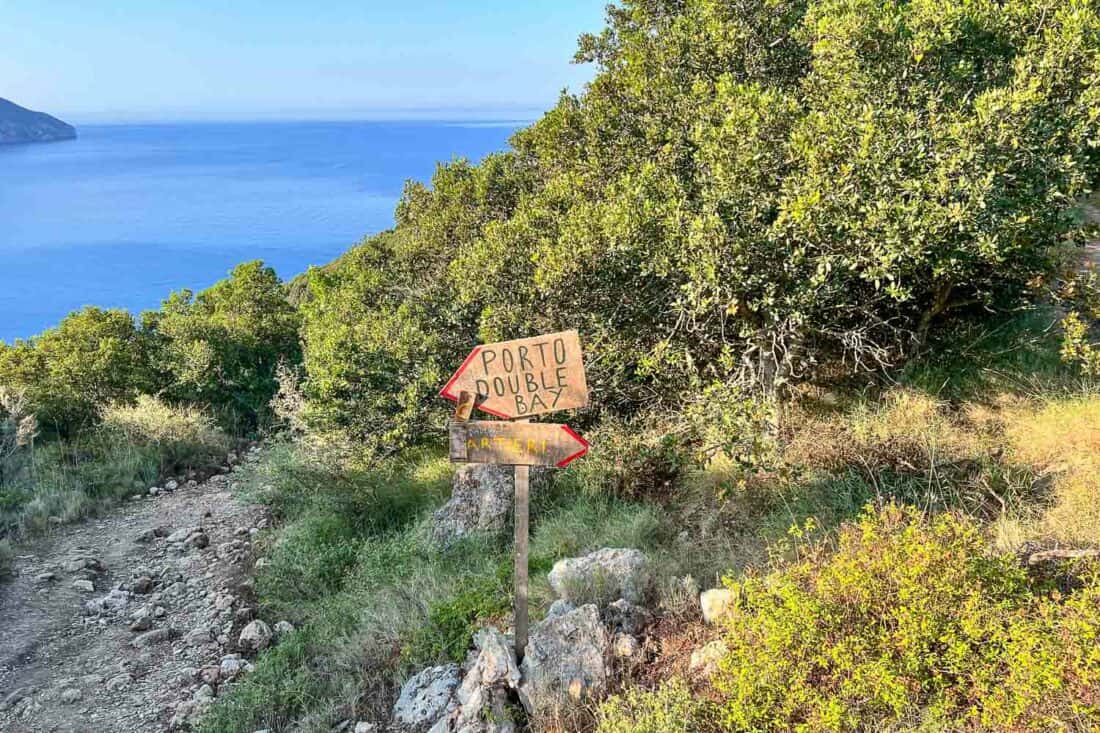 The viewpoint involves scrambling on some rocks (be very careful!) and gives you a higher view where you can see both beaches equally.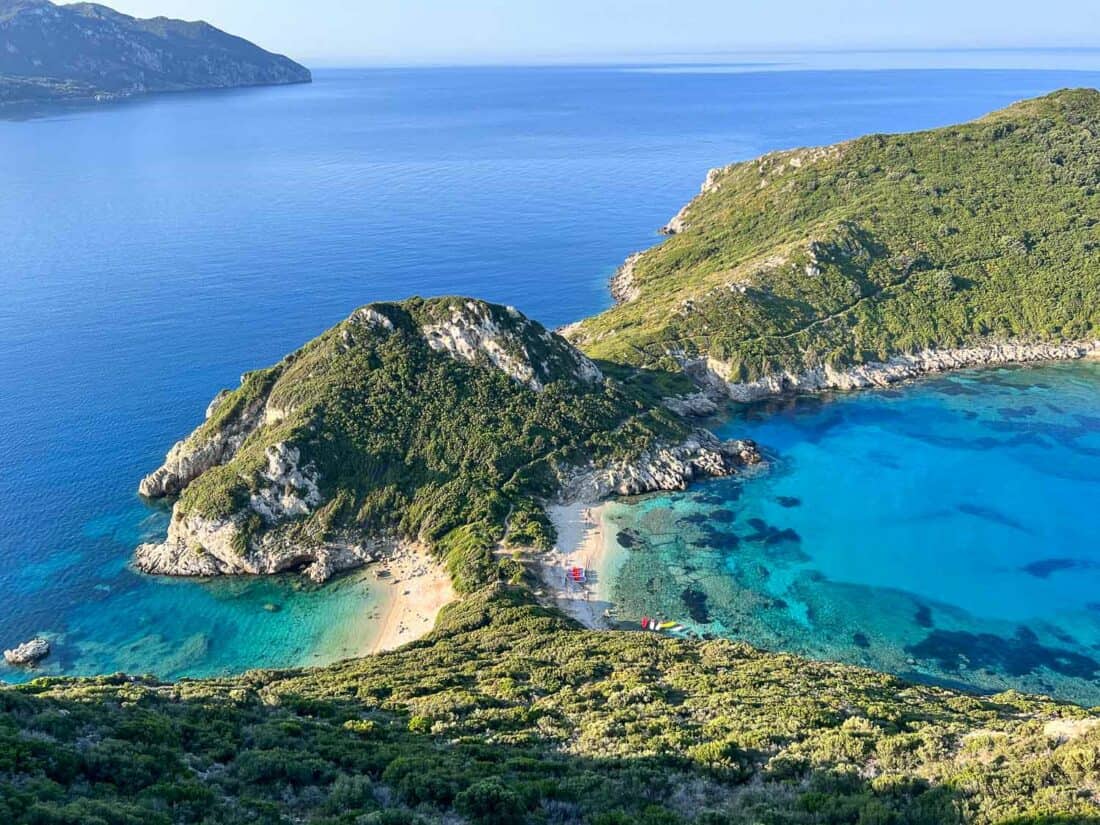 Both hiking trails eventually merge and the second viewpoint (marked on Google Maps as Porto Timoni Viewpoint) is 5-10 minutes before you get to the beaches.
This one is a few steps off the path so is much easier to access. Apparently, people queue for photos here at busy times, but we were always alone in the morning.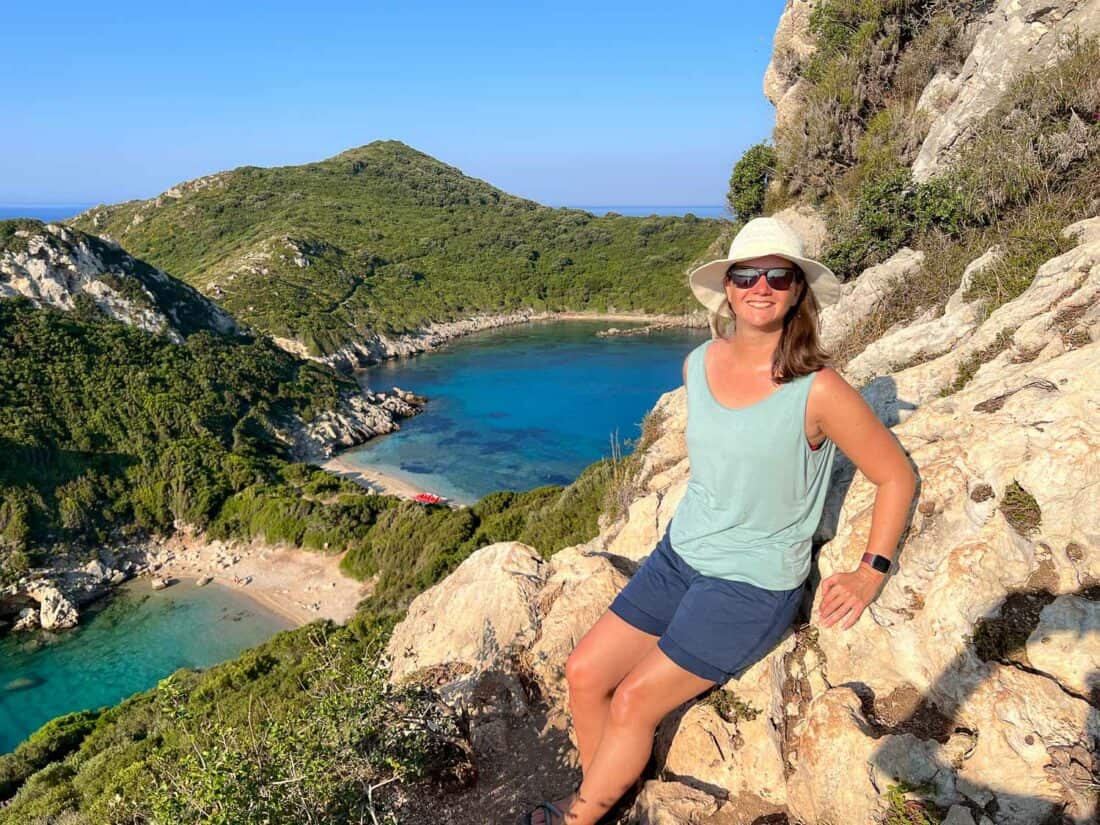 This is another wonderful view and I think most people will be happy with it. You can't see the beach on the right quite as well from this one, though.
Note that Google Maps has another viewpoint marked as "Timoni Beach Half Way View Point". This is not halfway—it's near the start of Trail 1 and doesn't have a view of the twin beaches. It is a good view of Agios Georgios beach though.
How Long Does the Hike to Porto Timoni Take?
The walk from Afionas down the hill to the twin bays of Porto Timoni is 1.1km (0.7 miles) if you take the direct route.
This takes us 20-30 minutes down (depending on how many photos we take) and 25 minutes back up with 139 metres (456 feet) elevation gain.
When we took the alternate route via the viewpoint it took us 35 minutes to get down and was 1.8km (1.1 miles).
How to Hike to Porto Timoni Beach Corfu
Reaching the beach requires a hike, not a gentle stroll. If you are used to hiking, you'll find it a fairly easy walk from Afionas to Porto Timoni beach.
We didn't find it too difficult, but the path is very rocky and slippery in parts so decent shoes are a must (no flip-flops!). Small children and those unsteady on their feet will struggle (take a taxi boat instead).
Make sure you use the toilet before you start as there are no facilities on the beach. There are no public toilets in Afionas, though, and the tavernas won't be open if you start early.
Finding the trail is easy. By the car park in Afionas, you'll see a big sign (with a photo) saying Porto Timoni Beach Viewpoint.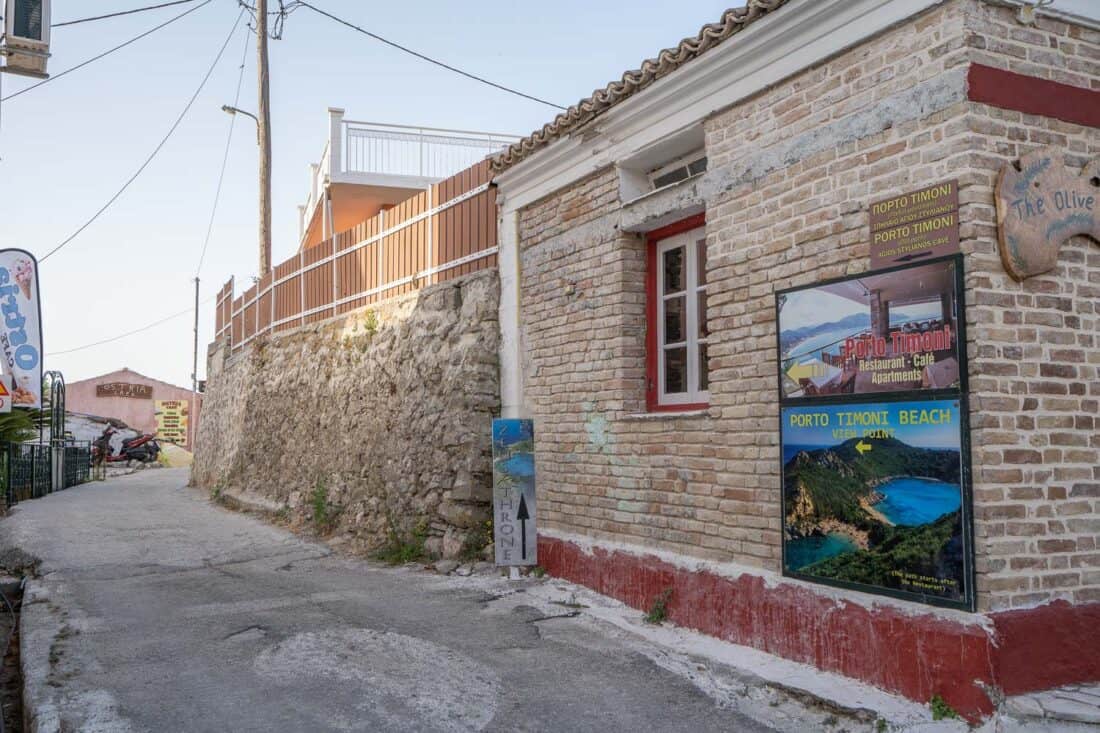 Walk down that street and you'll pass Ostria Cafe. It doesn't open until about 9.30am, but it's a good place for a cold drink after the hike back up (you'll really appreciate it!).
Continue on the paved path and a little further on there's a junction with a sign to Porto Timoni Beach Viewpoint pointing to the right. For the direct route go straight on; for the viewpoint route go right and find the trail near Anemos restaurant (see description above).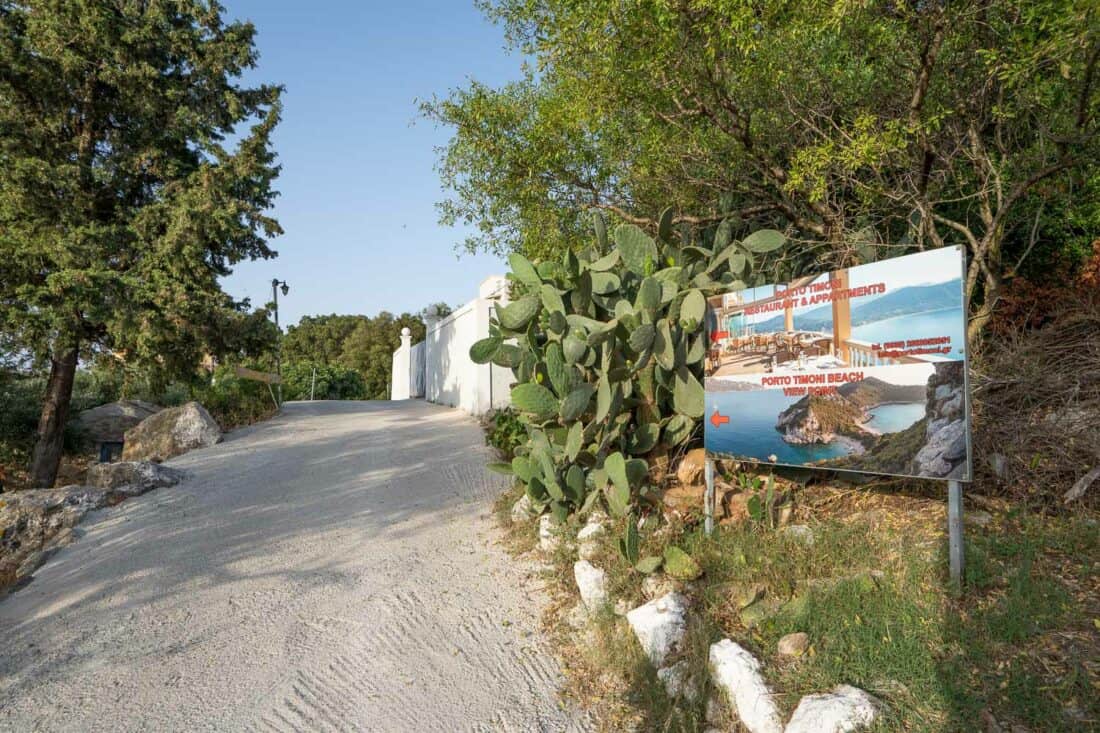 The direct route trail starts just beyond the junction with a short walk through trees.
Then it opens up to sea views opposite Zeus Throne restaurant. There's a small sign for Porto Timoni Beach so you know you're on the right track—just keep going straight on.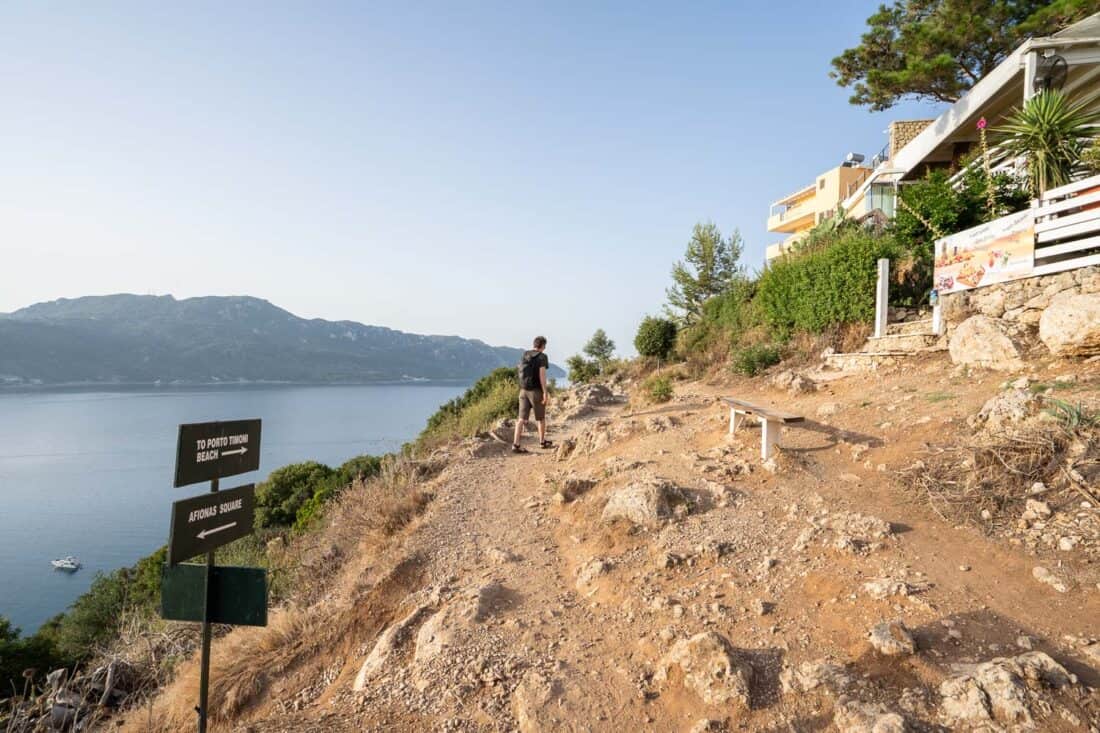 Just past here are some benches with good views of Agios Georgios beach (discussed above as the Timoni Beach Half Way View Point even though it's really not). The view is better later in the day as you're looking into the sun in the morning.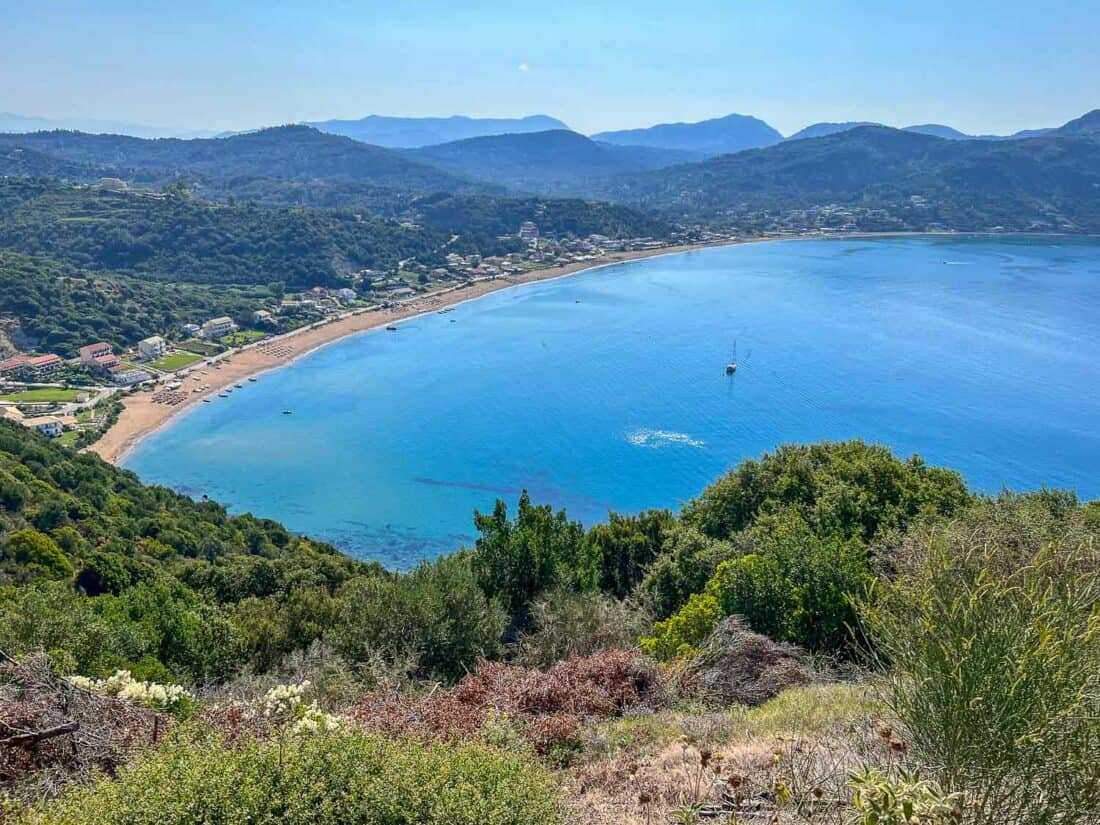 Continue down the rocky path with glorious views of the Ionian Sea all the way.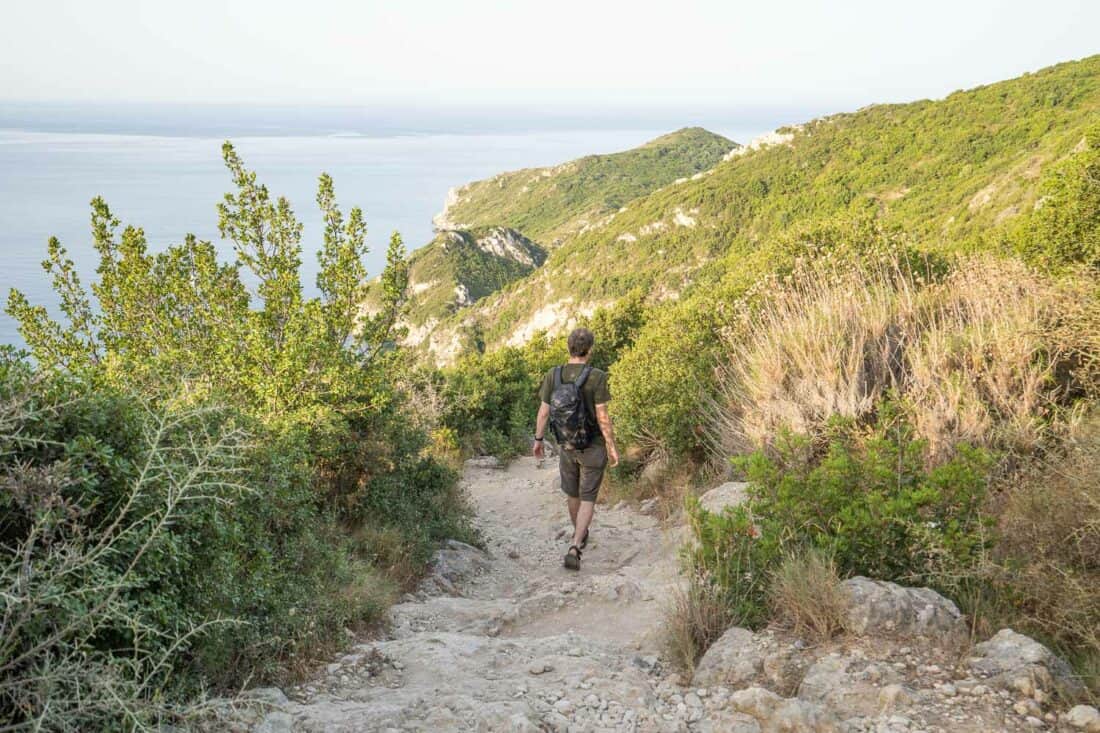 After 10 to 15 minutes you'll meet the fork where the other trail joins up (there's a blue parking sign but it's hard to see until you look around the corner). If you wanted to see the upper viewpoint you could walk back this way.
Looking back there are some good views of the cliffs and Agios Georgios beach.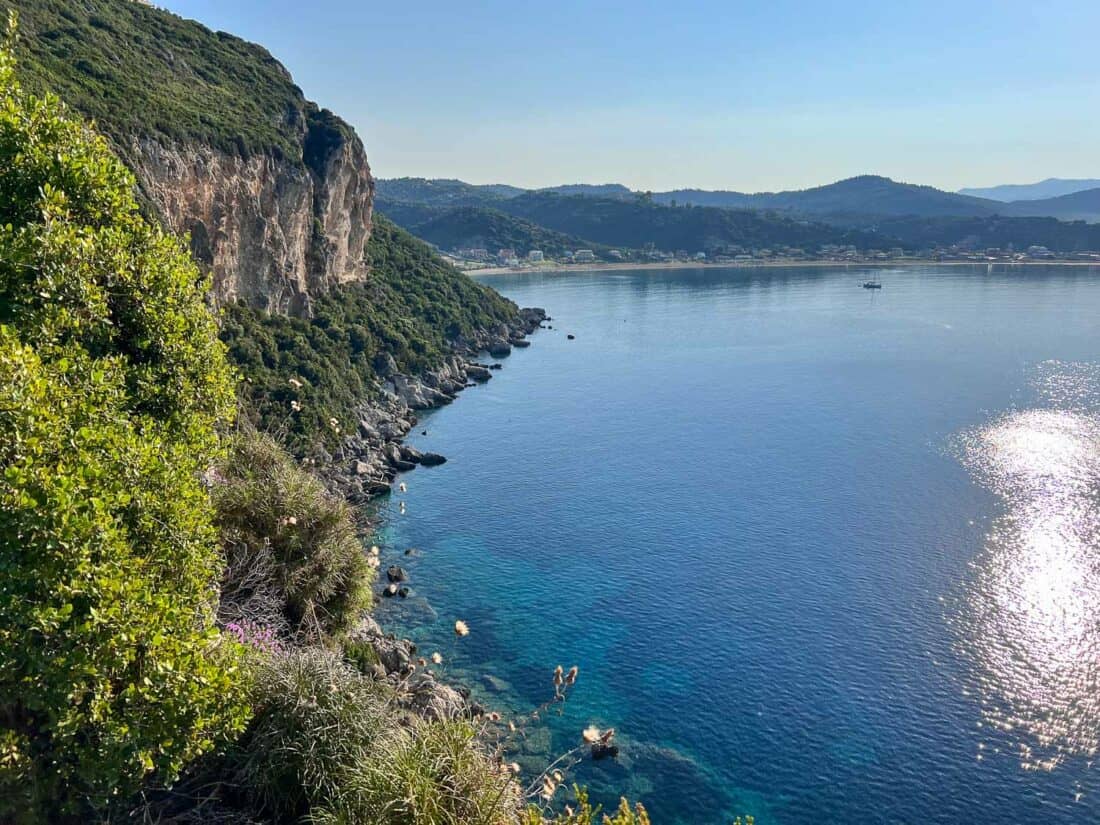 After 0.9km (15-20 minutes for us), you'll come to the viewpoint marked on Google Maps—it's just a few steps off the rocky path. Be careful as it's a bit precarious as you try to perch on the rocks and get photos.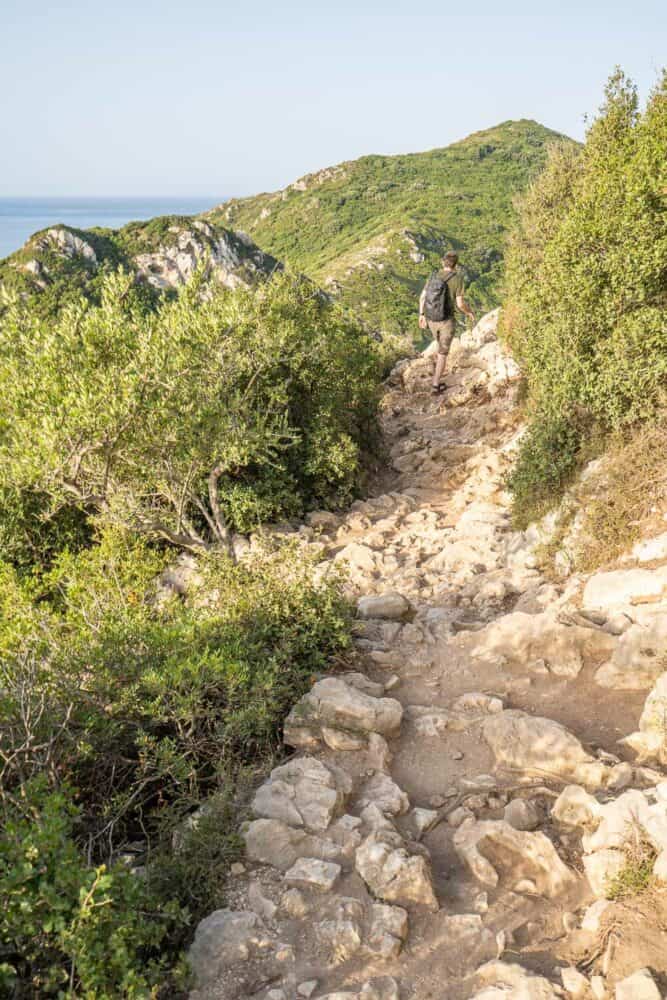 It's a stunning, colourful vista and you can finally see the pretty twin beaches beneath rocky hills covered in lush green vegetation. The turquoise sea is so clear you can see the rocks below.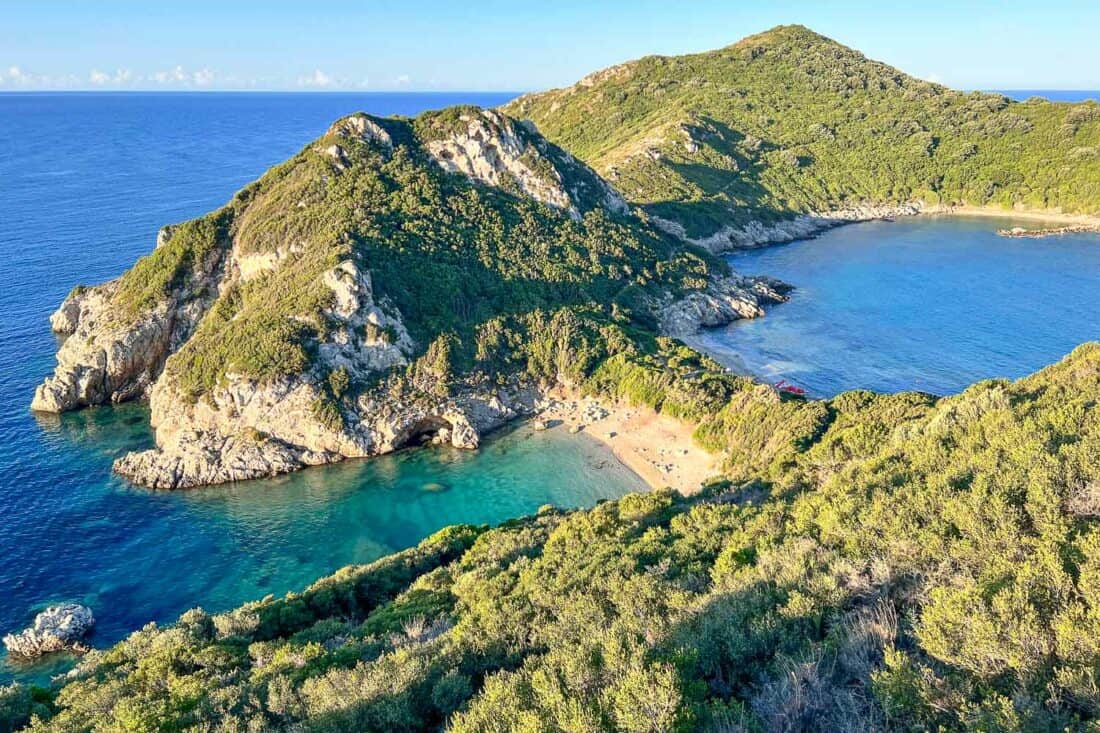 Carry on down the path. There's not long to go now and you'll be able to see the left-hand beach from the side of the path.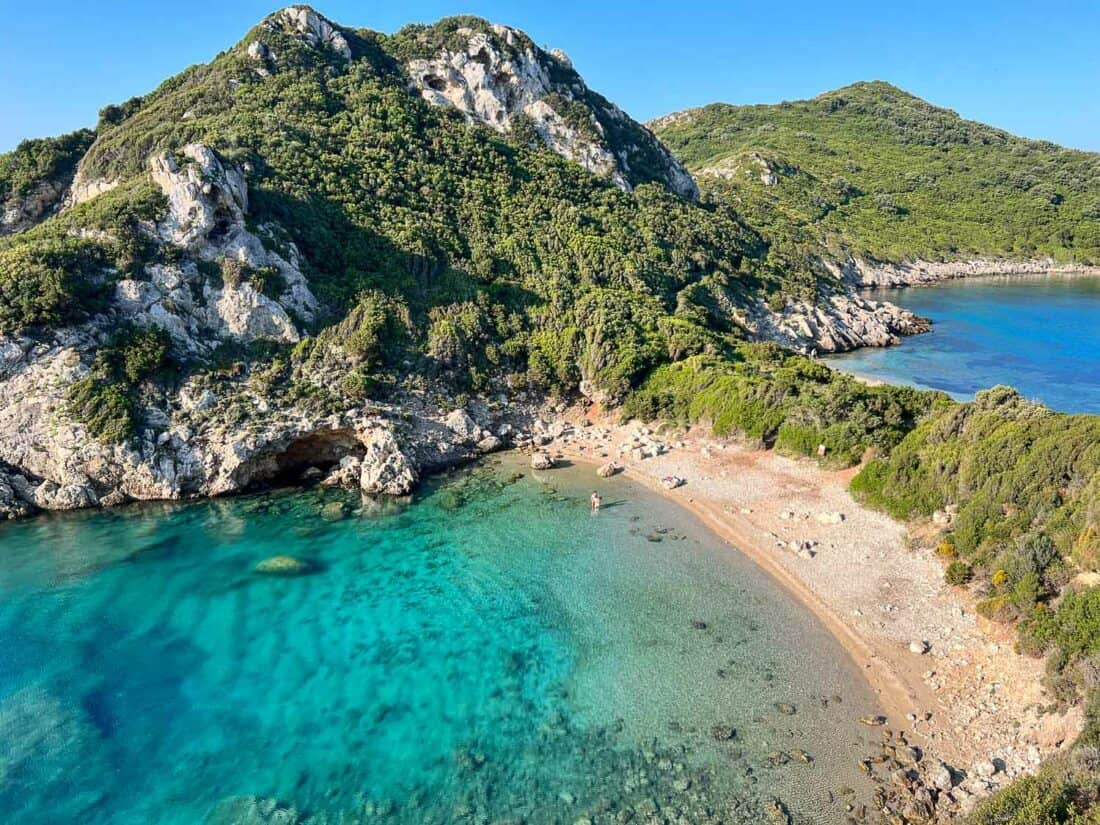 What to Expect at Porto Timoni Beach
The trail ends at the beach on the right, but you can easily cross to its twin beach just a few steps away.
Both beaches are beautiful little bays with crystal clear water. I'd choose whichever one is quietest or split your time between them both.
The beach on the right is a little sandier (but still mostly pebbles), and early in the morning it has the most shade. In summer there were a few pedalos and kayaks here that I assume you can rent later in the day.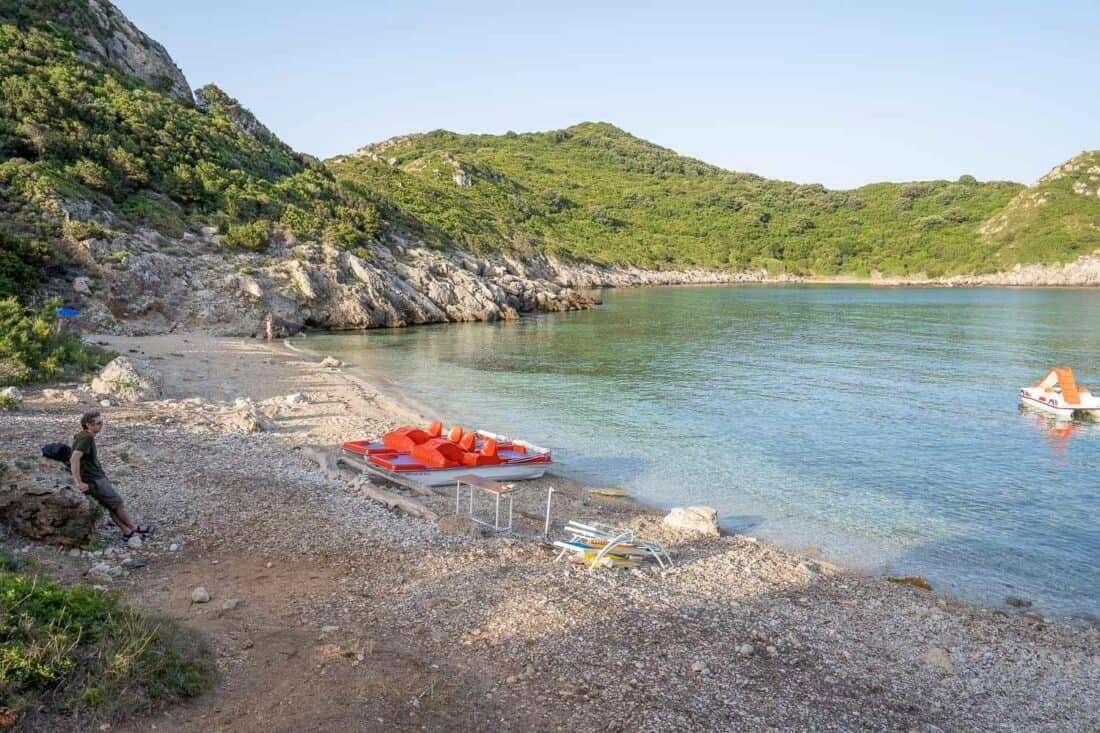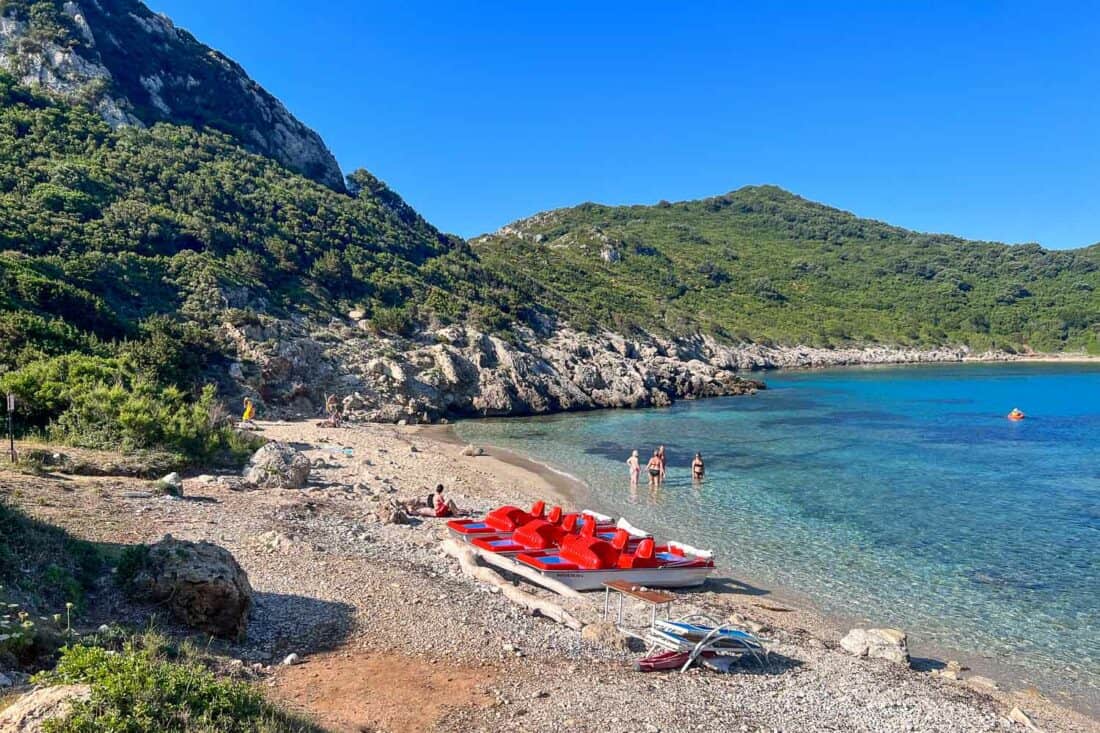 Both are lovely for swimming and snorkelling and a dip is the best way to cool off from the hike.
The left beach is directly in the sun even at 8am (Simon had to sit in a little cave to get some shade!).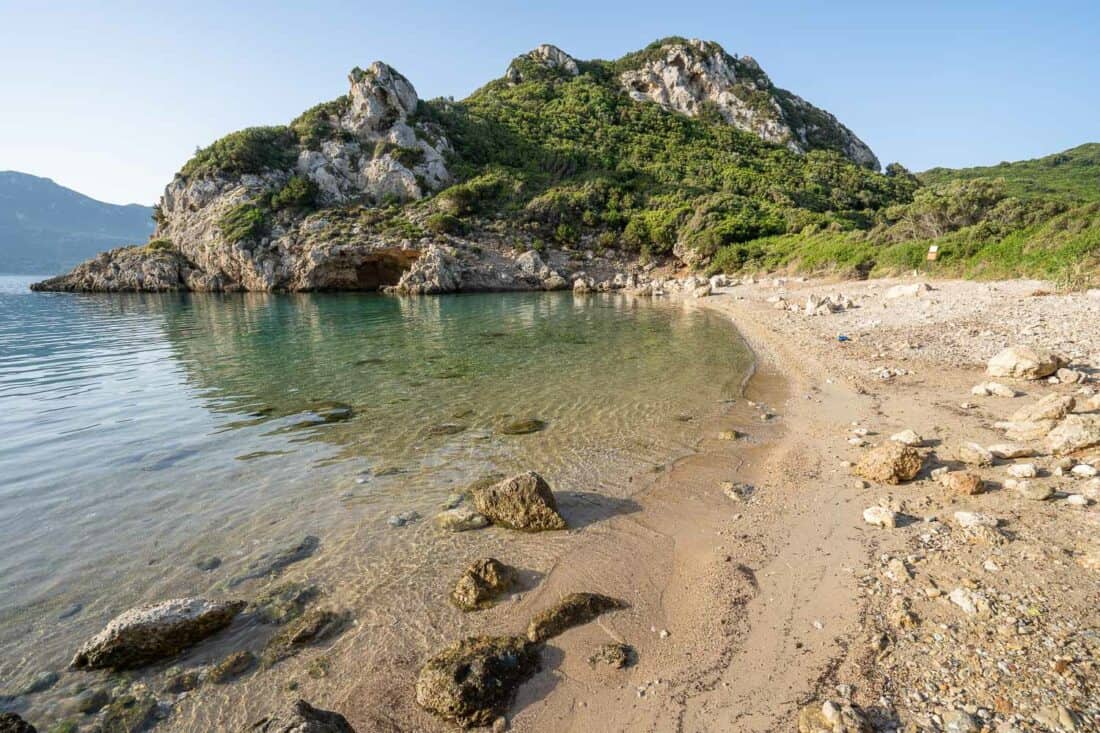 The bay here is smaller, but there's some excellent snorkelling especially along the rocks to the left.
It was my favourite snorkelling in Corfu and I saw a variety of fish including some big schools. I saw ornate wrasse, cow bream, five-spotted wrasse, common two-banded sea bream, parrotfish, and a huge school of tiny electric blue sand smelt.
Once you're ready to leave you'll have to hike out the way you came—be prepared for a hot climb!
Or there are a few numbers on signs for water taxis. If it's important to you not to walk out it's probably best to arrange this in advance. We did have phone signal.
Please make sure to take all your rubbish out with you (including cigarette butts)—littering ruins the beach for everyone.
A Bonus Hike to Another Beach and Chapel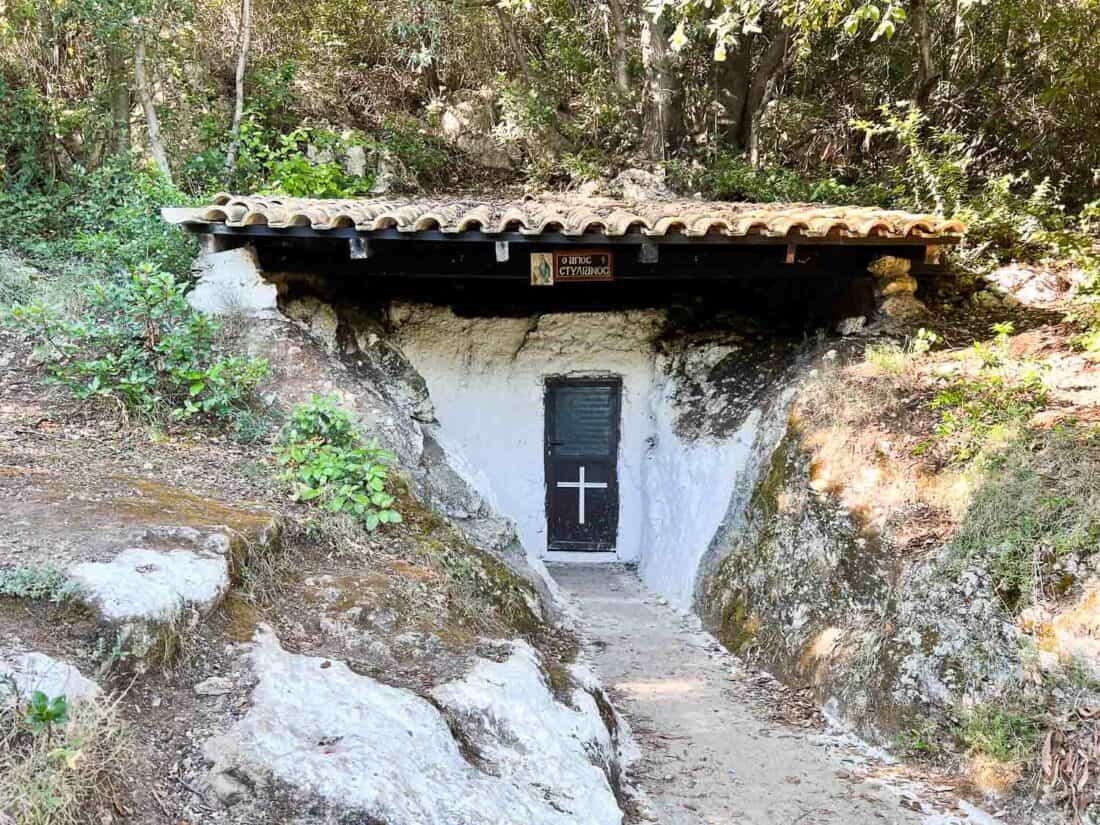 If you are really keen you could do an extra hike before you leave. The trail continues past the double beaches to the little chapel of Agios Stylianós which is built into the hillside.
The path is rocky, overgrown, and uphill for much of the way, so I only recommend it if you are feeling energetic. The return hike of 1.1km took us 25 minutes with a 58m elevation gain.
Honestly, the chapel is a little underwhelming, but there are some nice views at the start of the trail looking back to Porto Timoni.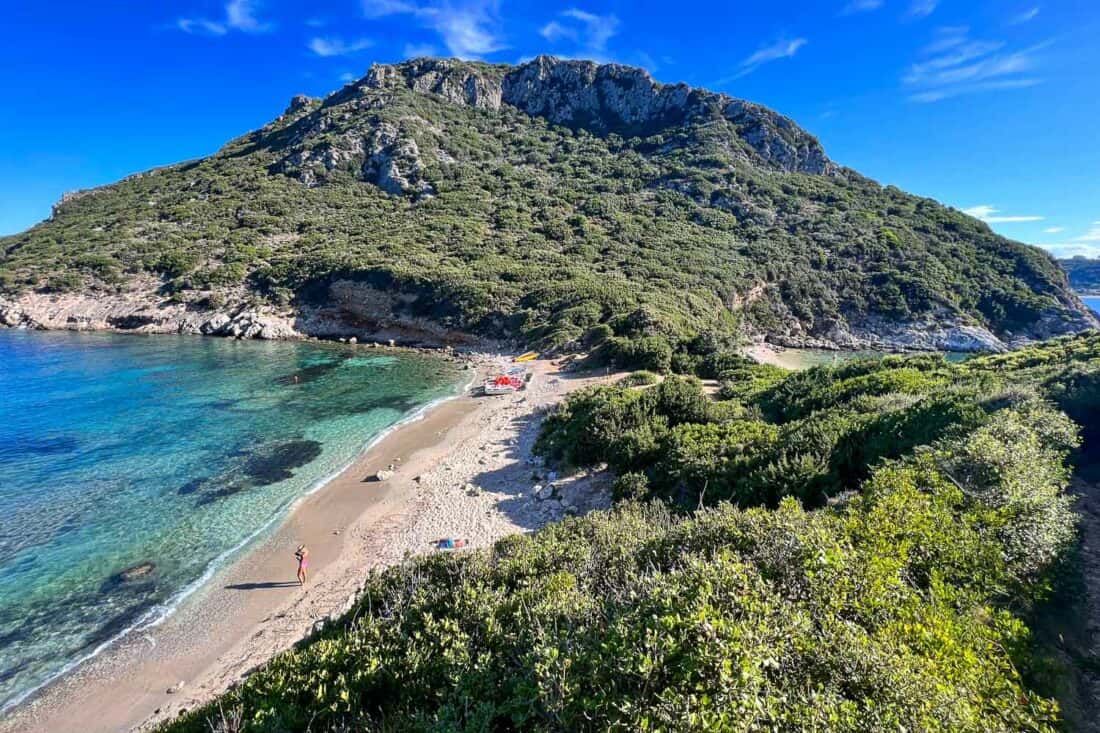 You can also detour off the trail after 10 minutes and clamber over some rocks to get to a small beach on the other side of the bay. This is a good option if the main beaches are very busy.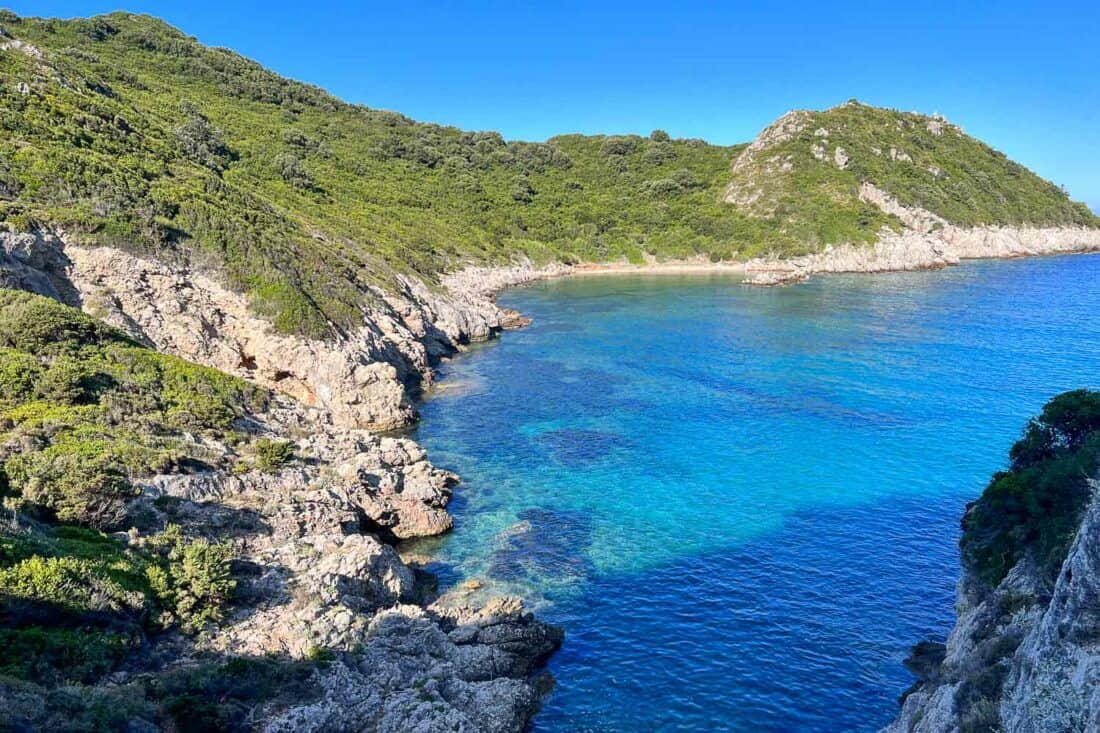 Porto Timoni Boat Hire
If you have limited mobility, are travelling with small children or the elderly, or just don't fancy the exertion, you can still visit Porto Timoni by water.
Agios Georgios to Porto Timoni by Boat or Pedalo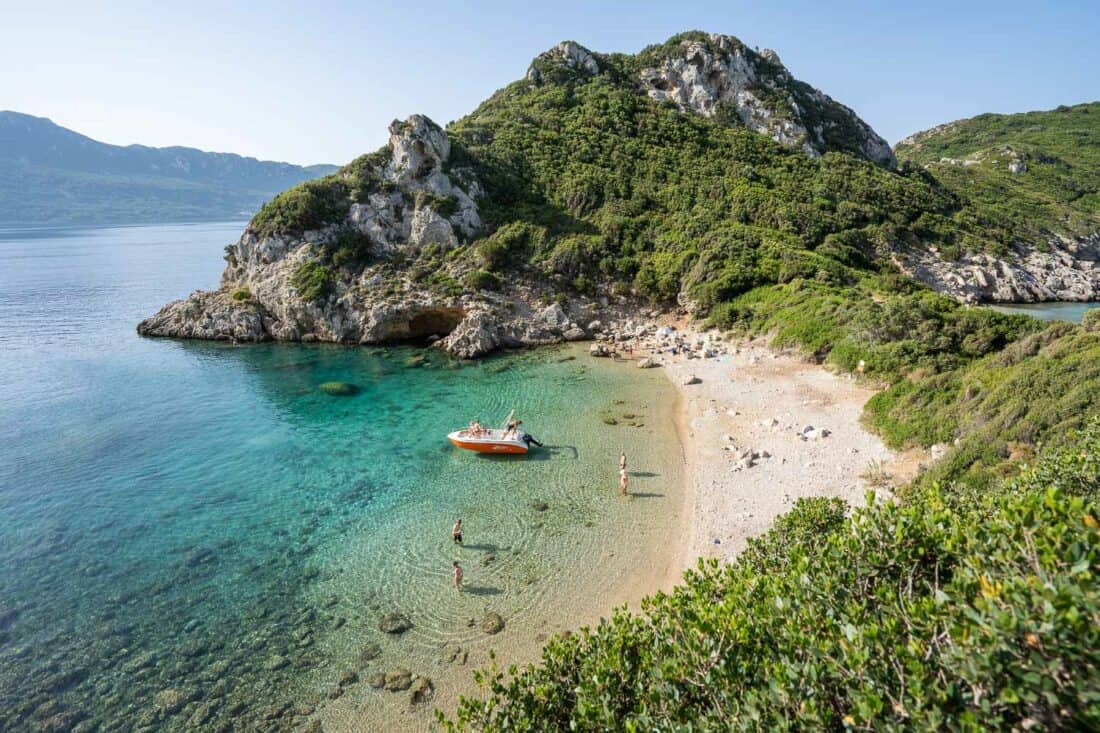 Water taxis or pedalos are the most popular alternative ways to reach Porto Timoni. The nearest launching point is Agios Georgios beach where it's only a short hop (at least with a motor boat) to the left beach at Porto Timoni.
Note that your feet will get wet if you are arriving by boat so carry or pack your shoes.
There are several boat rental places on Agios Georgios. The closest to Porto Timoni are on the right side (facing the sea).
Dimitris & Babis Boats run a water taxi to Porto Timoni and will drop you off and pick you up at a time that suits you. For two people it costs €28 return.
Alternatively, you can rent a pedalo (best for families), double kayak, or standup paddleboard (only for the experienced) for €15 for one hour or €25 for two hours.
They also have a few motor boats to rent but you have to rent these all day (it's best to book in advance) and they cost from €100 plus fuel.
This is a good option if you also want to visit the beautiful bays near Paleokastritsa (which I do recommend). Don't miss Mikro Kastelli between the two—it's my favourite beach on Corfu.
You don't need a boat licence to hire a 30HP boat in Corfu. They are easy to operate and they give you a lesson before you head out.
The downside of visiting Porto Timoni by water is that most boat rentals don't open until 9.30am. You won't have the twin beaches to yourself then, but it'll still be quieter than in the afternoon.
Paleokastritsa to Porto Timoni by Boat
To get from Paleokastritsa to Porto Timoni it makes more sense to rent a boat in Paleokastritsa rather than drive the 40-minute winding road to Agios Georgios.
We rented a boat from Corfu Rent a Boat on Ampelaki Beach and highly recommend them. Prices start from €80 a day (plus fuel), but you'll need to book up to a week in advance to get the cheaper boats in high season. See my post on what to do in Corfu for more details.
What to Bring to Porto Timoni
Remember there are no shops or other facilities at Porto Timoni so bring everything you need with you.
Good walking shoes – Hiking sandals, trainers, or walking shoes are all fine but flip-flops are dangerous on the slippery rocks. I wore my Teva Verra sandals and Simon has Teva Terra Fi Lite sandals.
A hat, sunglasses, and suncream—It will be hot!
Water and snacks – We like to bring breakfast from a bakery (Melisito Bakery is 10 minutes away and you'll likely pass here if coming from the south). There's also a bakery called Melistro in Afionas.
Swimwear and light towel
Snorkelling gear (optional but recommended)
Umbrella and cooler (optional) – If you are planning to stay all day you'll need an umbrella at least as there's no shade.
Porto Timoni Restaurants
There are no cafes or restaurants at undeveloped Porto Timoni. The nearest restaurants are in Afionas where the hike starts—there are plenty of options.
We recommend The Grill for a casual but delicious meal of souvlaki and pide. I enjoyed the vegan plate with falafel.
In the evenings, Evdemon has quality food (including vegetarian options) with the most stunning sea view. It's best at sunset—we went too early in the evening and it was too hot as there's no shade. Reservations are highly recommended.
If you are visiting Porto Timoni by boat, our favourite place to eat on Agios Georgios beach is San George Food Bar.
You can eat on their roof terrace, on a table next to the beach, or as we do, on their sunbeds (€8 for a pair in high season). We ate the Greek panini so many times! They have vegan options marked on the menu.
They can also call a Porto Timoni water taxi for you which will pick you up right there.
Our guide to visiting Corfu Greece has more food recommendations.
Where to Stay Near Porto Timoni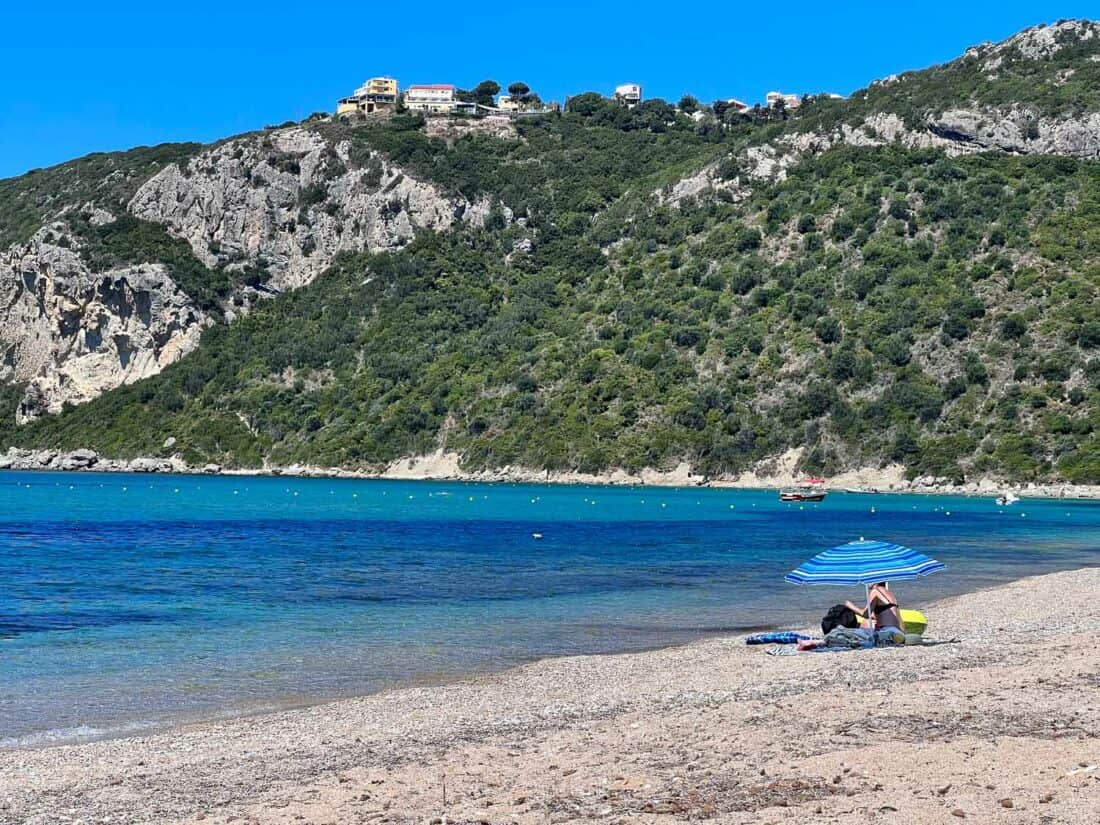 The nearest hotel to the Porto Timoni beaches is Porto Timoni B&B which is next to the trail in a peaceful location just outside Afionas.
The simple rooms have the most amazing sea views from the balconies and the terrace where a delicious breakfast is served. Porto Timoni Restaurant is also located here.
Other options near the start of the trail in Afionas are Zeus Throne II and The 3 Brothers.
Bear in mind that Afionas is high up on a hill, so if you'd rather stay closer to a beach, there are plenty of rooms and apartments next to the golden sandy beach of Agios Georgios Pagon. Check out the options here.
Porto Timoni Corfu Map
Is Porto Timoni Worth Visiting?
Porto Timoni is one of the most beautiful beaches in Corfu. We loved the view from above, the lush hills, and the crystal clear water for swimming and snorkelling.
It's essential to visit early (or visit in the off-season) as it just won't be as enjoyable if you are sharing with hundreds of others.
Whether you visit by foot or boat, don't miss Porto Timoni!
See our detailed guide to the best things to do on Corfu for lots more ideas for exploring the island.
If you enjoyed this post, pin it!