This page contains affiliate links. Please read our disclosure for more info.
This month was our thirteenth year of full-time travel and a year of reunions!
After more than two years away from our families and friends across the world, we made a point of going to see them all. Of course, we did manage to slip in some side trips to some new locations too…
Las Vegas!
We began our thirteenth year as Digital Nomads in Vegas! We splurged on a night at the Bellagio, spent the afternoon drinking ridiculously huge cocktails in the pool, and enjoyed their awe-inspiring fountain shows from our room.
I must also confess to indulging in a bit of gambling. I went into the poker room with $200 and came out with $280. Not bad for my first go in a live poker room, especially after I managed to lose $100 on my first hand (the less said about that foolishness, the better).
Back to the UK
Our reunion tour began with a brief stop in Milton Keynes to see Erin's parents, a side trip to London to see our friends and meet their kids (we met so many new children this year), and Burnley to see my mum and stepdad.
The Scottish Borders
My dad moved just before the pandemic and now lives up in Scotland, in a lovely small village in the borders, and it was our first time visiting him there.
Scotland is a beautiful country, and we discovered more of it on various walks and hikes with them.
My dad and stepmum have also gotten into playing curling, and they took us along to try it out.
The Peak District
We rented a place in the Peak District for a month in March. We spent so much time in this little stone cottage, drinking tea and doing puzzles by the roaring fire, living our best Cosycore lives.
Our friends and family from the Manchester area would visit us, and we'd go on lovely hikes with them across the surrounding countryside.
Our favourite hikes in the area were Lantern Pike, which began outside our door, the Snake Path Circular, and the Kinder Reservoir Circular.
I discovered that I had to learn how to play golf to qualify for my Middle Aged Man membership card. So I got myself some golf lessons, and it was super fun.
That is until I pulled a muscle in my back (although, tbh, I think this impressed the Committee—nothing like pulling a muscle you didn't know you had while doing a new sport to feel the decades).
Highclere Castle and a Wedding
We headed back down South and took Erin's Nan and Aunt to Highclere Castle, or Downton Abbey, as most people know it. We got to see rooms from the show and, randomly, some Egyptian artefacts in the basement.
Some people dressed as characters from the show like absolute legends. Having seen how well they fit in with the surroundings, dressing like a 1920s flapper should be a condition of entry.
From there, we went to Stevenage to see my stepsister get married. I got to catch up with family I hadn't seen in over a decade. We ended up sitting with a group of non-drinkers, yet somehow all of the wine on the table got consumed.
Weirdly, I had a mild headache the next day. I think it was from all the talking.
Worthing
Worthing is a delightful seaside town that's the smaller, quieter sibling of nearby Brighton.
We spent our days hanging out with friends, going on bike rides up and down the promenade, sitting on the pebbly beach, visiting the pier, eating at the great food trucks, and having saunas on the beach.
This last one involved an amazing little converted horse trailer right on the beach with views out to the ocean. When it gets too hot inside, you run into the absolutely bloody freezing sea to cool back down again.
Read more about all the fun things to do in Worthing and the best Worthing restaurants.
Erin's dad celebrated his 70th birthday while we were there, and we treated him and a few of his friends to a weekend away at Foxhills, a fancy golf club and hotel.
I could put all of my golf skills to the test and everyone I was with wished I hadn't.
I visited London to play music with an old friend and also to meet up with a fellow app developer, Taiwo. He has an app on the iOS App Store called Taiword, which I still play daily—if you're a fan of five-letter word games, check it out!
Corfu
Having been away from Europe for so long, we couldn't wait to get back there! We wanted to be settled for a bit (and Erin wanted a proper summer), so we settled for six weeks on Corfu in a splendid, rather grand house up in the hills.
There is a local custom on the island that you feed the stray cats that are around if and when you feel like it. Three strays would regularly show up at the house, and we started leaving bowls of food out for them.
Eventually, we gained enough trust for one of them to lead her new kittens to us, and they adopted our front porch as their new home. It was the cutest thing in the world! For six weeks, we got to play with these adorable little fluffballs.
Playing with kittens wasn't the only thing we did there (although it certainly was the most important)—we also hiked to Porto Timoni beach, which is this delightful cove with two beaches back to back, spent our afternoons on the sun loungers at the San George bar; and ate at the many little tavernas in the area.
We also rented a boat several times to get to the quieter coves and the bluest waters. The sea was warm and inviting, and the colour of the water was unreal.
Before leaving the island, we spent a night in Corfu Town, a beautiful historic centre that's a pleasure to walk around.
Return to Puglia
Puglia is one of our favourite regions in Italy, and a place we have written about extensively and returning there did not disappoint.
Matera
We went straight to Matera (actually in neighbouring Basilicata), a unique place with a storied and somewhat troubling past that has been reborn into a stunning city that we love.
We spent our four days there hunting down the best places to enjoy an aperitivo, and we found a winner: Terrazza Cavaliere. It's an unassuming place with reasonably priced drinks and decent snacks (read more about our best places to eat in Matera).
Bari
Bari is more chaotic than Matera but has a lot of charm hidden in its narrow, winding streets filled with ladies making fresh orecchiette pasta.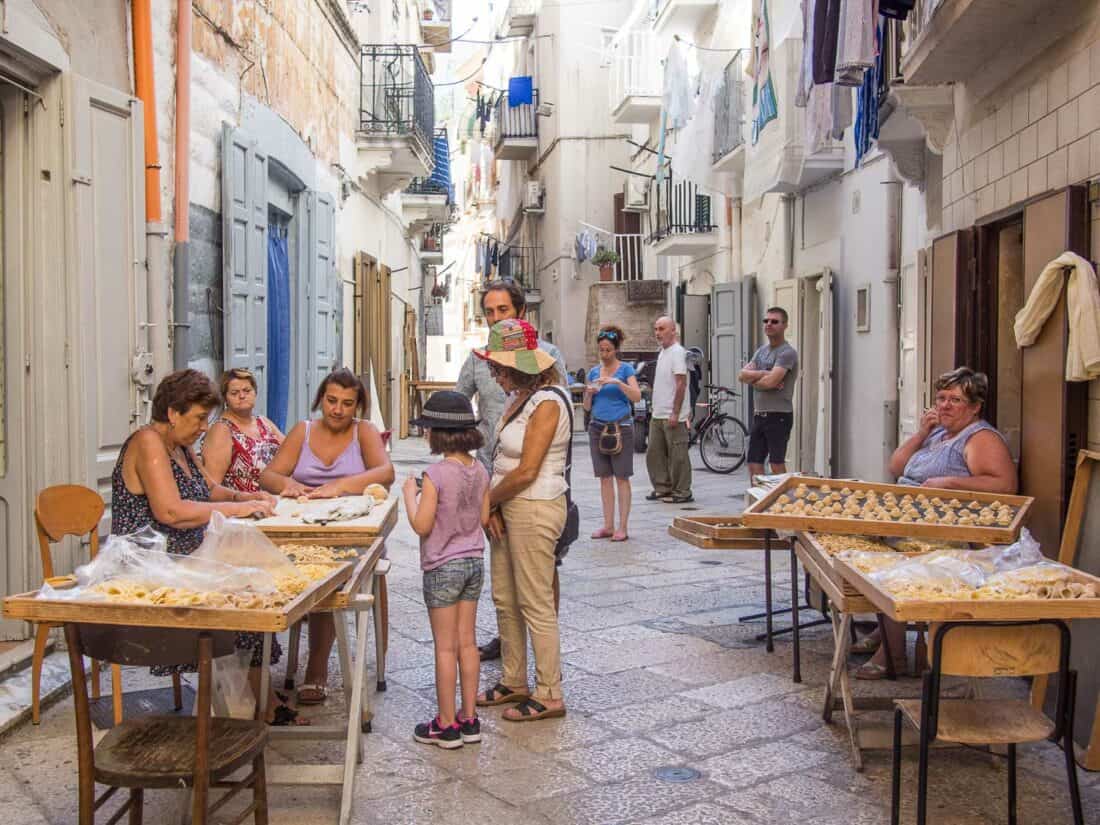 We spent our time in Bari like we spend our time in any town or city in Italy, eating! There is some fantastic focaccia, decadent panzerotti (fried dough stuffed with various fillings such as mozzarella and tomato), and incredible pizza to be had.
Seriously, the pizza at Pizzeria di Cosimo is some of the best (and cheapest) we've ever had.
Read more about the best things to do in Bari.
A Month in Salento
For August, we rented an AirBnB near the charming little village of Felline. This unassuming village had a lovely piazza with several good restaurants, and so, of course, we ate at as many as we could.
We spent our time in Salento checking out the best beaches in Puglia, including one indulgent day at the beach at Porto Cesareo.
To rent the sunbeds cost €200, but that cost gets added as credit to your account, and you could use that to order food and drink throughout the day. A sweet reward for all our work hanging out on all those beaches without champagne bars.
We also took a side trip and spent a night at a beach hotel in Castro, another wonderful little Italian town with a beautiful town square set high on the hill that overlooks the marina.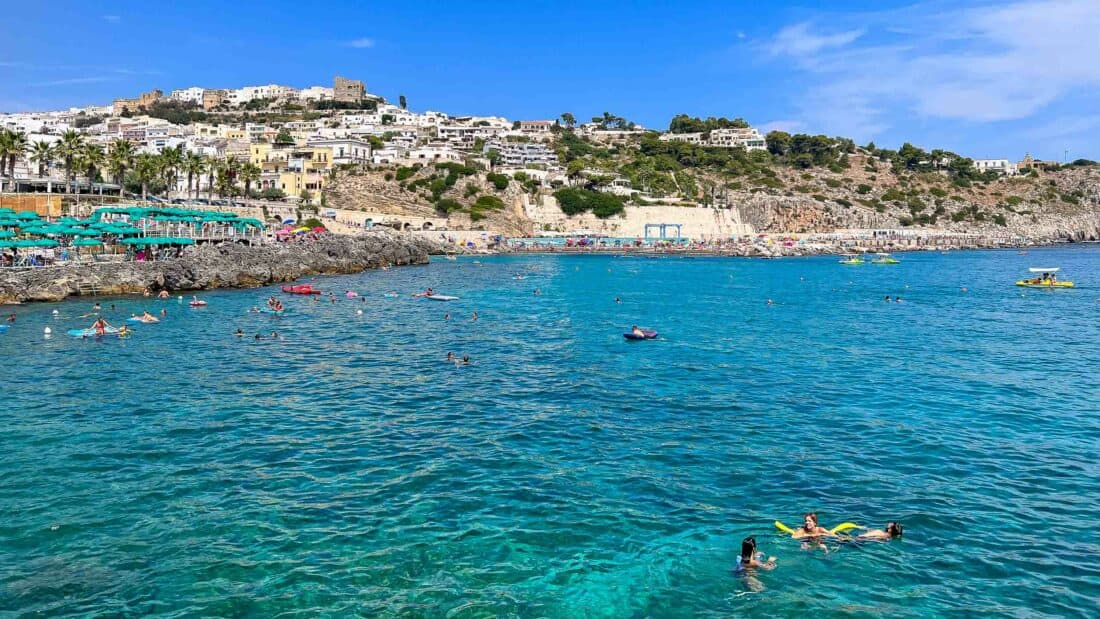 Sweden
My brother moved to Stockholm just after my niece was born last year. I still hadn't met her or my two-year-old nephew, thanks to the pandemic.
We found a delightful AirBnB overlooking the water, a two-minute walk from my brother's, which was a perfect little base for a week of kiddy time and some exploration of Stockholm.
We took the commuter boat into the centre and wandered the old town, where we stumbled upon the king and queen of Sweden arriving home in a horse-drawn carriage.
Stockholm was an unexpected gem for us that we thoroughly enjoyed.
It's so lovely being surrounded by all that water. Everyone takes advantage of it in the summer months, swimming and kayaking (Erin joined them a few times—I did not because I can't handle anything colder than the Mediterranean).
Despite being a massive city, it has a laid-back feel, and it's easy to get away from the crowds and traffic and walk along the water.
Back to the USA
We spent a few days in Bristol, catching up with Victoria and Steve from Bridges and Balloons. We met the latest addition to their family, and Victoria showed us some of her favourite food spots.
Bristol is a great city. It's small enough to be manageable but has a lot to offer, and we plan to spend a lot more time there in future.
Then it was off one of my favourite places…
Disney World Orlando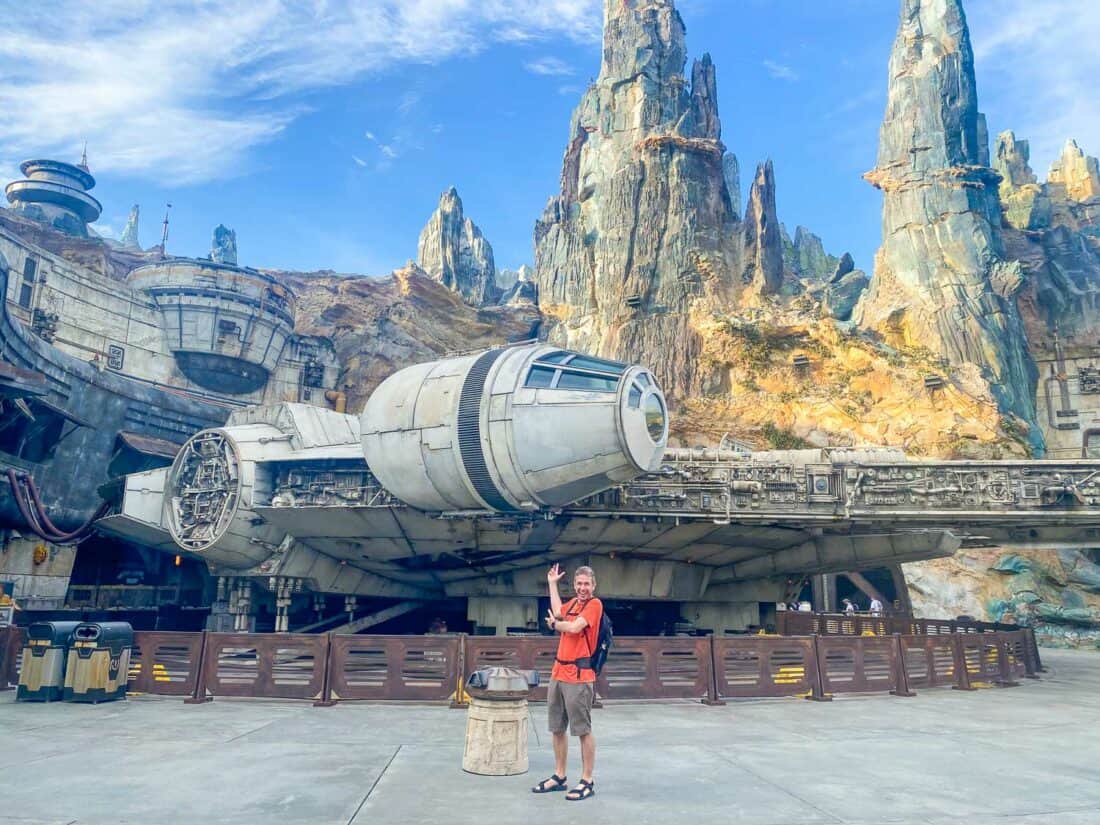 As this was my postponed 40th birthday trip, we went all out.
We stayed at the Yacht Club opposite the Boardwalk and within walking distance of Epcot and Hollywood Studios. A perfect location which I took full advantage of—I loved popping into the parks on a whim.
I was excited to see the new Star Wars Galaxy's Edge area at Hollywood Studios, and it did not disappoint. Rise of the Resistance is one of the most breathtaking experiences that Disney has produced.
The new Guardians of the Galaxy ride at Epcot is also a lot of fun, if somewhat challenging to get on to.
Read our guide to the best things to do at Disney World and the best rides at Magic Kingdom.
We had a week at Disney and then three nights at Universal, where we stayed at the Portofino hotel, which was also within walking distance of the parks.
Highlights at Islands of Adventure included Harry Potter World and the new Hagrid ride, which does things that I've never experienced a roller coaster do before, and the Jurassic Park Velocicoaster.
Austin
We spent three weeks in Austin, Texas visiting friends. Austin is a lovely city, and the area we stayed in was full of tree-lined streets that were a joy to walk around. Also, the city has fantastic tacos and margaritas.
We enjoyed a raclette night at Antonelli's Cheese House and a night out at Tiki Tatsu-Ya, this unique Tiki bar where ordering certain cocktails would cause dramatic things to happen in the bar. Of course, we made sure we ordered those cocktails.
Hawaii
We love Hawaii, and getting back there is always a joy. We spent a week on Oahu, hiking through the tropical forests, snorkelling, and flying around the island on a doors-off helicopter ride.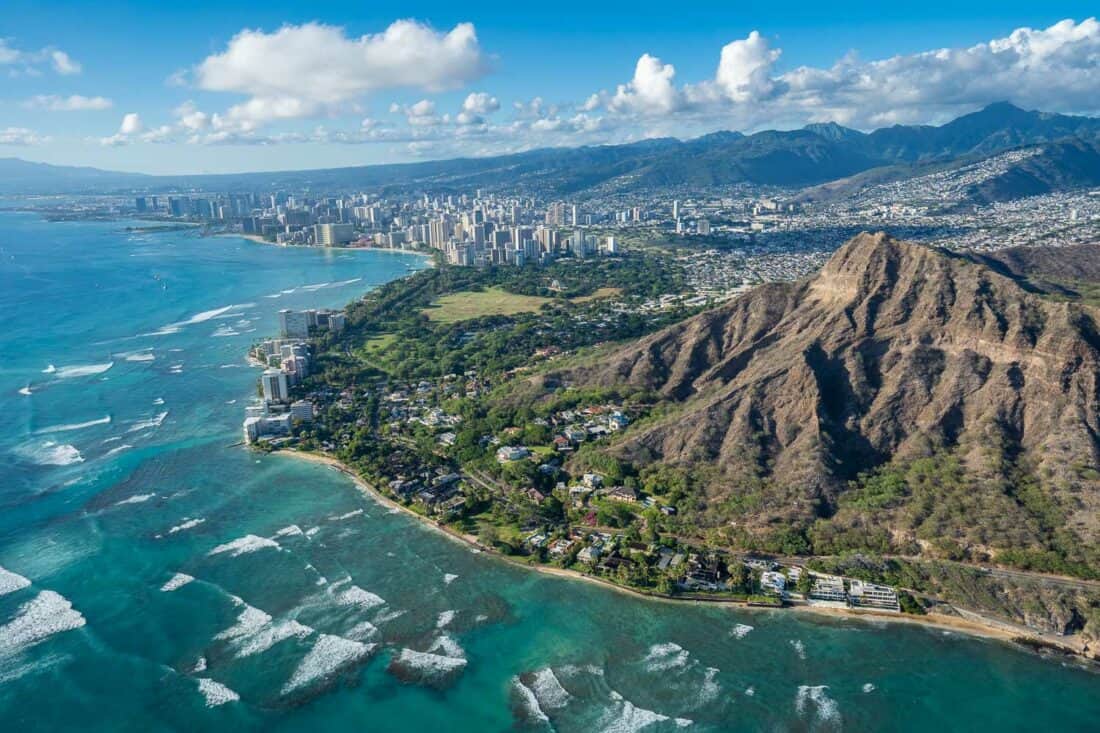 Some of this time was spent at the glorious Turtle Bay Resort, which lived up to its name when Erin saw (and then swam with) turtles while on an early morning run. Then later that day, I surfed with them during a lesson.
Then we went to the Big Island, which is so different to the other islands. Landing at the airport and seeing miles and miles of volcanic rock everywhere with very little vegetation is incredibly dramatic and otherworldly.
We had one of the best experiences we've ever had—swimming with manta rays. These massive but gentle creatures are attracted to the plankton that themselves are attracted to lights in the water.
The manta rays will swim so close to you while they feed (sometimes only an inch away)! Just so stunning to get to see these beautiful animals so close.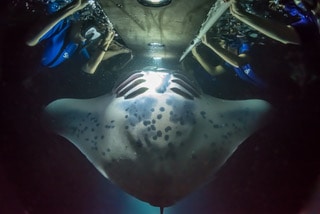 We went paddleboarding at sunset on these custom paddleboards that feature transparent noses with lights to see what's happening underneath you.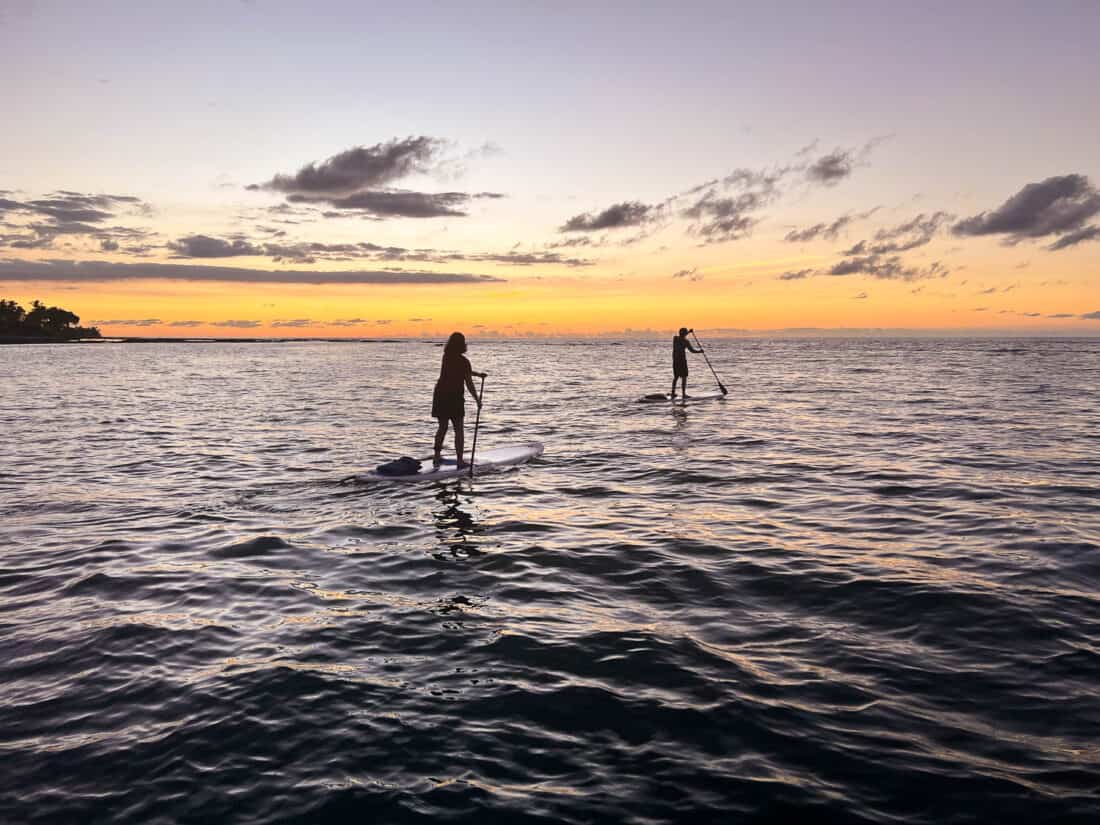 We had a cheeky night at one of the resorts nearby, the Westin Hapuna, and then headed over to the other side of the island.
This side is a lot greener, and we stayed at a lovely little cottage in the rainforest where Erin enjoyed her hammock time out in the garden.
Visiting nearby Volcano National Park was a treat. Hiking through the caldera with active smoke vents and returning in the evening to see the eruptions in the dark was a definite highlight.
We also, somewhat randomly, had some of the best Thai curries at the Tuktuk Thai food truck. I highly recommend the Masaman curry, one of the best I've had outside Thailand.
Read more about our unmissable things to do on the Big Island.
Return to New Zealand
We fell in love with New Zealand during the pandemic and couldn't wait to return.
Finally, after a year of non-stop travel, we were ready to settle down for a few months and found a house in Titahi Bay, just outside Porirua, near Wellington.
It's a lovely little spot, two minutes from a long beach in a picturesque bay.
For my birthday, we returned to Martinborough, a splendid wine region with brilliant wineries. I treated myself to a box of vintage Pinot Noirs dating back to 2009.
We had a proper Christmassy Christmas for the first time in a few years, with a real Christmas tree. We bought presents to put under it, made some homemade mince pies, and enjoyed a proper roast dinner with our friends.
Since hiking the Narrows in Zion last year, we have discovered that we love walking through cold rivers, so between Christmas and New Year, we hiked through Patuna Chasm.
Afterwards, we retreated to a glamping spot nearby. No phones, no internet, just a babbling river outside our tent. A glorious way to recharge.
It's been great for us to have a home base for the last five months. I bought a drum kit to go with the bass I left here last time, and Erin bought a stand-up paddleboard to take out on the bay—where she was lucky enough to see dolphins who, curious about her paddling, came over to see her and swim under the board.
Being settled somewhere longer has allowed us to do things we don't usually do.
Erin took swimming lessons to learn a proper front crawl, and I did a stand-up comedy class where I learned how to write and perform my first five minutes.
We've taken a few side trips while we've been here, most notably to Cape Palliser, where we stayed in another glamping spot, this time made of two converted shipping containers with stunning views out into the Cook Strait across to the South Island.
New Challenges
I've started visiting a life coach to deal with some relationship issues (not with Erin, it should be said—we're as solid as ever!). It's one of the best things I've done and has opened my eyes to the different ways in which we're conditioned to behave that are often detrimental to our well-being.
Men especially are not taught how to deal with their emotions properly while also being taught that learning how to (by, for example, going to therapy) is some kind of failure.
I now firmly believe it's the opposite. If you have the resources, try it out. I've already made significant changes that have improved my quality of life.
Our business (now focused on this travel blog after Trail Wallet's retirement this year) continues to thrive, and this has been our best year yet, so thank you for your continued support.
It's good to feel like we're on solid ground again after the terrifying uncertainty of the pandemic.
I am excited to take on some new challenges this year, one of which is to reboot our newsletter!
I will be taking over the drafting duties, and if you'd like to receive my missives in your mailbox, sign up below:
In response to what's happening with the Big Name social networks, (a phenomenon Cory Doctorow has called "enshittification"), I've been exploring alternatives and created an account on Mastodon for Never Ending Voyage.
I will post there exclusively in the future, so come join us! You can find us at @[email protected] (the Washington Post has a guide to help you get started)!
Our visa here in New Zealand expires in April and we plan to visit Queensland in Australia and then Japan later in the year. We're especially excited about Japan as it's one of our favourite places and it was closed for so long.
It feels great to be able to fully travel again, and we're excited for the year ahead!
Happy travels!
Simon (and Erin)