This page contains affiliate links. Please read our disclosure for more info.
Disney Genie Plus is a queue skipping service at Disney parks in Florida and California. It's a paid service that replaces the previously free FastPass system.
Genie Plus can save you a lot of time waiting in line, but it can be confusing, and it's not always worth it in every situation at every park.
This Disney Genie Plus guide explains how Genie Plus works, suggests the best parks and rides to use it on, answers common FAQs, and will help you decide if the extra cost is worth it for you.
Our review focuses on Walt Disney World Orlando, but the system at Disneyland California is very similar.
Contents
What Is Disney Genie Plus?
Disney Genie Plus (officially Disney Genie+) is a paid service that allows you to skip the line on certain Disney rides.
You can purchase Genie+ via the My Disney Experience app, and it includes one-time access to every Genie+ ride in the park (or parks) you are visiting that day (see below for the included rides).
You can only select one Genie+ ride at a time, though, and they may sell out.
I explain in more detail below how to use Disney Genie Plus, as it's important to know the rules to get the most out of the service.
Disney Genie Plus Cost
The Genie Plus price varies depending on how busy the parks are when you visit.
It used to be that Genie+ gave you access to line skipping in all parks, but on June 27, 2023, Walt Disney World in Orlando introduced per park pricing.
So far the average pre-tax prices have been:
Multiple Parks (if you have a Park Hopper ticket): $25
Magic Kingdom: $25
Hollywood Studios: $22
Epcot: $18
Animal Kingdom $16
At peak times like holidays, the prices could rise. So far the highest it has reached is $35 (plus tax), which was in early April 2023 (spring break and the opening of the new Tron ride).
The lowest price for Genie+ so far was in late August when it was $20 for Multiple Parks, Magic Kingdom or Hollywood Studios and $15 for the other two parks.
While Genie+ is now much cheaper for Animal Kingdom and Epcot, unfortunately, these are the parks where it is least useful (as discussed below).
If you are buying Genie+ for Magic Kingdom and have a Park Hopper ticket, you might as well purchase Genie+ for Multiple Parks as it's the same price as just Magic Kingdom.
You can only buy Genie+ at 7am on the day you are visiting a Disney park (and you must have a park reservation). Unfortunately, you won't know until the day exactly how much Genie+ will cost you.
See this Genie Plus price tracker for an idea of how the cost has varied over time.
At busy times, access to the Genie+ service can sell out. This only happens rarely, but to be on the safe side, purchase it in the app in the morning. You'll get the most for your money and the best choice of rides this way.
This guide will help you decide if Genie Plus is worth it for you.
If the high cost of a Disney trip is a concern, see our tips for visiting Disney World on a budget.
When You Should Use Genie Plus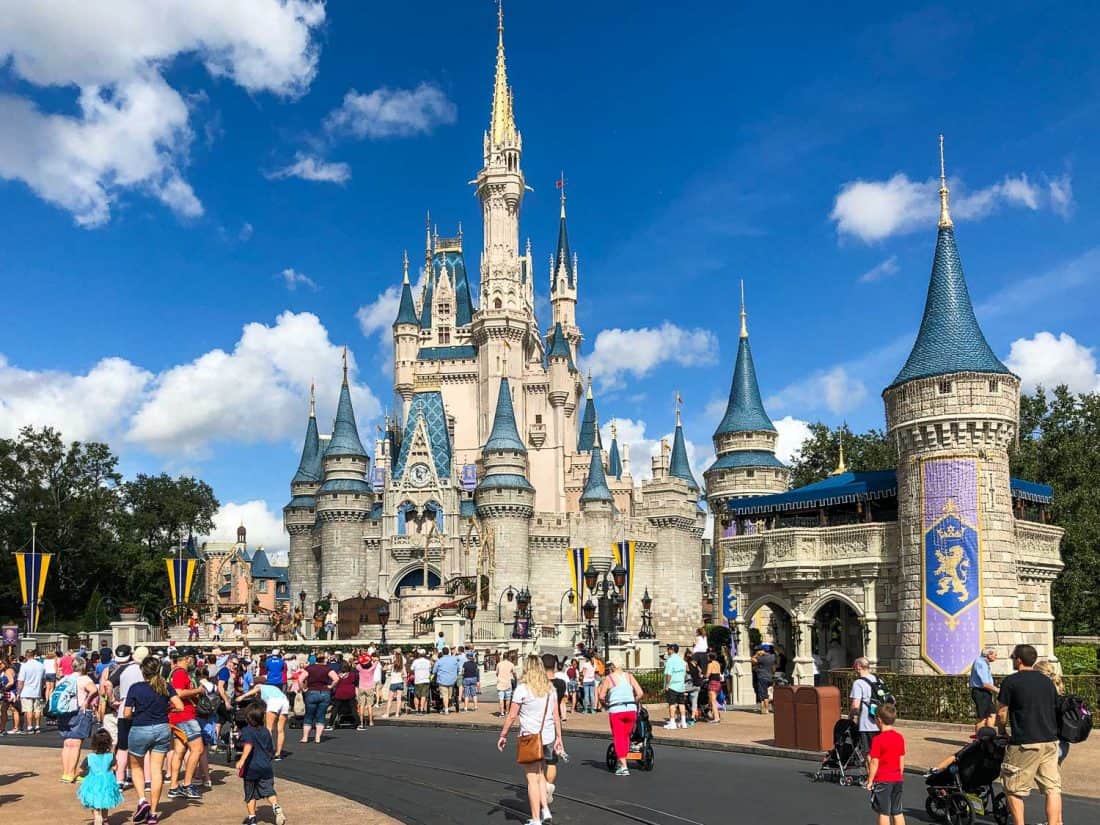 Buying Genie Plus is not essential to enjoying your Disney World trip, but it can save you a lot of time.
Here's when it's definitely worth considering using Genie Plus:
If you are visiting at a popular time of year – Ride wait times are longest during school breaks and federal holiday weekends. See this Disney crowd calendar for estimates.
If you don't want to get up early – The first hour of park opening is the best time to ride popular rides and I highly recommend getting an early start. If you really don't want to, Genie+ can help.
If you don't have Early Entry – If you stay in a Disney World hotel, you can enter every park 30 minutes before the official park opening for even shorter wait times.
If you are park hopping – If you pay extra to make your Disney World ticket a Park Hopper, you can visit more than one park a day (the second park must be after 2pm). You can use Genie+ for both parks (if you buy a Park Hopper Genie+), so it's better value for money. Once you've run out of Genie rides in one park, start booking for the next one. (Update: this benefit is less clear now that you have to pay extra for Genie+ in all parks. It still applies if Magic Kingdom is your first park).
Even if you are visiting at a quieter time of year, staying onsite, and prepared to get up early, as we did in September, Genie+ is still worth considering if you can afford it.
We found Genie+ most useful at Magic Kingdom and Hollywood Studios—I discuss each park in more detail below.
What Is Disney Lighting Lane?
A Lightning Lane is a separate entrance to select rides at Disney parks in Florida and California.
Using these lanes allows you to skip the standby line (which can be one to two hours for popular rides at peak times).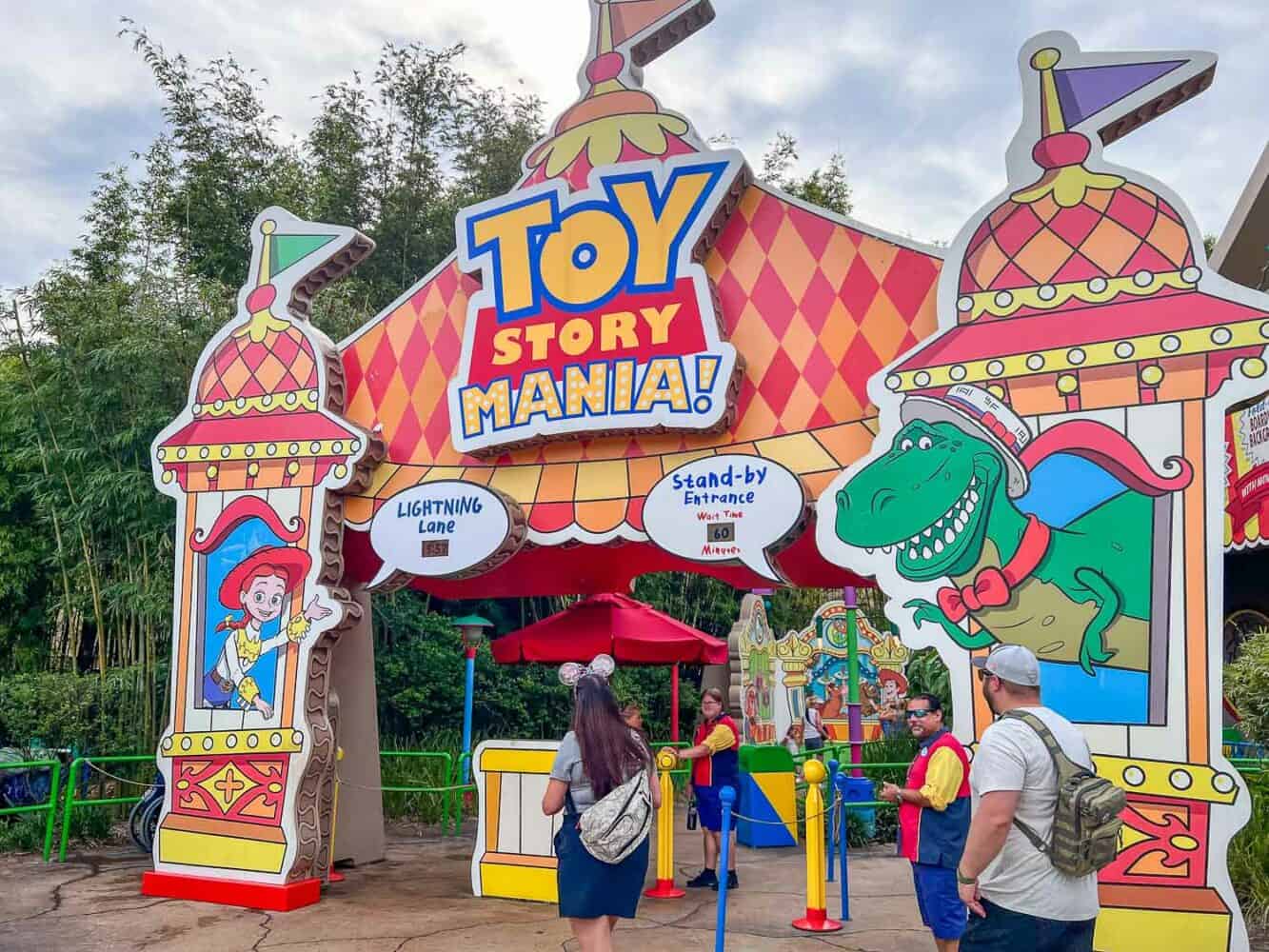 You may still have a short wait, but we rarely waited more than a few minutes, and never more than 10 minutes (and then only when the standby queue was much longer).
There are two ways to access the Lightning Lanes. The Genie+ service I discussed above, which offers access to multiple rides for one day (think of it as a bundle deal), and Individual Lighting Lane (ILL), where you purchase access to a single ride.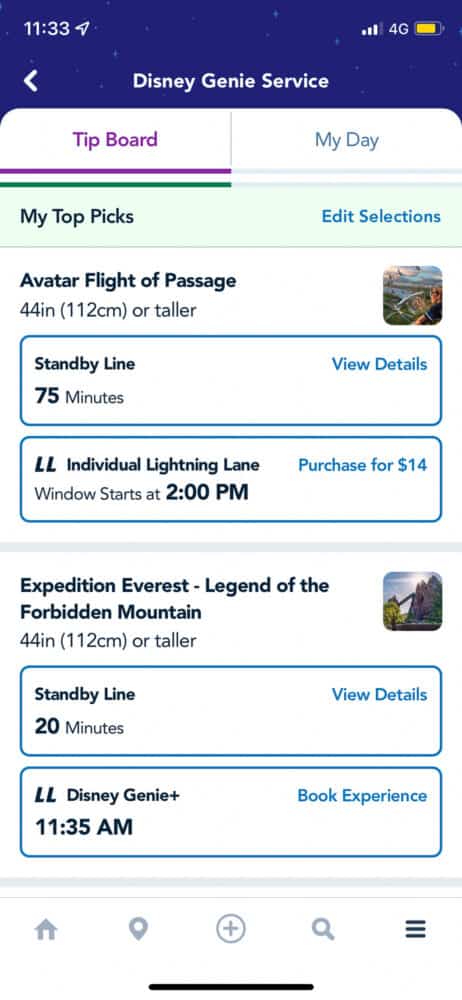 Individual Lightning Lane access is only available for one or two rides per park (which are not included in Genie+) and each is priced separately with a varying cost that depends on demand.
While with Genie+ you only get given the next available time to ride, with ILL, you can select a specific time to ride.
If you are staying at a Disney resort, you can purchase ILL access at 7am. Everyone else has to wait until the park opens. It's best to buy as early as possible as they can sell out.
Individual Lightning Lanes can be used in addition to Genie+, or you can usually avoid purchasing it by riding at quieter times of the day.
Individual Lightning Lane Attractions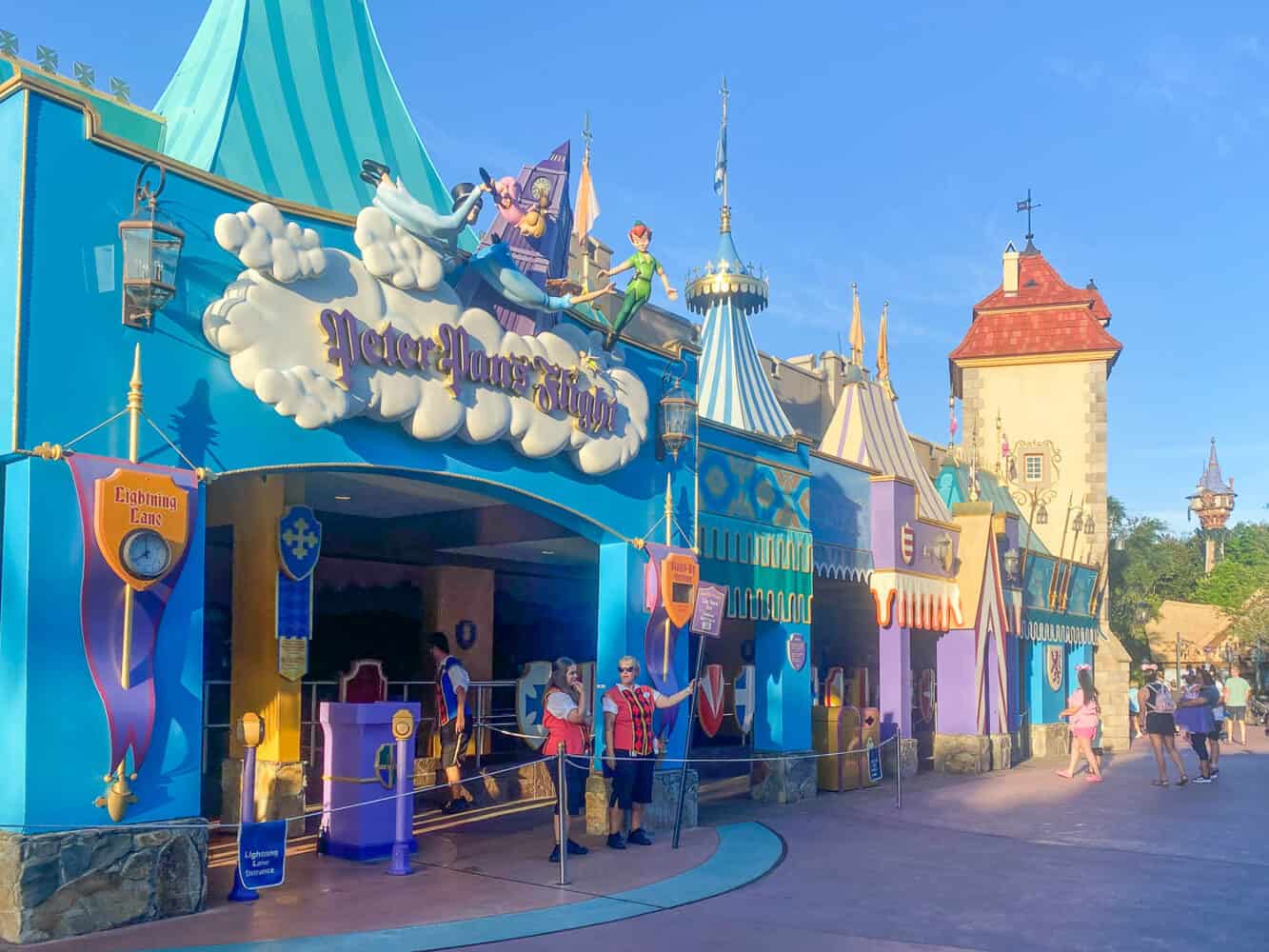 These rides are not included in Genie+ but are available as Individual Lightning Lanes. I list them from most to least priority:
Tron (Magic Kingdom) – Disney's newest ride can only be ridden by joining a free virtual queue at 7am and 1pm. It sells out in seconds, so if you are unlucky (or want to ride it again), purchase an ILL for $20.
Guardians of the Galaxy (Epcot) – This also requires access via a virtual queue. We bought an ILL so we could ride it again. It usually costs $14-17.
Star Wars: Rise of the Resistance (Hollywood Studios) – We found the standby queue much shorter at the end of the day, so we didn't need to purchase an ILL (which cost $15-25). But if you only have one day at Hollywood Studios, and don't want to risk it breaking down, this ride is certainly worth it.
Seven Dwarfs Mine Train (Magic Kingdom) – I really don't think this ride is worth the $10-12. The waits are shortest at the end of the day.
Avatar Flight of Passage (Animal Kingdom) – We always ride this as soon as the park opens (ideally in Early Entry for resort hotel guests) so haven't needed to purchase one ($11-16).
How to Use Genie Plus
Download the Disney Genie Plus App
To use Genie Plus you need to download the My Disney Experience App.
The app is essential for Disney World these days, not only to purchase Genie+ and make your ride selections, but also to join virtual queues, check wait times, make dining reservations, order counter service food, check bus times, and much more.
I also recommend buying a Disney MagicBand or using the Disney Magic Mobile Pass on your Apple Watch. You can use these as your park ticket and tap into Genie+ rides easily without having to take out your phone or ticket.
The MagicBand is slightly better if you are staying onsite as you can use it to enter your room or hotel pool, but if you already wear an Apple Watch, you may as well stick with that as we did (you can use your phone to enter your room).
If you get MagicBand+ you can also play games and interact with sculptures and shows.
Difference Between Disney Genie and Genie Plus
Disney Genie is a free service that Disney offers within the app to help you plan your day. It offers suggested itineraries based on your interests.
Honestly, it is not at all helpful and makes some strange recommendations, so I would ignore it.
The Tip Board within Disney Genie is useful, though—it's where you can see attraction wait times and make your Genie+ selections. More on that below.
Preparation To Book Disney Genie Plus Rides
To make the most of Genie+, it's best to do some preparation ahead of time.
Before Your Disney Trip
First, you'll need to purchase your Disney World ticket and make a park reservation for each day of your trip.
You should also link anyone you are travelling with so that you can make Genie+ reservations for everyone in your party. You can do that in the Profile section of the Disney app or website and go to Family and Friends List to add a guest.
I also recommend downloading the app, familiarising yourself with it (check ride wait times at various times of day), and planning your priority rides—see our guide to the best things to do in Disney World for ideas.
It's also important to know which Genie+ rides are most likely to sell out, so you can prioritise these. See our Genie+ ride guide below.
On The Morning Of Your Visit: How to Purchase Genie Plus
If you want to use Genie+ for rides that often sell out (such as Slinky Dog Dash in Hollywood Studios and Remy in Epcot), here's my suggested strategy on the morning of your park visit.
Before 7am (around 6.50am is fine), go to the My Disney Experience app and click Purchase on the Disney Genie+ Service button on the home page.
You now have to choose which park (or all parks), you want Genie+ for.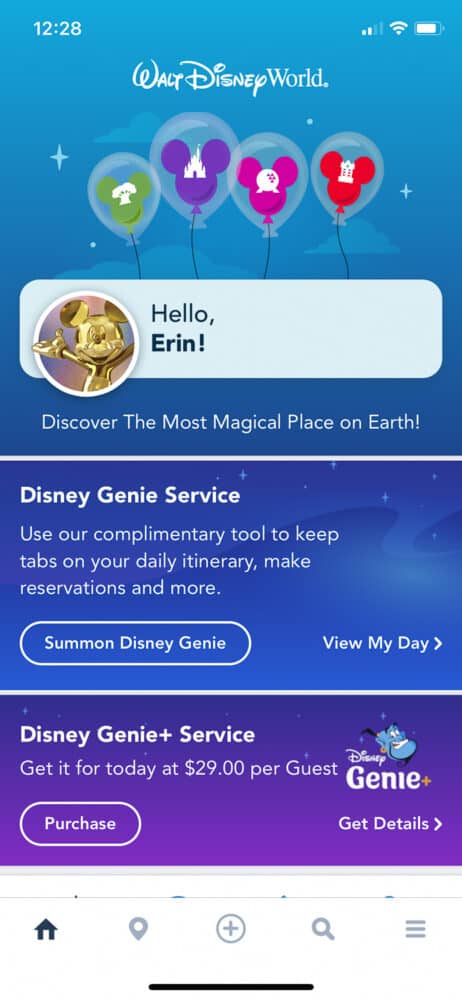 You can also access this by hitting the + button and tapping "View my Genie Day and Tip Board", where there will be an option to purchase Genie+ at the top.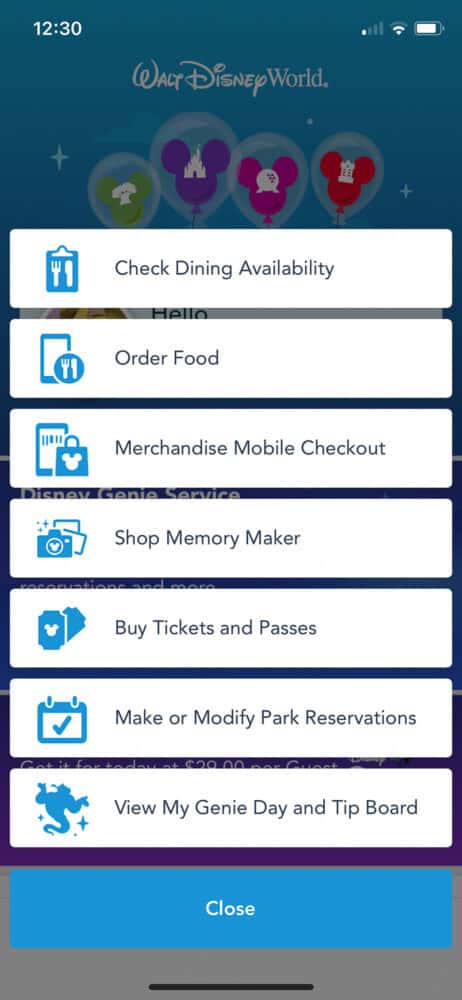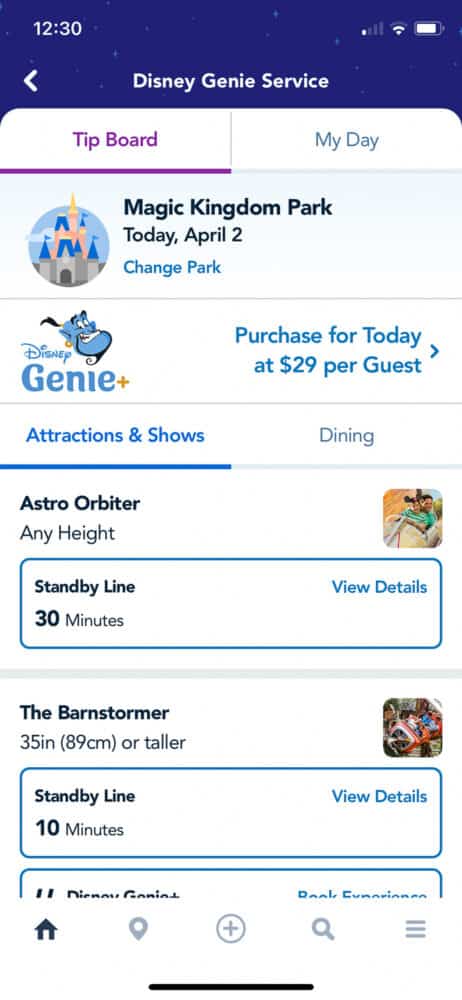 Then customise the Tip Board screen. Go to My Day and choose the date and the park (this will only work if you have a park reservation). Then select the first ride you want to book. This will make it show up at the top of the Tip Board and will be easier to access.
Keep an eye on the time (perhaps use Time and Date) and one second before 7am, pull down hard on the Tip Board page and release it just as the clock hits 7am.
You'll then be able to book your first Genie+ ride, so click through on your top ride and book as quickly as possible. The return times will vary, but if you are quick, you should get a time within the first hour of park opening.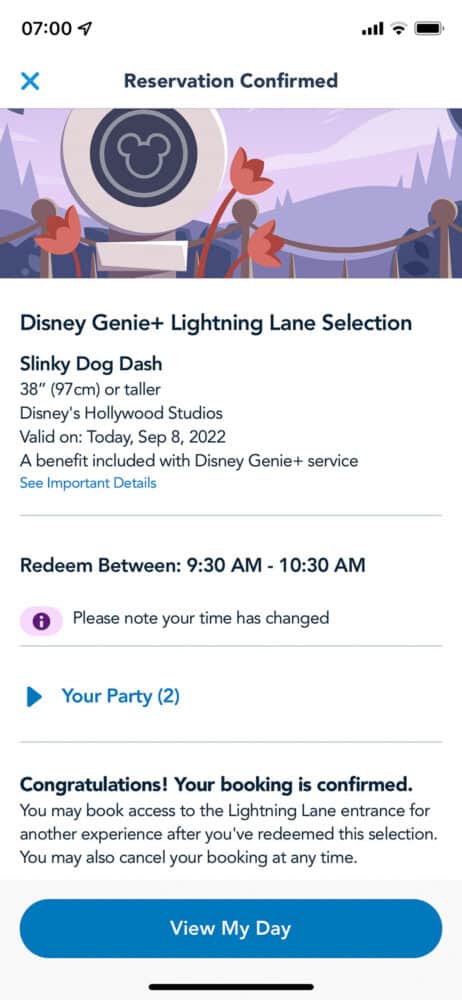 Once you have booked your first ride, edit your selections for "My Top Picks" in the Tip Board and choose your next two priority rides. This will keep them at the top for when it's time to book.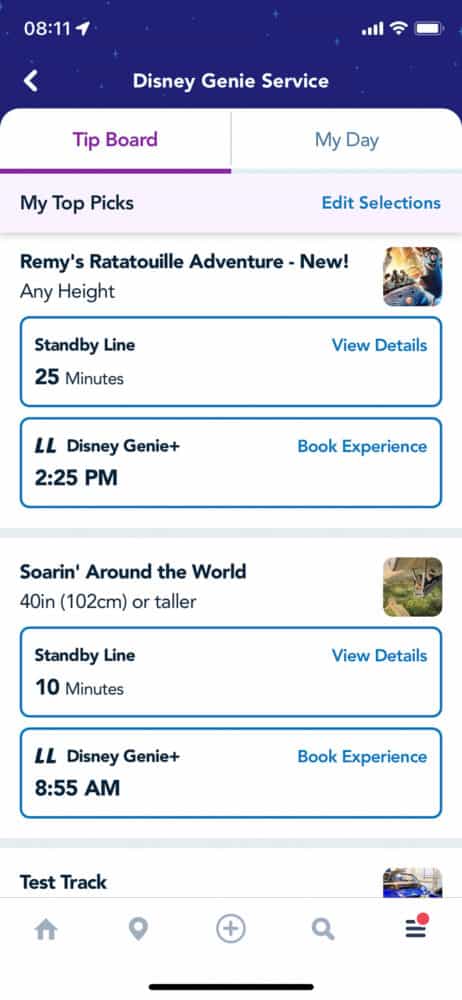 You won't be able to select your next ride until you tap into the first ride, or after 120 minutes have passed.
If you aren't bothered about certain rides like Slinky, you won't need to be so on the ball at exactly 7am, but I still recommend booking before the parks open (usually 8am or 9am) if possible, to maximise the rides you'll be able to choose.
Using Genie Plus in the Parks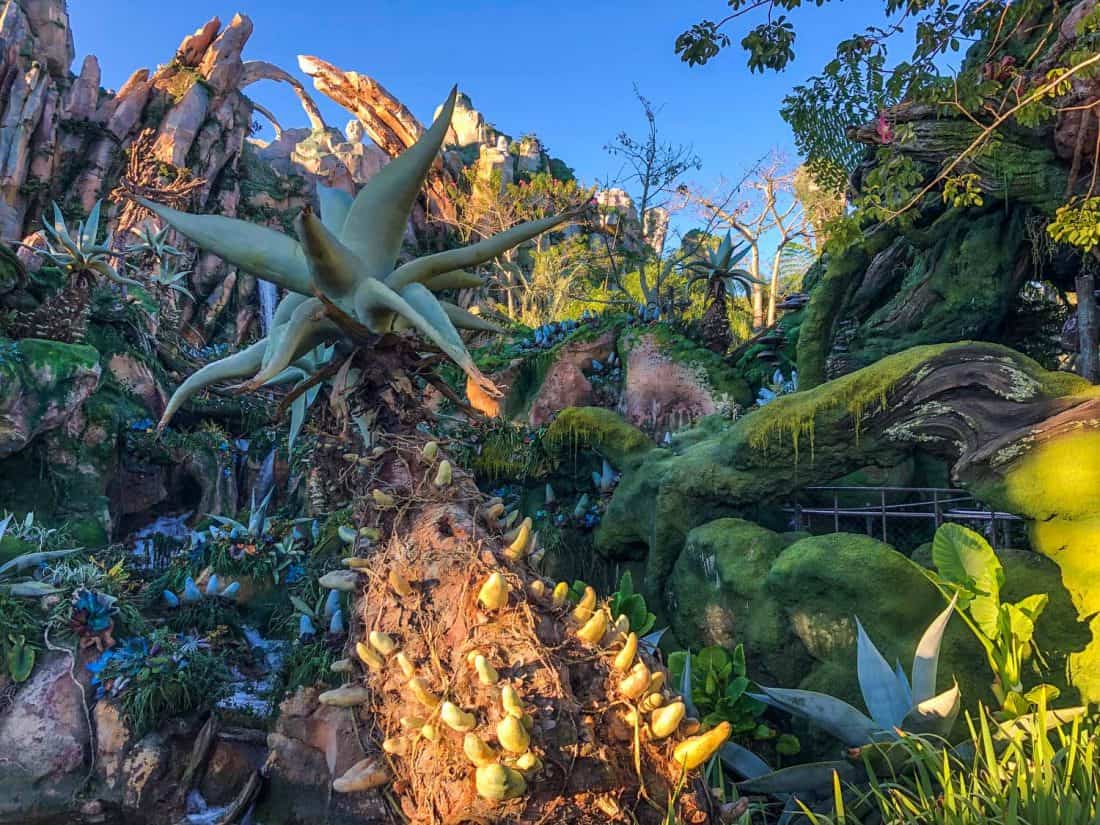 Once you have your first Disney Genie+ ride booked and have entered the park (ideally at opening), I recommend riding one or two of the most popular rides in the standby queue before using your Genie+.
Prioritise rides that are not in Genie+ like Rise of the Resistance in Hollywood Studios and Avatar in Animal Kingdom.
Your Genie+ return time will be a one-hour window. So if you booked a 9am slot, you can ride any time between 9am and 10am.
Unofficially, though, you can tap into the ride five minutes early or up to 15 minutes late.
To maximise the rides you can secure in a day, ride at the beginning of your window. You'll need to tap into the ride at the Lightning Lane using your park ticket, or even easier, your MagicBand or Apple Watch (see above).
As soon as you have tapped into the ride, you can choose your next ride, so do this straight away in the line—don't wait until you've ridden the ride!
While this system does require being on your phone frequently, it only takes a few seconds to choose your next Genie+ ride.
Note that you can only use Genie+ for each ride once, so if you want to ride it again, wait until the end of the day when standby lines are shorter or use the single rider queue (if offered).
If you are forced to choose a Genie+ return time later than you'd like, slots do get refills, so it's worth checking again throughout the day, as earlier times may become available.
You can modify an existing Genie+ reservation by tapping on it in the Tip Board or My Day pages.
Stacking Genie Plus Rides
While usually you can only have one Genie+ booking at a time, there is an exception if your return time is two or more hours later.
So, if you book a Genie+ ride at 9am and the return time is 1pm, you will be eligible to book another Genie+ at 11am.
You definitely want to take advantage of this as it's the only way to hold more than one Genie+ at the same time. So set a reminder on your phone for two hours later to book your next ride.
Note that the two-hour rule only starts at park opening, so even if you book at 7am, if the park doesn't open until 9am, the two hours don't start until 9am.
Genie Plus for Park Hopping
If you are park hopping (visiting more than one park per day), you can use Genie+ for both parks if you choose the Multiple Parks Genie+ option.
But as park hopping is only allowed after 2pm (you don't need a park reservation for your second park), you'll only be able to book Genie+ attractions for the second park once the return times are past 2pm.
So start by using Genie+ in the morning for your first park, and then around midday, start checking times for your second park. And remember if the return time is more than two hours in advance, you can start stacking up your reservations.
Genie Plus is good value for park hopping (especially if Magic Kingdom is one of the parks) as it maximises the number of rides you have access to.
The Best Disney World Parks to Use Genie Plus
Hollywood Studios is the best park to use Genie+. There is a relatively limited number of rides and wait times are long, so Genie+ saved us hours in line.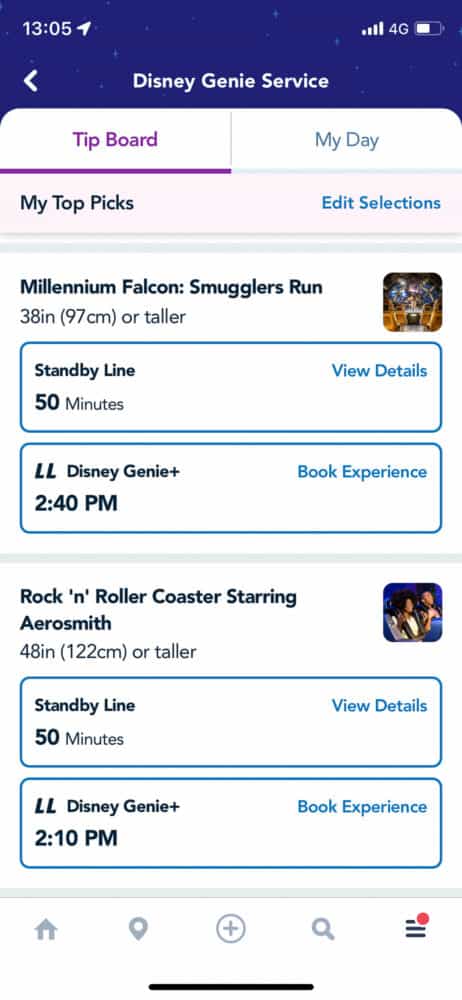 Magic Kingdom is also an excellent park to use Genie+. It's easier to use than at Hollywood Studios as there are 23 attractions available with Genie+, so fewer rides sell out and return times tend to be earlier.
We managed without Genie+ at Animal Kingdom by hustling to all the major rides in the first few hours. You might consider Genie+ if you don't have Early Entry, don't want to hurry in the first few hours, or if you are park hopping.
I don't think Genie+ is necessary at Epcot if you have Early Entry—we managed all the popular rides without it. You might consider it if you are park hopping, can't arrive early, or are visiting at peak times.
You can see the Genie Plus priority rides for each park below.
How Much Time Can Genie Plus Save?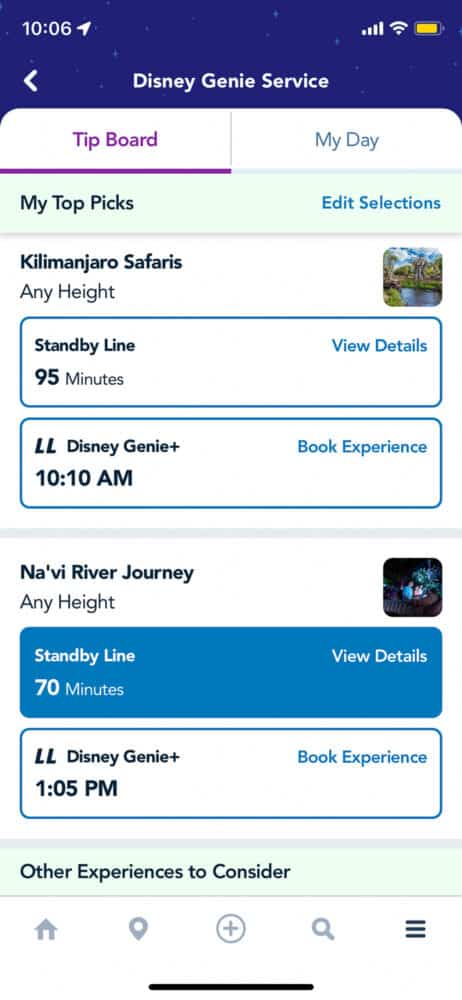 Disney says, "On average, Guests can enter 2 to 3 attractions or experiences per day using Lightning Lane entrances, if the first selection is made early in the day."
They are trying to manage expectations as you should be able to get more rides than this if you book your first one early.
It's harder to get more rides at busy times of the year as they sell out more quickly, but you'll also save more time as lines will be longer.
On our September visit (a quiet time of year), we managed to ride five attractions at Hollywood Studios using Genie+ between 9am and 3.30pm.
This saved us approximately 275 minutes (4.5 hours!) compared to the standby line (which ranged from 45 minutes to 85 minutes per ride), which was well worth the $16 cost for us.
We could even have booked more Genie+ rides (Millennium Falcon and Star Tours were available) but chose not to.
Simon park hopped to Magic Kingdom that evening and could have made even more Genie+ selections, but he didn't need to as wait times were low.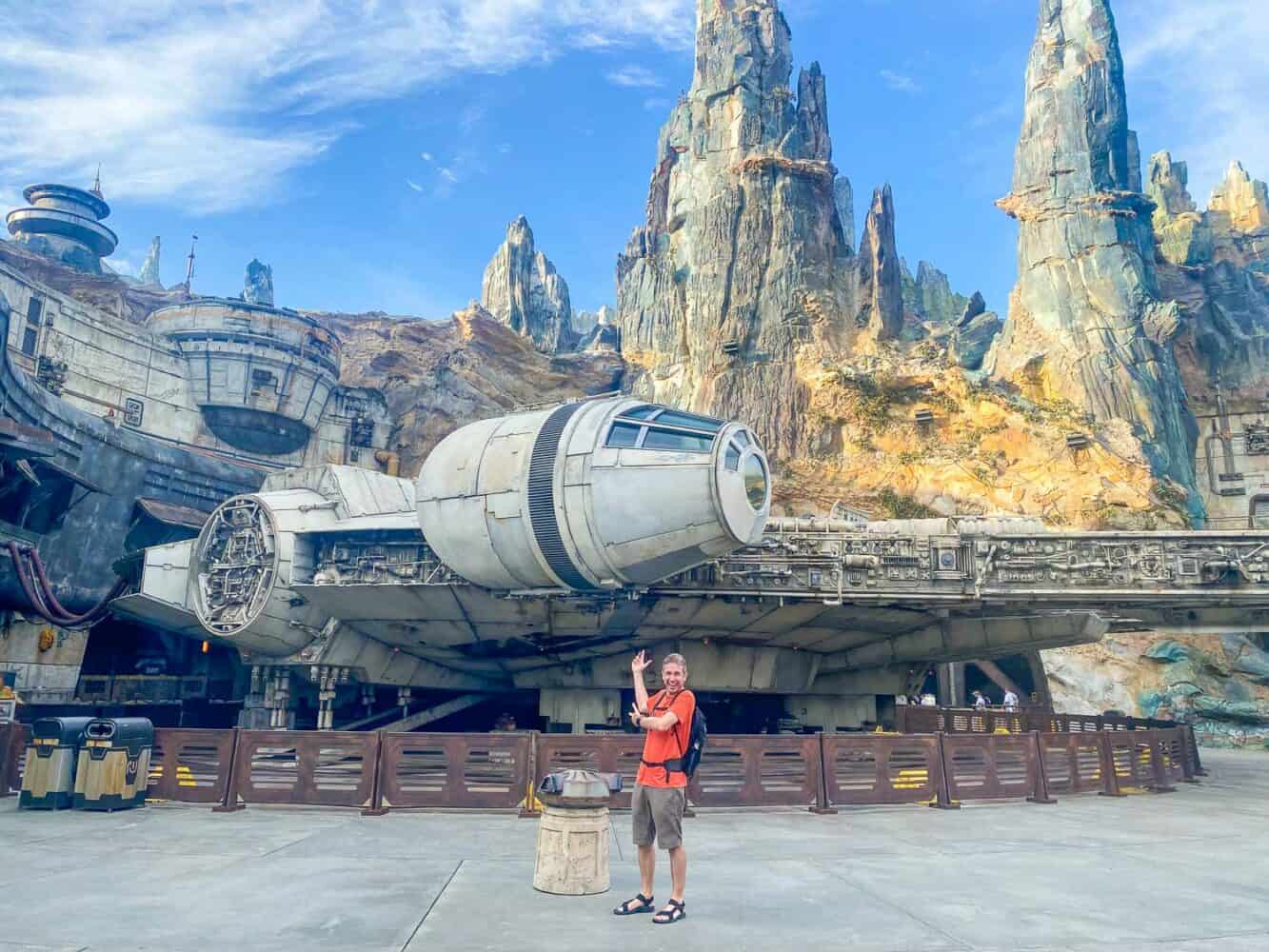 At Magic Kingdom, we visited on a particularly quiet day (when the park closed early for a Halloween party), so we probably could have managed without Genie+.
We still rode four rides with Genie+ between 8.30am and 1pm. This saved about 60 minutes of queuing (with standby lines ranging from 10 to 20 minutes).
In this scenario Genie+ wasn't really worth it, but only because it was a rare quiet day and we got a lot done using standby queues during Early Entry.
Most of the year, or if you wanted to turn up later in the day, Genie+ at Magic Kingdom is extremely useful.
In addition, we park hopped to Hollywood Studios in the evening and rode three more rides, saving 90 minutes in line, for a total of seven rides and 2.5 hours saved that day.
Walt Disney World Genie Plus Rides List and Priorities
These are the rides included in Disney Genie Plus and the order I recommend booking them.
This will vary depending on your interests and what happens on the day (if rides temporarily close you'll need to adapt your plan), but it's important to know the rides that are most likely to have later return times and eventually run out.
Note that the most popular ride in each park is not included in Genie+. If you want to skip the queue for those, you'll have to purchase an Individual Lightning Lane entry (see above).
Magic Kingdom Genie Plus Rides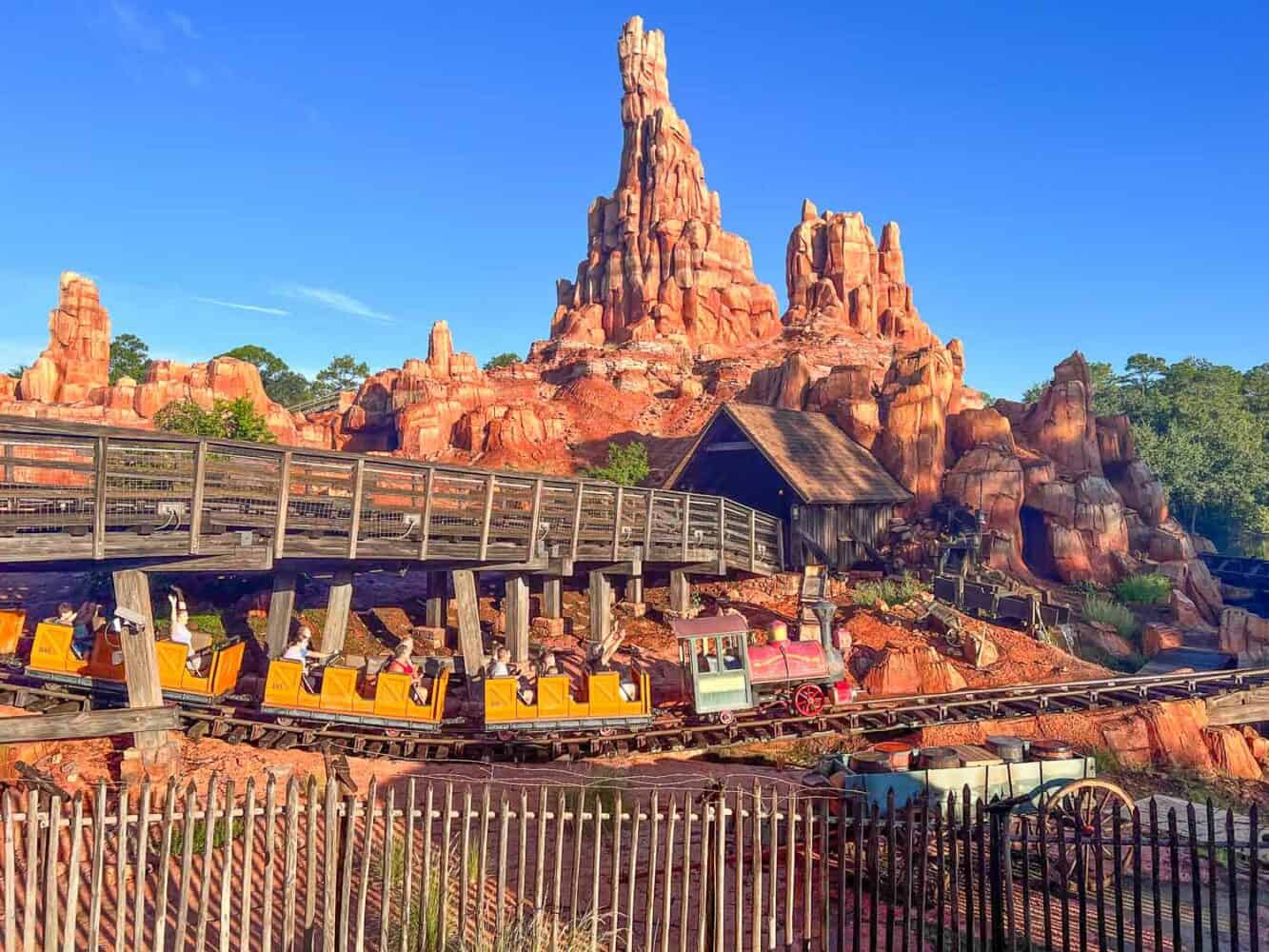 Magic Kingdom has the most attractions available with Genie+. Many of them don't require it due to short standby lines, so these are the ones where it is most useful.
Jungle Cruise – This comedy river cruise has become very popular since it reopened and is usually the first Genie+ to run out, so book it first.
Peter Pan's Flight – This popular gentle dark ride in Fantasyland has long wait times. We're not really the target audience so don't quite get the fuss, but if you want to ride it, it makes a good second pick.
Space Mountain – A thrilling indoor rollercoaster in the dark. It's a good Genie pick, but we can usually ride this early or late without long queues (Simon loves to ride it multiple times).
Big Thunder Mountain Railroad – This Wild West rollercoaster is popular, but there's usually good Genie+ availability.
Haunted Mansion – During Halloween season I'd probably move this up a couple of spots.
Pirates of the Caribbean – Queue times vary so you may or may not need Genie+.
Buzz Lightyear's Space Ranger Spin – Again, waits vary but Genie+ can be useful when it's busy and usually has near instant return times.
The Many Adventures of Winnie the Pooh – Lines can be really long, but it rarely runs out of Genie+ and it's not the best ride.
See our guide to the must do rides at Magic Kingdom for more details on each attraction.
In addition to these are a few character meet and greets, which you might want to prioritise if that's your thing. Meet Ariel at Her Grotto sells out first.
There are many other Genie+ rides like Enchanted Tales with Belle, "It's a small world", and Under the Sea, but Genie+ isn't usually necessary. Only use it for them once you've worked your way through the priority rides above.
Note that the new Tron ride is not included in Genie+ and can only be ridden by joining a free virtual queue or purchasing an ILL.
Hollywood Studios Genie Plus Rides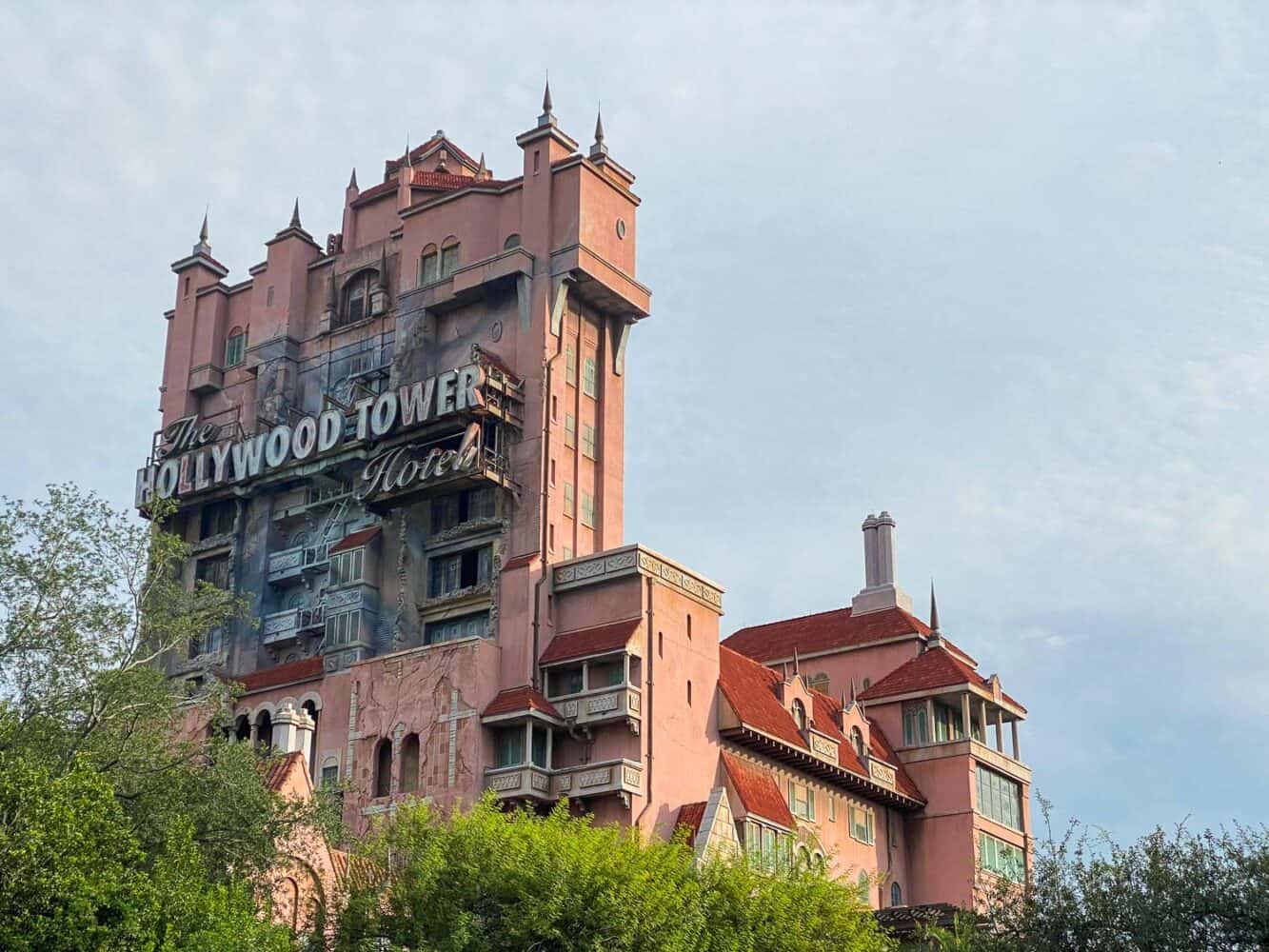 While there are fewer Genie+ rides at Hollywood Studios, it can save you a lot of time as wait times are long.
Slinky Dog Dash – This gentle Toy Story rollercoaster is extremely popular and will be the first Genie+ to run out. Return times can be late but by booking at 7am on the dot, we got a 9.30am return time. By 1pm, the return time was up to 8pm, and it sells out by midday at busier times, so this is an obvious first pick. That said, we don't love this ride compared to others in the park.
Millennium Falcon: Smugglers Run – This interactive simulator in Star Wars: Galaxy's Edge is usually the second Genie+ to run out. But we walked on using the standby queue during Early Entry after riding Rise of the Resistance.
Mickey & Minnie's Runaway Railway – The park's newest ride is fun and family-friendly and is a popular Genie+ pick.
The Twilight Zone Tower of Terror – Genie+ will save you long waits.
Rock 'n' Roller Coaster
Toy Story Mania – Genie+ is well worth using for this but there's usually good availability so you can wait until later in the day. We actually did it as our second selection after tapping into Slinky at 9.30am as we got an immediate return time and it's right next door.
The other Genie+ rides at Hollywood Studios aren't really necessary. Star Tours is worth doing but doesn't have long waits. Alien Saucers is skippable and you don't need Genie+ to watch the shows.
See our guide to the best rides at Hollywood Studios for more details.
Epcot Genie Plus Rides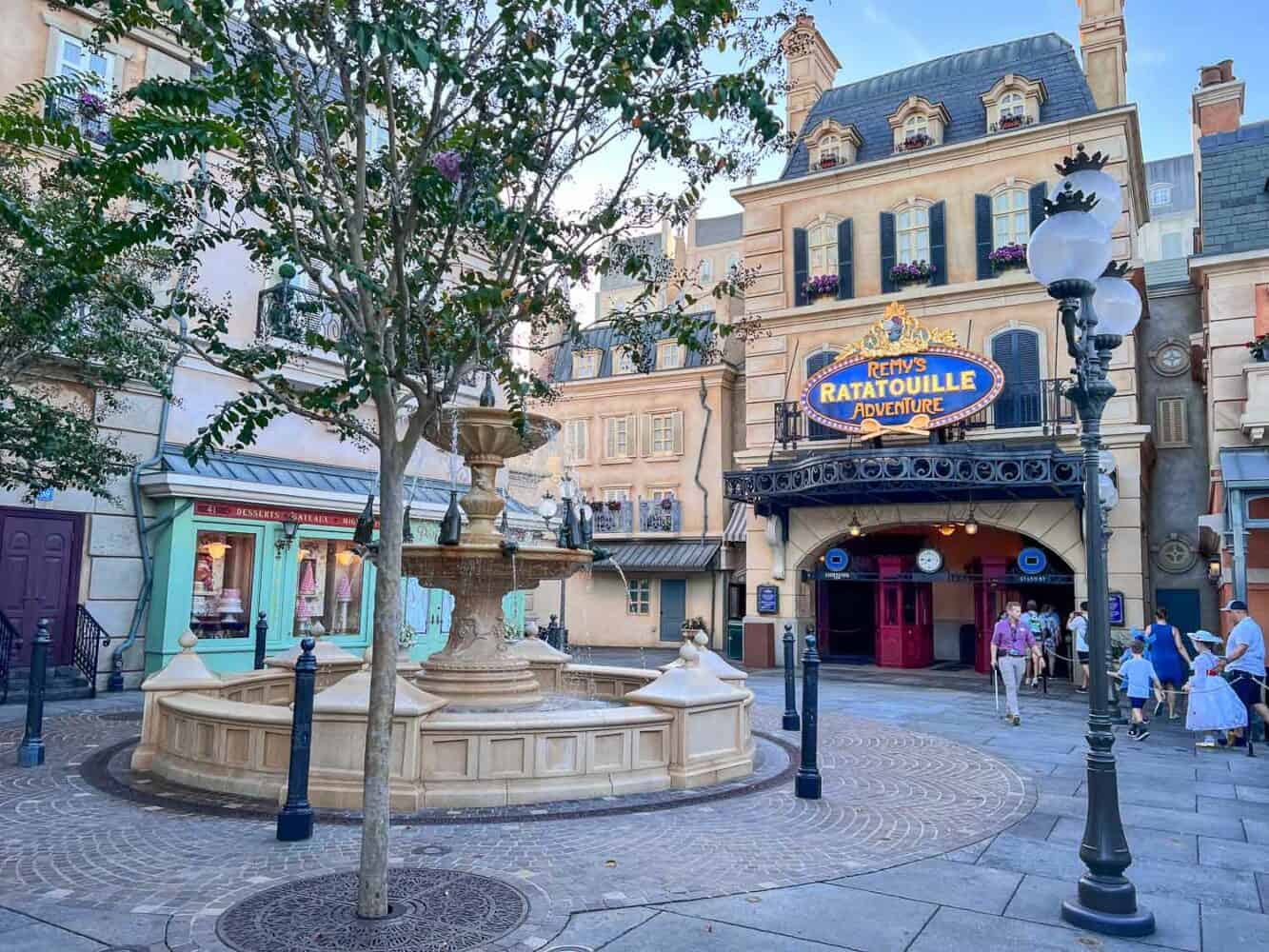 Genie+ is less useful at Epcot as there are fewer headline attractions, but it can save you time, especially on the top three Genie+ rides, which are busy all day.
If you have Early Entry, as we did, you can skip Genie+.
Remy's Ratatouille Adventure – This is usually the first to sell out and has long lines all day. At 8.10am on our visit (before the park opened at 8.30am), the Genie+ return time was already up to 2.25pm.
Test Track – This tends to have the second latest return times.
Frozen Ever After – If this is important to you, move it up to #2 as it's quite likely that you'll be unable to get all top three rides before they sell out. Or ride this at park opening and get Genie+ for the two above.
Soarin' Around the World – An easier Genie+ to secure but it can still be useful.
Mission: Space – Wait times are rarely that long so you'll only need Genie+ on busy days.
Spaceship Earth – Again, you'll only need this on busier days. Waits drop off later in the day.
You're unlikely to need Genie+ for the other available attractions including Journey Into Imagination, Living with the Land, and The Seas.
Our guide to the best things to do at Epcot has lots more suggestions for the park.
Animal Kingdom Genie Plus Rides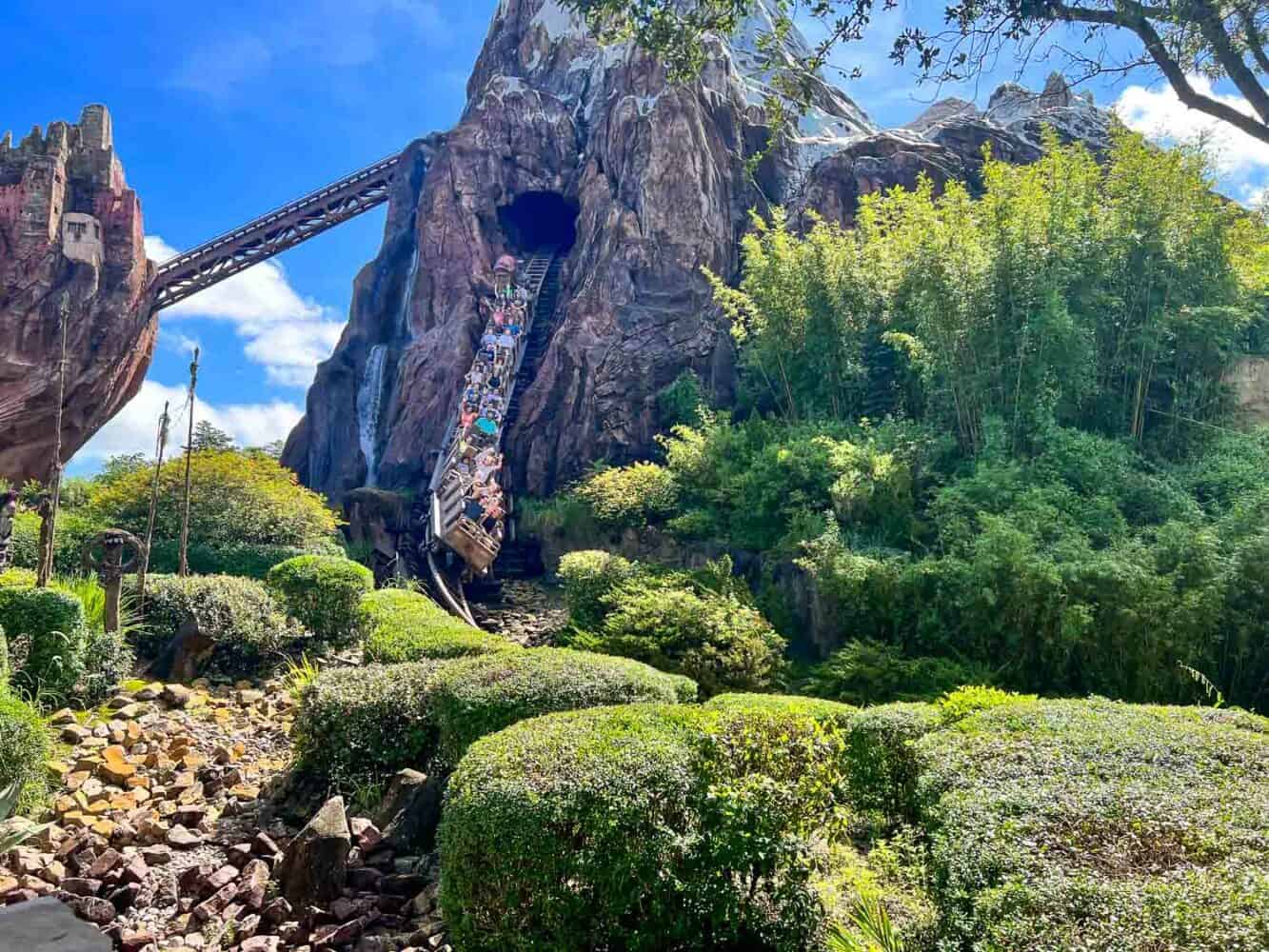 Animal Kingdom only has 11 Genie+ attractions, the fewest of all the parks, and only a handful of these are actually useful.
You only need to consider purchasing Genie Plus for Animal Kingdom if you are visiting at a peak time and don't have Early Entry, or if you are park hopping.
Na'vi River Journey – The second busiest ride in the park after Avatar (which is not in Genie+) is a clear first pick for Genie+.
Kilimanjaro Safari – This real wildlife safari is best in the morning when the animals are active and queues are usually low then, so you might want to ride it right after Avatar without Genie+ (which is what we usually do).
Kali River Rapids – The queues for this water ride depend on the weather as you will get wet. In summer it's very popular but less so in winter.
Expedition Everest – The single rider line is another good way to skip the lines for this fun rollercoaster.
Dinosaur – You are unlikely to need Genie+ except on a very busy day.
See our detailed guide to the best things to do at Animal Kingdom for more about these rides.
You might also want to prioritise Meet Favorite Disney Pals at Adventurers Outpost if you are into character meet and greets.
Everything else at Animal Kingdom like It's Tough to Be a Bug and most stage shows aren't really necessary.
That said, on a very hot day, we couldn't get into Festival of the Lion King (and the long line had no shade), so it could be handy for this.
Is Disney Genie Plus Worth It?
Disney Genie Plus is a useful service that can save you hours in line. Genie Plus is definitely worth it for Magic Kingdom and Hollywood Studios, and if you don't like early starts, you might consider it for Epcot and Animal Kingdom.
If you are park hopping, Genie+ is even better value as it maximises the number of rides you have access to.
I hope our Disney Genie Plus review has helped explain this somewhat complicated service. If you have any questions, leave a comment below.
More Disney Posts
Plan your Disney trip with our other posts about the parks in Florida and worldwide:
Disney World Orlando
Elsewhere
If you enjoyed this post, pin for later!