This page contains affiliate links. Please read our disclosure for more info.
Disney's Hollywood Studios is our new favourite of the four Disney World Parks in Orlando, Florida.
We've always loved the movie world theming and fun thrill rides, but the opening of Star Wars Galaxy's Edge has taken the park to the next level.
You really feel like you are transported to another planet. As well as one of the most immersive Disney rides, there's delicious food and a unique bar, further securing Hollywood Studio's place as one of the most adult-friendly theme parks.
Here we share our picks for the best things to do at Hollywood Studios including the must do rides, fun shows, and tasty food. I also share tips for avoiding long lines.
Contents
How to Skip Lines at Hollywood Studios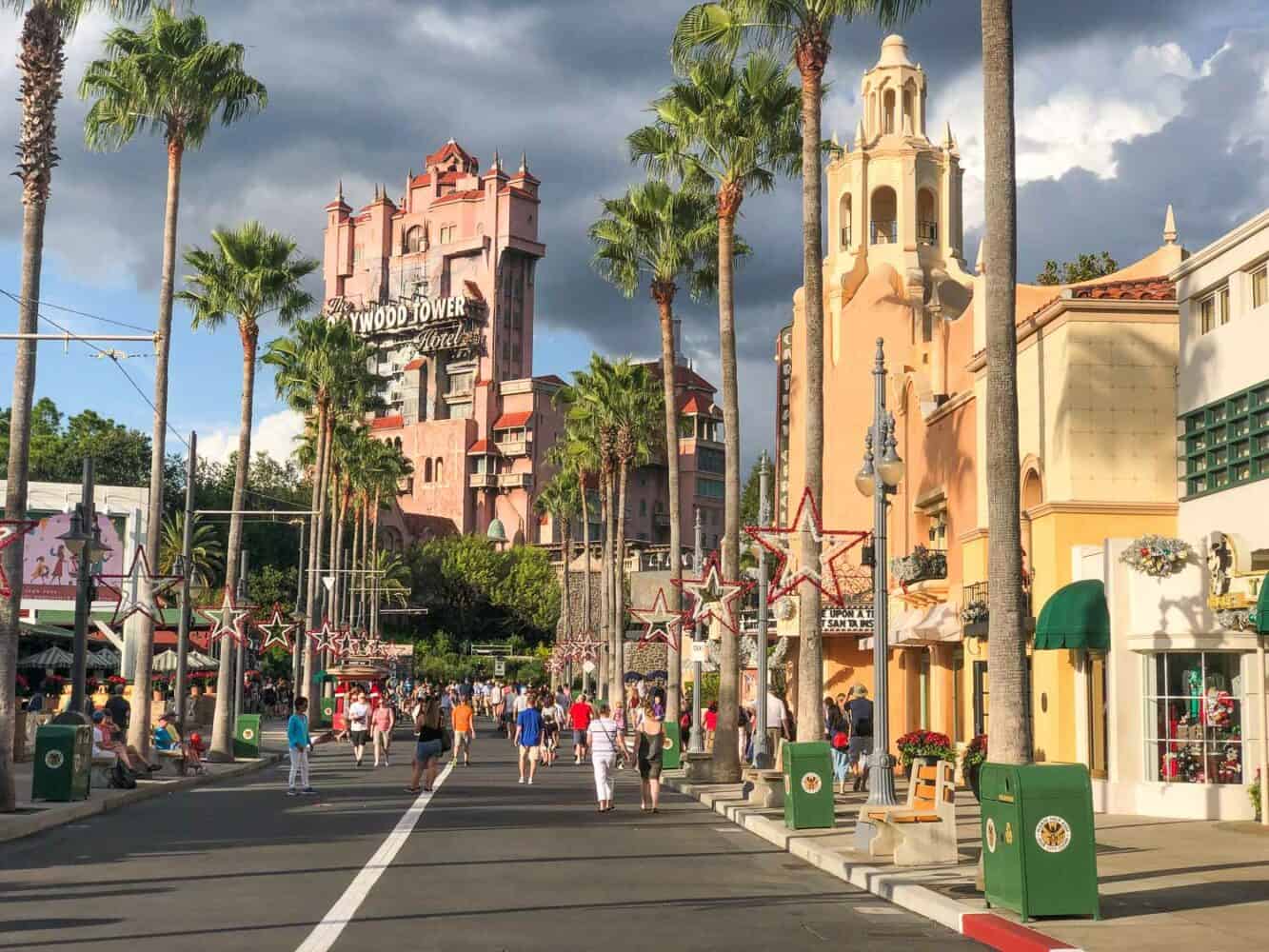 Wait times are usually long but with these time-saving tips, we rarely wait more than 15 minutes for any of these Hollywood Studios attractions.
Make a Park Reservation – Reservations are essential in 2023. I recommend buying your Disney tickets and making a park reservation for each day of your trip at least a month in advance. Hollywood Studios books up at busy times. The reservation system will end for most guests from January 9, 2024.
Download My Disney Experience app – To check wait and show times, make Genie+ selections, order food, and more.
Purchase Genie+ – This paid line-skipping service (from $15) saved us 4.5 hours of queuing in one day at Hollywood Studios, even at a quiet time of year. It's a confusing system so see our full guide to how to use Genie Plus including the best rides to use it on.
Stay Onsite – If you stay in a Disney resort, you'll be able to enter every park 30 minutes before the official park opening. This gives you a great head start to ride Rise of Resistance. On our last trip, we stayed at Disney Yacht Club and loved being able to walk to Hollywood Studios (or take a boat). The most affordable hotels in walking distance are the Swan Resort and Dolphin Resort, which are run by Marriott but have all the perks of a Disney deluxe hotel.
Arrive Early – Arrive 45 minutes before Early Entry starts as they often let people into the park 30 minutes earlier. Even if you don't have Early Entry, arrive 30 minutes before official opening. The first hour of the day is the quietest.
Stay Late – Wait times are highest from around 11am-4pm. In the afternoon, watch a show, enjoy a meal, or take a break at your hotel. Return in the evening for shorter queues for the popular rides.
Use the Single Rider line – If you don't mind riding on your own, the single rider lines at Rock 'n' Roller Coaster and Millennium Falcon Smugglers Run can save you a lot of time. Simon uses it to ride Rock 'n' Roller Coaster again and again.
What to Do at Hollywood Studios: Our Top Picks
If you have limited time, these are our absolute favourite things to do at Hollywood Studios.
Experience Star Wars: Rise of the Resistance, Disney's most immersive ride.
Plummet down an elevator on The Twilight Zone Tower of Terror.
Speed in a super-stretch limo on Rock 'n' Roller Coaster, Disney's only coaster with inversions.
Wander Galaxy's Edge at night (perhaps with a Blue Milk).
Drink at Oga's Cantina, Disney's best bar.
Most Popular Rides at Hollywood Studios
These are the Hollywood Studios rides that have the longest lines with their average wait times over a year:
Star Wars: Rise of the Resistance – 110 minutes
Slinky Dog Dash – 88 minutes
The Twilight Zone Tower of Terror – 83 minutes
Millennium Falcon: Smugglers Run – 64 minutes
Rock 'n' Roller Coaster Starring Aerosmith – 64 minutes
Mickey & Minnie's Runaway Railway – 60 minutes
Toy Story Mania! – 60 minutes
The average waits are higher for more rides than at other Disney parks, which is why Genie+ is very useful here. You can use it to skip the lines on all of these top rides except Rise of the Resistance (which has a paid Individual Lightning Lane for a separate fee).
Best Rides at Hollywood Studios
These are the Hollywood Studios must do rides that you won't want to miss.
1) Star Wars: Rise of the Resistance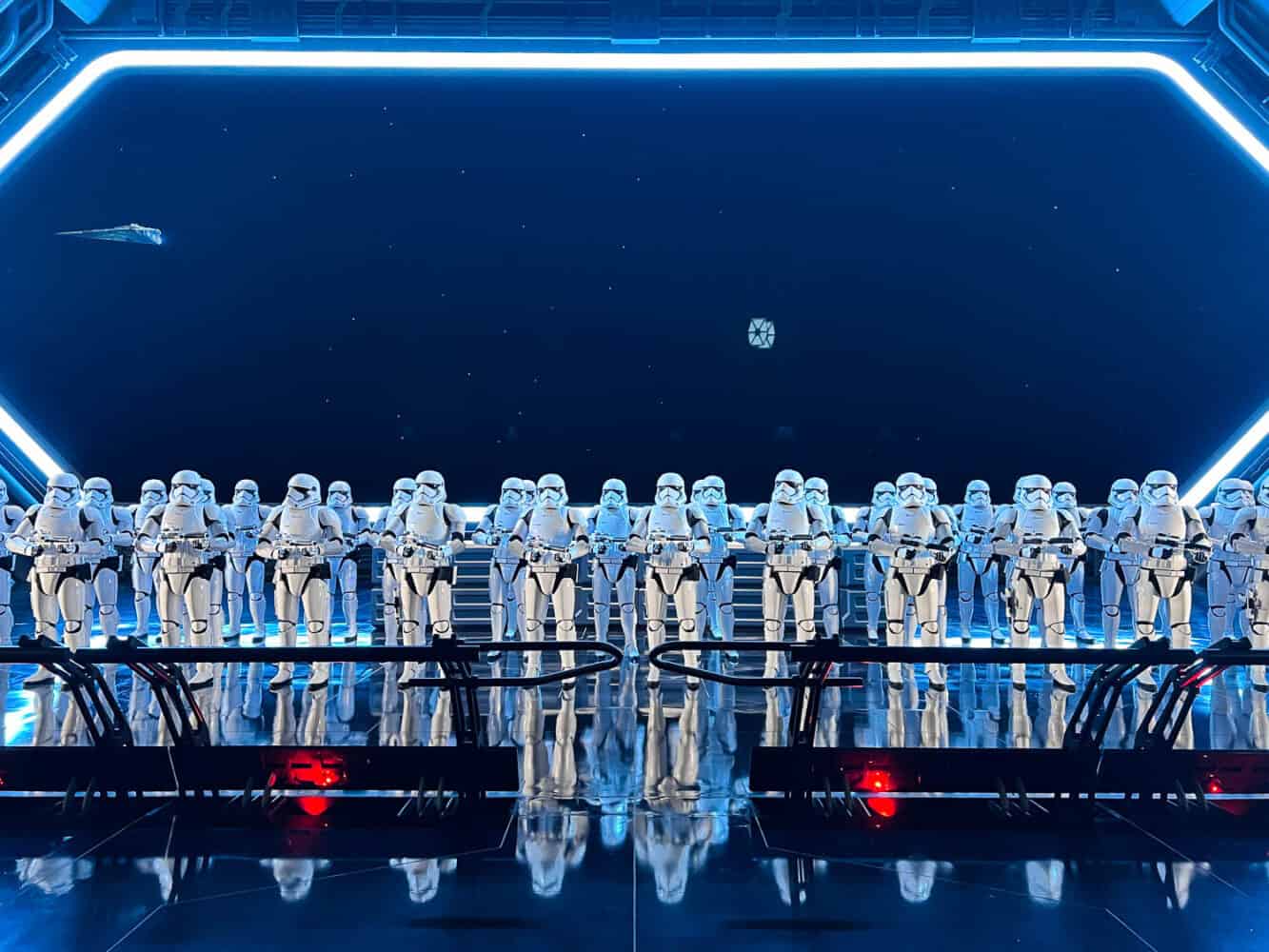 Type of Ride: Dark, Loud Thrill Ride with Small Drops
Minimum Height: 40 inches (102cm)
Lightning Lane: Individual ($15-25)
Location: Galaxy's Edge
Star Wars: Rise of the Resistance is one of the most unique and immersive rides we've ever been on. It's certainly one of the best rides in Disney Hollywood Studios, and indeed in all Disney parks.
As a Star Wars fan, Simon's expectations were high, whereas I'm not, but we both loved it.
It feels more realistic than most theme park rides. There are no speeding roller coaster cars or 3D imagery. Instead, there's an extensive pre-story (you are on a mission for the Resistance), epic spaces, and imperial officers interrogating guests/hostages in the queue.
In one particularly thrilling moment (before you even board the ride), you step off a Resistance transport shuttle and are faced with a wall of stormtroopers in the massive hangar of a First Order Star Destroyer.
The ride itself, as you try to escape the First Order, is not too intense, although there are some fun surprises. More than a single thrill, Rise of Resistance is about the whole experience as soon as you enter the line.
Of course, this is the most popular ride at Hollywood Studios, so to avoid long waits it's best ridden during Early Entry (we only waited 10 minutes) or at the very end of the day (we waited 15 minutes—lines are usually shorter than those posted).
You could also purchase an Individual Lightning Lane if you have limited time and want to be sure to ride.
2) The Twilight Zone Tower of Terror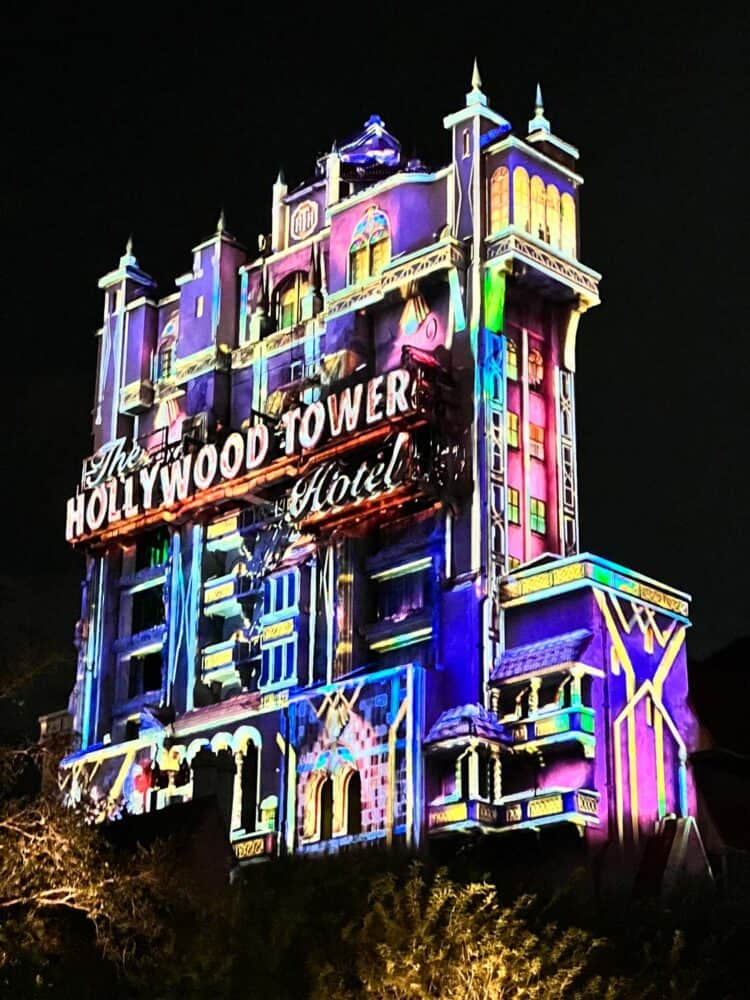 Type of Ride: Dark, Scary Thrill Ride with Big Drops
Minimum Height: 40 inches (102cm)
Lightning Lane: Genie+
Location: Sunset Boulevard
Before Rise of Resistance opened, Tower of Terror was the best ride at Hollywood Studios. This classic is still atmospheric, thrilling, and unlike anything else.
The journey begins in the lobby of the abandoned Hollywood Tower Hotel—frozen in time and covered in cobwebs, the detail is incredible.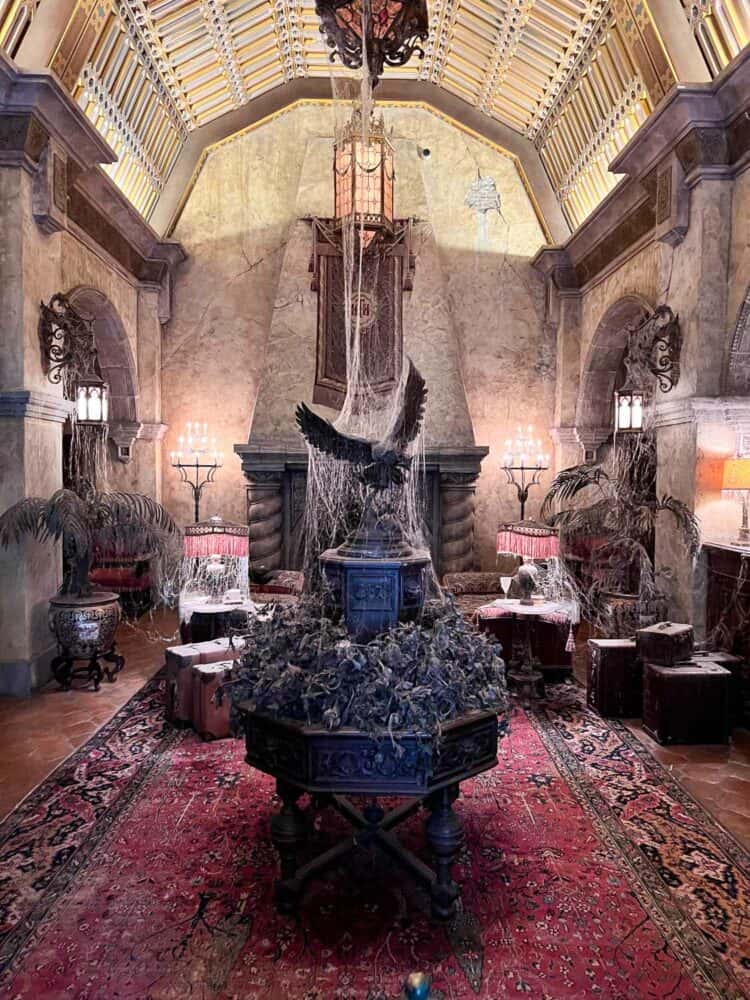 Suddenly an ancient television set springs to life and Rod Serling welcomes you to the Twilight Zone. He explains how in 1939, hotel guests who were riding the elevator vanished after a storm struck the building and were never seen again.
The tension builds as you descend into the basement, full of dusty pipes and ancient boilers, to ride the elevator. As it rises up the abandoned shaft, you never know when the plunge will come.
And it doesn't just drop once—each ride is different as you drop and rise repeatedly. It's stomach-lurching but incredibly fun!
Tower of Terror is best ridden with Genie+ or else try early or late in the day.
3) Rock 'n' Roller Coaster Starring Aerosmith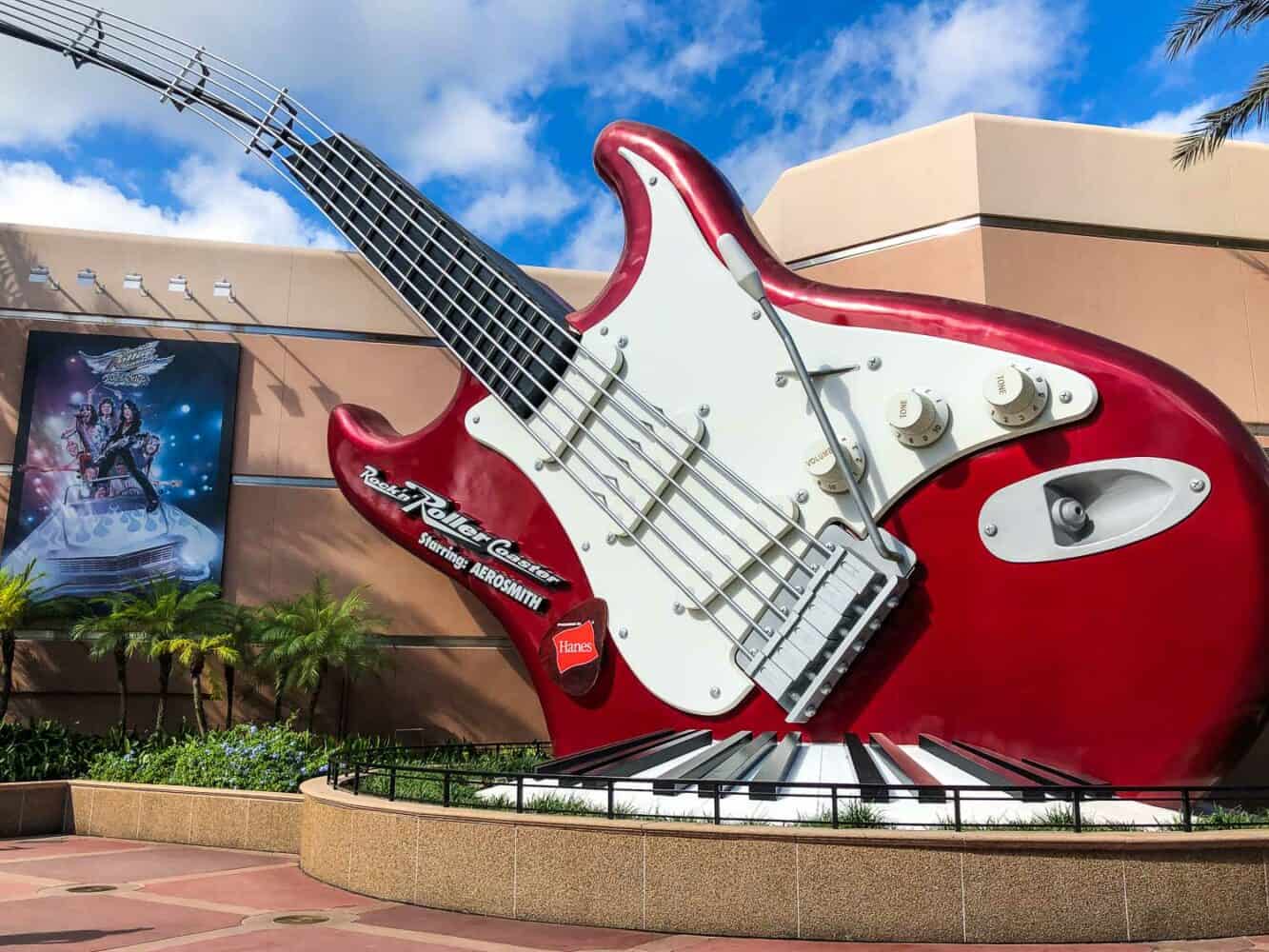 Type of Ride: Dark, Loud Thrill Ride with Big Drops
Minimum Height: 48 inches (122cm)
Lightning Lane: Genie+
Location: Sunset Boulevard
Rock 'n' Roller Coaster is one of the best attractions at Hollywood Studios for thrill seekers.
The scene is set during the pre-story where you meet Aerosmith in their music studio and are invited to a concert across town. They are running late, though, so you all speed off in a super-stretch limo with a different Aerosmith tune blaring in each vehicle.
The super fast launch is our favourite of any ride—it takes you from 0 to 57mph in just 2.8 seconds. You'll be screaming from the start!
The indoor dark coaster then takes you racing around the huge space with multiple twists, turns, and inversions (the only Disney ride that sends you upside down).
While there are no real visuals once you start (Guardians of the Galaxy at Epcot is a more creative coaster), it's still a very enjoyable ride.
Waits are usually long so it's best ridden with Genie+ or at the end of the day. The single rider line is also a great way to save time—Simon uses it to ride it repeatedly.
4) Millennium Falcon: Smugglers Run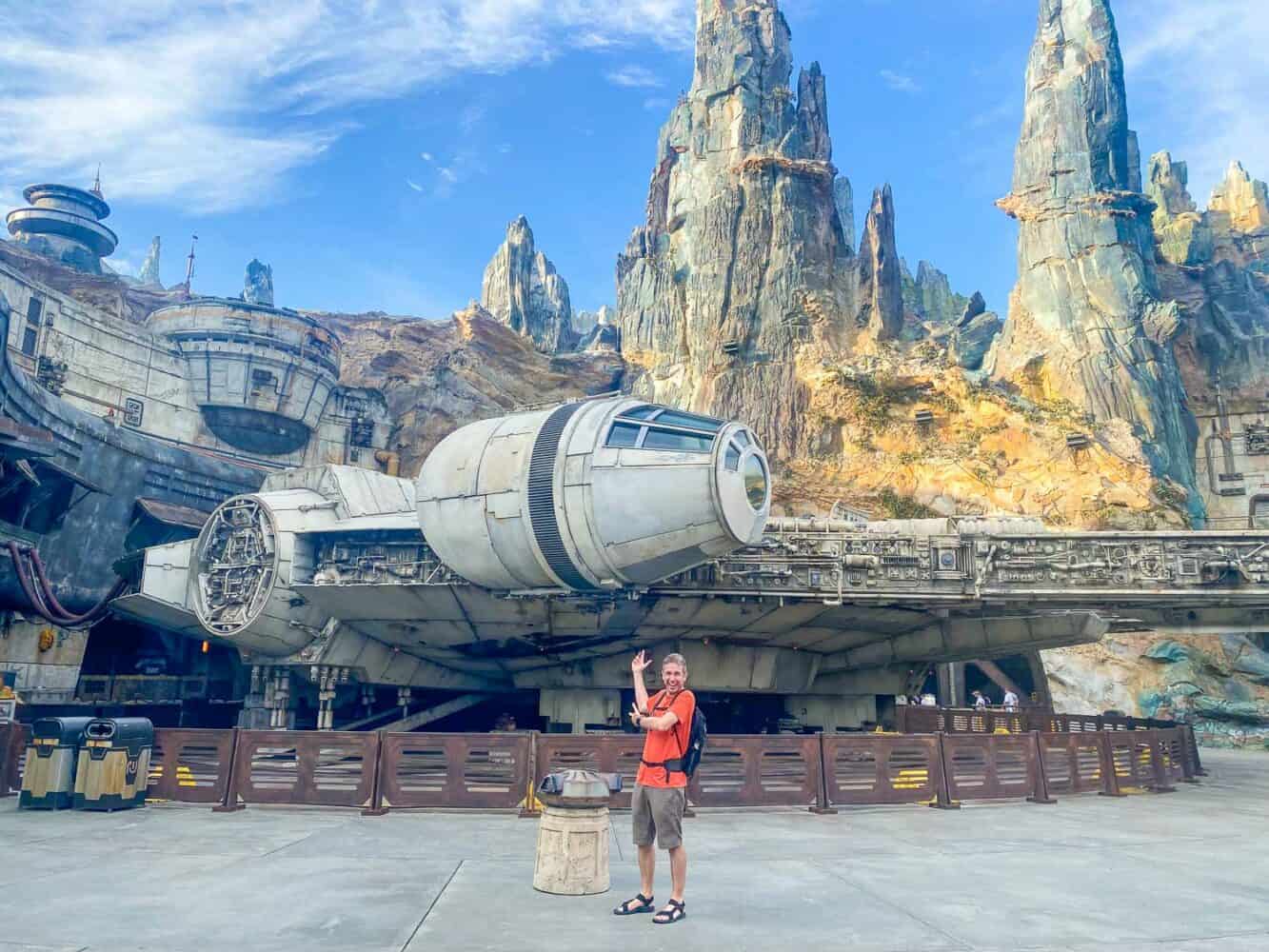 Type of Ride: Flight Simulator with Small Drops
Minimum Height: 38 inches (97cm)
Lightning Lane: Genie+
Location: Galaxy's Edge
Millennium Falcon: Smugglers Run is the second ride in Galaxy's Edge. It's not as highly rated as Rise of the Resistance, but it's still a unique experience.
You can't miss the ride as the huge Millennium Falcon starship is parked outside—it looks amazing day and night.
The detailed queue is a highlight as you get up close to the Falcon and enter a mechanic's shop full of all kinds of gear.
The ride is a flight simulator where each person takes on a different role in the cockpit of the Millennium Falcon—pilot, gunner, or engineer—as you fly on a smuggling mission.
There are two people per role for a total of six people per ship.
The quality of the experience is largely dependent on which role you have (pilot is most interactive), who you ride with (it would be great fun with a group of six), and how well the pilots control the ship (not so well on our first ride).
Your enjoyment will also depend on how much you like interactive rides. Simon's a video gamer so he was in his element. I am not, so I found it chaotic and confusing the first time I rode it.
Engineer is the role with the least amount of responsibility—when I had this position at the back, I had fewer buttons to press, so I could focus more on the action going on out front.
You can ride Millennium Falcon: Smugglers Run with Genie+ (I would choose it second after Slinky Dog Dash) or wait times are lowest during Early Entry (we walked straight on after Rise one morning) or at the end of the day.
5) Toy Story Mania!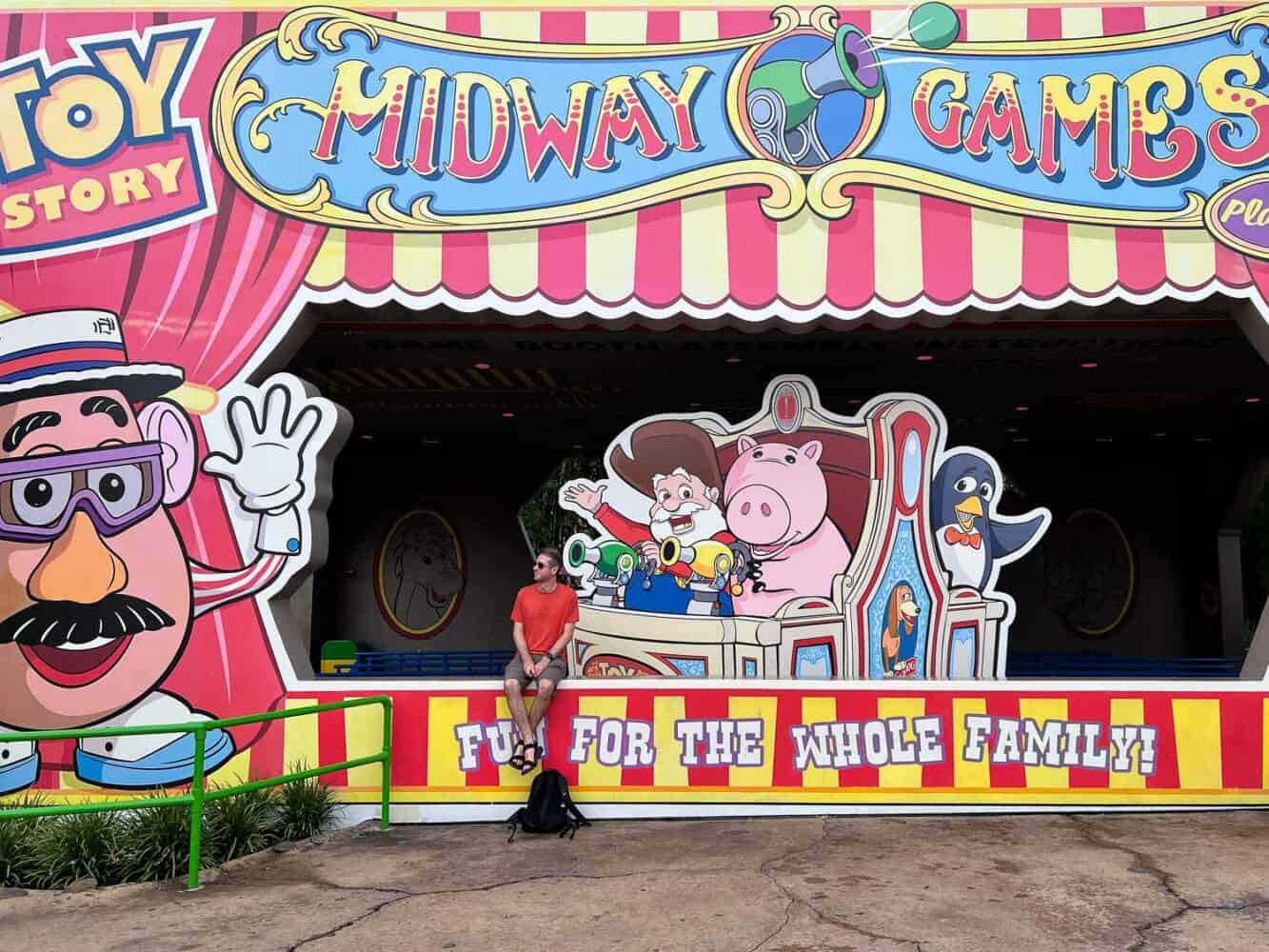 Type of Ride: Shooting Dark Ride
Minimum Height: None
Lightning Lane: Genie+
Location: Toy Story Land
Toy Story Mania is an interactive 4D shooter game where you ride in trams wearing 3D glasses.
At each Toy Story-themed station, you try to hit as many targets as possible (the smaller targets have higher values) and rack up the biggest score.
It's a fun change of pace from the other Hollywood Studios rides and very re-rideable as you try to increase your score.
Toy Story Mania is best ridden with Genie+ (we got an immediate return time after riding Slinky Dog Dash at 9.30am) or later in the day.
6) Mickey & Minnie's Runaway Railway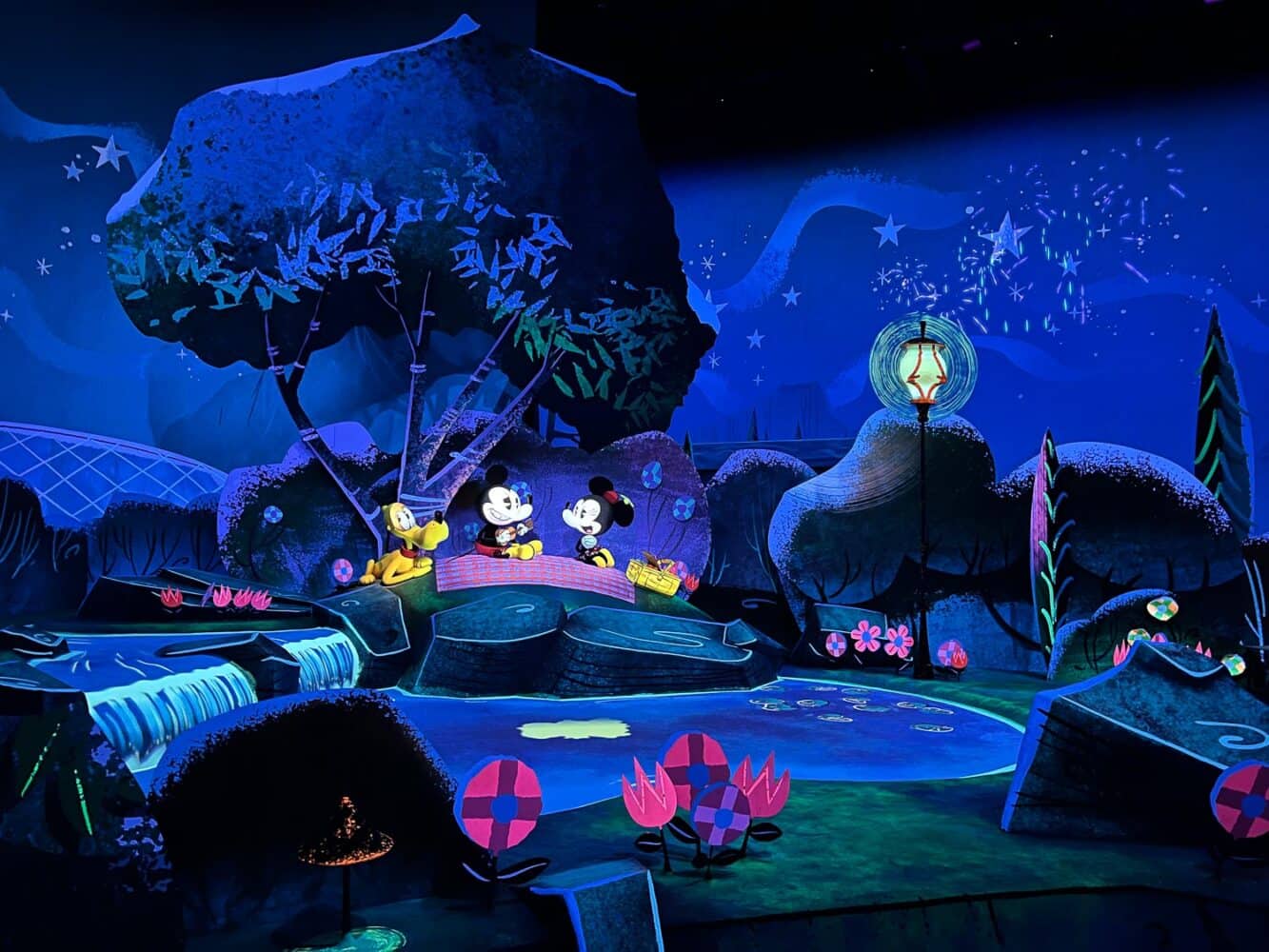 Type of Ride: Trackless Dark Ride
Minimum Height: None
Lightning Lane: Genie+
Location: Hollywood Boulevard
Hollywood Studio's newest ride is Mickey & Minnie's Runaway Railway, a family-friendly dark ride that takes you into a cartoon.
It's one of the new generation of dark rides that uses trackless technology for a smooth and unpredictable ride.
Goofy drives your runaway train as you bounce frantically between different scenes from a cartoon. It's charming and stylish with some fun details like when your car dances the waltz.
We rode Mickey & Minnie's Runaway Railway with Genie+ in the afternoon, and again at the end of the day when it was a walk-on.
7) Slinky Dog Dash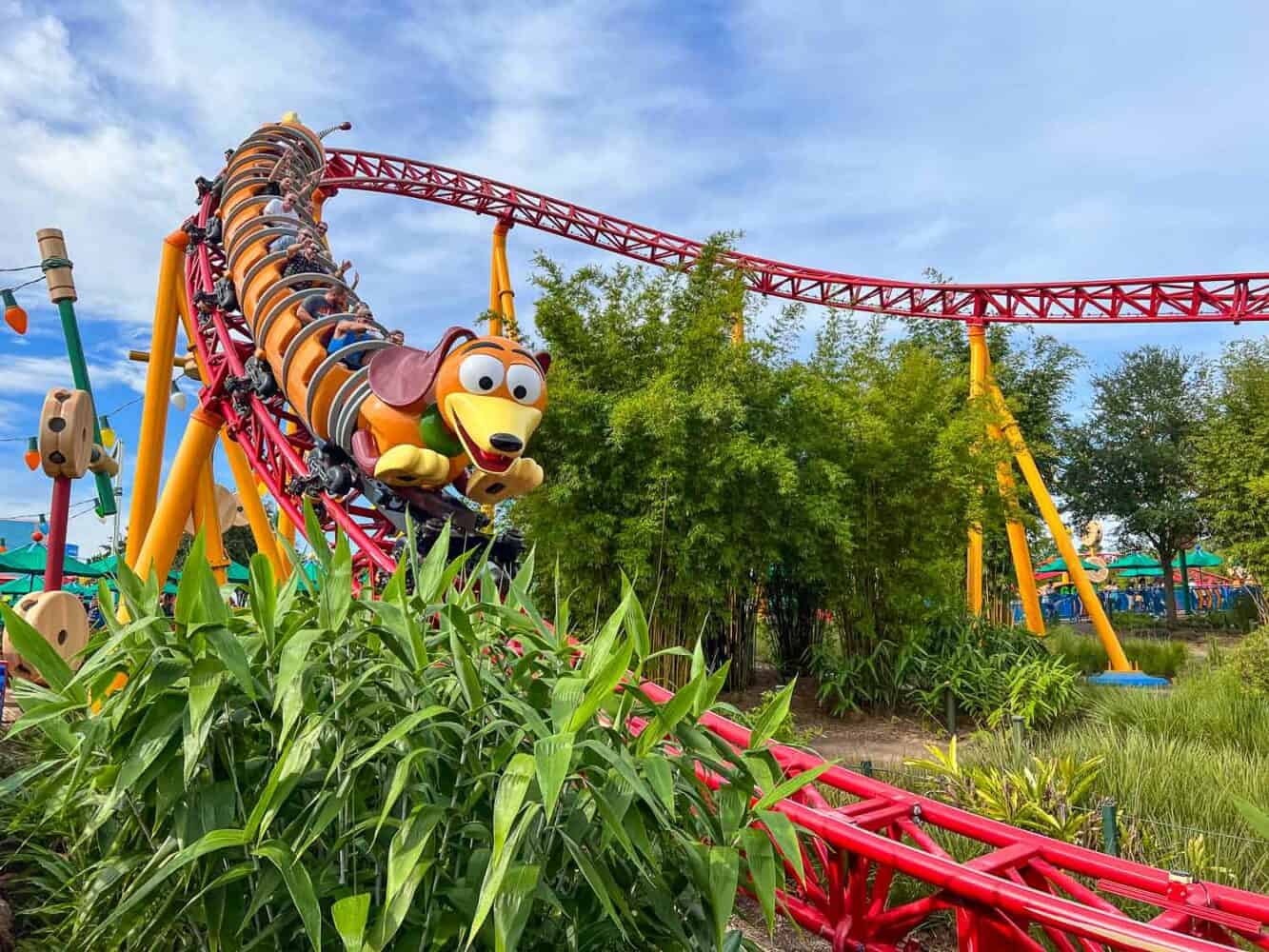 Type of Ride: Thrill Ride with Small Drops
Minimum Height: 38 inches (97cm)
Lightning Lane: Genie+
Location: Toy Story Land
Most other Hollywood Studios ride lists place Slinky Dog Dash nearer the top, but we don't quite get the fuss.
It's a cute and colourful roller coaster in the fun Toy Story Land on a journey past oversized toys in Andy's backyard.
It has some fun moments and is a smooth ride, but it's fairly tame, and for adults, I don't think it's worth a long wait.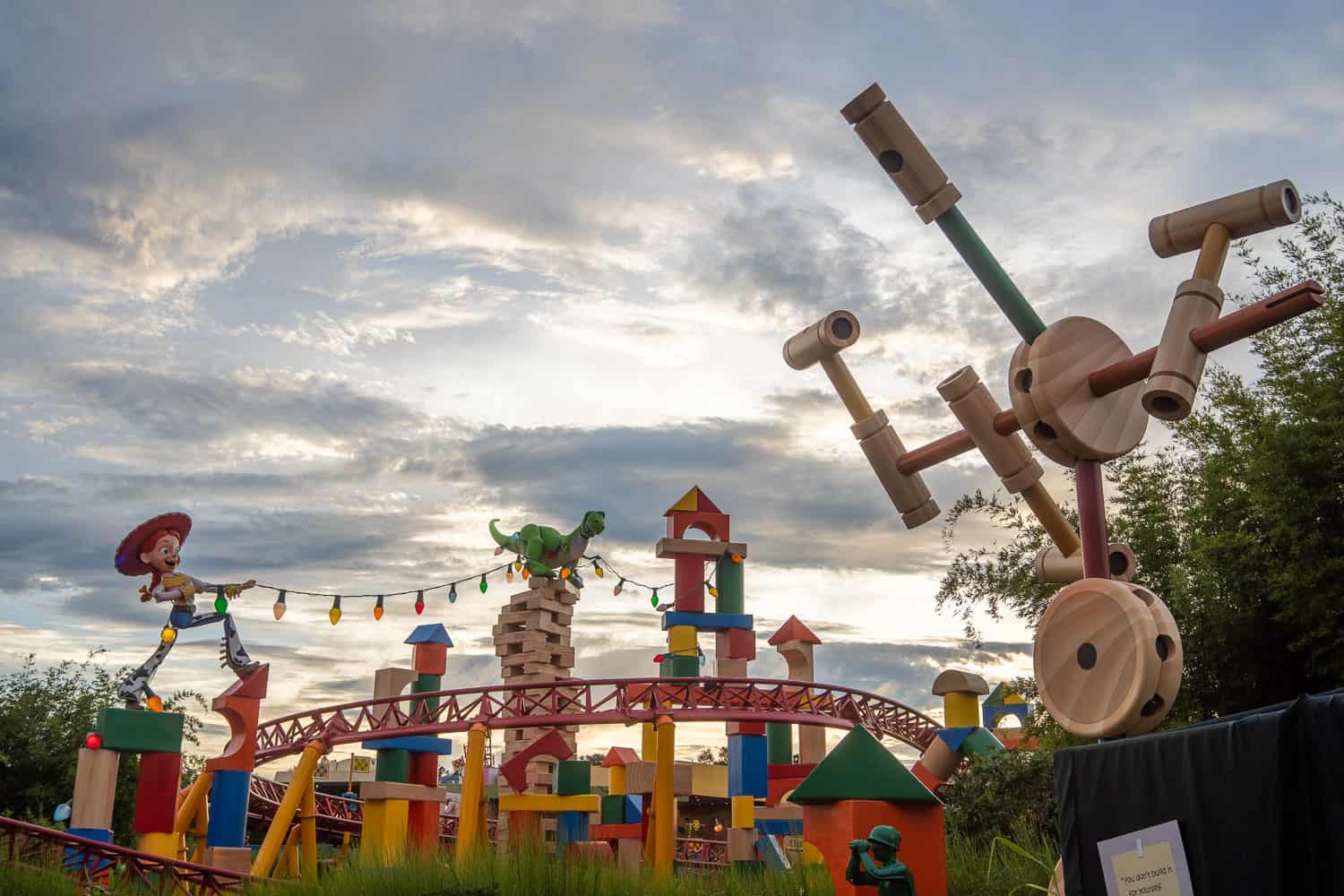 Slinky Dog Dash is the second most popular ride in the park (after Rise of Resistance) and lines are almost always long.
It's best ridden with Genie+ and I recommend booking at 7am exactly for an earlier return time. It will be the first Genie+ to run out.
8) Star Tours – The Adventures Continue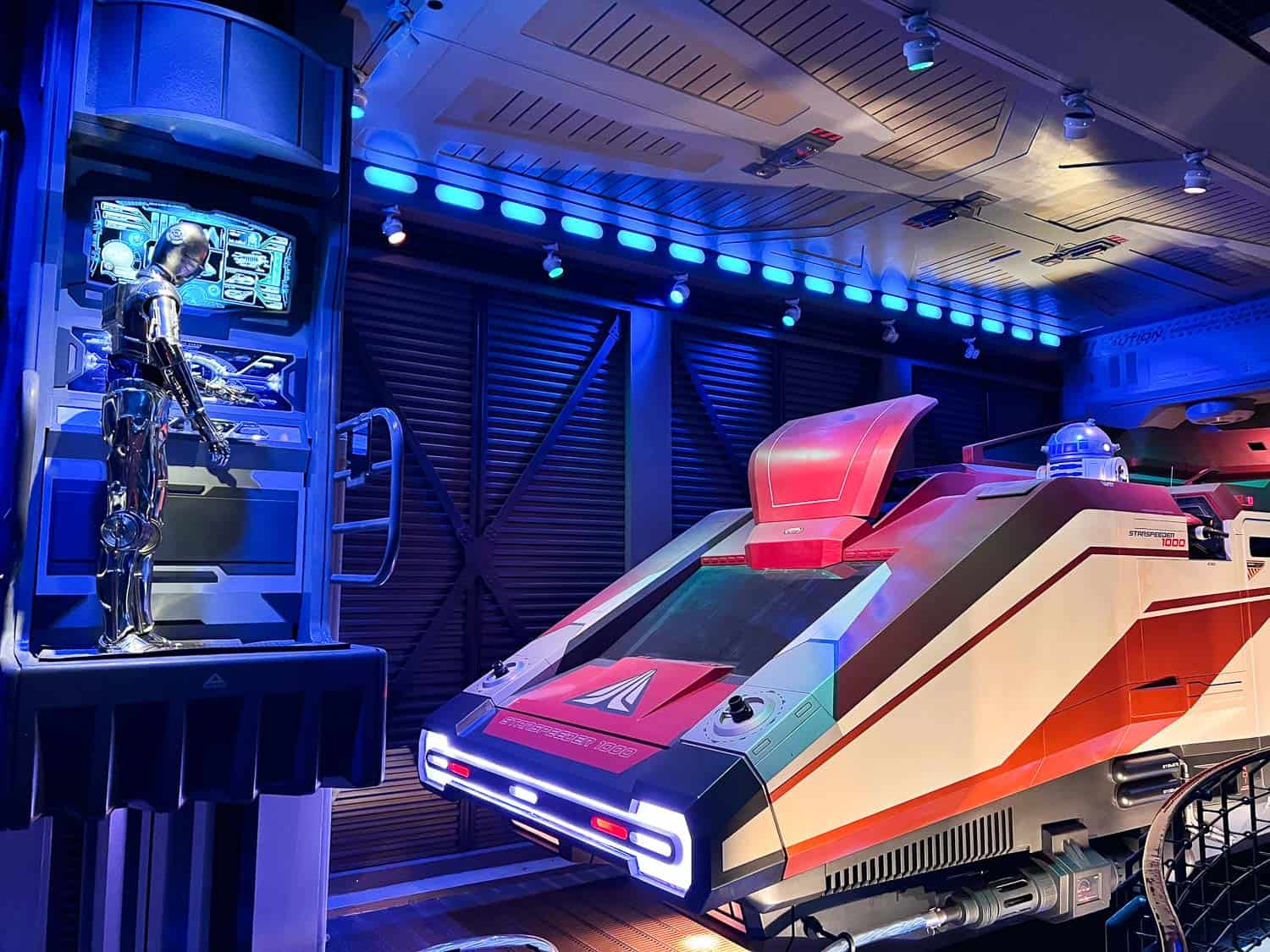 Type of Ride: Flight Simulator with Small Drops
Minimum Height: 40 inches (102cm)
Lightning Lane: Genie+
Location: Echo Lake
Star Tours is a 3D motion-simulated space flight to popular destinations from Star Wars. Each flight has a different destination, so it's a good one to repeat.
You might want to skip this one if you get motion sickness like me. It doesn't make me feel too ill, but I'd rather avoid it. Simon loves it.
This high-capacity ride rarely has long waits so ride it anytime.
Best Shows at Hollywood Studios
Once you've spent the morning on the best Hollywood Studios rides, relax in the afternoon with one or two of the movie-themed shows. Check the app for show times.
9) Indiana Jones Epic Stunt Spectacular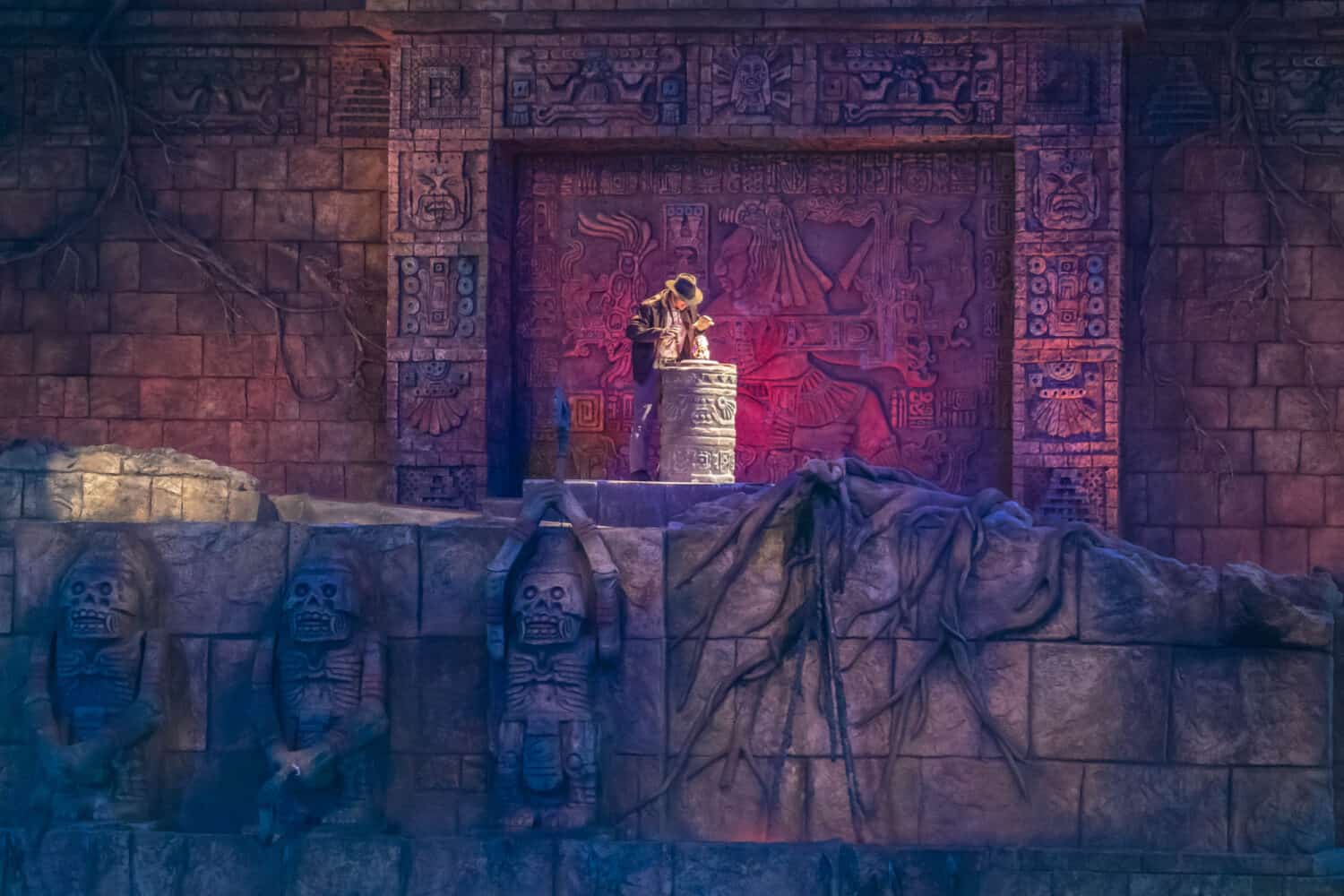 If you only have time for one show at Hollywood Studios, make it the Indiana Jones Epic Stunt Spectacular.
This 30-minute stunt show has been going for years, and while some references are dated, the stunts are as impressive as ever with huge explosions and nicely choreographed fight sequences. You'll even learn how they do it.
10) Muppet Vision 3D
Muppet Vision 3D is also feeling its age with rather dated 3D effects. But the movie is charming, the jokes are funny, and the comfy chairs in an air-conditioned theatre are perfect for a 20-minute break.
The show runs continuously throughout the day so see it any time you need a rest.
11) Beauty and the Beast Live on Stage
This is a live-action retelling of the Beauty and the Beast story with dance and music.
It's well done and a great option for kids and Beauty and the Beast fans, but for us, it's not a must see at Hollywood Studios. We do like it as a 30-minute break, though.
The other major show is a Frozen sing-along—you'll know if that sounds appealing or not!
Other Top Things to Do at Hollywood Studios
12) Explore Galaxy's Edge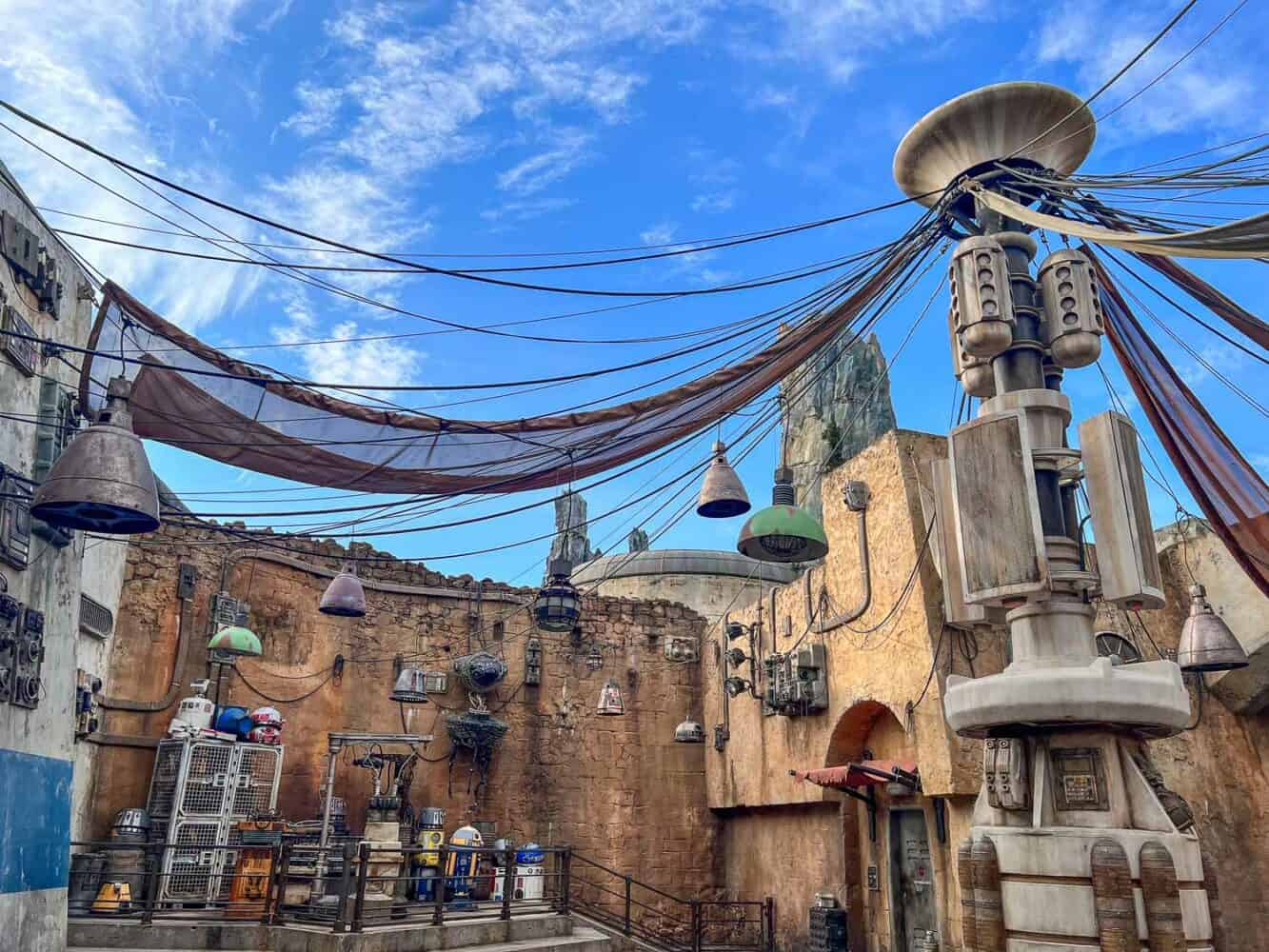 When you enter Star Wars Galaxy's Edge you find yourself on the remote planet Batuu.
It's a wonderfully detailed and immersive world to explore, even if you aren't a fan of the Star Wars movies. If you are, you'll be in heaven.
We really enjoyed walking around in the early morning when it's quieter and again at night when it's lit up and has a different atmosphere—lots of people have their lightsabers out!
Highlights include the highly realistic Millennium Falcon, excellent food and drink outlets (more on those below), and cool shops where you can outfit yourself as a Resistance fighter or First Order officer, buy a lightsaber, or discover curious creatures. We're definitely tempted to cosplay next time.
Kylo Ren's TIE Fighter is also on Batuu and you might see Ren himself wandering around with stormtroopers who stop to interrogate passers-by.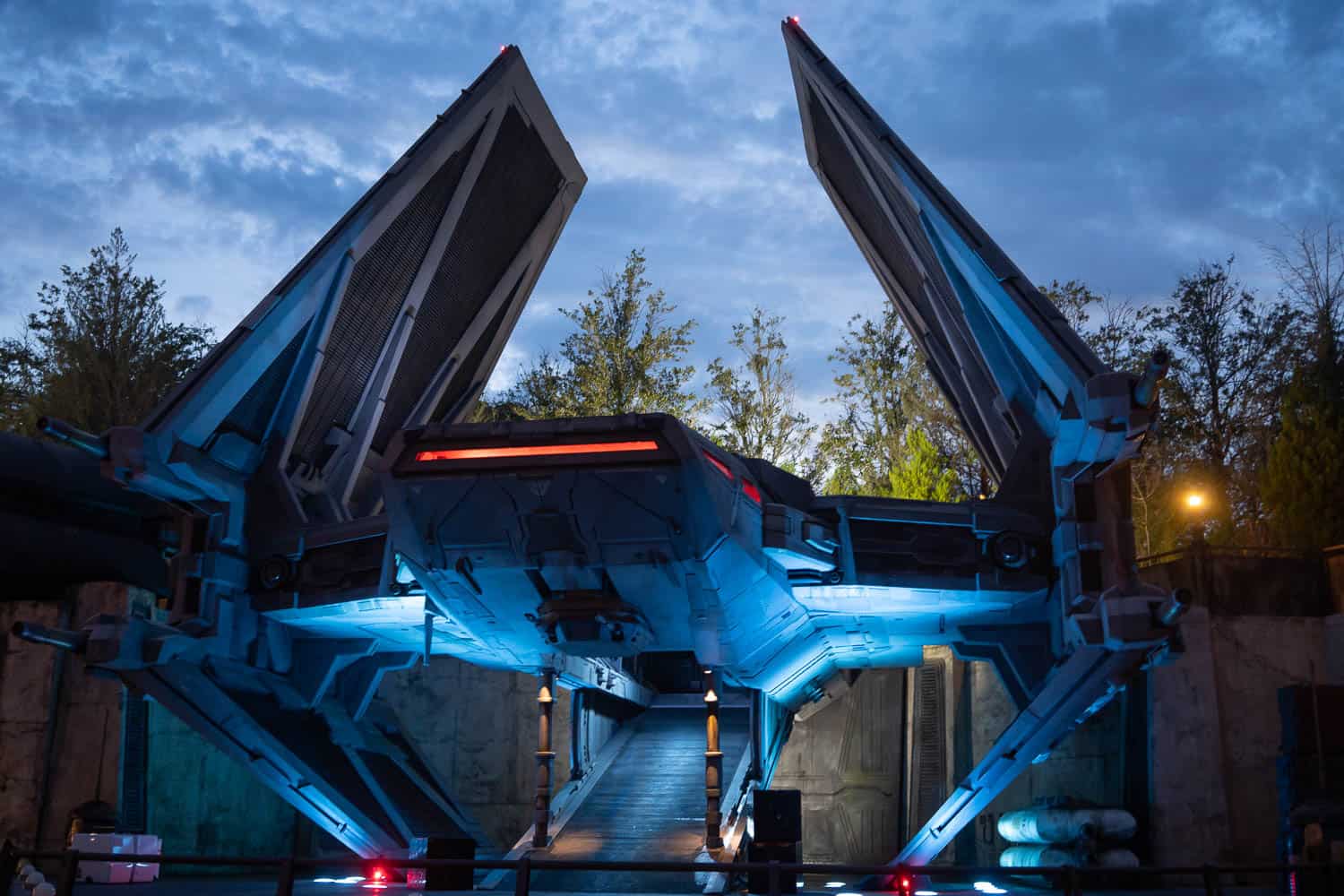 Galaxy's Edge is a must do at Hollywood Studios so make sure to allow plenty of time to explore.
13) Drink a Cocktail at Oga's Cantina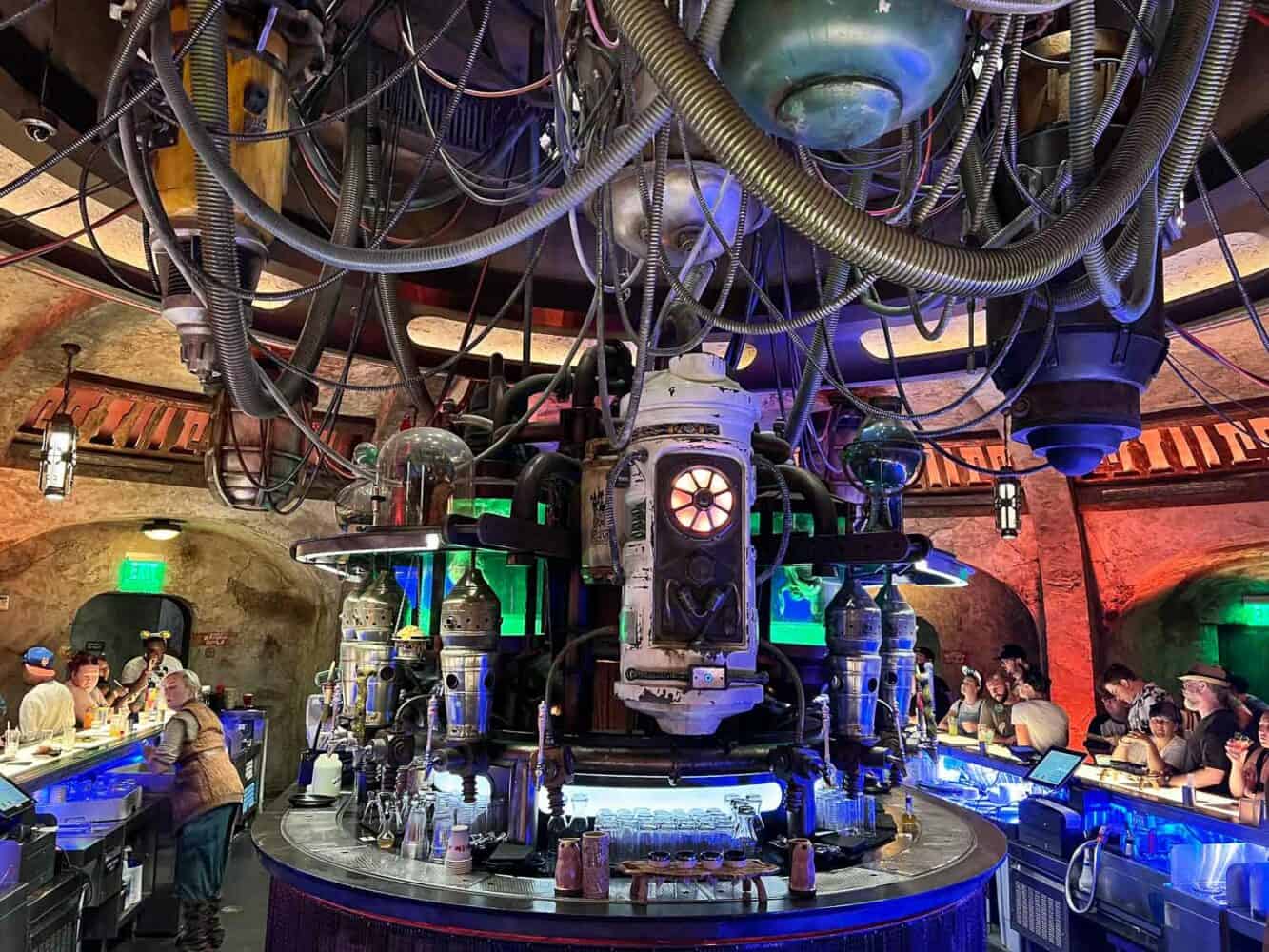 Our favourite place in Galaxy's Edge is Oga's Cantina. This quirky bar is loud, fun, and always revitalises us during a busy park day.
We love the weird things in jars behind the bar, the cool music by Droid DJ R-3X, and the high-energy staff who lead the whole bar in the Huttese drinking song, "Yocola Ateema".
The cocktails are also tasty. The most fun is the Bespin Fizz (rum, yuzu, cranberry, and pomegranate) with its cloud swirl and impressive continual bubbling.
The Fuzzy Tauntuan (vodka, peach schnapps, orange juice) is also unique as it's topped with a mouth-tingling foam.
Flavour-wise, I preferred the two tequila-based drinks, the Dagobah Slug Slinger (herbal and citrusy), and the Outer Rim, a pomegranate margarita with passion fruit foam.
The Jet Juice and Jedi Mind Trick were more disappointing.
There are a few booths around the edge and standing tables in the middle, but we think the best place to be is at the bar, so request this when you check in.
You are limited to a stay of 45 minutes and two drinks per guest.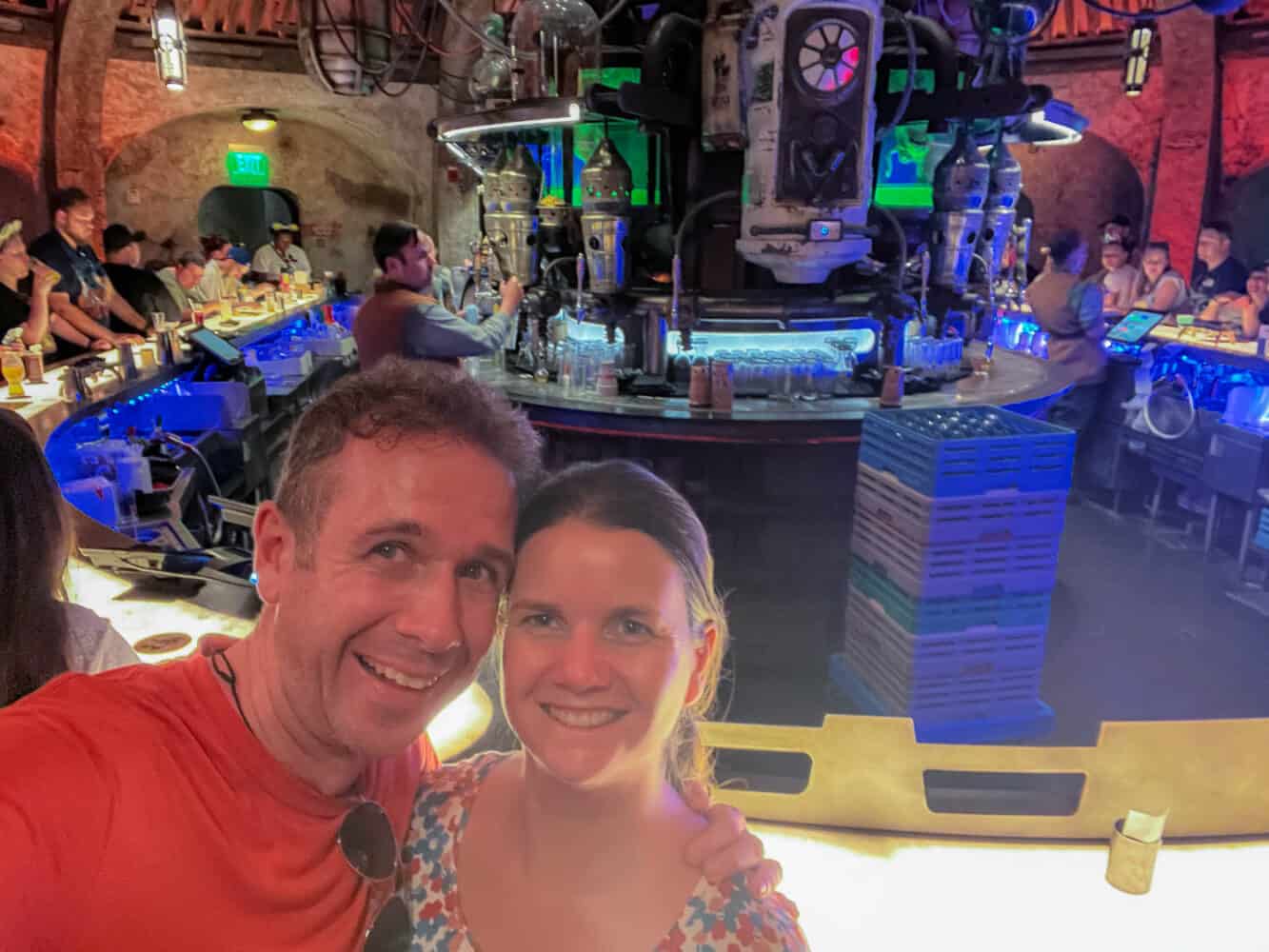 While there were a few kids on our visits (and there are plenty of non-alcoholic cocktails), the cantina has a more adult atmosphere.
Advance reservations are essential for Oga's Cantina and open 60 days before. Sometimes late reservations (9.30pm ish) are available for after the park closes. This would be a great way to maximise time and then enjoy walking through a quiet Galaxy's Edge afterwards.
Oga's Cantina is not cheap (a cocktail is around $20 plus tax and tip), but we absolutely loved the drinks and fun atmosphere—don't miss it!
14) Enjoy a Blue Milk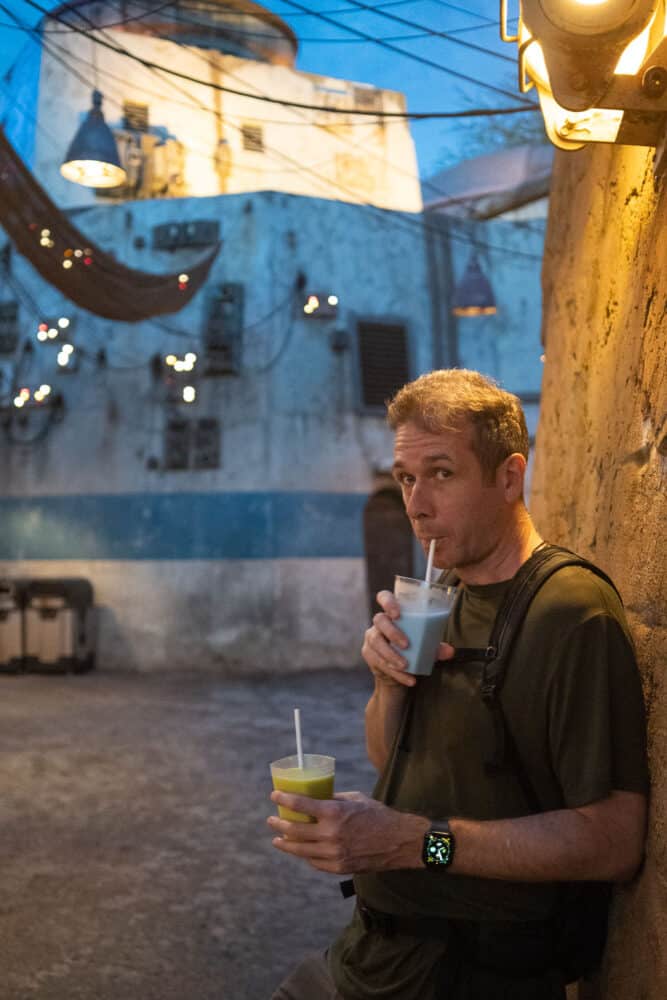 At the Milk Stand stall in Galaxy's Edge you can enjoy a Blue Milk, which Luke Skywalker was seen drinking in A New Hope and The Last Jedi.
You can choose blue or green options, and they taste quite different so it's worth trying both. You can also purchase them in alcoholic versions.
I'm not a fan of milk so didn't think I'd like Blue Milk, but the frosty beverages are made from plant-based milk and are very tasty.
15) Breakfast at Ronto Roasters
The first of the two excellent casual restaurants in the Star Wars land is Ronto Roasters.
This stand has outdoor seating and is the perfect spot for breakfast after riding Rise of Resistance and Millennium Falcon.
While their focus is roasted meat, they have a delicious vegan breakfast wrap with plant-based egg, smoky chickpea-onion slaw, and roasted tomato sauce.
Order ahead on the app to save time at this popular spot. The stand closes mid-afternoon.
16) Lunch at Docking Bay 7
By lunchtime you'll likely be in need of a break from the sun, so head to Docking Bay 7 where you can escape into blissful air conditioning in this massive hangar.
The decor is cool, the food more interesting than your average theme park fare, and I appreciate that they don't use disposable plates.
Vegans can enjoy the Felucian Kefta Garden Spread—plant-based meatballs, herb hummus, and tomato-cucumber relish on pita bread.
It's our favourite dish in the park and Docking Bay 7 is the best casual restaurant at Hollywood Studios.
17) Dinner at Sci-Fi Dine-In Theater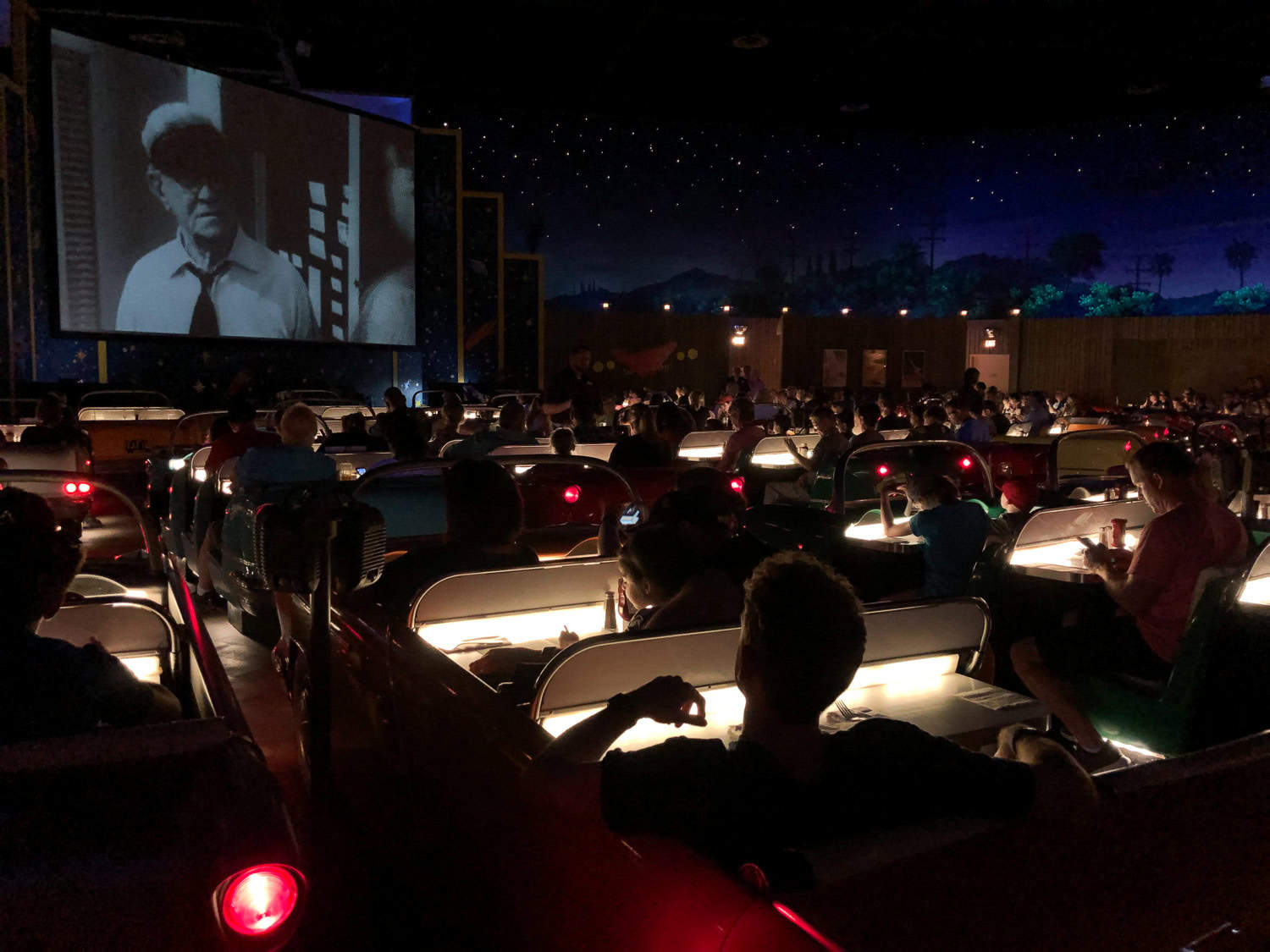 For a table-service meal, Sci-Fi Dine-In Theater has the best theming at Hollywood Studios.
The huge space is set up like a drive-in and you sit in a vintage car beneath a starry sky and screen showing 60s cartoons and movie clips.
We prefer the food in Galaxy's Edge, but this is a fun experience and makes a great break.
Advance reservations are likely needed.
18) Eat a Toy Story Themed Meal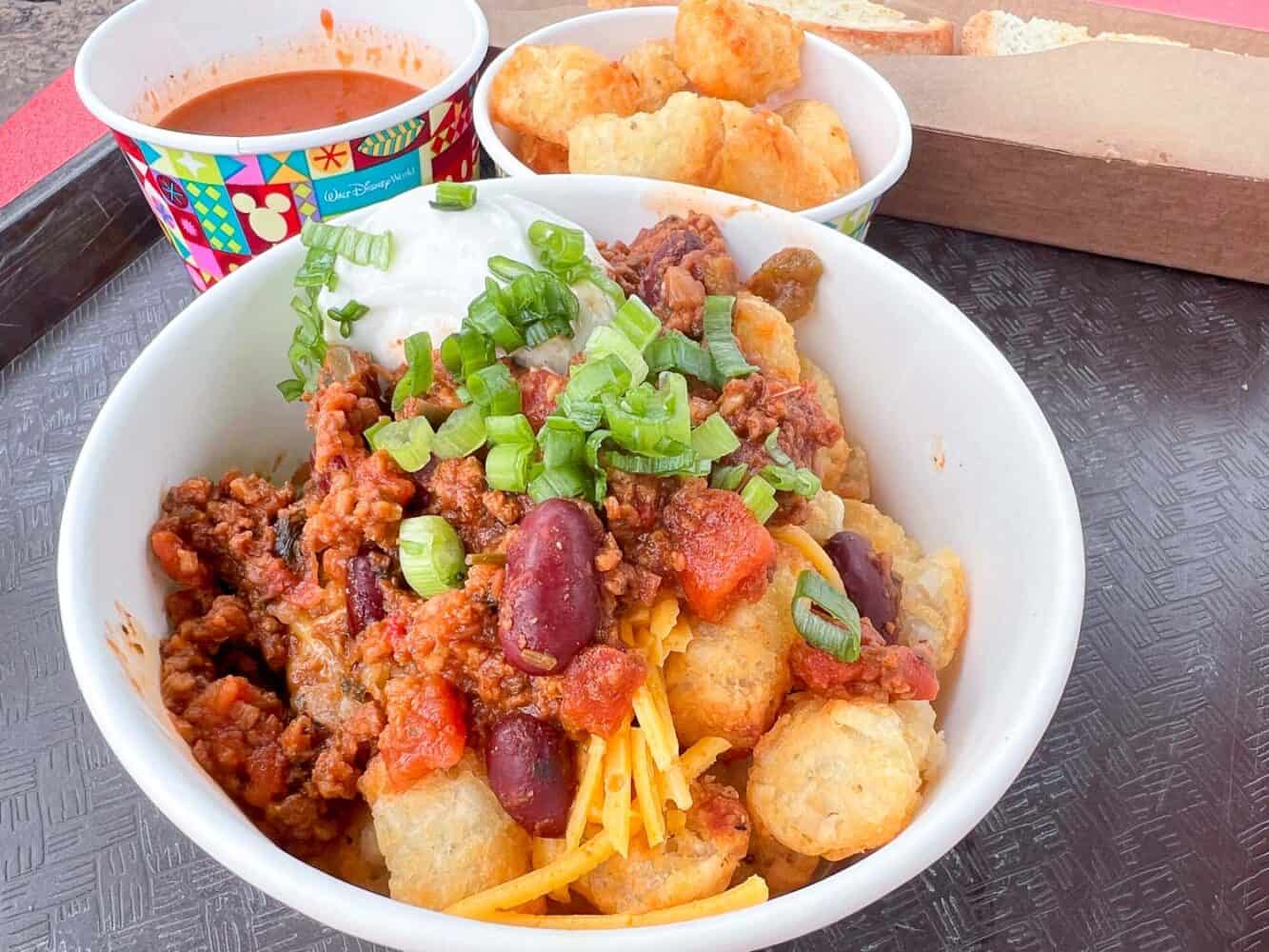 Toy Story Land also has some fun eating options. At casual Woody's Lunch Box, you sit outside amongst colourful oversized pencils and snack on childhood comfort food—grilled cheese, tomato soup, "totchos" and more.
For a table service meal, we are keen to try the new western-themed Roundup Rodeo BBQ Restaurant, where you are served family-style (plant-based options available) amongst Andy's rodeo.
Advance reservations are essential. I would book 60 days ahead for this popular new spot.
19) Admire Fantasmic!
Fantasmic is Hollywood Studio's nighttime spectacular. It takes place once or twice each evening in a huge outdoor amphitheatre overlooking a lagoon on the edge of the park.
The 30-minute show is a battle of good and evil in Mickey Mouse's dream. It uses fire, water projections, lasers, and fireworks as well as live performers and songs from classic Disney movies Moana, Frozen, The Little Mermaid, The Lion King, and more.
It's an impressive event that is a Hollywood Studios must see for most guests. Make sure to get to the amphitheatre at least 30 minutes in advance for a good seat.
If there are two shows, the first one will be busier but has the advantage of allowing you to do popular rides like Rise of the Resistance during the second show, when lines are shorter.
Check the app for show times.
20) Watch the Wonderful World of Animation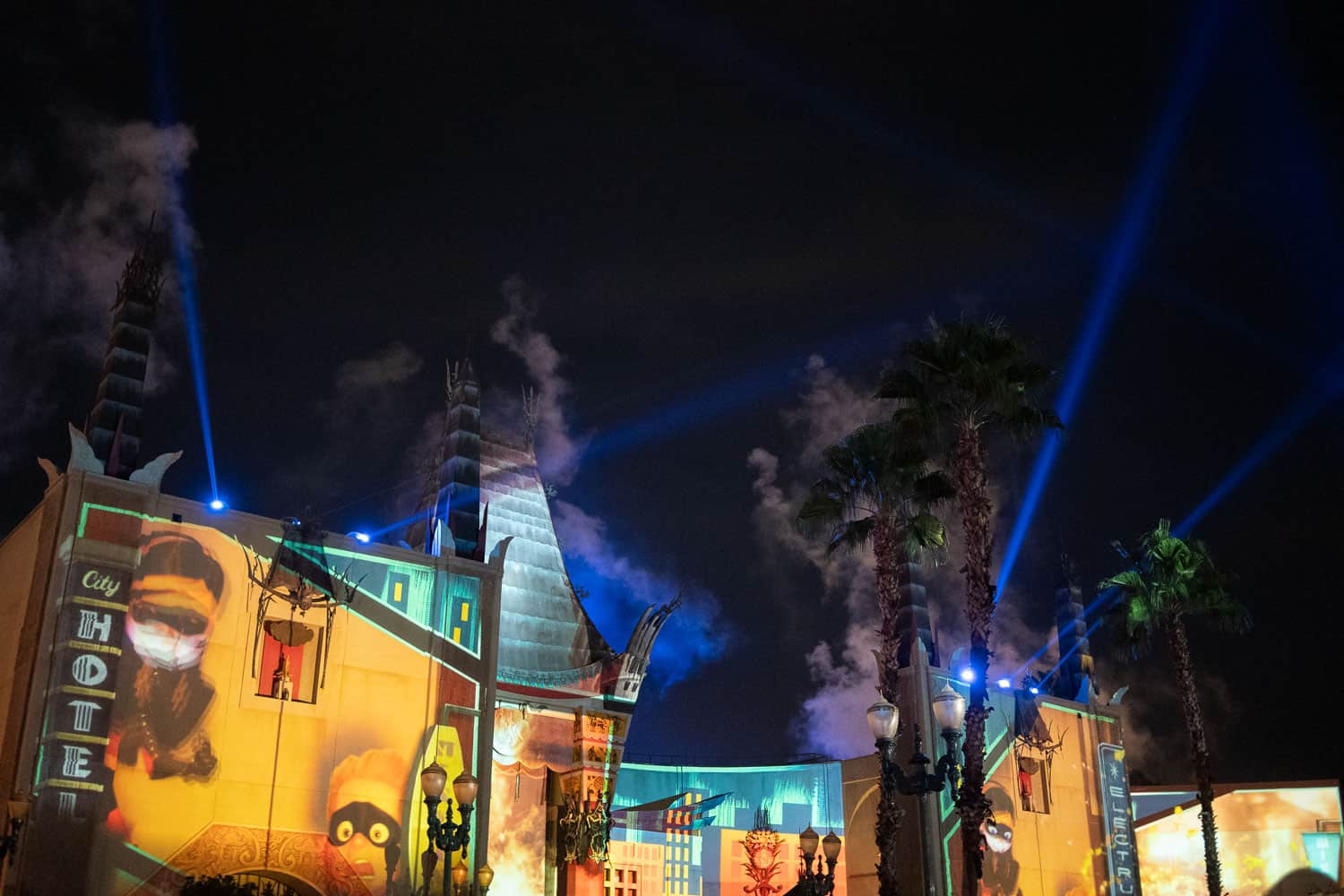 Wonderful World of Animation is a much more low-key nighttime light show that is projected on the facade of the Chinese Theatre. It takes you on a journey through 90 years of Disney and Pixar animations.
While this is nowhere near as impressive as Fantasmic, we like how relaxed it is—you can easily see the show as you are passing by, without having to arrive early to secure a spot.
21) Make a Droid or Lightsaber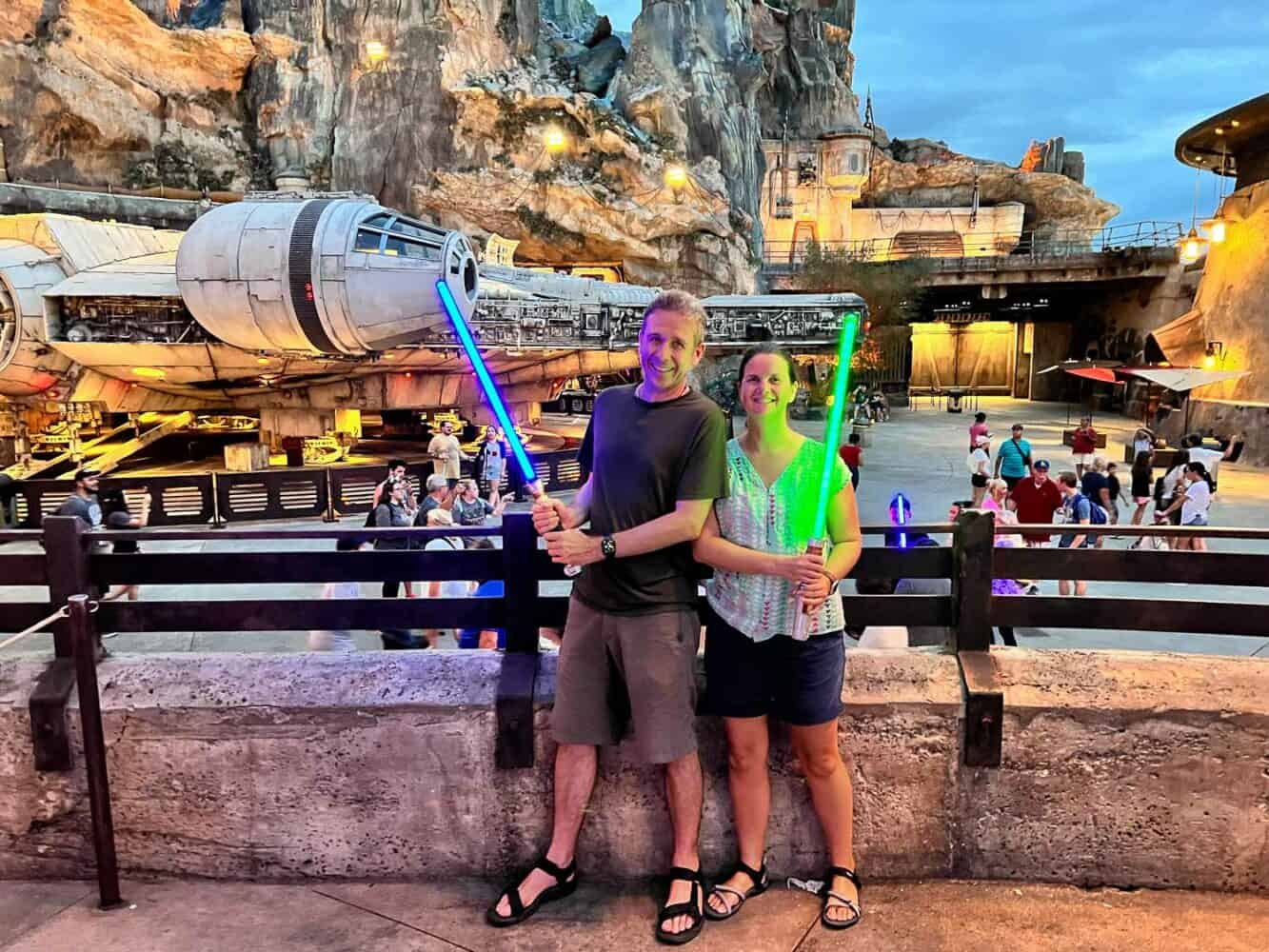 One of the best things to do at Hollywood Studios (and it's on our bucket list) is to make a droid or lightsaber in workshops in Galaxy's Edge.
We wandered through the industrial Droid Depot and it looked like a fun experience as you pick from a variety of components to customise your very own droid.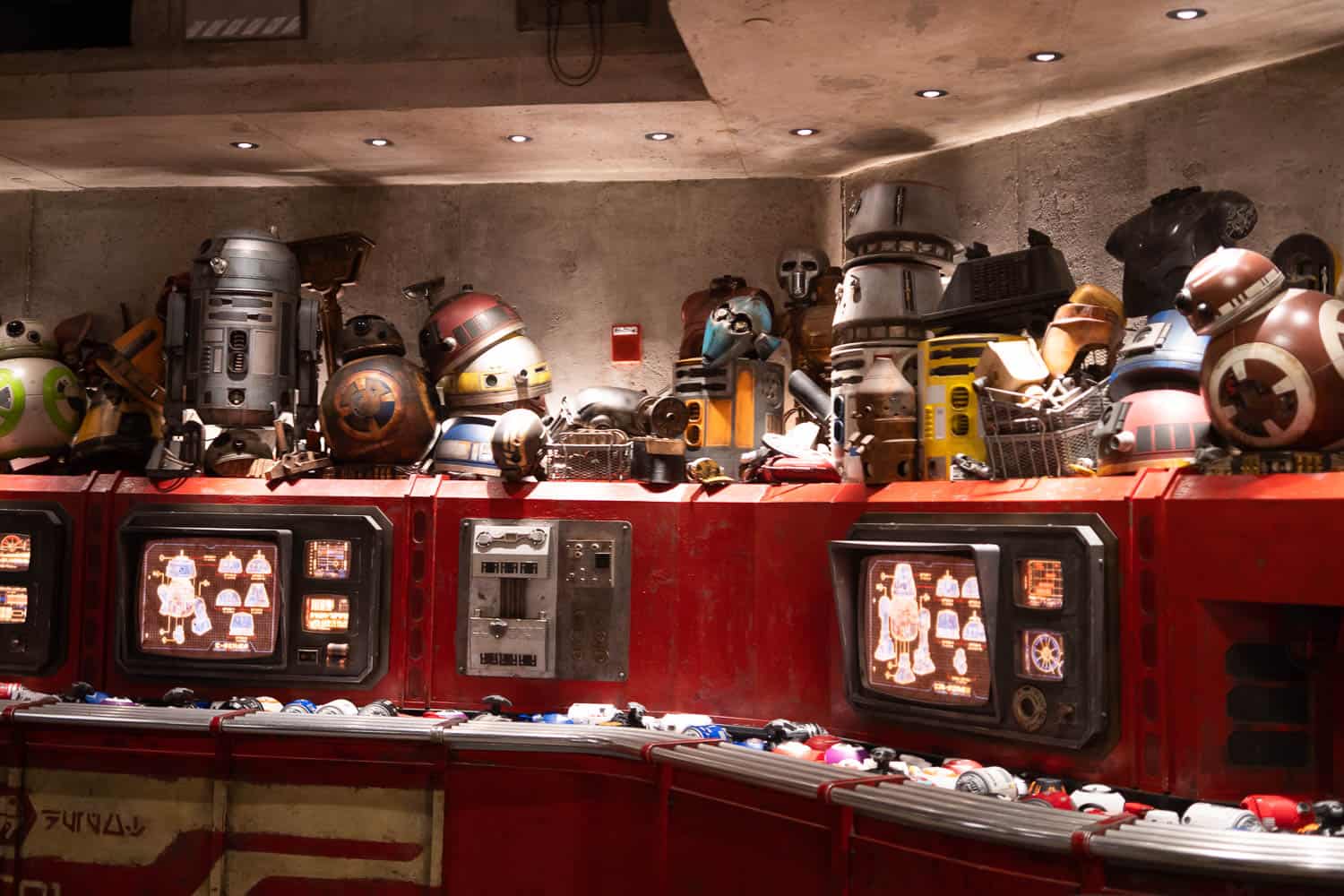 It costs $120 per droid plus tax. Advance reservations are recommended but walk-ins may be accommodated—it was quiet at the end of the day on our visit.
Apparently, building your own lightsaber in Savi's Workshop is an even cooler experience, but it's double the price at $250 plus tax. You do then get to wander around Batuu with your very own lightsaber, though, which looks amazing at night!
Reservations up to 60 days in advance are even more important for this popular attraction.
If you are wondering how to get your lightsaber home, it comes with a carry case and is TSA approved for either carry-on or checked luggage. Disney can also arrange shipping.
22) Grab a Beer and Pretzel at BaseLine Tap House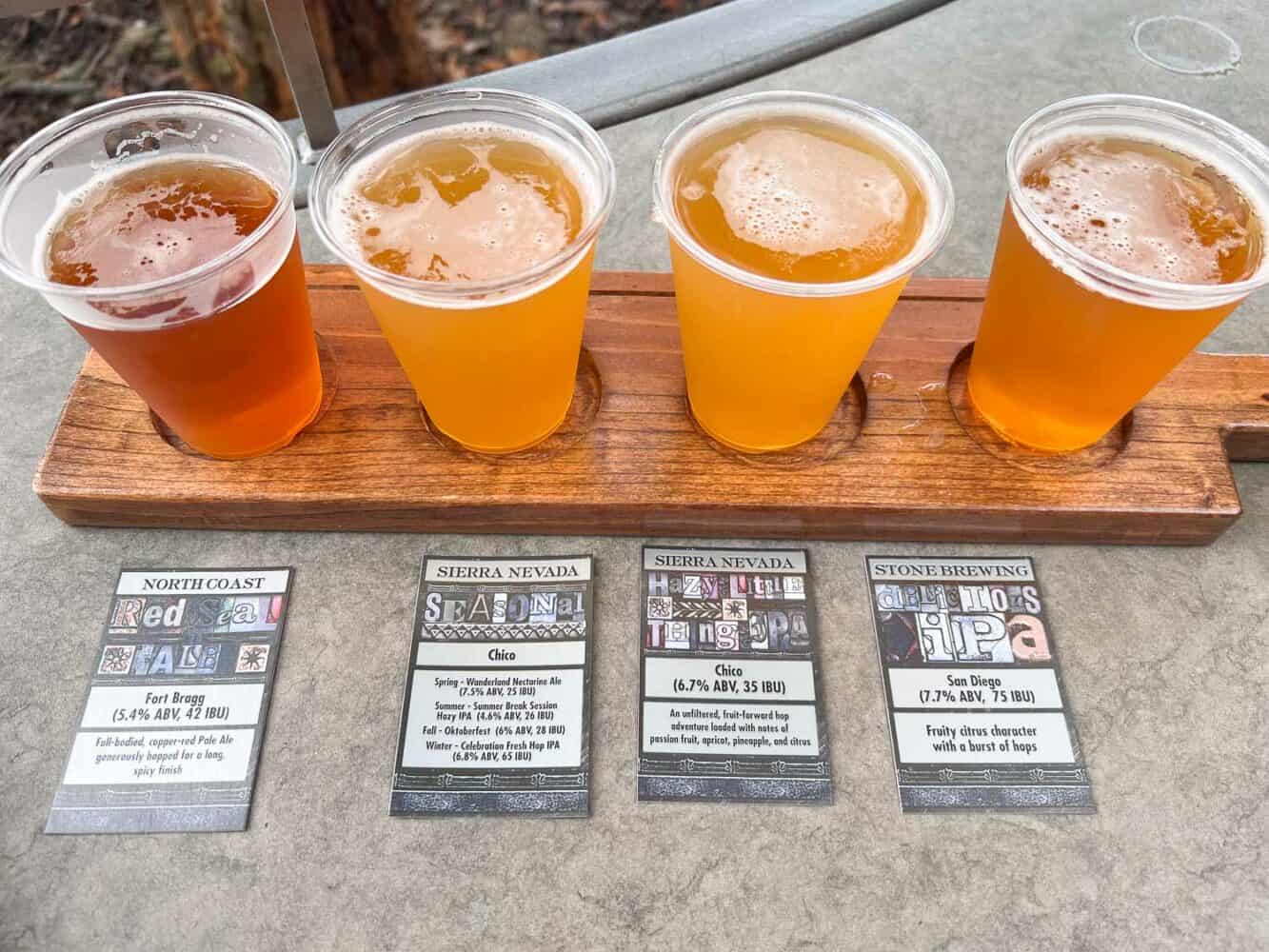 BaseLine Tap House is a surprisingly good pub in a cool industrial space that specialises in Californian beer and wine.
Relaxing here with a flight of craft beers and a giant Bavarian pretzel is Simon's perfect park break.
It's next door to Sci-Fi Dine-In, so if you are trying to get a walk-in table, this is a great place to wait.
23) Learn About Walt Disney
One of the more hidden Hollywood Studios attractions is Walt Disney Presents, a tribute to Walt Disney with a walk-through exhibition and documentary film.
While it's not a must-do if you are short on time, it is an interesting look at his life and work and a nice change of pace.
Is Hollywood Studios Worth it?
Yes, Hollywood Studios is absolutely worth visiting! This movie-themed park is great for adults and kids. It has some of Disney's most inventive and thrilling rides and the most immersive world—the incredibly detailed Star Wars Galaxy's Edge.
While it can be crowded, you can avoid long waits with Genie+ and by arriving early and staying late. In the busy afternoons, there are plenty of shows, restaurants, and bars to enjoy.
It's a park we return to again and again. While a full day is enough to experience all the attractions, on our last week-long Disney trip we often popped in for a morning ride or evening wander and ended up visiting more than any other park.
I hope this guide has given you some ideas of what to do at Hollywood Studios. Let us know if you have any questions in the comments below.
Other Disney Posts
Plan your Disney trip in Orlando and beyond with our other guides:
Disney World Orlando
Elsewhere
If you enjoyed this post, pin for later!