This page contains affiliate links. Please read our disclosure for more info.
Slovenia isn't the obvious place that comes to mind when you think of the Alps but this pocket sized country in central Europe has mountain scenery that rivals neighbouring Austria, and it's much more affordable.
While staying in Lake Bled we wanted to explore more of the country's mountains but as it's difficult without a car we decided to take a day trip with 3glav Adventures. We were hesitant signing up for a 12 hour tour but the excellent reviews of the Emerald River Adventure convinced us and we ended up having one of our most action-packed days of the year.
The Soča is known as Slovenia's emerald river due to its astonishing turquoise-green colour and as well as short hikes in the mountains we'd be following the river from its source. Eight of us plus our guide Jaka set off in a minibus, bleary eyed at 8am, for our day of adventure. Although we had a long day ahead of us, due to Slovenia's compact size we never spent more than 30 minutes in the van between stops.
Our first break was just outside Kranjska Gora, a ski resort in the winter and the gateway to Triglav National Park. Here we got our first close up look at the Julian Alps while listening to the strange myth of the goat (I won't ruin the surprise for you) at Jasna Lake.
We wound our way up the 25 hairpin turns to Slovenia's highest pass Vršič where we hiked up to a viewpoint for spectacular views of rugged peaks and limestone mountains carpeted in forest. This area, close to the Italian border, was the third biggest front in the First World War and you can still see the old bunkers.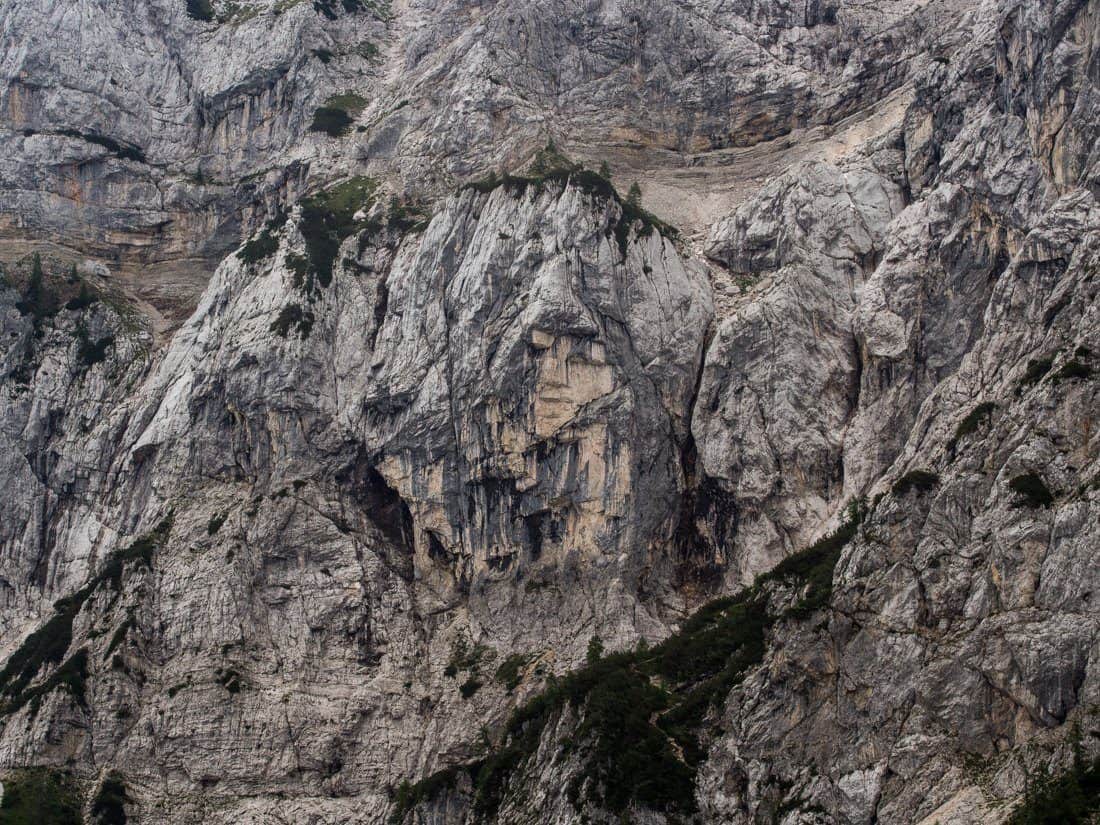 After weaving our way down 25 more hairpin turns we reached the other side of the pass and our next hike. It was an adventurous one, clinging to cables as we scrambled along a rocky cliff to reach the source of the Soča river, a deep turquoise pool glistening inside a cave.
We followed the Soča river from its origin, driving alongside it and watching as its colour intensified the further along we travelled until becoming a deep inviting shade of emerald.
After a lunch break in Bovec it was time to see the river up close, while white water rafting. The Soča isn't a wild rafting adventure, it's more of a leisurely ride with some fun grade 2/3 rapids.
For us it was all about being on the river and enjoying the scenery—the jade water is so clear you can see right down to the white pebbles on the river bed and watch the trout swimming past, while limestone mountains soar above.
We had a few breaks for jumping off rocks but despite being protected by a wetsuit my body was so shocked by the icy water that one dip was enough for me. It was a beautiful place to raft and like in Costa Rica, I experienced a feeling of calm and quiet satisfaction as our group paddled in sync and made it through the rapids.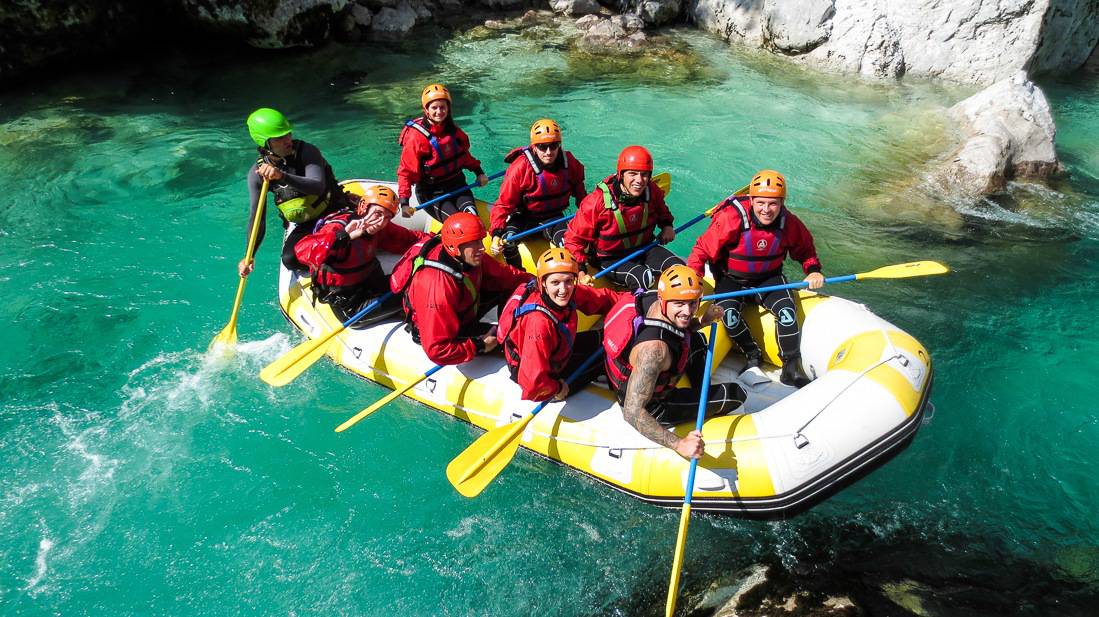 We'd had a full day's experiences already but there was more to come. Next up was a short hike to the Kozjak waterfall via a suspension bridge over the Soča and a short forest walk.
A stream of water gushed from a canyon into a green pool inviting us to take a swim, until we dipped a toe in. I had to fight against every self-preservation instinct to force myself into the frigid water—it was a brief, bracing swim. Simon chickened out at the last minute—his skinny body has a particular aversion to cold water—but he made up for it on the next stop.
At Most na Soči the river becomes wide and deep. The biggest adventure of the day was the chance to jump off a 10 metre high bridge into the icy bright blue water. Only three of the eight of us were brave enough, and Simon was one of them.
As he approached the edge of the diving platform he made the mistake of looking down, and from the look on his face he obviously regretted his decision. It looked much much higher than it did from the ground. An impossible height. One that only an insane person would attempt.
Still, there was no backing out now so he retreated from the edge, kept his head high and boldly reapproached, this time without looking down. He plummeted off the edge, shouting expletives, and somehow remembering to keep his arms close to his body to avoid injury. It seemed to take an eternity for him to splash into the water, but he wasted no time in getting out of the freezing river, pumped on adrenaline, exhilarated that in the face off with fear, he'd won.
The main action of the day was over but the journey back to Bled was no less interesting. In order to avoid backtracking we took a shortcut, right through the mountains. To do this we had the novel experience of taking the van on a train.
We drove onto a rusty platform and the locomotive chugged along, pulling us behind it as it snaked alongside the river, past Alpine villages hidden in valleys, before plunging into darkness. The pitch blackness lasted seven minutes as we cut through the rocks in Slovenia's longest's tunnel.
Our final stop was a brief sunset visit to Lake Bohinj, Bled's larger, quieter neighbour.
We returned to Bled tired but happy we'd been able to see more of this beautiful country. If you like outdoor activities we'd definitely recommend the Emerald River Adventure. 3glav Adventures were well organised and professional, our guide Jaka was knowledgeable, fun, and down to earth, and we experienced so much in one day that would have been difficult by ourselves.
Practical Details
The Emerald River Adventure costs €80, plus an optional €40 for rafting.
See our post about Lake Bled for more details on this gorgeous area. We stayed at Hotel Triglav, which we highly recommend for the stunning lake views. Click here to search for more hotels and guesthouses at Lake Bled.
Don't forget travel insurance! It's especially important when doing adventure activities like this but make sure your insurance company covers activities like white water rafting. We use True Traveller insurance who are great value for UK and EU residents and cover many activities for free. Heymondo is another reliable option and is available worldwide.
Many thanks to 3glav Adventures who hosted us on our Emerald River Adventure. The photos of us rafting were taken by our guide Jaka and are courtesy of 3glav Adventures.