This page contains affiliate links. Please read our disclosure for more info.
I don't know how Slovenia has stayed a secret so long. Why isn't everyone raving about its stunning Alpine scenery, emerald rivers, picture-perfect towns, and excellent food and wine? Slovenia is beautiful, affordable, and its compact size (about the size of Wales) makes it easy to get around. We never travelled more than an hour or two to reach our next destination: from the relaxed capital to vast underground canyons to rolling hills and vineyards, and on to a fairytale lake and dramatic mountain landscapes.
Slovenia is located in central Europe, it was part of Yugoslavia until 1991, and it borders Italy, Austria, Hungary and Croatia. It shares elements with all of these—the steepled churches and Alpine scenes of Austria, the vineyards and terracotta roofed villages of Italy—but the fusion makes it uniquely Slovenian.
Tourism is deservedly growing in the country and while it's not undiscovered it doesn't feel at all overrun with tourists. We arrived in Ljubljana from Munich and its streets were just as beautiful but much more enjoyable without having to fight our way through tour groups and drunken stag parties.
We only had eight days in the country, longer than the average visit of three nights (the largest number of visitors come from neighbouring Italy), but not long enough. We will definitely be back for a longer stay.
These are our highlights from our travels in Slovenia.
Lake Bled
It's Slovenia's most famous visitor attraction and rightfully so, as we were completely won over by Lake Bled. From the moment we stepped off the train at Bled Jezero station and got our first glimpse down to the impossibly turquoise-green lake we knew we were somewhere special. The lake is surrounded by lush green mountains with a fairy tale church nestled in a tiny island at its centre and a medieval castle looming above from its rocky perch.
It helped that we were staying on the quiet western side of the lake in the wonderful Hotel Triglav so we could enjoy it in tranquility, away from the main town which does have a couple of ugly monstrosity hotels blotting the landscape. Lake Bled is a great place to just relax and enjoy the view but there's lots to do too—we went hiking, horse riding, white water rafting, rented a boat, and visited the nearby Vintgar Gorge. There's much more we'd like to do and we're considering coming back to rent an apartment here for a month.
Ljubljana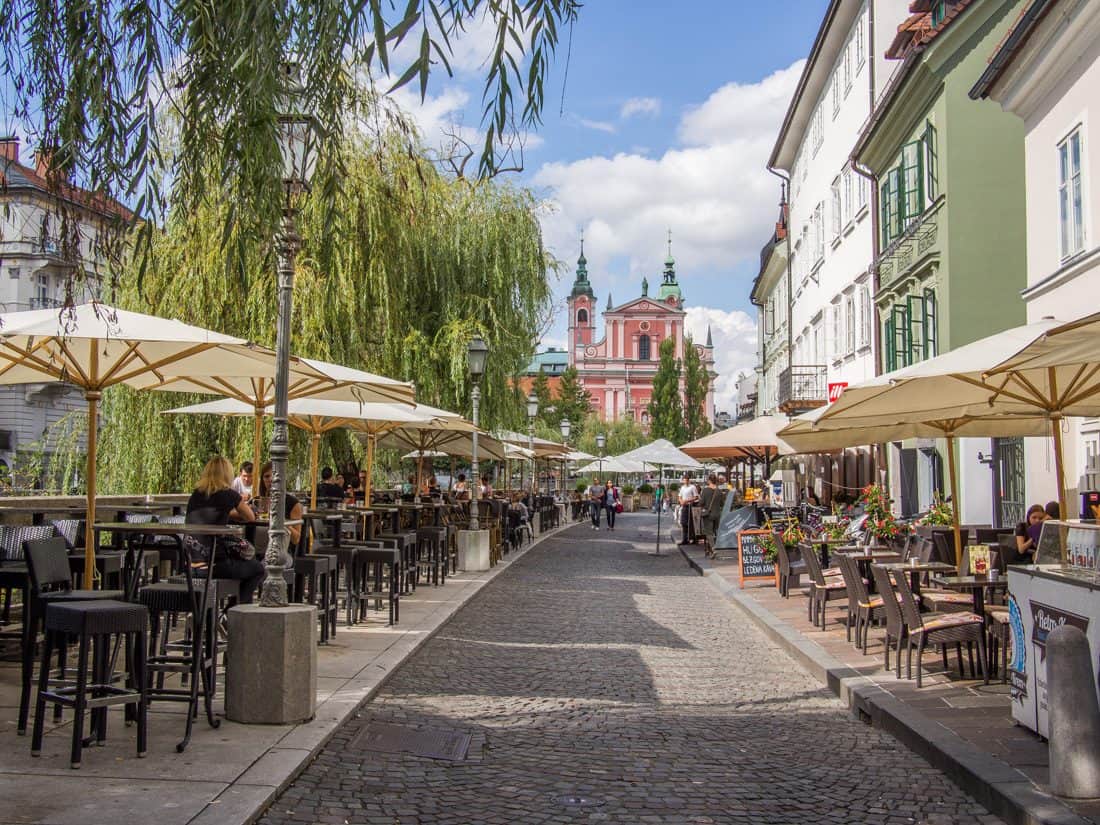 Ljubljana is one of the smallest European capitals and surely one of the prettiest. In the tiny old town pastel coloured Baroque and Art Nouveau buildings line the river and cafes spill onto the cobblestoned pavement. Dragons adorn the bridges, a castle hovers above, and there are more bicycles than cars.
Outside of the old town this University city is just as relaxed but a bit edgier with funky cafes decorated with street art and urban gardens hidden down side streets. The best thing we did in the city was take a food tour with Ljubljananjam. Our guide Iva not only showed us all the many places to find veggie food but also introduced us to an alternative side of the city and gave us some insight into Slovenia's culture.
Emerald Rivers and Lakes
After seeing a photo of one of Slovenia's lakes on our Facebook page a reader asked if it had been dyed. The country's rivers and lakes really do have such an astonishing emerald colour that it doesn't seem real, but in fact they are glacier fed and totally natural, one of nature's gifts to the world.
The emerald waters added to our feeling that in Slovenia we'd entered a magical world. We rowed through it at Lake Bled, white water rafted down it on the Soča river, Simon jumped off a 10 metre high bridge into it at Most na Soči, and we took a scenic train trip alongside it from Bled to the Italian border at Nova Gorica.
Mountain Scenery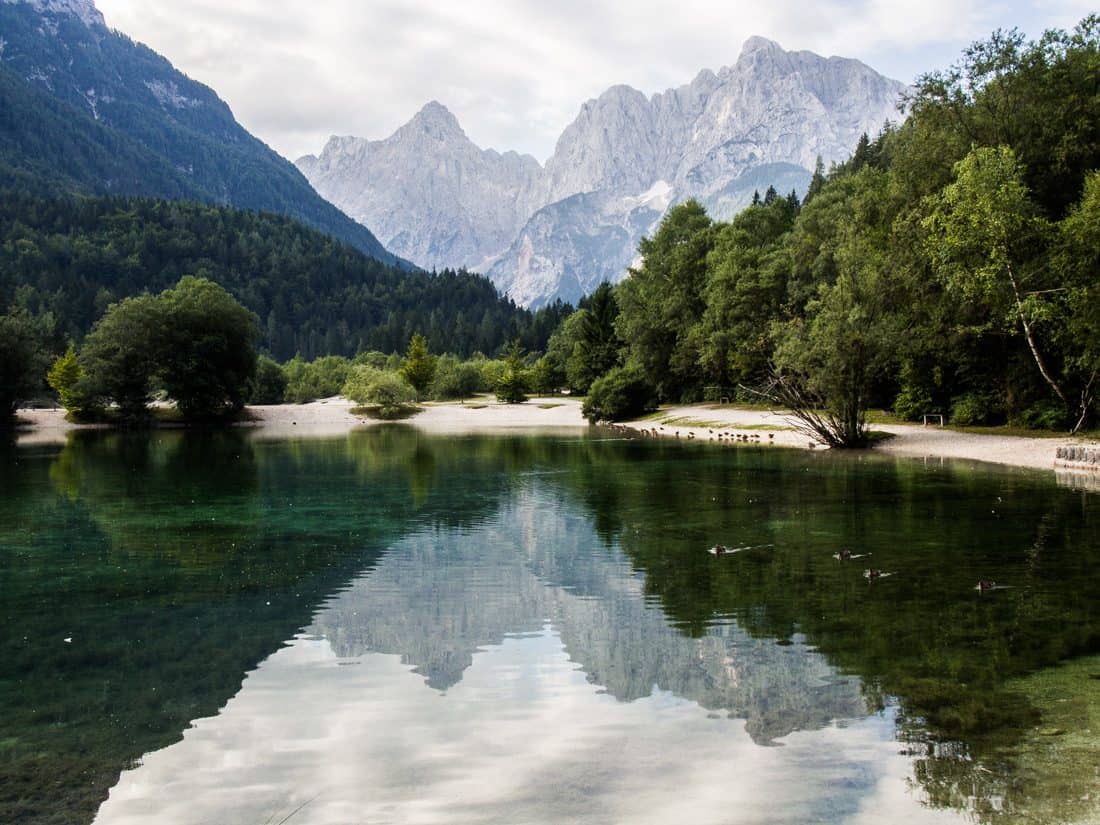 The north of the country is dominated by the Alps. We enjoyed the views from Lake Bled but to delve further into the mountains we took a day trip with 3glav Adventures. Their epic 12 hour Emerald River Adventure took us on hikes in the Julian Alps at Triglav National Park, over Slovenia's highest pass, and white water rafting surrounded by mountains on the emerald Soča river. It was a fun and easy way to explore more of Slovenia's mountain scenery and we'd love to return for longer hikes and snowboarding.
Fresh and Delicious Food
One of the biggest surprises was how good Slovenian food is. You'll find elements of Italian, Austrian, Hungarian and Balkan cuisines, but with a Slovenian twist, and everything is fresh and (where possible in such a small country) local. The bread and cheese were particularly good, the gelato competes with Italy, and the fruit strudels with Austria. As vegetarians Slovenia was easy and while most of the dishes we ate could technically be Italian—ravioli, pasta, gnocchi—they weren't quite like anything we've eaten in Italy. Read more about this fascinating and delicious cuisine.
Vipava and Slovenian Wine
The other surprise was Slovenian wine. It's a small country so not much of it gets exported which explains why we've never heard of it. Wine everywhere was affordable and excellent, and we tried some novelties like orange wine and a sparkling red.
There are a number of wine regions in Slovenia. We visited the Vipava Valley where we ate our best meal in Slovenia, drove past Karst hills and vines heavy with grapes, wandered alongside the many springs in the cute village of Vipava, and tried far too many of the local wines in Vipava's Vinoteka tasting room. The pinela whites and the deep purple cabernet sauvignon from Ferjancic were our favourites.
Škocjan Caves
The Karst region of Slovenia is a rocky limestone plateau dotted with caves in the southwest of the country. The most visited caves are at Postojna but we chose to visit Škocjan instead, an immense underground canyon created by the Reka River which still runs through it. It's one of the largest in the world, and a UNESCO World Heritage site.
All visits are guided in large groups. We'd have preferred to wander by ourselves but can understand why that's not possible. This place is huge, and the two hour walking tours only take in part of the entire 6km long cave network which extends down to 205 metres.
The vastness of the caves is seriously impressive, especially the immense, cathedral-like chamber, and it's amazing to realise that some of the stalactites and stalagmites are hundreds of thousands of years old (they grow 1cm in 100-150 years).
Meeting the Lipizzaner Horses at Lipica
The beautiful white Lipizzaner horses are famous around the world. We had the chance to meet these gentle and intelligent creatures at the Lipica Stud Farm where we took a carriage ride around the grounds. We'd definitely recommend the experience not just to horse fans but to history buffs too. It's the oldest stud farm in the world, dating back to 1580. There's a small museum on site that traces the incredible history of the place and the many war evacuations the horses have experienced due to its precarious location between Italy and the Austro-Hungarian Empire.
Lipica can be combined with a visit to the Škocjan Caves and Vipava and like many places in this small country can even be visited as a day trip from Ljubljana.
Slovenia offers diverse experiences and beautiful scenery in a small package. The people are friendly, it's a safe and easy country to travel around, and it's more affordable than Western Europe. We definitely recommend including it on your Europe itinerary or even planning a trip just to Slovenia.
You can see more of our Slovenia photos on our Facebook photo album, and read more about our experiences here.
If you enjoyed this post, pin it!
Thanks to Spirit Slovenia, the country's tourist board who provided accommodation, meals and entrance fees for part of our stay in Slovenia.