This page contains affiliate links. Please read our disclosure for more info.
One of the complicated things about being a digital nomad who earns in multiple currencies is how to get paid. Both PayPal and our UK bank account charge high fees to receive money in a foreign currency and convert it into British pounds.
The situation for getting paid by the Amazon US affiliate program was even worse as they would only pay us by cheque in dollars, which was a slow and annoying process.
Thankfully the Wise Multi-Currency Account (previously known as Transferwise Borderless) came along and solved all our foreign payment problems.
In this Wise Multi-Currency Account review I share why it's ideal for digital nomads, costs, and other useful tips for using the account.
Contents
What is a Wise Multi-Currency Account?
Wise is a company that has been around for years offering low-cost overseas bank transfers. Their fees are way lower than the banks, they always use the mid-market exchange rate, and the process is quick and simple.
The Wise Multi-Currency Account was launched in 2017 to allow people to hold bank accounts in multiple currencies. With our account we are given bank details for British, US, European, Australian, and New Zealand bank accounts which means we can receive money into them in the local currency (dollars or euros etc.) with no charge.
This saves us a fortune on bank fees and means we no longer have to deal with annoying Amazon cheques as we can get paid straight into our US bank account. We have now switched most of our income from foreign sources to Wise and get paid in a mix of US dollars, Euros, and Australian dollars.
You can have bank details in the UK, US, Europe, Australia, New Zealand, Singapore, Hungary and Turkey (more countries coming soon) and also hold and convert 40+ other currencies and send money to 50+ countries.
Who Can Get a Wise Multi-Currency Account?
Most nationalities can open a Wise Multi-Currency Account.
What Does it Cost?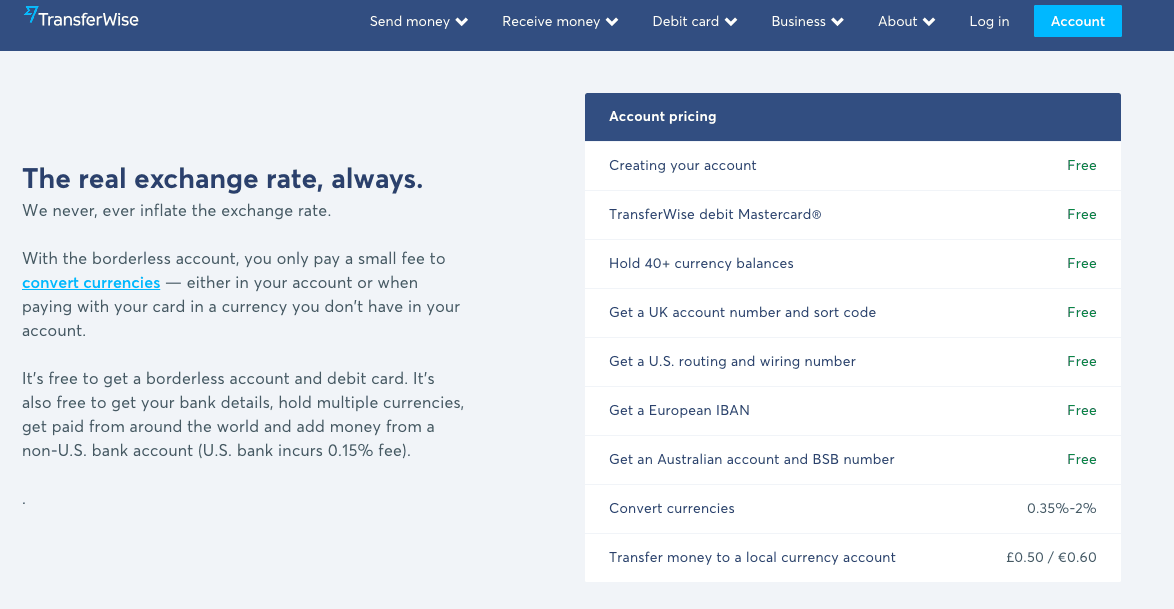 It costs nothing to set up an account or receive money into our bank accounts from the same currency. But then how do we get it out? We have a few options:
1) Use the Wise Debit Card to make an online transaction in the same currency (i.e. pay our hosting bill in dollars from our US account) for free.
2) Withdraw cash with the Wise Debit Card in the same currency (i.e. euros when we're in Europe). This is free for up to £200 ($250) a month then 1.75% after that.
3) Send the money to a bank account in the same currency. For example, we pay our Pinterest manager by bank transfer in dollars from our US account. The cost for sending money depends on the currency. For USD there's a $1 fee and for Euros it's €0.80.
4) Convert money from one currency to your home currency and transfer it to your home bank account. If we don't have anything we need to use our foreign balances for, we convert it to pounds and withdraw it to our UK bank account.
Wise always uses the current mid-market rate for foreign exchanges (unlike our bank and PayPal) and then charges a small fee depending on the currency. For example to transfer USD to GBP costs 0.6% and EUR to GBP cost 0.3%.
Once the pounds are in the GBP section of our Wise account, we can spend it in pounds on our debit card or withdraw to our UK bank account for a £0.65 fee.
If this sounds complicated, it's really not. Wise is very simple to use. It takes seconds to transfer money between currencies and withdraw to bank accounts (once you've added the bank details). They are always transparent about the fees and will tell you the charge before you make the transfer.
You can see more about Wise Multi-Currency Account pricing here.
Wise Multi-Currency Debit Mastercard
The Wise Multi-Currency Debit Mastercard was released in 2018 and we love it! Wise's international transfer fees are way lower than banks, but the card allows us to avoid even these low fees by spending money in the same currency we received it.
You have to request a Wise debit card and this costs £5.
We've used the card in France, Italy, Australia and the US to spend money from our Euros, AUD or USD account either by withdrawing cash or as a card transaction in a restaurant or shop. We've had no problems with it and love that the Wise app sends you a notification about what you just spent (great for security).
We've avoided fees by only withdrawing up to £200 in cash a month. After this Wise charges 1.75%. Although this is a lot lower than most bank accounts (Lloyds charge 2.99% plus £1.99 per withdrawal), we can get fee-free cash withdrawals with our Starling mobile bank account, so we'd rather do that.
We have also switched all of our monthly USD direct debits to come out of our USD account using the Wise debit card to further reduce exchange fees.
You can use the debit card to spend money in any currency, even if you don't have a balance in it. Wise will take it out of your balance that has the lowest exchange fee, which can range from 0.35–2%.
How Do You Set Up A Wise Multi-Currency Account?
Setting up a Wise Multi-Currency Account is quick and simple. You enter your details (including a phone number to get a security code sent to) and upload a photo of your ID (passport or driving license). It said it could take up to five working days to verify my identity but it worked instantly for me.
I then logged into my account and activated my USD, EUR, GBP, and AUD accounts with one click and could see the local bank details for each of them. Other local accounts are now available.
You can see the balances of each of these accounts in one page. If you click on USD it will show you your balance and bank details and you can click on the buttons to "Send USD", "Add USD" or "Convert USD". These processes take just seconds.
You can request a debit card from the Debit card page of your Wise account.
To log in to your account securely you can either add a phone number and they will send you a security code by message or voice call when you log in or set up 2-step log-in on the Wise app. I recommend the app as it's easier and you don't have to worry if you change your phone number.
When we first used Wise we did end up changing our phone number (as we moved countries and changed SIMs) and couldn't log in. I had to call Wise but they were very helpful and sorted it out quickly.
Is Wise Safe?
Wise is regulated by the FCA. It uses trusted low-risk local banks to store your money—for example in the UK it uses Barclays. If Wise became insolvent your money would be unaffected and will be refunded within 10 working days.
However, Wise isn't as secure as a normal bank because your money is not guaranteed by the Financial Services Compensation Scheme (FSCS). If the bank where Wise stores your money (i.e. Barclays in the UK) were to become insolvent then you aren't guaranteed the return of your funds (usually you'd get up to £85,000 back).
Because of this I don't recommend storing huge amounts of money for a long time in your Wise account. I feel confident keeping small amounts in it for a month or two, as it's extremely unlikely that the banks they use would become insolvent. It won't replace your existing bank account but can be used alongside it.
Summary
The Wise Multi-Currency Account has solved a major problem for digital nomads and freelancers like us who earn money in different currencies. It has saved us a huge amount in exchange fees and means we no longer have to deal with antiquated cheques.
If you get paid in multiple currencies I definitely recommend giving it a try—you can sign up here.
Wise is also useful for anyone who transfers money from one currency to another—their fees are lower and more transparent than banks and it's easy to use. You don't need to sign up for a Wise Multi-Currency Account to make a transfer.
If you enjoyed this post, pin it for later!
This post was originally written in May 2018 and last updated in April 2021 after Transferwise Borderless became the Wise Multi-Currency Account.