This page contains affiliate links. Please read our disclosure for more info.
I wanted Oman to be exotic. To not feel like anywhere else we'd been before (a challenge after eight years on the road). Maybe not quite slap-you-in-the-face India different, but pleasantly bewildering Japan different.
When we arrived at Muscat airport it did feel unfamiliar at first. The locals wear ankle-length gowns—white dishdasha with turbans for men and black abaya for women. The bathroom featured squat toilets and was a hectic mess of women chattering in Arabic.
Then we walked into the arrival's hall and were greeted with a Costa coffee and WH Smiths, two British chains that we rarely see outside the UK.
Oman is a modern, wealthy country. It may have only gained its wealth with oil money in the 1970s and been closed to tourists until the 1980s, but in Muscat you can now find Pizza Hut and Starbucks and supermarkets stocked with all our favourite British chocolates, alongside the shiny mosques, bustling souqs, and simple Indian cafes.
I was a little disappointed by this at first. Muscat felt so easy and not really the exotic destination I'd hoped for.
Simon, on the other hand, took comfort in the familiar and happily gorged on bags of Minstrels and Toffee Crisp Bites, treats we hadn't had for a year.
Despite its modernisation, Oman isn't all chain restaurants and shopping malls, and we found that the further away from the towns we travelled, when Starbucks was replaced by basic coffee shops and goats grazed by the side of the road, the more we enjoyed it.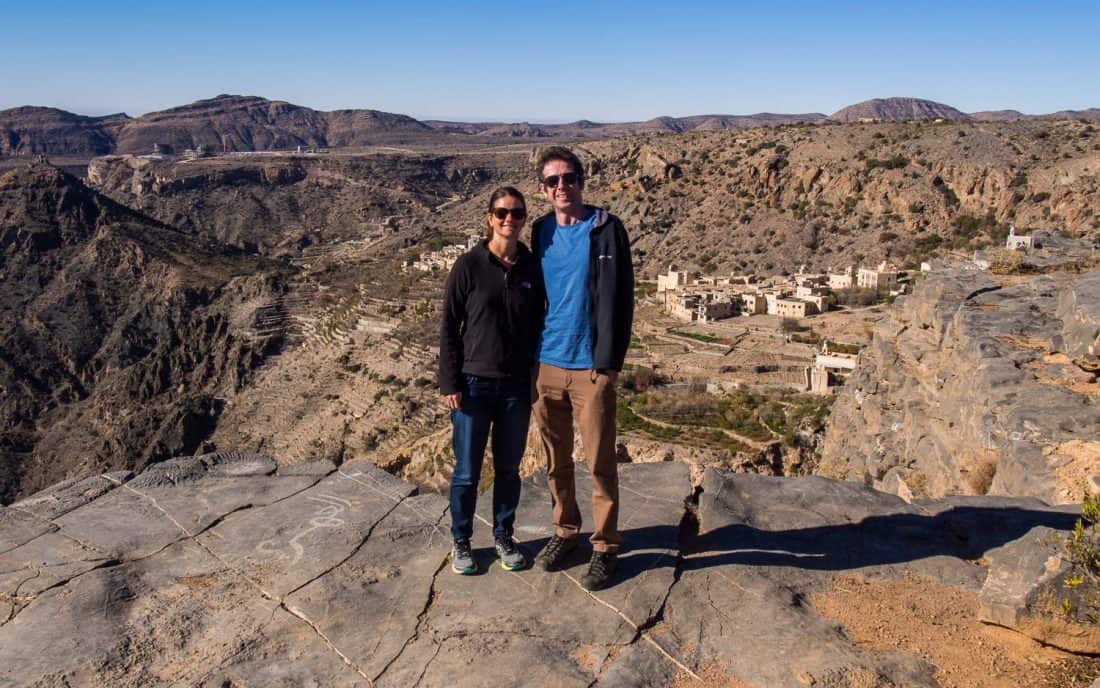 I find Oman harder to describe than other places we've visited, perhaps because we struggled to get under its skin on a short trip, perhaps because it has fewer obvious attractions than more popular destinations.
I have no snappy answer to the question of "what is Oman like?", but here are our impressions after a 10-day road trip around the north of the country.
Video: Where to Visit in Oman
Where is Oman?
The Sultanate of Oman isn't a well-known tourist destination so you might be wondering where exactly it is.
Oman is located on the Arabian Peninsula and shares borders with the United Arab Emirates to the northwest, Saudi Arabia to the west, and Yemen to the southwest.
Oman Travel is Safe and Easy
We found Oman an easy country to travel in, but you do need a car as public transport is limited.
Many people speak English; the roads are generally quiet, tarmacked, and in good condition; and crime rates are very low.
We felt totally safe in Oman and never worried about theft or scams or experienced any hassle.
Oman is one of the most stable countries to travel in the Middle East.
Muscat is not Dubai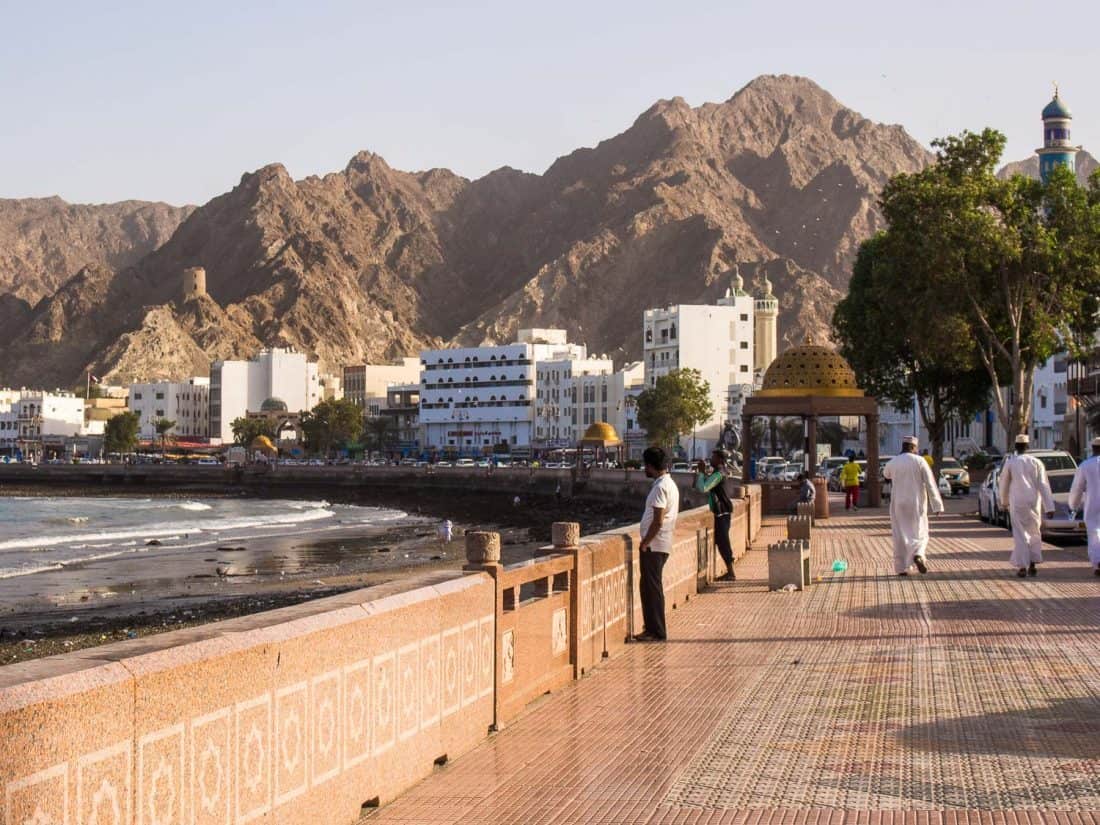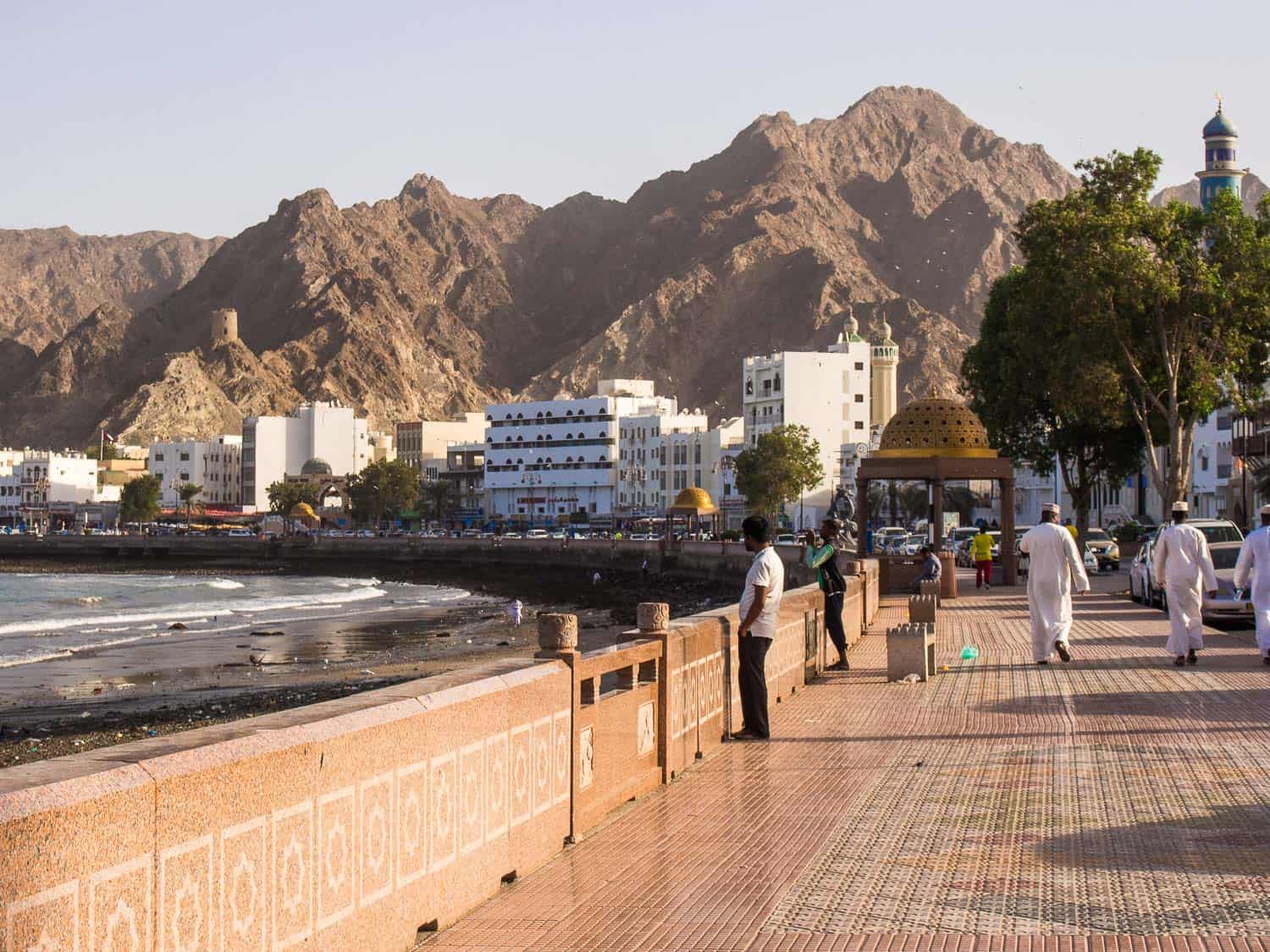 Despite the big highways and shopping malls, Muscat is a low key capital with none of the glitz or skyscrapers of neighbouring Dubai.
The city is very spread out between the jagged mountains and the sea.
The fancy houses, upmarket restaurants, and long stretch of beach of the diplomatic area Qurum feel very different to the cheap Indian restaurants, busy shopping streets, and medieval forts along the corniche of Mutrah.
There aren't many major attractions, but the Sultan Qaboos Grand Mosque does live up to its name and is one of the best places to visit in Oman.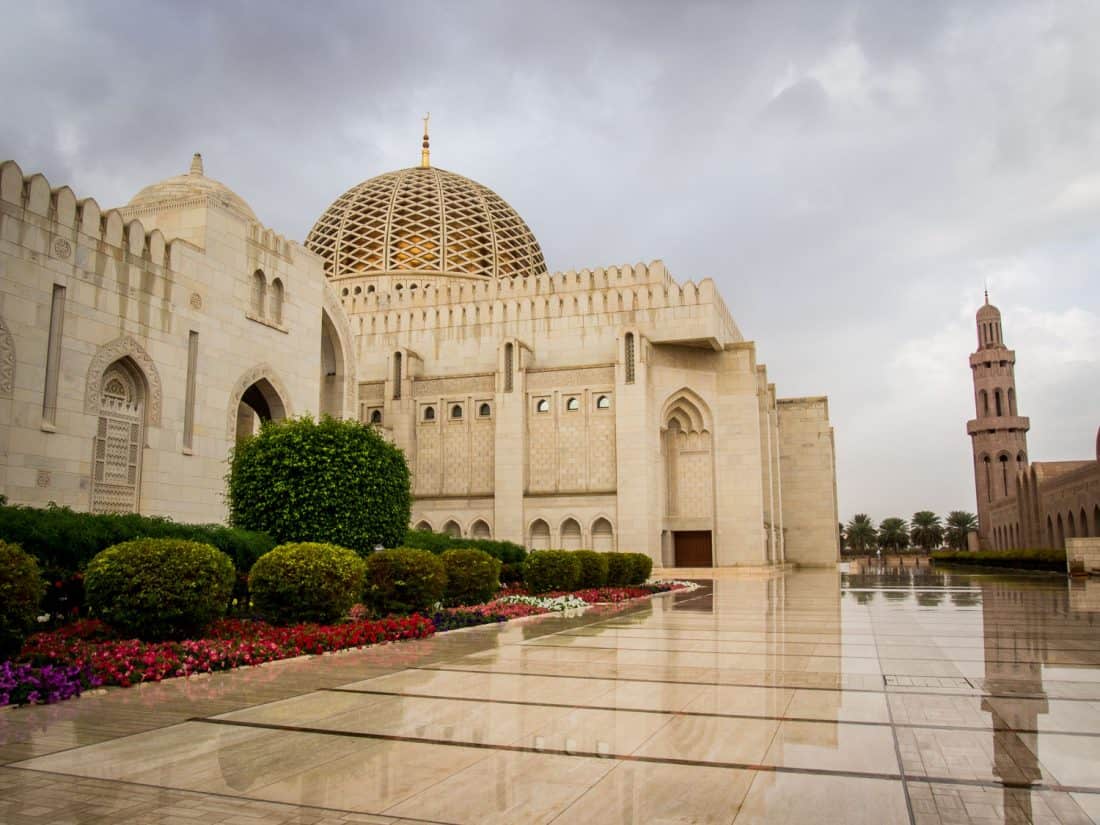 People
Oman is a Muslim country so you'll see many mosques, hear the call to prayer five times a day (expect to be woken at dawn), and won't find alcohol in most restaurants and shops.
46% of the 4.5 million population are expatriates, primarily from the Indian Subcontinent.
We found the people friendly but fairly reserved, especially the women who didn't usually acknowledge us, while men in villages and on hikes would say hello. I wonder if this would have been different if I were travelling alone.
Oman is an absolute monarchy. When we visited, Sultan Qaboos bin Said al Said had been ruling the country since 1970—the third-longest reigning monarch in the world at the time.
He rose to power after overthrowing his father and proceeded to end Oman's isolation and make huge changes to modernise and develop the country by building schools, hospitals, ports and a road and telecommunications network.
After his death in 2020, Haitham bin Tariq succeeded him as Sultan.
Landscape and Towns
Oman is 82% desert and we experienced it in many forms from the rolling dunes of Wahiba Sands to the rocky barren mountains around Nizwa and the sandy beaches of Sur.
Goats, camels and donkeys can be seen wandering by the side of the road in more rural areas.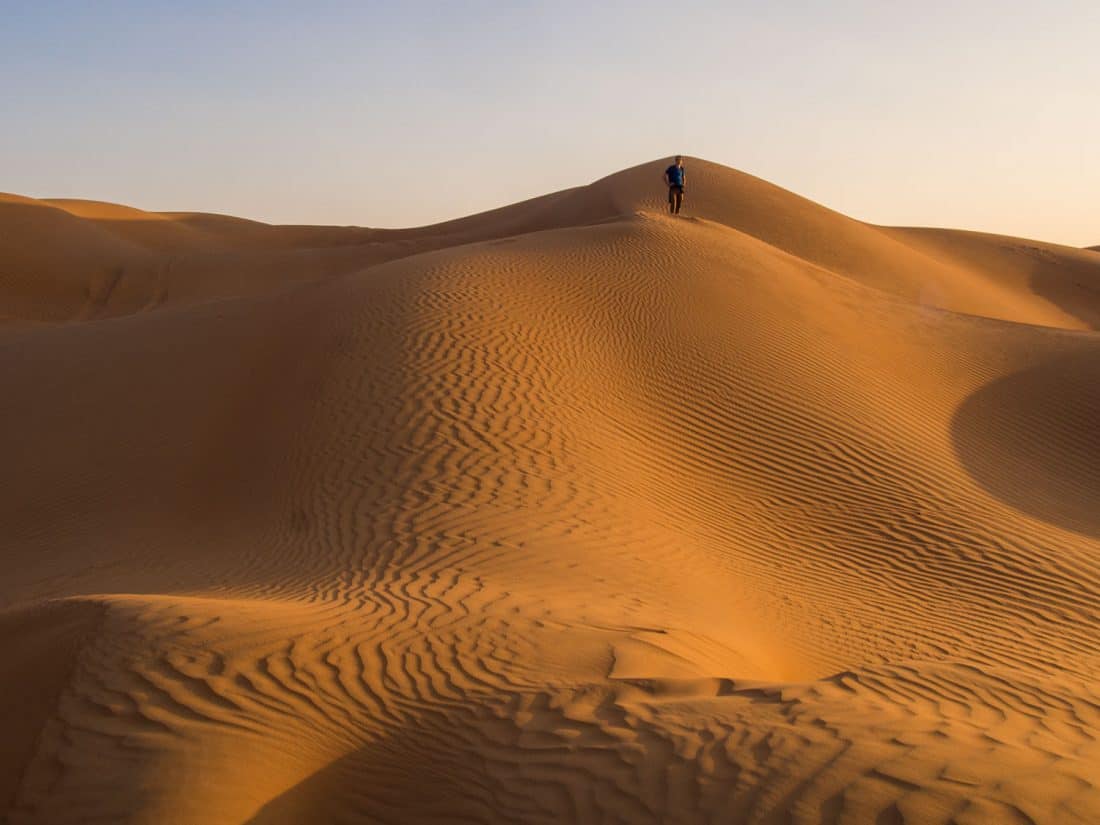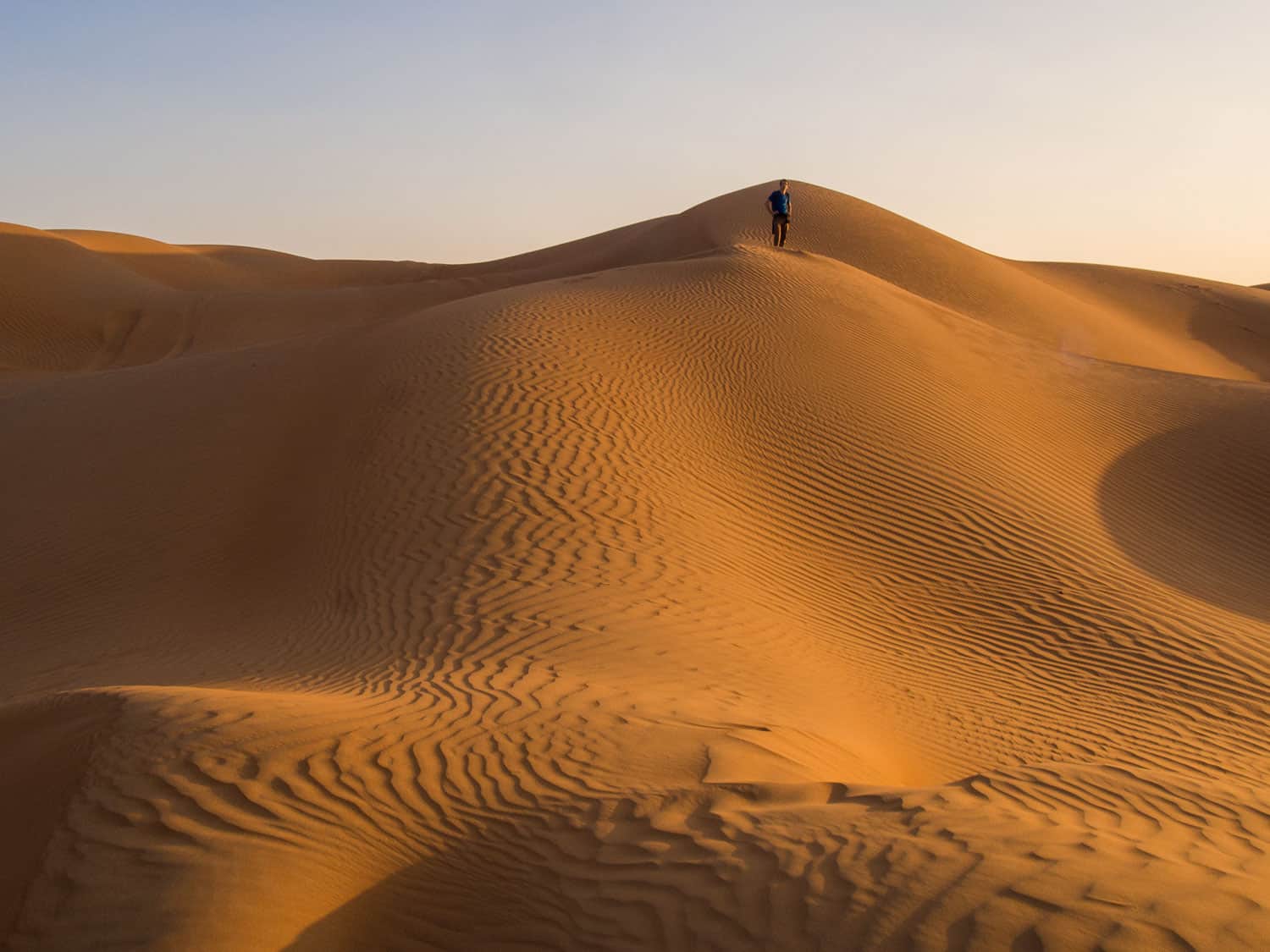 Most of the towns are fairly modern and not particularly attractive.
There are many old mud hut villages you can visit, but most have been abandoned and are in ruins. Misfat Al Abriyeen is one of the few that is still inhabited and is very picturesque.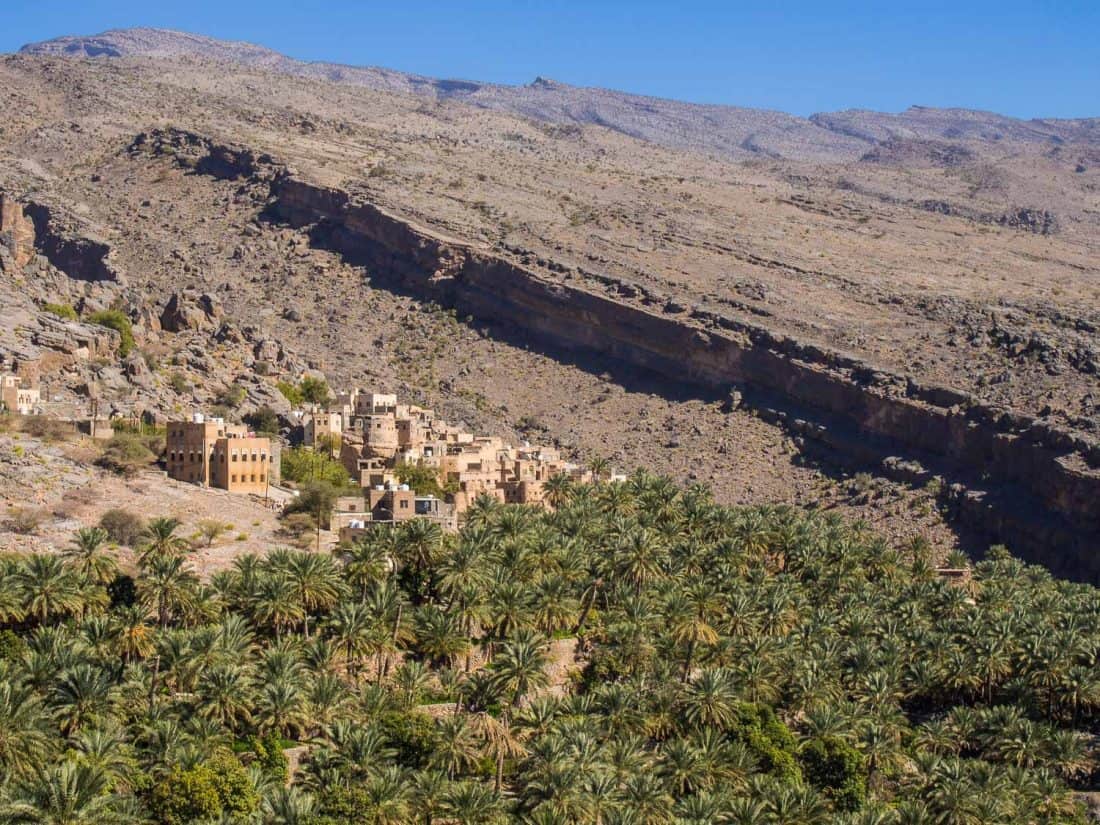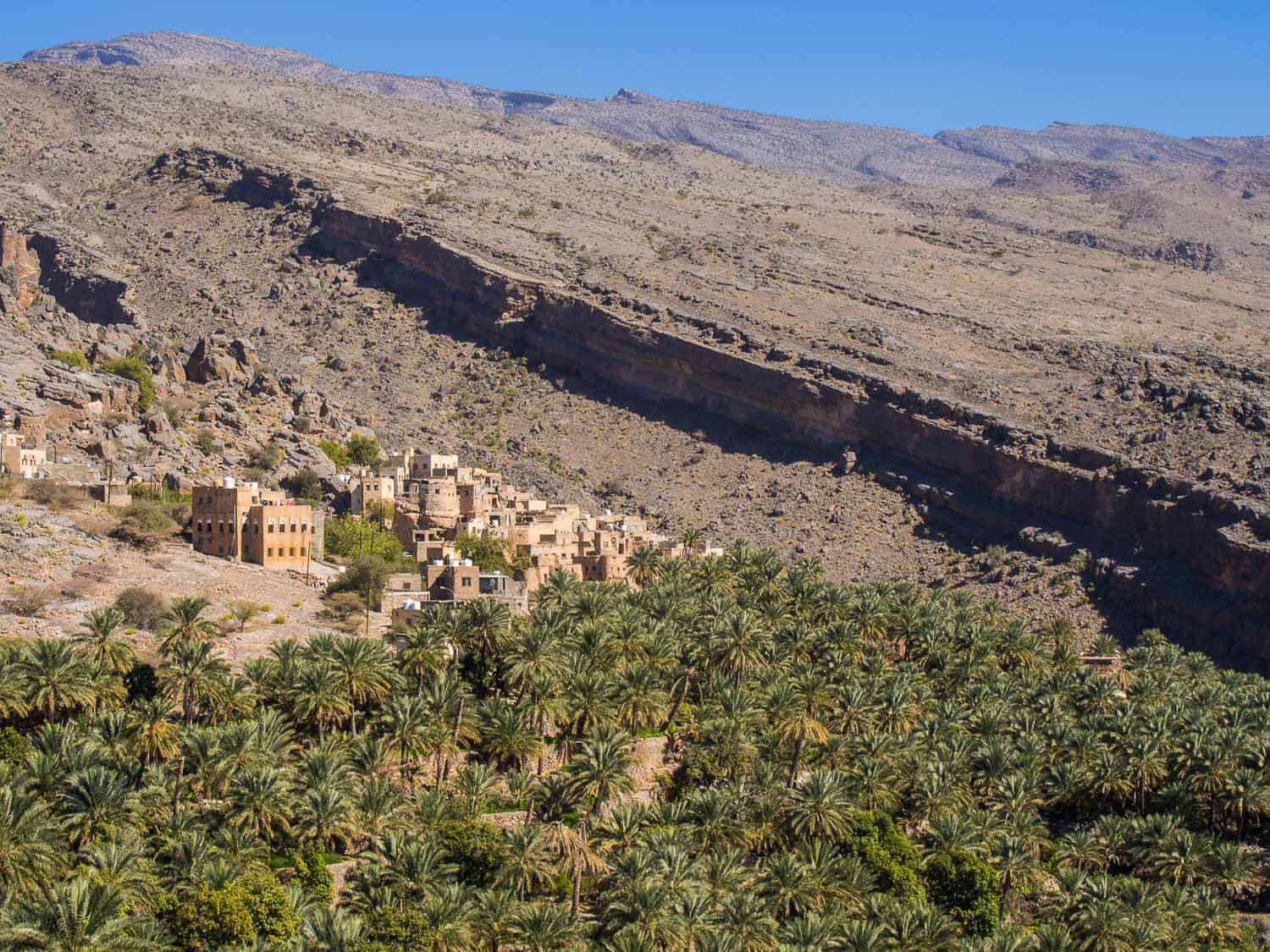 I loved the matter-of-fact shop signs in Oman proclaiming their purpose like "sell food stuffs".
If you are a fan of forts, you'll love Oman as every town has one of these sandcastle-like buildings, many hundreds of years old.
One of our favourite things about Oman was the oases that break up the bleakness of the desert with patches of vibrant green date palms.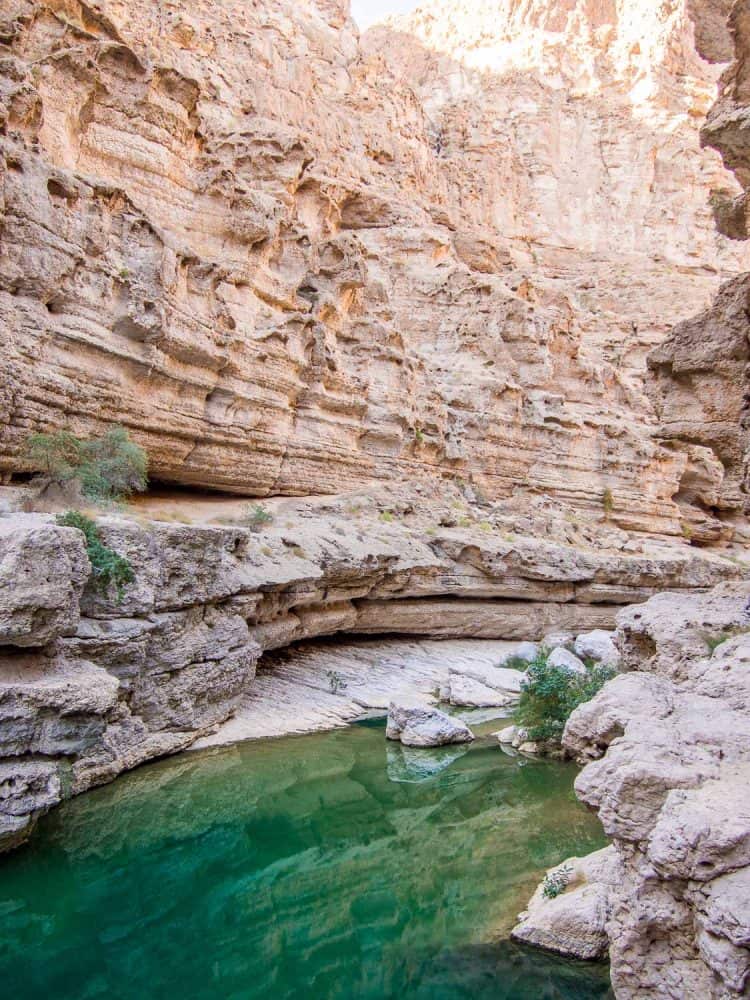 Some of the oases are found in wadis—dry ravines which sometimes contain glorious swimming holes of emerald water like at the lovely Wadi Bani Khalid.
Food
Oman doesn't have a strong food culture and traditional Omani food mostly consists of meat and rice.
Despite this, it's easy to be vegetarian as most restaurants serve either Indian food, where there is always dahl and vegetable curries, or Arabic/Turkish food with hummus, salads, flatbread and other mezze on offer.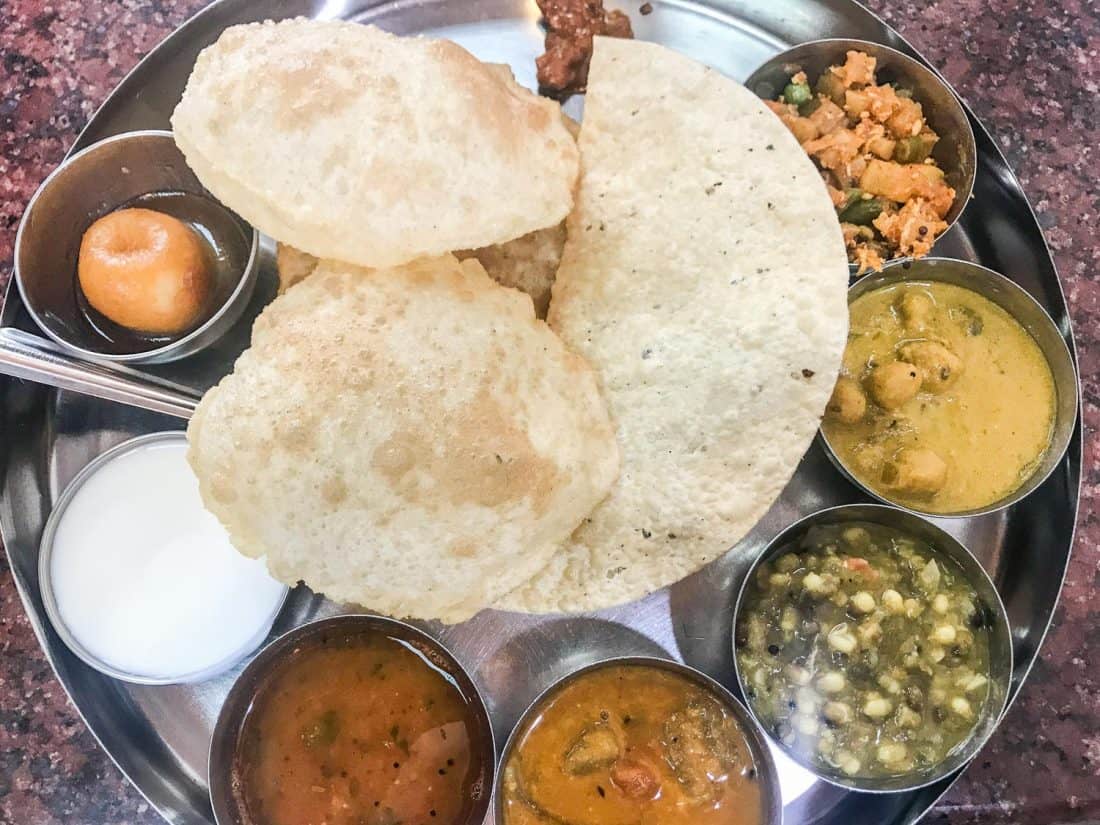 We were happy with the simple meals we ate, but it isn't a foodie destination, and there aren't many stand-out restaurants.
The most common place to eat is a basic coffee shop serving fast-food dishes with aspirational menus—they usually didn't have everything on the menu but were happy to suggest vegetarian options for us.
Surprisingly, Oman does have fantastic supermarkets. We loved Lulu Hypermarket and when we had an apartment in Nizwa we self-catered from the prepared food section with dahl, curries, salads, hummus, bread and so much more. It was better and cheaper than most restaurants.
One culinary delight in Oman is dates, which are grown there. They are cheap and delicious and served with traditional Omani coffee in tiny cups.
It's Quite Expensive
Oman has made the conscious decision to target the higher end travel market rather than backpackers.
Compared to India and SE Asia, we found accommodation particularly expensive, especially considering everywhere we stayed was functional rather than special.
The most interesting place we stayed was the simple but atmospheric Desert Retreat Camp in Wahiba Sands.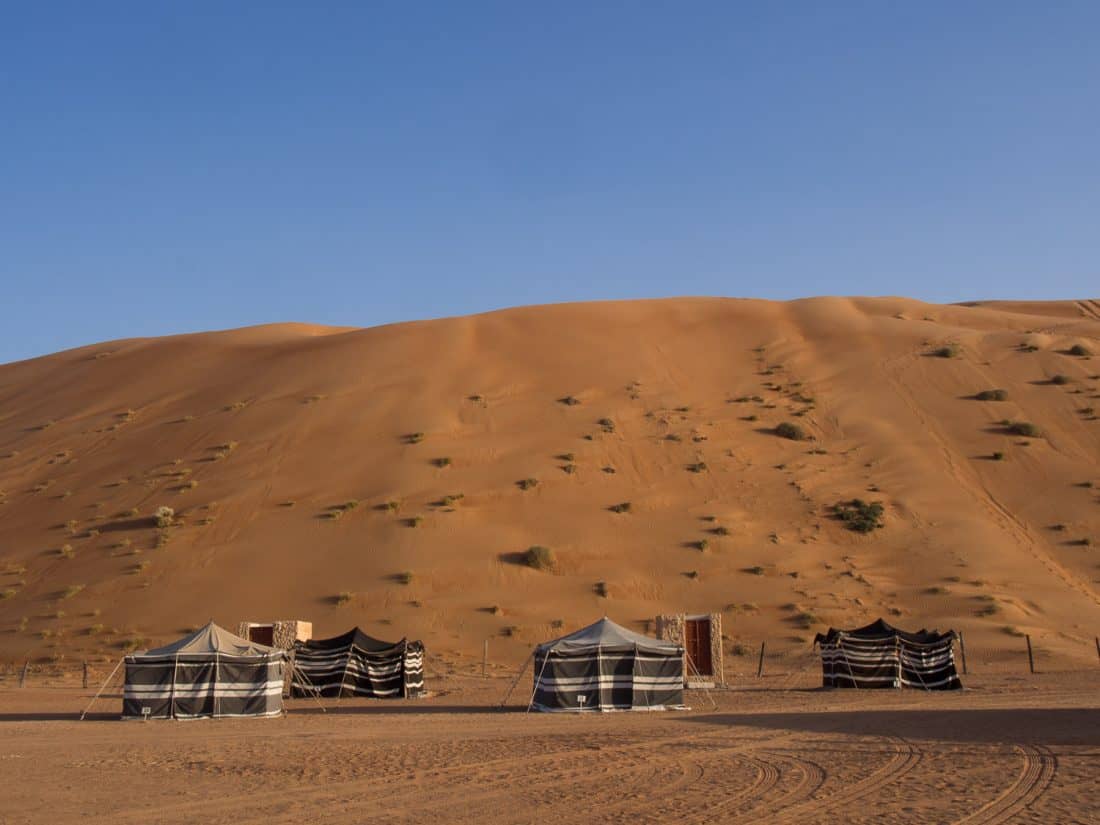 Some gorgeous new hotels are opening up as tourism increases, like the Alila Jabal Akhdar, but you have to pay hundreds of pounds a night for any style.
We spent £134 ($173/€145) a day for two people on our Oman trip with 51% of our budget on accommodation.
We found food inexpensive outside hotels and it cost us less than £14 a day (not including the meals that were included in two of our hotels), petrol is less than 40p a litre, and our favourite activities—hikes and wadis—were free.
The cheapest way to travel Oman would be to wild camp for free as it is legal in most of the country.
It's Not Busy But Tourism is Growing
It's easy to get off the beaten track when visiting Oman.
We visited in high season and travelled the most common tourist route, but there were still only a handful of foreign tourists at the major sights—usually older Europeans (British, French, German, Italians) travelling as a couple with a guide/driver or in small tour groups.
There was only one other guest at our desert camp and we had two of the most popular hikes in the country to ourselves by starting at 8am.
If you stray just a little from the popular attractions you'll be the only foreigner around.
Tourism in Oman is growing, though, so now is the time to visit.
What to Wear in Oman
Locals dress modestly and it's important that visitors do too when travelling in Oman.
There's no need to cover your hair (except women when visiting mosques), but both men and women should cover their shoulders and knees.
In more conservative areas I preferred to cover my arms and legs too.
I usually wore linen trousers or jeans and a loose long sleeve shirt.
For swimming in the wadis, I wore cropped leggings and a baggy t-shirt over my swimsuit.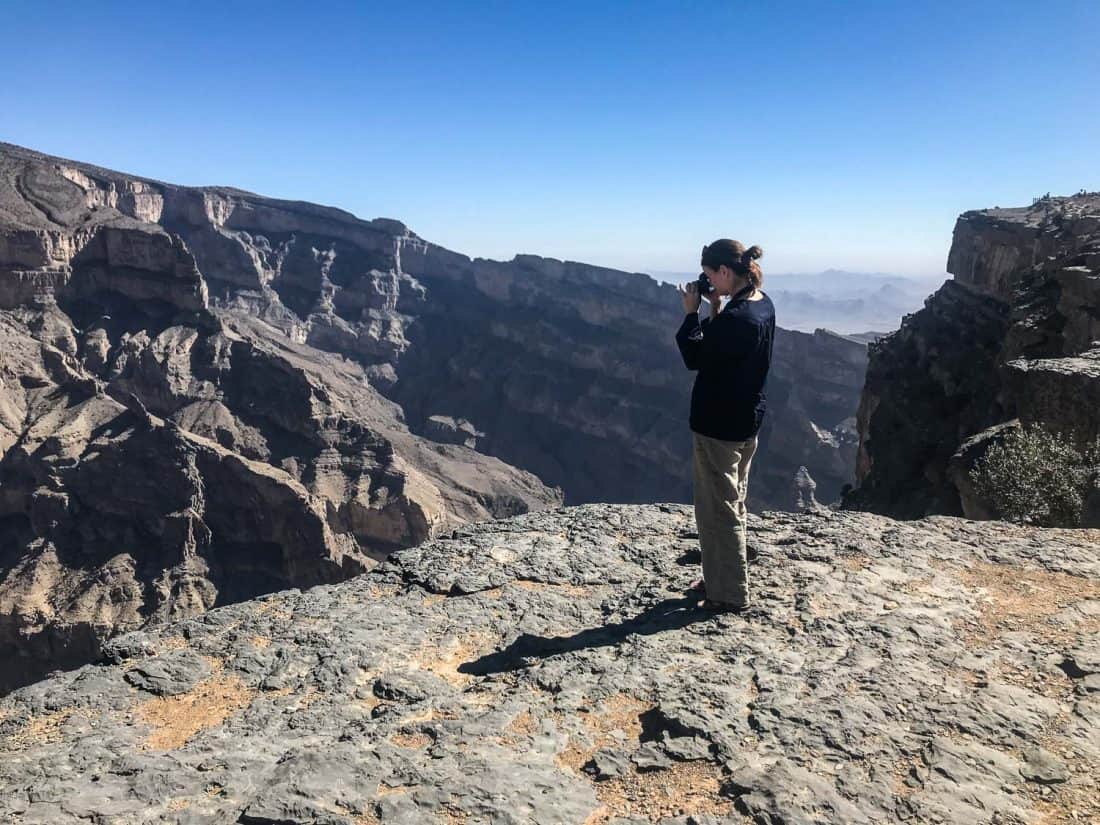 The weather in Oman in December was perfect—about 25ºC and sunny during the day, with cooler nights.
You do need warm clothes if you are going up the mountains—the nights on Jebel Shams were close to freezing.
Is Oman Worth Visiting?
Yes, we definitely recommend visiting Oman.
If it's your first visit to the Middle East, I would probably recommend Jordan instead as it has more major sights and better food.
But if you are looking to get off the beaten track in a safe country Oman is a great choice. If you are a fan of desert, forts, wild camping, and adventurous 4WD trails, Oman would be perfect.
For inspiration, see my post on the most beautiful places to visit in Oman and for all the practical details, see our Oman itinerary.
If you enjoyed this post, pin it!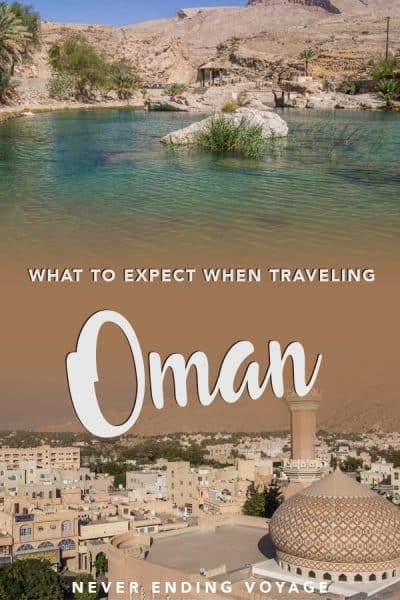 This post was originally published in 2018 after our first trip to Oman.