This page contains affiliate links. Please read our disclosure for more info.
DAC, the organic grocery store here in Playa del Carmen has an aisle dedicated to dried chiles. They sit in giant tubs with scoops to help yourself. Some are small and blood red, others large and coal black; all are wrinkled, pungent, and equal parts bewildering and enticing. I want to buy them but have no idea which to choose or what to do with them.
We decided to spend an evening learning about Mexican cuisine with Coty at Co.Cos Culinary School. As we made a three course meal together she enlightened us on chiles, salsa, tequila, and more.
The Art of Burning
First up was the number one secret of Mexican cooking: burn things!
This adds lots of flavour and it's easy too. For our tortilla soup base we just threw onion, garlic and tomatoes into a pan without oil and let them burn. We later used the same technique to make salsa. The roasted vegetables can then be thrown into a blender for a tasty sauce.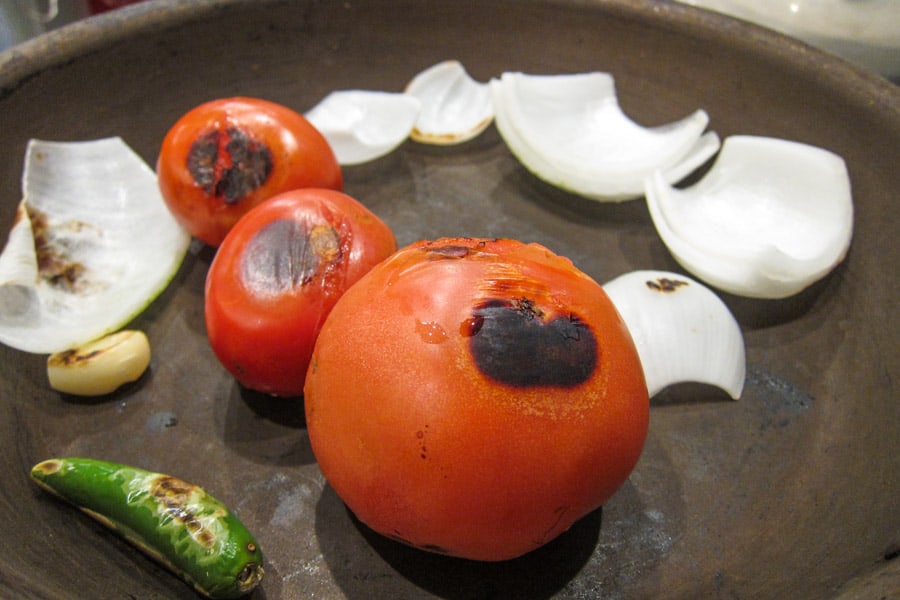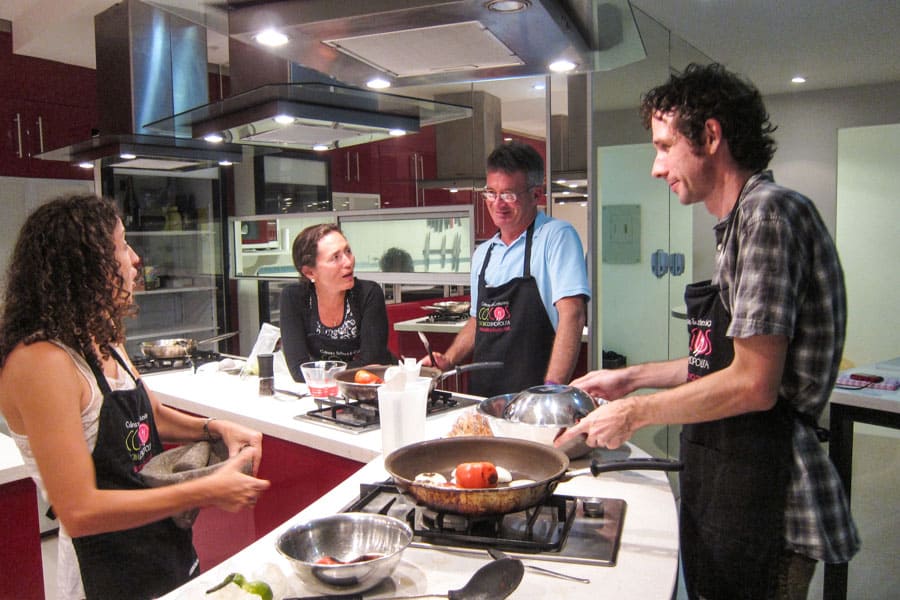 For our chiles rellenos we were stuffing poblano peppers so first we had to peel the skins. In the past I've roasted peppers in the oven but Coty taught us a quicker and easier technique: just place them directly on the hob flame, turning until completely blackened. We then let them steam in a covered bowl and it was easy to pull the skins off in a bowl of water.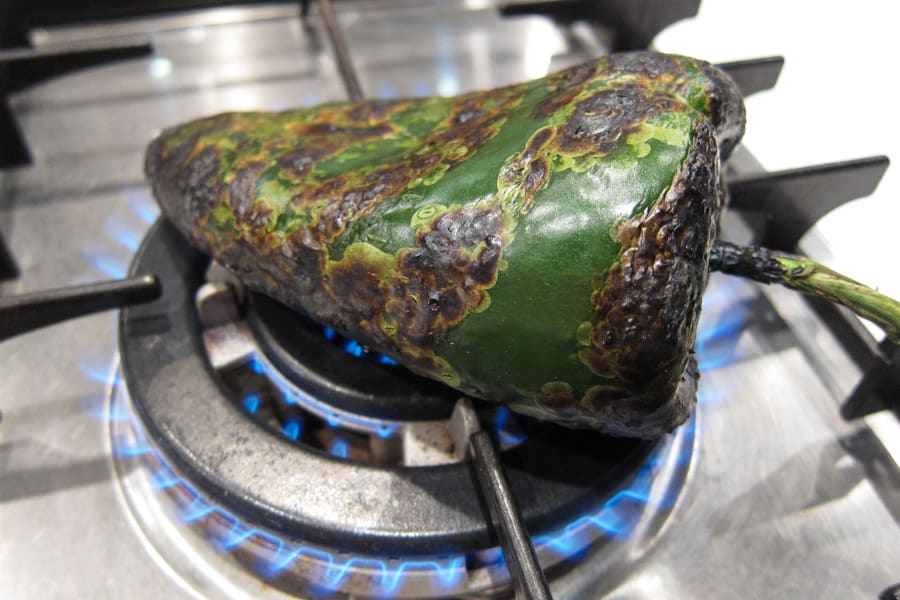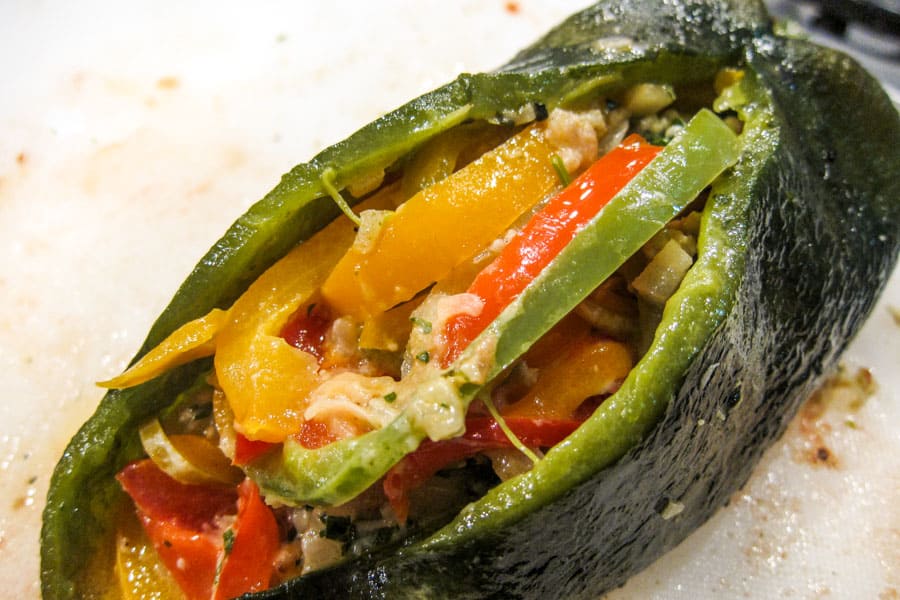 It didn't stop at burning. We set fire to our dessert.
Simon's eyes lit up with devilish glee when he heard we'd be flambéing bananas.
First we got the bananas nicely bronzed (yes, a bit burnt) frying them in butter and sprinkling them with brown sugar. Simon took over for the flambé, adding the brandy while we all stood back, nervously envisaging ourselves leaving without our eyebrows. He tilted the pan so the alcohol ran towards the flame and exploded into a fiery burst of orange. Who knew it'd be so much fun to set bananas on fire?
Making Sense of Mexican Chiles
Coty dedicated a whole section of the class to deciphering Mexican chiles, explaining the varieties and uses. Finally I'd know what to do with those shrivelled pods.
Poblano – Large, mild green pepper usually roasted and stuffed as we did for chiles rellenos or fried in strips with onion and cream to make rajas—a good vegetarian filling for quesadillas.
Ancho – Dried poblano. Like most dried chiles they are used for mole, salsa and adobo sauces.
Pasilla – Long thin dried chile.
Mulato – Dried chile that looks similar to ancho but is black not red.
Guajillo – Medium sized red chile. We saw the fresh and dried versions but it's mostly used dried especially for ajillo, a garlic, guajillo and onion sauce.
Xcatic – Long, mild, slightly sweet yellow chile. This is the Mayan name and means blond.
Jalapeño – Medium spicy green chile that's commonly used.
Chipotle – Dried jalapeño (not shown in the photo) with a smoky flavour. We had a tasty chipotle dip with our tortilla soup, made by blending chipotles from a can, or rehydrating dried chipotles and blending them with a little water.
Chile de Árbol – Small, thin spicy chile. The fresh green and dried red versions are pictured here.
Serrano – Small green chile that's the workhorse of Mexican chiles. It's a bit spicier than jalapeño and is used in everything.
Habanero – Very spicy, small bell-shaped chile that's native to the Yucatan so here it's more popular than serrano. In the above photo it's shown in three different colours as it ripens from green to yellow to orange. It gets a little spicier as it ripens.
Cascabel – Small round red dried chile that looks similar to habanero but is much less spicy. Its name means rattle because the seeds can be heard when shaken.
Coty encouraged us to experiment with the chiles we use and try substituting dried chiles for fresh in salsa recipes. They can be roasted if making a roasted salsa or rehydrated by soaking in hot water for a boiled salsa.
Salsa Secrets
At least two types of salsa are on the table at every Mexican restaurant but we've never managed to successfully recreate them ourselves. Coty broke it down for us.
Salsas consist of tomatoes (red or green), onion, garlic, chile (fresh or dried), coriander (cilantro), and salt. Note that the ingredients make up the colours of the Mexican flag.
There are three ways of making salsa in Mexico.
1) Roasting (aka burning!) – A smoky and flavourful method that we used to make the salsa for our chiles rellenos. It's easily done by dry roasting the ingredients (except the coriander and salt) in a frying pan and then blending. We also experimented with using a pestle and mortar rather than a blender which made a chunkier, milder salsa.
2) Boiling
3) Raw – Coty recommends trying a raw green salsa.
The roast salsa tip was worth doing the class alone. It's easy to make, wonderfully flavourful, and can be used for everything.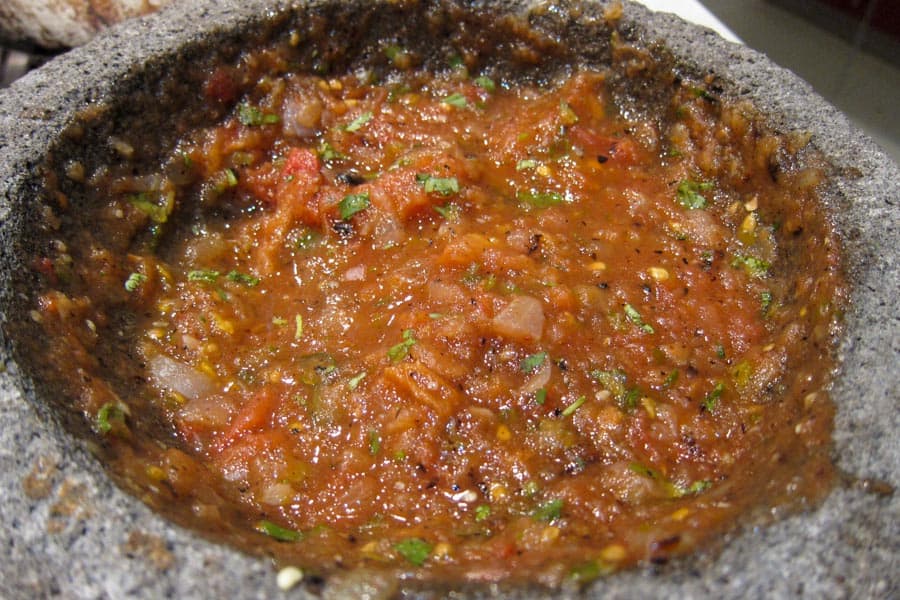 Tequila and Mezcal: What's the Difference?
Over dessert Coty sat us down with a line of tequila and mezcal bottles and explained the difference between these Mexican spirits. Both are made from the agave plant which has 30 different varieties, 21 can be used to make mezcal but only one, the blue agave, for tequila. For mezcal the heart of the agave plant is cooked on coals underground which creates a smoky flavour, whereas for tequila it's steamed.
The worm isn't used in tequila but it is in mezcal. If the mezcal is "con gusano", with worm, it means it's been aged with worms that live inside the plant. One worm is left in the bottle for show. As vegetarians we didn't try the worm mezcal but just by smell you can tell it has a different, earthier flavour.
We learnt to drink tequila and mezcal the Mexican way. There's no salt licking and downing a shot glass here—it is sipped and either drunk straight or by sucking the juice from a segment of lime (for tequila) or orange (for mezcal) sprinkled with salt, and mixing the juice with a sip of drink in your mouth.
We tried tequila and mezcal reposado which means it's been aged for less than a year. Sipping them straight led to cringes all around, and adding the lime to the tequila wasn't much better. The orange, salt and mezcal mix was a lot more manageable.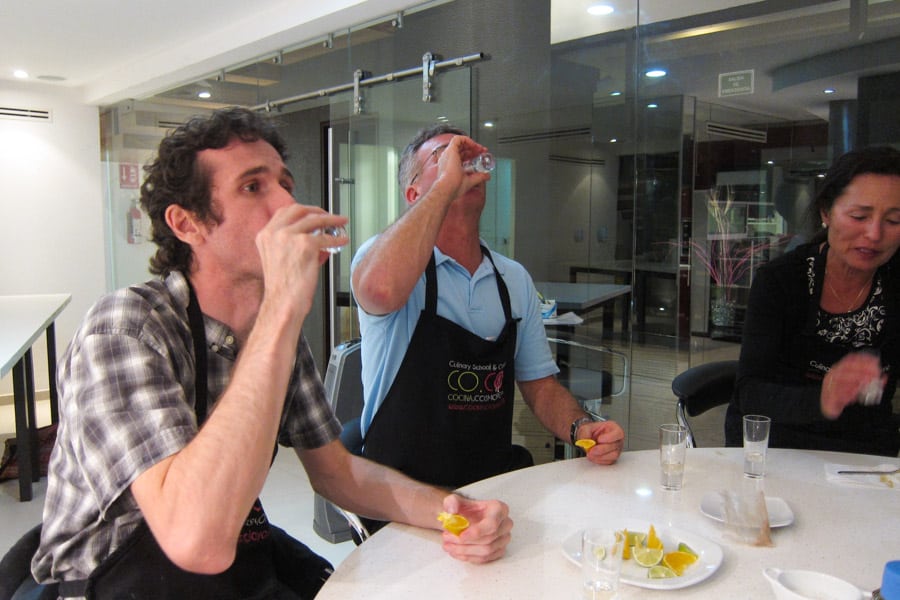 The Results
Not only did we learn at lot during the class but at the end we sat down to the best meal we've had in Mexico.
Tortilla soup – A simple tomato broth poured over fried tortilla strips and brought to life with a variety of toppings including chipotle dip, fried pasilla chiles, panela cheese, avocado and lime. This is a lighter version of the traditional soup which has a double whammy of fat with tortillas blended into the broth and also added to the final soup.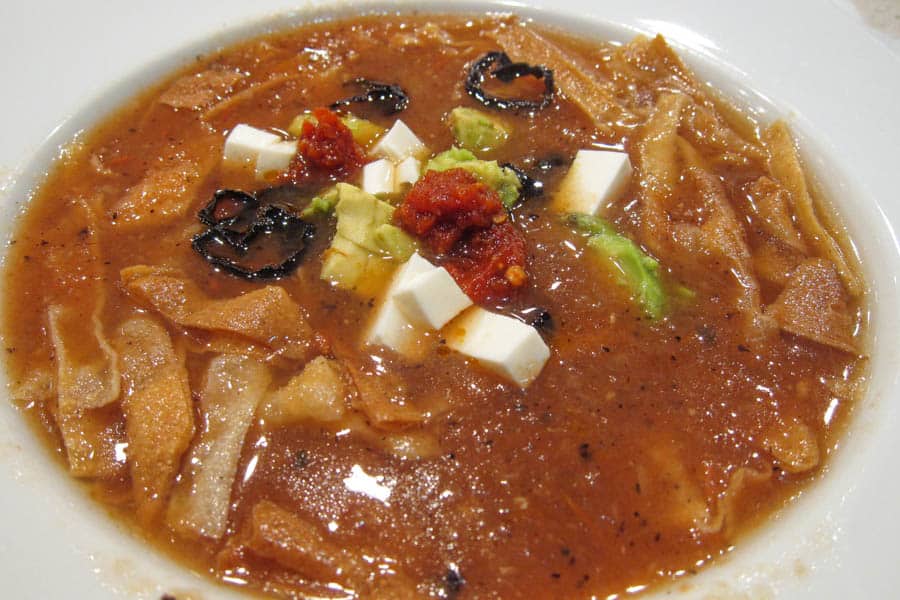 Chiles rellenos – We roasted poblano peppers, stuffed them with cheesy vegetables, coated them in flour and fluffy egg mix and deep fried. Delicious served with roasted red salsa and rice.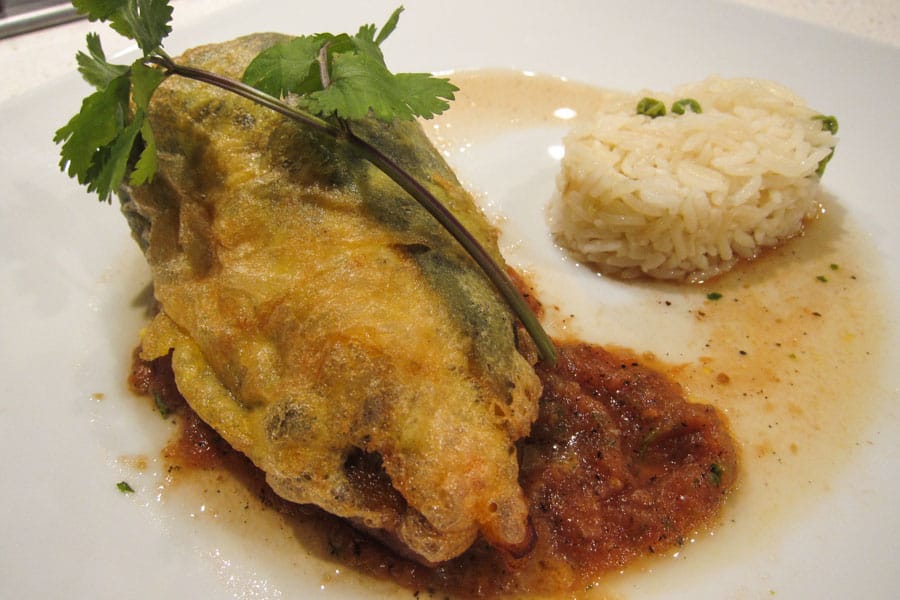 Bananas in Rompope sauce – We flambéed caramelised bananas, added cream and rompope (a creamy Mexican alcoholic drink similar to eggnog) and simmered until it thickened. A simple but decadent and deliciously rich desert that we topped with ice cream and nuts. Heavenly!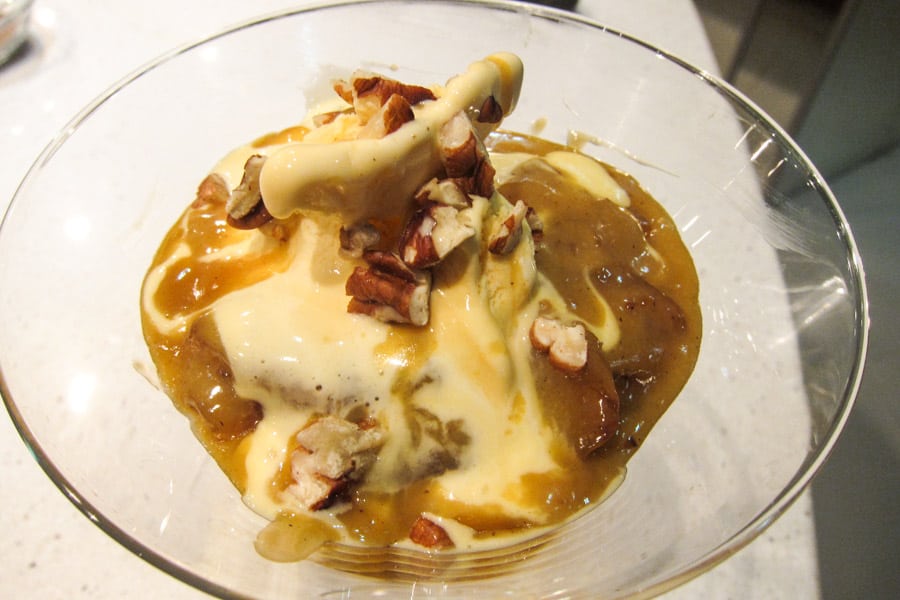 We've done many cooking classes around the world and this was definitely one of the best. The stylish glossy red and steel kitchen was a pleasure to work in and had everything we needed; it was a relaxed and fun class with just four of us; and focusing on three dishes meant we weren't rushed and had plenty of time to chat about all aspects of Mexican food. Coty was happy to answer any questions and we could have easily spent many more hours in her company learning as much as we could.
We love meeting small business owners who are passionate about their trade and value a high quality service over making a profit. Meeting Coty and soaking up her knowledge and enthusiasm left us inspired.
This week we finally took the plunge at the market and our kitchen is now filled with the smoky aroma of chipotle and pasilla. Our Mexican cooking hasn't looked back.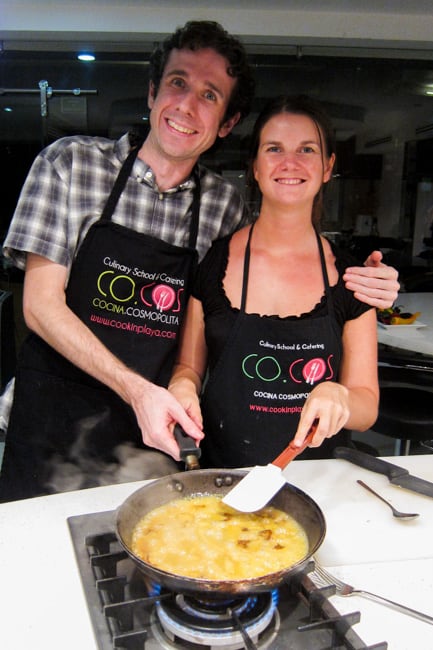 About Co.Cos Culinary School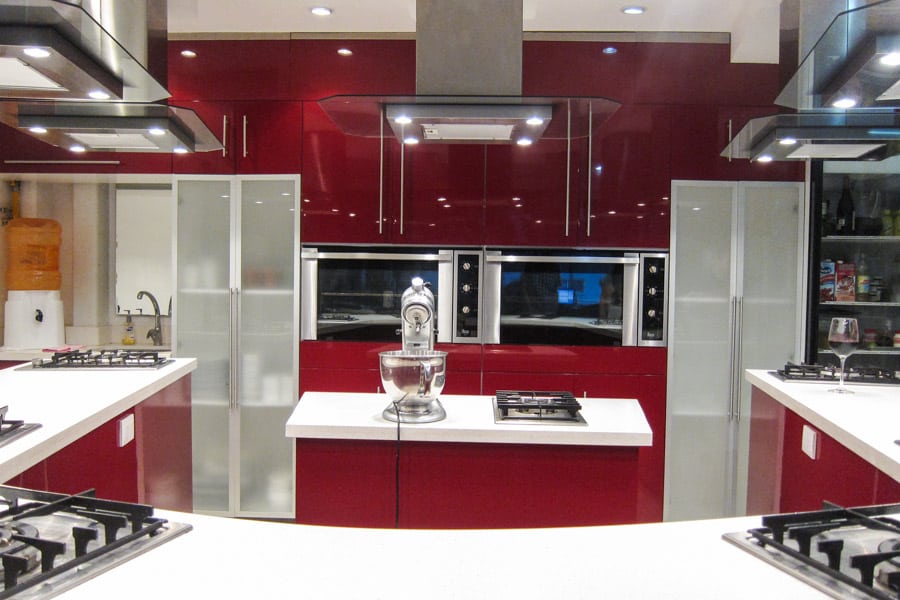 The three course 4-5 hour class that we took is available for lunch or dinner and costs $115 including wine and beer. There's also a one course option, a cocktail and appetisers class, and an intensive two week course that we'd love to take. The menu for each class is different and as groups are kept small Coty is open to suggestions about what you'd like to cook, and can cater for dietary requirements as she did for us as vegetarians. See the Co.Cos Culinary School website for more information.
Many thanks to Coty who provided us with a complimentary class.