This page contains affiliate links. Please read our disclosure for more info.
In our Slow Travel Manifesto we wrote about how the travel we find most rewarding focuses on experiences over tourist sights, and connecting with a place by learning how people live. As promised here are some of our favourite slow travel experiences from the last three years on the road.
Slow Travel and Slower Food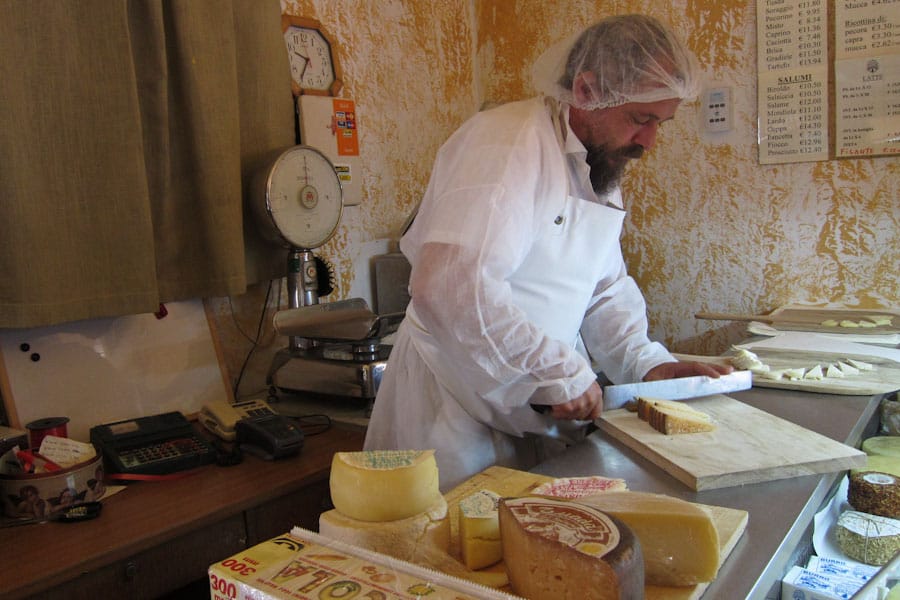 More than any other kind of travel we love to learn about a place through its food. As vegetarians trying local food can sometimes be difficult but Italy is one country we return to again and again with the sole purpose of eating.
In Tuscany this year we discovered a new part of the region—the peaceful, mountainous Garfagnana—and we did so through its food. We joined local foodie Heather Jarman on one of her Sapori e Saperi tours where she introduced us to food producers who care passionately about what they do. We met a cheese maker who balances meeting the demands of the modern world with maintaining the traditions his family has passed down to him that make his cheese so good. We ate lunch at the rustic wooden table of food collector Andrea Bertucci who scours the region for the best produce and serves it up in a never-ending tasting menu. We ended the day learning how to cook cucina povera and local specialities with Italian mamma Gabriella.
It was a day of eating but we also got to meet locals, learn about the culture and traditions of the region, see where food is created, and learn how to make local dishes ourselves. Above all it was about appreciation.
Food is an essential part of our slow travel life. From seeking out vegetarian-friendly street food in Myanmar to exploring the weird and wonderful world of shojin ryori in Japanese temples to attempting to eat every exotic fruit in Colombia to sampling the fine wines of family-run wineries in Umbria, we try and find the best local food and uncover the stories behind it.
Finding a knowledgable local helps us to do this so we've gone on walking food tours in Rome and Miami as well as the Garfagnana; and we've taken cooking classes in India, Bolivia, Japan, Thailand, Italy and Jordan. These help us find the best places to eat, teach us about local dishes and food culture, and help us decipher the ingredients at markets. One of the reasons we love renting apartments is that we can then buy fresh produce and try out the recipes ourselves.
Jodi Ettenberg of Legal Nomads also eats her way around the world. She especially loves street food as when perched on a tiny stool by the side of the road she not only finds cheap, delicious eats but chats to locals and learns more about the culture of a place and why they eat what they eat. Jodi has just written a book that helps travellers find tasty and safe street food around the world. It's packed full of inspiring anecdotes and practical tips so if you love food and travel as much as we do then we recommend taking a look at the Food Traveler's Handbook. The book is released as part of the excellent Traveler's Handbooks series that cover subjects like volunteering, solo travel and career breaks.
Uncovering Traditions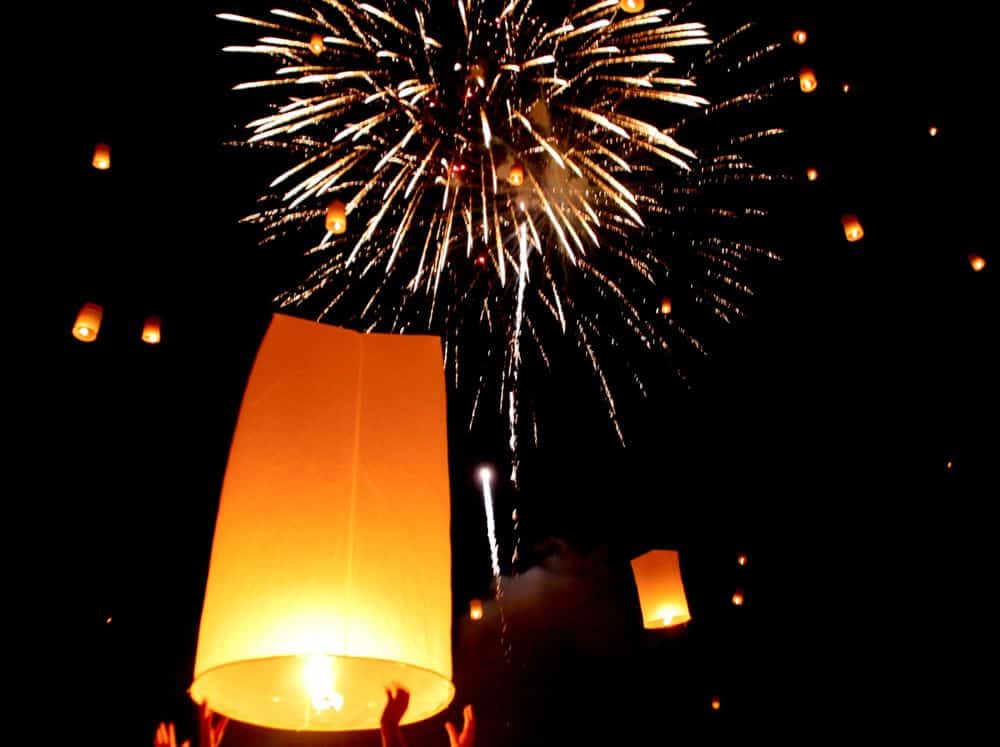 When you stay in one place for longer, especially in untouristy neighbourhoods, it often opens up interesting local festivals and traditions that don't get talked about in the guidebooks. While house sitting in Kyoto we accidentally discovered a cool lantern sculpture display in a local temple; while couch surfing in a small town in Paraguay our host took us to a local festival that included fireball (yes, football with a flaming ball); and while living in Chiang Mai for five months we joined Thai families in a mass release of thousands of lighted lanterns at the Yee Peng festival.
At all of these events we were one of the few or only foreigners around and got an insight into the culture and traditions of the place.
Using Language to Learn About People
The best way to dig deeper into a culture and get to know its people is by learning the language. Everywhere we go we try to learn at least a few basic phrases, and this is always appreciated, but we've had our best experiences when we've been able to learn more. South America is perfect for learning a language as everywhere except Brazil speaks Spanish so you have plenty of opportunities to practice. We started our year long trip there by spending two months in Buenos Aires where we took Spanish lessons and put it into practice by meeting porteños at language exchanges and local events like a flash mob pillow fight. As we travelled through South America I'd often take a week of Spanish conversation classes to keep pushing my language skills and because it was an easy way to meet a local and learn about life in that place.
By learning the language you have a much greater opportunity to interact with local people and increase your understanding of the culture.
Getting Active
We've always found activities more interesting than sight seeing and they can give you an insight into the culture. We've been to a football game in Rio and a cricket match in Sri Lanka and been amazed by how vibrant they are. We've watched a cool tango fusion band in Buenos Aires in a dingy club a world away from the touristy tango shows. We've joined families strolling around the colourful water fountains of the circuito magico del agua in Lima. We've cycling around the villages and colourful tribal markets of Inle Lake in Myanmar meeting locals who rarely see tourists. We've mopeded around Thailand—joining hundreds of Thais on their scooters in the crowded roads made us a feel a part of the community.
We've scuba dived, rode horses, hiked, learnt to weave, kayaked, and many more activities around the world. We've found it has given a purpose to our travels and provided an excuse to linger longer in places that might lack tourist attractions but have a lot more to offer.
Volunteering
Our focus in the last few years has been on building our business so we haven't had much time for volunteering but when we have it has taken us to places we would never have been otherwise, introduced us to local people and led to some fascinating experiences.
We created a website for a charity in Peru, staying in a tiny rural Quechua community high up in the Andes that didn't even have a road, and attending the opening of a new school complete with a guinea pig feast (we skipped that part).
We helped out at a soup kitchen in Puerto Viejo, Costa Rica and learnt about the indigenous people that we previously didn't even know existed.
We worked as interns in a riding stables in rural Costa Rica where I rode alongside local cowboys in a cabalgata, and visited the neighbour's trapiche to see sugar being made.
These experiences haven't been the easiest on our travels—they've been remote, hard work, and have taken us out of our comfort zone, but they are the memories that last the longest.
Deliberately Doing Nothing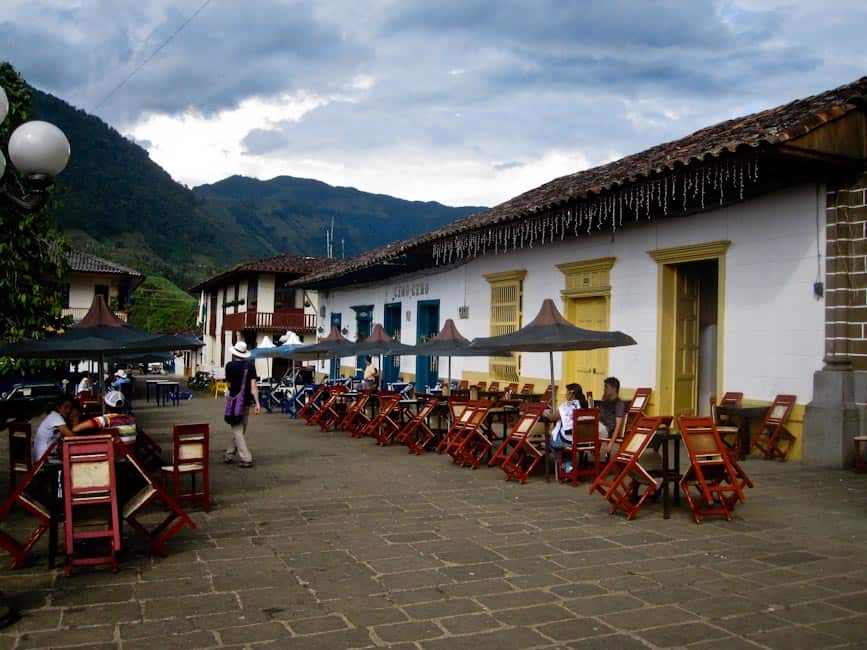 Slow travel lends itself perfectly to refining the art of doing nothing. Wandering down side streets, lounging in parks, people watching in cafes—in an unfamiliar place all of these can be just as rewarding, if not more, than a visit to the "must-see" ruin, museum, or temple.
In the parks of Buenos Aires we watched martial arts classes, and sat amongst the guitar-playing, mate-drinking youths.
In the small town of Jardin, Colombia we relaxed in the colourful central plaza where on Saturday nights the gauchos parade around on their horses, showing off and stopping outside one of the bars for a horseback beer.
For travellers who are burnt out from a constant rush around the big ticket sights this kind of aimless travel can be the perfect restoration.
Next time you travel consider ways you could apply the slow travel philosophy to your trip. We're not saying that you should skip the famous sights but that these slow travel experiences can add an extra dimension to your travels.