This page contains affiliate links. Please read our disclosure for more info.
Jardín may be the ideal small town with its colourful colonial buildings, warm climate, backdrop of lush green hills, friendly people, sociable plaza lined with cafes, low prices, horses and carts roaming the streets and no gringos in sight. It's not even difficult to get to – just a 3.5 hour bus ride from Medellin. Paisas from the big city often visit on the weekends but it's not in the Lonely Planet and therefore not on foreigners' radar. This means there are no souvenir shops although you'll find a few hotels and a couple of guides willing to help you explore the surrounding countryside. It all feels very authentic, and most other travellers have never heard of it: the backpacker's holy grail.
Things to Do in Jardín
Jardín isn't the place to come for action-packed adventure, it's more about soaking up the wonderfully slow pace of life and chatting to locals. There are however a couple of interesting trips.
La Cueva del Esplendor
The town's main attraction is La Cueva del Esplendor (The Cave of Splendor) a waterfall within a cave reached by a difficult six hour trek. We took the easier option of horse riding up there. The hotel arranged the trip for us (45,000 COP/$23) and we were surprised when we picked up a Colombian family of six who would be joining us. The jeep took us a fair way up in the hills to the stables where we started the ride. The narrow path was muddy, rocky and steep with a treacherous drop not far from where our steeds were walking. The scenery was beautiful – Jardín is surrounded by endless green mountains, banana and coffee plantations.
After about 90 minutes we reached a small farm shop. One of the men in the family brought out a bottle of brandy and passed out the shots. I resisted, Simon didn't. It was 10am. We left our horses behind as the rest of the path was too difficult. We wondered why our guide was bringing a rope…
The two guides helped the older ladies, and often us, to tackle the slippy mud tracks and jump over streams. The rope came in handy on one particularly difficult section.
Hidden beneath some Indiana-Jones style vines we reached La Cueva – yes the waterfall inside was rather splendid, but it's one of those trips that's more about the journey than the destination. A few braver souls than us took a dip in the icy waters.
It was 11am and a number of the men, worryingly including our guide, were drunk.
The return journey was even more tricky, especially as Simon had to hold the grandmother's hand and help her along. Her guide wasn't as steady as she'd have liked and he ended up on his arse a few times. It got worse when we got on the horses again – downhill on a steep muddy path is more treacherous than uphill. We had riding experience so were fine but one of the ladies fell off on the last particularly nerve-wracking stretch. Luckily she wasn't hurt. The guide gave her some advice on how to ride down hills, helpfully after the accident.
Teleférico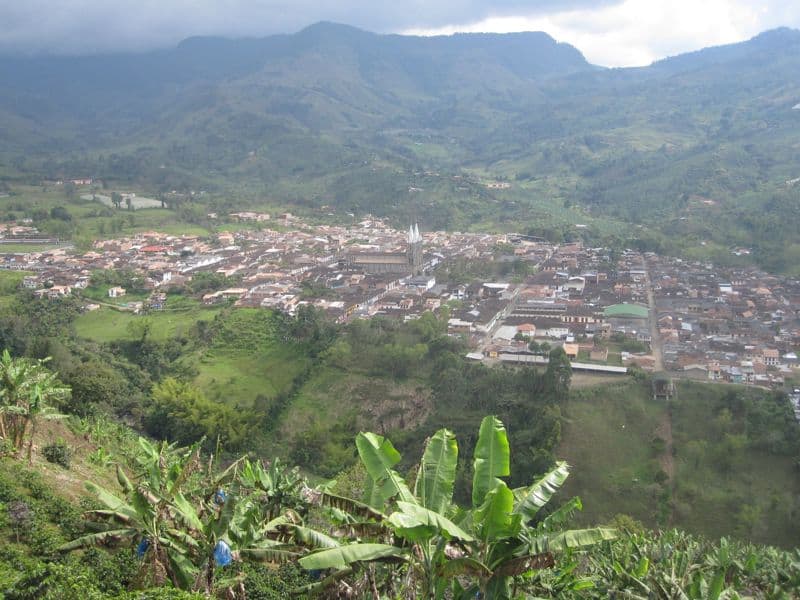 For great views of the town take the cable car up the hill. It's 5000 COP/ $2.50 per person and as there was no-one around when we went on a Friday afternoon we got a private ride. At the top there's a cafe or you can take a stroll through farmland. From this viewpoint you realise just how big the church is for the size of the town.
Relaxing in the Plaza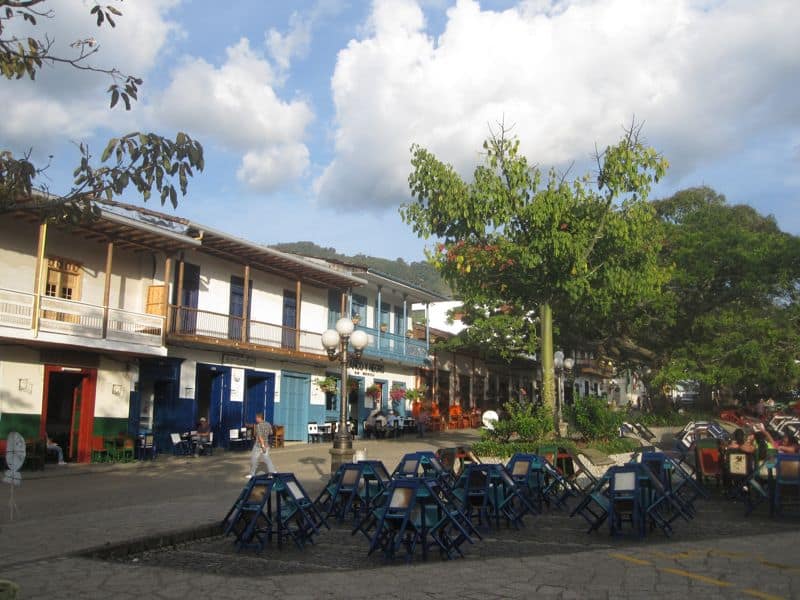 Jardín's plaza has to be a contender for one of the best in South America, and that's saying a lot. The plaza is the hub of every Latin village, town and city – a place to meet, relax, people watch and drink coffee. Although there are other more elegant examples: Cusco and Arequipa in Peru come to mind, we could never afford a drink in these touristy squares, let alone a hotel room with a church view.
The low colonial buildings are white with splashes of blue, green, yellow or red, and the green hills are visible all around. Mostly Jardín's plaza just has the best vibe. There are lots of trees and benches and people of all ages hanging out – children playing with the pigeons, teenagers gossiping, dignified old men in cowboy hats watching the world go by. The outskirts of the plaza are lined with colourful tables and chairs from the many cafes. The price of a coffee in this prime spot: 500 pesos, just $0.25. A freshly squeezed juice – mango, blackberry, pineapple, or maybe one of the more unusual Colombian fruits such as lulo or guanábana? A bargain at 1500 pesos – $0.75.
Watch the Gauchos
On Saturday night you are in for a treat in the plaza. This is a rural area and horses are often seen being ridden around town or maybe pulling a cart full of vegetables. But on Saturday nights the gauchos put on their best shirt and cowboy hat and ride their most attractive horse into town. We were alerted by the thunderous sound of horse hooves, and at first couldn't figure out what they were doing in the plaza. It became apparent that the roads were closed so the gauchos and horses could strut their stuff – they were here to trot up and down and show off, stopping occasionally for a beer outside one of the bars.
Our home town of Manchester's nearest equivalent to a plaza, Piccadilly Gardens, is best avoided on a Saturday night – it's full of vomiting drunks and rowdy beer louts getting into fights. Jardín's plaza at 11pm is packed with people of all ages including tiny children and old men. There are as many people drinking coffee as drinking beer and it's a wonderfully festive atmosphere.
Where to Stay
We stayed at Fami Hotel, a small family-run guesthouse with a few rooms in their restaurant. The rooms are simple with hard beds but they do have private bathrooms and balconies. The best thing is the location – just to the left of the church on the main plaza. You have a great view of all the action and can use the plaza's free fast wifi, although it can be noisy with the bars and church bells so close. It's 15,000 COP/$7.50 per person, or 25,000/ $13 with breakfast and lunch.
Jasmine Wanders also recommends El Muelle but when we visited the owner Luis was away and it was being refurbished.
Where to Eat
There are plenty of restaurants but they all serve up similar antioquian fare, involving meat or fish. There are also cheap food stalls in the plaza. As we are vegetarian we tried both of the town's two basic pizzerias – neither are great but it was fine.
How to Get There
From Medellin it's 3.5 hours from the Terminal del Sur. Two bus companies do the direct route: Transporte Suroeste Antioqueño Andes-Jardín (Booth 2) at 7am, 9.45am and 2pm for 16,000 pesos and Rápido Ochoa (Booth 22) at 1pm for 18,500 pesos. There are a few other times but I only noted the most convenient options.
From anywhere else you need to change in Andes (about 40 minutes away by bus or colectivo). To get to Salento, another popular destination in the Zona Cafetera (Coffee Region) we went from Jardín -Andes-Pereira-Salento. On the weekends there are more buses and you'll need to catch the 7am or 10.30am bus from Andes to get to Pereira in time for the last bus at 5.30pm to Salento. The 10.30 bus doesn't run during the week.