This page contains affiliate links. Please read our disclosure for more info.
Last Tuesday we celebrated one year of travelling (and 10 days before that our blogoversary), all but four days of which were spent in South America. It's an important milestone for us, as when we left the UK we had saved a years worth of travel funds to give us the chance to make Simon's Line In web design business work. If we couldn't make the digital nomad lifestyle sustainable after a year we planned to head to Asia to teach English.
Luckily we haven't had to eat too much into our savings and we are nearing the point of breaking even each month. Our never ending voyage is set to continue – we have just moved onto Central America and have plans to visit Europe and North America in the summer.
It hasn't always been easy (I'll write about the challenges we've faced in the next post) but we have had many memorable experiences, and we don't regret leaving at all. Here are our highlights of a year spent travelling as digital nomads in South America, visiting Brazil, Argentina, Paraguay, Bolivia, Peru and Colombia.
Santa Teresa, Rio de Janeiro – Brazil
We had a bumpy start to our new life arriving in Rio, but we were quickly won over by the charms of the Santa Teresa neighbourhood. Cobblestone streets, colourful graffiti and quiet plazas were much more our style than the high rises and busy beaches of Ipanema and Copacabana.
Ilha Grande – Brazil
Unbelievably in a year in South America we only visited the beach once. We spent our first week on the island of Ilha Grande getting into the swing of the digital nomad lifestyle and avoiding the cruise ship crowds by trekking through the jungle covered hills to discover waterfalls and long stretches of white sandy beaches. We would have stayed longer but we were shocked by the prices and there's no WiFi.
Buenos Aires – Argentina
We spent two months in Buenos Aires studying Spanish and attempting to learn Tango. It's our favourite city in South America and the one place we'd definitely like to return to. We loved the graceful architecture, excellent vegetarian restaurants, ice-cream by the half kilo (the best outside of Italy), huge parks, unique music scene, many galleries, and the funky Palermo Viejo neighbourhood.
Learning Spanish
My favourite thing about Latin America is that Spanish is spoken almost everywhere. It's a fantastic opportunity to travel for an extended period and learn the language. We both took classes in Buenos Aires to get us started and I've continued with conversation classes for one week stints in Sucre, Bolivia and Medellin, Colombia.
Horse Riding
From age 7-18 I rode every week, but in my 20s the high prices in England put a stop to that. One of my travel priorities was to get back into horse riding and for Simon to learn too. We have loved galloping through the pampas of Argentina, Wild West landscapes of Bolivia, the Andean mountains of Peru and to a hidden waterfall in Colombia. Simon has picked it up easily and we'll definitely be riding more in Central America.
Iguazú Falls – Argentina/Brazil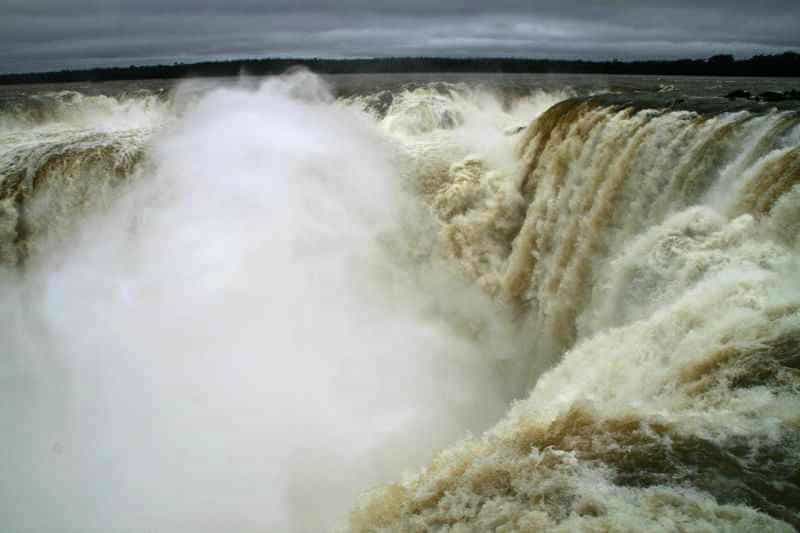 Although we can often be disappointed by big tourist attractions, Iguazú Falls, one of the world's largest waterfalls, lived up to expectations. Getting up close to such a thunderous volume of water is an incredible sight. We spent a few days exploring both the Brazilian and Argentine sides and taking a full moon walk to Devil´s Throat on Argentina's bicentenary.
Couchsurfing in Small Town Paraguay
Most travellers don't bother to visit Paraguay, which is part of the attraction – it's not often that you get the feeling of having a country to yourselves. We enjoyed the Jesuit ruins at Trinidad but Paraguay isn't about must-see sights or activities and we had our best experience in the small town of San Juan couchsurfing with a Peace Corp volunteer. Our host introduced us to locals and took us to some crazy events like Fire Ball (football with a flaming ball) and a cowboy festival that turned into a rave.
Road Tripping in Northwest Argentina
Our best experience in Argentina was renting a car to explore the area around Salta. We loved the red rock canyons, giant cacti, vineyards of Cafayate, multi-hued mountains and pre-Incan ruins. Having the freedom of a car to explore the quiet roads past dusty villages and gauchos on their horses was an added bonus.
Bolivia's Southwest Circuit and Salt Flats
When people ask us where our favourite place in South America is we say Bolivia. Argentina was a highlight as well, but Bolivia is unique and we had many incredible experiences there. Our jeep trip through the southwest from Tupiza to Uyuni was the most mind blowing – we spent four days at a dizzying altitude of between 4000-5000 metres passing deserts, colourful lakes, volcanoes, flamingos, llamas and giant salt flats.
Sucre – Bolivia
Sucre is probably the most liveable city in Bolivia. We fell for the sunny climate, white colonial buildings, cobbled streets, vibrant market and friendly people. It's my top pick for Spanish classes too.
Playing With Monkeys in Samaipata – Bolivia
In the chilled mountain town of Samaipata we visited a small wildlife refuge and discovered that monkeys love Simon. He ended up with one on his head and another leading him around the garden!
Spotting Wildlife in the Amazon – Bolivia
Our pampas trip in the Bolivian Amazon region had its ups and downs but it's hard to complain when you are canoeing so close to hundreds of alligators, capybara, turtles and squirrel monkeys.
Cusco – Peru
Cusco is the most touristy place in South America and the only place we saw tour groups in shiny buses, but the ancient Incan city is gorgeous and it's easy to escape the crowds by wandering aimlessly. It's also the launching point for a visit to Machu Picchu, which we enjoyed despite feeling it was overrated and overpriced.
Circuito Magico del Agua, Lima – Peru
Most people don't like Lima but for us it was worth visiting just for the wonderful vegetarian restaurant Alma Zen and the Circuito Magico del Agua (Magic Circuit of Water). It's a park full of many different water fountains that's only open at night to take advantage of the colourful light displays. It's a fun and unique night out.
Volunteering in Rural Peru
Simon's 30th birthday treat was staying at a comfortable mountain lodge far away from it all in the Peruvian Andes near Huaraz. After a few days reading by the fire, enjoying glacier views and horse riding, we came to an agreement with the owner and exchanged creating a website for their NGO for accommodation and food – we ended up staying for nearly three weeks. It was an interesting experience to stay in a rural Quechua community with no cars, helping out at the local school and attending a community event complete with 50 cooked guinea pigs (we didn't partake!).
Tropical Fruit
I enjoyed açai juice in Brazil and fresh orange juice from street carts in Bolivia but nowhere beats Colombia for tropical fruit. The range is incredible and I made it my mission to try as many weird fruits I had never heard of as possible. Best of all fresh juices are varied and very affordable and you can buy pre-cut mango, pineapple or watermelon for just 1000 pesos ($0.50) on streets everywhere.
Jardín – Colombia
We didn't explore Colombia as much as we had planned after spending two months in Medellin, but our first stop was an excellent choice. You won't find Jardín in the guidebooks, which is part of its charm as we were the only gringos in town. There are many pretty villages to explore in the coffee region near Medellin, but we chose Jardín for the chance to horse ride to La Cueva del Esplendor – a waterfall within a cave. Mostly we just loved chilling in the town's colourful plaza and people watching.
Meeting Other Travel Bloggers
The best thing about having a travel blog has been feeling a part of a community and making connections with many inspiring people through Twitter. In the last year we have met up with many of them including the bloggers behind The Future is Red, Cate and John, Tourist 2 Townie,, Fluent in 3 Months, Go See Write, Go Big Mike, Scott Kobewka, Locationless Living, Go Backpacking, LL World Tour, Raising Miro, Career Break Secrets, Lost World Expedition, Breakaway Backpacker and Globetrotter Girls. Wow!
We have even been recognised by readers a couple of times!
We definitely find meeting other bloggers more interesting than other travellers we meet on the road. They are usually doing really interesting things and can understand the challenges of balancing work and travel. We are looking forward to meeting many more this year, especially at the TBEX travel bloggers conference in Vancouver in June.