This page contains affiliate links. Please read our disclosure for more info.
While drifting off into a delicious siesta on a steamy hot jungle afternoon I was woken by a loud rustling in the trees around our semi-open stilted hut. Looking up I saw tiny yellow squirrel monkeys swinging down from the trees and onto the roof of the hut next to ours. I stared in amazement and then jumped into action, grabbing my camera and taking photos. This provoked the curiosity of the squirrel and howler monkeys that continued their exodus (where they were going I don't know), and they began to peer into my hut on their way down, staring straight at me.
I love the jungle!
Visiting the Amazon Rainforest was one of the few "must-do"s on our South American travels, and while most people think of Brazil when planning an Amazon visit, the Amazon basin also extends to Peru, Colombia, Ecuador and Bolivia. Due to Brazil's expense, and continued deforestation we heard that Bolivia was an excellent alternative. Not only is it cheaper and just as biologically diverse, but there is no risk of malaria in the jungle around Rurrenabaque – the main starting point for trips.
Once you have decided on Bolivia for your Amazon adventure the decisions don't stop there. From Rurrenabaque you have the choice of a trip into the jungle (usually to Madidi National Park) or to the pampas, a wetland savannah area where the chance of seeing animals is much higher as they aren't hidden amongst trees. Most travellers choose just one trip, but as we have no time limits we did both.
Here's a run down of what to expect to help you decide which trip is right for you.
THE PAMPAS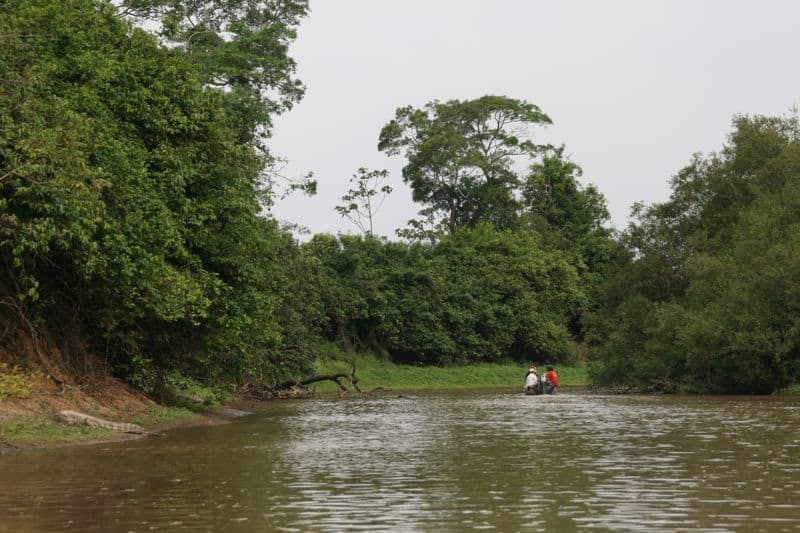 The pampas is not a real jungle experience, but the better wildlife-spotting opportunities attract many travellers, especially as the tours are very cheap. You get what you pay for though and these trips are a bit rough around the edges. It seemed impossible to choose between the many tour operators, as they all have exactly the same itinerary, and both good and bad reviews. In the end we went with Indigena Tours.
Transport
Pampas tours start with a very bumpy three hour jeep ride to Santa Rosa where you have lunch before loading up the canoes. We were promised a maximum group size of 8 people, so we were shocked to find 18 people waiting at the office for the same tour. They were divided into two canoes with separate guides, but we didn't like being lied to, and we had to wait for 30 minutes for an extra jeep. Not a good start.
From Santa Rosa a motorised canoe (thankfully with chairs) takes you on a three hour trip to the camp. This is the best part of the entire tour – we saw hundreds of alligators, capybaras (giant semi-aquatic rodents) and turtles sunbathing on logs, plus trees full of tiny squirrel monkeys. There are plenty of birds too – egrets, herons, roseate spoonbills, blue kingfisher, an eagle and lots of hoatzin (or Serere) – pheasant-like birds with blue faces and spiky hair. The amount of wildlife we saw was astounding – it almost felt too easy, like a trip to the zoo.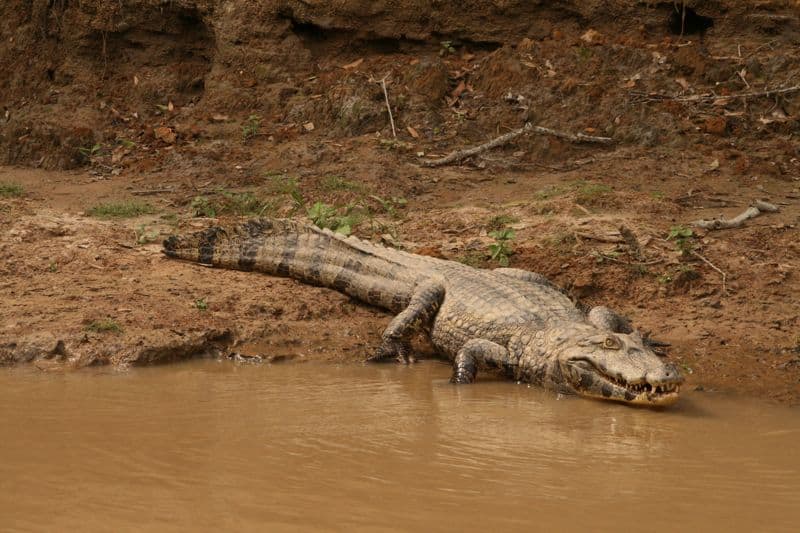 The river is narrow so we were very close to the animals on the banks, who aren't scared away by the canoes. We got a little too close to the alligators when due to low water levels we had to get out and push the canoe in our bare feet. Luckily they didn't seem too interested in us.
Accommodation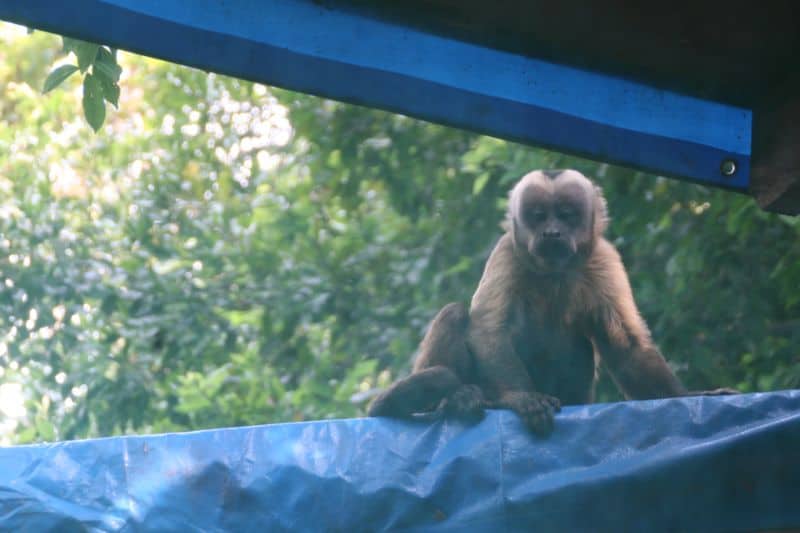 Each tour company has its own camp along the banks of the river. Indigena's did look a bit better than the rest but they are all very basic. Most people stay in dorm rooms but we opted to pay extra for a private hut with bathroom. It was simple but cute and comfortable enough – worth the expense for some privacy. The huts are on stilts and as the top half of the walls is mosquito netting you have great views into the trees. The sounds of the jungle, especially in the early morning, are crazy. Howler monkeys make the most unearthly noises.
All of the rooms and common areas are stilted and connected by narrow wooden walkways. A noisy generator is on at certain times so there are lights until 10pm and cold beers/cokes available. We would have preferred to not have power as it ruined the peace of being in the jungle.
Thankfully as it's the dry season there were hardly any mosquitoes around and we didn't get bitten. There are lots of other flying bugs though – we were grateful for the mosquito net.
Activities
The first night is relaxed – maybe a drink at the 'Sunset Bar', a viewing platform that isn't big enough to accommodate everyone, plus people who come from other camps. The views are lovely though.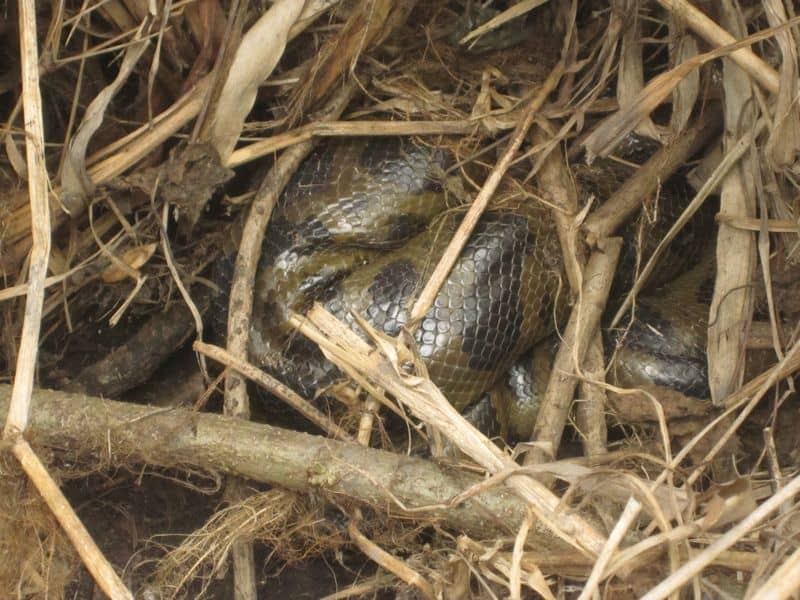 On the second day the activities began and for us, this is where it went downhill. In the morning we put on wellies and walked into the swampy flatlands looking for anaconda. The problem is that 50 other people were doing the same thing, from various tour groups, so when an anaconda was found everyone crowded around for a look.
We had heard stories of guides touching the anaconda, and we could see that plenty of the tourists would be happy for the "anaconda around the neck" photo opportunity, but our company had assured us it was illegal and they didn't do this. To be fair, they didn't touch the snakes but they did use sticks to pull away its habitat and give the tourists surrounding it a better view. It felt horribly intrusive, and after a quick glimpse we stood back away from the chaos.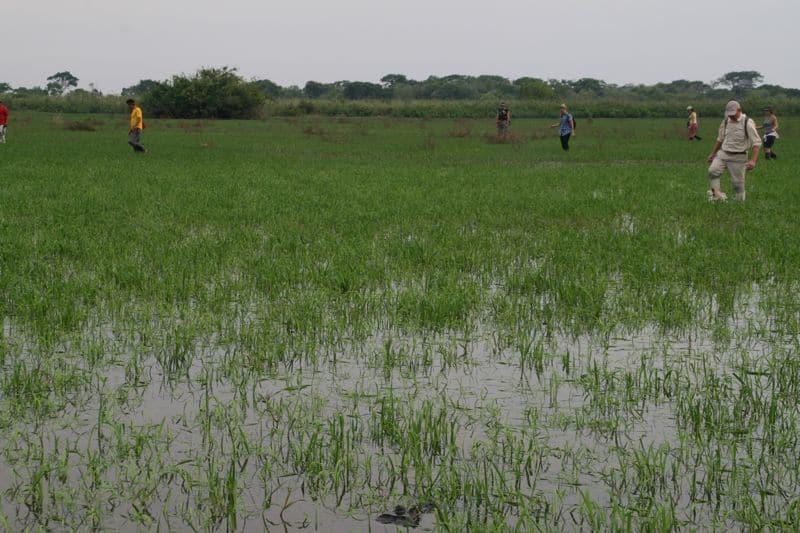 The afternoon activity is piraña fishing, followed by a sunset drink at another camp. As vegetarians we didn't want to kill fish so we stayed behind at the camp. It was actually pleasant to relax in the peaceful camp, swing in hammocks and spot monkeys.
The final day is swimming with pink dolphins, an attractive prospect, but again there is the problem of 50 other people doing the same thing at the same time. We only got a glimpse of a dolphin, although at times you can have more success. Some people went for a swim in the muddy river anyway, but we gave it a miss. We weren't exactly the most active participants in the tour's activities.
After an early lunch it's the enjoyable canoe ride back to Santa Rosa, and the awful jeep ride to Rurrenabaque.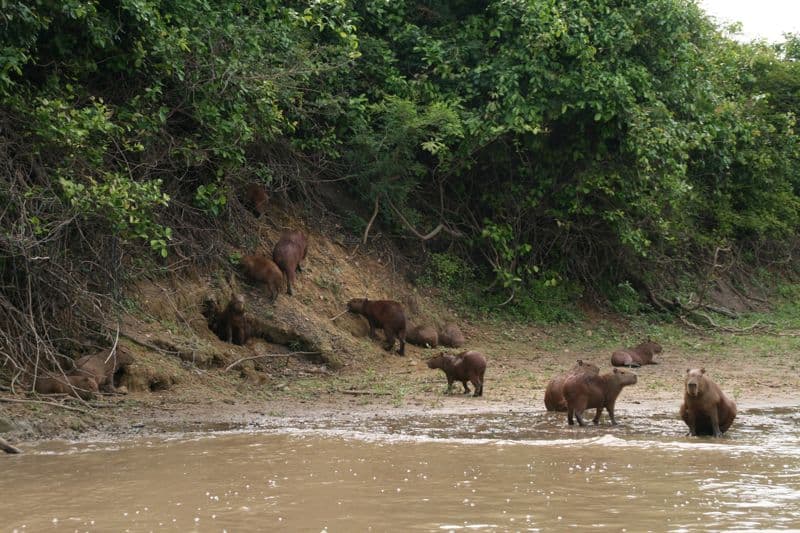 Guide
Hmm, our guide was not great. He spoke in very basic English – we would have preferred Spanish but the others in our group didn't speak it. He did point out different animals and their names but it didn't go much beyond that. Worst of all he lied to us. On the last morning he promised to meet us at 5.30am to go out and see the sunrise, but he didn't show up. Later he accused us of lying and not turning up – shameless.
Food
Take snacks! There is not enough food for everyone which makes things awkward. Being vegetarian meant that we got the rice or pasta and bland boiled vegetables that everyone had without the meat – nothing extra for us.
Costs
The 2 night/ 3 day tour costs 450B ($64) per person, plus an extra 150B ($21) for park entrance. We paid an additional 100B ($14) each for a private room.
THE JUNGLE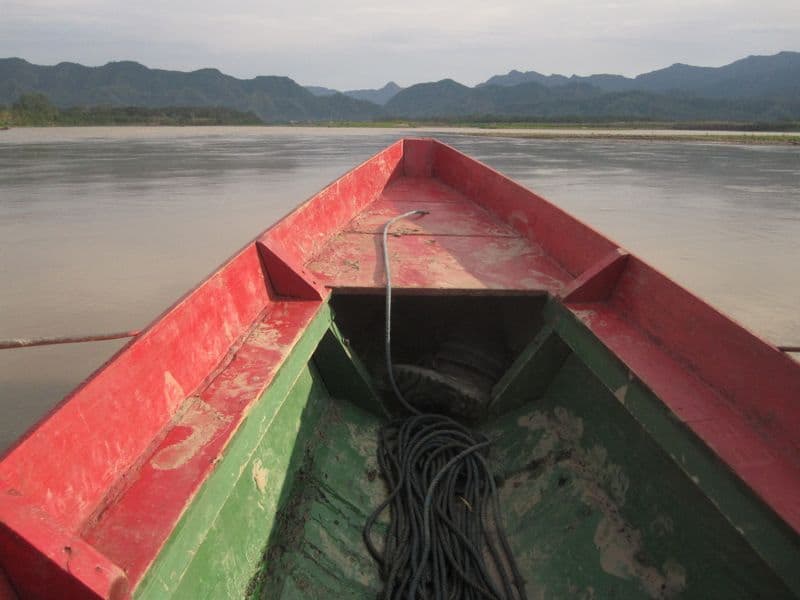 To visit the jungle there are plenty of cheap operators, but after our pampas experience we opted for one of the more expensive, environmentally-aware jungle lodges. We chose Madidi Travel who have set up Serere, a 40,000 hectare protected conservation area just outside of Madidi National Park. It is run by Rosa Maria who was involved in setting up Madidi, but has now created this new reserve after concerns about logging and hunting in the original park.
It's a more upmarket jungle lodge, but we were assured the extra expense meant the staff were paid well all year round and the profits went back into conservation work. The owner accompanied us into the jungle – in barefeet and carrying an incredibly cute orphaned monkey, she didn't seem greatly concerned with financial wealth.
Transport
Getting to Serere is much easier – a three hour motorised canoe ride straight from town, plus a 40 minute walk through the jungle (there's a cart for your bags). The Rio Beni is much wider than the river in the pampas so we didn't see much wildlife – one alligator, a few turtles and birds. You do see more human life – fishermen is wooden canoes, logging boats and basic riverside camps for nomadic fishing families.
We could tell the tour was more professional from the start– there was only one couple with us, we got lifejackets (!) and the guide was helpful at explaining things (in Spanish).
Accommodation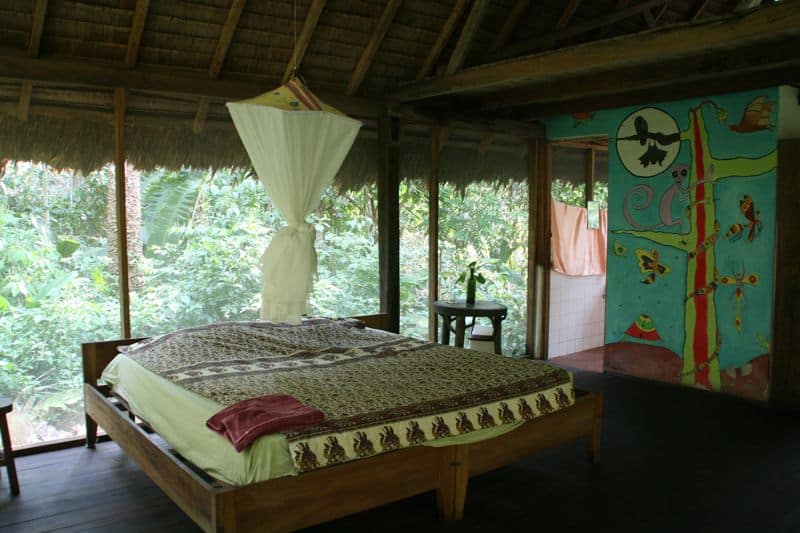 The Serere camp is gorgeous – the main house is spacious with a large open kitchen, dining area and a chill out area with hammocks overlooking the lake. Our private cabaña was beautiful – huge, comfortable and with only mosquito netting for walls so there are great views. The cabañas are a 5-10 minute walk from the main house (take a torch at night!) so you are right in the rainforest. Of course there is no electricity or hot water, but you are in the jungle!
Activities
There is no set programme of activities, although I didn't feel we got much choice. On the first day we did two canoe rides on the lake– one at sunset and a shorter night ride to spot the glowing red eyes of caiman. We noticed two things that were different from the pampas – far less wildlife and a lot more mosquitoes! Even still it was enjoyable to be out on a peaceful jungle lake, especially in the moonlight.
On day two we opted against the full day walk, and three hours was enough in the hot, humid, mosquito-filled jungle. Maybe we needed to walk further to spot wildlife, as we only saw a colourful spider, lots of giant ants and fire ants. Apparently people used to get punished by being tied to the fire ant tree – the bite is so poisonous that if they were left there for half a day they'd die.
This is the difference from the pampas – you see far less wildlife, but you get to enjoy the adventure of being in the jungle and learn about different medicinal plants, trees and bugs. We also tried a fruit that tasted like apple pie. Ironically we had more luck spotting wildlife on our stroll to breakfast when the monkeys were active in the trees.
We felt that the reward to effort ratio of jungle walking was rather low so we skipped the afternoon's activities (and let the others go fishing) and lazed around at camp. Simon drew pictures of really big bugs while I alternated between dozing in our beautiful hut and dozing in a hammock. To make up for our lazy afternoon we did a short night walk, but only saw fireflies and millipedes. Walking in the jungle in the dark is a spookily cool experience though.
Heavy rain prevented our last hike and forced us to spend the final morning in hammocks listening to the thunderous downpour – what a shame! Some of the guests made jewellery from nuts and seeds, but somehow that seemed like too much effort.
Guide
Reiny was much better than our pampas guide – he knew a lot about the jungle and always offered up information. I would have preferred more communication though about what activities were on offer and what we were doing next.
Food
Things started off well with a packed lunch on the boat – veggie pizza and chocolate croissants from the tasty French bakery, but dinner on the first day was small and disappointing (more boiled veg). Things definitely improved and the meals were varied and included lots of salads and different herbs and flavours (lacking on the pampas tour). Breakfast was fruit and granola, a local fried snack (such as empanada or cuñape), eggs, bread, juice and coffee.
They also provide a bottle of water on the first day which you can fill up with filtered water during your stay – great to save on plastic bottles.
Costs
Our 2 night/3 day tour cost 1450B ($207) each – three times the price of the pampas tour. The standard was far higher though and you feel good about supporting conservation efforts.
SUMMARY: PAMPAS OR JUNGLE?
We liked doing both tours, but it really depends what you are looking for. If you are on a budget, really want to see wildlife and aren't too concerned about the dubious practices on the pampas tour then go for that. I would actually consider doing one night only – this way you get the excellent boat ride without all the dodgy activities. It's a moral dilemma because it feels a bit wrong, but it is amazing seeing so many animals up close.
If you are more interested in the classic rainforest experience then the Serere Sanctuary is a comfortable way to experience it. For more adventure there are budget operators who will take you out on long hikes, camping out in the jungle. The heat and mosquitoes put us off this option.
Tips for Rurrenabaque
Rurrenabaque is a chilled, pretty jungle town well on the gringo trail. If you aren't vegetarian then eating from the local street stalls is your best option. After despairing at the awful tourist restaurants we found our saviour with lentil burgers at Cafe de la Jungla (Calle Comercio, opposite Madidi Travel), and a glorious variety of baked goods in the French bakery Panadería Paris (Calle Vaca Diez, next to Moskkito Bar – open 6am-noon).
If you have some time to kill head up to the Mirador – there are a few bars/hotels with pools that you can pay 20-30B to use with views of the green karst hills surrounding the town. The Lonely Planet map has the directions here very very wrong – it sent us to the opposite end of town on a crazy jungle walk before we realised the mistake and took a moto-taxi instead.
How to get to Rurrenabaque? Fly! The bus is for crazy people and the 35 minute scenic flight on an 18 seater plane from La Paz passes close by snowy mountains before descending into the jungle. Cost: 525B ($75) on Amazonas.
See more of our photos from Bolivia.