This page contains affiliate links. Please read our disclosure for more info.
We fell for Sucre instantly – the sunny weather; youthful, modern vibe; cobbled streets; terracotta roofs and white colonial buildings made us feel like we were in Spain until you discover pockets of Bolivia. Women in voluminous skirts and long plaits serve fresh orange juice from street carts; young working children sell their version of the Big Issue; and pirate DVDs are sold on the chaotic streets around the central market.
Sucre is the constitutional capital of Bolivia – don't mention to a local that you thought it was La Paz as it's a touchy issue; and the birthplace of the independent nation. It's a university city so there are many young people around and a vibrant nightlife. It's an easy place to while away the days taking Spanish classes, wandering the pretty streets and lounging in cafes. Many people stay much longer than planned.
Things to Do
Wander – Sucre is a compact and attractive city that's perfect for wandering around and exploring, with many churches and museums to visit. The only problem is the narrow streets get very crowded at lunchtime when everyone heads home to eat the main meal of the day with their family.
Markets – The Mercado Central has a wonderful selection of tropical fruit, vegetables and cheap fresh juices. We didn't make it there but the Mercado Campesino is also supposed to be interesting while the nearby Mercado Americano is a cheap place to buy second hand clothes.
Mirador – For great views of the city walk up to the Museo de La Recoleta where you'll find a few museums, a quiet plaza and a cafe to relax in while you soak up the views.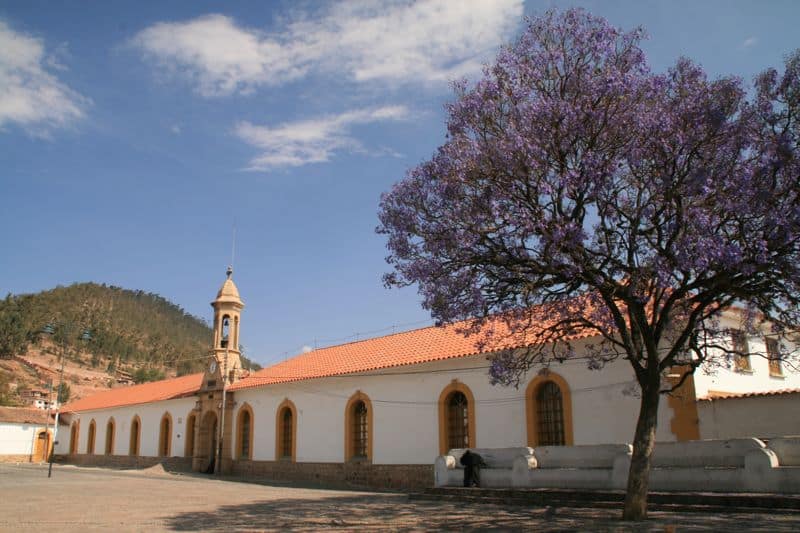 Museo Textil Indígena – Beautiful woven textiles from the different indigenous groups of the Sucre area.
Parque Boliviar – A pleasant place for a stroll with Bolivian families and students.
Cementerio Municipal – Apparently students and even lovers come to this tree-filled cemetery to enjoy the peace. It's worth a wander – my Spanish teacher brought me here to show me the monument to the students killed in the civil war.
Watch Films – There's a modern cinema at the SAS supermarket (Perez 331) showing Hollywood blockbusters, but for independent and Latin American films head to Joy Ride Cafe. They show films every night at 7pm (10B) including twice weekly screenings of The Devil´s Miner – a heartbreaking documentary about child miners from nearby Potosí.
Study Spanish – Sucre is a great place to study and there are plenty of schools to choose from. We recommend Sucre Spanish School.
Where to Eat
For local eateries read about our tour of off the beaten track, veggie-friendly Sucre restaurants. There are plenty of gringo restaurants as well offering up international dishes. We went to Joy Ride Cafe and Florín to take advantage of their fast, free wifi, and to Locot´s for burritos.
Where to Stay
We stayed at Santa Cecilia – a small guesthouse that's not in any of the guidebooks or hostel booking sites. It doesn't even have a sign. The friendly family lives next door so the house is entirely for guests. There are seven bedrooms, a large kitchen, a sunny courtyard, and a breakfast room/lounge. It costs 50B per person in a single or double room and breakfast is included (rolls, jam, tea/coffee and flavoured milk).
We liked the relaxed, homely feel and welcoming owner, but there are a few downsides. The kitchen isn't very well equipped; our bed was very hard; all except one room is shared bathroom; and the wifi was sporadic. When it did work we got reasonable speeds though. All in all we would recommend it for the price.
Santa Cecilia is located at Potosí 386. There's no website but you can email them at [email protected] or call (591-4) 644 1304.