This page contains affiliate links. Please read our disclosure for more info.
Digital Nomadism.
The holy grail.
The freedom to go where we want, when we want and stay as long as we want.
We recently wrote about about the highlights of a year travelling in South America and, on the whole, our lives are as awesome as we make out.
But there is a dark side.
Trying to earn enough money to live off, balancing the workload and the exploration, finding suitable places to stay ("A Desk! A Desk! My Kingdom for a Desk!") and decent WiFi connections have been some of the many challenges we've faced.
And so, around the time of our one year Nomadiversary (thanks to Dave for the term!), we would like to share some of our low points from the last year.
Some of these are specific to South America and some are more general problems that digital nomads or long term travellers could face anywhere.
Things We Didn't Like About South America
The Food
If we could tally the subjects of all the conversations that we've had over the past year, "Food" would be number one by a South American mile (which is longer than a regular mile, see "buses" below).
We are vegetarians and food has been a constant struggle for us: generally, there is always something we can eat but it is often very bland and unexciting. Few local dishes are veggie friendly and when we find some they aren't healthy (think fried dough and cheese).
As a result, we are often driven to gringo restaurants for vegetarian options, which cost a lot more than local eateries and we hate missing out on an important part of the culture.
There have been a few food highlights though including Argentine ice-cream (the best outside of Italy), Colombian fruit, wonderful vegetarian restaurants in Buenos Aires and Lima and shopping in local vegetable markets. Our life is much easier when we have our own kitchen which is why we loved renting apartments in Buenos Aires, Salta and Medellin.
The Cold
Much of South America is at a very high altitude. This means cold. In most places it is sunny and warm enough during the day, but the temperatures dramatically drop at night. Heating is rare and if your hostel shower isn't steaming hot it's not a fun experience. We don't regret visiting places like the Bolivian highlands and Peruvian Andes but we were definitely ready for the heat of Central America.
Of course it's not cold everywhere. Brazil, the Amazon region of Bolivia, the Caribbean coast of Colombia and Buenos Aires in the summer are all steaming hot. But travelling in South America you can't avoid the cold so pack some woolly undies!
Lack of Beaches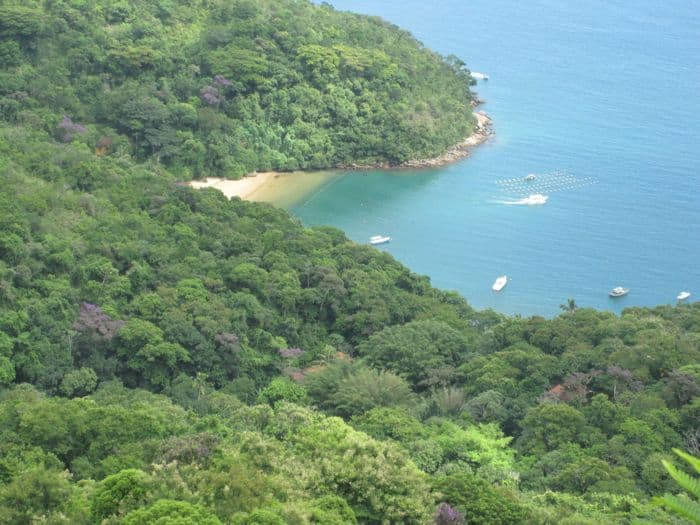 We're not expecting a lot of sympathy for this one, but in a year we only visited the beach once – Ilha Grande in Brazil. There are other options of course but none seemed that appealing and it didn't work out with our itinerary.
Before you get too upset on our behalf, however, you should know that this post is coming to you from the Carribean cost in Panama where we are in the process of rectifying past mistakes.
Buses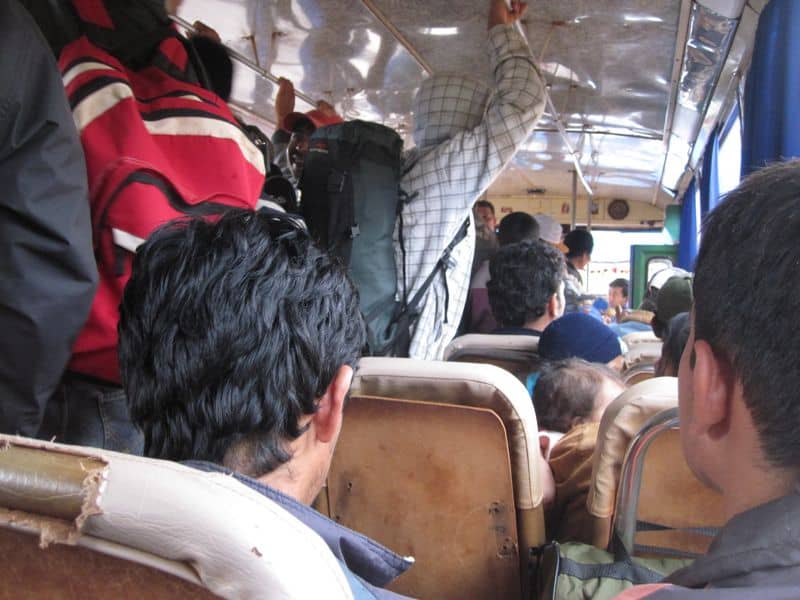 There is no train network in South America so the bus is your only option and distances are huge. We can't sleep on overnight buses and generally find bus travel exhausting. An exception is Argentina which has amazing buses with seats that turn into beds, personal TV screens and champagne served after dinner, and there are also some comfortable luxury buses in Peru.
In Bolivia we experienced bus hell, as there is very little tarmac so journeys are bumpy, windy and cramped.
Some Places Are Expensive
Bolivia was the only place were we could easily stick to our budget. Brazil was crazy expensive and Argentina and Colombia are not cheap either. We found we spent much less when we rented an apartment for a month or two and cooked most of our meals. Of course, 'expensive' is relative – we were comparing to the Indian Subcontinent and SE Asia. See here for what we spent in Brazil, Argentina and Paraguay, and in Bolivia and Peru.
Challenges of Digital Nomad Life
Many of these are problems that all long term travellers face and some are more specific to those working and travelling.
Balancing Work and Travel
This is our Achilles' heel: How do we find time to enjoy the places we are visiting while getting work done as well as dealing with all the practical travel issues (finding places to stay and eat, figuring out transport, planning our route)?
As it turns out, not very well. We tend to either work too much or not at all.
We were impressed with the Globetrotter Girls' work ethic when we met up with them last week in Panama. They get up early and work before a day of travel or sightseeing, then work late in the evening too.
We really need to work on getting into a routine like that.
The Search for Accommodation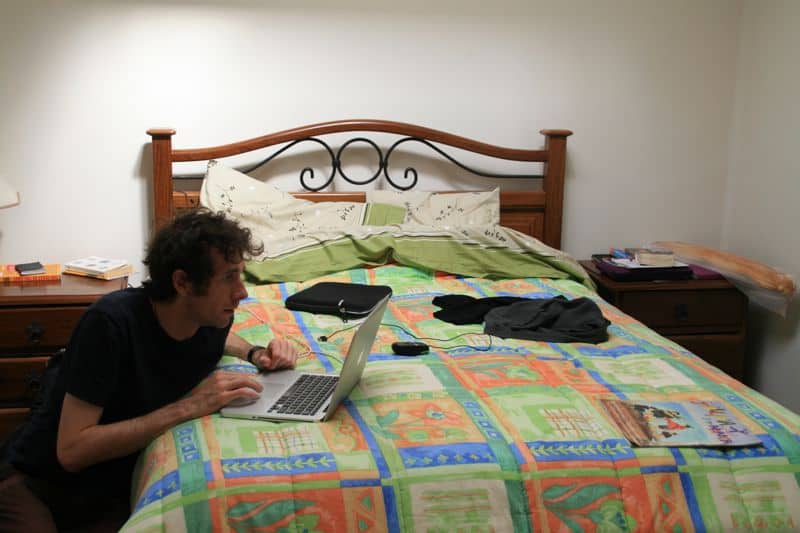 We're renaming this blog. No longer will it be the Never Ending Voyage, it will henceforth be known as the Never Ending Search for Decent, Affordable Accommodation.
Snappy.
Finding a decent, affordable place to stay is something we have to worry about far too often. Our standards are higher now as we have discovered that working on a hard bed with one flat pillow in a musty room with no natural light is just not fun.
I know, right? Who'd have thought.
Looking for an apartment for a longer stay can be just as bad. We got lucky using tips from friends to find places in Argentina but in Peru we really struggled, so gave up and went to Colombia, where we ended up paying far more than we wanted to.
Dependence on WiFi
Some of the most interesting places to visit are off the beaten track and don't have telephones, let alone working WiFi. Our internet addiction is worse than Simon's crack habit, but in our defence we need the internet to work so it's difficult for us to go to those places.
We do try sometimes, though – for four out of our six weeks in Bolivia we didn't have internet. We had a great time but we didn't make much money that month so this isn't something we can afford to do often.
We Are Harder to Impress
The more places we visit the harder we are to impress. We can't help but compare new places to those that have come before and they don't always live up. This is really sad but we're not sure what we can do about it.
Getting older sucks – we want our youthful enthusiasm back!
Money Worries
We do have savings but at some point they'll run out and we don't want to have to return to 'real' jobs. We haven't quite reached the stage where our income covers our expenses every month and we worry about making the Line In web design business sustainable.
It's ridiculous really as we are in a good financial position now but we grew up in a culture that teaches you to covet security and Fear The Future, so we can't help it, but we are trying to dismantle this unfounded worry.
Mishaps
People who haven't travelled long term often ask us if we have faced any major problems on the road. They mostly want to hear stories about robberies at gunpoint, bus crashes or serious illnesses and are almost disappointed when we just shrug and say that we've been lucky and have only experienced a few very minor incidents. To be honest, this is the case for the vast majority of travellers we meet – travel is not as dangerous as many people think – and often the stories you do hear are from friends of friends (Chinese Whispers, anyone?).
Almost Mugging in Rio de Janeiro
A year later, the story of our mugging in Rio has become a dramatic tale of courage and danger but, truthfully, we didn't actually lose anything and it really wasn't that scary.
Stuck in Huaraz
Probably our biggest travel mishap so far was missing our flight to Colombia (which cost us over $100 in fees, dammit!) as we were stuck in Huaraz due to protests and roadblocks. We managed to escape in time to make our rescheduled flight.
Reality Check
So, that's the truth of our lifestyle: hopping from one major disaster to the next while barely making enough money to eat, we continue our voyage around the world.
We wouldn't have it any other way.