This page contains affiliate links. Please read our disclosure for more info.
Icy cold winds blow what little air there is through the dizzying altitudes of the Bolivian Andes as buses born before the War hurry along the windy roads, wheels suicidally kissing the lips of impossibly high cliffs.
We were apprehensive about this foreboding country. Here, nature is in charge and she cares little for you. Erin suffers from motion sickness, hates the cold and isn't a fan of people peeing on her bag (Girlventures told us a tale of the people on an overnight bus, er, going on the floor in front of them).
Yes, our first bus journey from the border to Tupiza was bone-shakingly rough, but Erin's Dramamine held out, it was surprisingly hot, and no-one relieved themselves on our backpacks. Like the horror stories we heard all over India, when we arrived in Bolivia we discovered things weren't that bad after all.
An Easy Introduction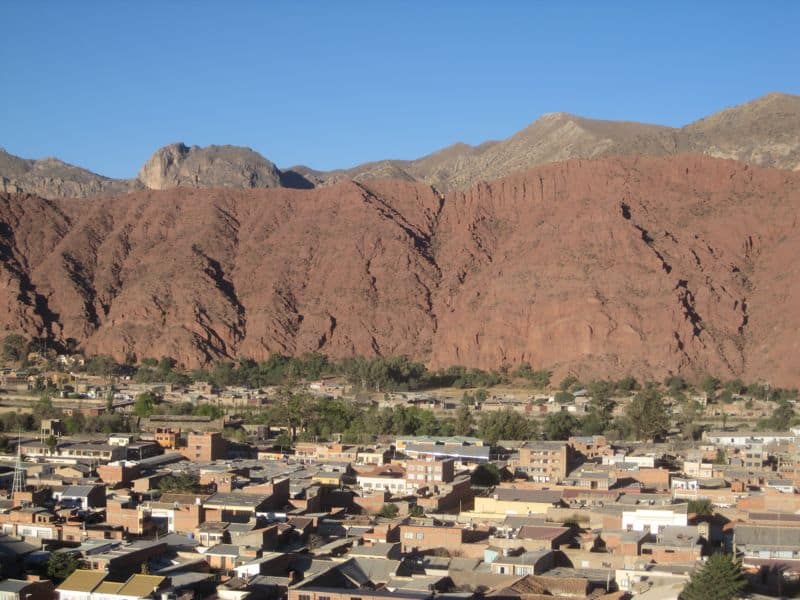 The small, tranquilo town of Tupiza is a perfect introduction to this land of extremes. Mountains of red rock rise above it all around and after travelling up through Northern Argentina, we had slowly become accustomed to the new culture.
There were some distinct differences, though. Vibrant market stalls manned by traditionally dressed women selling freshly squeezed orange juice for 30p a glass made us aware that, although superficially things may appear familiar, underneath lies a totally different and proudly unique heritage.
Gringo Alley
Tupiza wasn't as touristy as we expected, with only a handful of travellers around and hardly any tourist orientated shops (where could we buy our llama wool hats?!). All of the streets had shops aimed at locals.
Except one.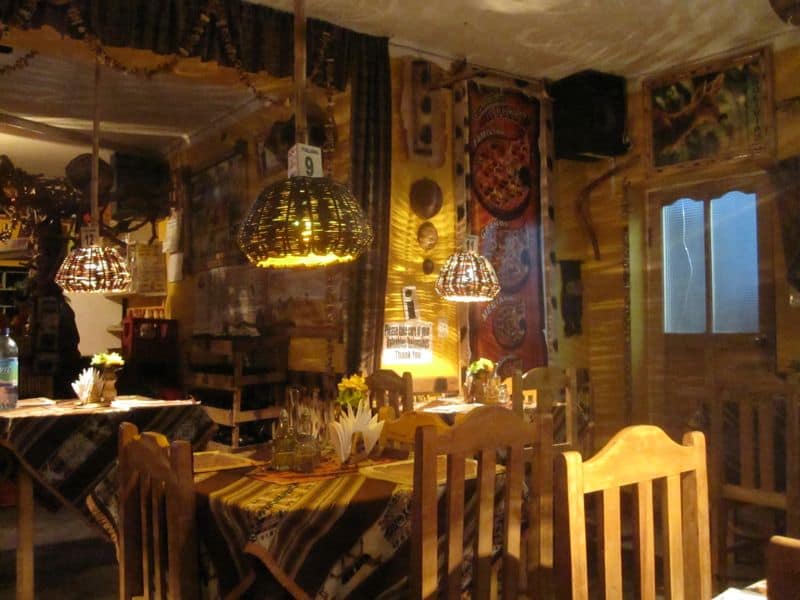 This one street that leads to the pretty main plaza has six identical gringo restaurants. Not similar, identical – from the same Italian menu to the same bamboo décor. Even the model pirate ship (to celebrate Bolivia's maritime heritage, I guess) made of dead cactus is the same.
Somewhere, someone is making a fortune selling Tupiza women Italian Restaurant Kits.
Unfortunately, the food is average at best, although the thin crust pizza was actually better than in Argentina. Shamefully, we ate it three nights in a row as local Bolivian restaurants aren't exactly vegetarian friendly.
Erin did make the mistake on the last night of ordering the Eggplant Parmigiana to mix things up a bit. Yes, she had forgotten how easy it is to cook eggplant very, very badly…
Cowboy Country
There isn't much to do in town and the highlight is undoubtedly getting out to explore the amazing Wild West scenery of the surrounding area. This is where Butch Cassidy and the Sundance Kid came to their end. There are lots of walks you could do, but in the desert heat horse riding is the way to go.
We went riding twice in Argentina, but this was much better. For only 75B ($10) we got an excellent 19 year old guide Ariel; lovely horses (Simon's was a bit slow but that was probably for the best); the important safety equipment of chaps and a cowboy hat; and three hours riding through gorgeous landscapes.
Under the big blue sky we walked and galloped past red mountains, giant cacti, ravines, canyons and crazy rock formations. We had a number of rest/photo breaks, with the chance to climb up the Puerta del Diablo (Devil's Door) and Cañon de las Incas.
Where to Stay
Two days travel from Salta had left us exhausted so we headed straight to the best hotel in town Hotel Mitru. To be honest there isn't much competition, but despite the not so friendly staff and slightly smelly bathroom we were happy with our choice. For 130B ($18) we got a comfortable, spacious, sunny room with a desk(!) and plenty of storage space. So much better value than Argentina.
There's even a pool, which is great to chill out by but painfully cold to swim in (we think the Lonely Planet reference to solar heating must have just meant the sun). There's no wifi, and just one computer with slooooow internet, but we had been prepared to be offline.
We booked our riding and four day jeep tour to the salt flats through the attached agency Tupiza Tours. We highly recommend them – more about our incredible jeep tour coming soon.
Note: There's no ATM in Tupiza, so if you are coming from Argentina get cash out at the machine in Villazon at the border.