This page contains affiliate links. Please read our disclosure for more info.
We fell in love with India during our three months there. Between the food, the chaos, the colours, the welcoming people and the constant challenge, the stunning scenery, tranquil temples and unexpected events – cows stopping traffic and the serenade on a canoe – it's impossible to pinpoint a single reason why.
One thing that does remain with us are the places we stayed, especially the homestays with Indian families. These weren't just a place to sleep, they were a friendly welcome and an insight into the culture. Some of them offered us wonderful home-cooked food, others a peaceful retreat from the stresses of Indian travel.
All of them offered something unique, and for a very reasonable price.
Greenpalm Homestay, near Alleppey, Kerala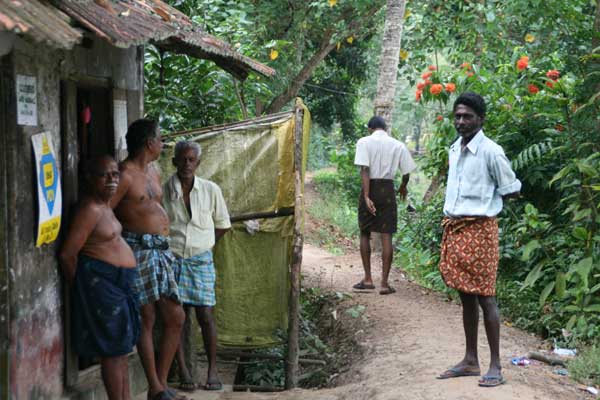 In a year of travel, this was our favourite place by an Indian mile. The Keralan Backwaters are a huge network of rivers, canals and lakes that create remote island villages, accessible only by boat, with no roads and only ancient canoes for transportation.
Set into this blissfully quiet and relaxing location is Greenpalm Homestay, an exceptional gem in this natural jewellery shop. Thomas offers many interesting activities – walks around the village to meet the locals and drink chai at rickety shacks, bike rides to explore further afield, and hikes through paddy fields.
But our favourite memory was the sunset canoe ride to the toddy shop, a backwaters pub where we sampled the local coconut sap brew before being serenaded with folk songs on the moonlit journey home.
The home-cooked food is delicious, fresh and plentiful with rice straight from the family's own paddy fields. The rooms are very comfortable with private bathrooms and A/C if you want it.
Rooms cost from INR 1,750 – 3,250 (US$37-70) depending on the comfort of the room. This is for two people in a double with three meals a day. Cheaper rooms may be available for those on a tighter budget, just ask Thomas. Book at greenpalmhomes.com.
Beena Homestay, Fort Kochi, Kerala
At this wonderful homestay near the centre of Fort Kochi you feel like part of the family. Beena and her husband are welcoming and go out of their way to help: they are happy to provide information and book activities.
Breakfast and dinner are included and is delicious and plentiful – however hard you try, your plate never empties!
The rooms are simple but clean and comfortable with private bathrooms and there are a number of communal areas to relax in.
Prices range from INR 600 to 1500 ($13- $32) depending on the time of year and whether you choose a fan or A/C room.
Book Beena Homestay on Airbnb here.
Houseboat, Kerala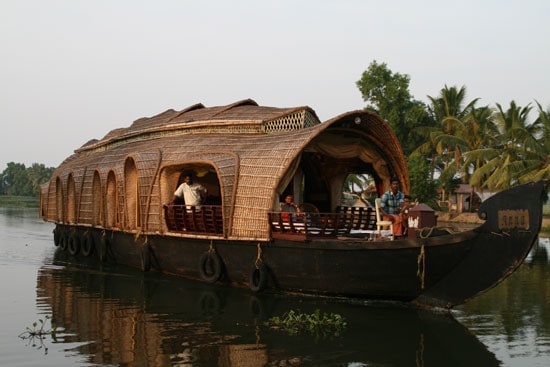 OK, so this isn't exactly cheap but it's definitely unique and worth the splurge. Spending the night on your own private houseboat floating through the backwaters of Kerala is a blissful experience. All worries disappear as you sit back and drift past riverbanks lined with coconut trees, verdant paddy fields, and colourful lotuses. You get a glimpse into traditional village life: women in colourful saris washing their clothes in the river and fishermen in lunghis launching their nets.
The boats are handmade kettuvallam, rice barges that were once used for cargo transportation but have been converted for tourists with comfortable lounging areas. Meals are provided and are a good chance to sample Kerala's delicious cuisine: our lunch featured nine different dishes.
Most houseboat trips start from Alleppey and these are the cheapest but the most crowded. We found the Kollam – Alleppey route quieter. An overnight trip costs INR 6000 – 12,000 (US$123-247) for a two-bedroom boat. There's no need to book in advance, and you'll be in a better bargaining position if you book when you get there. For more information see this Kerala Houseboats Guide.
Shanthi Guesthouse, Hampi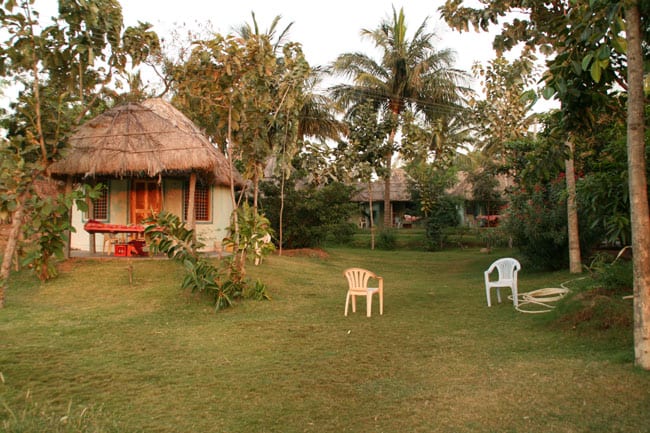 Hampi is a huge area of ancient ruins and temples set amongst a vast landscape of impossibly stacked boulders. Shanthi Guesthouse is where we enjoyed the best sunsets of our lives. It's located across the river from Hampi village, so it takes a while to get to the ruins, but it's worth it for the serene environment and wonderful views.
The round huts are simple with swing seats on the verandahs. The chilled-out restaurant has cushions on the floor for lounging and amazing views overlooking the green rice paddy fields, swaying palm trees and the boulder landscape beyond. This is the best place to lay back and enjoy the stunning sunsets.
Huts cost INR 650 – 1200 (US$14-25) depending on the view. Check availability here.
Shaam-e-Sarhad Village Resort, Hodka, Gujarat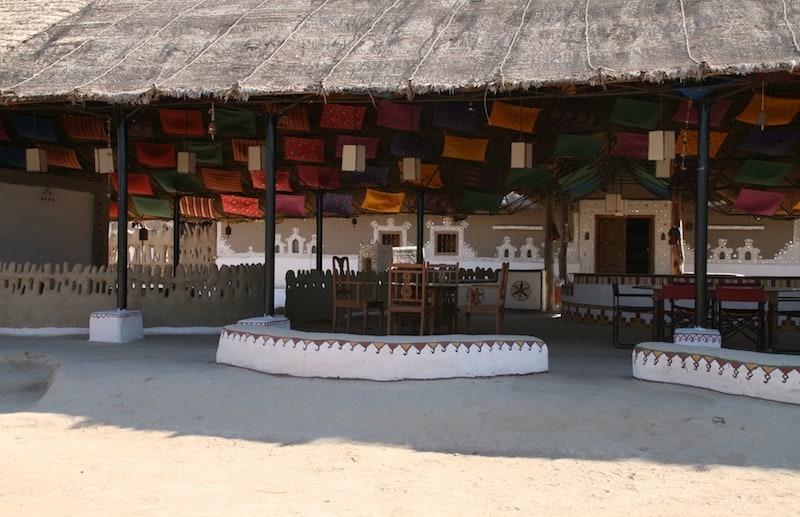 If you want to get off the beaten track then head to the Kutch area of Gujarat. Bhuj is a great base but it's worth heading out further afield to explore rural life. At Shaam-e-Sarhad you can choose between comfortable tents and beautiful Bhunga – circular mud huts decorated with colourful designs, in stark contrast to the dusty, thorny desert landscape.
The idea is to interact with people from the host village Hodka, but we found this difficult as no-one spoke much English. It is still an interesting experience though and a highlight was a performance by local folk musicians around the campfire. The vegetarian Gujarati food is delicious.
A double room including all meals cost INR 1800 (US$38).
Devjibhai's Kooba Eco Tour Camp, Little Rann, Gujurat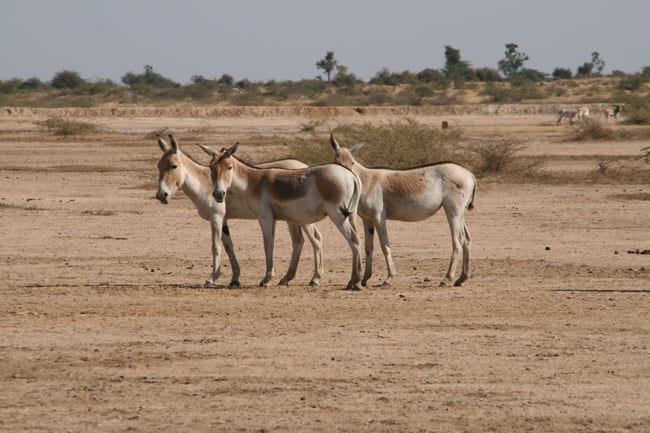 The Little Rann of Kutch is a salt marsh and little-visited sanctuary for the endangered Asiatic wild ass, and a good place to spot birdlife including flamingos. Due to sickness we didn't make it out to the sanctuary but still enjoyed this tranquil place and could see the wild ass from the camp.
This eco camp features a few comfortable but simple Kooba (mud huts) with bathrooms but no electricity. It's run by Devjibhai Dhamecha, a knowledgeable naturalist who has fought hard for the conservation of the area, and his family. As always the home-cooked food is a highlight.
It costs INR 2000 (US$42) in a double hut for two people including all meals.
Sand Dunes, Thar Desert, Rajasthan
Riding a camel is not as comfortable as one might think – our two-day camel safari became quite painful after just a few hours – but it was all worth it when we reached our bed for the night.
The magnificent, untouched sand dunes glowed red as the sun set, and after dinner around the campfire we settled down under the stars (and some thick blankets) to sleep. It may not be easy, but it certainly was an experience to remember.
You can easily organise a camel safari from Jaisalmer. Quality and comfort vary but rates start from INR 400 per day (US$9).
More Places to Stay in India
You can find more unique places to stay in India for all budgets by searching on Booking.com for hotels and guesthouses and Airbnb for homestay rooms and apartments (get $38 off your first stay by signing up here).
Our travel resources page features our favourite resources and gear to help you plan your trip to India.
Don't forget to get your visa before you visit India. The best way to apply for an E-Visa is with iVisa —it's easier and quicker than navigating the complicated Indian government website. iVisa will also save your details to make applying for visas to other countries (or future visits to India) really simple.
Like this post? Pin it for later!