This page contains affiliate links. Please read our disclosure for more info.
Last week we recounted Days 1 and 2 of our 1000km jeep tour from Tupiza to Uyuni around Bolivia's wild Southwest Circuit. Now we continue with Days 3 & 4 when we finally reach the famous Salar de Uyuni: the world's largest salt flats.
DAY 3: Huayllajara – Chuvica 8am – 5pm
After a pancake breakfast our first stop was the Laguna Colorada, a pinky red lake tinted by micro organisms, and full of minerals such as borax. The crazy rock formations of the Valle de Rocas were next, including the famous Arbol de Piedra (Stone Tree). It is a beautiful place despite the many jeeps that we found ourselves meeting as we got nearer to Uyuni.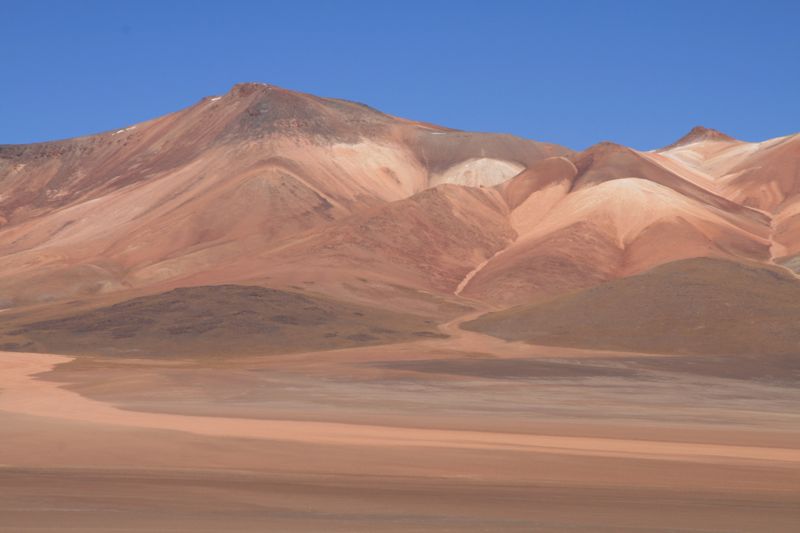 The rest of the day was a wonderful series of lakes and chocolatey volcanoes, and long drives through the desert. At one point Chile's Atacama Desert was just the other side of the watercolour mountains. Lunch was at Laguna Hedionda, alongside hundreds of pink flamingos. There's a building with a kitchen so it was a hot lunch again eaten outside in the sun.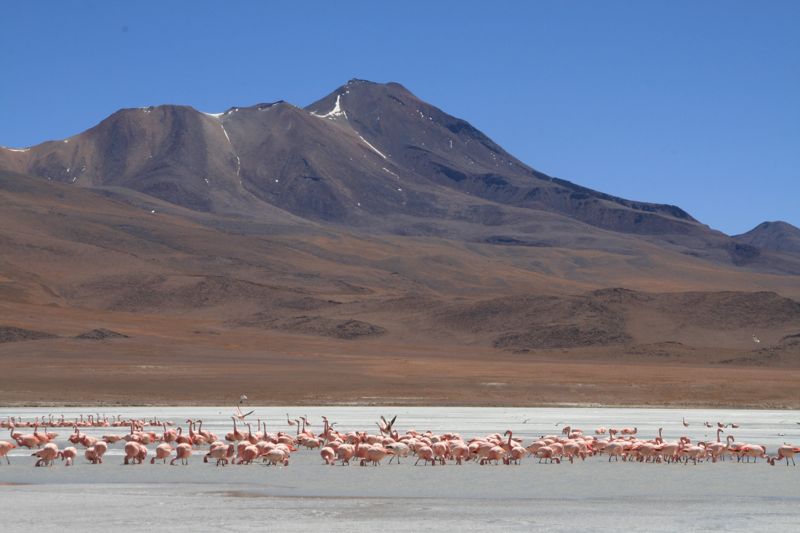 The afternoon was just as interesting with views of the active volcano Ollague steaming away, and the Salar de Chiguana – a browner version of tomorrow's salt flats.
The third night's accommodation is the most comfortable – the salt hotel at Chuvica is at 3600m and the salt helps to keep it warmer.
Everything is made of salt – the beds, bedside tables, walls, tables, chairs and the floor is a loose crunchy covering. We even had a hot shower (for 10B) for the first time in three days.
DAY 4: Chuvica – Uyuni 6am – 1pm
It's an early start on the final day to watch the sun rise on the Salar de Uyuni. The salt flats are as impressive as expected – an immense, flat vastness of 1200 sq km of salty sea. Cracks have formed to let the Salar breathe, and underneath the thick salty crust is a huge lake. We peered at crystallised salt in small water holes.
Mountains surround the edge of the Salar, adding dramatic interest. The sunrise was beautiful of course, with the early morning light highlighting the cracks and creating long people shadows. When the sun was up we headed to Isla Incahuasi (aka Fish Island). It's a popular tour destination but even with the crowds it's an incredible place. The rocky island is covered in cacti – a surreal sight amongst the vast white desert. Some of the cacti are up to 1200 years old.
Despite the 15 other jeeps it was still possible to have some of the trail to yourself as we walked around the island in awe of its strange beauty. To truly be alone take a walk on the salt flats around the island – no one else seems to do this 30 minute walk and it felt very quiet and empty alone in the whiteness.
Some of the tourists and guides played football on the flats while we waited for breakfast – a heart shaped cake and cereal.
The next part of the day is a highlight for many – taking crazy perspective photos on the salt flats. I had seen so many of these rather cheesy shots that I wasn't that into it, and it's actually a lot trickier than it looks.
The tour basically ends there, but is dragged out a bit by taking you to an old salt hotel that is now a museum. Lunch was at Colchani village – full of jeeps and stalls selling tourists handicrafts. From here it's only 30 minutes to the dusty, litter-strewn town of Uyuni and the final stop of the train cemetery – a collection of decaying steam trains. We were sad to be back in civilisation, and for a few days we missed riding along in our jeep always with a strange new landscape to gaze at.
If you are visiting Bolivia, don't worry about the cold, rough roads, basic accommodation, or expense – make sure you take the time to explore the Southwest Circuit, it is so much more than just the salt flats.
Which Salt Flats Tour Company?
After receiving many recommendations we went with Tupiza Tours and were very happy with them. Our guide was excellent, the food was good, plentiful and they catered for us vegetarians well, and the jeep was in good condition. It cost us 1200 B ($170) for the four day tour with four people in the jeep (it's 1000B if you have five people, but more cramped). We also hired sleeping bags (essential) for an extra 50B each and entrance to the Reserva Nacional de Fauna Andina Eduardo Avaroa is 150B. Everything else is included in the tour cost.
Where to Stay and Eat in Uyuni
After an exhausting four days we didn't want to jump on a late night bus to Potosí our next destination five hours away, so we chose to stay the night. Most people are on tighter schedules and choose to get the overnight bus to La Paz. There isn't really much reason to stay in Uyuni, except: Minuteman Pizza.
People raved about the pizza at this restaurant run by an American and his Bolivian wife, and it certainly lived up to expectations. Everything was delicious – pesto, cheesy garlic bread, create your own pizza with gourmet toppings and rich chocolate cake. We came back for breakfast too: waffles with blueberry jam and homemade bread. It's all very un-Bolivian and expensive by local standards, but it is damn tasty. Minuteman Pizza is located inside the Toñito Hotel at Ferroviaria 60. Get there early!
Decent, reasonably priced hotels seem thin on the ground but we were happy with the Piedra Blanca Backpackers Hostel on Arce for 130B. The rooms are large, the owners friendly, the showers hot and the bed comfy. After the salt flats tour that's all you need.
For more information on Tupiza have a look at our post on Horse Riding in the Wild West. We enjoyed our stay there and it's worth a few days before your tour.
See more of our Bolivia Salt Flats photos.