This page contains affiliate links. Please read our disclosure for more info.
The grassy flat plains stretching endlessly south of Buenos Aires are famous for their traditional gaucho (cowboy) culture. The typical way to explore is to stay at an estancia – ranches that also offer comfortable guest accommodation and horse riding. We needed a break from the busy city and were tempted by a stay at one of these peaceful estancias but with prices of hundreds of dollars a night we just couldn't stretch our budget that far.
We discovered that it is possible to explore Argentina's gaucho heritage without spending a fortune and even without straying too far from Buenos Aires.
Feria de Mataderos
The easiest option is just a one hour bus ride from the centre of Buenos Aires and costs only a few pesos bus fare. The Feria de Mataderos is held every Sunday (Saturday evenings in the summer) from 11am – 8pm and is a surprisingly untouristy celebration of gaucho culture. We only spotted a few other tourists as we wandered the many market stalls selling leather, metalwork, mate gourds, handicrafts and of course jars of dulce de leche.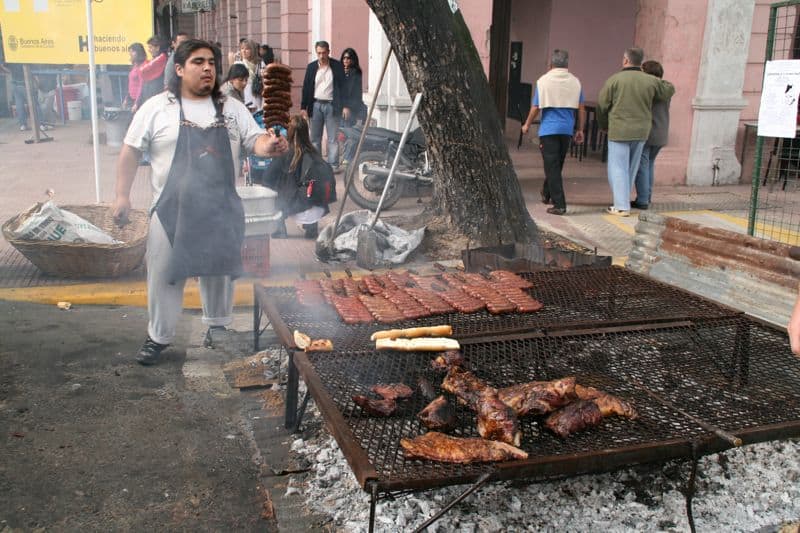 As you'd expect there's an asado (barbeque) serving up huge chunks of beef and sausages and creating a smoky haze over the rest of the market. You'll also find stalls selling traditional dishes such as locro, a meat stew. As vegetarians we were kept happy with cheese and onion empanadas and, best of all, pasteles (sweet pastries) filled with apple, chocolate and a range of other flavours.
The focus of the event is a stage with folk bands playing throughout the day. Colourfully dressed dancers perform traditional dances and the crowd isn't afraid to get up and join in. One musician fancied himself as a rock star and played his guitar energetically – with his teeth!
It wouldn't be a gaucho fair without horses and a highlight is the races that happen later in the day. Gauchos young and old gallop past the crowds and compete to put tiny spears inside tiny rings at the most ferocious speeds.
Watch our video to see for yourself.
San Antonio de Areco
Further afield but still only two hours on a spacious Argentine bus from Buenos Aires is the gaucho town of San Antonio de Areco. We needed a peaceful retreat and wanted to go horse riding but rather than staying on one of the expensive estancias we found a budget hotel for 100 pesos and chilled out in this quiet town.
It's a sleepy place (on weekdays at least) that's easy to wander around. We spent many hours exploring the crumbly colonial buildings and antique shops and many more walking by the river – the best place to spot gauchos on horseback.
It's not difficult to find gauchos in town though. We hung out around the pretty cobblestoned main square Plaza Ruiz de Arellano alternating between the quality ice-cream, sunny outside tables and younger, family crowd of El Tokio; and La Esquina de Merti opposite. This old-fashioned pulperia is a great place for food and drink with gaucho paraphernalia lining the walls. I was usually the only female as it's a favourite hangout for beret-wearing gauchos.
We arranged our own horse riding with Estancia Cinacina only a 15 minute walk away. A one hour ride cost us 60 pesos each. Jose Luis took us out around the estancia, wandering through lakes and galloping across fields.
There are quite a few small museums around town but we stuck to La Olla de Cobre a small, heavenly smelling chocolate shop and factory at 433 Mattheu. The free samples are generous and they worked a treat as once tasted, we couldn't resist buying!
We had a good dinner at Almacén de Ramos Generales at 143 Zapiolla with home-made gnocchi in a creamy leek sauce and enjoyed the low prices outside of the city – only 7 pesos (just over £1) for half a litre of wine!
The tourist office has lots of useful information and pointed us in the direction of the cheap hotels (there's also one hostel). They lend out bikes for free, but get there early as we missed out.
Of course, if you have the money, then the estancias do look lovely but we still aren't convinced they are worth the hefty price tag. We were more than happy with our decision to explore Argentina's gaucho country on a budget.