This page contains affiliate links. Please read our disclosure for more info.
Walk down a long jungle track next to a huge resort about 20 minutes outside Playa Del Carmen and you'll reach a small, unassuming stables known as Rancho Baaxal.
Wooden fences topped with canvas roofs provide protection for the horses and stand next to a straw-roofed, open sided hut for saddles and medicines. Dogs run freely throughout the space, which is surrounded by tropical greens and the sound of nothing but the wind moving the trees and the occasional hammering of a horseshoe on an anvil.
It has a charming handmade feel. Live trees are used as fence posts, blurring the boundary between the stables and the jungle. When I ask to use the bathroom, Steffi—one of the full time employees here—laughs and points to the trees.
"There's a big one right there"
This little place in the jungle is just minutes away from all-inclusive resorts but it may as well have been a thousand miles. As soon as you arrive, you get the immediate impression that it's different to the many exploitative tourist traps that share this stretch of the Riviera Maya coastline and it only takes a few minutes speaking to the owner, Lisa, to confirm this.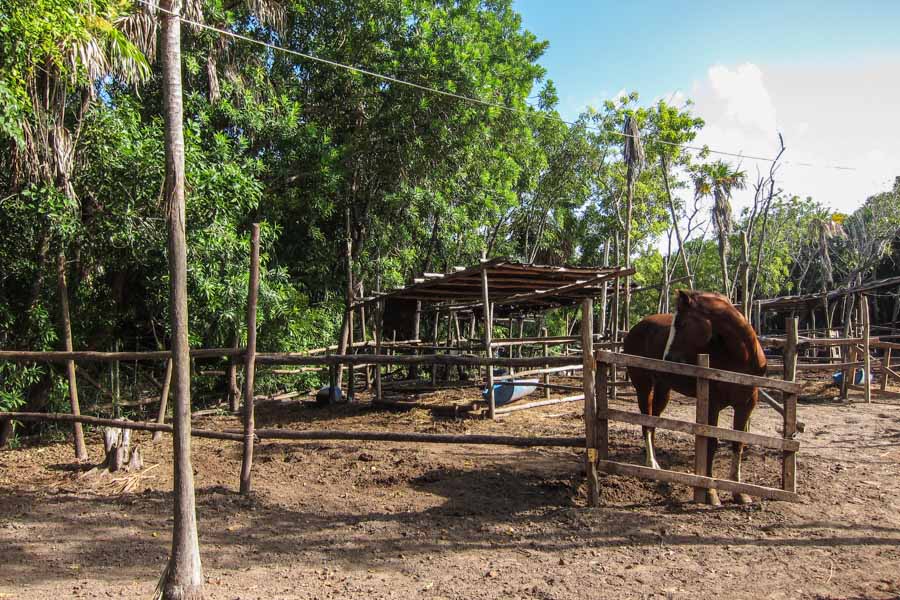 Care and Commitment
"We put the horses first," she says, before going on to tell us that their most recent full moon ride had to be cancelled a few hours before the fully paid up guests arrived because the humidity had caused the horses to have trouble breathing.
There are signs of resignation as she recounts the story—the full moon rides are special, and more expensive, than the standard day rides so the cancellation represented a significant loss of income. But there is also an underlying pride in the values and principles that they upheld with the decision.
Rancho Baaxal is run as a not-for-profit. Despite having a regular stream of clients, the cost and demand of the horses is high and it makes the decision to cancel even more extraordinary—it's easy to say that you stand for something, especially in tourism (the 'eco' buzzword is becoming all but meaningless) but the reality is that it's your actions that count.
Not all of the horses can be ridden and many of them have a history of abuse and mistreatment. Even with the care and attention of the loving staff, it can take a long time to help them recover and be trusting enough to allow people to ride them again. None can be ridden more than twice a day, limiting the number of groups and the number in those groups.
The staff are all paid. They don't accept volunteers because they spend 3-4 weeks on training alone and they need people who can make a long-term commitment. Volunteers are a cost-saving measure that are used by many stables throughout the world but what is saved in cold hard cash is spent in constant retraining of short term staff members, inconsistency, and skills gaps that cause the quality of the stables and the care of the horses to suffer.
Lisa has finally found a solid team now but even this hasn't been easy: her first employees were caught stealing the horse feed and medicines and selling them.
Then there is the problem of machismo. In Mexico, horse-related activities are predominantly male dominated and she had to go through some difficulties finding reliable men who would be willing to work under a woman.
"Challenging" is the word she used to describe her journey and you get the sense that she was just being polite.
We talk a lot on this site about what it means to make a dream a reality, and here we have a living testament to it—it's a battle, and Lisa and her team have the wounds to prove it.
In an often cynical tourist industry, it's refreshing to find something that's run with love and dedication by people that genuinely care about what they do.
The Ride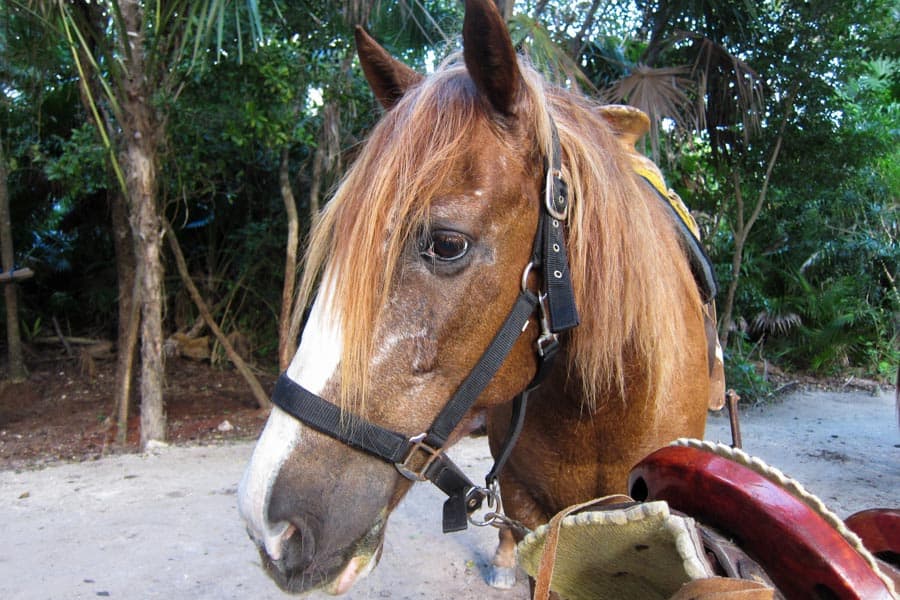 The depth of understanding that the ranch has for their horses extended to the ride itself. They carefully matched rider to horse, and gave us a run down of their histories before we met them. Erin was riding Rey who they explained had been one of their most mistreated horses before he arrived. He was possibly used for bullfighting and kept with a chain around his neck judging by the deep scar, with several smaller ones across his body. Despite this, he remains a beautiful, highly photogenic horse.
Having his background helped Erin understand him before she even got near. He isn't the most friendly horse as you approach—his ears go back and he bares his teeth—but knowing how he'd been treated gives you insight into his behaviour and an understanding that his trust needed to be earned.
Lisa and Steffi explained that he liked calm, quiet people, so she approached him gently, building his trust. Once she was on, he was a dream to ride and by the end he had become much friendlier towards her.
I was on Indio. I was warned that he liked to be at the front and that he would bite the horse in front of him if I let him get too close. He was the perfect gentleman to me, though.
We set off through a narrow path surrounded by the thick green jungle, with palms and branches providing a respite from the sun, and we passed a large brown termite mound stuck between the branches high up in one of the trees.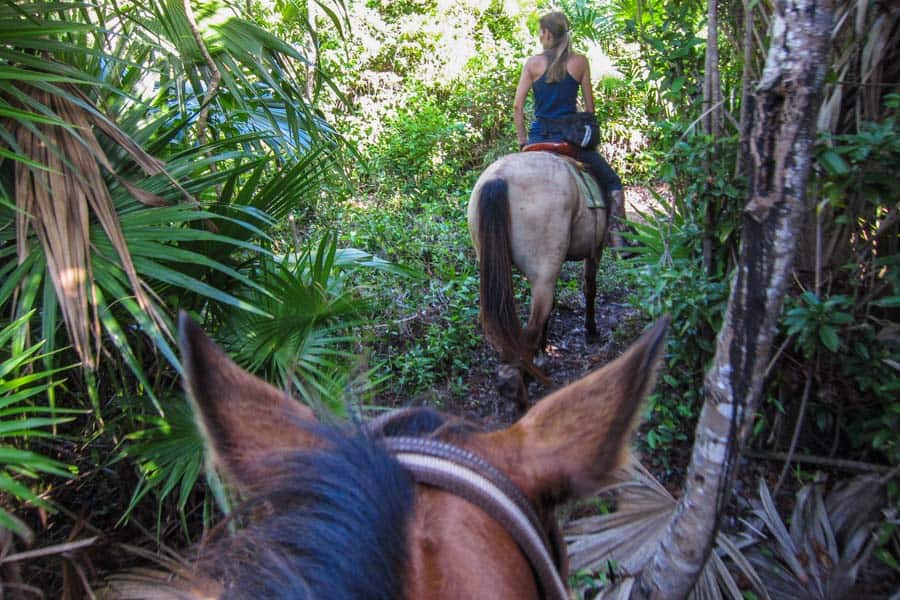 There is something inherently peaceful about riding a horse. It brings along a state of calm awareness, something that we both desperately needed after being tied to our laptops for so long.
After around fifteen minutes, we emerged from the jungle to the dozen shades of turquoise of the Caribbean sea and turned to walk on the white sand.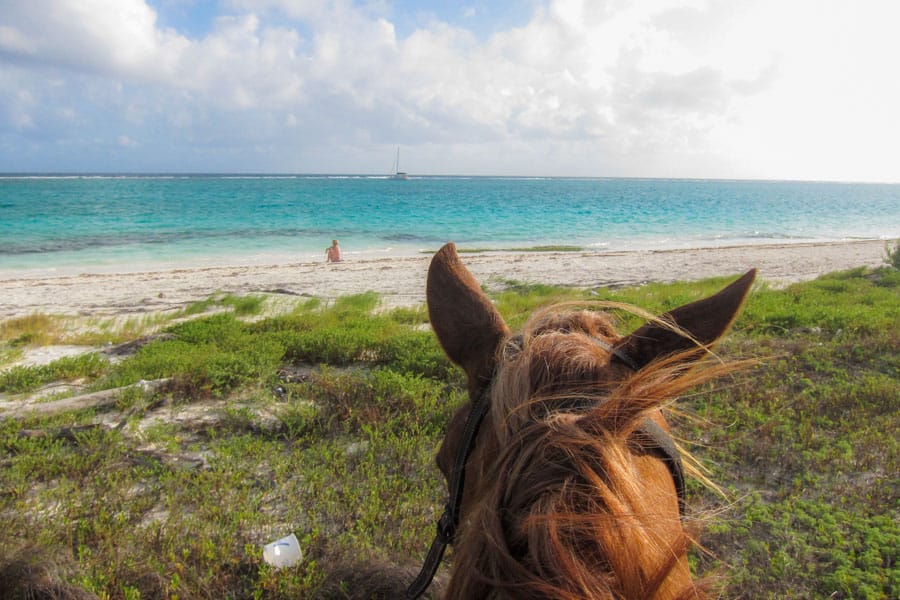 The rides are catered to the level of the rider. If you have the experience, then you're invited to canter along the sand and feel the exhilaration of speed coupled with intense focus as (at least in my case) you try not to fall off.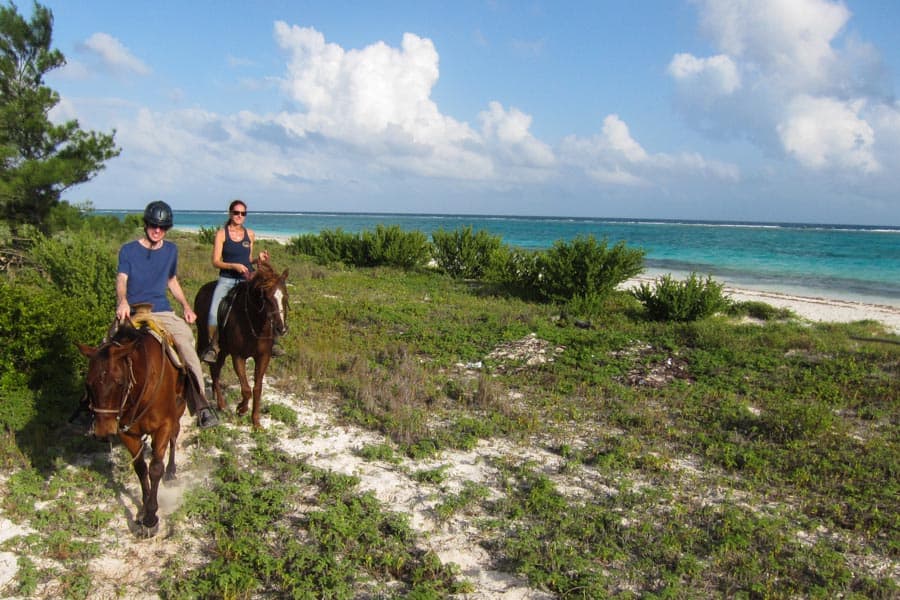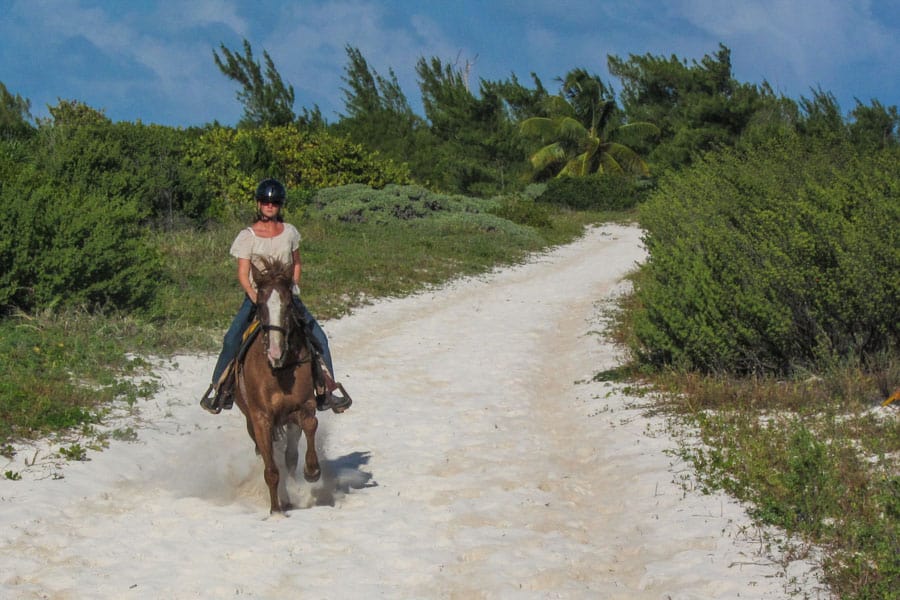 The groups are usually a maximum of four people, plus two guides (even if there's only one rider). For our ride, it was only the two of us plus Steffi and Lisa.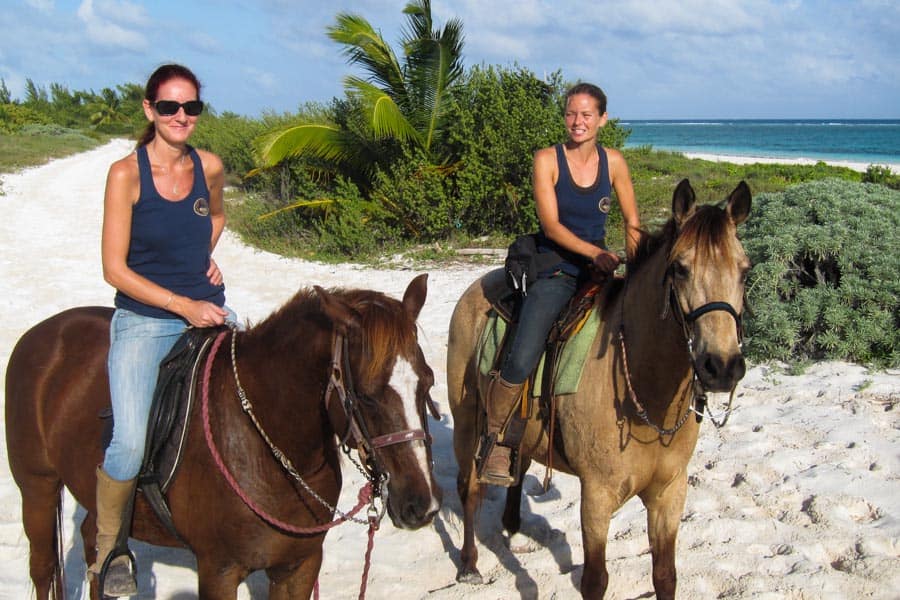 The Power of Dreams
For both Steffi and Lisa, the stables represent the realisation of a dream but the journey has been a lot harder than Lisa ever thought it would be, and we sympathise.
Many dreams remain dreams because of this simple fact. We are slowly realising our own dreams and there are times when it is very dark; where we can't see the road and we have no idea how it's all going to work out.
We reach the point where we think we can't take any more and at that moment life throws something else on the pile in order to prove to us that we can. Looking at Lisa and at what she has created through blood, sweat and (I have no doubt) many tears we see a kindred spirit, someone who knew that there was something better out there—someone who sought to make her own destiny.
And she's done it in fine style.
What she's created here is a wonderful sanctuary for the animals she cares for—horses that have been to hell and back—in a beautiful part of the world and it's a privilege to have been part of it, even if just for a few hours.
If you're in Playa or Cancun, whether you fancy trying horse riding or you're a seasoned pro, we can't recommend Rancho Baaxal highly enough.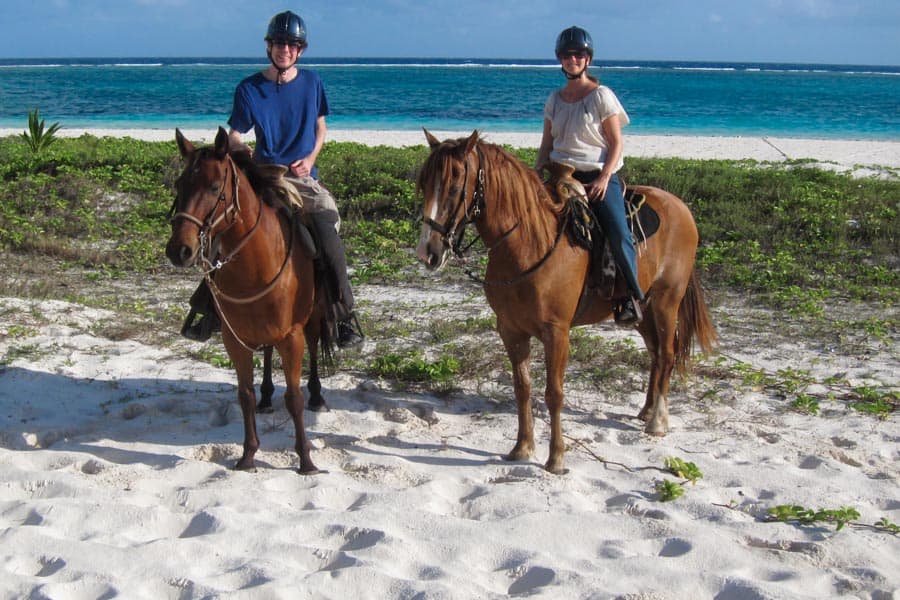 Rancho Baaxal Details: A 1.5 hour horse ride costs US $72 including a light snack. There are three tours a day from Monday to Saturday at 9.30 am, 12 pm, and 3 pm. They also offer a full moon tour a few times a month. The stables are located in Maroma about 20 minutes north of Playa del Carmen towards Cancun. A taxi cost us 200 pesos or you could get a colectivo (shared minivan) along the highway and walk or take a taxi for the last 2km. See the Rancho Baaxal website for more details.

Thanks to Rancho Baaxal for talking to us and for the complimentary ride. We love these guys and the work they're doing is outstanding.