This page contains affiliate links. Please read our disclosure for more info.
The Maldives aren't just for honeymooners and the rich anymore. In 2009, the island nation opened up for independent travel, and you can now visit the Maldives on a budget by staying in affordable guesthouses on local islands, rather than having to splash the cash on a resort.
If you love beaches, diving, or snorkelling, then the Maldives is well worth visiting. There are hundreds of islands to choose from and most have the white sandy beaches and turquoise lagoons of an idyllic tropical paradise.
Planning a Trip to the Maldives Contents
Local vs Resort Islands
Muslim culture
Visas
Travel Insurance
Getting There & Away
Getting Around
Money & Costs
Language
When to Go
Accommodation
Which Local Islands to Visit in the Maldives
Which Resort Islands to Visit in the Maldives
Internet and Mobile Data Plans
Food
What to Pack
Running
Recommended Reading & Viewing
Local vs Resort Islands: The Pros & Cons
When visiting the Maldives you can choose to visit inhabited local islands or uninhabited resort islands, or as we did, mix the two. Here's what to expect:
Local Islands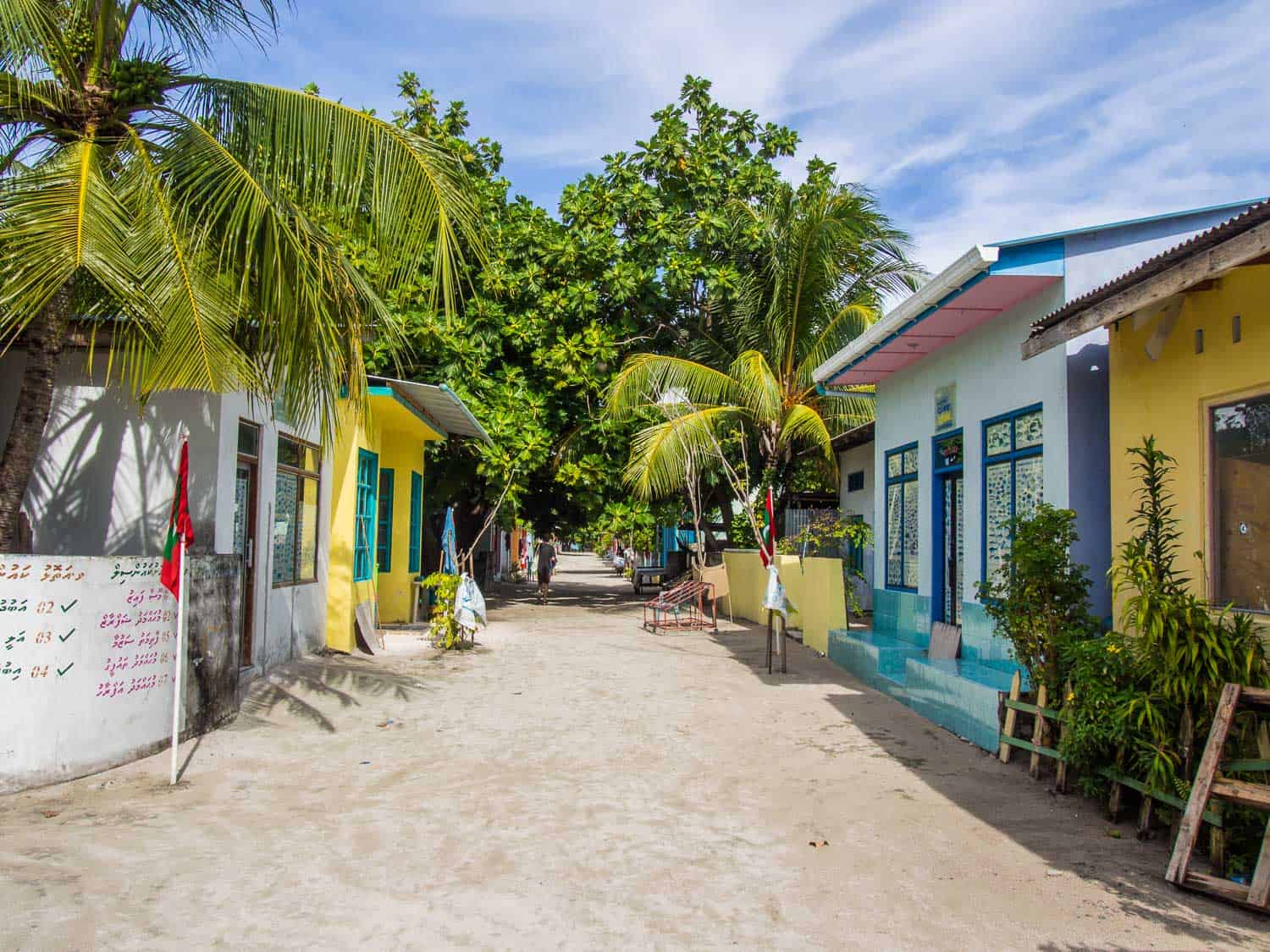 Pros
Cheaper accommodation, activities, and food.
Transport by inexpensive local ferries.
Interact with locals and learn about Maldivian culture.
Try local food.
Customisable meals at guesthouses. We were able to request a vegetarian version of the traditional mas huni breakfast.
Cons
Alcohol is not available.
Women must wear clothes that cover their shoulders and knees.
Women can't wear swimwear unless there is a designated "bikini beach" for tourists.
Beaches are less pristine.
Food options are limited.
Resort Islands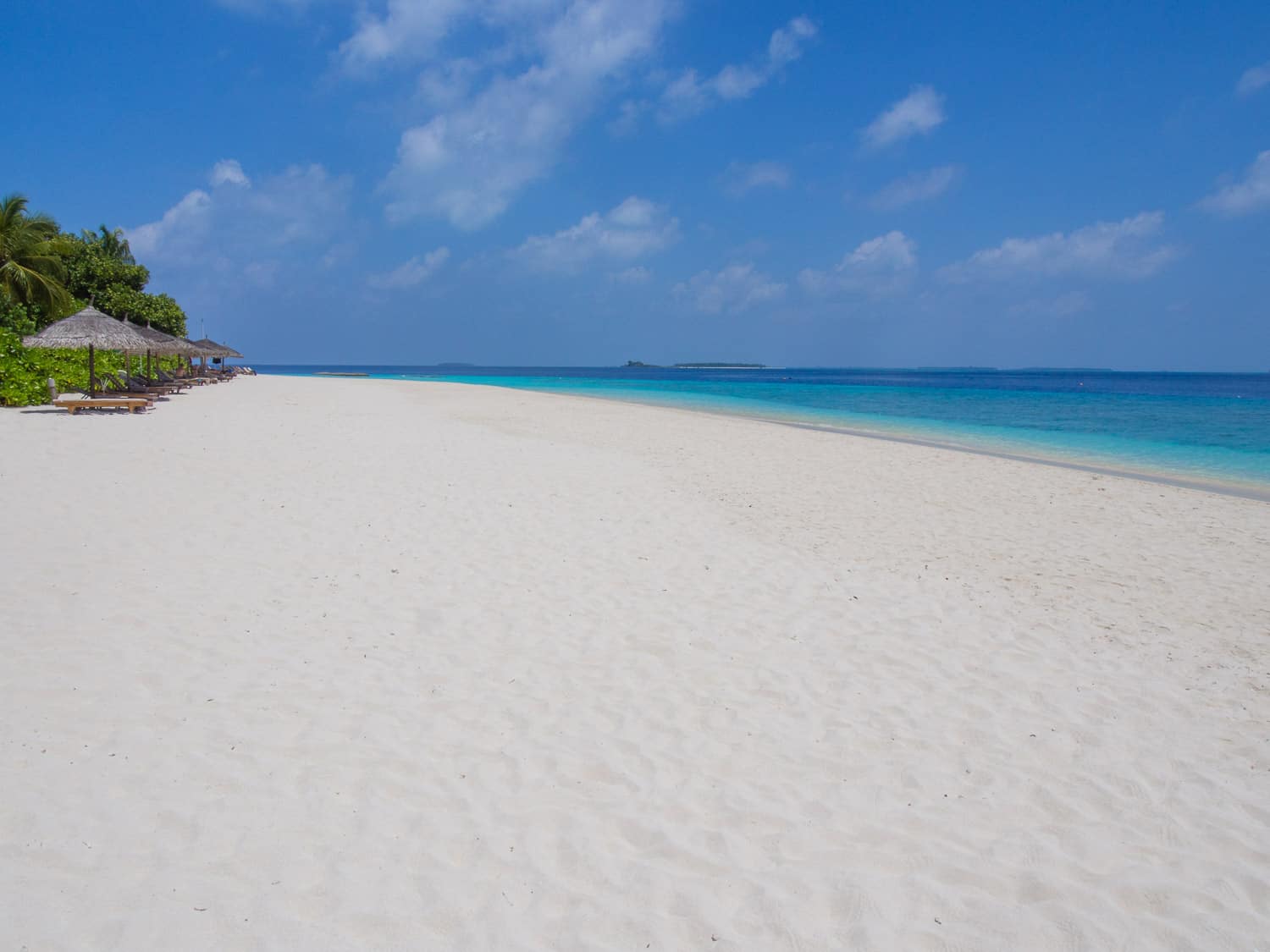 Pros
Total relaxation – We didn't have to carry cash or wear shoes for six days.
Higher standard of accommodation.
Rooms available on the beach or over the water.
Beaches are cleaner, and the resort we visited had more beautiful beaches than the local islands.
More fish life on the house reef – At least for the islands we visited.
No dress code for women (although nudity is not allowed).
Alcohol is available.
Wider range of food and better Western dishes.
Cons
Much more expensive accommodation, activities, and food.
Can usually only be reached by expensive seaplane, domestic flight, or private speedboat.
No interaction with locals except resort staff.
Maldivian food is limited.
Local and resort islands are very different experiences and we're glad we saw both sides of the country. I definitely think the Maldives is worth visiting even if you just stay on local islands, but if you can afford it, a resort is worth the splurge—read about our experience of staying in an overwater villa.
Muslim Culture
The Maldives is a 100% Muslim country and when travelling to local islands it's important to respect the customs. Here's what to be aware of:
Alcohol is not available. If you really want a drink, you can do a day trip to a resort island.
On Fridays, most shops are closed and no ferries run.
Women should cover their shoulders and knees. Men should wear a t-shirt away from the beach.
Women should wear shorts and t-shirts on local beaches. Many local islands have designated a "bikini beach" for tourists where swimwear is allowed.
Mosques broadcast the call to prayer five times a day. Many shops close for 15 minutes at these times to allow staff to pray.
Alcohol, pork, dogs, pornography, and idols of worship are not allowed into the country.
Visas
A 30-day free visa is issued to all nationalities on arrival. Officially you need to be able to show an onward ticket and proof of funds, but we weren't asked for those. The immigration process was very easy.
Travel Insurance
The Maldives islands are remote so make sure you have travel insurance—for medical emergencies you'll need to be evacuated by plane, which is very expensive. We use True Traveller insurance, which is the best and cheapest option we've found for UK/EU citizens and is especially good for long-term travellers. If you are from outside Europe, we recommend Heymondo, which is a well-respected company with excellent coverage.
If you'll be diving, make sure your insurance covers this—you may need to purchase an activity pack add-on. You can see our travel insurance guide for more things to look out for when choosing your policy.
Getting There & Away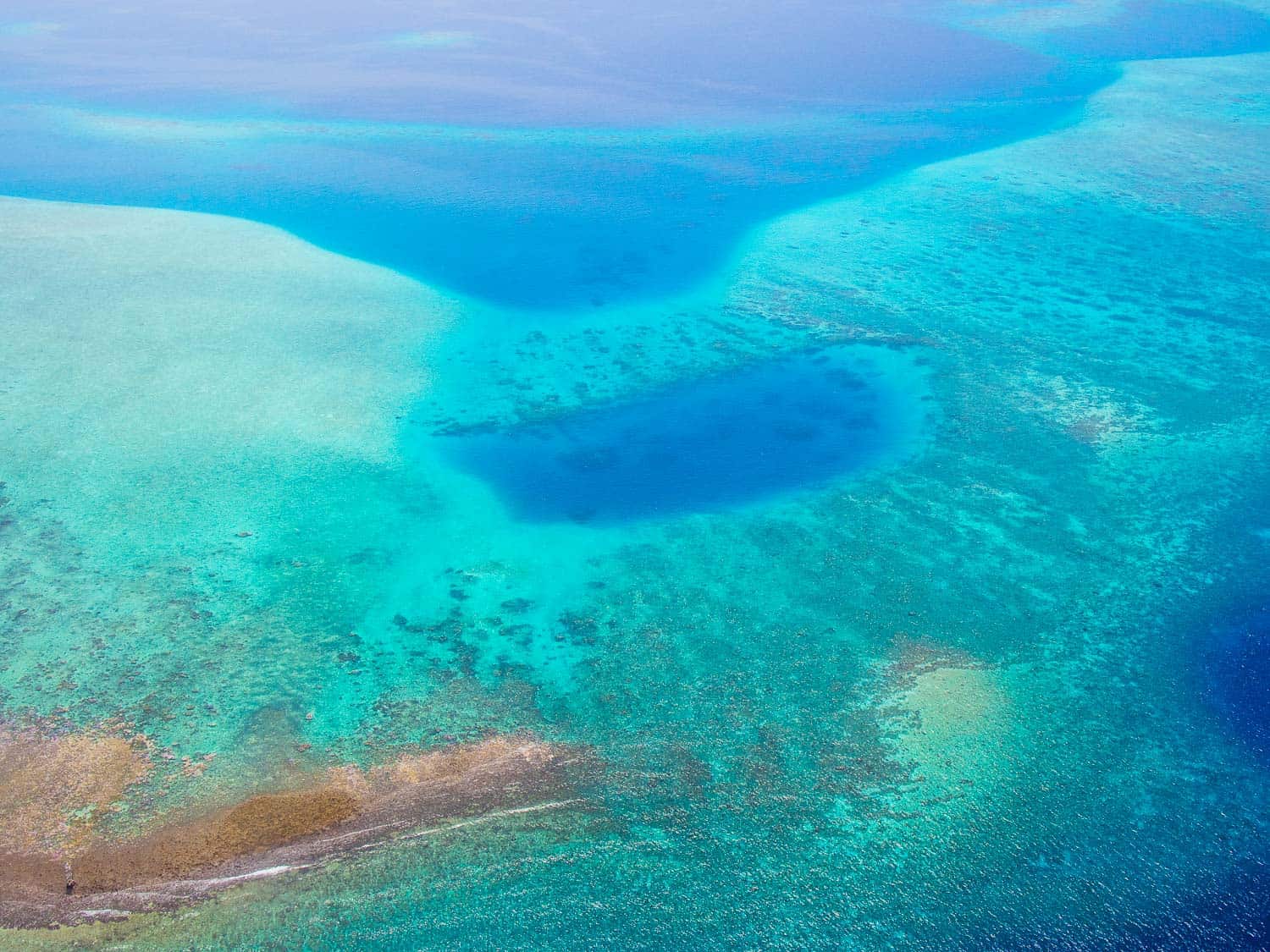 Almost every visitor arrives by air to Male Ibrahim Nasir airport, which is on an island a 10-minute ferry ride from the capital island of Male.
Most visitors arrive from Asia or Europe. If you are visiting the Maldives on a budget, it makes sense to combine it with a trip to Sri Lanka, India, or Southeast Asia. We flew with Tiger Air from Singapore (4.5 hrs, from US $110).
Air Asia flies from Kuala Lumpur (4.25 hours, from $110), and a number of airlines fly from Sri Lanka and India such as China Eastern from Colombo (1.5 hours, from $100) and Air India from Trivandrum (1 hour, from $145).
From Europe, I found the cheapest flights with Condor from Frankfurt (10.5 hours, from $320). As they only have one flight a week, they didn't work with our schedule, so we flew to Barcelona via Moscow on Aeroflot, which has flights from $450. Emirates is another option from various European cities via Dubai.
I use Kiwi.com to find the cheapest flights as I love how flexible you can be with your dates and destination. Try searching from Male to "anywhere" to find the cheapest routes to the Maldives.
Getting Around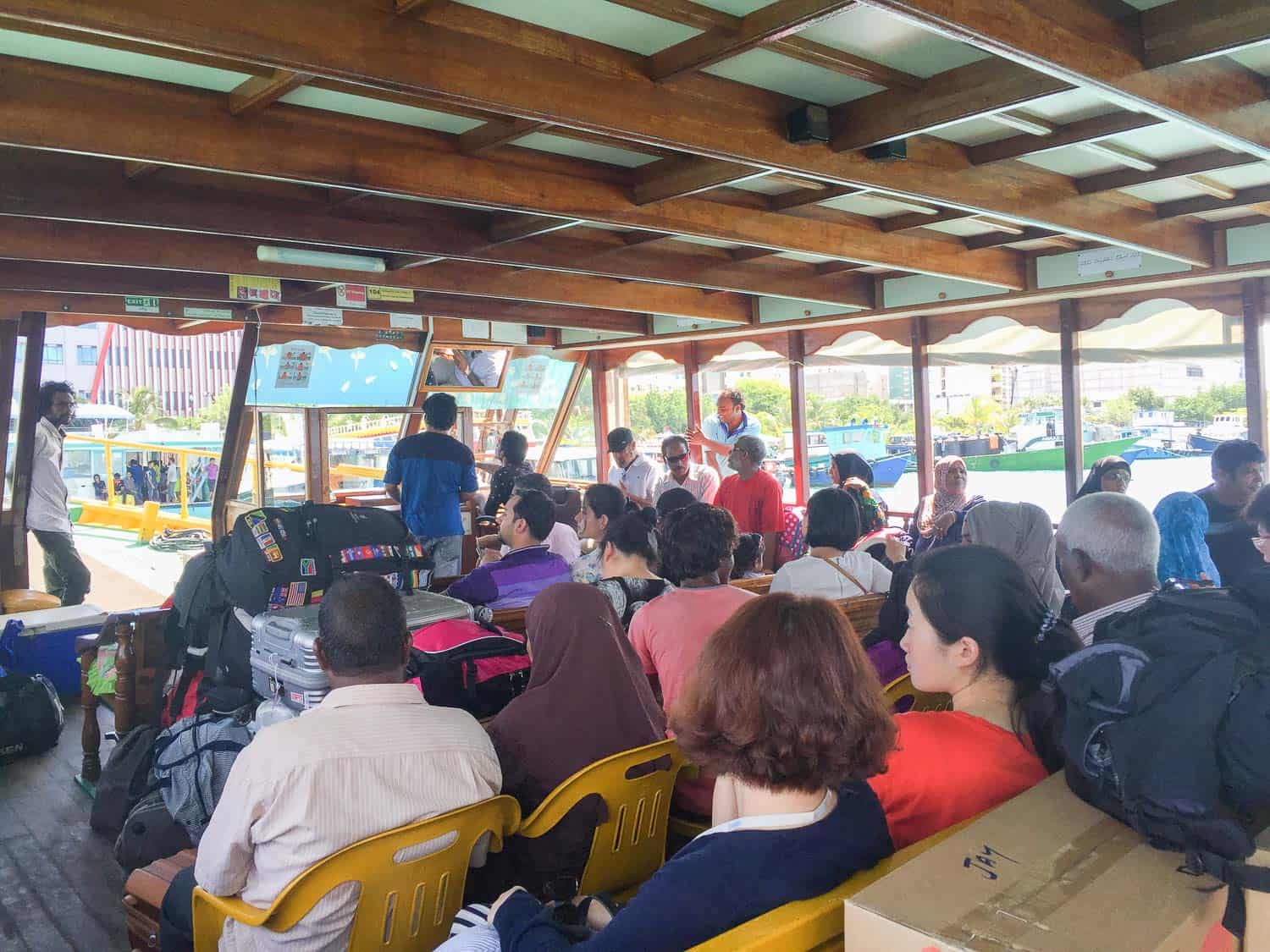 Ferries between local islands are inexpensive. We paid 54 MVR ($3.50) per person for the trips from Male-Fulidhoo and Fulidhoo-Maafushi. It wasn't particularly comfortable—seating is wooden benches or plastic chairs—and it was crowded to Maafushi, but it was fine and we even saw dolphins on the way.
Ferries don't run every day to more remote islands, and none run on Fridays, so you need to plan your itinerary carefully. You can find ferry timetables on Atoll Transfer.
Ferries to Maafushi and Fulidhoo run from the Villingili Ferry Terminal in Male. To get there from the airport, take the 10-minute ferry ride (10 MVR/ $0.65) from outside the terminal to Male, and then a short taxi ride (25 MVR/ $1.60) to the ferry terminal.
Guesthouses can arrange private speedboat transfers direct from the airport, but this is expensive, usually $200+. A better option is a shared speedboat that is available to some islands. To Maafushi this costs $20. It only takes 30 minutes instead of 1.5 hours on the ferry, and you can go directly from the airport.
Ferry times may change, so always ask your guesthouse for up to date information when you book.
Money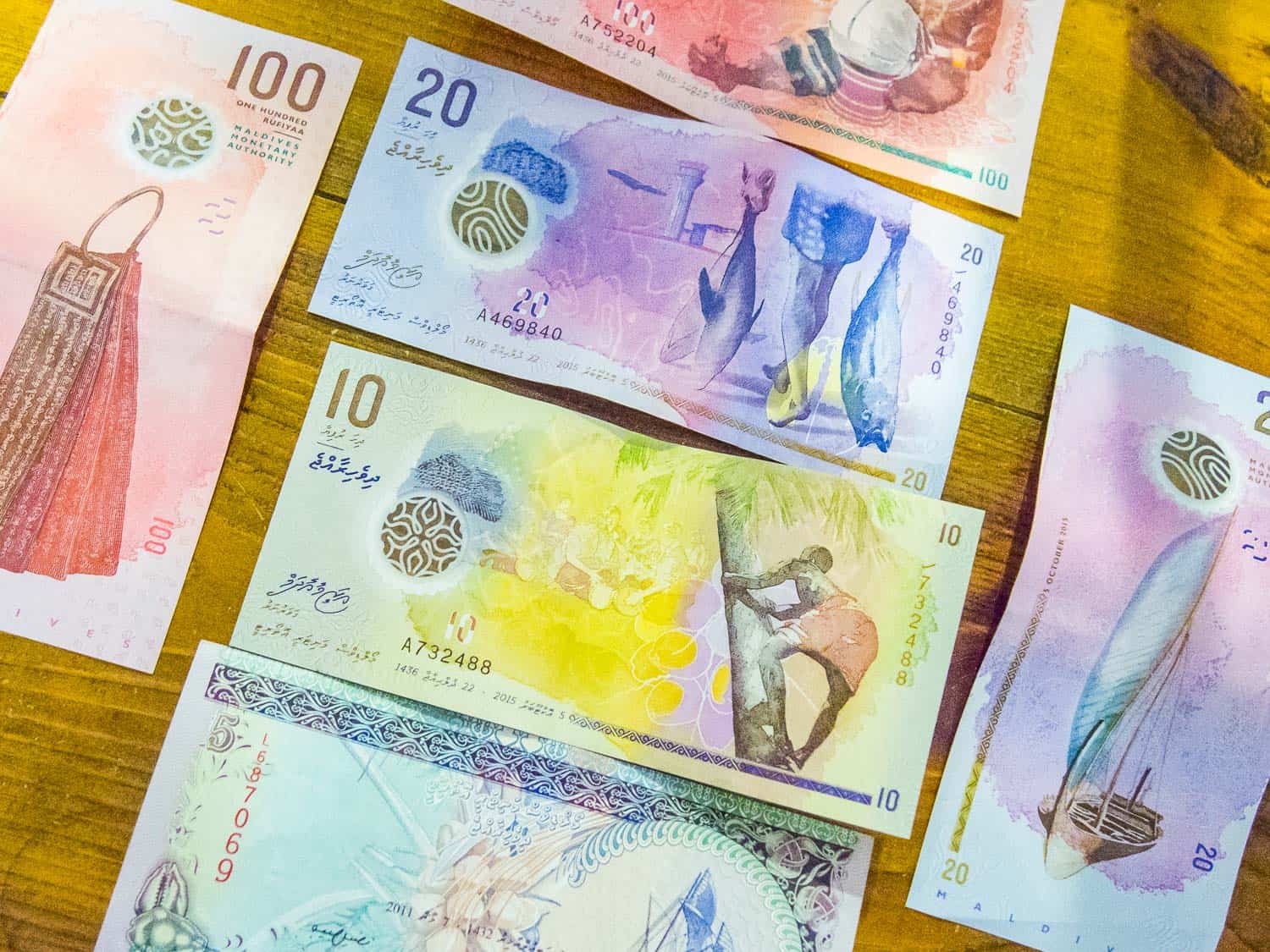 The local currency is the Maldivian rufiyaa, which you can withdraw from ATMs at the airport, Male, or Maafushi. Most other local islands don't have ATMs, so you'll need to stock up on cash. The problem is that if you have rufiyaa left at the end of your stay, you can't change it back to any other currency (unless you exchanged it at a cash booth at the airport and kept your receipt).
It's best to bring plenty of US dollars to the Maldives to avoid this problem. Accommodation, activities, and some restaurants quote their prices in US dollars. You can usually pay in either dollars or rufiyaa. We withdrew a small amount of rufiyaa to avoid having leftovers and also used dollars we exchanged in Singapore.
Note that almost everything has an additional tax and service charge added to quoted prices, which can add an extra 22%.
Some guesthouses and restaurants accept credit cards, but it didn't seem that common so I wouldn't rely on it. Resorts do accept cards.
Costs
On local islands, we spent $60 per person per day travelling as a couple. Our average cost for an ensuite double room in a guesthouse (including tax and service) was $60, but cheaper options can be found. The rest of our budget was spent on food, transport, and activities—see our cost of travelling the Maldives on a budget post for more details.
Staying in a resort is much more expensive. Our visit to Reethi Beach Resort was partially sponsored, but in my Maldives budget post, I calculated that if we had paid for everything ourselves, we would have spent $300 each a day for our six-day stay. At $256 a night, Reethi Beach actually has the cheapest overwater bungalows I found, but as it's more remote, the seaplane trip adds substantially to the costs.
Tracking your expenses is especially worth doing in the Maldives so that you don't run out of cash on a remote island.
Language
The language of the Maldives is Dhivehi, but English is widely spoken.
When to Go
The high season is from December to March. If you are visiting the Maldives on a budget, it's best to visit during the low season when prices are lower and popular islands like Maafushi are quieter. You do risk rain at this time of the year, but it's unlikely to rain all the time.
On our 15 day trip at the end of April/early May, it rained on three days (but not all day) and we had a half day of clouds; the rest was perfect sunny 32ºC weather.
The weather is hot throughout the year with temperatures from 28ºC – 32ºC during the day and 25ºC – 28ºC at night.
Accommodation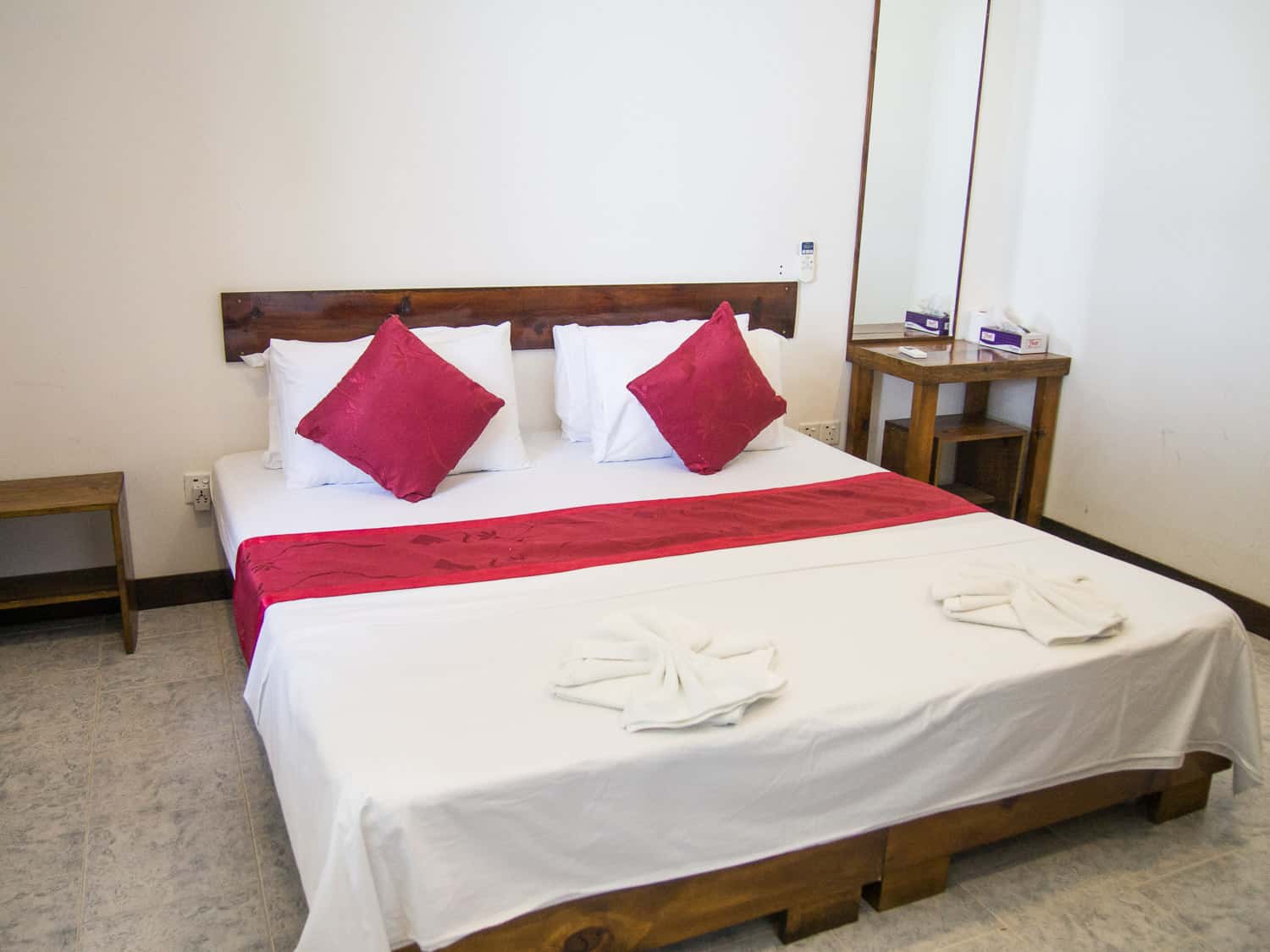 Guesthouses on local islands are all fairly new and of a good standard. Most rooms have ensuites, air-conditioning, hot water, and WiFi. There are no cheap beach bungalows or dorm rooms.
We booked all our accommodation in advance on Booking.com—our recommendations are in the local islands section below. We paid in cash at the guesthouses.
Airbnb is also a good way to find smaller guesthouses. You can message your host before booking and pay upfront (so you can carry less cash).
Which Local Islands to Visit in the Maldives
Choosing which local islands to visit is difficult as there are so many of them, and as independent travel is relatively new, not much information is available.
This was our itinerary:
Male 1 night
Fulidhoo 2 nights
Maafushi 4 nights
Reethi Beach Resort 6 nights
Hulhumale 2 nights
Male
The capital island is one of the most densely populated places on earth. There are no paradise beaches here, but it is an interesting insight into local life. Most people skip it or only spend the night if their flight arrives too late to take a ferry to one of the other islands (as we did). We stayed at House Clover, which was fine for one night.
Fulidhoo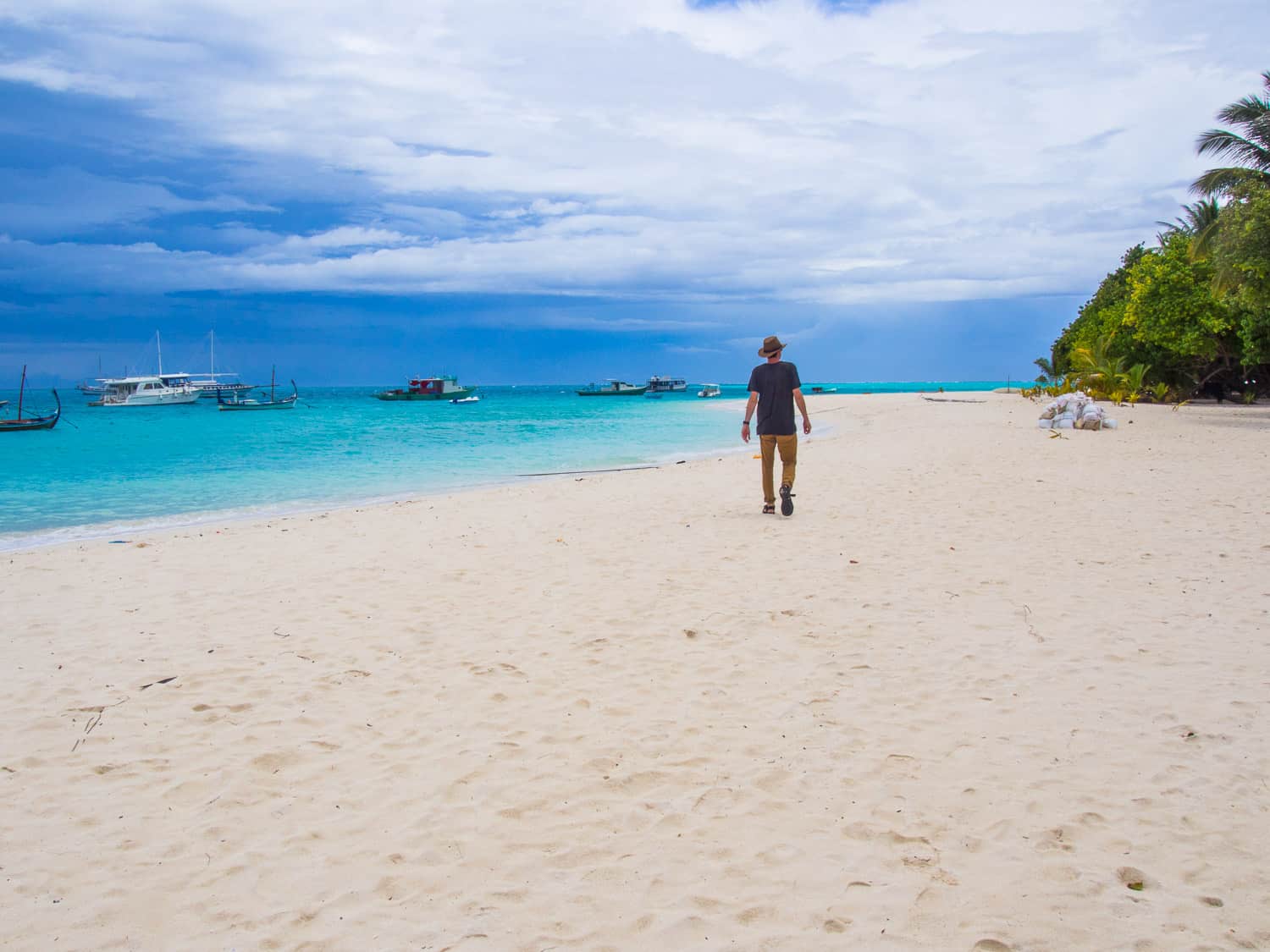 Tiny Fulidhoo in the Vaavu Atoll was our favourite local island. It's 3.5 hours on the ferry from Male and 2 hours from Maafushi (the Male ferry stops at Maafushi on the way). There were only two other guests on the island (we were the only ones at our guesthouse), and we loved feeling like we had the place to ourselves.
The beaches are gorgeous and there's a bikini beach with a few sunbeds. Restaurants are limited, so we ate at our guesthouse for all our meals, but the food was better than we expected. We wished we had booked a much longer stay.
Thundi Guesthouse was our favourite guesthouse in the Maldives. Read more about it in our Fulidhoo post.
Maafushi
Maafushi, in the South Ari Atoll, is by far the most popular local island, and it's developing rapidly—in the last few years the number of guesthouses has doubled to nearly 60.
We were disappointed as soon as we arrived from Fulidhoo. Construction was everywhere, trees were minimal, and it didn't have the magical away from it all feel of Fulidhoo. There was even a jet ski disturbing the peace.
The bikini beach was being extended (it should be finished soon), so we had to use the local beach instead, where bikinis aren't allowed. Although I was the only one out of about 20 others tourists who respected this.
Maafushi did grow on us. The beach is quite nice, it still has a relaxed feel (it's less developed than many Thai islands), and it's the cheapest island to visit as you have more choice of guesthouses, restaurants, and excursions.
It's also the easiest island to reach as you can take a shared speedboat ($20) direct from the airport in 30 minutes or the local ferry ($3.50) from Male in 1.5 hours. I doubt we would return, though.
We stayed at Isle Beach Inn, which we recommend for the location across the road from the beach and the friendly staff.
Hulhumale
Hulhumale is an artificial island that has been built to accommodate the overflow from Male. We stayed on the island at the end of our trip as it's convenient for the airport (the bus takes 15 minutes and costs 20 MVR), but is quieter and cheaper than Male.
The beach is OK, but it doesn't compare to the islands further afield. We didn't find the island particularly interesting or attractive, so we wouldn't stay there again unless we had an early/late flight.
Here are some other islands that have been recommended:
Gulhi
Gulhi is on the Male to Maafushi ferry line, so it's easy to get to. It's much quieter than Maafushi with only a few guesthouses and a nice bikini beach. Tropical Tree Hotel and Orchid Island Lodge look like good options.
Thinadhoo
Thinadhoo is the next stop on the ferry past Fulidhoo (where you have to change boat) and takes 5 hours 20 minutes from Male. I'd love to visit this island the next time we visit the Maldives. It sounds perfect for a quiet stay with a lovely bikini beach, excellent snorkelling on the house reef, and even a dive shop. Plumeria Boutique Guesthouse looks gorgeous and has a pool.
Keyodhoo
Keyodhoo is just past Thinadhoo—six hours from Male on the ferry ($10) or two hours by speedboat ferry ($60). Our Oyster loved their stay at Jupiter Sunrise Lodge, which offers all-inclusive packages including fishing excursions.
There are many more local islands that you could visit in the Maldives. Independent travel is still new, so there is little information available but plenty of opportunities to find an island to yourself. I recommend searching on Booking.com and Airbnb and taking a risk on somewhere unknown. Let us know where you discover!
Which Resort Islands to Visit in the Maldives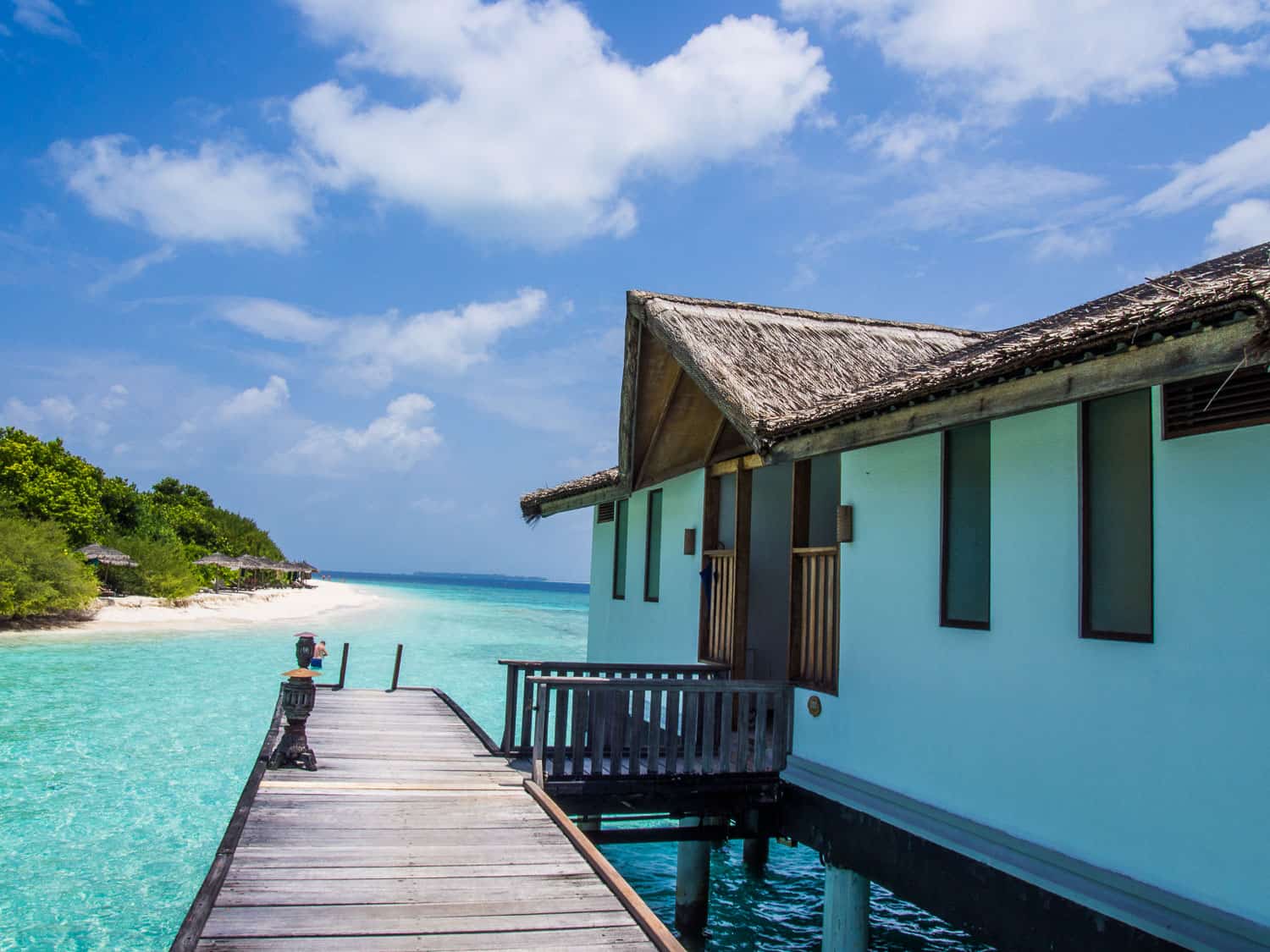 We stayed at Reethi Beach Resort in the Baa Atoll. It's a peaceful and stunning island with one of the best beaches we've ever seen and amazing snorkelling on the house reef. It has the cheapest overwater villas I found ($256 a night), and we loved our view of the lagoon and being able to snorkel from our terrace.
If you are looking for an affordable luxury resort in the Maldives, we highly recommend it. Read about our experience staying in an overwater villa and our detailed Reethi Beach Resort review.
Reethi Beach is further from Male than the local islands listed above. The further you go from the capital, the more likely you are to find pristine beaches and reefs. The downside of this is the cost of getting there. Ferries don't stop at resorts and the Baa Atoll can only be reached by expensive seaplane or domestic flight.
If you only want to experience a resort for a few days and are on a budget, it makes sense to look for a resort close to Maafushi, where you can use shared speedboat services that drop day visitors to resorts, rather than pay resort prices for private transfers.
Lauren of Never Ending Footsteps stayed at Olhuveli resort and arranged a local transfer from nearby Guraidhoo island to avoid the high resort fees.
Internet and Mobile Data Plans
Getting online isn't difficult as most guesthouses have WiFi, although we found it slow—usually around 1 Mbps down. Everywhere we stayed used an annoying login system where we needed a password for each device and had to login each time we used it.
3G is faster and the islands are well connected, so it's worth buying a local SIM card if being online is important to you. The booths at the airport only sell expensive tourist packages, so we went to the Dhiraagu head office opposite the ferry terminal in Male to buy a SIM. The SIM card and 2 GB data plan cost 268 MVR ($17.40), and the process was easy.
Food
Fish and coconut are the staples of this island nation where it's difficult to grow produce. We worried about how we would manage as vegetarians, but we found it very easy. We mostly ate at our guesthouse or resort, and they were all happy to provide us with meat-free meals.
Restaurants on Male and Hulhumale also had vegetarian options. Most of the time we ate vegetable curry or dahl and rice. Western dishes are available, but outside resorts, they aren't very good.
Guesthouses offer Maldivian and continental breakfasts. I recommend trying the Maldivian breakfast—our guesthouses made us vegetarian versions of the traditional dish mas huni using potato or pumpkin instead of fish along with coconut, chile, onion, and lime. It's served with flatbreads called roshi and is delicious.
What to Pack
US dollars
Suncream – This will be very expensive in resorts and possibly not available on smaller local islands. We did buy some on Maafushi though and it wasn't more expensive than elsewhere in Asia.
Toiletries – It's best to take what you need. Guesthouses don't always provide soap and shampoo, but resorts do.
UK three-pin power adapter – Although most guesthouses and our resort provided one.
Lightweight clothes that cover your shoulders and knees – For women visiting local islands. On resort islands any beachwear is fine.
Shorts and a t-shirt for swimming in – For women on local islands without a bikini beach.
Sandals or flip-flops – Other footwear isn't necessary unless you need shoes for running.
Snorkelling gear – If staying at a resort where hiring it is expensive. Most guesthouses provide it for free.
Underwater camera – Or you could hire one from dive shops.
All guesthouses and resorts provide towels (usually beach towels too), so you don't need to bring one. We brought insect repellent but didn't need it.
As always, we travelled with just a carry-on backpack each. You can see our usual multi-climate packing list, but we didn't need our warmer clothes such as jeans, fleece, or even a cardigan. It's very easy to pack light in the Maldives as the weather is hot year round. For more tips on travelling carry-on only, read my book The Carry-On Traveller: The Ultimate Guide to Packing Light.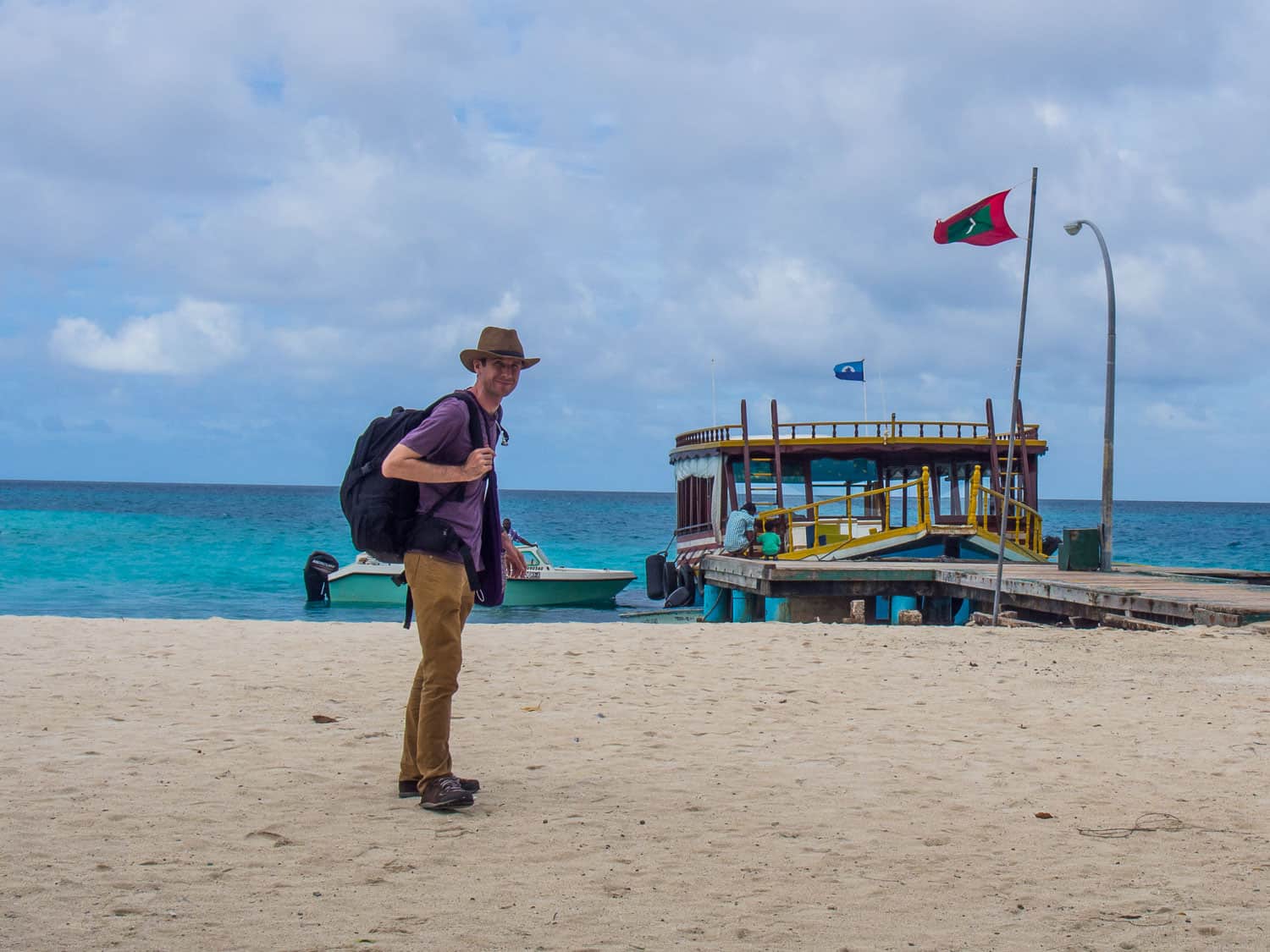 Note that seaplanes are tiny and have strict luggage rules. You can only bring tiny bags under 5 kg onto the planes as carry-on luggage, as there is no overhead compartment.
We voluntarily checked our backpacks (for the first time in six years!) and kept our laptops with us in a tote bag and cotton shoulder bag that we usually pack inside our main bags. Checked luggage is stored at the back of the plane.
Running
I did run in the Maldives but it has a few challenges. In April it was 28ºC even at sunrise, and the heat and humidity weren't fun to run in. Instead of my usual shorts and vest, I wore a t-shirt and capri leggings on local islands.
Most islands are very small, so you'll need to run loops around them to get the miles in. I also felt quite self-conscious—I'm sure the locals thought I was crazy and one lady laughed at me each time I passed her.
Despite the issues, it was magical running on a Maldives beach in the early morning light.
Recommended Reading & Viewing
Books
Gatecrashing Paradise: Misadventures in the Real Maldives by Tom Chesshyre – A journalist travels to remote local islands when the country first opens up to independent travellers. A good way to learn about the country's history and culture.
Beach Babylon by Imogen Edwards-Jones – A very light but fascinating read set behind the scenes at an ultra-luxurious Maldives resort.
Lonely Planet Maldives – The information on travel to local islands is disappointingly limited, but it's useful for learning more about the history and culture of the islands.
Films
The Island President – I highly recommend watching this documentary before your trip. Mohamed Nasheed became the country's first democratically elected president in 2008. This film follows his struggles to raise awareness of the danger the low-lying islands face from climate change.
Blogs
Our Maldives Posts
For more about our experiences in the Maldives, take a look at these posts:
The Maldives exceeded our expectations in every way. It was an easy country to travel around, the beaches and snorkelling are gorgeous, and the island culture is fascinating. It's one of the most stunning, accessible, and affordable tropical island paradises in the world, and as independent travel is still new, it's the perfect time to visit.
If you enjoyed this post, pin it!