This page contains affiliate links. Please read our disclosure for more info.
We thought we'd found paradise on Fulidhoo island, but Reethi Beach Resort took it to another level—even more stunning beaches, bluer water, an abundance of sea life, even dolphins swimming off the beach.
The first part of our Maldives trip was spent staying in small guesthouses on the inhabited islands of Fulidhoo and Maafushi. We loved experiencing local life, but we also wanted to see the other side to tourism in the country on a luxurious resort island.
When we arrived at Reethi Beach Resort we felt liked we'd entered another world. The stunning journey by seaplane over coral islands and blue lagoons helped, as did the fact that the resort runs on its own time zone—Reethi time is one hour ahead of Male, allowing guests a later sunset and lie-in.
Despite the comfort and luxury of the resort, the atmosphere is down to earth and the dress code is casual—no need to dress up for dinner. So casual in fact that the island is designed to be shoe-free. We happily put our shoes away and felt liberated wandering barefoot for six days.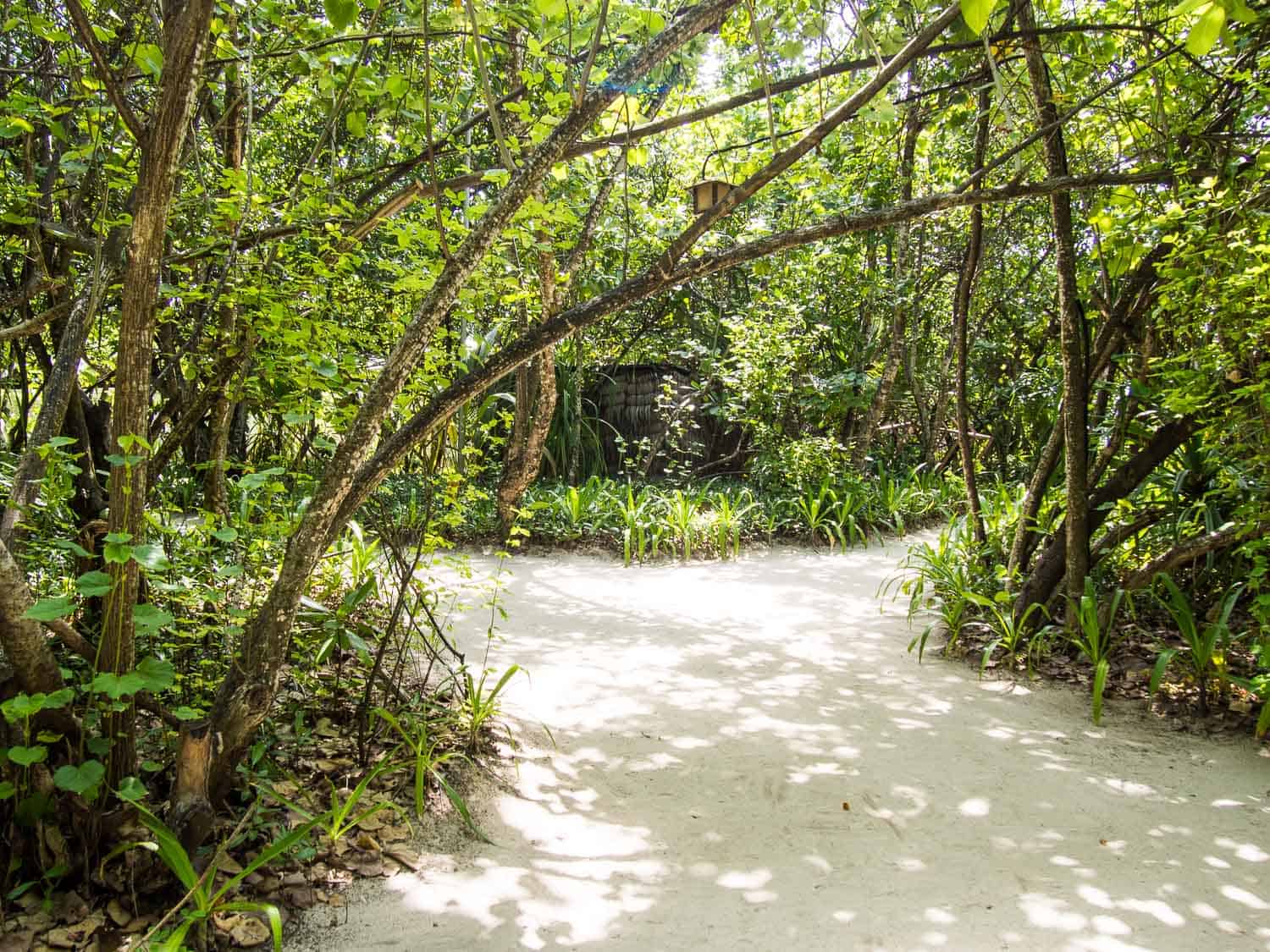 Our stay was not only shoe-free but stress-free. We didn't have to worry about cash—everything was charged to our room. There's only WiFi in reception and a few restaurants, which helped us disconnect from the real world. There's no concern about crime as everyone on the island is either staff or a guest. Reethi has even managed to eliminate mosquitos.
We have never felt so relaxed.
The resort is a small island that takes about 20 minutes to walk around. It's covered in lush tropical vegetation with sandy trails that provide shady routes around the island. There's no motorised transport (luggage is brought to your room by wheelbarrow). Buildings are single storey with thatched roofs that help them blend into the trees, adding to the natural feel.
The resort's 130 rooms were fully booked when we stayed, but despite the 260 guests and 277 staff, it never felt crowded. We rarely saw others when walking on the paths, and the beach has plenty of space for everyone. Even the buffet was never too busy.
The island is one of the most beautiful places we've ever been. Every time I walked (or looked) outside I was newly amazed by how stunning it is.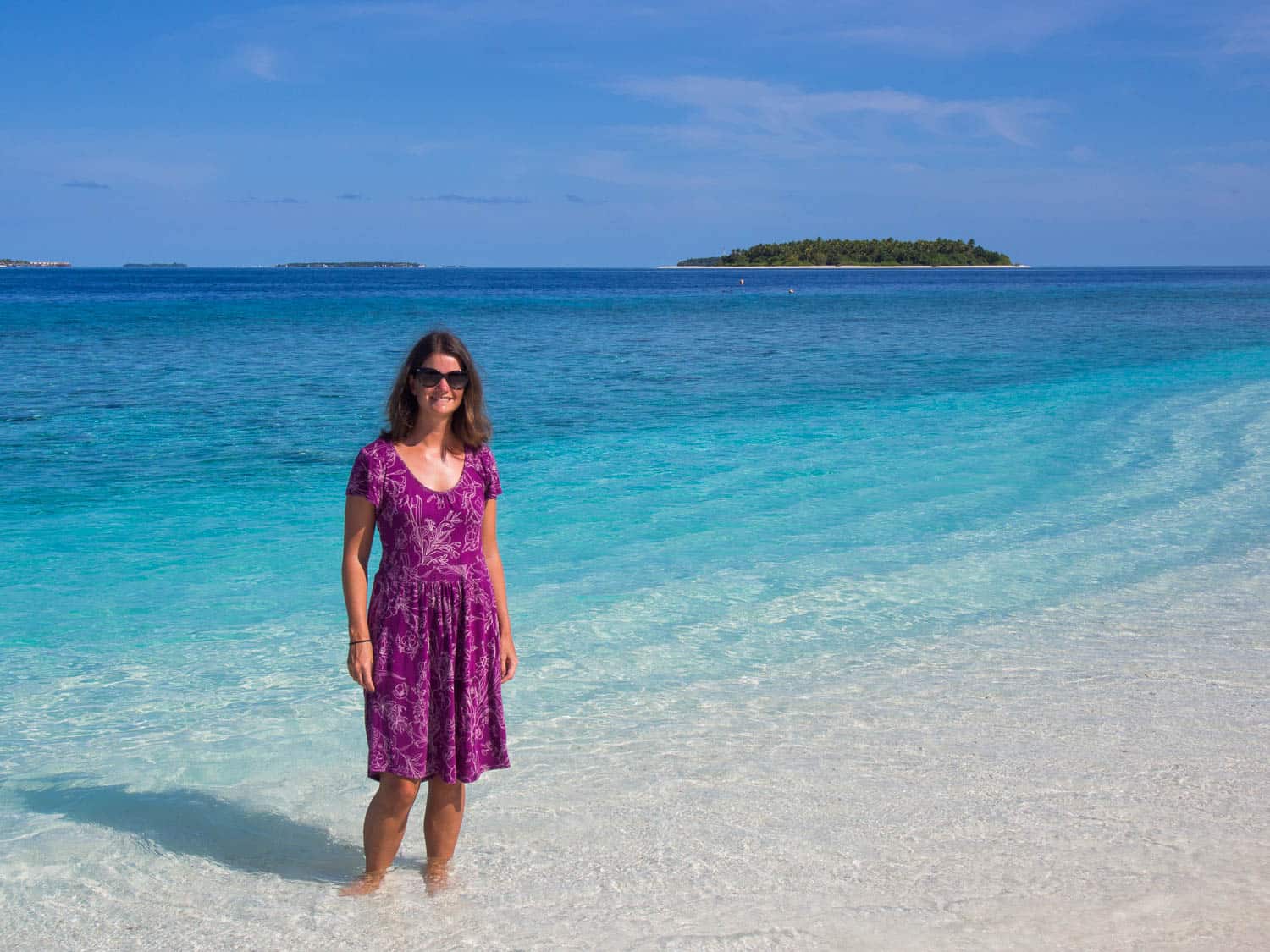 Reethi Beach Resort Review Contents
Rooms
There are three types of rooms at Reethi Beach Resort—standard villas are simple but just a few steps from the beach, deluxe beach villas are larger and on the best stretch of sand, and water villas are on stilts over the lagoon. We stayed in a water villa and it was heavenly with gorgeous views and direct access to the sea. Read my Reethi Beach water villa review for more details and photos.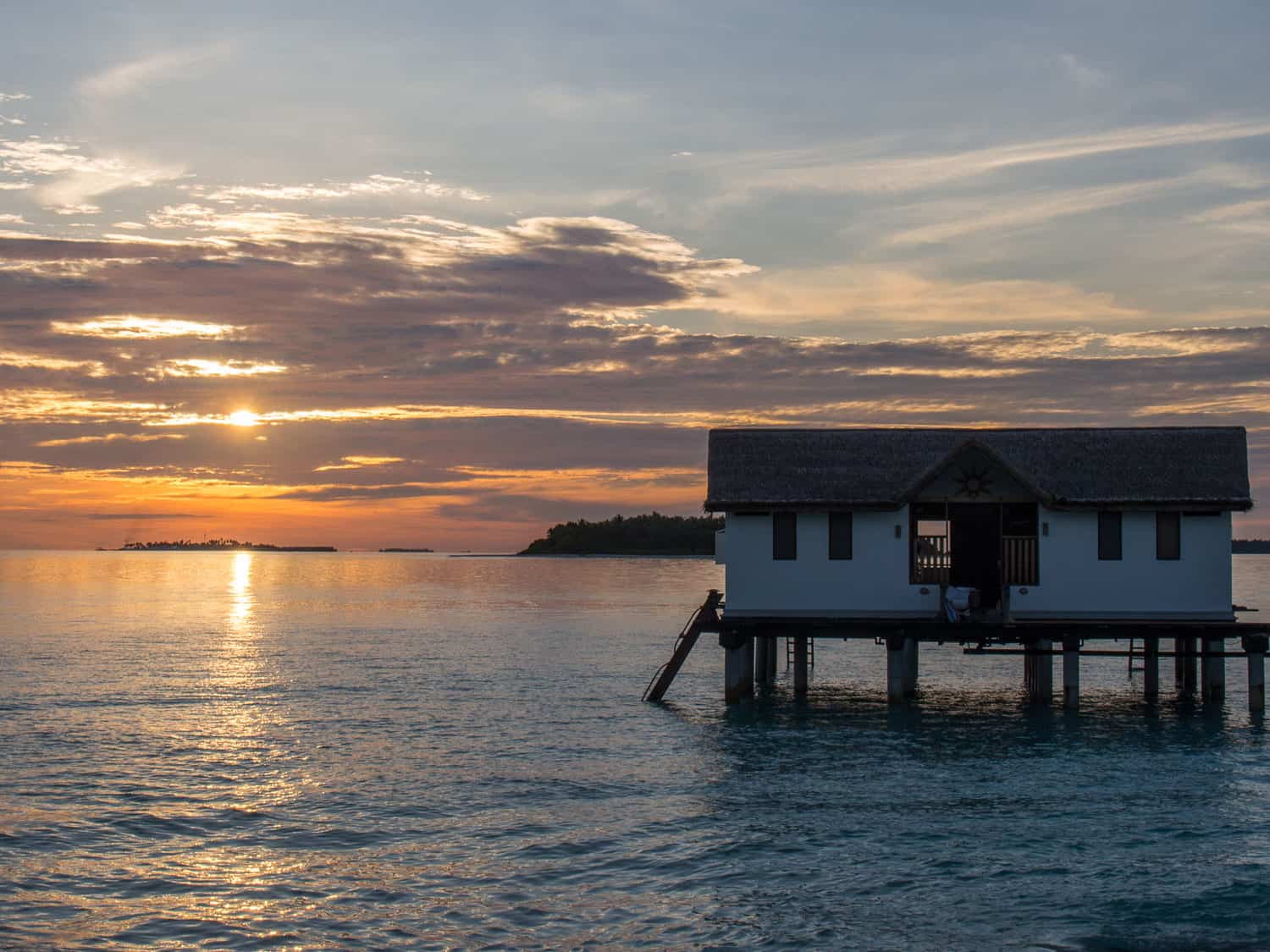 Beach
The west coast beach is the best we've ever seen. It truly is beach perfection—long and wide with icing sugar sand leading into bathwater warm, clear turquoise water. The coral sand doesn't get hot, so it's perfect for walks at any time of day.
Each villa is allocated sunbeds on the beach (the deluxe villas have the best spots). They are well spaced out and the beach never felt crowded. We spent most our time on our water villa terrace, but when we wanted some beach time, we loved relaxing in the deck chairs at the Sunset Bar.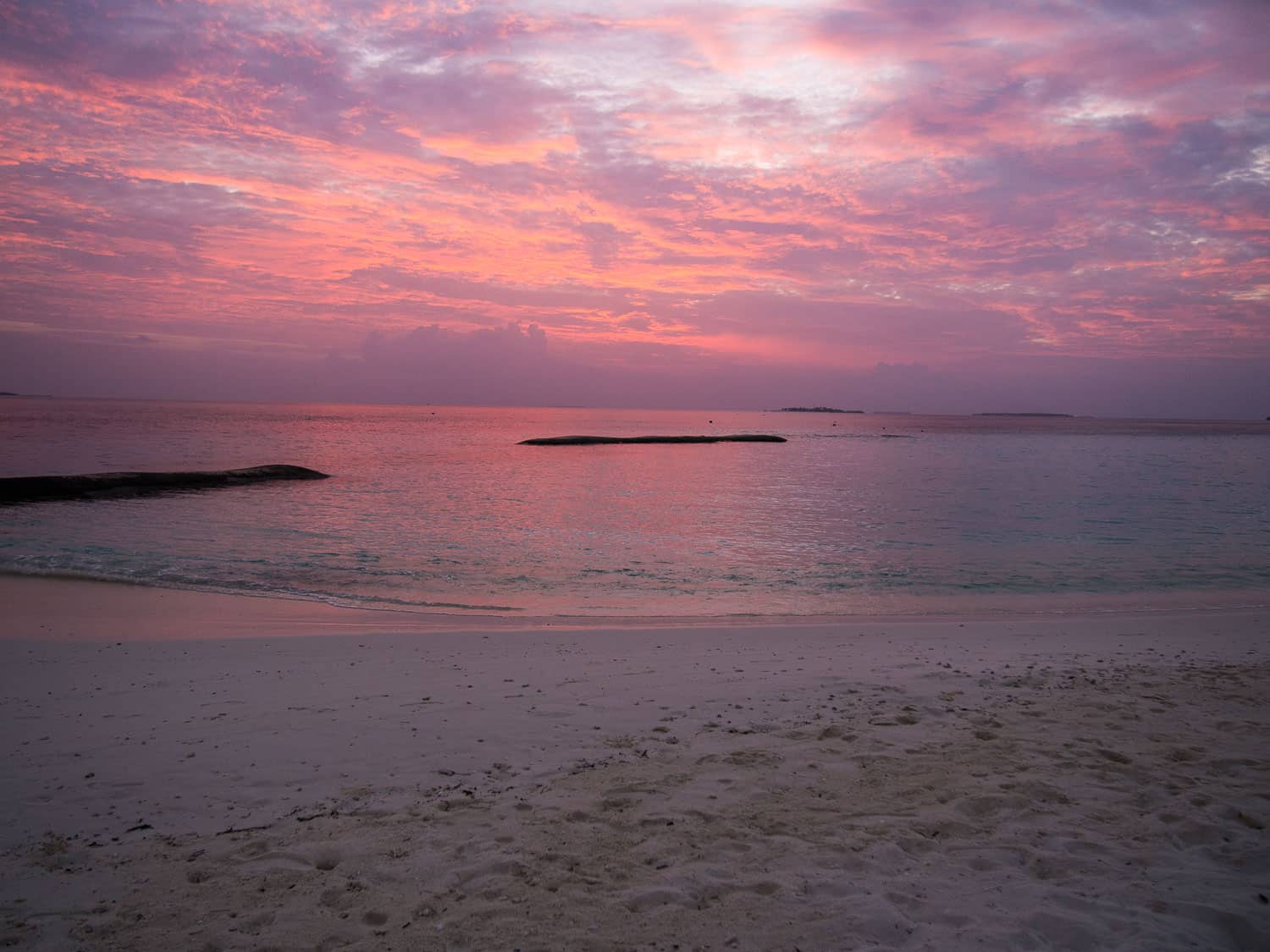 The house reef runs just off the beach and is easy to swim to. The range of fish is superb (see the Snorkelling section below). We also saw dolphins jumping in the sea just off the beach three times during our six-day stay.
Restaurants and Bars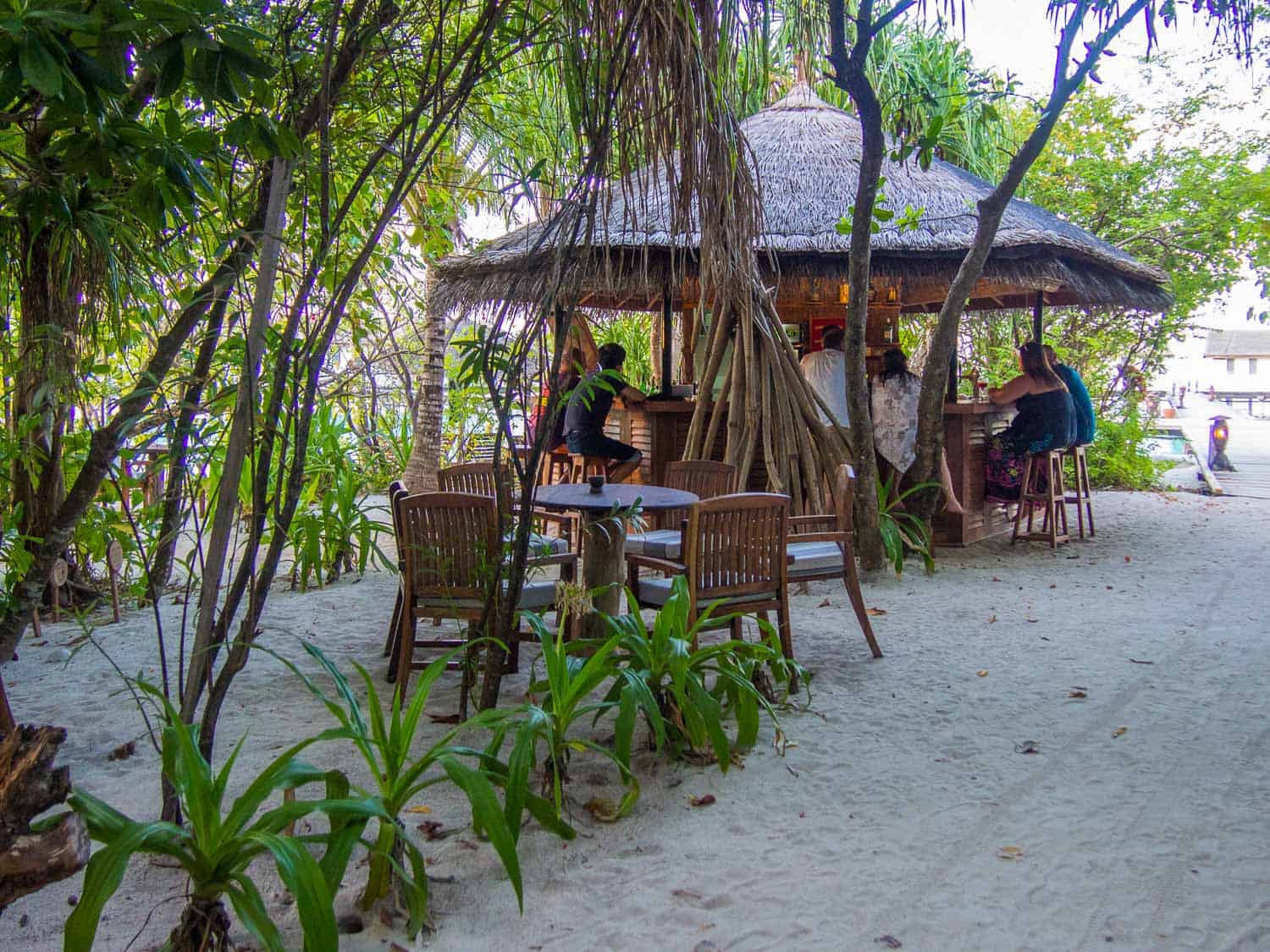 Amazingly for such a small island, there are five restaurants and five bars scattered throughout the resort. We were on a half board meal plan, so we had the buffet in the main restaurant for breakfast and dinner. We were free to choose where to eat lunch, and we also tried a couple of different restaurants for dinner.
We were impressed by the quality of food. There's a much wider range than you find on local islands, and the western dishes are much better here. Vegetarians are well catered for and meat-free options are marked on the menu.
There's a Happy Hour at most bars from 6-7pm with 20% off drinks—perfect for a sunset cocktail.
Main Restaurant
I'm not usually a buffet fan, but I loved the buffets at Reethi Beach. The open-sided main restaurant has a sea view (if you snag a window seat), and we even saw dolphins while eating breakfast one morning.
The breakfast buffet had a large selection and changed daily but always featured freshly baked pastries, cakes, and bread, fruit, cheese, cold meats, cereals, dried fruit and seeds, and lots of hot dishes. You can have eggs made to order, and a hot station makes fresh dishes like red velvet pancakes or crepes. My favourite breakfast was potato and pea curry with chapatis and hash browns.
All rooms include the breakfast buffet, and if you are on half or full board, you'll also have the dinner buffet. We loved the dinner buffet. Each night there's a different theme and every morning we excitedly checked the noticeboard to find out what the next day's buffet would be (the simple pleasures of resort life…). Our favourites were Tex Mex and Indian/Sri Lankan.
Every night there was a salad bar, breads, Maldivian corner (with veg and non veg curries), and pasta, plus loads of dishes (including many desserts) around the theme. At the grill staff made a fresh dish such as tacos on Mexican night. There were always plenty of marked vegetarian options.
Everything we ate was delicious (which can't often be said about buffets), and the only problem was trying not to eat ourselves silly.
Moodhu Bar & Restaurant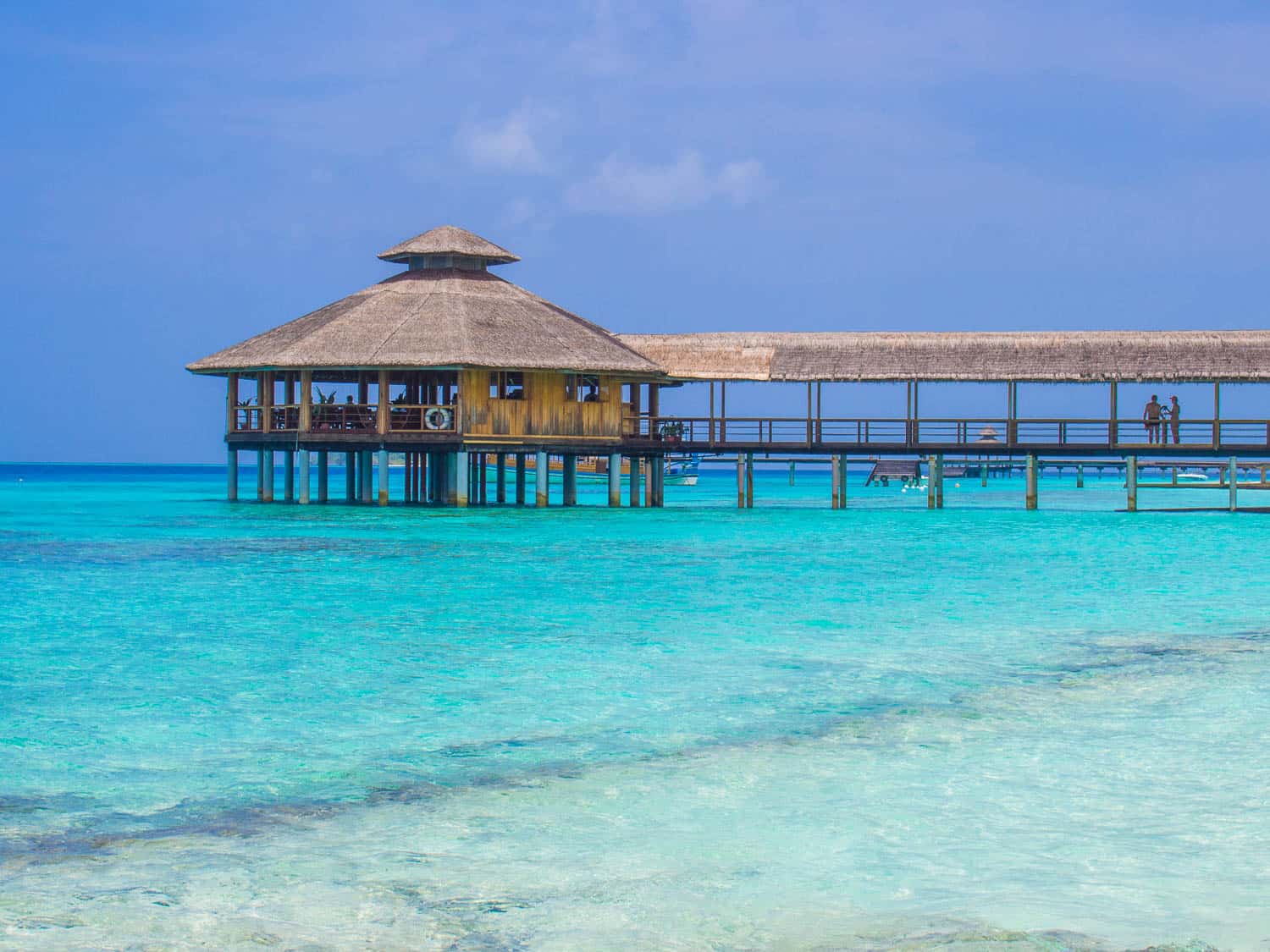 Moodhu sits on stilts over the lagoon and is open 24 hours. There's a hole in the middle of the restaurant so you can watch the fish swim by. We visited for lunch and afternoon coffee. The greek salad, pizzas, and paninis are good.
Alifaan Pool Bar
Alifaan is a casual bar by the pool and is the cheapest (and quietest) place for lunch. We liked the watermelon and feta salad, veggie nachos, and veggie burger. You can also buy pieces of fresh fruit.
Reethi Grill
Reethi Grill is only open for dinner. It has a romantic open-air setting by the sea. We had one of the private pavilions closer to the sea where our table was lit by candles and we sat with our feet in the sand.
The food is cooked in the wood-fired oven or on the grill and focuses on Italian and Indian cuisine. We loved our pizza, vegetarian sizzler (a literally sizzling hot platter of grilled vegetables, goats cheese, and cajun potatoes), and decadent molten chocolate cake.
Saima Garden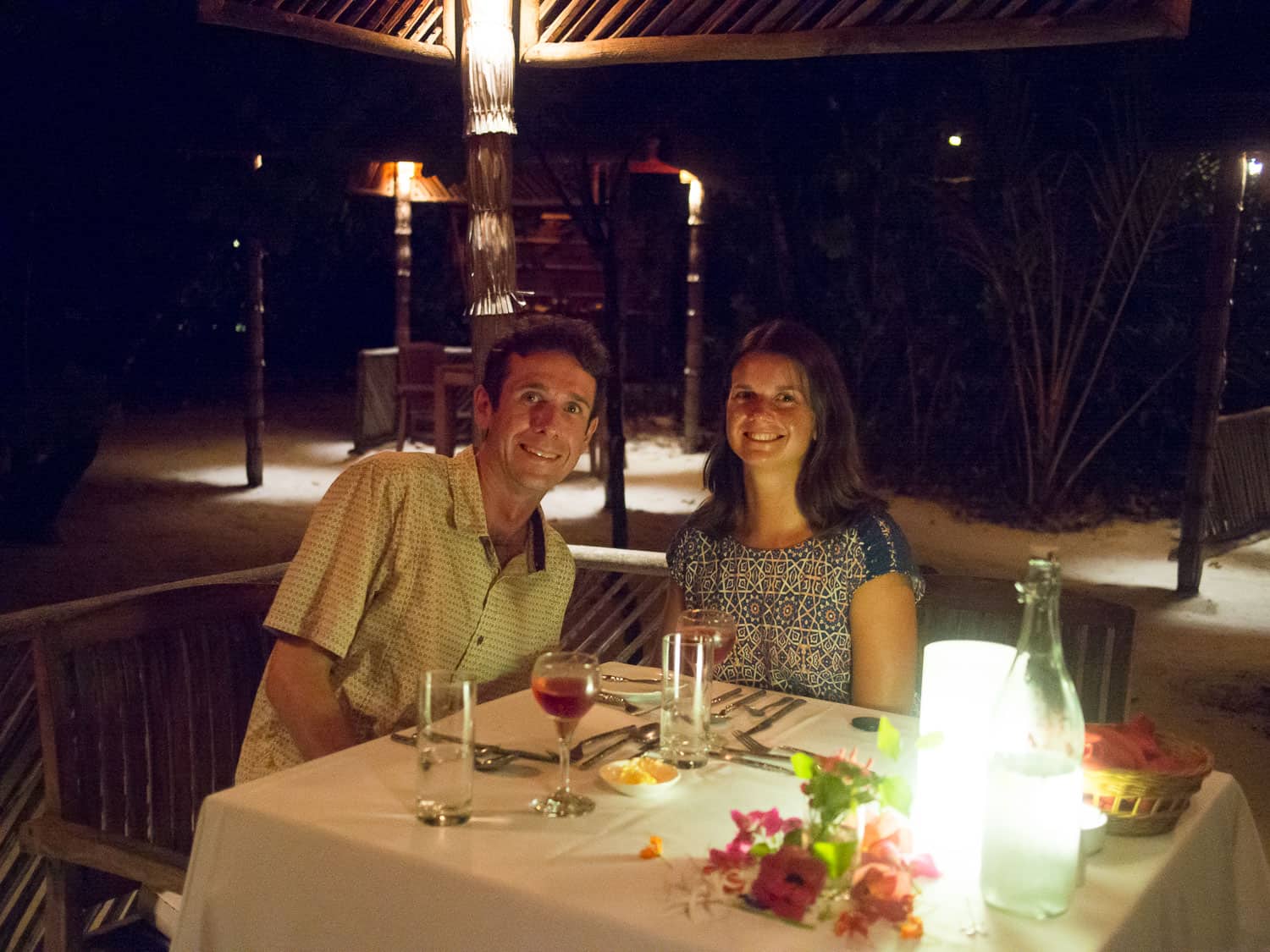 Saima Garden is the special occasion restaurant with just five romantic tables in their own pavilions by the sea. You can choose from a number of set menus. The vegetarian menu had two choices for most of the five courses—we shared so we could try everything. We had tempura, chickpea and green bean salad, broccoli soup, a cleansing sorbet, vegetable cannelloni, bean stew, and a rich chocolate mousse.
The food was tasty, but it wasn't the gourmet cuisine we'd expected—the buffet is just as good. For vegetarians at least, I don't think it's worth the $74 price, despite the lovely setting.
Sunset Bar
There are a number of bars around the island. Sunset Bar was our favourite for its prime location on the best stretch of beach. Perfect for a post-snorkel or sunset drink. The cocktails are very good, especially the Maldivian Lady.
Main Bar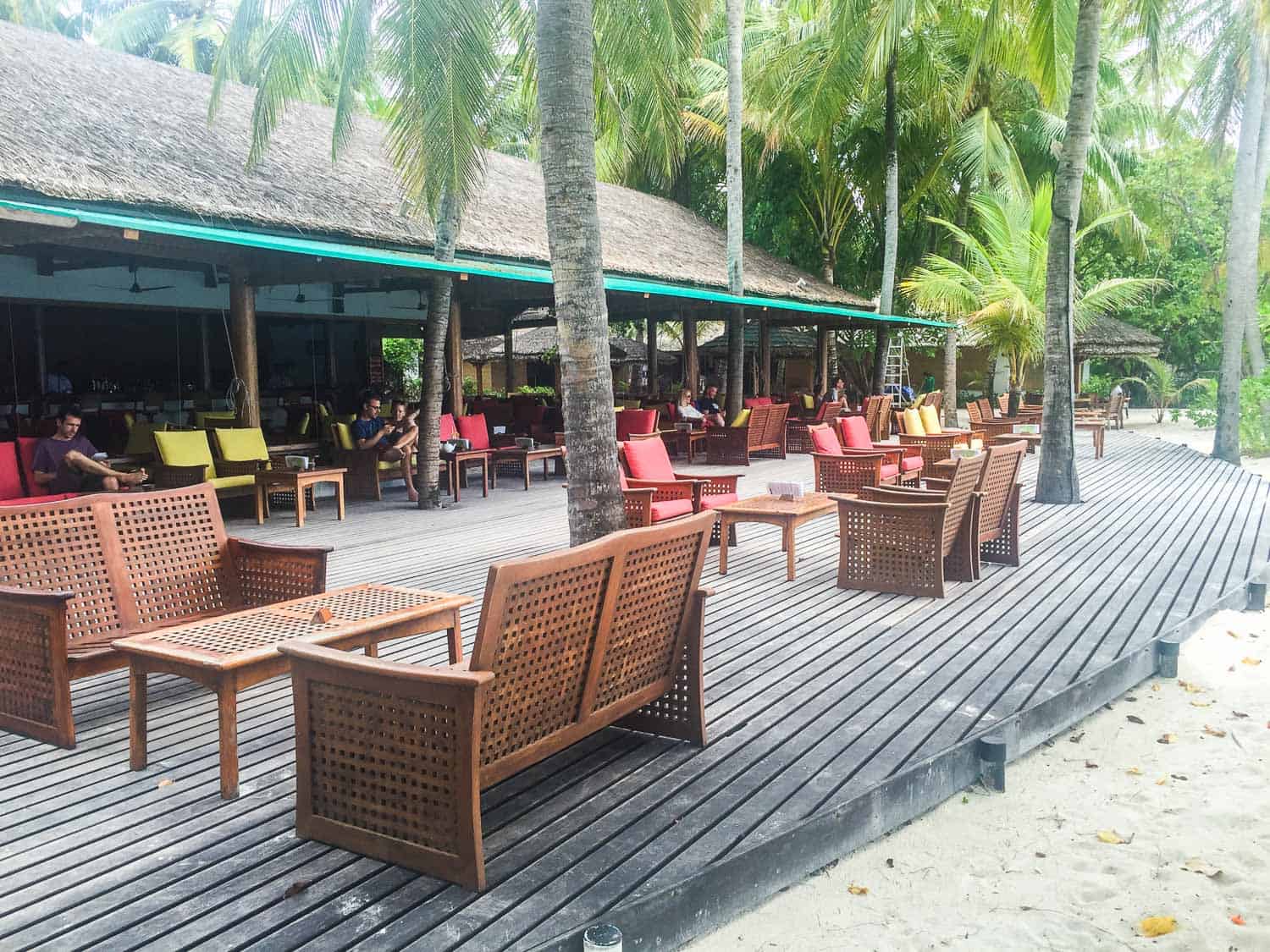 The large main bar has comfortable seating, a sea view, free WiFi, table tennis room, and a big cocktail menu. From 4-5.30pm there's an afternoon tea buffet with a small selection of sandwiches and cakes. At $7.50 with tea or coffee it's good value.
Every night there's free entertainment such as a live band, traditional dance, disco, or film screening.
Eco-Friendly Policies
We appreciated Reethi Beach's environmental policies. There are no plastic bottles on the island—still and sparkling water is served in reusable glass bottles and made on the island from sea water in their desalination plant. Most soft drinks also come in glass bottles.
The restaurants use cloth napkins and paper straws. Toiletries are in refillable ceramic bottles. The resort recycles as much as possible and shower water is reused for gardening.
Once a month on Reethi Day the resort minimises the use of electricity by using candles, plants trees, and organises clean ups.
It's just a shame that the resort uses diesel for power instead of solar. Apparently it did have a solar system five years ago but it broke. I'd love to see it on the island again.
Facilities
There's a small pool surrounded by trees that's never very busy—why swim here when the lagoon is so inviting?
There's a gym with the usual equipment and an indoor room for badminton and table tennis. It doesn't have a view and felt a bit miserable compared to the loveliness outside. Unless you are an all-inclusive guest, you have to pay $7 an hour to use it. There are also outdoor tennis courts.
The dive shop seemed professional and runs daily snorkelling and diving trips. Diving courses are also available.
The water sports centre offers a huge range of activities including sailing, kayaking, stand up paddle boarding, water skiing, kite surfing, and more. They also run trips to remote islands and an excellent dolphin safari (see below).
The spa is run by Balinese women and offers massages, hair and body treatments, pedicures, manicures, and facials. We didn't partake, but we did enjoy walking past every day and seeing the new flower art displays outside.
The spa sells clothes and products and another shop on site sells clothes, souvenirs, and basics like suncream. Prices are high so it's best to bring what you need.
The laundry service charges $2.50 or $3 per item of clothing.
Activities
We were a little worried at first that six days would be too long on a remote island, but when we planned our activities at breakfast on our first morning, we wished we had longer. Our days felt full with meals, snorkelling, sunbathing, naps, and sunset drinks, not to mention all the water sports and trips on offer. In the end, we didn't do as much as we planned as we embraced the slow pace of life and enjoyed just relaxing on our terrace.
When we managed to drag ourselves away from our gorgeous villa, here are the activities we experienced.
Snorkelling
The dive centre offers a free snorkelling tour of the house reef at 11am every day that is well worth doing. There were only four of us and our guide explained the best areas for snorkelling, access points, and currents, and then he took us out in the water and named the fish we saw.
The snorkelling on the house reef is superb and just a short swim from the west coast beach and water villas. Twice a day we snorkelled straight from our villa to the dramatic drop off. The coral is bleached, but there is tons of varied fish life including massive schools and huge fish like a giant Napoleon.
We swam amongst oriental sweetlips, powderblue surgeonfish, Moorish idols, parrotfish, porcupinefish, unicornfish, red snapper, and many varieties of triggerfish.
Every time we snorkelled we noticed something new—the sound of titan triggerfish munching on coral, an angel shark hiding in a cave, a tiny fat fish with fast moving fins that Simon dubbed the hummingbird fish, how the tails of red-toothed triggerfish shimmered blue.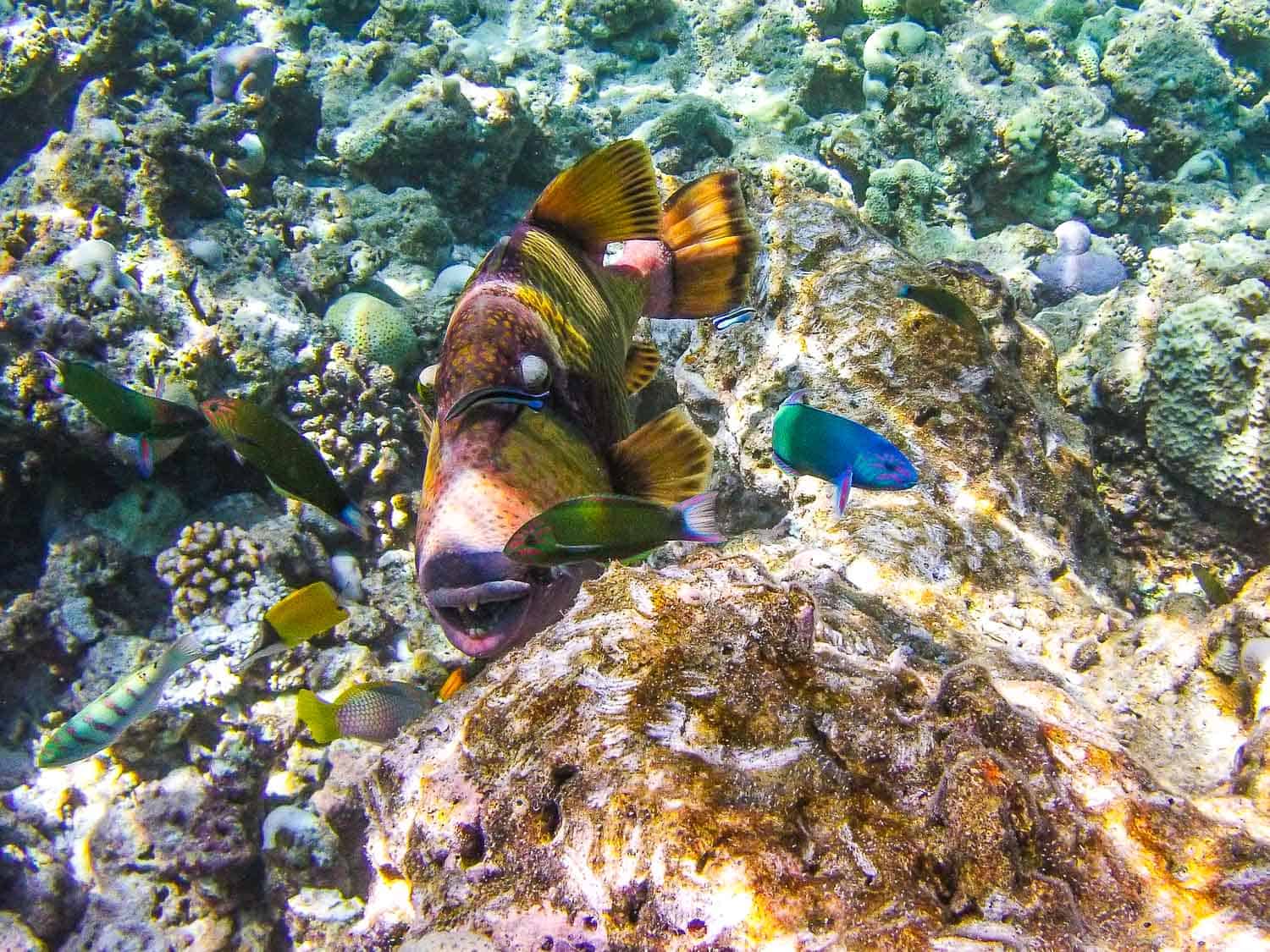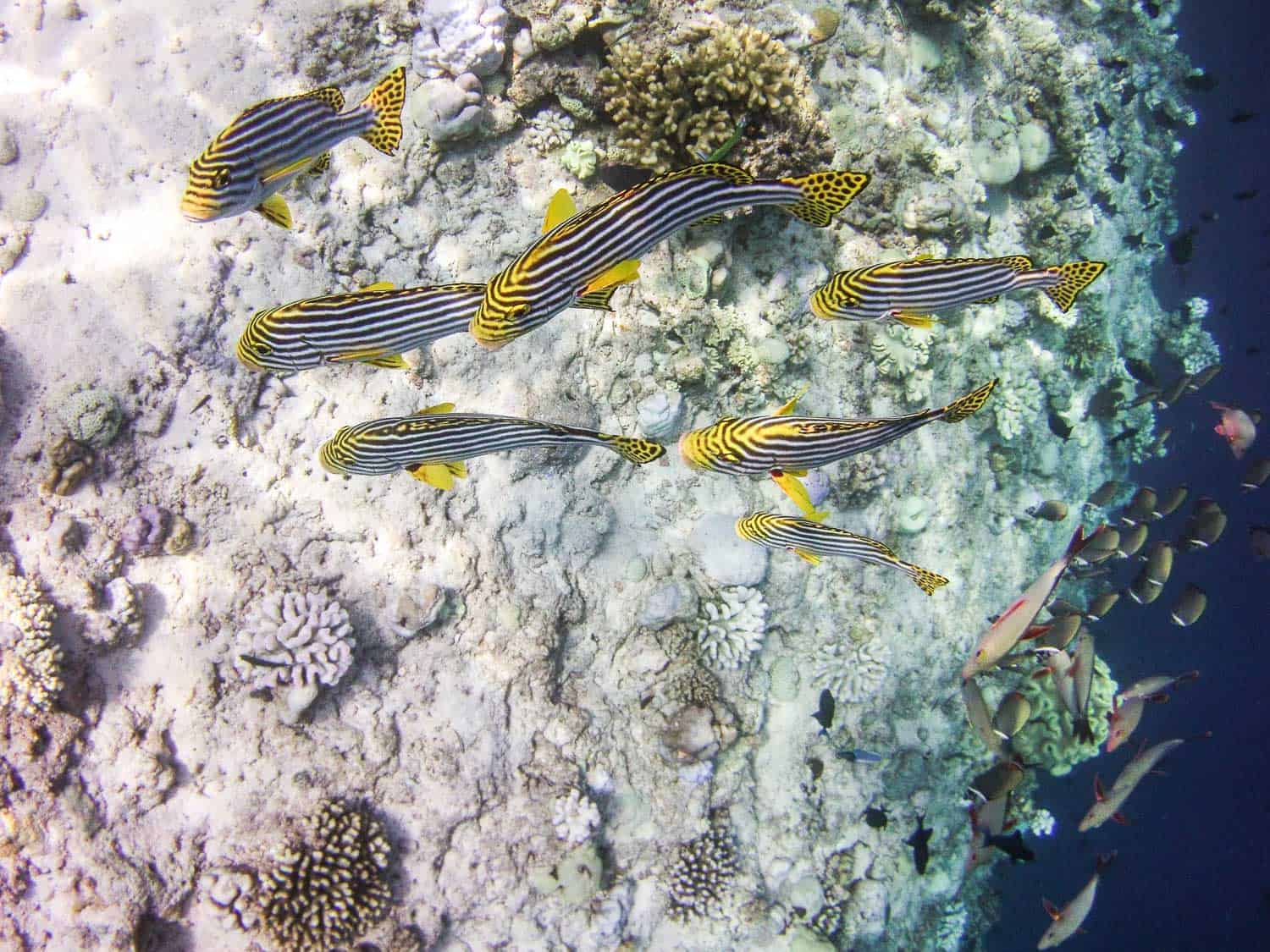 We had plans to do one of the snorkelling trips further afield where the coral is more colourful, but with such fantastic snorkelling on our doorstep, we didn't feel the need in the end.
I recommend bringing your own snorkelling gear as it costs $80 a week from the dive centre. An underwater camera is also a good idea. We hired one for half a day from the dive centre for $22.
Dolphin Safari
The most popular trip at the water sports centre is the dolphin safari. As we've managed to travel the world for over six years without seeing dolphins close up, the trip was top of our list too. Dolphin sightings aren't guaranteed but do happen most days.
We were in luck. Six of us took a short speedboat ride into the open sea and within minutes we saw hundreds of dolphins swimming close to our boat, jumping out of the water, and doing 360-degree somersaults.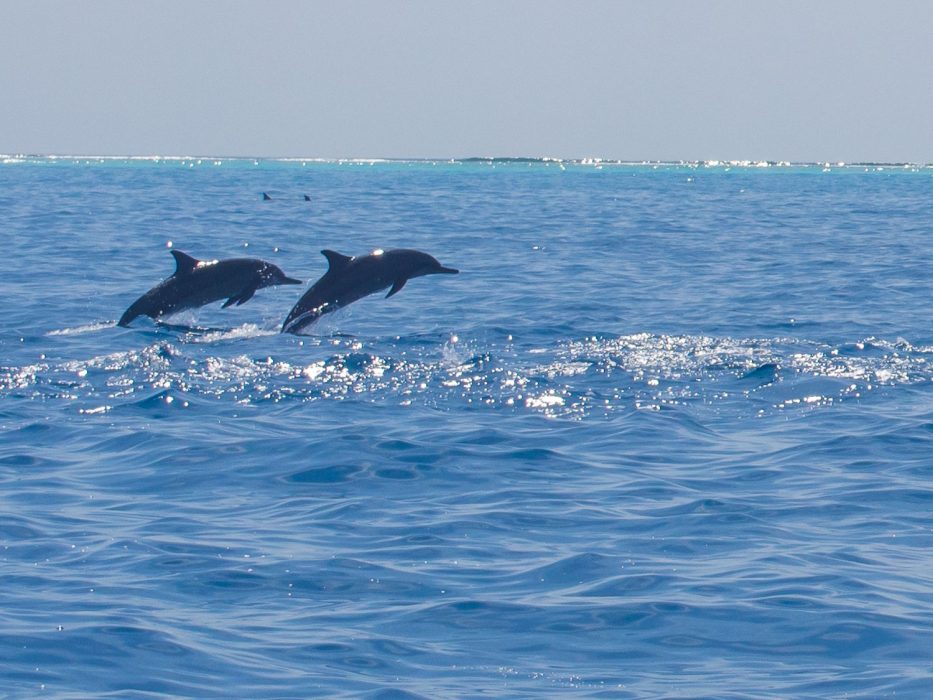 It was amazing to see—they seemed to be playing for the pure joy of it. We watched them in awe for nearly an hour, struggling to take photos as they move so quickly and you never know where they are going to surface.
We opted for the two-hour extended tour, which includes snorkelling. After an hour, we dropped the other guests back at the resort and headed to a nearby sandbank. Almost as soon as we got in the water we saw a turtle! The coral was much better than on the house reef—colourful and undamaged. Although the fish life was as good at Reethi, the trip was worth doing.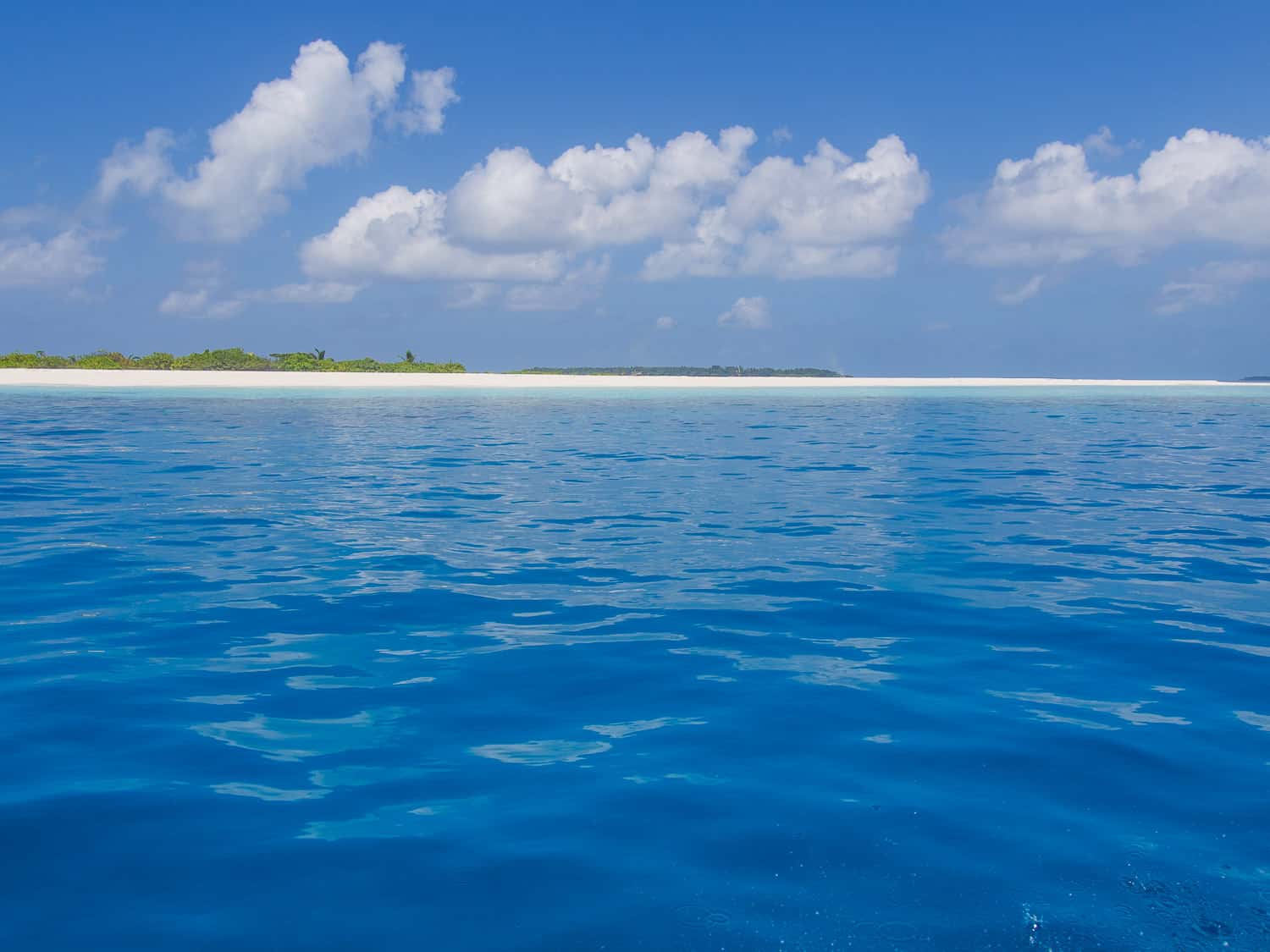 The one-hour dolphin safari costs $55 and the two-hour trip with snorkelling costs $80. The boat is uncovered so take suncream, a hat, and water.
Fish Feeding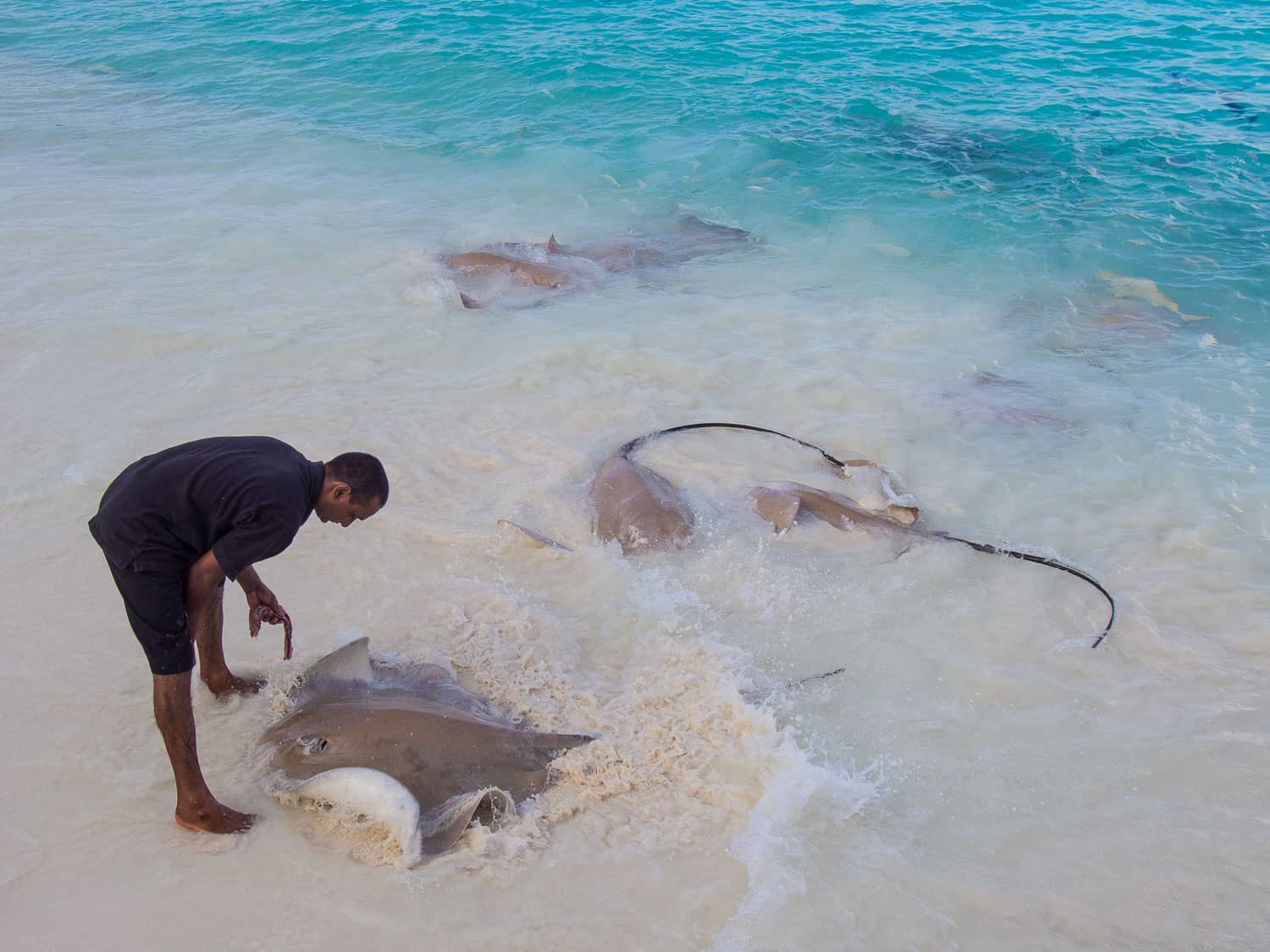 Fish feeding is a free activity at 6pm daily off the jetty. Although it was amazing to see huge stingrays and even a shark come close to shore, we don't believe in feeding wildlife and are not sure this is the most ethical activity.
Sunset Dhoni Cruise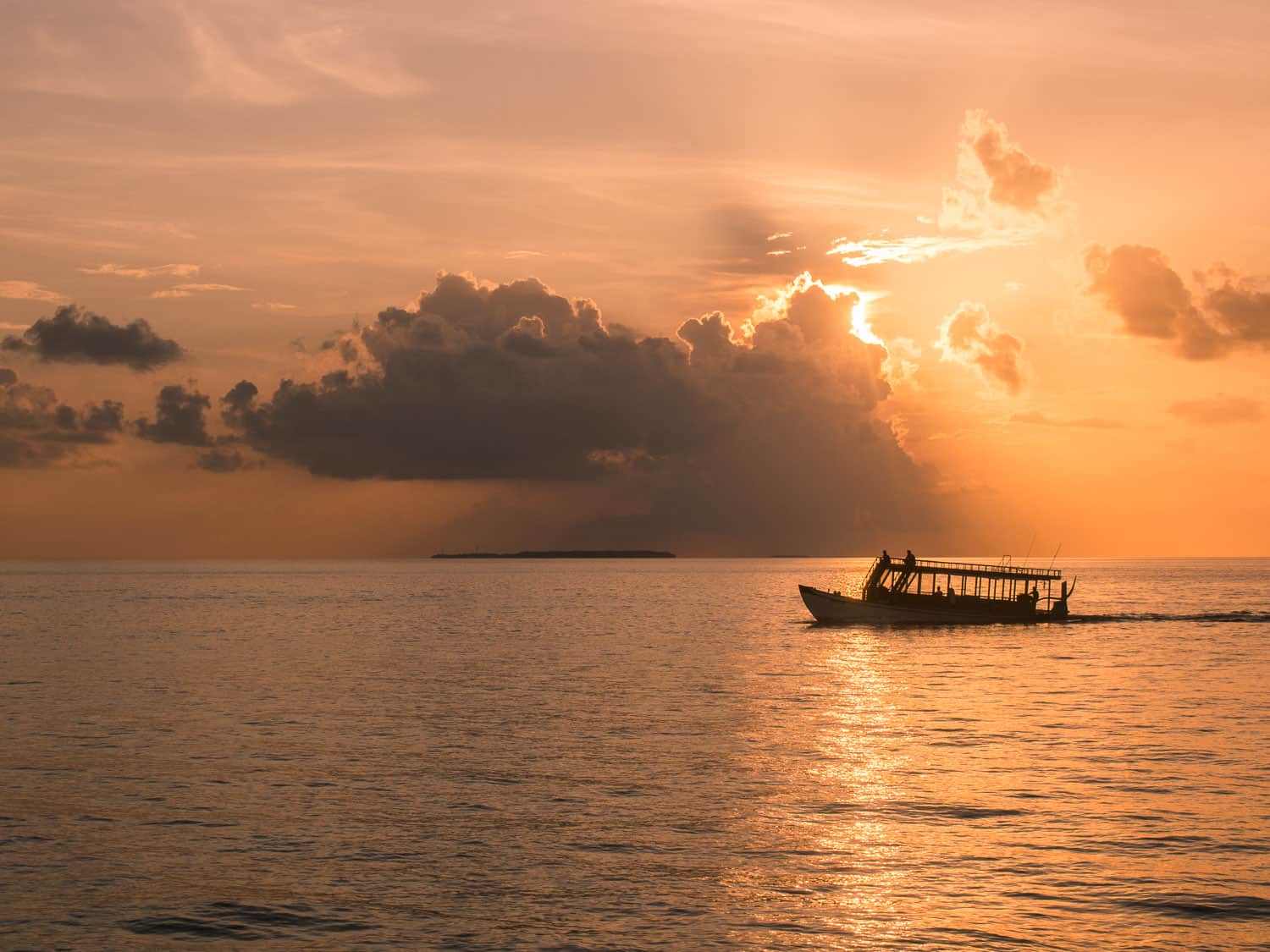 On the sunset dhoni cruise we cruised around for a few hours at sunset on a traditional boat. While it was pretty to watch the sunset at sea, this was our least favourite trip, and we didn't think it was worth the $25 (which includes a beer or soft drink). Perhaps it's because we've spent a lot of time on boats and had already experienced a dhoni on the local ferry, but we found it a little dull. We preferred watching the sunset with a cocktail at the Sunset Bar or on our water villa terrace.
Technical Tour
Twice a week guests can see behind the scenes on the free technical tour. The centre of the island is where the staff live and is the hub of operations. We saw the desalination plant, mosque, bakery, kitchens, food storage, and staff lounge and canteen. Almost everything is made on site including furniture, bedding, and staff uniforms. It was fascinating to see what it takes to run a resort like this.
Other Trips
You can also take excursions to local islands, have a moonlight BBQ or picnic on a deserted island, or go fishing.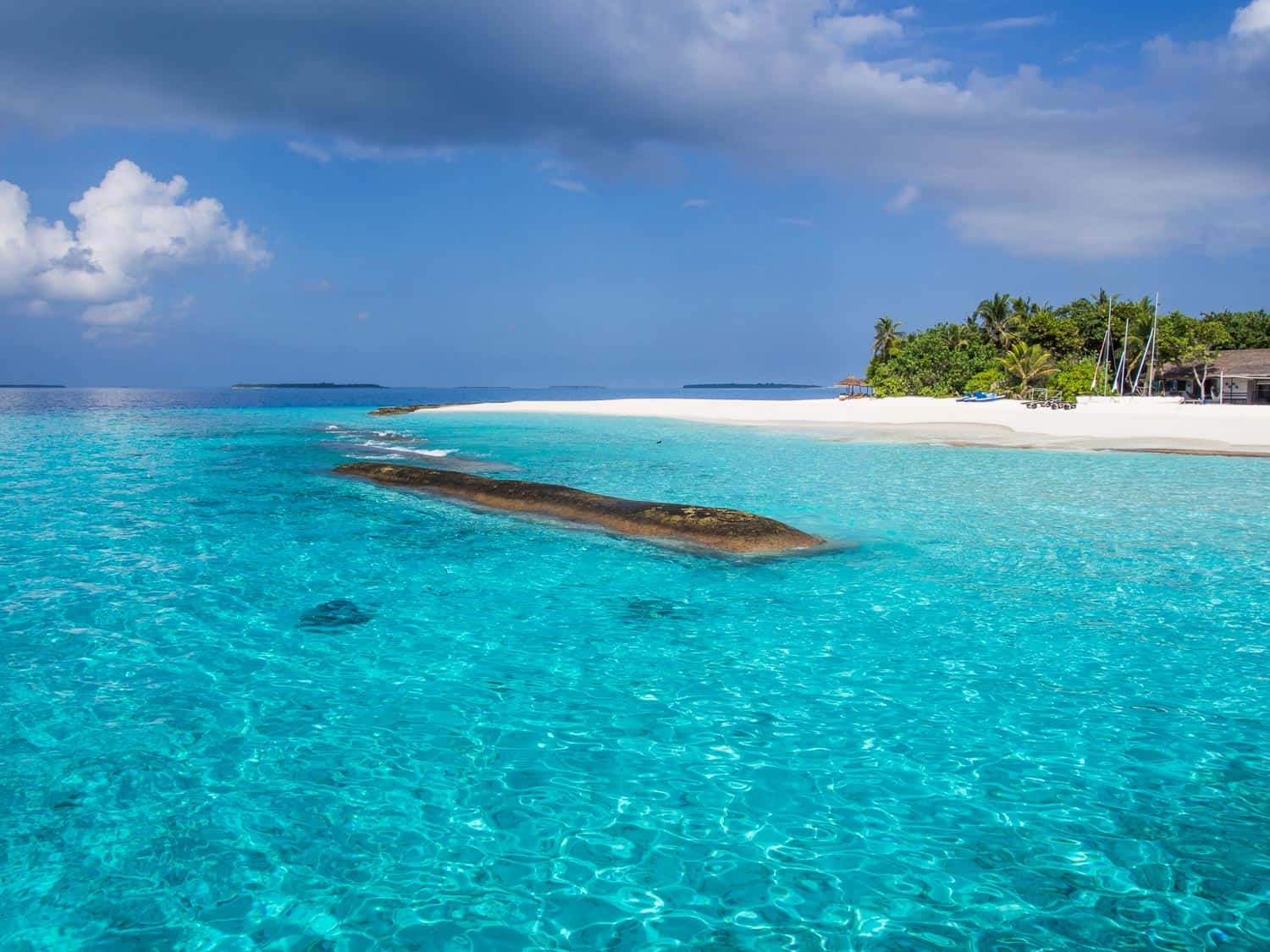 Reethi Beach Resort Highs
Stunning white sand beach
Clear, warm, turquoise lagoon
Excellent snorkelling on the house reef
Affordable but very comfortable water villas with amazing views
Secluded, away from everything feel
Relaxed, informal atmosphere
No shoes!
Natural setting with buildings hidden amongst trees
Good variety of restaurants and bars
Excellent vegetarian-friendly buffet in the main restaurant
Friendly service
Eco-friendly policies
Lots of trips and water sports available
Seeing dolphins from the beach and hundreds on the dolphin safari
Delicious sunset cocktails and banana chips at the Sunset Bar
The seaplane trip
Reethi Beach Resort Lows
Drinking water is expensive (about $4 a litre including tax and service) and only one litre bottle is provided for free per room per day. It's also not included with the dinner buffet. This is my only major complaint (everything below is nitpicking) as we drink a lot of water and it cost us about $25 a day. I'd like the price to be lower or more free bottles provided and water included with the buffet.
The air conditioning in the water villas takes a while to cool the rooms down.
The beach near the water villas is small. If you want to spend your time on the beach (rather than on your water villa terrace), choose a deluxe beach villa instead.
Service at lunch could be a bit slow and twice waiters got our order wrong. It would be best if they wrote the order down or at least repeated it back to us.
The resort can only be reached by seaplane or domestic flight, which are expensive.
No Wi-Fi in the rooms (honestly this was a high for us!).
Recommended For
Beach-loving couples looking for a special but reasonably priced resort away from it all.
Location
Reethi Beach Resort is located in the Baa Atoll. From Male you need to take a 35-minute seaplane or domestic flight. The resort will arrange the transfers to coincide with your international flight (or request a time to suit you if you are already in the Maldives). The journey is spectacular—see more photos here.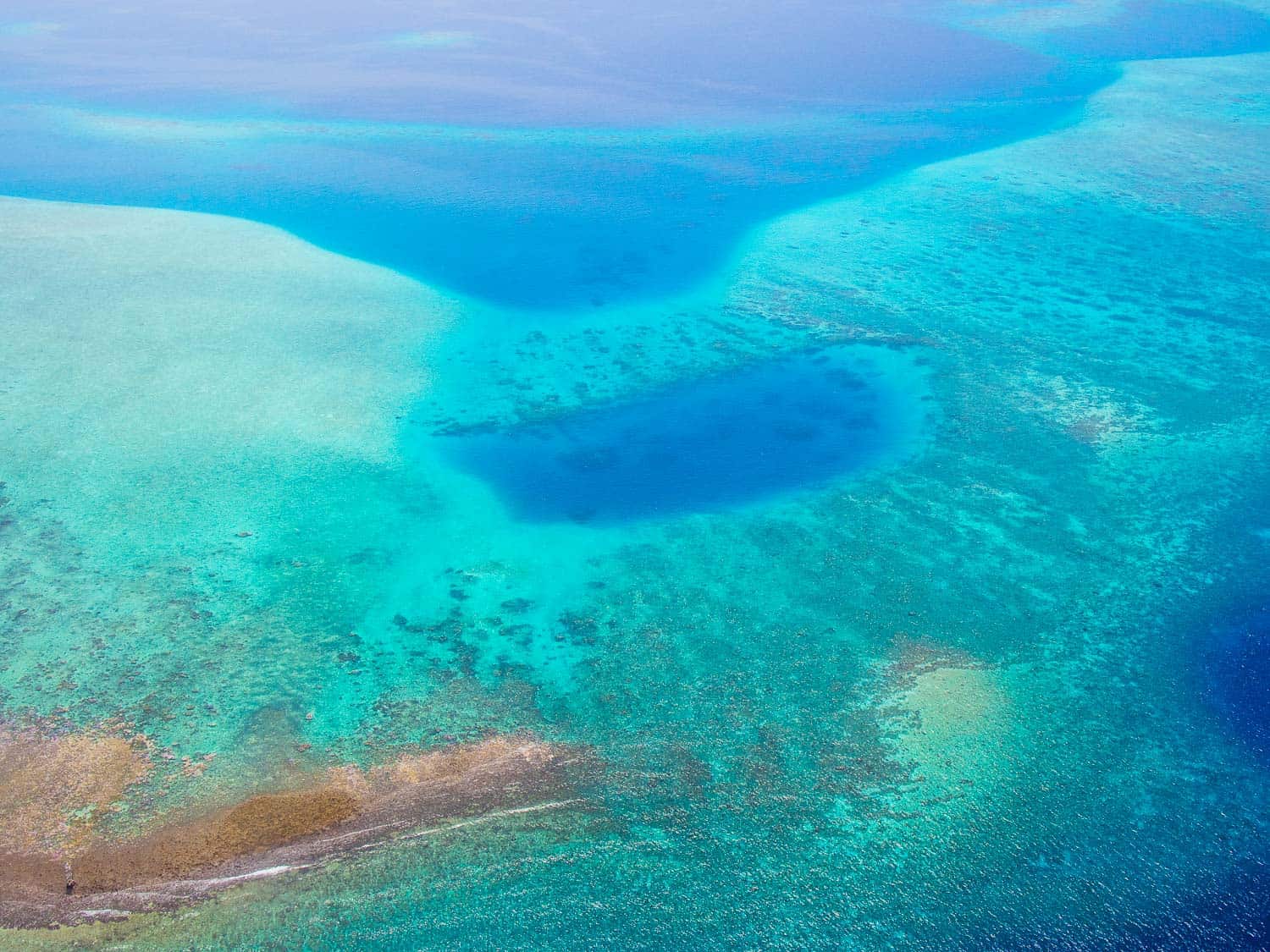 Costs
Accommodation
The high season is from January to March/April and prices are higher. I recommend going in low season to get a better rate. We visited at the end of April/early May and the weather was perfect except for one cloudy morning.
In the low season water villas cost $256 a night including breakfast. Standard villas are $126 a night and deluxe villas are $200 a night. Resorts in the Maldives are usually much more expensive (water villas are often over $1000 a night), so I think it offers excellent value.
Check the latest rates at Reethi Beach Resort here.
Transport
Unfortunately getting there is expensive—the seaplane is $458 return per person and a domestic flight is $336. It's worth staying as long as you can!
Food
We enjoyed being half-board as we loved the dinner buffet, but you could reduce costs without a meal plan. Half board is $92 extra per couple per night (not including drinks). You could easily spend less than that in the other restaurants if you choose cheaper dishes. We spent $67 at Reethi Grill for two mains, two glasses of wine, water and dessert. If you like to eat a lot (and try a wide variety of dishes), half-board is the way to go. Another benefit of the buffet is not having to wait for food.
I wouldn't recommend full-board ($152 per couple per night) as I wouldn't want three buffets a day, and it's nice to have a choice of restaurants or room service at lunch. All inclusive ($252 per couple per night) is only worth it if you drink a lot.
We spent $70 a day (including tax and service) on lunch, water (we drink a lot), and other drinks. We both had one or two cocktails each night, and Simon had beer with dinner and a coffee in the afternoon.
Lunch usually cost us $25 to $35 for two people with drinks. Room service costs a little more than eating in restaurants, so is at the upper end of that, but we thought it was worth it to eat in the comfort of our villa. Example prices in restaurants are $7.50 for a watermelon and feta salad, $9 for veggie nachos, $9 for a margarita pizza, and $10.50 for a Greek salad. Water is $3.20 a litre, soft drinks are $4.50, fresh juice is $6.60, beer is $5, house wine is $4, and cocktails are $9-10.
Note that food and activities are priced in US dollars and are subject to an extra 23.2% tax and service charge.
Everything is charged to your room and you can pay by credit card at check out. You don't need cash unless you want to tip.
Summary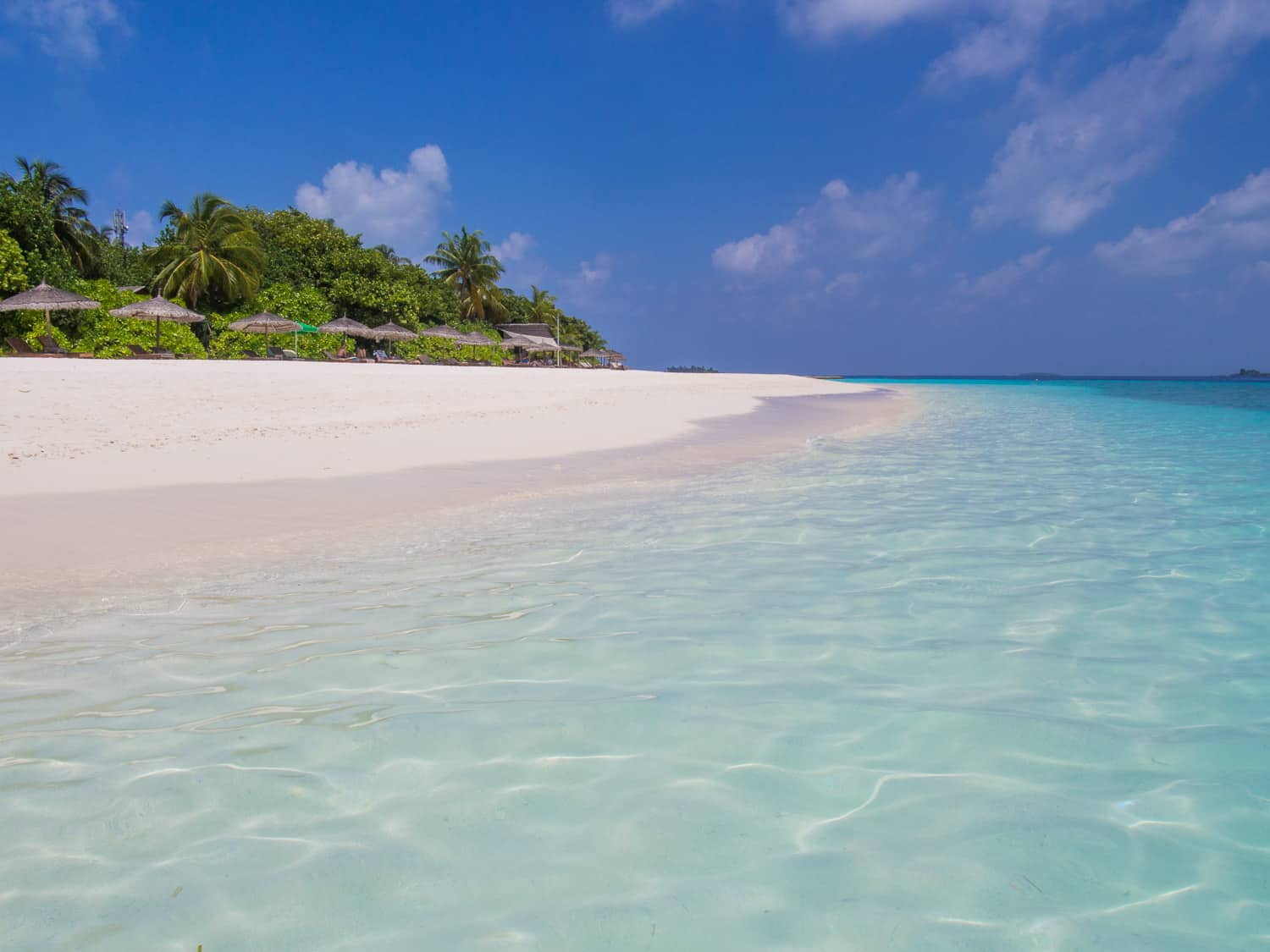 Reethi Beach Resort is a true beach paradise. It is everything we hoped for from a Maldives resort and more—a stunning beach, a turquoise lagoon full of fish, a villa with heavenly views, and delicious food. It is the perfect escape from the real world and the ultimate place to relax.
If you've ever dreamed of staying in an overwater bungalow, this is the place to do it. The resort is excellent value considering the beach and snorkelling are some of the best in the Maldives and the villas are very comfortable. For affordable luxury in the Maldives, you can't go wrong with Reethi Beach.
Our time there already feels like a dream—one which we hope to return to.
Don't miss my post about staying in an overwater villa at Reethi.
If you enjoyed this post, pin it!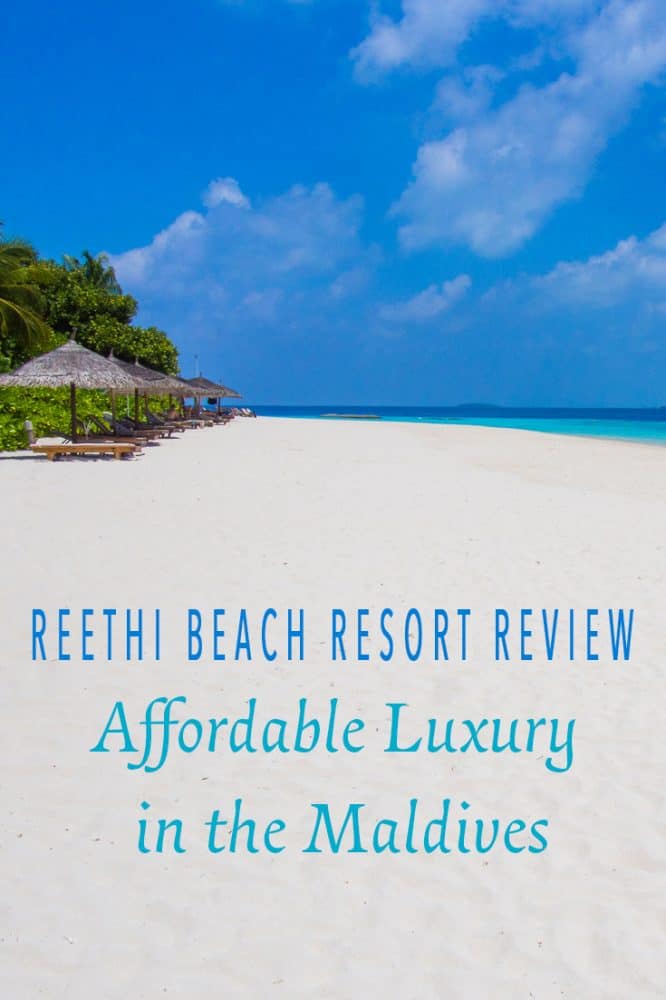 Many thanks to Reethi Beach Resort for hosting us for three nights. We paid for an additional three nights ourselves. We would have extended our stay even longer (perhaps indefinitely…) if they'd had availability.