This page contains affiliate links. Please read our disclosure for more info.
Fulidhoo is a different kind of island paradise. There are no over-water bungalows, no sunset cocktails, no infinity pools, no cafes lining the beach. Seven years ago it wasn't even possible for tourists to stay here, and even during our visit there were only two other tourists on the island.
Until 2009 visitors to the Maldives were only able to stay on resort islands, away from the Muslim population. When the laws changed and guesthouses were allowed to be built on inhabited islands, it became possible to travel independently. Fulidhoo now has two guesthouses with a few more being built.
After a 3.5 hour journey on a local ferry from Male (with dolphin sightings!), we arrived in Fulidhoo on a small wooden jetty that led to a long, wide stretch of powdery sand, on the whiter end of the golden scale. Even with ominous clouds darkening the sky the water was the turquoise blue of tropical paradise dreams. Arif from Thundi Guesthouse was waiting for us on the jetty with a wheelbarrow for our backpacks—there's no motorised transport on the island. The island is so tiny—just 675 metres by 200 metres—that there isn't even a need for a bicycle.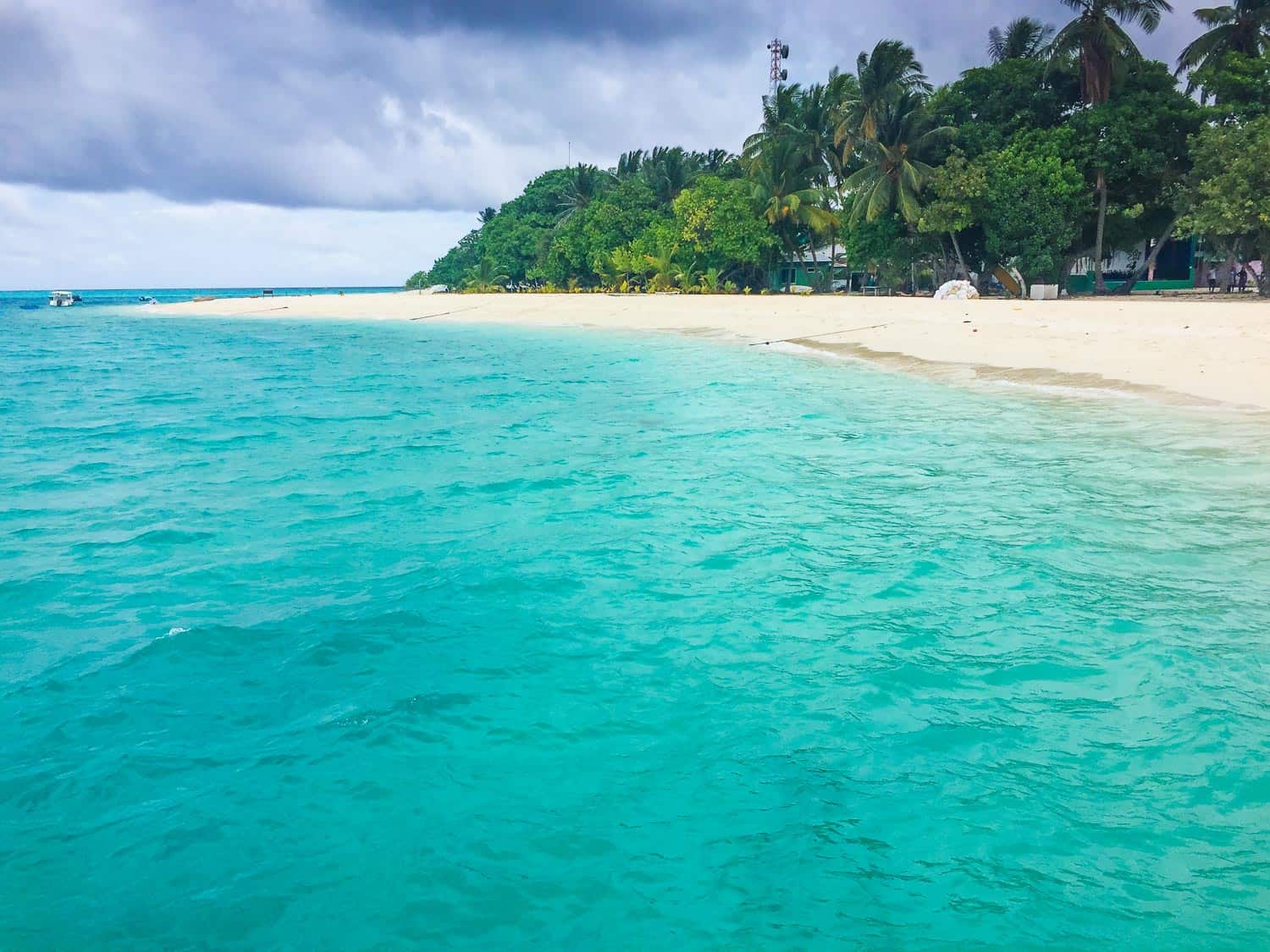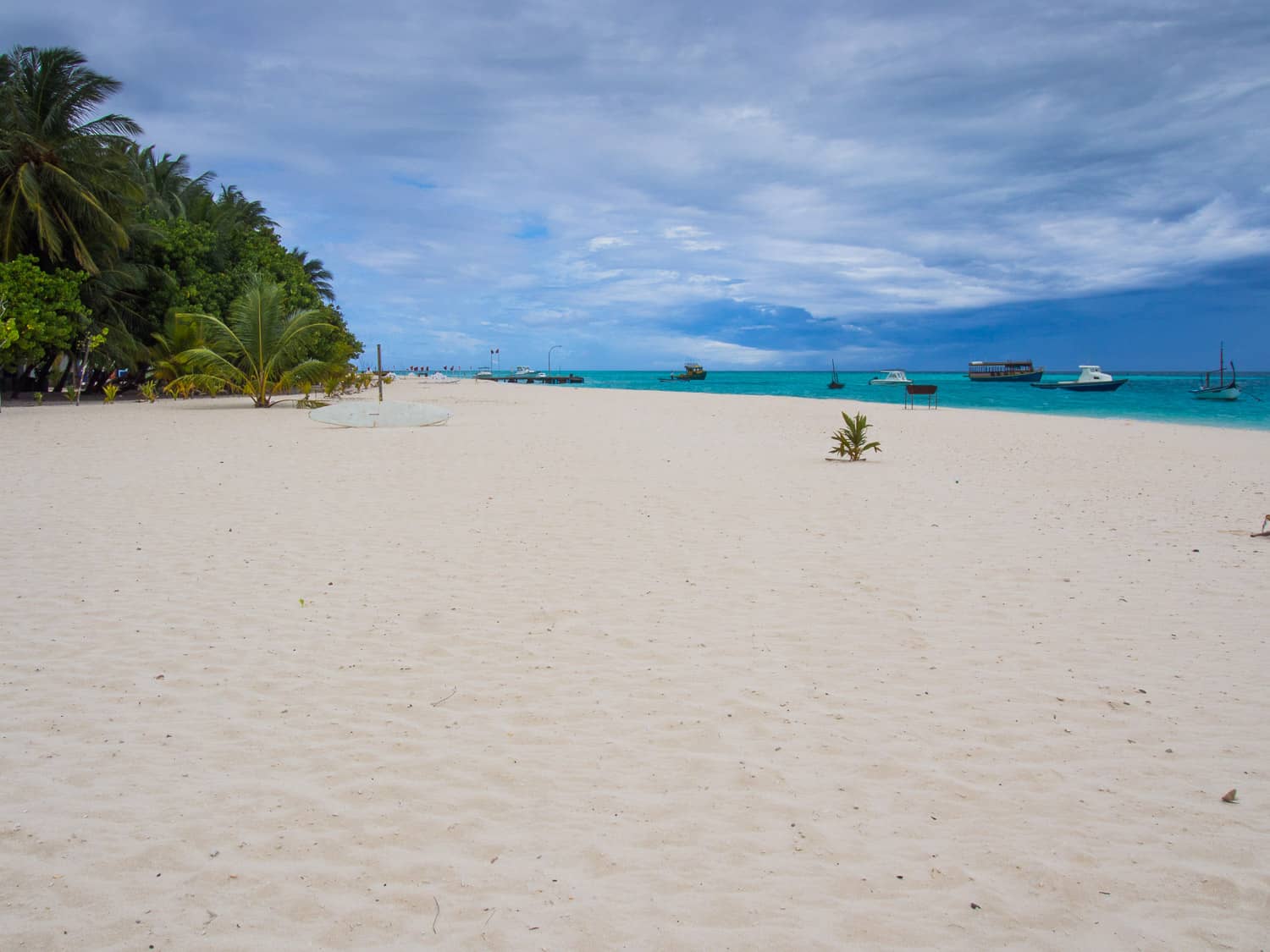 Needless to say, it was a short walk to our guesthouse on the other side of the island—nowhere is more than a five-minute walk away. Once we'd settled in, Arif took us on a tour of the island.
The official population is around 400 but many people work away—on Male or resort islands. Despite its small size, Fulidhoo has a mosque, school, health centre, community centre, council offices, and a number of general stores selling snacks and basic supplies. The sandy main street that runs down the centre of the island also has a number of souvenir shops selling colourful sarongs and dresses, but they only open twice a week when guests from a nearby resort come to visit. Crime is nonexistent.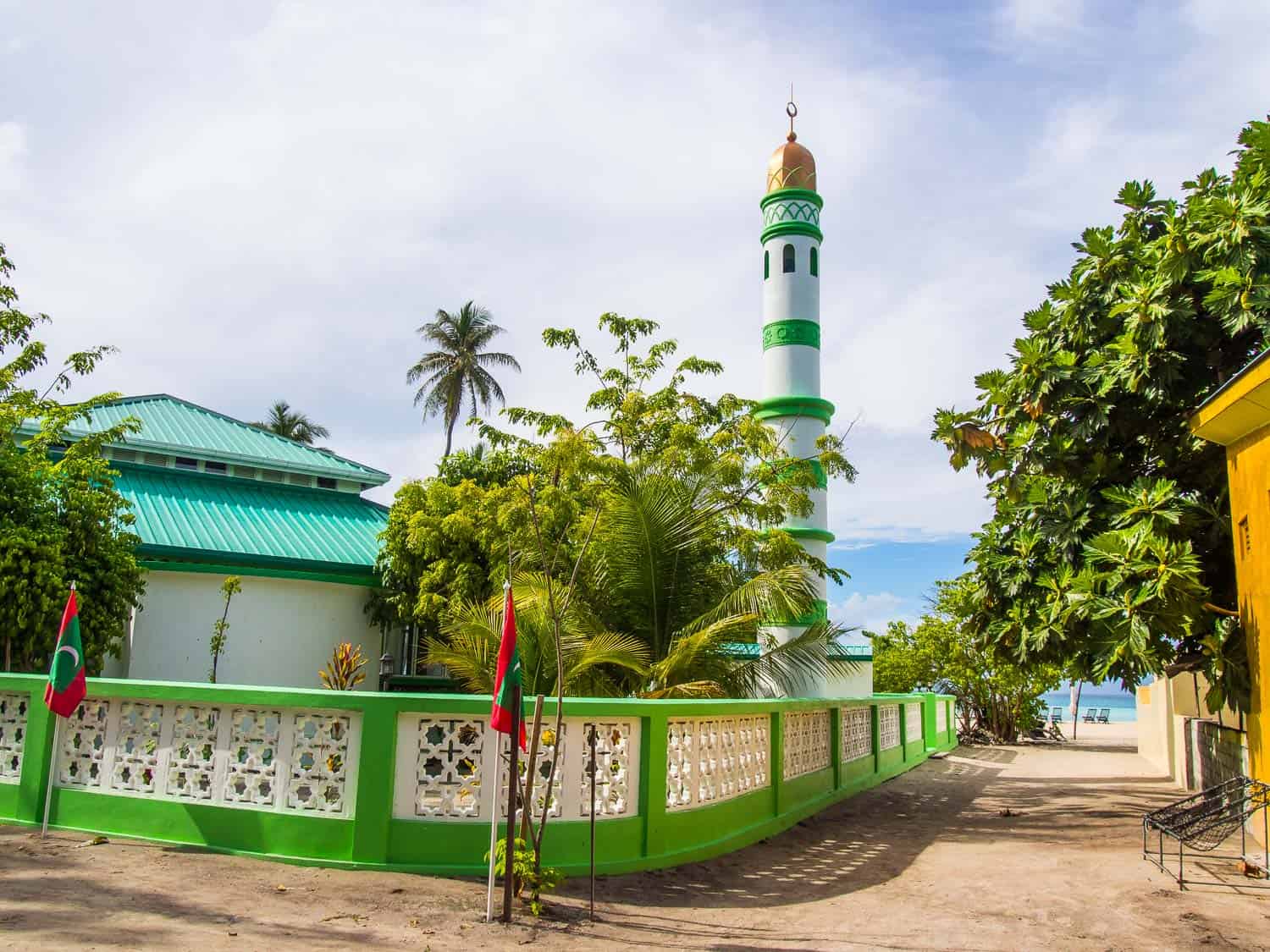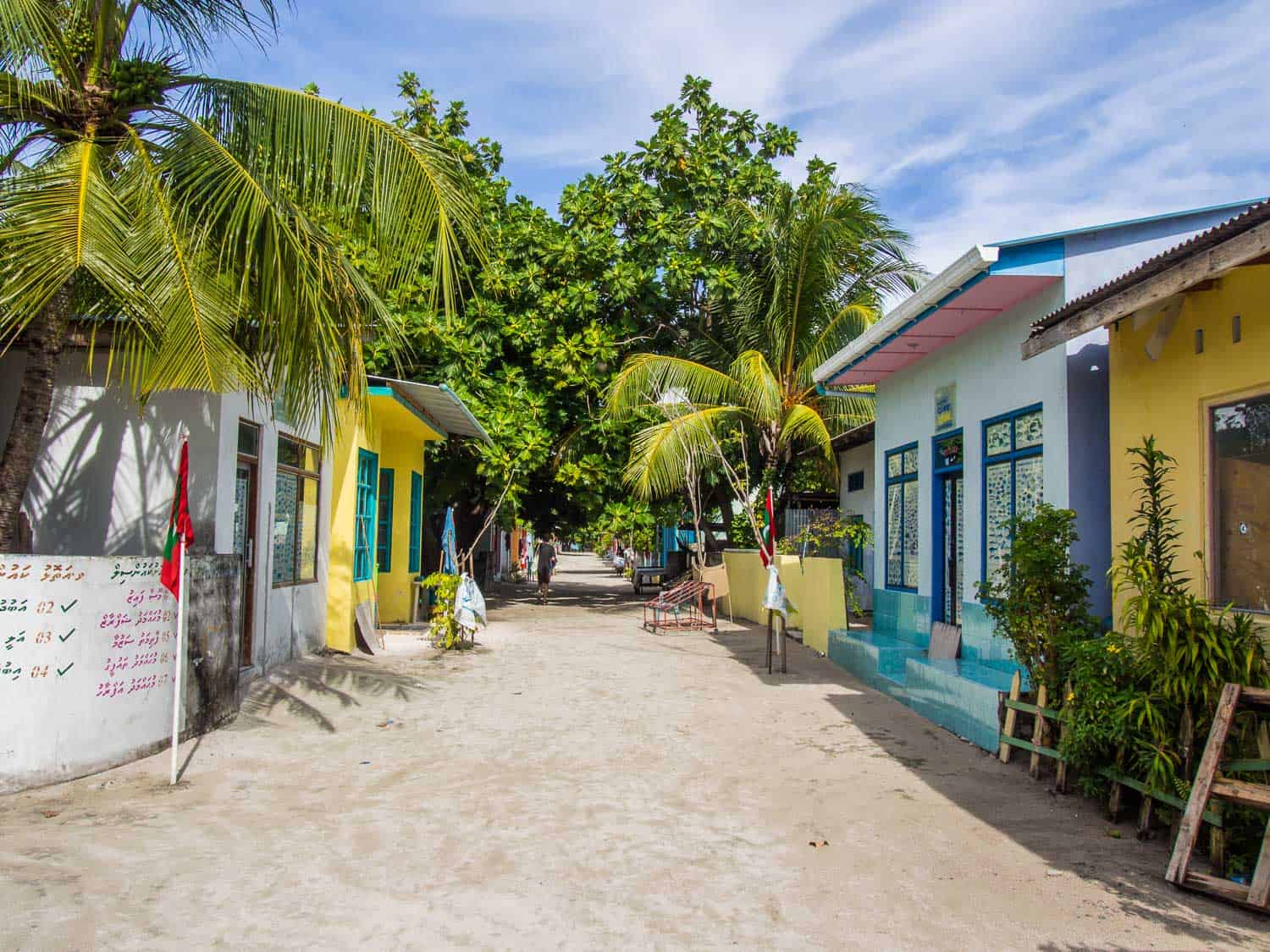 The main beach is gorgeous. Locals relax under banyan trees in upright hammocks and jolie chairs—the Maldivian park benches made from netting. In the early mornings, fishermen paddle out to sea on surfboards and at sunset hundred of crabs scamper in the sand. It's entirely uncommercial with no restaurants or bars—just a local teahouse set back in the trees. It's not a beach for sunbathing, though—Maldivian women swim fully clothed and bikinis would offend the locals.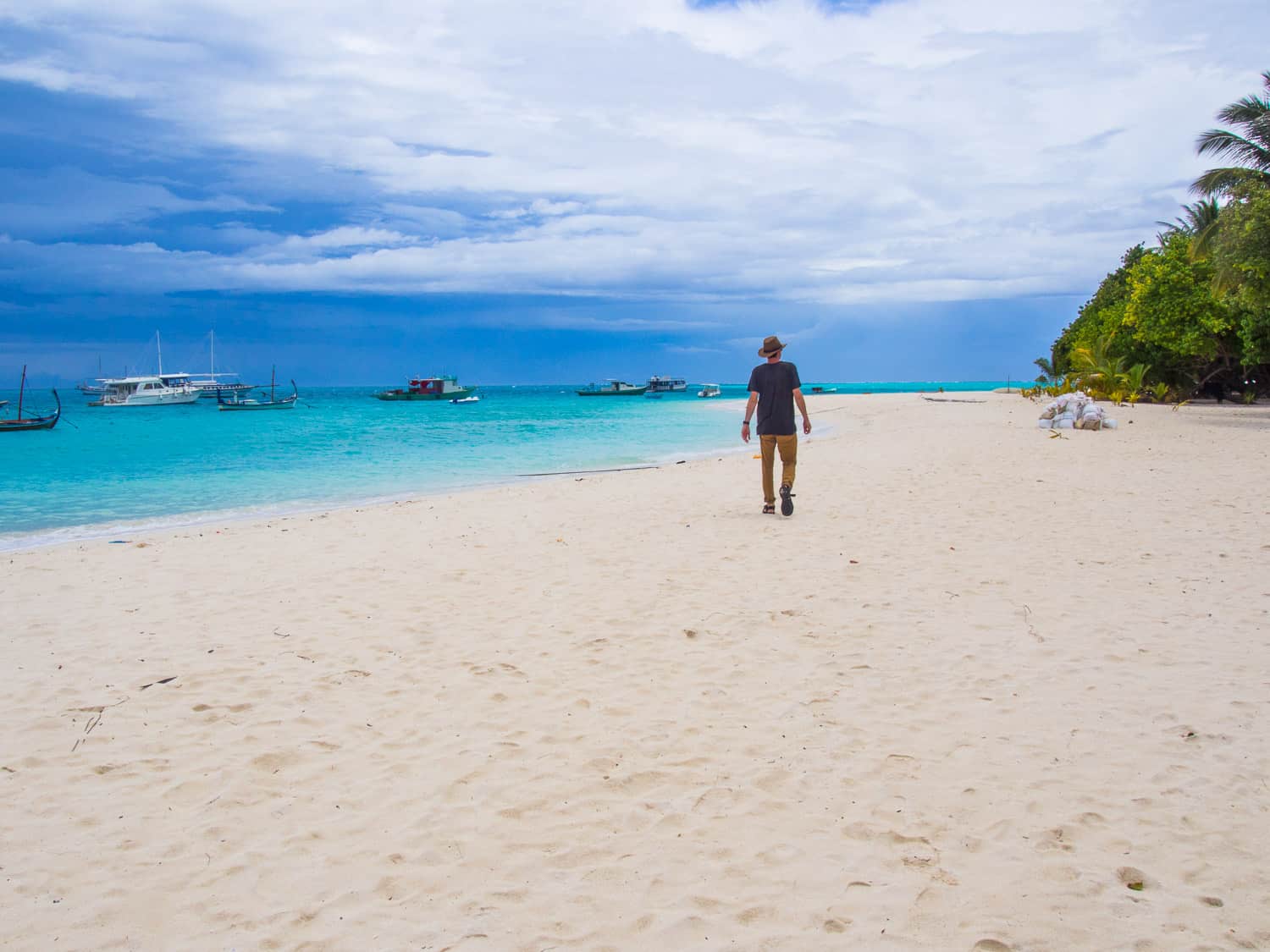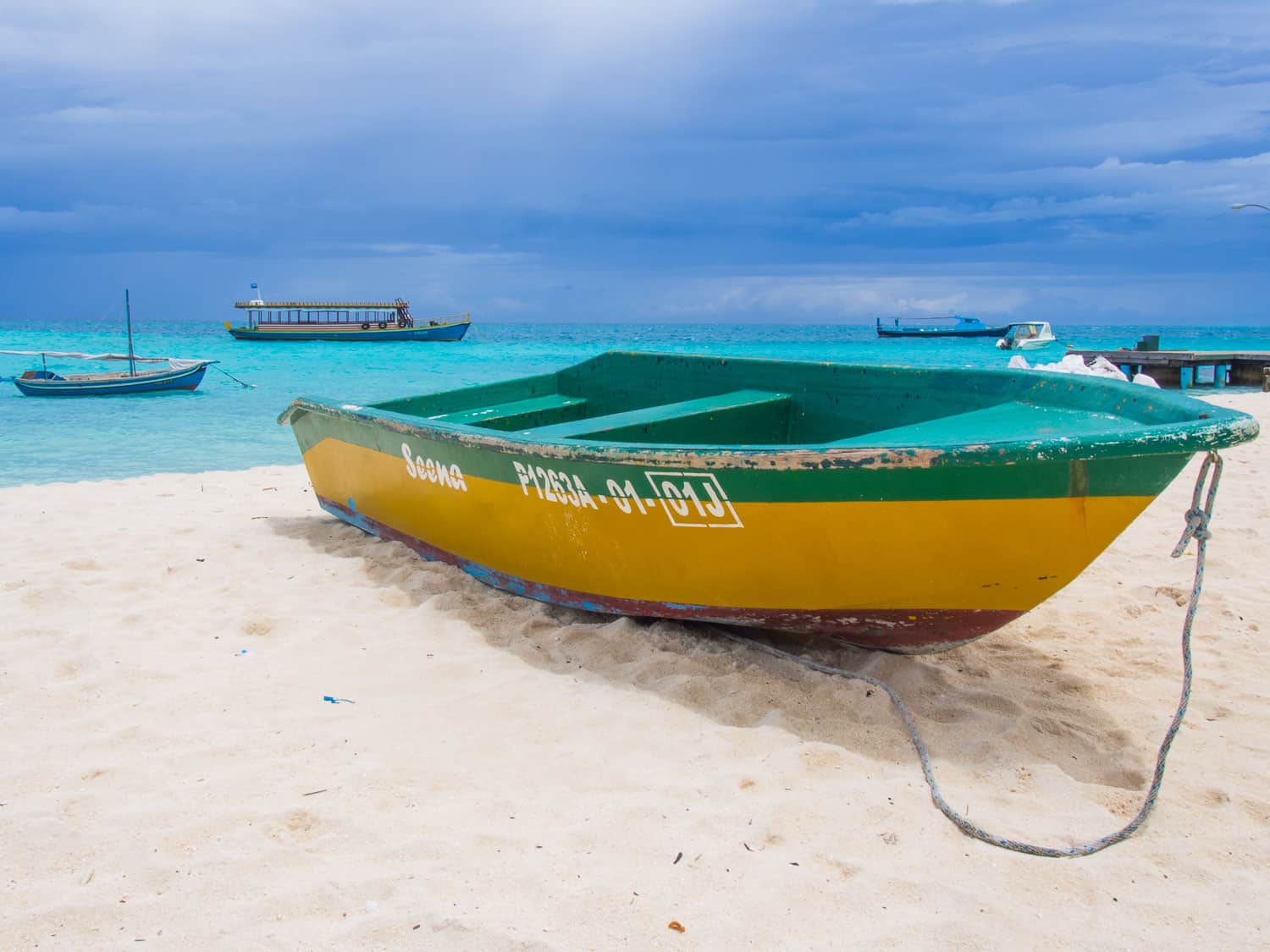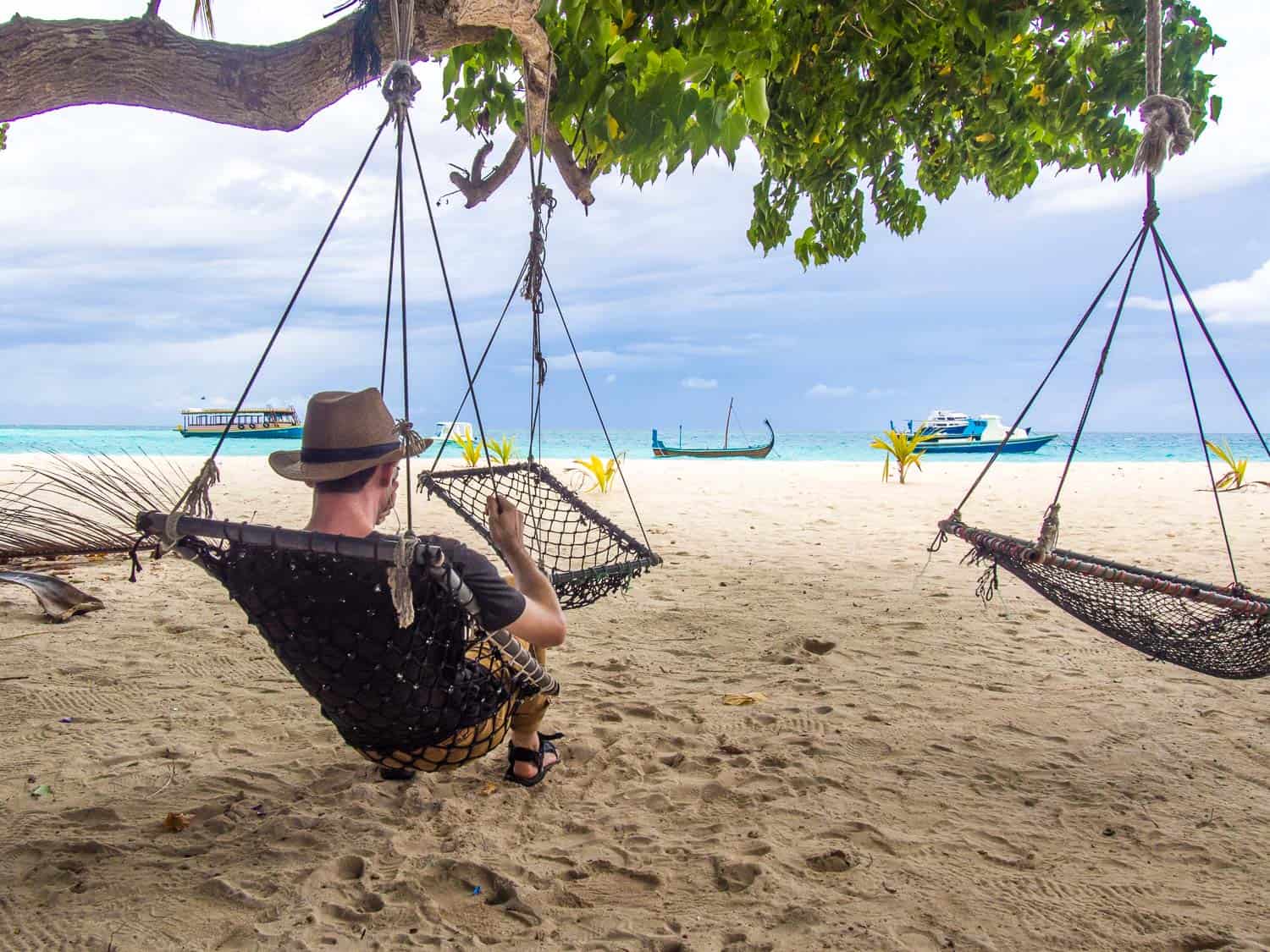 Many of the local islands in the Maldives have got around this problem by setting aside a stretch of "bikini beach" for tourists. On Fulidhoo it's at the far end of the island and is lovely with powdery sand and clear warm water. There's even a shelter for shade and two sun beds. For most our stay we had it entirely to ourselves, only spotting a couple of other tourists at the far end once.
After six years of travel, we're hard to please. Often we find places don't live up to their paradise reputation. Fulidhoo did.
The island isn't pristine. Houses are simple concrete boxes with crumbling paintwork. Some plastic bottles wash up on the beach. New guesthouses are being constructed so it's not as quiet as I imagine it once was.
But we loved it. We loved feeling like we had an island to ourselves. We loved being far away from everything. We loved the mix of local life and stunning beaches. We even loved the lack of restaurants—we ate every meal at our guesthouse, which made things easy.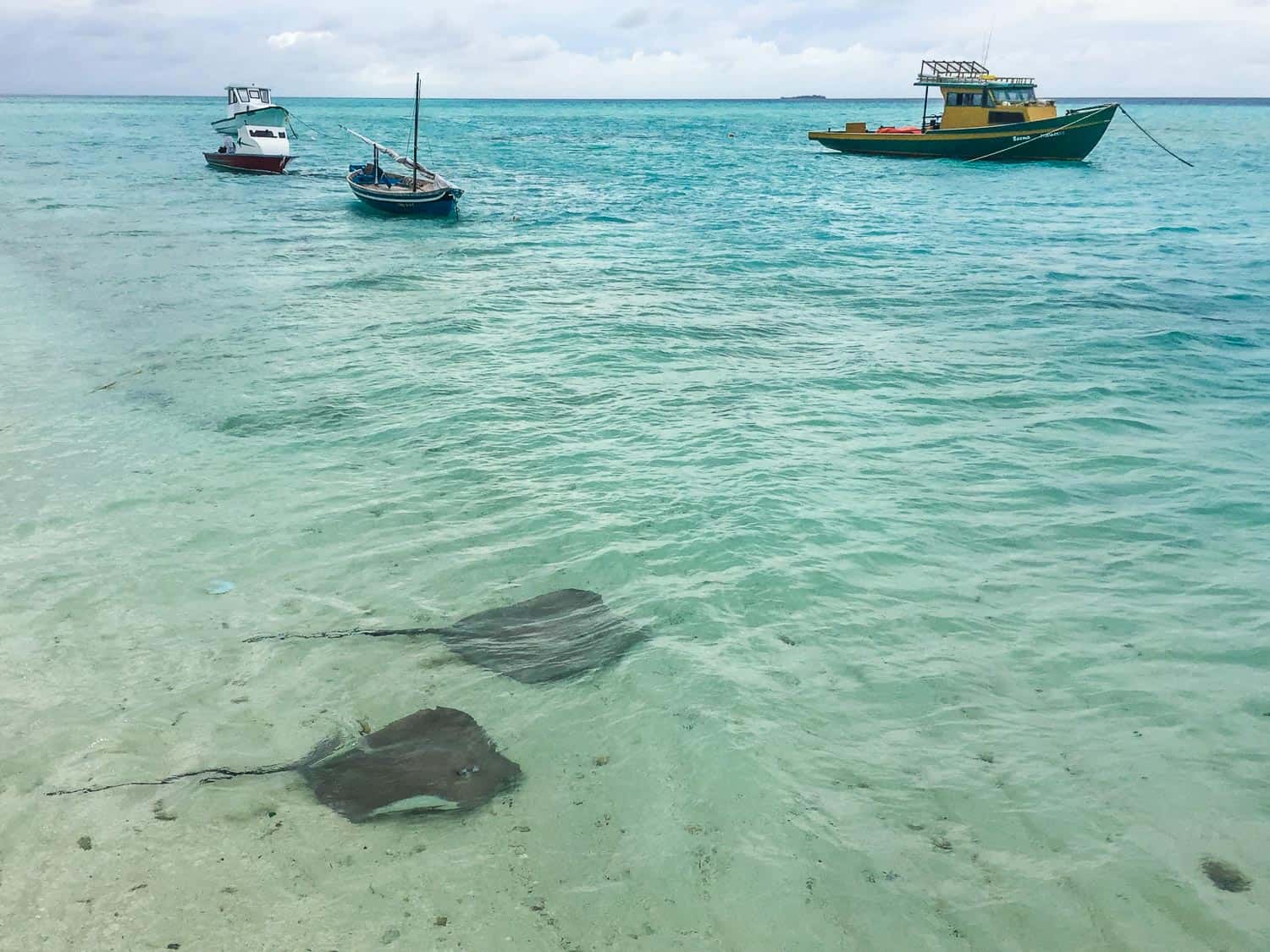 The biggest mistake we made was only booking two nights. We were worried we'd feel isolated on such a tiny island and that the food would be bad. Instead, we felt blissfully relaxed and enjoyed lazy days of walks, swims, and naps. We swung in hammocks and gazed at the ocean. We watched stingrays swim past the jetty. The weather rained on and off during our stay, but it was still one of the most beautiful and relaxing places we've visited. Leaving was painful.
Where to Stay on Fulidhoo
When we were on Fulidhoo at the end of April 2016 there were only two guesthouses, but a few more are due to open soon. We stayed in the cheapest option, Thundi Guesthouse, which we booked on Booking.com for $58.50 a night including 12% tax and 10% service charge (all hotels add these extras). Our room was simple but clean and spacious with a high ceiling, comfortable bed, air conditioning, fan, and desk (no chair). The semi-outdoor ensuite bathroom full of plants was lovely. Shower and beach towels were provided. The only things we missed were a fridge, bedside tables, and a terrace. The WiFi was just OK with 1 Mbps speeds up and down, but we weren't there to work. Like every guesthouse in the Maldives, there's an annoying WiFi login system, so you have to sign in each time.
Outside there's a communal table where meals are served, a sandy garden with hammock chairs, and a small beach just beyond. We were the only guests so it was very quiet.
We ate all our meals at Thundi. The food was better than we expected and they were happy to cater for vegetarians. We had the Maldivian breakfast ($7) with mas huni made with pumpkin instead of tuna and mixed with grated coconut, chile, onion, and lime. It was served with roshi (flatbreads) and fruit. Lunch ($7) was spicy fried noodles with a cabbage and carrot salad. Dinner ($13) was vegetarian curry with rice, salad, fruit, and water. Although prices were higher than we paid on Maafushi (a much more visited island), portions were large, and we found it much easier than eating at a restaurant as we could choose a time to eat without having to order/wait/get the bill etc. There aren't many other options on Fulidhoo anyway, especially for vegetarians.
The staff were very friendly and helpful. They can organise snorkelling and other trips (from $30 per person). You can borrow snorkelling equipment for free, but as the weather was bad we didn't get to try snorkelling off the beach. I wish we'd had longer to do a snorkelling trip, as we weren't impressed with the reef quality on the trip we did from Maafushi. I imagine it's more pristine here as there are far fewer visitors.
Thundi currently only has three rooms, but they are building a separate structure next door with more upmarket rooms with sea views.
How to Get to Fulidhoo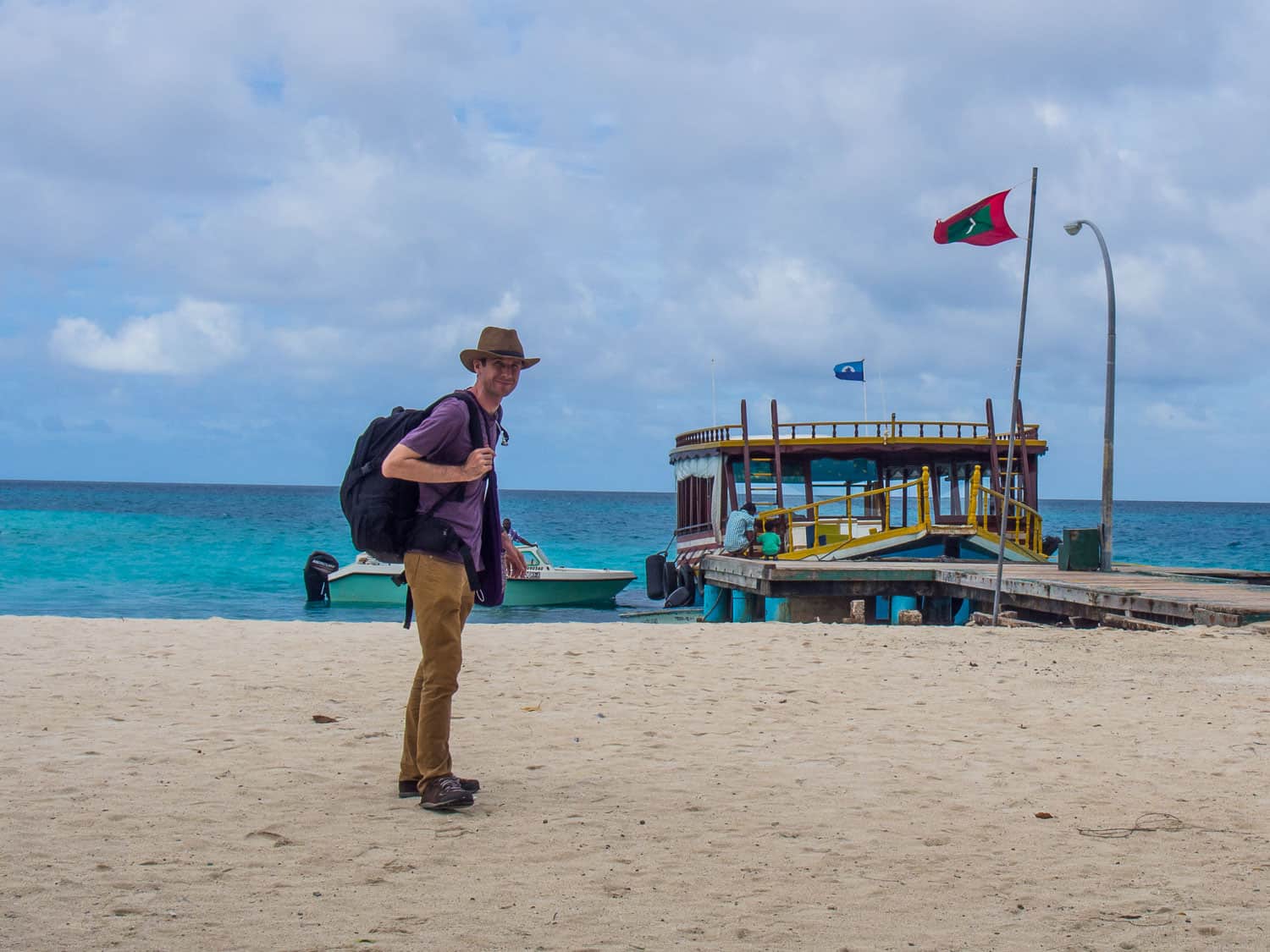 Fulidhoo is in the Vaavu Atoll and can be reached by public ferry from the capital Male. The journey takes 3.5 hours and costs 53 rufiyaa ($3.50). The ferry stops at Maafushi on the way (which we visited after Fulidhoo). There are only three ferries a week. Here's the current schedule, but also see the Atoll Transfer website and check with your guesthouse for up to date times:
Departure from Male (Male – Maafushi – Fulidhoo) – Sunday, Tuesday, and Thursday at 10am (from Maafushi at 11.40am).
Departure from Fulidhoo (Fulidhoo – Maafushi – Male) – Saturday, Monday, and Wednesday at 11am.
We took the Thursday ferry from Male. We heard it can sell out (the weekend starts on Fridays here), so we arrived at the Villingili Ferry Terminal a few hours early. Tickets didn't go on sale for the 10am ferry until 8.15am. Once we bought our tickets we had breakfast at the modern, air-conditioned SeaHouse Brasserie opposite the terminal and bought a SIM card at the Dhiraagu office next door (which opens at 9am). Boarding started 30 minutes before departure and the ferry got very crowded, so it's worth arriving early.
Guesthouses can also arrange a private speedboat for $250 from Male (one hour) or $60 from Maafushi (30 minutes).
A Few Things to Remember
There are no ATMs so bring plenty of cash. The guesthouses prefer you to pay with US dollars, but they allowed us to pay with a mix of Maldivian rufiyaa and dollars. You can also use dollars in the shops, but you'll get a better price with local currency.
Women should dress modestly (cover their shoulders and knees) when walking around the island. Swimwear is only allowed on bikini beach.
As on all local islands, alcohol is not available.
We visited at the start of the low season (end of April), so visitor numbers were lower than in the December to March high season. Although our two days on Fulidhoo were rainy, I think we got unlucky as it was sunny for the rest of our stay in the Maldives.
Fulidhoo was everything we wanted from a Maldivian local island experience—gorgeous beaches, peaceful atmosphere, friendly people, and easy access from Male. We much preferred it to Maafushi (which is developing rapidly) and wished we'd stayed longer. If you'd like to experience local life in the Maldives on a budget, we highly recommend this paradise island.
See our detailed guide to planning a trip to the Maldives for more on how to travel the country on a budget.
If you enjoyed this post, pin it!
You are read more about Fulidhoo on Never Ending Footsteps (who inspired our visit).