This page contains affiliate links. Please read our disclosure for more info.
To celebrate the launch of my new book, The Carry-On Traveller: The Ultimate Guide to Packing Light, I started this interview series with other travellers who also travel with just carry-on luggage.
Amanda Burger is a solo full-time traveller, vegan, and housesitter who runs the Burger Abroad blog. She has one of the most impressive carry-on packing lists I've seen and travels with a tiny backpack that fits under airline seats and weighs just 5 kg.
1) Where have you travelled with just a carry-on and how long for?
I've traveled (and lived) carry-on only for over two years now. I've traveled through the US, Mexico, Iceland, Ireland, Northern Ireland, Scotland, England, France, The Netherlands, Switzerland, Italy, Austria, Germany, Greece, and Turkey.
2) What are the advantages and disadvantages of travelling with a carry-on? Do you think it's worth it?
Traveling carry-on only is nothing but advantageous all across the board. It's lighter, easier and cheaper.
3) What luggage do you use and what do you like or don't like about it?
I currently use a Lite Gear Mobile Pro backpack. I like it because it has dedicated compartments for all my devices, and an expandable main compartment if I ever need extra room.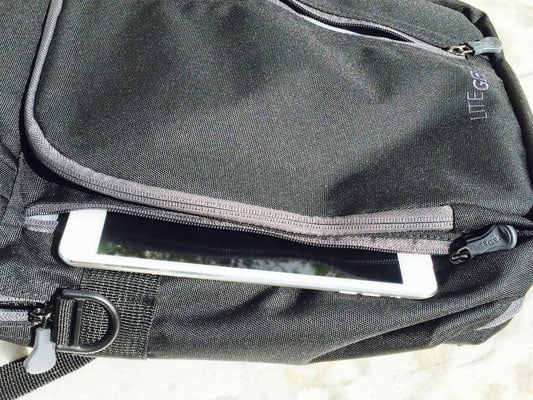 4) Do you travel with a day bag in addition to your main carry-on?
No, I don't have a day bag. On travel days, I carry the backpack and on non-travel days, I don't carry anything. I like to be free.
5) How do you manage to keep your luggage weight so low (just 5 kg)?
I have about 15 pieces of clothing, 3 pairs of shoes, and a MacBook, iPad, and iPhone. All this, and the bag, all very easily weigh in at under 5 kg.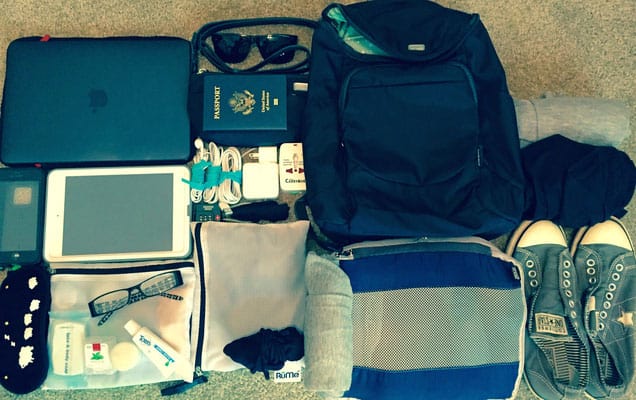 6) Have you travelled in cold weather and how did you pack for it?
Yes, I mostly travel in cold weather since I love Iceland and Holland and spend a lot of time there. Layering is the best way to dress for cold weather (or any weather, really). When chilly, I have a sweater, jacket, boots and scarf that I throw on to beat any wind, rain or snow.
7) What clothes and shoes do you travel with? Are there any particular brands or fabrics that you recommend?
I currently own flip flops, walking shoes and boots, in addition to my clothing. I'm not picky about brands; I like to purchase second-hand and aim for organic materials if possible. One brand that I do highly recommend is Vegetarian Shoes. It's an awesome cruelty-free shoe shop that carries tons of styles and ships worldwide.
8) How do you manage the liquids rule on flights? Does it limit the toiletries you pack?
I don't travel with any liquids. It's too much of a pain and ultimately not worth it, especially going through airport security. You can easily purchase liquids if you need them. The only basics I carry are toothpaste and deodorant, neither of which are liquid, and I can always stay fresh and clean.
9) What technology do you pack?
I own a 12-inch MacBook, an iPad mini, and an iPhone 6. They're all super lightweight and automatically and wirelessly sync with each other.
10) Do you travel with any luxury items?
No, I don't. Everything that I own serves a purpose (or two!). Every now and then I'll pick up a paperback book to read but then I'll donate it when I'm done.
11) Did you pack anything that you regretted or got rid of?
If I ever feel an item is no longer needed, then I just donate it to a Salvation Army type place wherever I happen to be.
12) How do you organise your things in your luggage? Do you have any tips for maximising space?
One of the best aspects of traveling light is you don't have tons of stuff that needs organizing. All my gadgets have dedicated pockets in my bag. I roll my clothes and I always pack small things like socks and underwear inside of shoes to maximize space.
13) Do you have any other tips for packing light? Any other useful items you recommend?
The best tip for packing light is to always bring less than you think you'll need. The most useful item that I recommend is a buff headband. It's light, small, easy to pack and can be used so many different ways – headband, hoodie, eye mask, neck scarf, wristband, pillowcase, towel, and more. I use mine every day.
You can follow Amanda's travels at Burger Abroad and on Twitter and Instagram.
If you'd like to learn more about how to travel carry-on only (and read more interviews like this one), see my book, The Carry-On Traveller: The Ultimate Guide to Packing Light, which is available for the Kindle on Amazon US.