This page contains affiliate links. Please read our disclosure for more info.
The Maldives used to be the preserve of honeymooners and the rich who could afford to pay thousands of dollars to stay at a luxurious resort. This changed in 2009 when restrictions on foreigners were lifted—locals could build guesthouses and visitors were allowed to visit inhabited islands (not just resort islands). While the Maldives is not as cheap as India or SE Asia, it is possible to enjoy some of the best beaches in the world on an affordable budget.
We spent two weeks in the Maldives at the start of the low season at the end of April/early May. Our first week was spent on the local islands of Male, Fulidhoo, and Maafushi, and these are the costs I've detailed below. Our final week was spent seeing another side to the country on Reethi Beach Resort, an uninhabited resort island. If you want to splurge on a resort, I've included the costs at the end of this post. We loved the combination of local and resort islands.
Note that staying on local islands has some downsides—alcohol is not available and women can only wear bikinis on designated "bikini beaches". I'll be writing more about this in my next post on planning a trip to the Maldives, and you can also read about our stay on Fulidhoo.
Accommodation, activities, and some restaurants in the Maldives are quoted in US dollars. You can usually pay in dollars or Maldivian rufiyaa. Almost everything has an additional tax (12%) and service charge (10%) added to the quoted prices.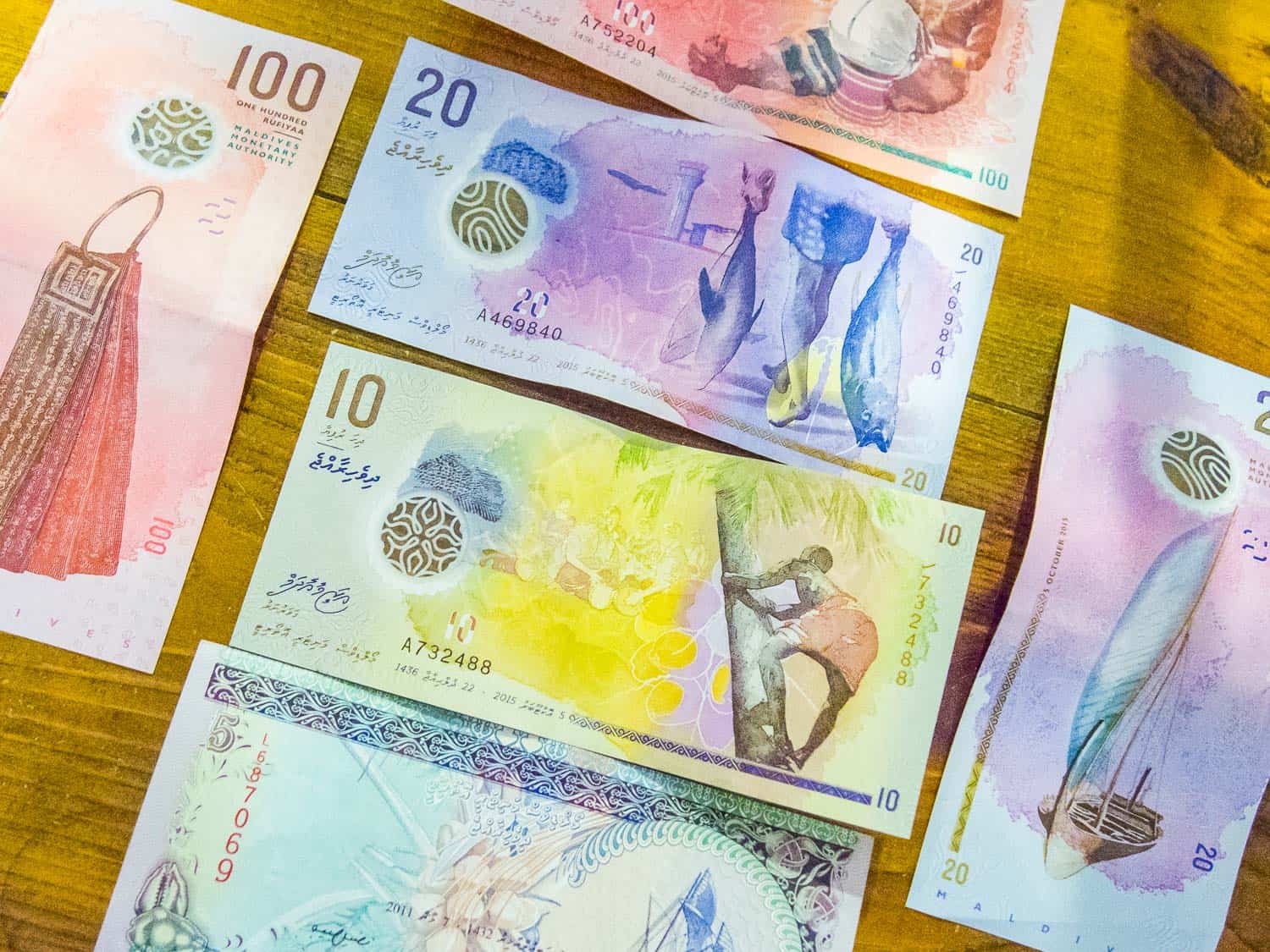 As always, we tracked our expenses using our travel budget iPhone app Trail Wallet (update: after 10 years, Trail Wallet is sadly no longer available). The summary screen displays our trip costs in our home (British pounds) and (with a tap of the screen) local currencies (US dollars and Maldivian rufiyaa).
Here's the total amount we spent for two people during our first week in the Maldives:
Our average daily spend was £81/ $119 which is £41/ $60 per person. Here's what we spent it on:
Accommodation
50% of total. £40/ $60 a day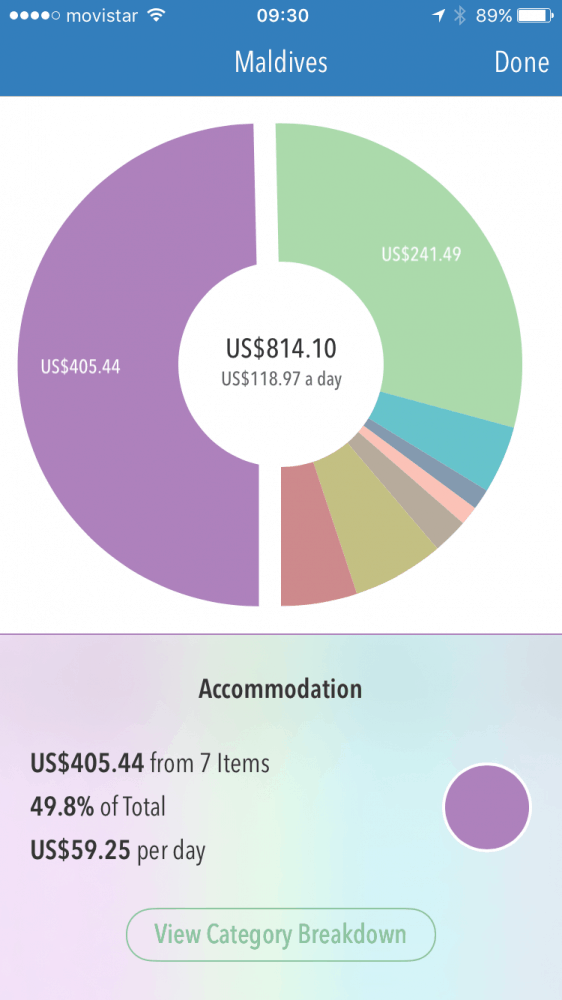 All guesthouses in the Maldives are of a fairly high standard. You won't find any cheap beach bungalows or dorm rooms. We stayed in double rooms that always had an ensuite, air conditioning, hot water, and WiFi. Sometimes we had a fridge and desk.
We booked all our accommodation on Booking.com. Our favourite was Thundi Guesthouse ($58.50 incl tax) on Fulidhoo. We were the only guests and loved the friendly staff and home cooked meals.
Maafushi is the cheapest island as it has the most competition and is growing rapidly. I saw places from $38++ a night, but we ended up choosing Isle Beach Inn for its location across the road from the beach, which cost $54 (including tax/service) a night. It wasn't as spacious as Thundi, but it was comfortable and the staff were nice.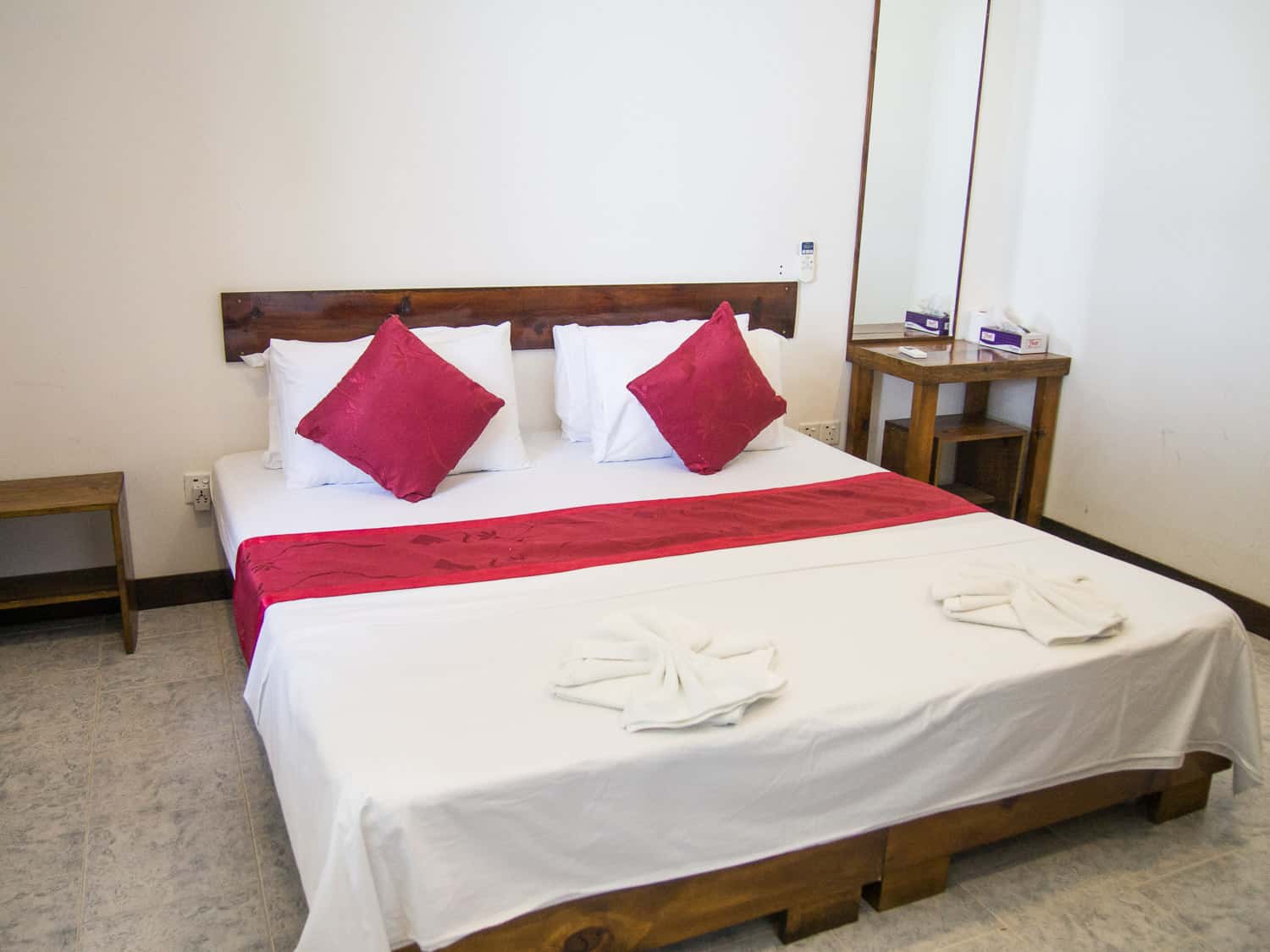 Our most expensive guesthouse was on Male, the capital island. We only spent a night here as we arrived late and had a morning ferry to Fulidhoo. House Clover was $73 a night and was fine for a night.
Food
37% of total. £29.67/ $43.69 a day
This includes our eating out, food shopping, drinking water, and coffee budgets. As we didn't have access to a kitchen we ate out for every meal and also bought some snacks.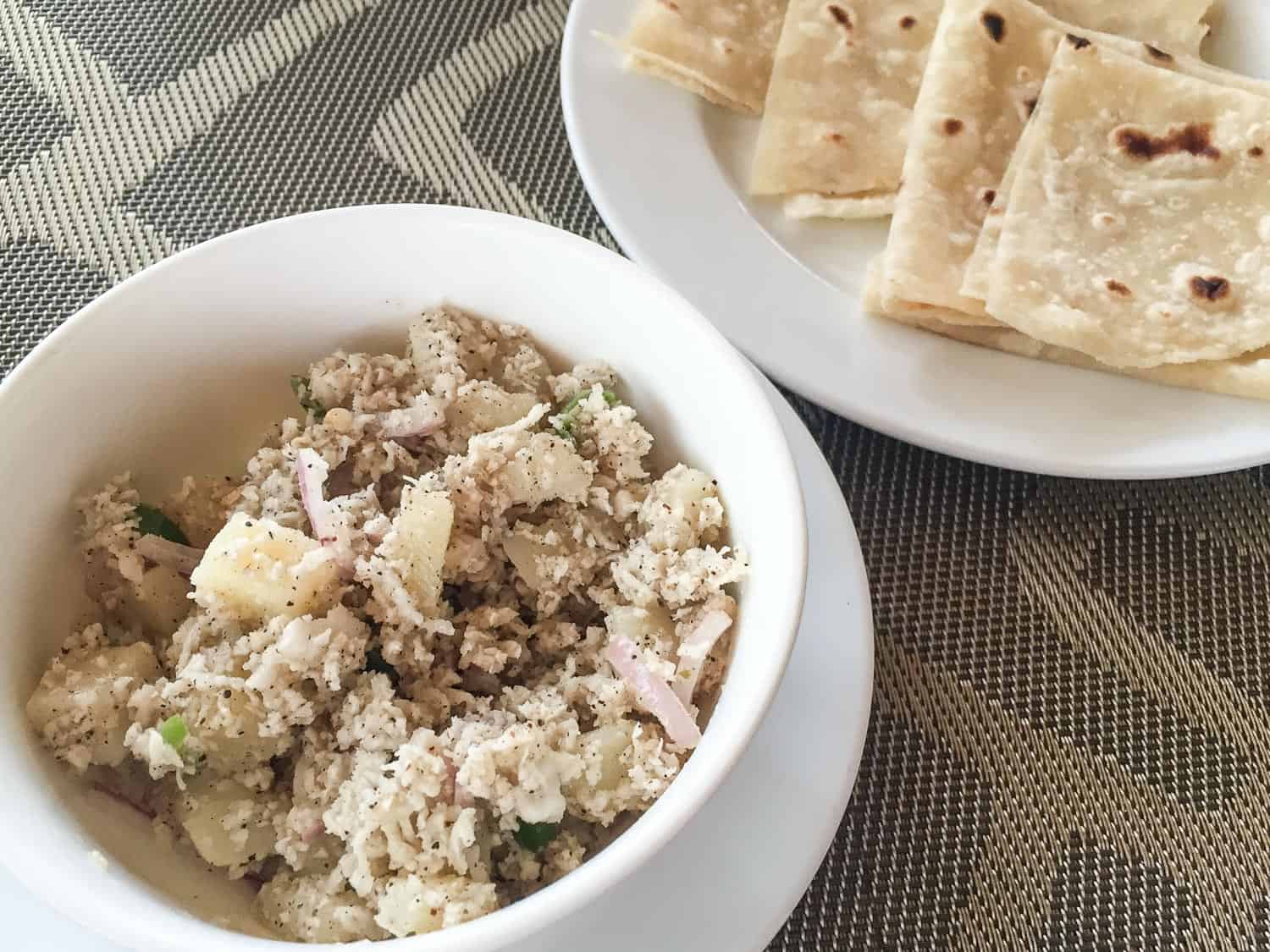 We ate at our guesthouse most of the time as restaurants on the local islands are limited. On Maafushi, a main course costs $5-10. We usually paid $15 for two curries and rice at our guesthouse. We did spend more a couple of times at the bigger hotels—it cost $40 for three courses (starter and dessert shared) of Western dishes, but the food wasn't great so we stuck to curry after that. At the Fine Bake bakery on Maafushi a samosa or cake costs 25-35 MVR ($1.60-2.30).
A small water in restaurants is $1. A large water in shops is 8-10 MVR (around $0.50). A juice in restaurants is $3.
Food on Fulidhoo was more expensive as we had no choice but our guesthouse. Lunch and breakfast were $7 pp and dinner was $13 pp.
The cheapest place to eat in the Maldives is in local cafes where you can get short eats (snacks). These are usually made from fish, so as vegetarians, we didn't try them.
Transport
2.4% of total. £1.89/ $2.79 a day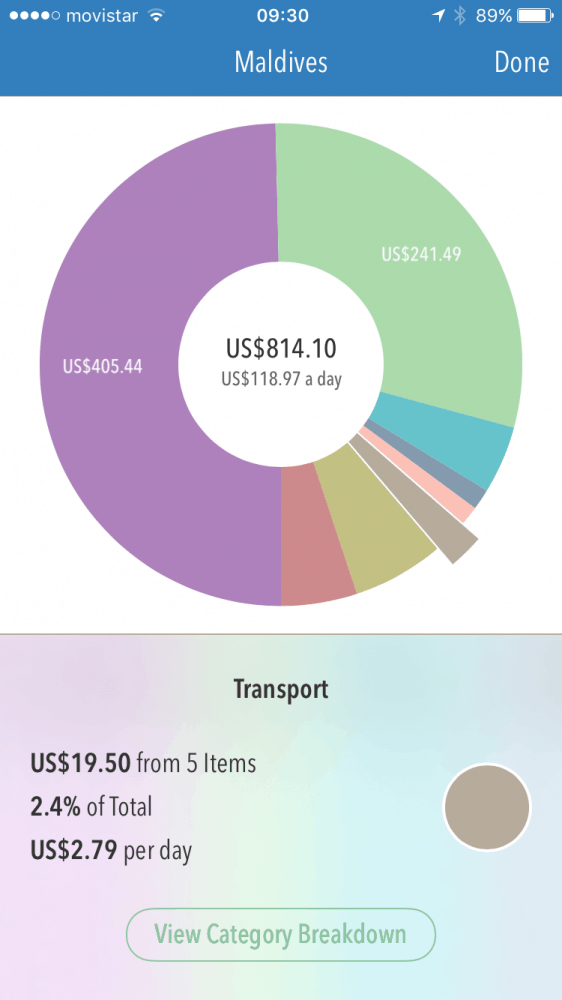 Ferries between local islands are cheap. We paid 54 MVR ($3.50) per person for the trips from Male-Fulidhoo and Fulidhoo-Maafushi.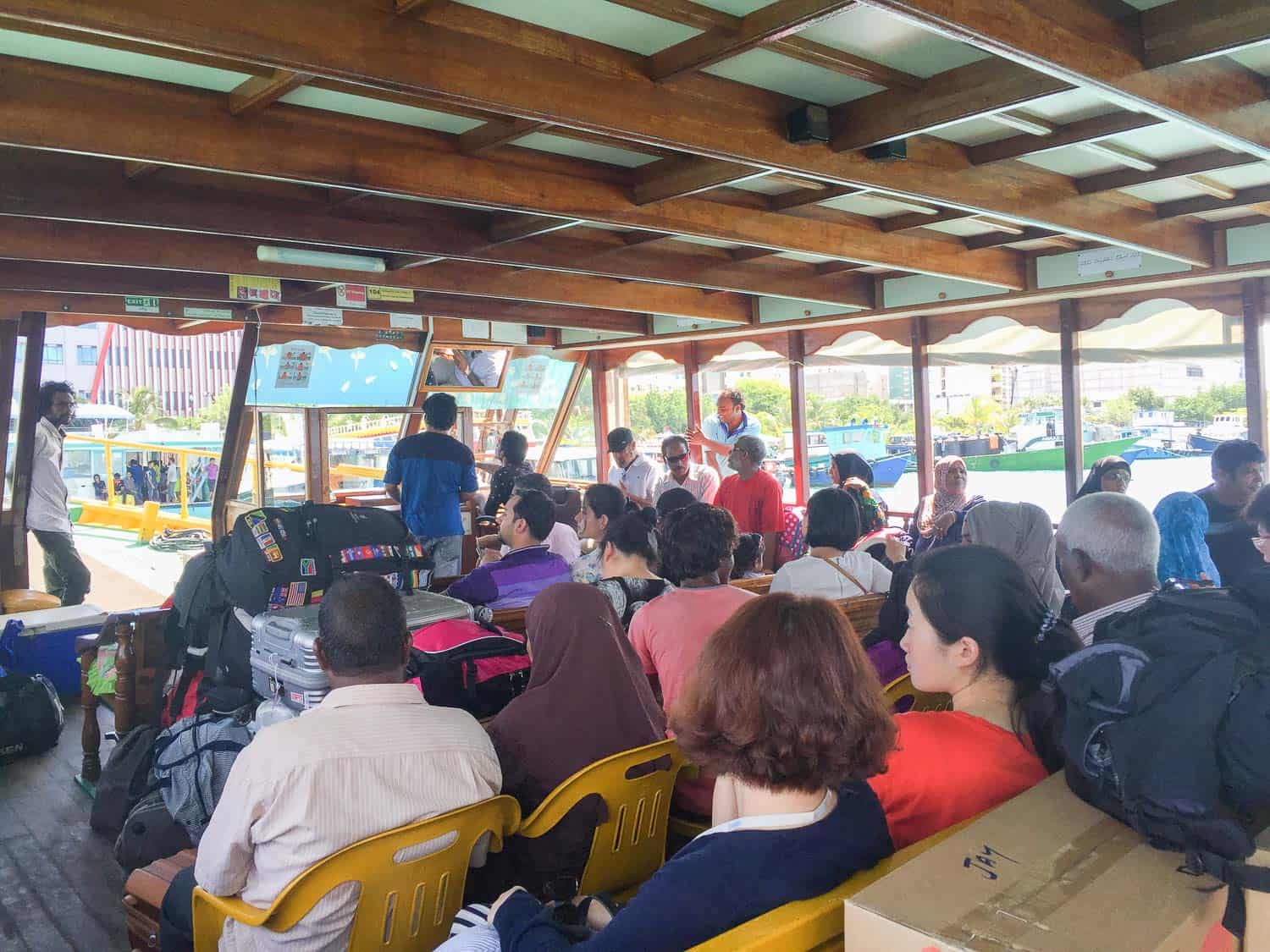 On our return from Maafushi to Male, we splurged on a shared speedboat for $20 per person. This was more comfortable and quicker (30 minutes rather than 1.5 hours, and it takes you direct to the airport rather than having to change in Male).
Most islands are tiny so you can walk everywhere. A taxi in Male costs 25 MVR ($1.60).
Entertainment
6% of total. £4.96/ $7.31 a day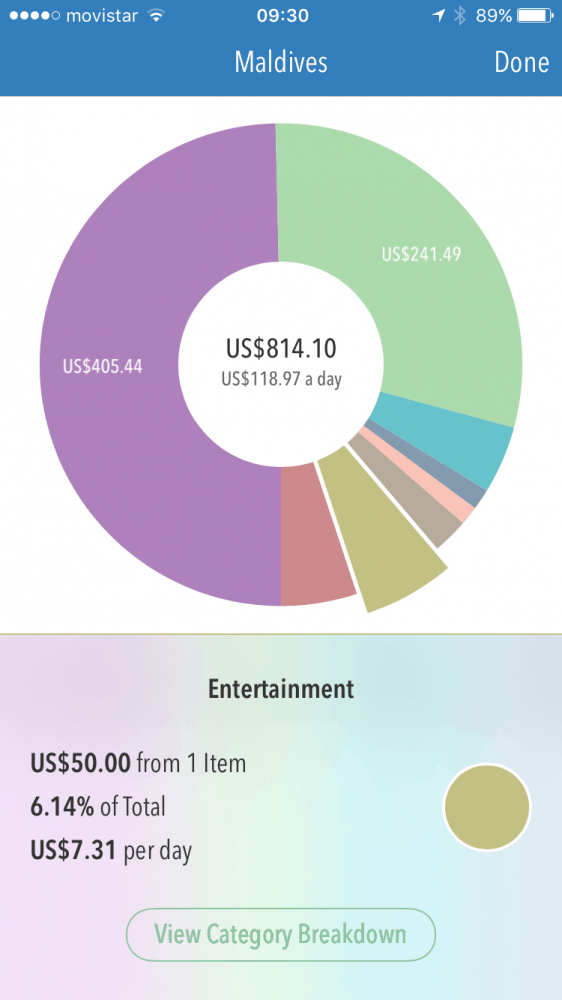 We didn't spend much on entertainment as our guesthouses provided snorkelling gear for free and lazing on the beach cost nothing. Our only expense was a half day snorkelling trip including lunch for $25 each with Crystal Sands Hotel on Maafushi.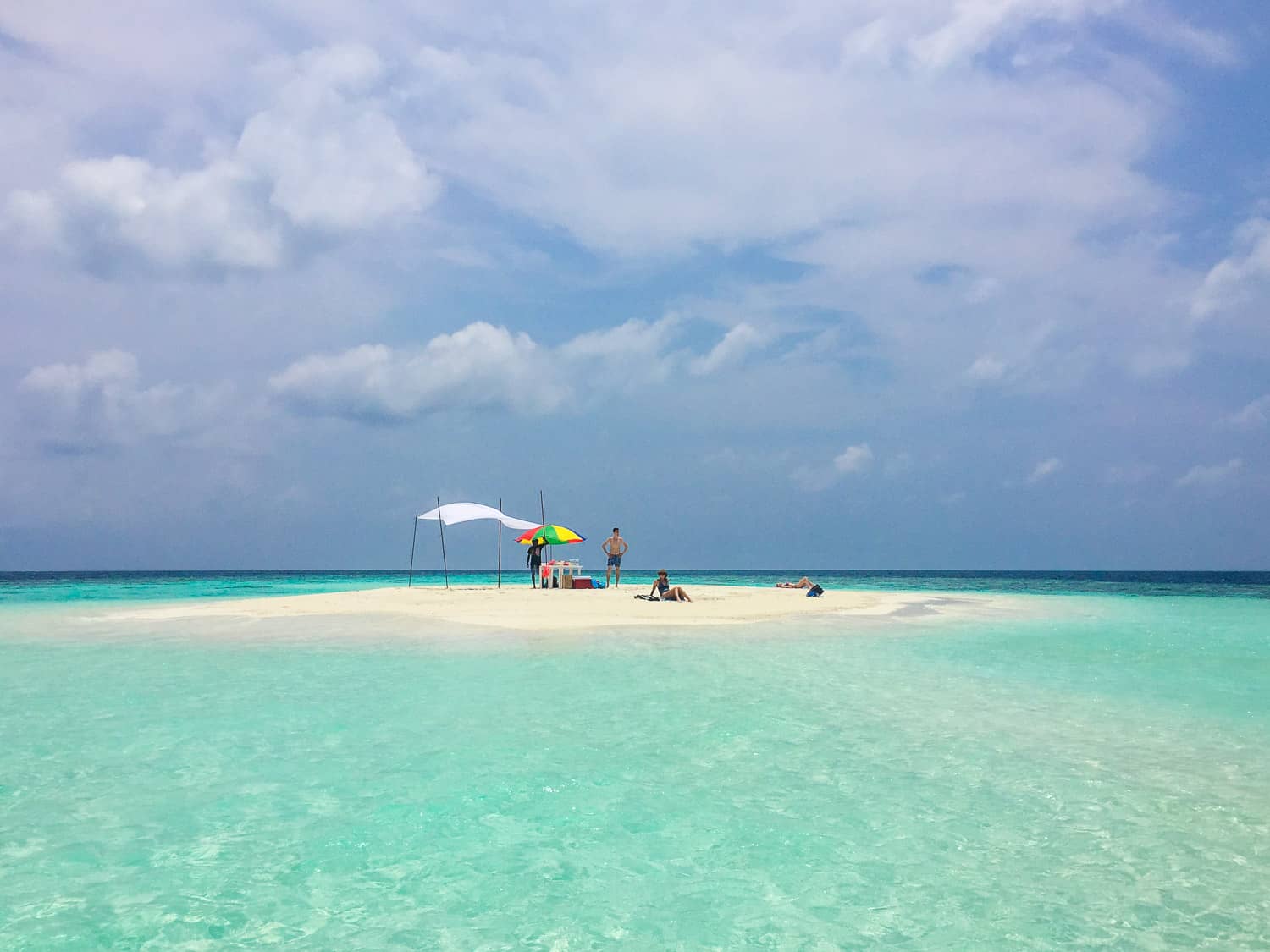 Maafushi is the cheapest place for activities. You can shop around at the guesthouses and try to negotiate, especially if you find other people to join your group. Other popular activities are diving (from $40 per dive), trips to a sandbank and picnic island, and resort visits. If we hadn't been going to a resort next, we would likely have spent more on activities.
Miscellaneous
5% of total. £4/ $6 a day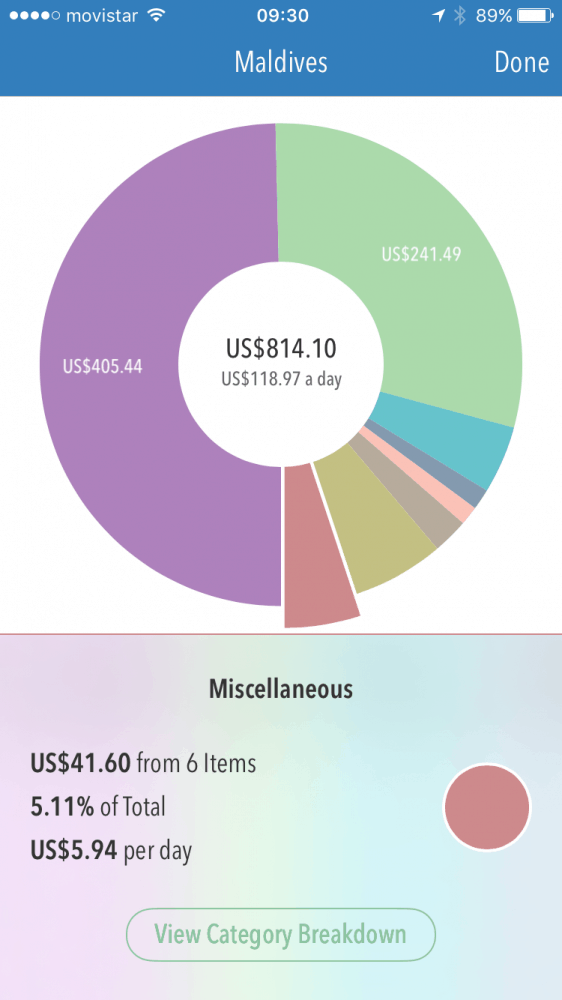 We bought a Dhiraagu SIM card and 2 GB data plan for 268 MVR ($17.40).
We also bought some toiletries, sun cream, and left tips at our guesthouses.
Getting to the Maldives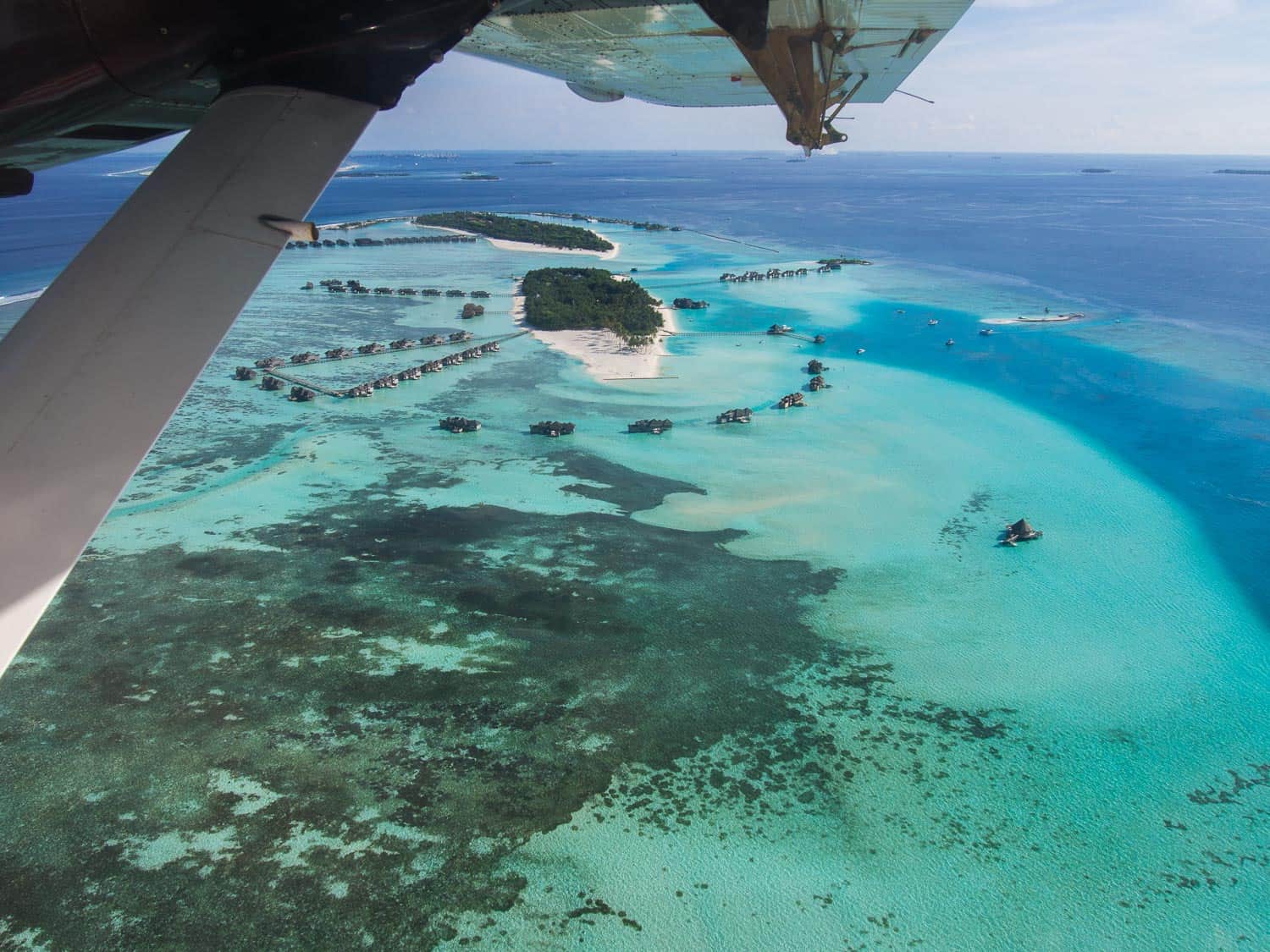 Our transport costs above don't include the cost of getting to the Maldives. We arrived from Singapore on Tiger Air, which cost £100 ($147) each booking two weeks in advance. You can get cheaper deals if you book ahead. Air Asia also has cheap flights from Kuala Lumpur. Sri Lanka and India are even closer so you might be able to find good deals from there.
When we left the Maldives we flew on Aeroflot via Moscow to Barcelona, which cost £375 ($550) each. I also saw some cheap deals to Europe on Condor (to Frankfurt) and Neos (to Milan), but they only have one flight a week.
I used Kiwi.com to find the cheapest flights.
Maldives Resort Costs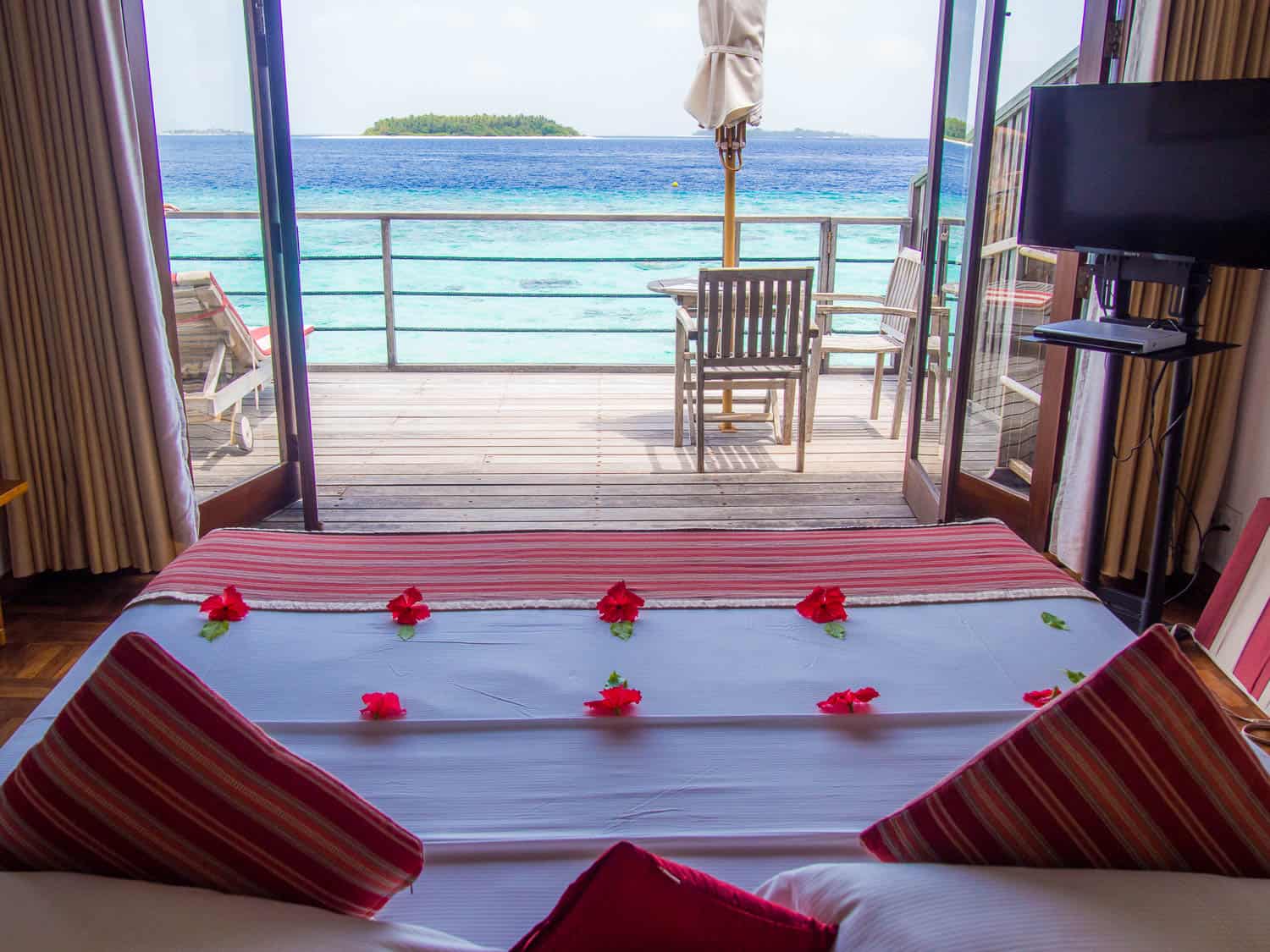 The second half of our trip was six days at Reethi Beach Resort in the Baa Atoll. Our trip was partially sponsored, but we pay for three nights ourselves plus most food, drinks, and activities. If we had paid for the whole trip, this is what it would have cost for two people:
Water villa including breakfast $256 a night
Half board (dinner buffet) $92 a night
Lunch, water, drinks $70 per day
Dolphin safari $197
Seaplane from Male (return) $916
Total for six nights: $3621 = $600 a day ($300 per person)
You could reduce this rate by staying in a standard villa ($126), choosing room only (eating dinner in the restaurants can be cheaper than half board), and taking a domestic flight rather than a seaplane. I break down the costs in more detail in my Reethi Beach Resort review.
Reethi Beach is actually one of the most affordable luxury resorts in the Maldives and was the cheapest overwater villa I found. Many cost $1000+ a night. Unfortunately, as Reethi Beach is more remote it costs a lot to get there (the seaplane trip is amazing though!).
Although it's much more expensive than staying on a local island, we do think it's worth it for a special treat. It was a decadently relaxing stay on a paradise island. The beaches were more pristine than on local islands, the snorkelling was much better, and we loved the stress-free experience of a resort. Of course, you are also cut off from local life. We're glad we were able to experience both local and resort islands.
Even if you can't afford a fancy resort, the Maldives can be visited on $60 a day by staying in guesthouses on local islands and travelling by ferry. It's one of the most stunning countries we've visited, and if you are a beach lover, it's definitely worth a visit.
See our detailed guide to planning a trip to the Maldives for help with planning your trip.
If you enjoyed this post, pin it!