This page contains affiliate links. Please read our disclosure for more info.
Tokyo is one of the foodie capitals of the world, but it doesn't have the best reputation for vegetarians. It's true that if you wander into a random restaurant you'll struggle to avoid meat and fish, but with a little planning you can find amazing vegetarian food in Tokyo.
The food is a highlight of Tokyo for us and the quality is outstanding from high-end restaurants to simple ramen shops.
Most guides to vegetarian restaurants in Tokyo focus on westernised places serving veggie burgers, salads, and smoothies. But Japanese food is so delicious that we always want to eat as much of the national cuisine as possible.
On our last few trips to Tokyo we made it our mission to find the best vegetarian-friendly Japanese food in Tokyo whether that was at vegan cafes or traditional Japanese restaurants that specialise in one type of cuisine.
The vegetarian scene has grown hugely in recent years and there are now so many tasty veggie eats in Tokyo if you know where to look.
This post was originally published in October 2017 and last updated in 2021.
Contents
The current exchange rate is approximately 1 USD = 108 yen and 1 GBP = 154 yen.
Video: Tokyo Inspiration
Check out our video for ideas on fun things to do in Tokyo.
Where to Stay in Tokyo for Vegetarians and Vegans
I think Shinjuku and Shibuya are the best areas to stay in Tokyo for vegetarians. It makes life much easier being in walking distance of some vegetarian-friendly restaurants as you don't always want to trek across the city after a long day sightseeing.
Shinjuku is our favourite area. There's a major station, beautiful park, a number of attractions, and we preferred the veggie restaurants here compared to Shibuya (where they are more expensive and westernised). See our guide to the best things to do in Shinjuku.
I also recommend staying in an apartment or a hostel with a kitchen so that you'll have the option to prepare some of your own meals. Even being able to boil water for some T's Tantan instant ramen makes life easier when you just want a quick meal.
There are plenty of apartment rentals in Tokyo and they are often cheaper than a hotel room.
Search for apartments in Shinjuku here.
Vegetarian Tokyo Map
Vegan Ramen in Tokyo
Ramen in Japan is almost always made with pork or fish broth so we didn't have any on our first visit in 2011. Happily, there are now a few options for vegan ramen in Tokyo and it was fantastic being able to try this classic dish which makes a tasty, inexpensive, and quick meal.
1) T's Tantan (TOP PICK)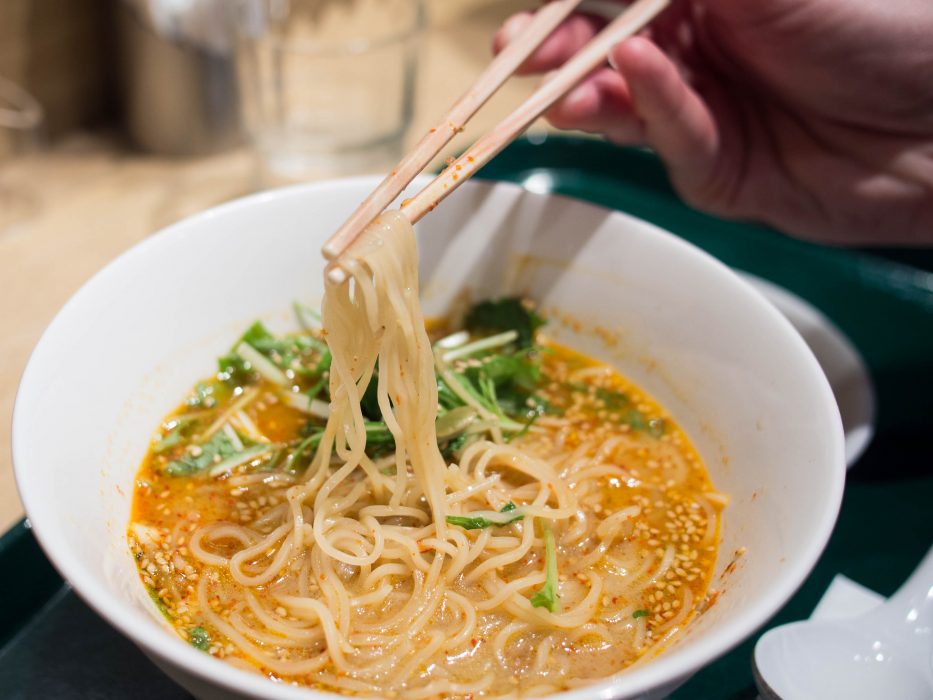 T's Tantan is an entirely vegan ramen restaurant in Tokyo Station! This is so convenient if you are passing through the massive station where many of the city's local trains and bullet trains around the country depart.
There are many different ramen choices including white, black or gold sesame, shoyu (soy sauce), tonkotsu, and mapo tofu. We had the mapo on our latest visit and found it nicely spicy, full of flavour, and packed with greens.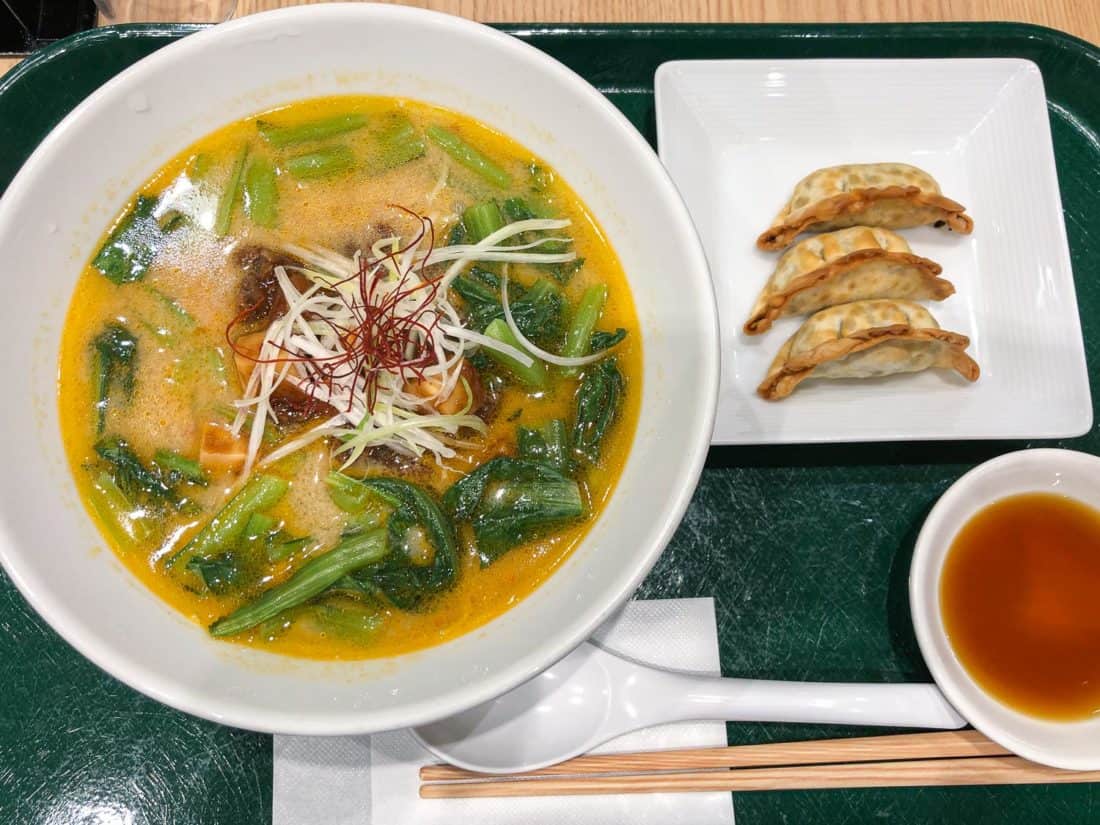 All the ramen contain soy meat, which we're not fans of, but they are small, rather innocuous chunks that didn't bother us.
The gyoza are good too, so it's worth getting a set that includes them.
We always buy some of their instant ramen pots to take away for a cheap, easy meal on another day.
Cost for a Main Dish: 850-950 yen for ramen (300 yen extra to add gyoza).
Details: Keiyo Street food hall in JR Tokyo Station. Follow signs for the Keiyo line. 7 am – 10.30 pm every day (limited menu before 11 am).
Website: Happy Cow listing.
2) Shinjuku Gyoen Ramen Ouka (CLOSED)
Update: Sadly, Shinjuku Gyoen Ramen Ouka closed in October 2020.
Shinjuku Gyoen Ramen Ouka is a typical small ramen restaurant with counter seating where you order and pay at the vending machine by the door (it's in English) then hand your ticket to the chef behind the counter.
It's a halal restaurant that also offers a vegan ramen—spicy or normal in small, regular, and large size. The staff are friendly and speak good English, so don't worry if you're not sure how it all works.
Although we preferred T's Tantan's softer noodles, we loved the spicy broth here (level 3 was really spicy!) and the chunks of broccoli, peppers, courgette, and corn. The regular size was plenty for me but Simon polished off his large.
At lunch you can order just ramen from the vending machine, but at dinner you have to order a set meal for 2900 yen which includes ramen, soy meat karaage, curry, a soft drink, dessert, and tea.
It was quiet when we visited on a Saturday lunchtime in shoulder season, but it can get very busy so try to arrive early to avoid queuing.
There are many great veggie-friendly places to eat in this neighbourhood, which is one of the reasons why we think Shinjuku is the best area to stay in Tokyo.
Cost for a Main Dish: 1300 yen for regular vegan ramen and 1500 yen for regular spicy vegan ramen at lunch. 2900 yen for regular ramen set at dinner (3100 yen for spicy).
Details: 東京都新宿区新宿1–11–7. Near Shinjuku Gyoen Gardens. 2 pm – 10 pm on weekdays, from 6 pm on Fridays and 1 pm on weekends.
Website: Facebook page.
3) Kyushu Jangara Ramen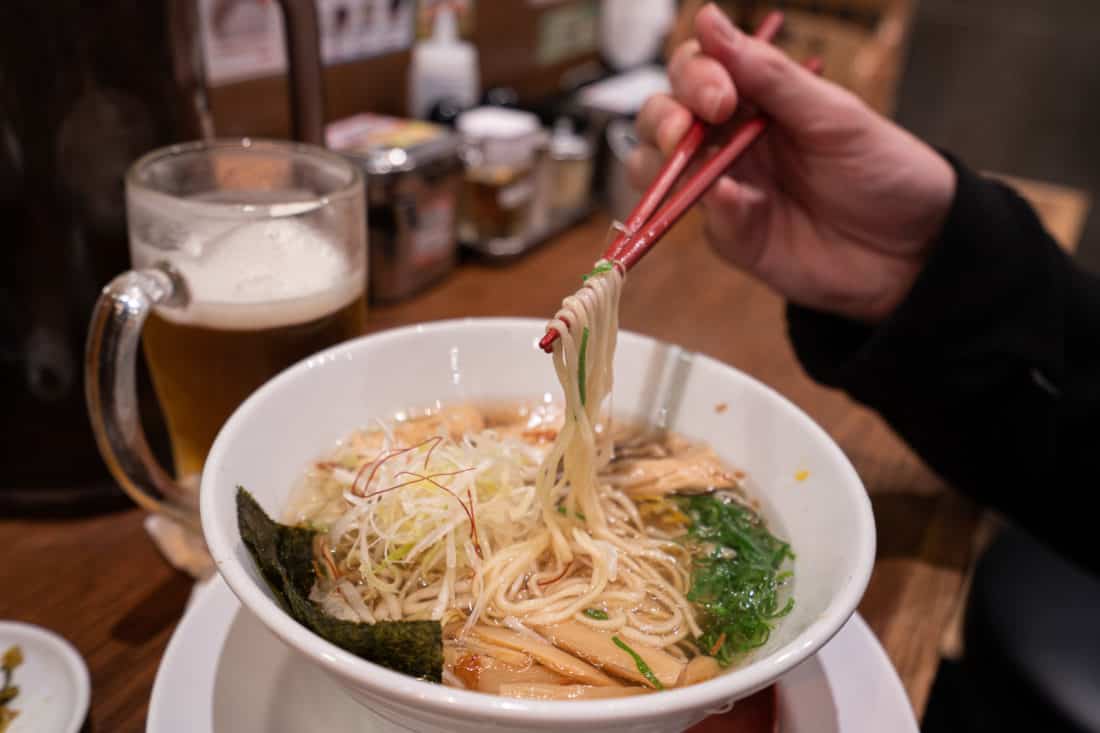 This ramen chain has an English menu with a page dedicated to its vegan ramen. It describes it as vegan salt ramen (yuzu flavour) and it comes topped with a vegetarian version of char-siu that looks like meat but tastes like tofu, as well as bamboo shoots, toasted seaweed, green onions, and bean sprouts.
You can also order it as a Buddhist version without the five pungent roots.
The broth is lightly flavoured, but there are free condiments on the counter, and it was delicious when we added chilli and garlic.
There are branches across the city. We went to the Ikebukuro shop in a shopping mall above the station after visiting the Sky Circus Observation Deck.
Cost for a Main Dish: 1000 yen for vegan ramen (1200 yen if you add extra toppings).
Details: Various branches including Ikebukuro, Harajuku, Akihabara, Ginza, and Akasaka. Open 11 am – 10.30 pm.
Website: Kyushu Jangara Ramen.
4) Afuri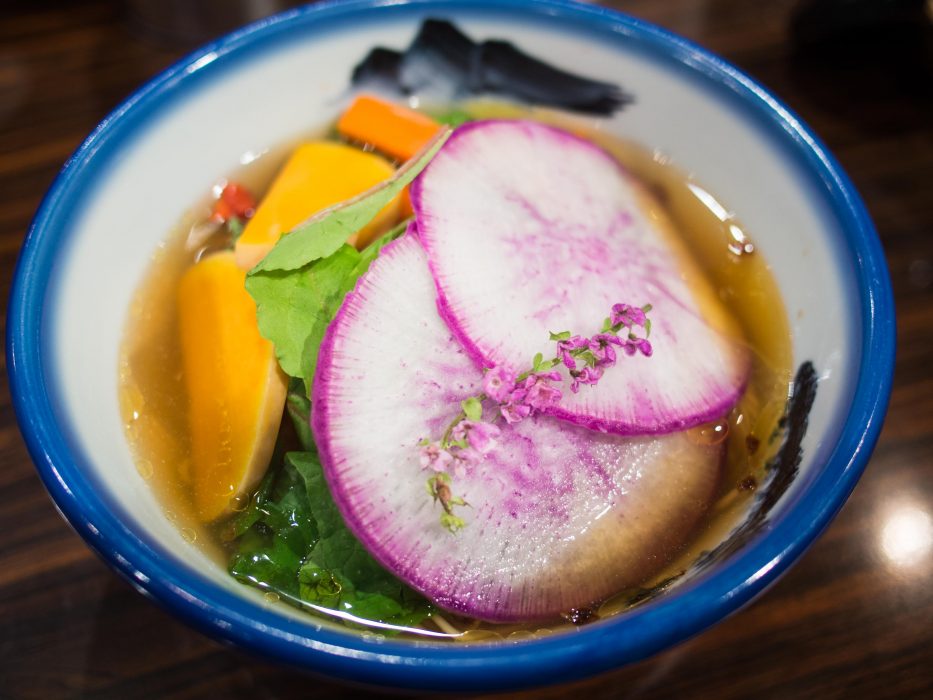 Afuri is a ramen chain that offers a vegan ramen packed with seasonal vegetables. You buy a ticket from the vending machine then take a seat at the counter. Our ramen looked beautiful and the noodles were good, but the vegetables were undercooked and the soy broth wasn't very flavourful.
Despite being our least favourite ramen, it's still a decent option if there's nothing else around as there are many branches all over Tokyo. I would choose Kyushu Jangara instead if there's one nearby.
Cost for a Main Dish: 1480 yen for vegan ramen.
Details: Various branches including Shinjuku, Ebisu, Harajuku, and Roppongi.
Website: Afuri.
Vegan and Vegetarian Restaurants in Tokyo
There are many vegan and vegetarian restaurants in Tokyo. Many of them serve western dishes so we focused on ones with Japanese cuisine, often a set lunch including multiple dishes, rice, miso soup, and pickles. It's usually much cheaper to eat at lunch than at dinner.
Another place that sounded good but we ran out of time for was Sougo, which serves modern shojin ryori in Roppongi.
5) Bon (TOP PICK)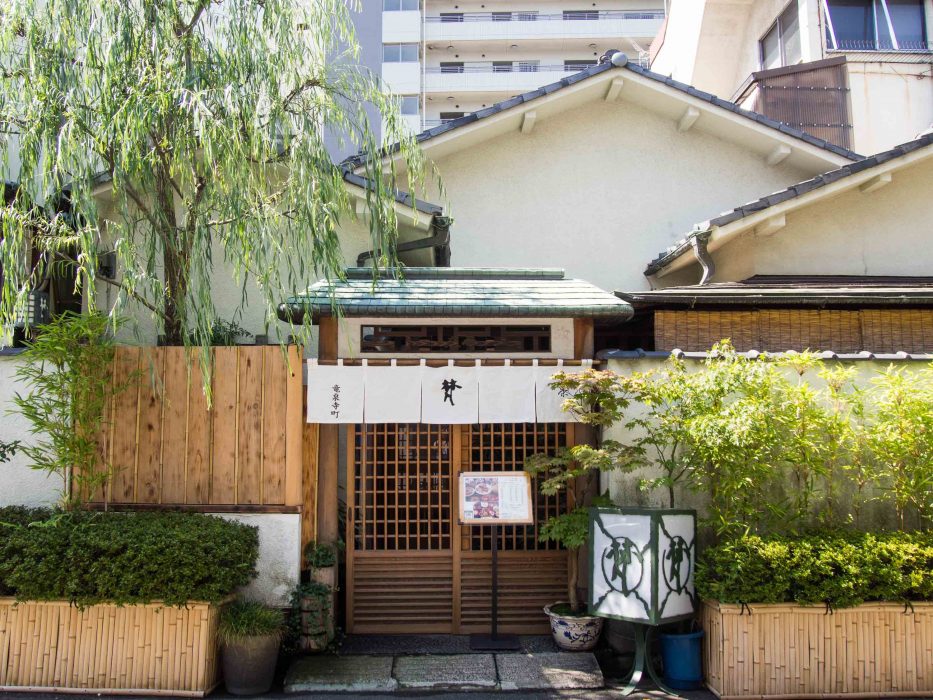 Bon is our favourite vegetarian restaurant in Tokyo—it's an experience as much as a meal. They specialise in fucha ryori, a version of shojin ryori (Zen Buddhist vegan cuisine), which I think every vegetarian in Japan should try at least once.
Bon is a beautiful, tranquil space with miniature gardens, fountains, and a cobbled stone corridor leading to eight private tatami mat rooms with sliding paper doors.
We ate on low chairs in a room decorated simply with a scroll, flower arrangement, and window onto a little garden of plants, pagoda, and rocks.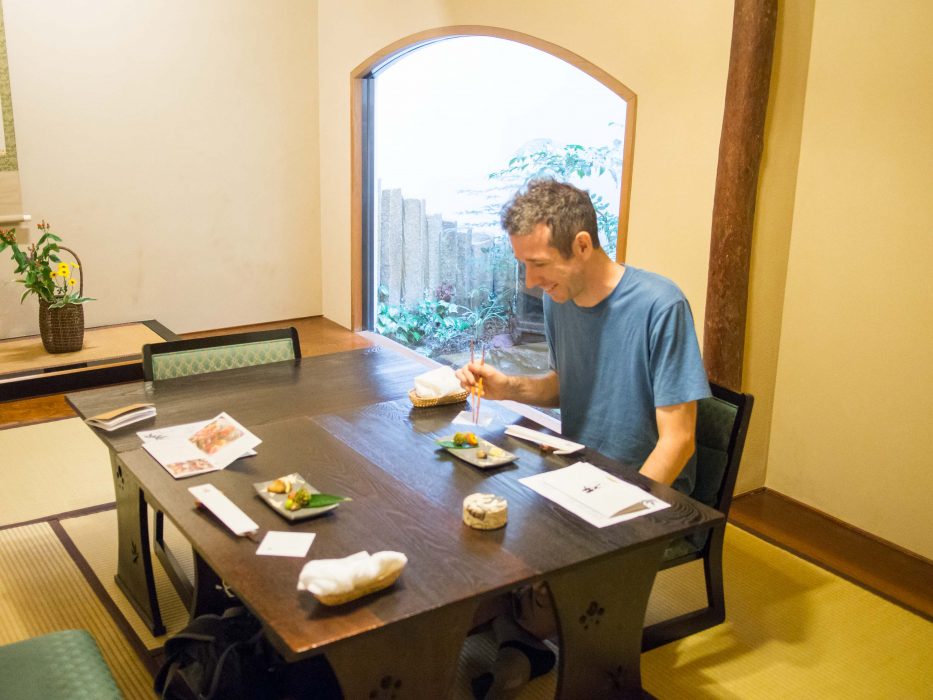 We had the lunch menu which consisted of 12 courses using seasonal ingredients, so in autumn we had lots of mushrooms, chestnuts, and pumpkin. They gave us a leaflet in English with the concept and courses to expect and then explained each dish as they brought it to us.
It was an incredible meal. Every dish was exquisite with delicate flavours and a remarkable attention to detail. Nothing is placed on the plate by chance—it all has a purpose and meaning.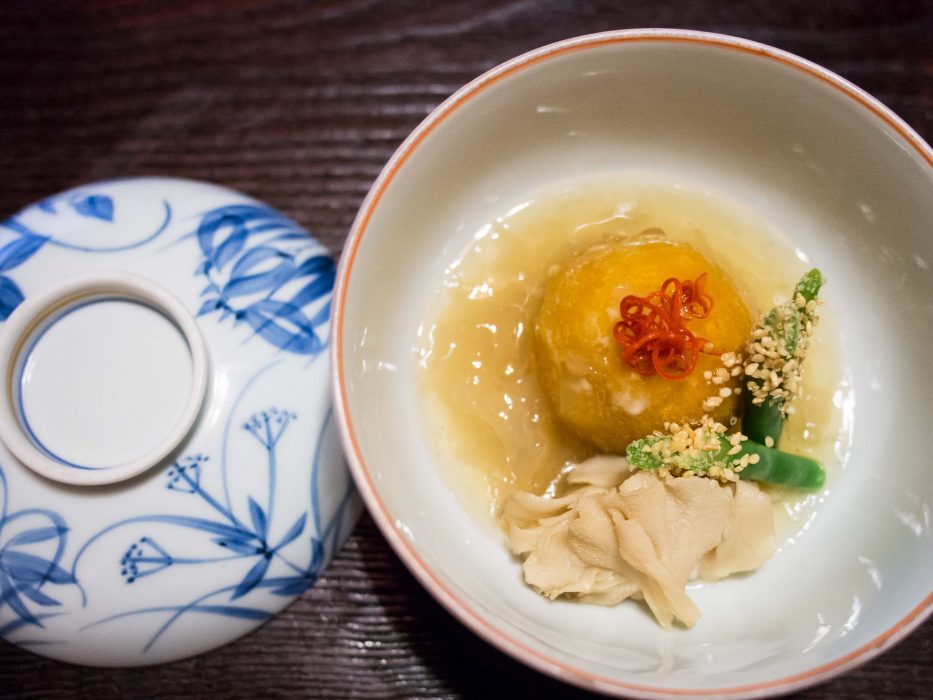 Ingredients are unusual and some dishes are odd if you aren't used to shojin ryori, but it's all part of the adventure.
Our meal began with chrysanthemum tea and included a chestnut covered in crunchy macha noodles, various soups, pumpkin dumplings (representing the moon), chilled sesame tofu, and tempura, including a delicate somen noodle tempura that was like a work of art.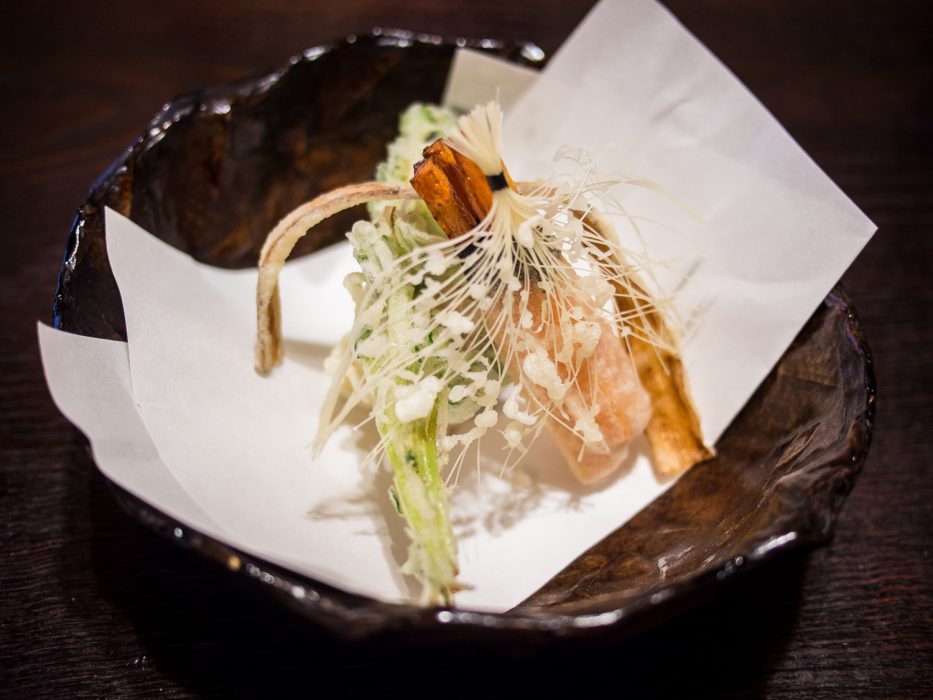 The most intriguing dish was the shun kan or "decoratively presented vegetables" (see top photo), a beautiful plate featuring a chestnut, konnyaku (a plant-based jelly), mushrooms, fried dumpling, pink pickled ginger root stick, and some delicious but unidentifiable bits.
Bon is not cheap—our lunch menu was 5000 yen each plus 15% tax and service—but it is totally worth it for a unique Japanese experience.
Cost for a Main Dish: 3450 or 5000 yen for lunch and from 6000 yen to 10,000 yen for dinner. Plus 15% tax and service.
Details: 1–2–11 Ryusen Taito-ku. Lunch and dinner every day except Wednesday. Phone reservations in advance are essential. Our Airbnb host booked for us but they do speak some English. It's out of the way on a quiet residential street, but you could combine it with a visit to Sensoji temple or Ueno Park, which are fairly close.
Website: Fucha Bon.
6) Milk Land (CLOSED)
Update: Sadly, Milk Land closed in May 2020.
Milk Land is a cute little Tokyo vegetarian restaurant near Shinjuku Station. It's great value and the food is more traditional than many of the veggie places.
There's no menu, just a vegetarian lunch set with six vegetable and tofu dishes plus rice and miso soup—all you have to do is choose white or brown rice in small, medium or large (the price is the same). They spoke some English and could make it vegan.
Milk Land is in the New State Manor Building—walk around the outside of the building to the right and look for the cow outside. It gets busy during the Japanese lunch hour of 12 pm to 1 pm.
Cost for a Main Dish: 900 yen for lunch set.
Details: 2–23–1 Yoyogi, New State Manor Building 1F. 11.30 am – 6 pm Monday to Friday.
Website: Happy Cow listing.
7) Nagi Shokudo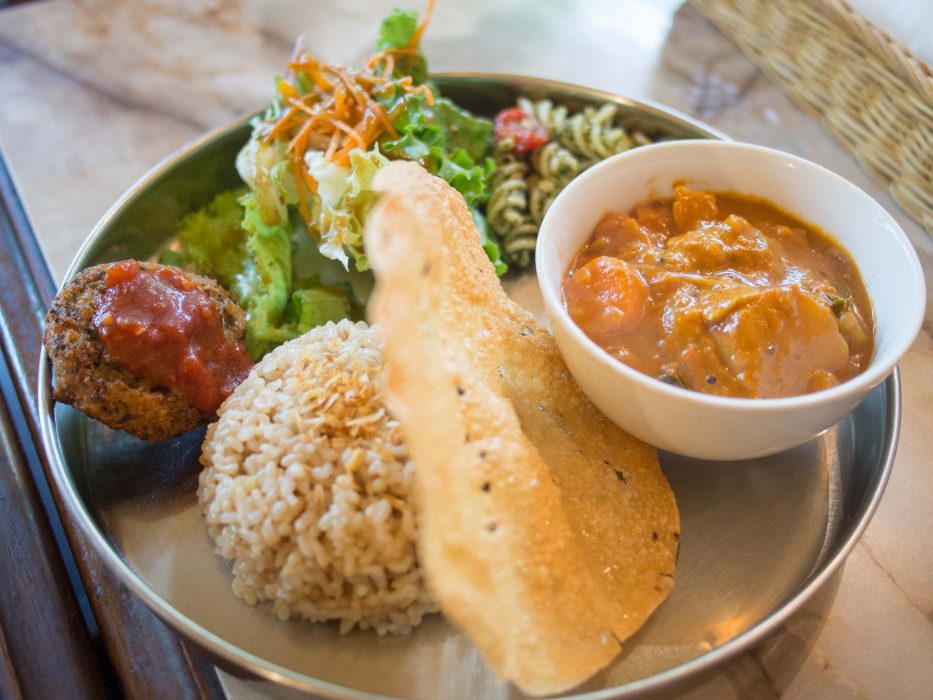 Nagi Shokudo is a vegan restaurant in Shibuya with a mix of Japanese and international cuisine. At lunch you can choose from three set menus—fried soy meat, curry with rice and a deli item, and the lunch plate where you choose three of their changing deli items with brown rice, miso soup and pickles. They also have vegan cakes and cookies.
Simon enjoyed the curry and I liked my tofu in chilli miso sauce, dal wada (fried lentil ball), and potato salad. It's a good option for an affordable lunch.
Cost for a Main Dish: 1000 yen for lunch set.
Details: Uguisudanicho 15–10, Royal Palace Shibuya 103. 12 pm – 3 pm and 6 pm – 11 pm Monday to Saturday. It's a 10-minute walk from Shibuya Station south exit next door to Pinosalice Trattoria and Wine Bar.
Website: Happy Cow listing.
8) Brown Rice Cafe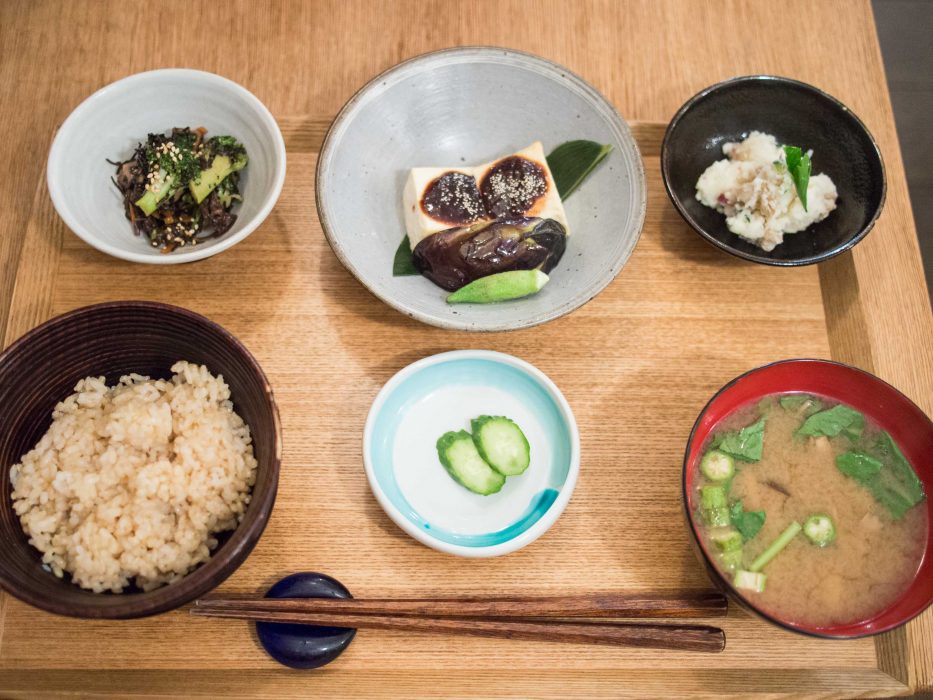 Brown Rice Cafe is a stylish organic vegetarian restaurant in Harajuku, an upmarket area near Shibuya. They serve traditional Japanese set lunches and you can choose from curry, steamed vegetables, and the seasonal set menu.
I enjoyed the day's dish of grilled miso tofu with two vegetable dishes, pickles, brown rice, and miso soup, and as always, Simon had the curry. Everything is vegan except for honey in some drinks.
The food was tasty and healthy, and I recommend it if you are in the area (we preferred it to nearby Mominoki House), but it's a lot more expensive than other lunch sets.
Cost for a Main Dish: 1700 yen for lunch set plus an extra 500 yen on weekends.
Details: 5–1–8 Jingumae, Shibuya-ku (part of Neal's Yard Remedies). 11.30 am – 6 pm every day.
Website: Neal's Yard.
9) Slow Food and Wine KiboKo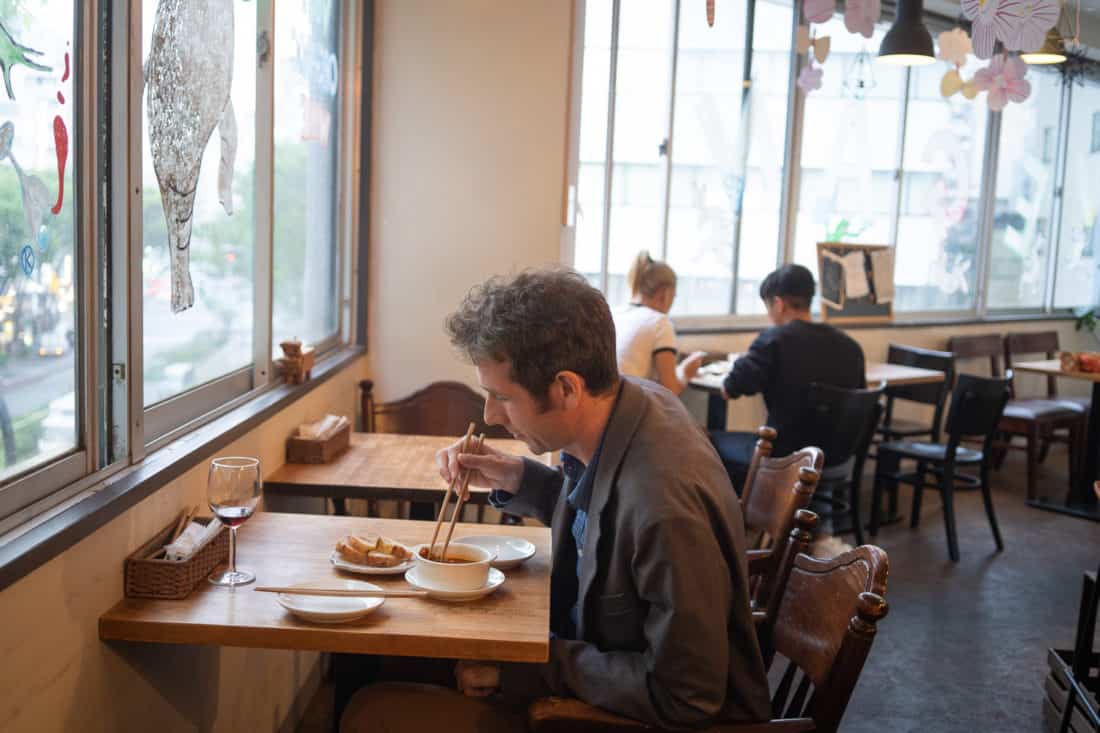 KiboKo is a cute vegan wine bar near Shinjuku Gyoen (our favourite area to stay in Tokyo). It's ideal if you want to relax with a drink and a few tapas, but it's not the best option if you are feeling hungry.
Dishes are small, quite pricey, and not particularly Japanese. We did enjoy the coriander gyoza and Spanish tortilla, but the more substantial options (teriyaki, chilli) were too fake-meat heavy for our tastes.
Note that everyone must order a drink (non-alcoholic is fine), as is common in many Japanese bars.
Cost: We spent 5000 yen on five small dishes and three glasses of wine.
Details: 4th Floor, 2 Chome-5-8 Shinjuku. Open Thursday, Friday and Saturday from 5 pm – 11 pm.
Website: Happy Cow listing.
Vegetarian-Friendly Japanese Restaurants in Tokyo
One of the reasons why restaurants in Japan are so good is that many chefs specialise in just one type of food and perfect it over a lifetime. We had some of our best meals in non-vegetarian Japanese restaurants.
While it can be more challenging explaining your dietary requirements, all these places can cater for vegetarians, and we preferred eating in traditional Japanese environments without other tourists.
10) Curry House CoCo Ichibanya (Japanese Curry)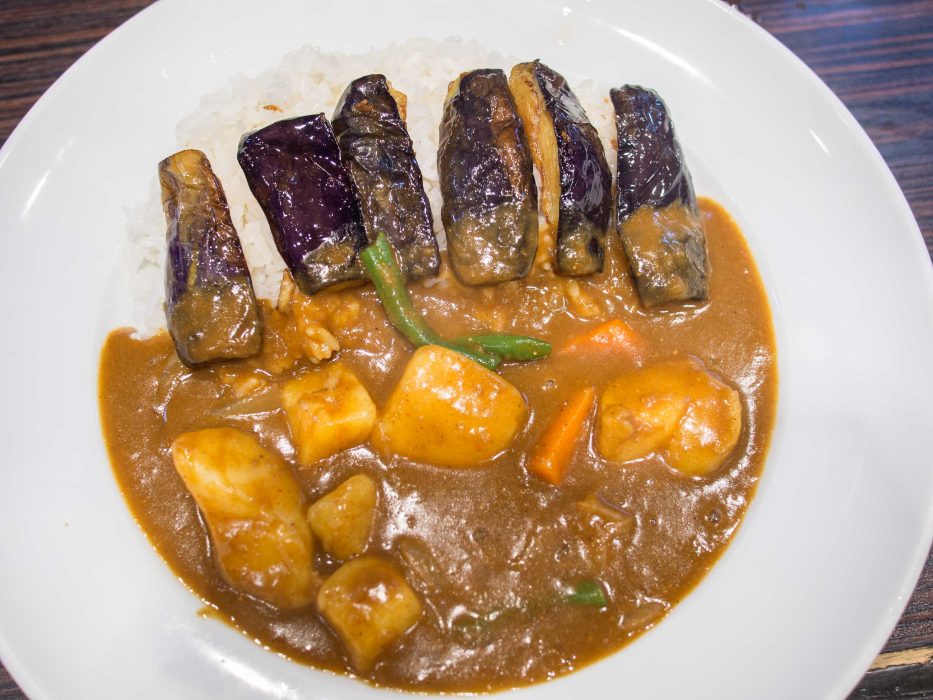 Curry is a popular comfort food in Japan, and while Japanese curry is different from Indian curry, it's just as delicious. Many curry places offer a vegetable curry, but it's likely the roux contains meat.
Happily, CoCo Ichibanya, Japan's largest curry chain, now offers a vegan curry at many of its branches. You need to look out for the special green vegetarian menu where you'll find many options including vegetable and eggplant (my favourite), spinach, mushroom, and asparagus and tomato.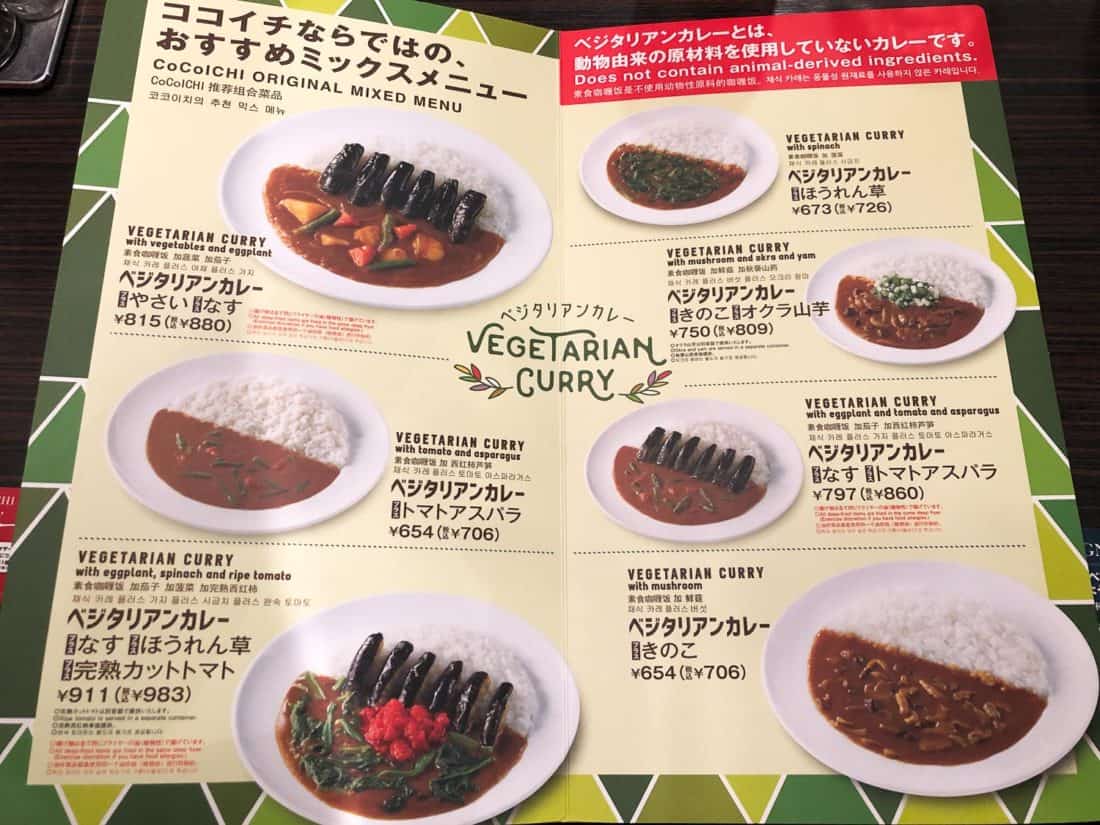 Before you order have a look at the normal English menu for customisation options. You can add toppings, choose the amount of rice (standard is quite a lot), and select your spice level from mild to 10 (3 is definitely spicy).
As CoCo Ichibanya has branches all over Japan it's a fantastic option for a cheap, quick, and tasty meal while travelling the country.
Cost for a Main Dish: Vegetarian curry from 654 yen – 911 yen.
Details: Many branches but the vegetarian menu is not available everywhere (check Google Maps or Trip Advisor reviews to check if they do). We went to the Shinjuku Station West Exit branch on Memory Lane and to one near Shibuya Station.
Website: CoCo Ichibanya.
11) Tsunahachi (Tempura)
Tsunahachi is a famous tempura restaurant founded in 1923. There are a number of branches in Tokyo and we went to the one on the 13th floor of the Takashimaya department store in Shinjuku.
The menu is in Japanese but one of the staff members spoke some English and explained that we had a choice of various set lunches. We chose the most basic option, said we were vegetarian and asked to have it with just vegetables, which was no problem.
We sat at the counter and watched the chef frying our vegetables and passing them to us straight out of the pan, two at a time. The batter was light and crispy and the vegetables perfectly cooked. They kept on coming and we ended up with nine pieces of tempura, which was more than enough.
Our lunch set also included rice, pickles, grated daikon, miso soup, and tentsuyu dipping sauce. The soup and sauce are most likely made with dashi (fish broth), so we skipped them and used the four excellent salts (plain, konbu, wasabi, and red perilla) for seasoning instead. Tsunahachi has a handy English guide to eating tempura.
Cost for a Main Dish: 1700 yen for lunch set. More expensive at dinner.
Details: Various branches in Tokyo plus Kyoto and Hokkaido. The main branch is in Shinjuku.
Website: Tsunahachi.
12) Zen (Okonomiyaki) (TOP PICK)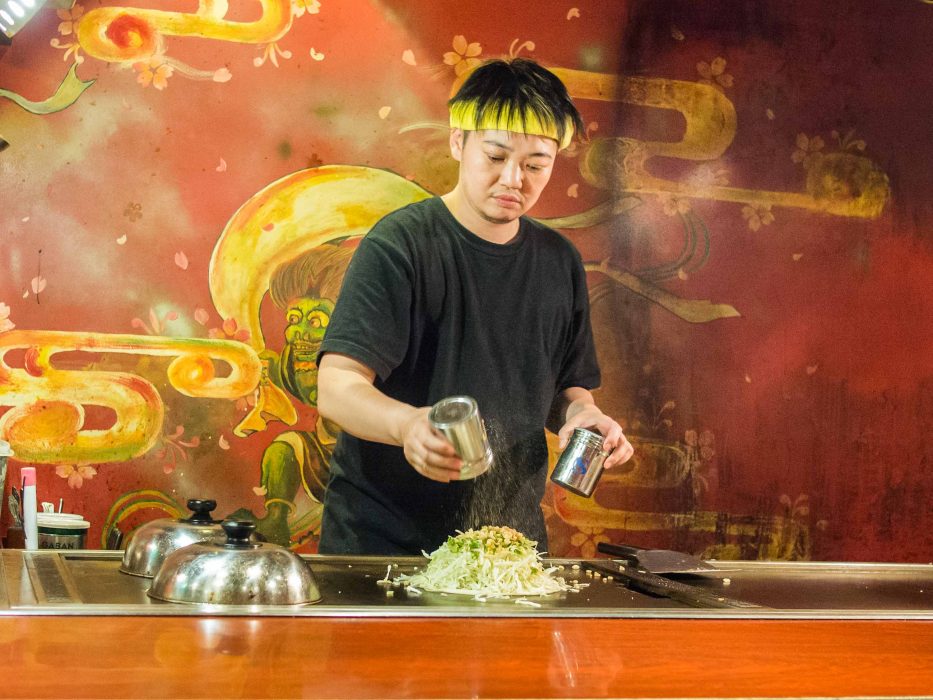 Okonomiyaki is a kind of cabbage pancake that usually contains meat or seafood but can be made vegetarian. Zen is the perfect option for vegetarians in Shinjuku as they have an English menu with a vegetarian section at the back which explains the ingredients of the many types of okonomiyaki.
We chose the less traditional tomato special with tomato, cheese and Japanese basil and also ordered grilled vegetables. As we ordered we showed the waiter our vegetarian card that stated what we can't eat in Japanese. He then asked the chef to make ours without dashi, so it's a good idea to check on this.
The okonomiyaki is not vegan but they have a small vegan menu with some noodle and vegetables dishes.
Zen has a cover charge of 220 yen but they do bring you a small appetiser—we munched on our potato salad while we watched the chef make our okonomiyaki on the counter grill.
He started with some batter and then added a heaping pile of cabbage plus other ingredients. As the cabbage cooks it reduces in size and becomes a thick pancake. Ours was served topped with lettuce, tomato, and mayonnaise. It was crispy and gooey and utterly delicious.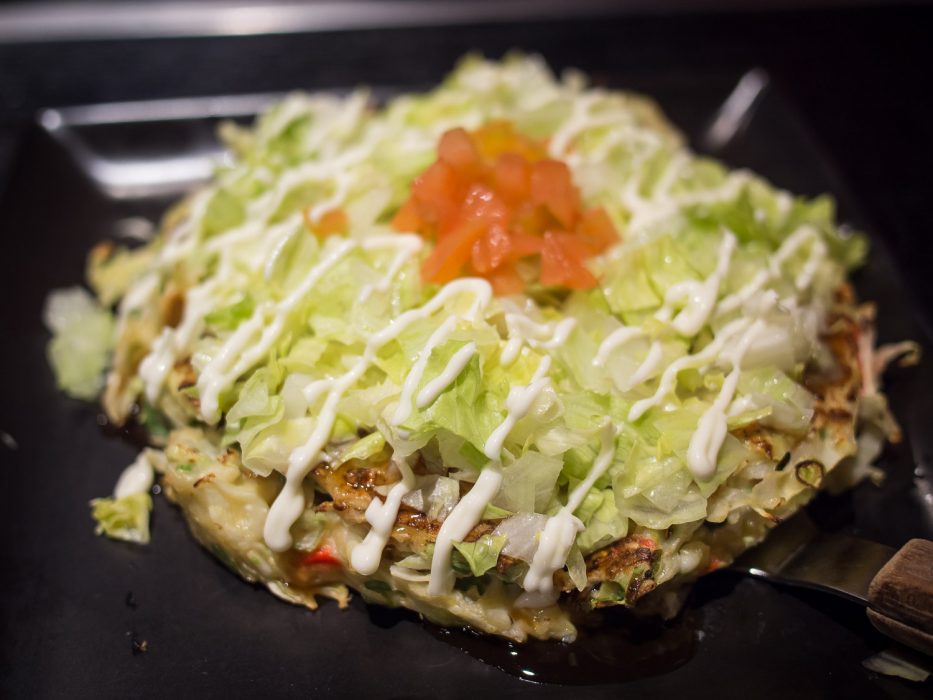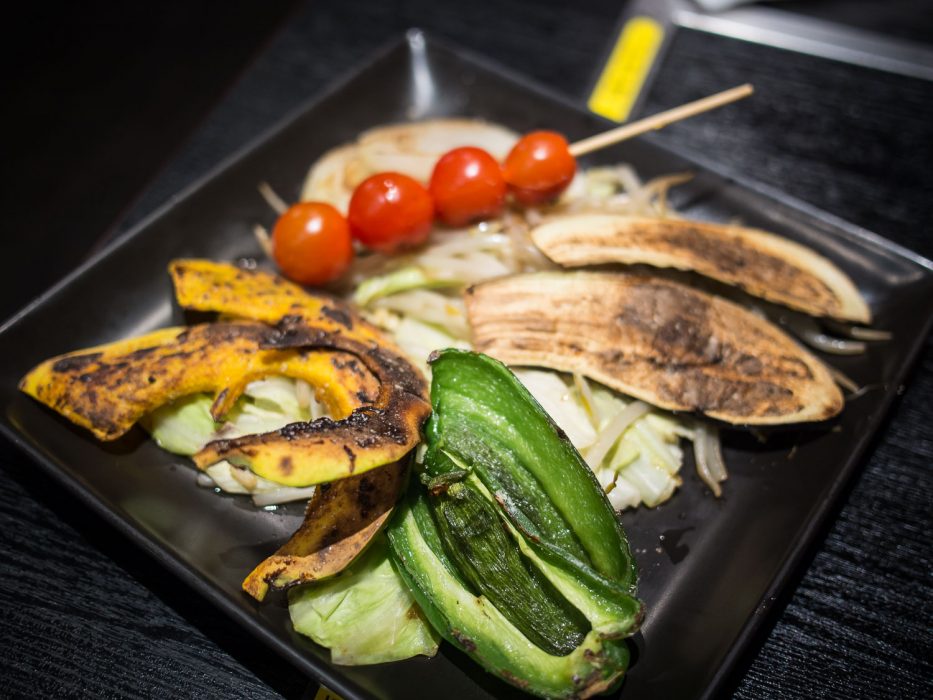 Cost for a Main Dish: 870 yen for a basic okonomiyaki, 1300 yen for tomato special.
Details: 東京都新宿区新宿5–10–9花政ビル1F, Shinjuku. 5 pm – midnight every day.
Website: Zen.
13) Sorano (Tofu)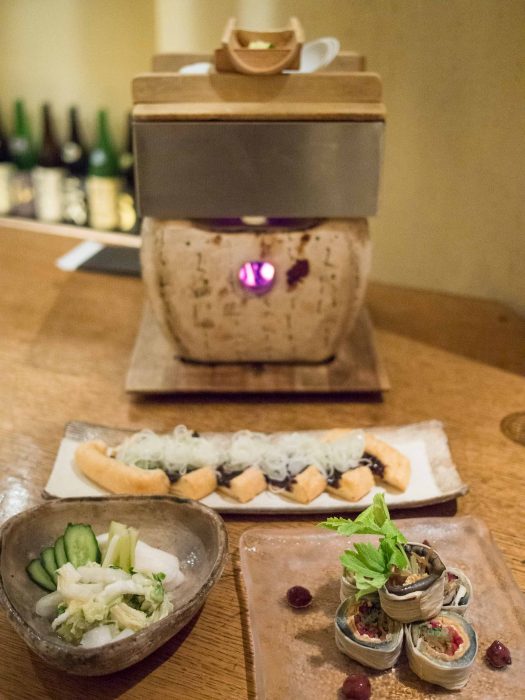 For a special meal without a huge price tag, Sorano in Shibuya is a great option. It specialises in tofu, but in Japan that doesn't mean everything is vegetarian. At Sorano there are plenty of vegetarian options marked on the English menu.
It's a classy, traditional restaurant with a fish pond and fountain at the entrance and a pebble corridor leading to private tatami areas and counter seating. As we hadn't booked we sat at the counter.
We ordered most of our dishes from the appetiser section and shared tapas style. The tofu comes in so many different forms from crispy deep fried tofu with miso (so good!), chilled avocado tofu, and grilled eggplant and vegetables rolled in tofu skin.
Sorano's special tofu is made at your table—it's velvety smooth, but be aware that the soy sauce accompaniment contains dashi. Tempura is also available.
Even if you don't think you like tofu, give Sorano a try as Japanese tofu is far better than anywhere else.
Cost for a Main Dish: Small dishes from 700 yen.
Details: 4, Sakuragaokacho 17, Shibuya. 5 pm – 11 pm. Closed Mondays.
Website: Trip Advisor listing.
14) Masumoto (Bento)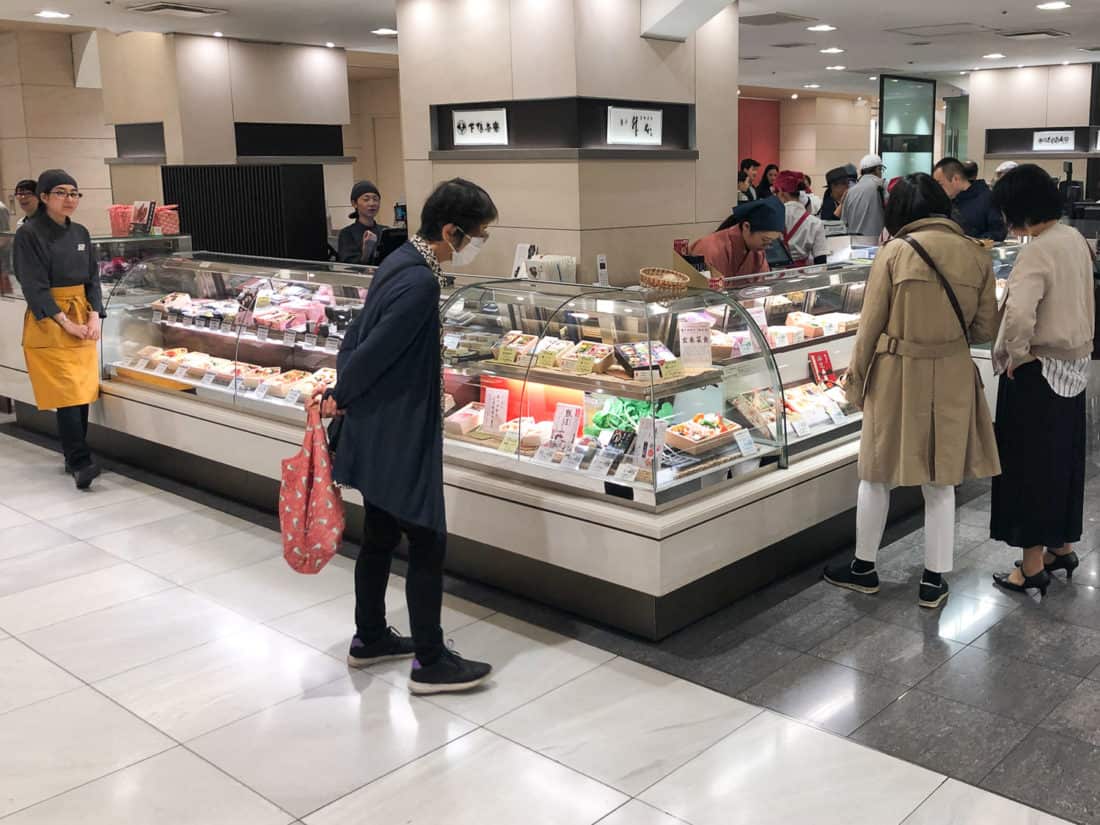 I've been wanting to try a bento for years and finally found a place that does vegan versions. The Japanese have made lunch boxes into an art form with an array of beautifully presented, balanced, and healthy small dishes. They are ideal for long train rides and picnics.
Masumoto is one of the many bento stalls in the huge food hall in the basement of the Isetan department store near Shinjuku Station and Shinjuku Gyoen.
All the signs are in Japanese so there's no easy way to find the right stand. We looked for the logo we'd seen on a photo of a box on Happy Cow.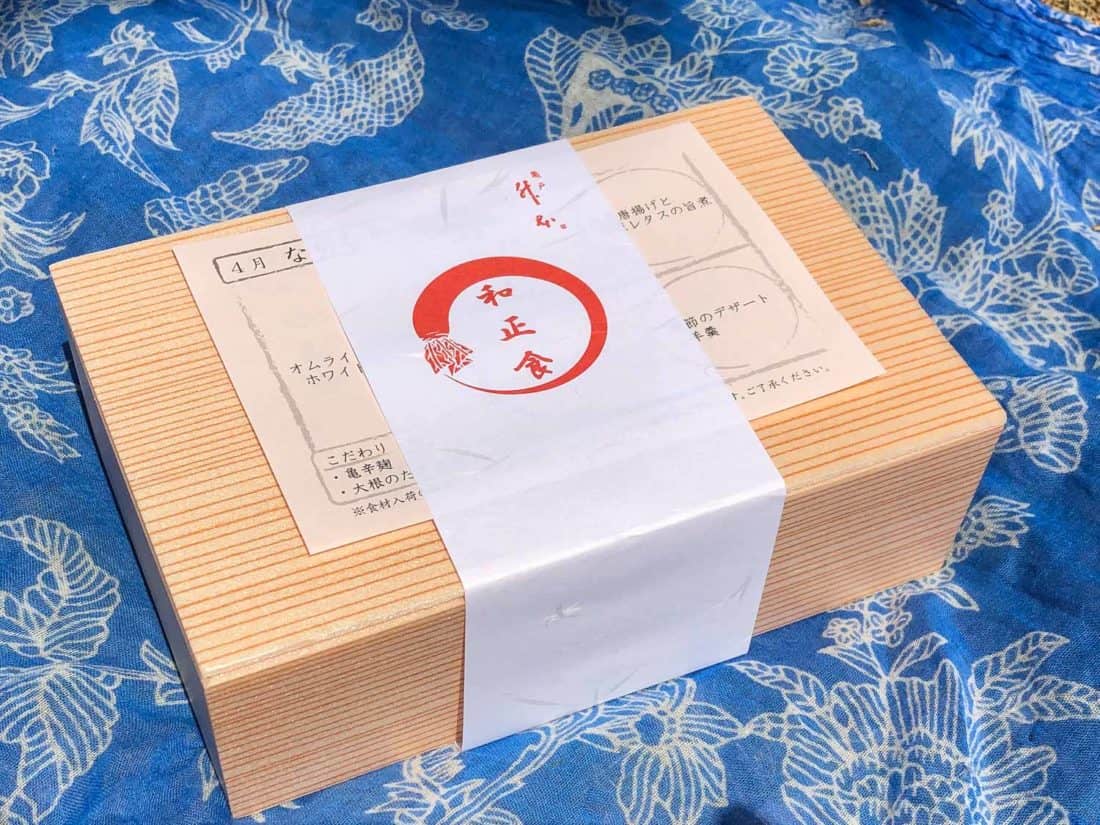 Once you find Masumoto ask for a "macrobi bento". They knew what we meant and confirmed there was no meat or fish in it.
Unfortunately, they sell out of the vegan boxes early in the day, so at 11.50 am on a Saturday they only had one small box left. I recommend going when they open at 10 am if possible.
We took our bento (plus some extra snacks from the food hall) to Shinjuku Gyoen for a lovely picnic under the late blooming cherry trees (well worth the 500 yen entry fee).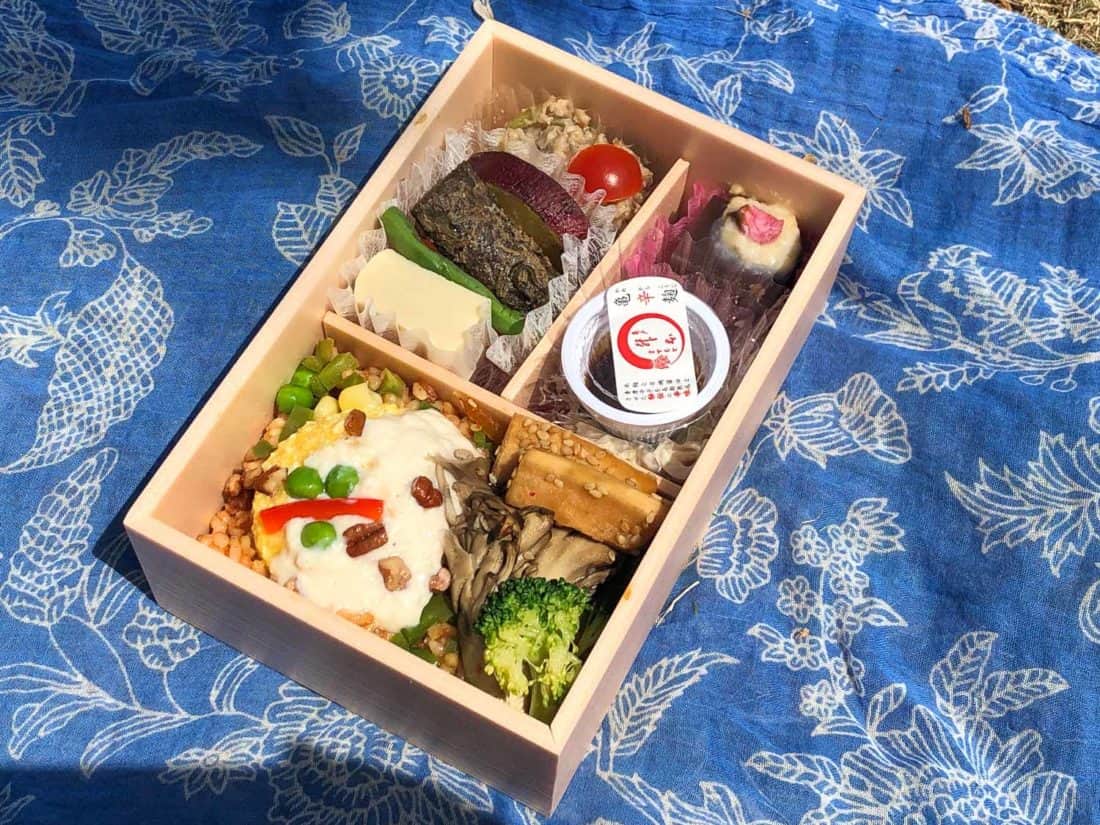 Our box included rice mixed with vegetables, various vegetables, tofu, creamy mushrooms, and mochi for dessert. We couldn't identify everything but it was all tasty.
Cost for a Main Dish: Our small bento was 1080 yen. Larger boxes are more expensive.
Details: B1F of Isetan Department Store, 3-chōme-14-1, Shinjuku. Open from 10 am. They often sell out by noon.
Website: Masumoto Happy Cow listing.
Vegetarian Cooking Class in Tokyo
Taking a vegetarian cooking class while you are in Japan is a fun way to learn more about Japanese cuisine and enjoy a delicious meal.
We haven't done one in Tokyo yet, but this five-course vegetarian meal in Ikebukuro (just a few stops from Shinjuku on the train) looks great.
Tips for Vegetarians in Tokyo
Search on the Happy Cow app or website to find the nearest vegetarian or vegan restaurant—there are plenty in Tokyo.
It's also worth searching on TripAdvisor and ticking the "Vegetarian-Friendly" or "Vegan Options" filter to find Japanese places that can cater for vegetarians. This can be hit or miss, so check the reviews.
Tabelog is the Japanese equivalent of TripAdvisor and you can search for places that have a vegetarian menu, but there's not much information or reviews in English.
Print off some vegetarian or vegan cards from Just Hungry with exactly what you can't eat written in Japanese. It made things much easier and helped us avoid dashi.
Make sure your phone is unlocked and buy a data SIM card when you arrive in Japan. We bought one from the Umobile vending machine at Narita airport. This will make it so much easier to find restaurants using Google Maps or look up your nearest veggie option on Happy Cow.
Japanese restaurants often stop serving 30–60 minutes before closing time.
At most restaurants you are given the bill and go up to the counter to pay.
Credit cards are rarely accepted so stock up on cash—7–Eleven is the best option for international cards.
More Japan Guides
With a little planning we ate so well in Tokyo and we can't wait to return to the city and eat some more! What are your favourite Japanese vegetarian restaurants in Tokyo?
If you enjoyed this post, pin it!