This page contains affiliate links. Please read our disclosure for more info.
Tokyo is a city like no other. Sure, you can visit museums, temples, and eat at one of the thousands of delicious restaurants, but you can also do things you can't anywhere else.
We've had some of our craziest experiences in this giant metropolis and spend our time feeling bewildered, enchanted, and 100% safe.
Here are our favourite unique, weird, and just downright cool things to do in Tokyo, one of the best places to visit in Japan.
At the end of the post you'll find a map of all these Tokyo attractions plus tips for exploring the city.
Contents
Video: What to Do in Tokyo
Discover the best things to do in Tokyo in this video.
Fun Things to Do in Tokyo, Japan
1) Cosplay Go-Karting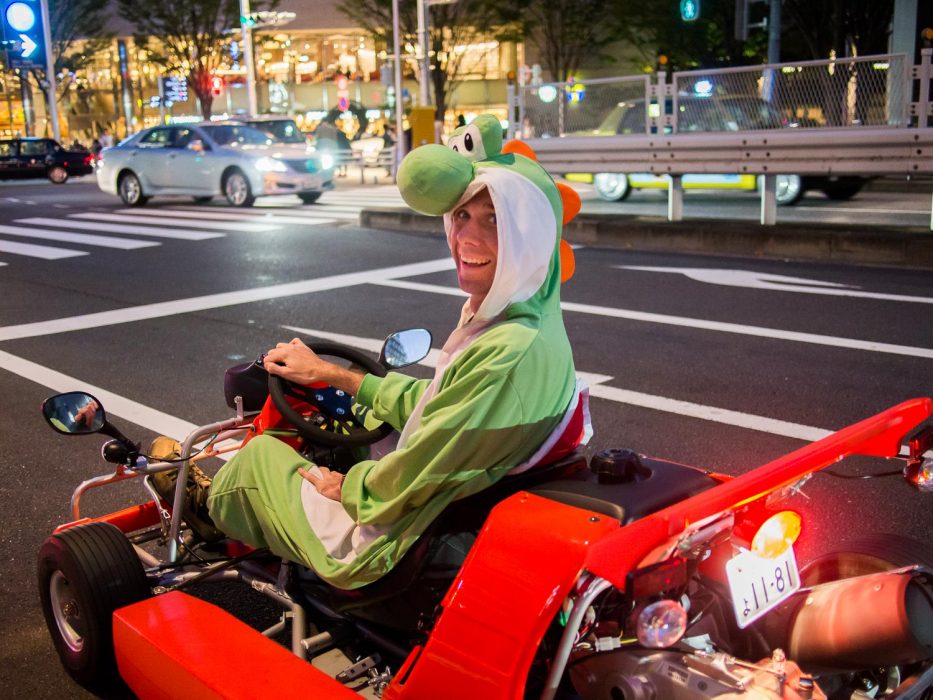 Dressing up as your favourite character and driving a go-kart around the Tokyo streets has to be the coolest thing you can do in Tokyo. Yes, you drive a tiny go-kart on the real streets of Tokyo amongst cars, buses, and trucks!
Go-karting was a dream come true for Simon, but as I hadn't driven in years I spent the first hour of the two-hour tour terrified and the second hour having so much fun!
It's a surreal experience as you drive past skyscrapers and tiny shrines, busy crossings and quiet residential neighbourhoods, all while people stare, wave, and take your photo.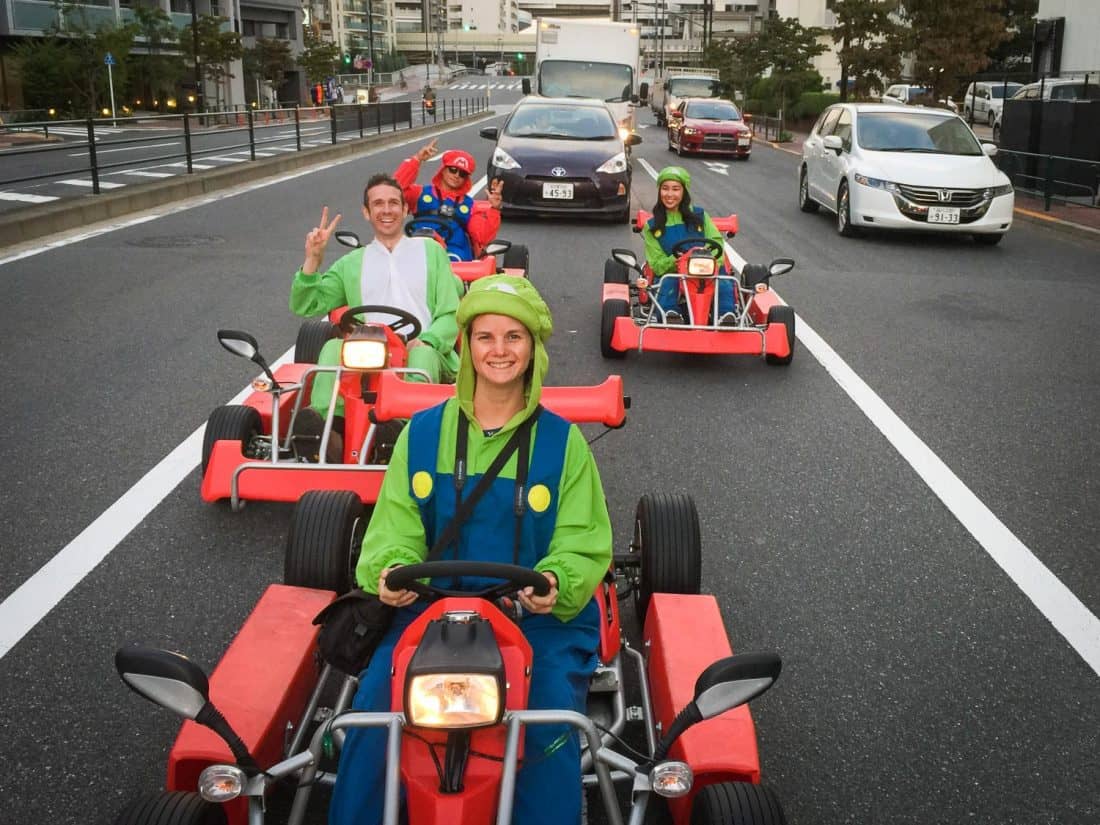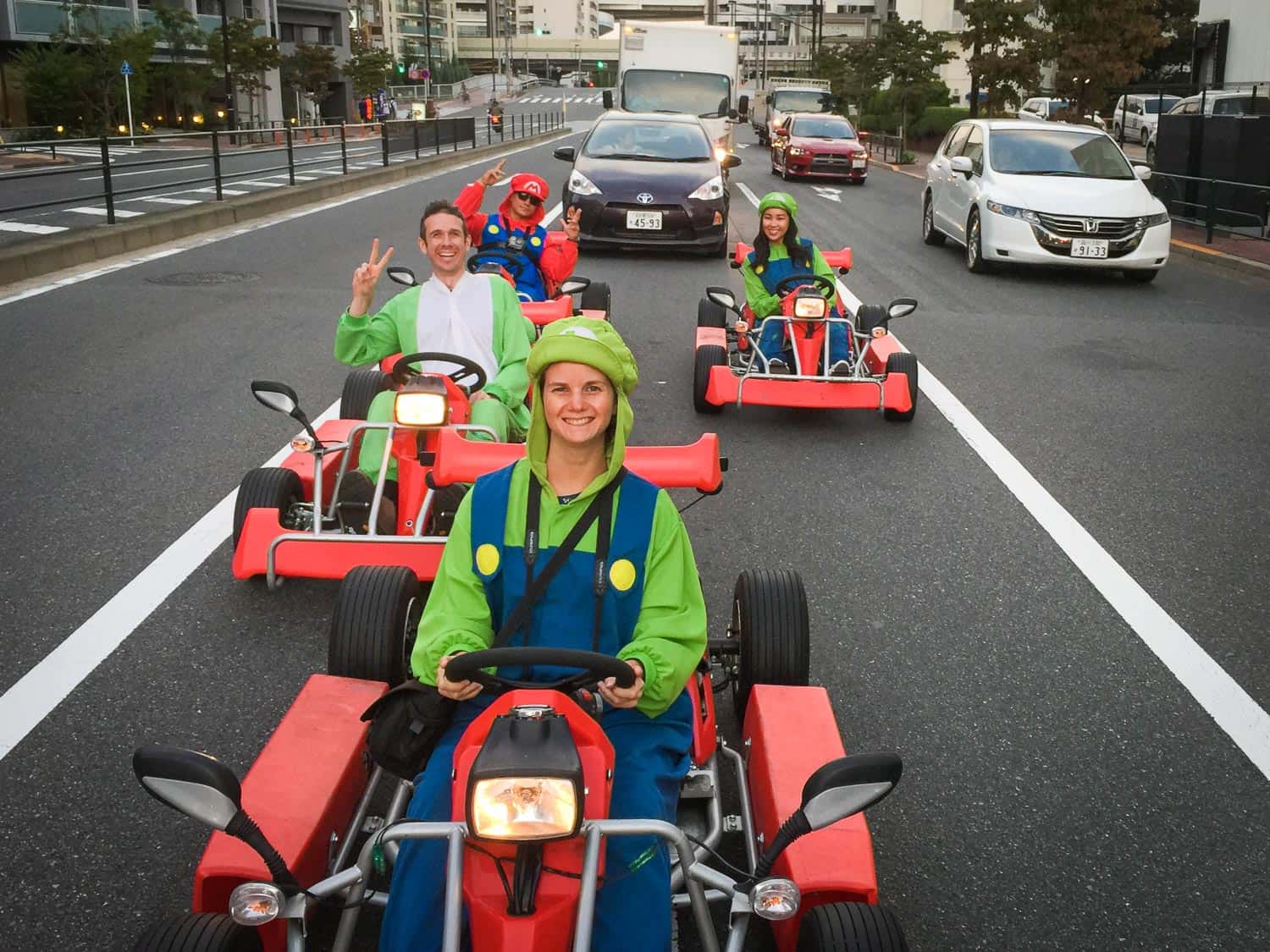 Our tour was from 4 – 6 pm, so we experienced the golden late afternoon light, sunset, and the neon lights once darkness hit. A highlight was driving across the massive Rainbow Bridge at full speed (60 kmph and you feel it in a go-kart) with an incredible view of the Tokyo skyline.
The go-karts are easy to operate, but you do need an international driving permit so make sure you get one before you leave your home country.
Note: This used to be called Maricar and you could dress up as Mario characters but Nintendo shut that down. It's still the same experience, but you now dress up as different characters.
Details: You can get a discount of up to 30% on the go-kart tour by booking with Voyagin—a two-hour tour is 8500 yen ($78). We went from the Roppongi branch but there are also tours from Asakusa and Akihabara. Explore all the go-karting options here.
I do recommend the two-hour course rather than the shorter one as it takes a while to get used to driving the karts.
2) Tokyo DisneySea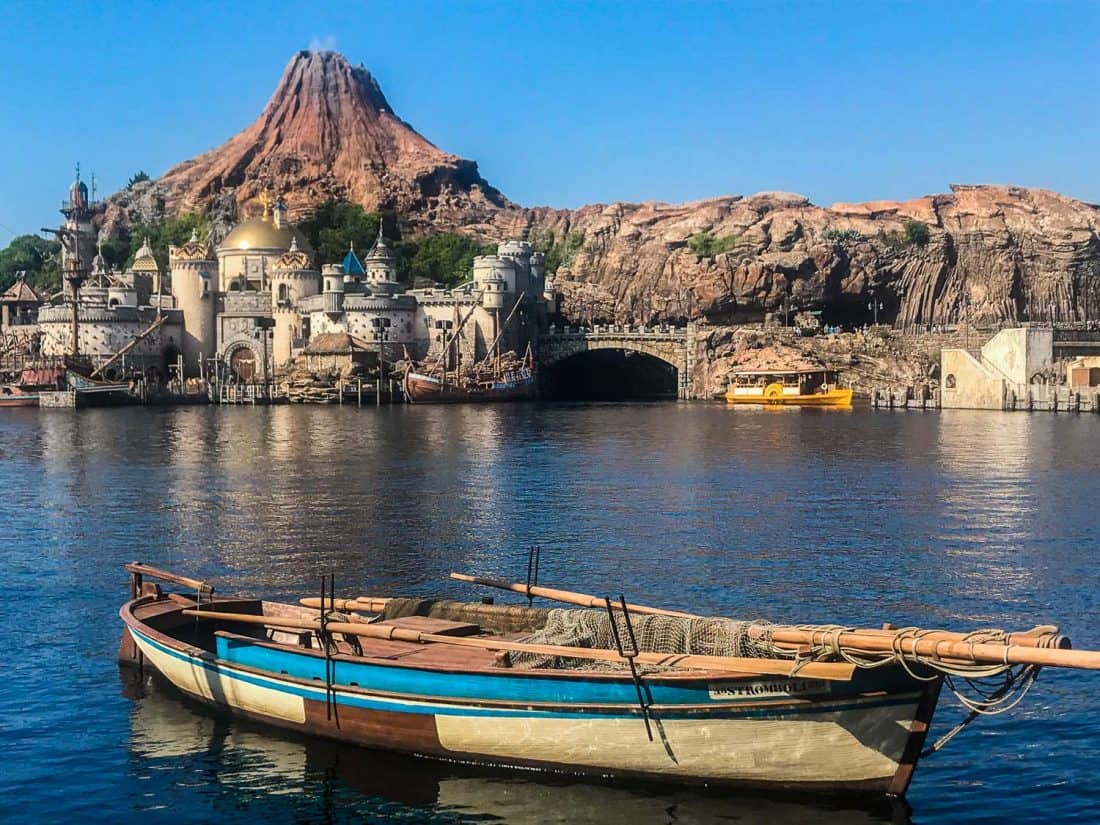 It might seem a waste to spend a day of your Tokyo trip at Disney, but DisneySea is unlike any of the other Disney parks in the world (and is possibly the best).
The nautical theme park features seven ports inspired by real places and ocean legends including American Waterfront, Mediterranean Harbor (which looks just like Italy), Arabian Coast, and the unique Mysterious Island complete with erupting volcano.
Attractions are more adult-orientated than at neighbouring park Tokyo Disneyland and you can even see a Broadway show and have a cocktail in a 1920s lounge aboard a cruise liner.
It's such a fun day out! Read about our favourite DisneySea rides including a recommended itinerary for adults and tips for avoiding the crowds.
Tokyo Disneyland is the more classic Disney park with the fairytale castle and much-loved rides like Space and Splash Mountains. If you have the time, spend a day at each.
If you are a theme park fan, we also recommend Universal Studios Japan in Osaka which is home to thrill-seeking rides and the magical Harry Potter World—one of the top Japan tourist attractions.
Details: One day Tokyo DisneySea tickets cost 7500 yen ($69). It's best to book online to avoid queues on the day. We booked ours on Voyagin as it was easier than booking direct.
3) Robot Restaurant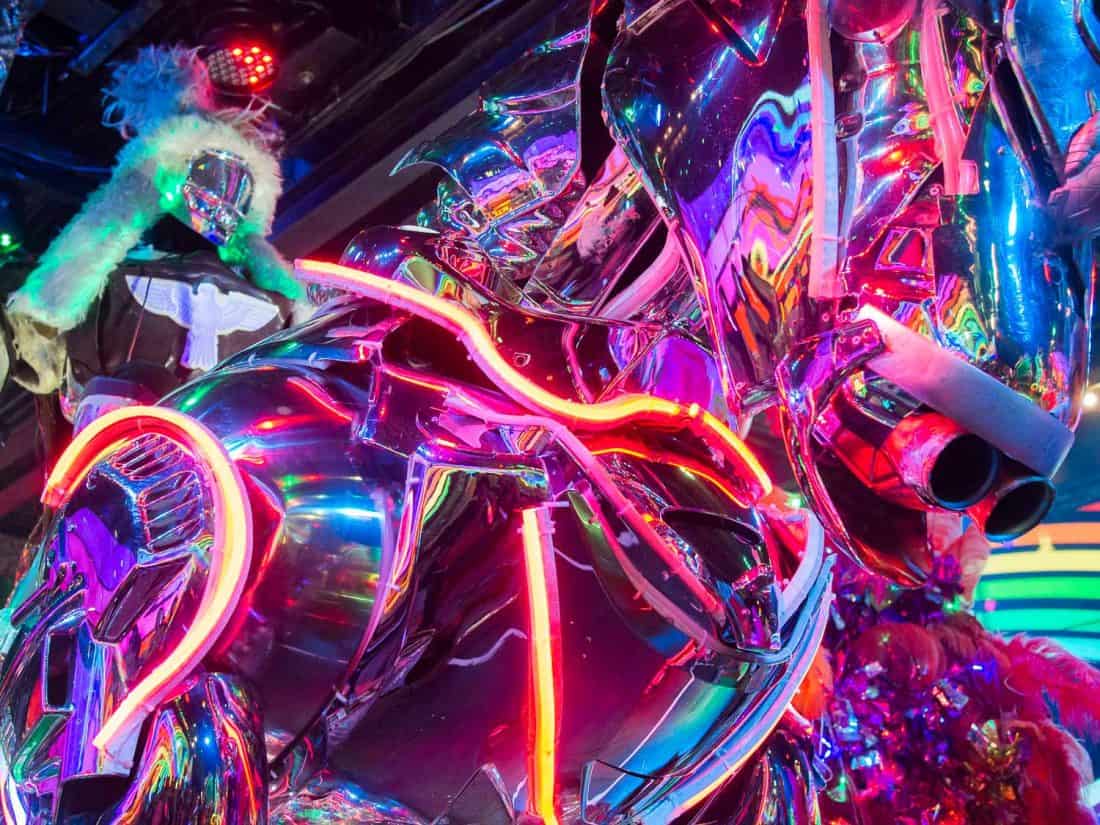 The Robot Restaurant is not a restaurant and there aren't many robots, but this show is one of the weirdest things to do in Tokyo.
The energetic and totally insane performance features robots, dragons, ninjas, blue-haired dancers, creepy clowns, guitarists on swings, drums, a whole lot of neon lights, and really loud music.
Is it for you? Read Simon's entertaining Robot Restaurant review to find out.
Details: Robot Restaurant is temporarily closed. When it does reopen, note that booking direct is expensive so make sure you book online with Voyagin who offer discount tickets with up to 38% off. The cheapest tickets are for afternoon shows and cost 5246 yen ($48).
4) TeamLab Borderless Digital Art Museum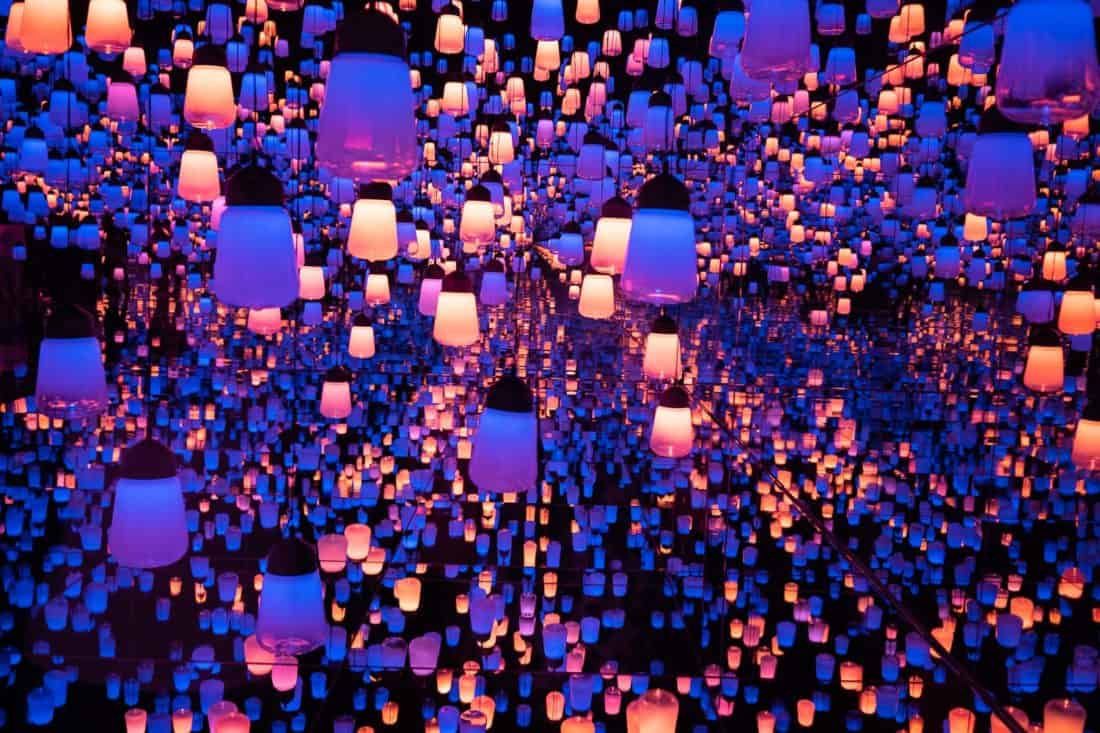 The digital art museum TeamLab Borderless is one of the most Instagrammable things to do in Tokyo. But this unusual interactive museum is well worth visiting even if you aren't planning to take the perfect photo.
It's unlike anywhere we've visited before. There's no map as the discovery is part of the fun—you wander down dark corridors and choose doors at random to explore the immersive displays that use lights and projections in creative ways.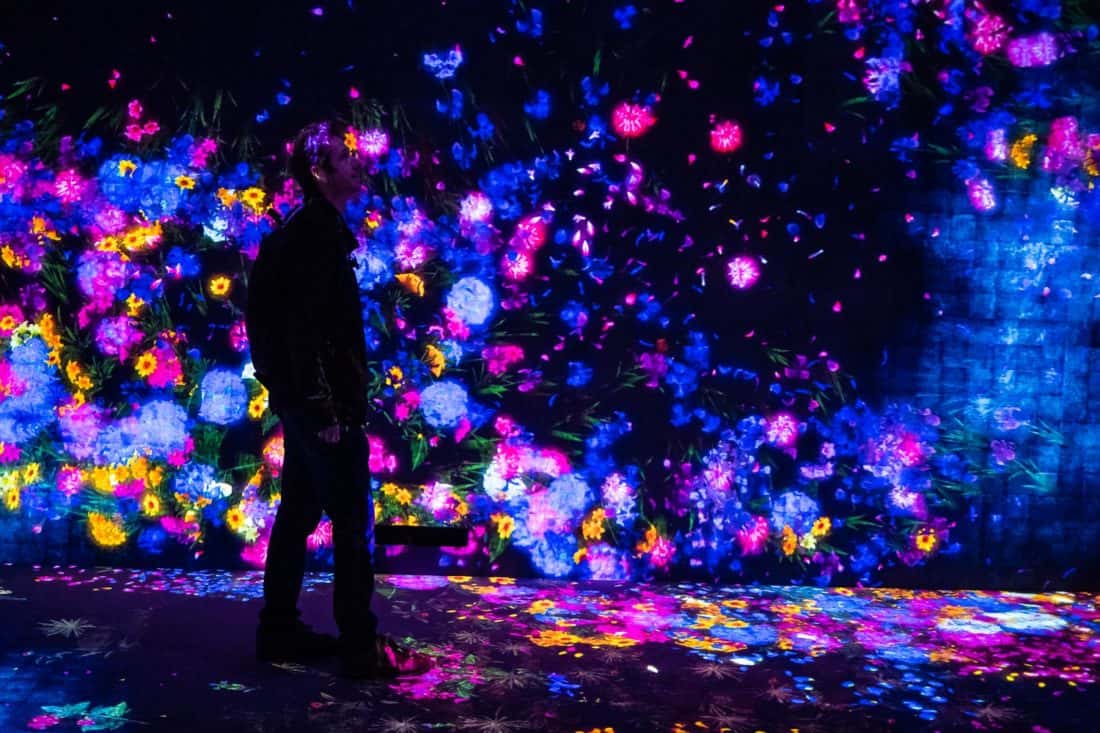 In one room waves crash on the walls and you sit on a bean bag and feel like a tiny boat bobbing in the sea. In the relaxing Floating Nest you lie on a huge net and the room spins around you. In the Forest of Lamps you move through a room of colourful changing lights.
The Athletic Forest is even more interactive and features play areas for kids big and small. (Simon had fun creating a railway track).
We also loved the unique En Tea House where flowers bloom inside your cup.
There's so much to explore you should allow at least three hours and eat before you arrive as there's no food allowed inside or on sale. Try to find the popular areas first (Floating Nest, Forest of Lamps, The Crystal World) before the queues for them get too long.
Details: Entrance is 3200 yen ($30) and it's important to book in advance as it often sells out. Tea is an extra 500 yen ($5). You can book on the TeamLab Borderless website or on Voyagin and show the e-ticket on your phone.
It's open from 10 am – 7 pm every day. It gets very busy so avoid weekends and public holidays and arrive early. We arrived at 9.55 am and got in within 10 minutes (sometimes the wait is up to an hour).
TeamLab Borderless is located in the Mori Building in Odaiba near the giant ferris wheel. It's a five-minute walk from the Tokyo Teleport Station on the Rinkai Line.
5) Ghibli Museum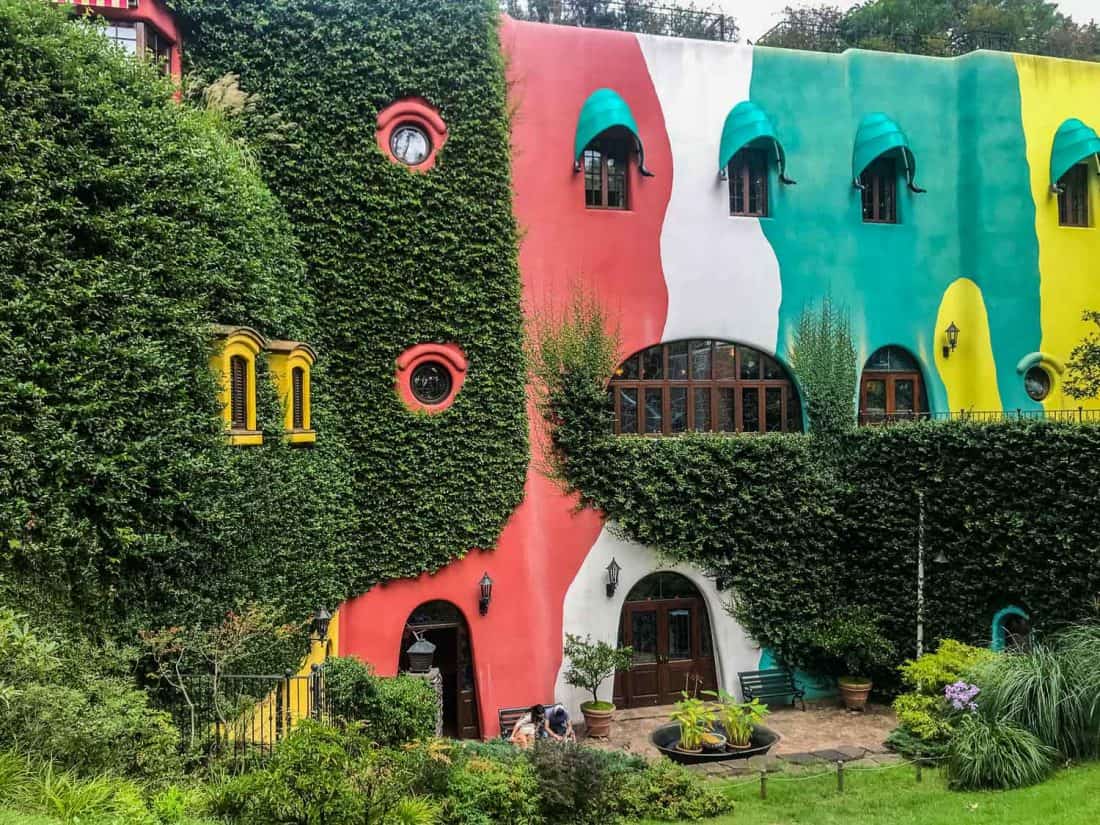 If you're a Studio Ghibli fan, don't miss the whimsical Ghibli Museum.
Most of the exhibits and short animation are in Japanese, but it's still cool to see props and drawings from classic films like Spirited Away and My Neighbor Totoro.
When we visited there was a special exhibition on the food that the characters in the films eat. The attention to detail in every second of the films is astounding.
Details: It's essential to book tickets in advance—you can find the details on the Ghibli Museum website. Tickets cost 1000 yen ($9).
We booked ours online through Lawson—tickets go on sale on the 10th of each month for the following month and sell out quickly. If you don't manage to get tickets, Voyagin sometimes has last minute tickets, but you'll pay a premium.
The museum is a 15-minute walk from Mitaka Station and a little longer from Kitoji Station through a pleasant park. Don't forget your passport and printed tickets.
6) Harajuku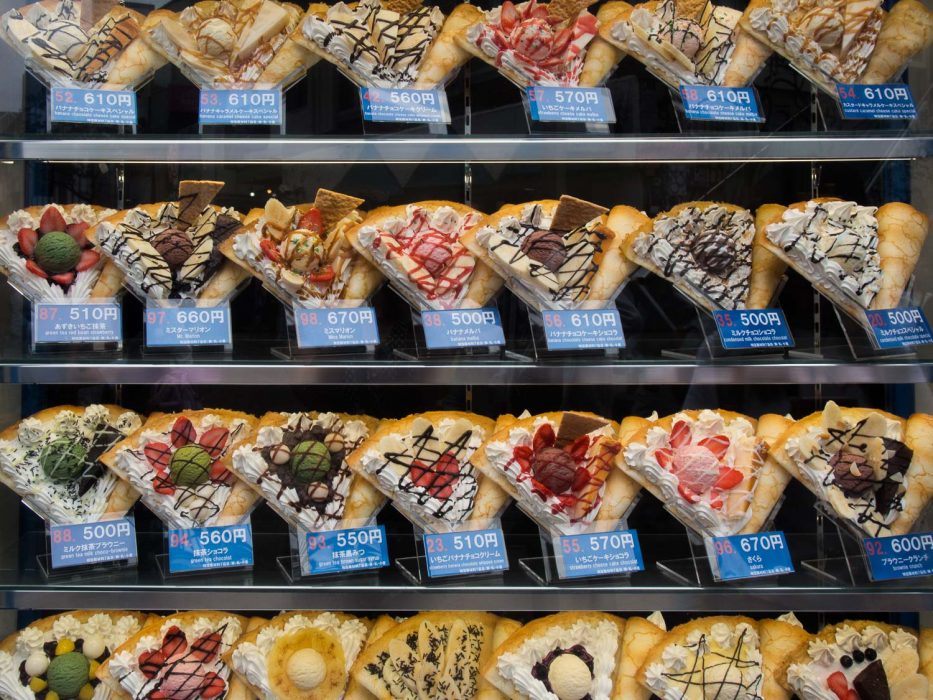 Harajuku is Tokyo's youth neighbourhood with Takeshita Street at its heart. It's one of the most vibrant and fun places in Tokyo.
It gets super crowded on weekends, but it's worth wandering around to see the cosplay kids, browse the quirky fashion stores, and eat from one of the popular crepe stands—crepe stuffed with a slice of cheesecake, anyone?
Nearby you can also visit the elegant shopping street Omotesando, the Meiji shrine within Yoyogi Park, and the Ota Museum (see below).
Details: Take the train to Harajuku Station and follow the crowds.
Traditional Things to Do in Tokyo
7) Sensoji Temple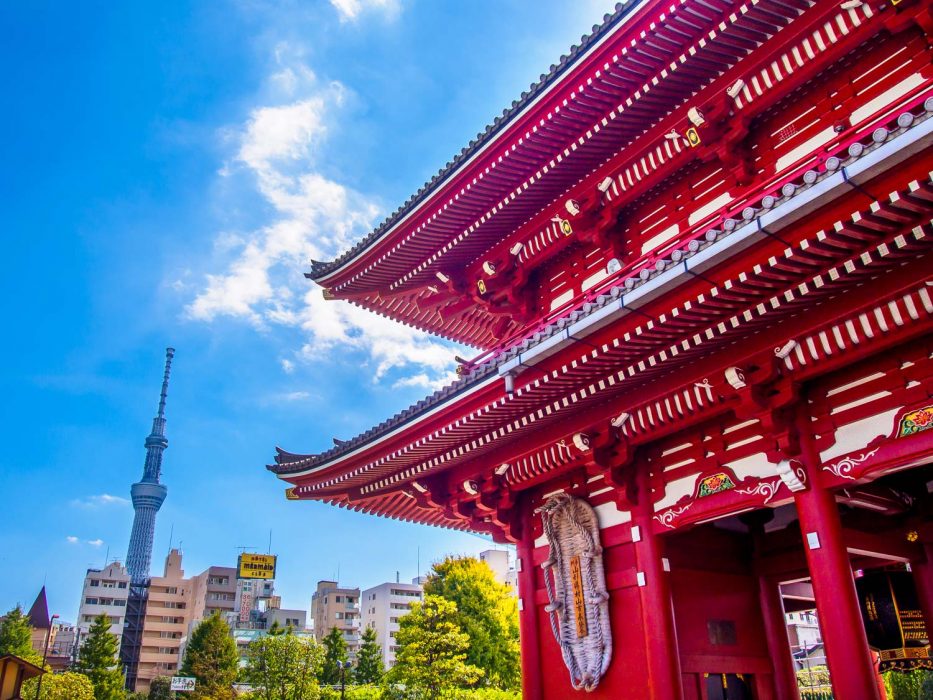 Sensoji is a Buddhist temple in Asakusa, one of Tokyo's most traditional neighbourhoods where you can still find old wooden shops amongst the concrete. It's one of the most beautiful things to see in Tokyo.
The vibrant red temple gets crowded but you can escape by wandering off through the gardens to one of the quieter shrines. In the main area make sure to get your fortune told and cover yourself in incense for good luck.
Nearby head up to the 8th floor of the Asakusa Culture Tourist Information Centre opposite Asakusa Station for free views of the Tokyo Skytree (the world's tallest tower) and the Nakamise shopping street leading to Sensoji.
Details: Take the Ginza subway line to Asakusa. Entrance is free and the temple grounds are always open.
8) Ota Memorial Museum of Art
The Ota Memorial Museum in Harajuku is a small gallery with changing exhibits of beautiful ukiyo-e, Japanese woodblock prints.
We were lucky enough to see the 36 Views of Mount Fuji by Hokusai including the famous Great Wave off Kanagawa.
Details: 700 – 1000 yen ($6-9) entrance fee depending on the current exhibition. Closed on Mondays and for certain holidays (check the calendar on their website). Take the train to Harajuku Station.
9) Shinjuku Gyoen National Garden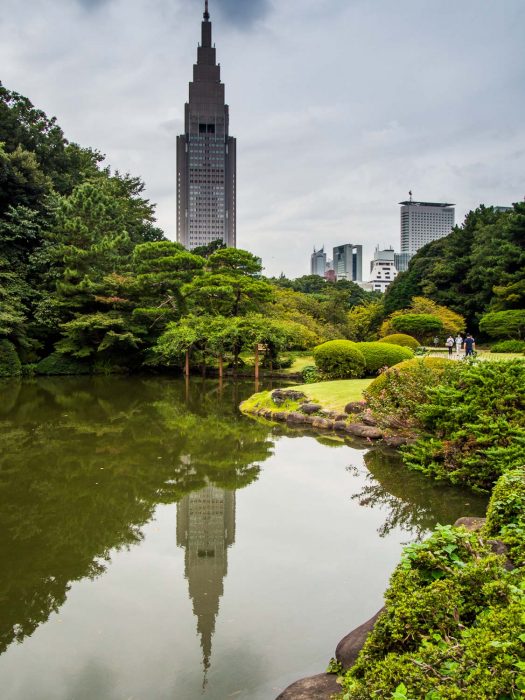 This beautiful park is at its best when the cherry blossoms are blooming or the autumn leaves have turned red, but even in late summer we enjoyed strolling past the ponds, pagodas, and teahouse. There are Japanese, French, and English gardens.
It's a wonderful oasis from the busy city and having a picnic here is one of our favourite things to do in Shinjuku.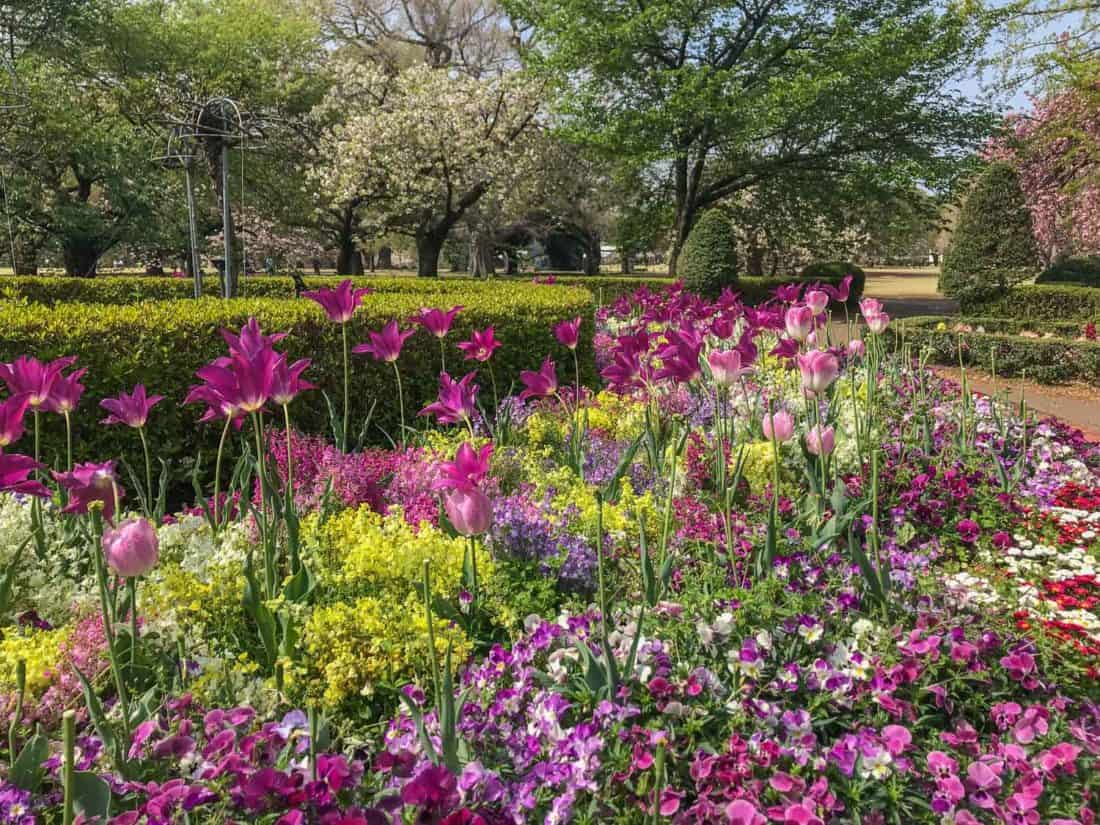 Details: 500 yen ($5) entrance fee. Open 9 am – 4.30 pm. Closed on Mondays. The Shinjuku Gate is a 10-minute walk from the New South Exit of Shinjuku Station.
Foodie Things to Do in Tokyo
Tokyo is foodie heaven with some of the best eating in the world from cheap eats to fine dining.
Even vegetarians are well-catered for, as long as you know where to look—see our picks for the best vegetarian restaurants in Tokyo.
10) Kaiseki Meal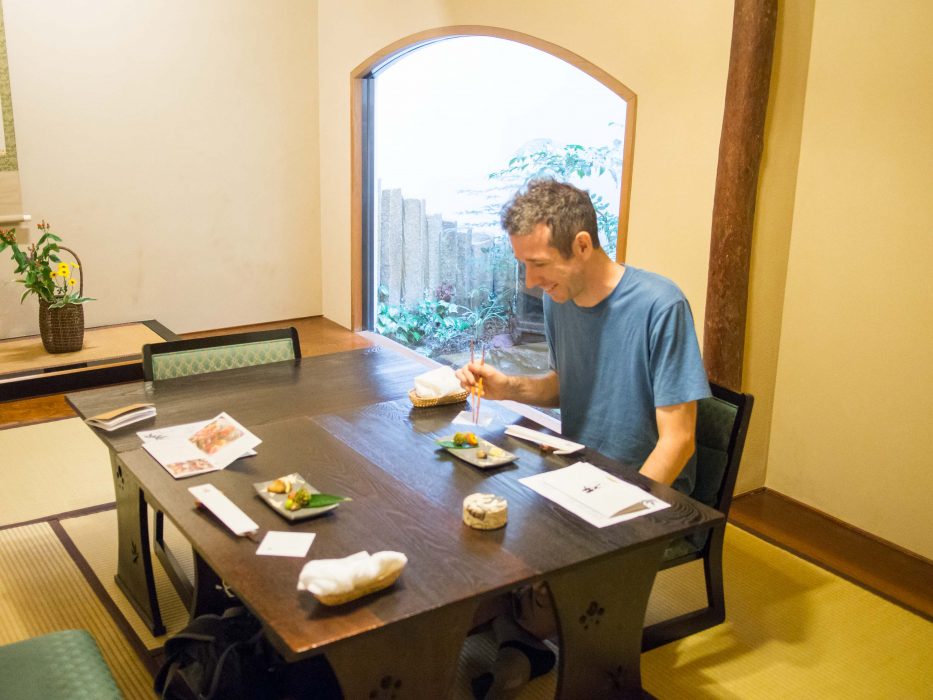 Kaiseki is a traditional Japanese multi-course tasting meal using seasonal, beautifully presented ingredients.
Enjoying one of these exquisite meals in a private tatami mat room is a memorable experience. They are expensive so it's best to go for lunch which is much cheaper than dinner. Savor Japan has a list of kaiseki restaurants to try.
Vegetarians don't have to miss out—shojin ryori or fucha ryori is the Zen Buddhist vegan equivalent of kaiseki. We had a wonderful 12-course meal at Bon, a beautiful and tranquil space with miniature gardens, fountains, and private tatami mat rooms with sliding paper doors.
11) Ramen Vending Machine Restaurant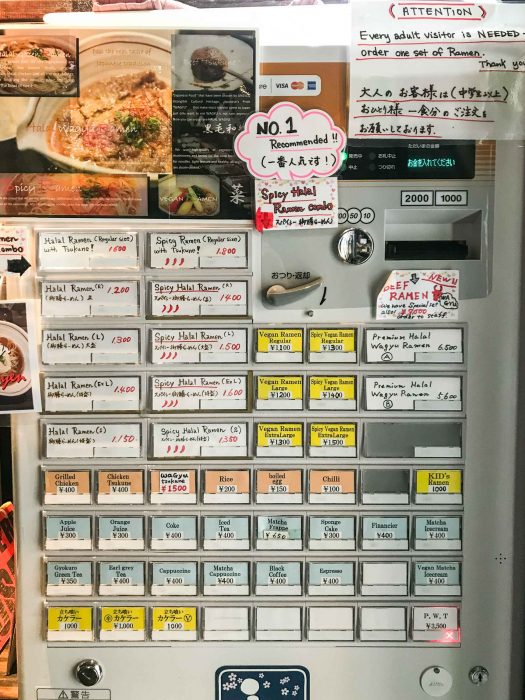 Don't worry, you won't be eating instant ramen! At many ramen restaurants in Tokyo you order your meal and pay at the vending machine by the entrance, then take a seat at the counter and hand your ticket over to the chef.
There are thousands of ramen joints in Tokyo. As vegetarians we loved Ramen Ouka, which does halal and vegan ramen, and T's Tantan, an entirely vegan ramen restaurant in Tokyo Station.
12) Department Store Food Basement
For an intriguing introduction to Japanese food, head downstairs in one of the city's massive department stores like Takashimaya or Isetan.
The food basements are full of culinary delights from sake to sushi including pickled vegetables, odd-flavoured kit kats, dozens of varieties of rice crackers, beautiful bento boxes, and hundred dollar melons.
Most of the time we had no idea what we were looking at, but if you're not vegetarian, these are a great place to pick up a picnic lunch.
Things to Do in Tokyo at Night
13) Tokyo Metropolitan Government Building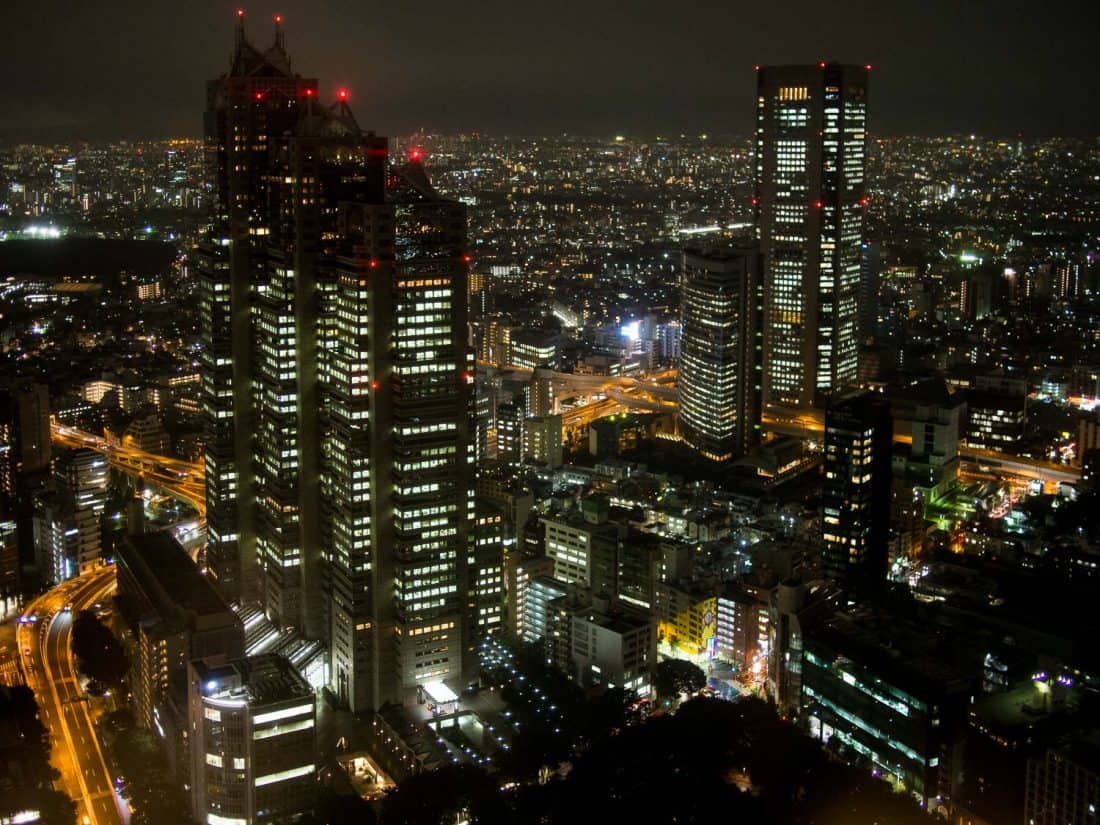 There are a number of spots in Tokyo where you can enjoy views of the city skyline, but the best place for a free view is the Tokyo Metropolitan Government Building in Shinjuku.
The North Tower is open until 11 pm and you can see the skyscrapers and highways lit up in the darkness. On a clear morning you might be able to see Mt Fuji from the South Tower.
Details: Free. 9.30 am to 11 pm (South Observatory until 5.30pm). North Observatory closed second and fourth Monday of the month. South Observatory closed first and third Tuesday of the month. 10-minute walk from the West Exit of Shinjuku Station.
14) Memory Lane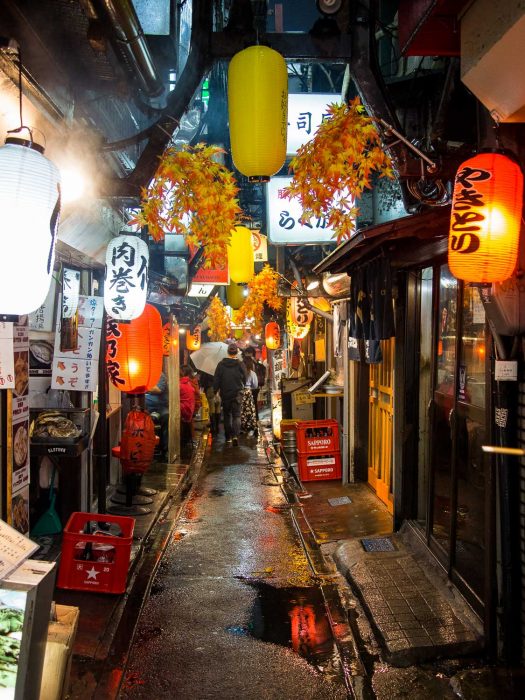 Memory Lane (Omoide Yokocho) is also known as Piss Alley from its post-WW2 roots when toilet facilities were non-existent.
Public toilets are now available, but you'll still feel like you've stepped back in time as you wander the narrow alleyways full of tiny yakitori restaurants seating just a handful of people at the counter.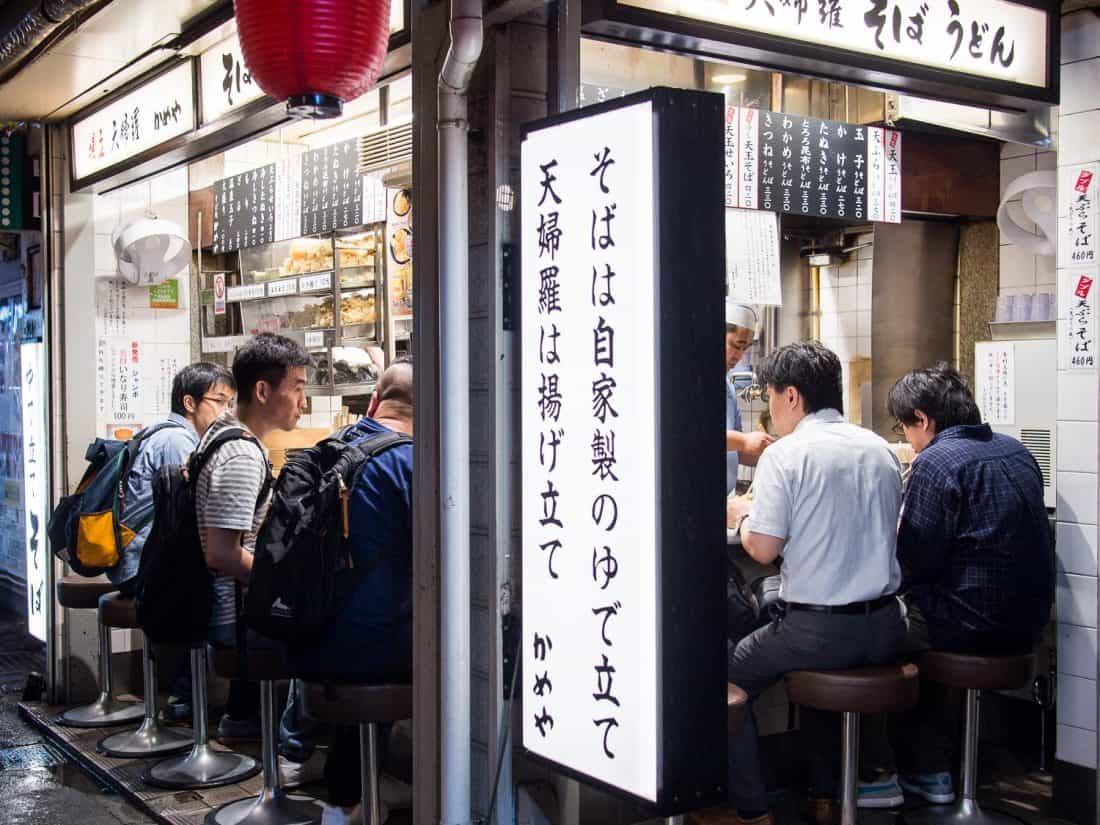 With its red lanterns and smoke from the grills it's an atmospheric place to wander. Most of the menus are in Japanese but you can always point to the skewers you want. As we don't eat meat we ate at the less atmospheric but tasty CoCo's Ichibanya Curry House instead, which has a vegetarian menu.
I love Memory Lane so much that it's one of the reasons why I think Shinjuku is the best area to stay in Tokyo.
Details: From 5 pm to midnight. Located on the western side of Shinjuku Station (look for Shinjuku Omoide Yokocho on Google Maps).
15) Golden Gai
Golden Gai is another network of narrow lanes in Shinjuku, this time with tiny bars rather than restaurants. Many have cover charges and don't allow foreigners, but you'll see signs in English for the ones that are more welcoming.
As it can be a little intimidating, you might prefer to explore with a local guide—this Golden Gai night tour has excellent reviews.
Details: From 7 or 8 pm until early morning (at 8 pm on a Friday it was pretty quiet). 10-minute walk from the East Exit of Shinjuku Station.
16) Shibuya Crossing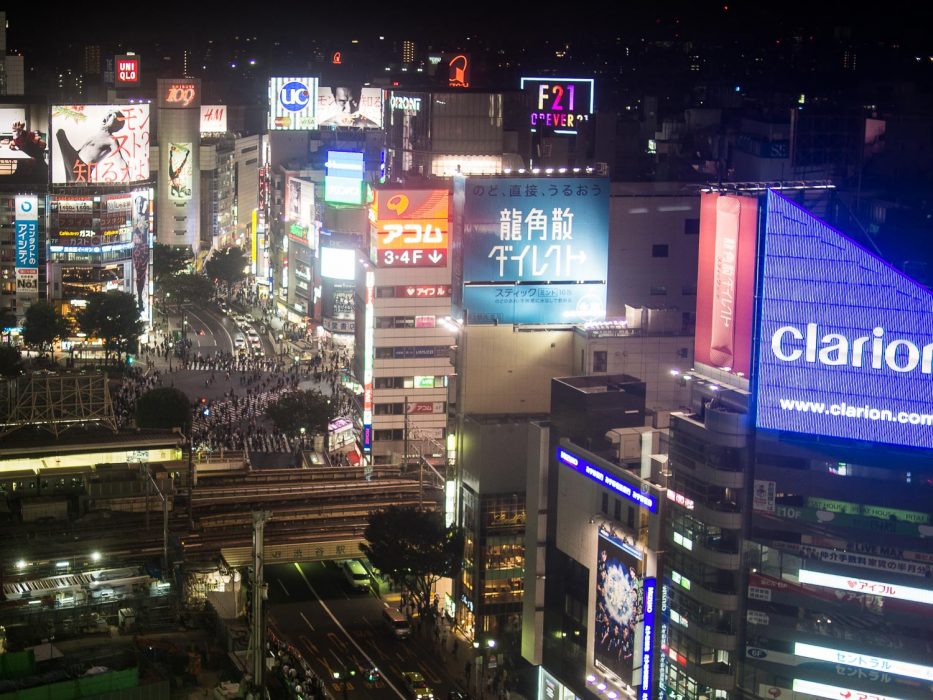 One of Tokyo's most iconic sights is the busy pedestrian crossing outside Shibuya Station. You can delve into the crowd yourself or get a view from above at the busy Starbucks or the quieter (but more distant) 11th floor of the Hikari Building.
While you can also visit during the day, the crossing is most dramatic at night when it's neon-lit from the signs above. You might want to visit during the day if you'd like to do a kimono photo shoot while you are there.
Details: Find it just outside Shibuya Station.
17) Walk over Rainbow Bridge
Rainbow Bridge is a massive suspension bridge that connects Tokyo to Odaiba, an entertainment island in Tokyo Bay. You can walk across it for fantastic views of the Tokyo skyline—I recommend going at sunset to see it by day and night.
While we didn't walk across the bridge ourselves—we drove across it on our Go-karting trip—it's on our list for next time so I can take some photos. The view was spectacular.
Details: Read this post for instructions.
18) Sky Circus Sunshine 60 Observatory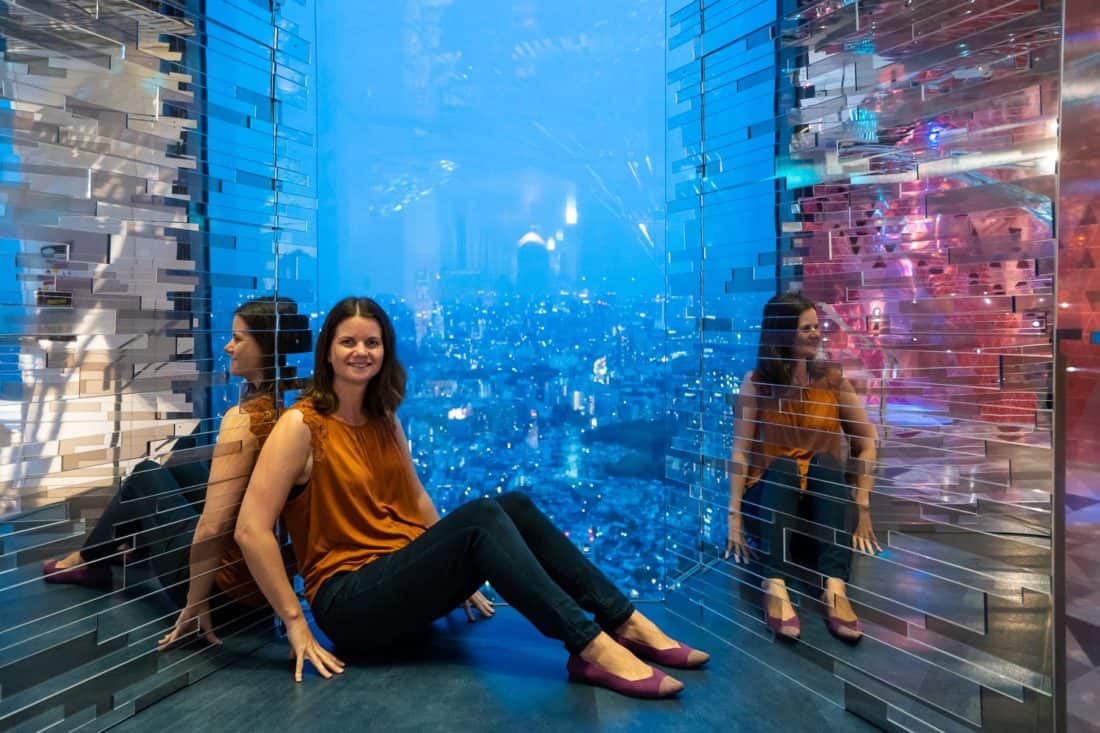 Sky Circus is an observation deck in Ikebukuro that features views of the city as well as cool interactive elements and virtual reality rides.
You can visit at any time of day but we timed it for sunset so we could see the views by day and night.
We spent about an hour and a half there taking photos, exploring areas like the mosaic mirror and kaleidoscope hall, and enjoying the VR rides.
The shooting VR game wasn't amazing although it does have some cool effects. Better was the Tokyo Bullet Flight where you get into a cylinder and fly over the city. The Swing Coaster is also popular.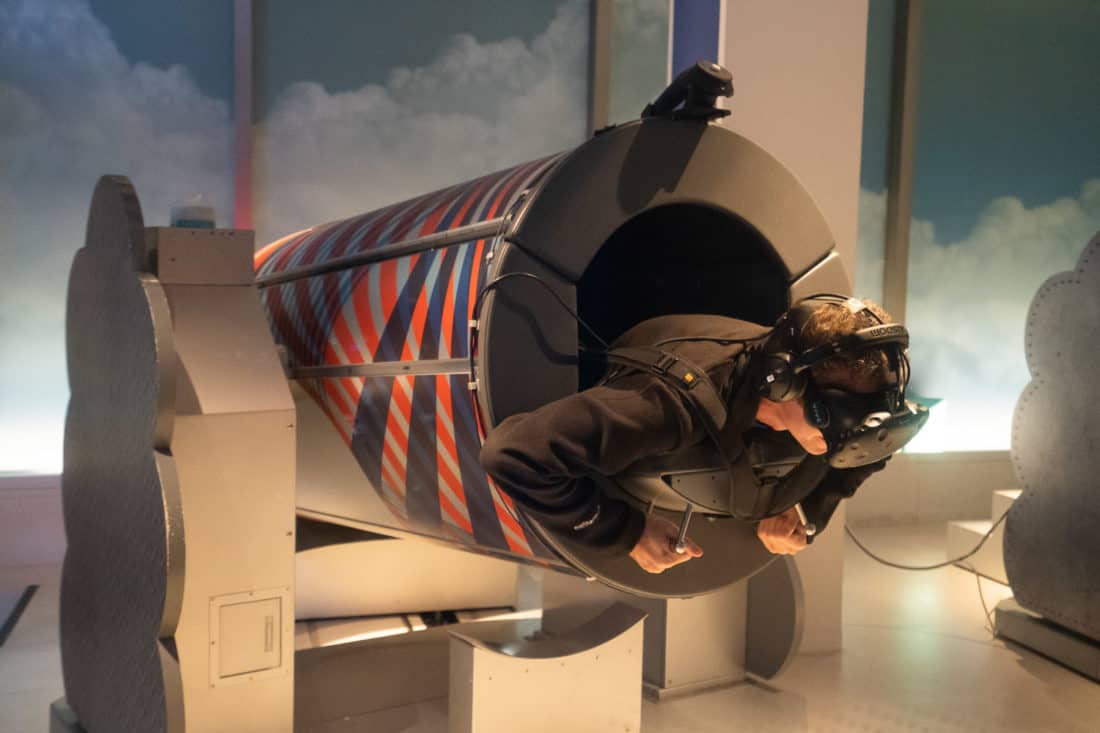 Details: Entrance is 1200 yen ($11). You'll save 100 yen if you book online with Voyagin. VR rides are an extra 400-600 yen ($4-6) each.
Open every day from 10 am – 10 pm. It's located a 10-minute walk from Ikebukuro Station which is only a few stops from Shinjuku Station.
Our Tokyo Bucket List for Next Time
Although we've spent many weeks in Tokyo over four trips, we still haven't had time for all of the unique things to do in Tokyo. On our wish list for next time are:
Tokyo Map
Tokyo Tips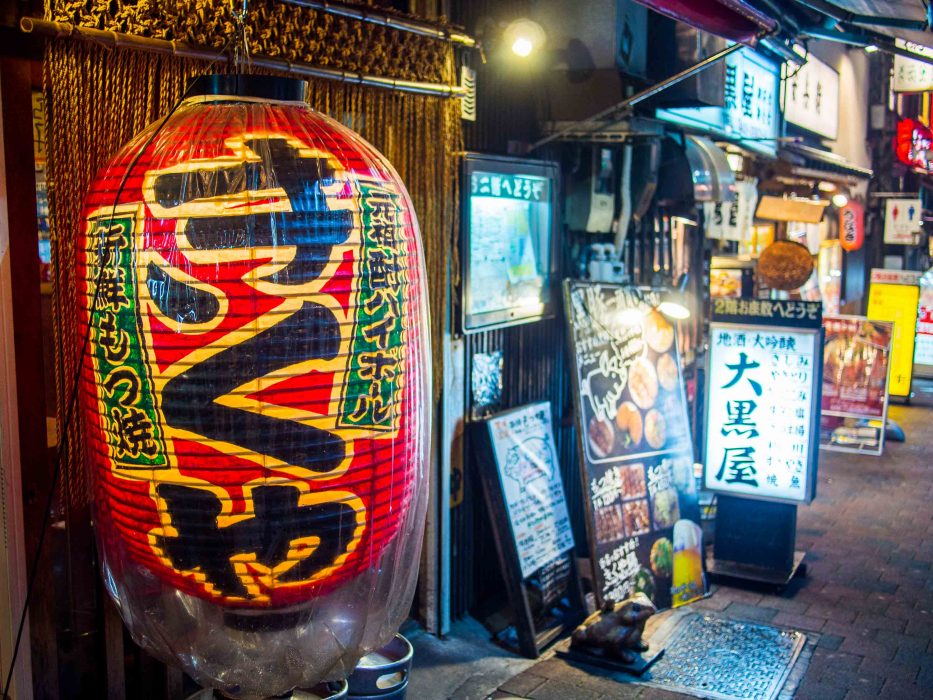 I think Shinjuku is the best place to stay in Tokyo for its excellent access to transport, good food, and many of the attractions above.
Buy a Umobile data SIM card from a vending machine at Narita airport. Having access to Google Maps makes it so much easier to get around, although there's free WiFi in many stations.
The Narita Express train is the easiest way to get from Narita airport to Shinjuku, Shibuya and Tokyo stations.
Get a Suica card from machines at train stations to use as a ticket on all trains and metro lines in Tokyo. You can also use it for lockers, vending machines, and even in many shops.
Use Hyperdia to check train times.
Search on Voyagin for many cool things to do in Tokyo, often at discounted prices (Robot Restaurant, go-karting, etc.).
Don't forget travel insurance as Japanese health care is expensive—we use and recommend True Traveller for UK and EU residents. SafetyWing is another affordable option available worldwide.
Pack light as hotel rooms are tiny in Tokyo. We travelled to Japan with just one carry-on backpack each—see our packing list here.
More Japan Posts
On our first trip to Japan, Tokyo just didn't compare to the beauty and tradition of Kyoto, but on more recent visits we've come to appreciate it for all the fun things to do, diverse neighbourhoods, and fantastic food. We'll definitely be back!
I hope this post was helped you decided what to do in Tokyo for a fun trip. Let me know if you have any questions in the comments below.
What are your favourite things to do in Tokyo?
If you enjoyed this post, pin it!