This page contains affiliate links. Please read our disclosure for more info.
Disney World can indeed be the most magical place in the world. At its best it's pure, stress-free fun and a blissful escape from the real world.
To make the most of a trip to Disney and avoid long queues, you need to plan in advance.
Prioritize the attractions you most want to do and ride them first thing in the morning or use the new paid Lightning Lanes. A little planning makes Disney much more enjoyable.
Disney World in Orlando, Florida has four main parks: Magic Kingdom, Animal Kingdom, Epcot, and Hollywood Studios. Each one is very different and I recommend dedicating at least one full day to each park.
In this post, I share our picks for the Disney World must do rides in each park, plus a strategy to help you avoid lines and our favourite places to eat.
I've focused on the best things to do at Disney World for adults and older kids, but many of these are suitable for the whole family.
Contents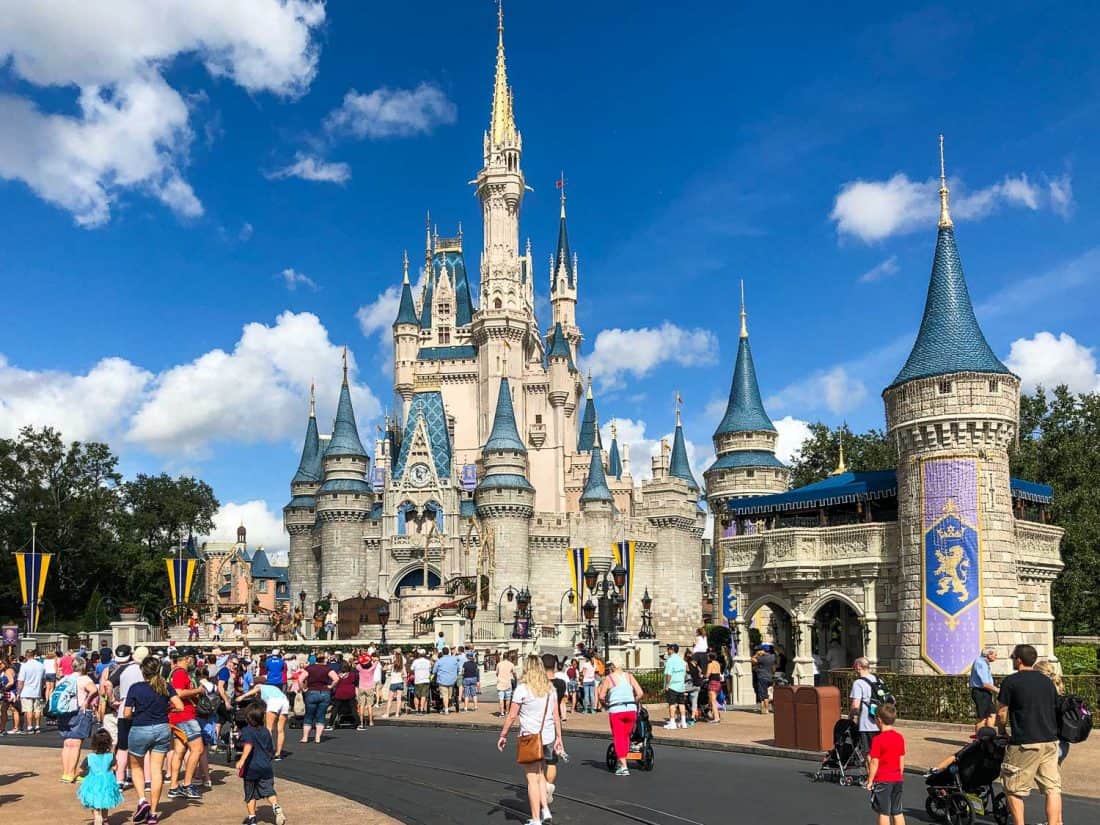 2023 Changes at Disney World
There have been many changes at Disney World over the last few years. Here's what you need to know:
In 2023 you must make a reservation to visit a park using the Disney Park Pass Reservation System on their website. It's best to do so at least a month before your trip. The reservation system will end for most guests from January 9, 2024.
If you have a Park Hopper ticket, you can only visit the second park after 2pm.
FastPasses have been replaced with Genie+ (see below for details).
Extra Magic Hours have been replaced with Early Entry, which gives Disney Resort guests a 30-minute early entry to each park every day. This is a big advantage for riding the top Disney World rides.
You can only ride Tron and Guardians of the Galaxy by joining a virtual queue in the Disney app.
Video of Best Things to Do at Disney World
Watch our video for ideas on what to do at Disney World Florida.
Disney World Must Dos: Our Top Picks
If you have limited time, these are our absolute favourite things to do at Disney World.
Enjoy a magical flight over the stunning world of Pandora on Avatar Flight of Passage (Animal Kingdom).
Experience Star Wars: Rise of the Resistance, Disney's most immersive ride (Hollywood Studios).
Ride Guardians of the Galaxy, Disney's most joyful roller coaster (Epcot).
Plummet down an elevator on the classic Twilight Zone Tower of Terror (Hollywood Studios).
Race on a motorcycle on Tron Lightcycle Run, the newest ride at Disney World (Magic Kingdom).
Feel like a Star Wars character with a drink at Oga's Cantina, Disney's best bar (Hollywood Studios).
How to Avoid Queues at Disney World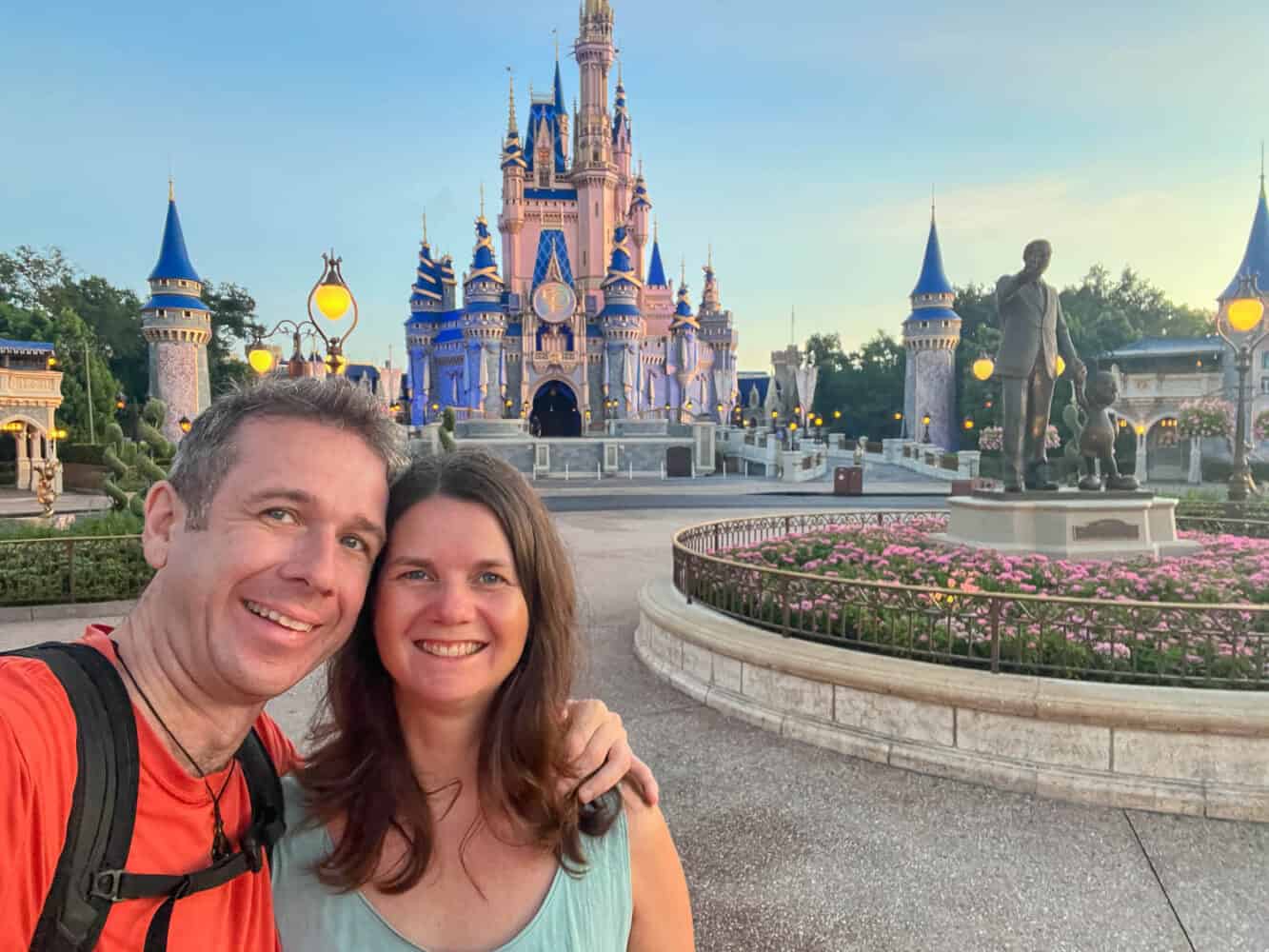 There are two main ways to avoid long lines on the best rides at Disney World. By using them we rarely queue for more than 15 minutes (30 minutes is our maximum), when lines can peak at two hours or more.
Arrive Early
The first is to arrive at parks at least 30 minutes before the official opening time (which you can check on the Disney World website) to be near the front of the line waiting to get in.
For the first hour of the day, you can get on most rides without much queuing.
If you are staying at a Disney resort, you can enter every park every day 30 minutes early—definitely take advantage of this. I recommend arriving 60 minutes before the official park opening as they sometimes let guests in early.
In addition, if you are staying at a Deluxe Disney resort, you can stay late at select parks on certain days.
Check this Disney World crowd calendar for the best days to visit each park.
Use Lightning Lanes and Genie+
The second way to avoid long lines, even if you don't arrive early, is to use Disney's Lightning Lanes. These replaced the FastPass+ system.
Access to Lightning Lanes is primarily via a new paid service called Genie+ which you can buy from the My Disney Experience app for $15 – $35 per day and use for select rides.
As the system is complicated, I highly recommend reading our detailed guide to how to use Genie Plus. You'll get the most for your money if you are prepared.
The one or two most popular rides in each park are not included in the Genie+ bundle. Instead, line-skipping for these is priced individually (called Individual Lightning Lanes) and the cost varies depending on demand.
While Genie+ is a service that's worth paying for, especially for Magic Kingdom and Hollywood Studios, you should be able to avoid paying for individual attractions by arriving early and riding them first.
Below I've included recommendations for Genie+ priority rides.
Wheelchair Access for Disney Rides
Most of these Disney World rides are accessible for guests in wheelchairs or ECVs (Electric Conveyance Vehicles), although many require transfer from a wheelchair to the ride vehicle.
On the Disney website, you can see this list of services for guests with mobility disabilities which shows which rides are accessible for wheelchair users.
This guide to going on Disney rides in a wheelchair is also useful and answers common questions.
Wheelchairs and ECVs can be hired at all the parks on a first-come, first-served basis.
Best Rides at Magic Kingdom
Magic Kingdom is the most classic Disney park with its fairytale castle and famous characters like Mickey and Minnie Mouse.
I haven't included any Fantasyland rides below as they are aimed at small children, and the queues for rides like Peter Pan and Winnie the Pooh are usually very long and not worth it to us.
The most popular ride of all is the gentle rollercoaster, Seven Dwarfs Mine Train. We like it, but we don't think it's worth the very long lines.
For a more detailed guide to the park including Fantasyland rides and no-wait attractions, see our post on the must do rides at Magic Kingdom.
One notable attraction missing here is the log flume water ride Splash Mountain, which has now closed.
It will reopen in late 2024 as Tiana's Bayou Adventure based on the Disney movie, The Princess and The Frog. It will likely resume its place then as one of the top things to do at Disney World.
1) Tron Lightcycle Run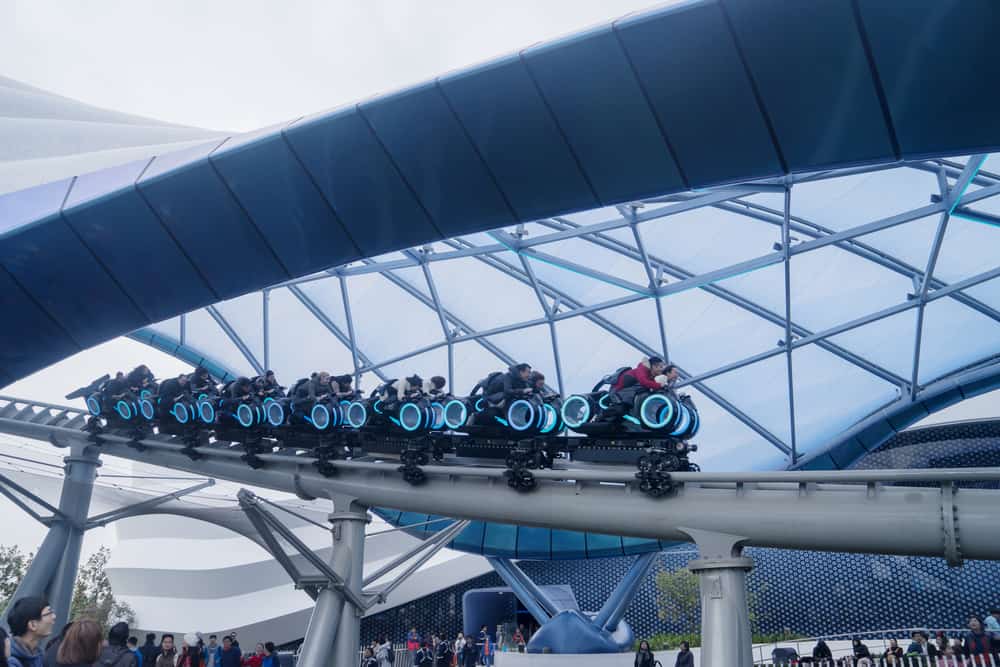 The newest ride at Magic Kingdom is Tron Lightcycle Run, which opened in April 2023 and will be a priority for anyone who loves thrill rides.
We haven't had a chance to ride it yet, but we can't wait to hop on one of the motorbikes and speed around the track that goes outside with great views of Tomorrowland and inside through a huge dark warehouse.
There is no standby line for Tron. Access is by free virtual queue in the Disney app—be ready to book at 7am or 1pm as it sells out in seconds.
Deluxe Disney resort guests can also join at 6pm during Extended Evening Hours (currently Wednesdays at Magic Kingdom).
Alternatively, book an Individual Lightning Lane for $20 (best booked at 7am for resort guests or park opening for everyone else).
2) Space Mountain
Classic Space Mountain is a high-speed rollercoaster in the dark with plenty of twists and turns (but no inversions or large drops).
As you fly through the galaxy you never know what's coming next.
We often ride this first thing and it's quite the way to wake up!
Space Mountain is definitely a must do at Disney World.
3) Big Thunder Mountain Railroad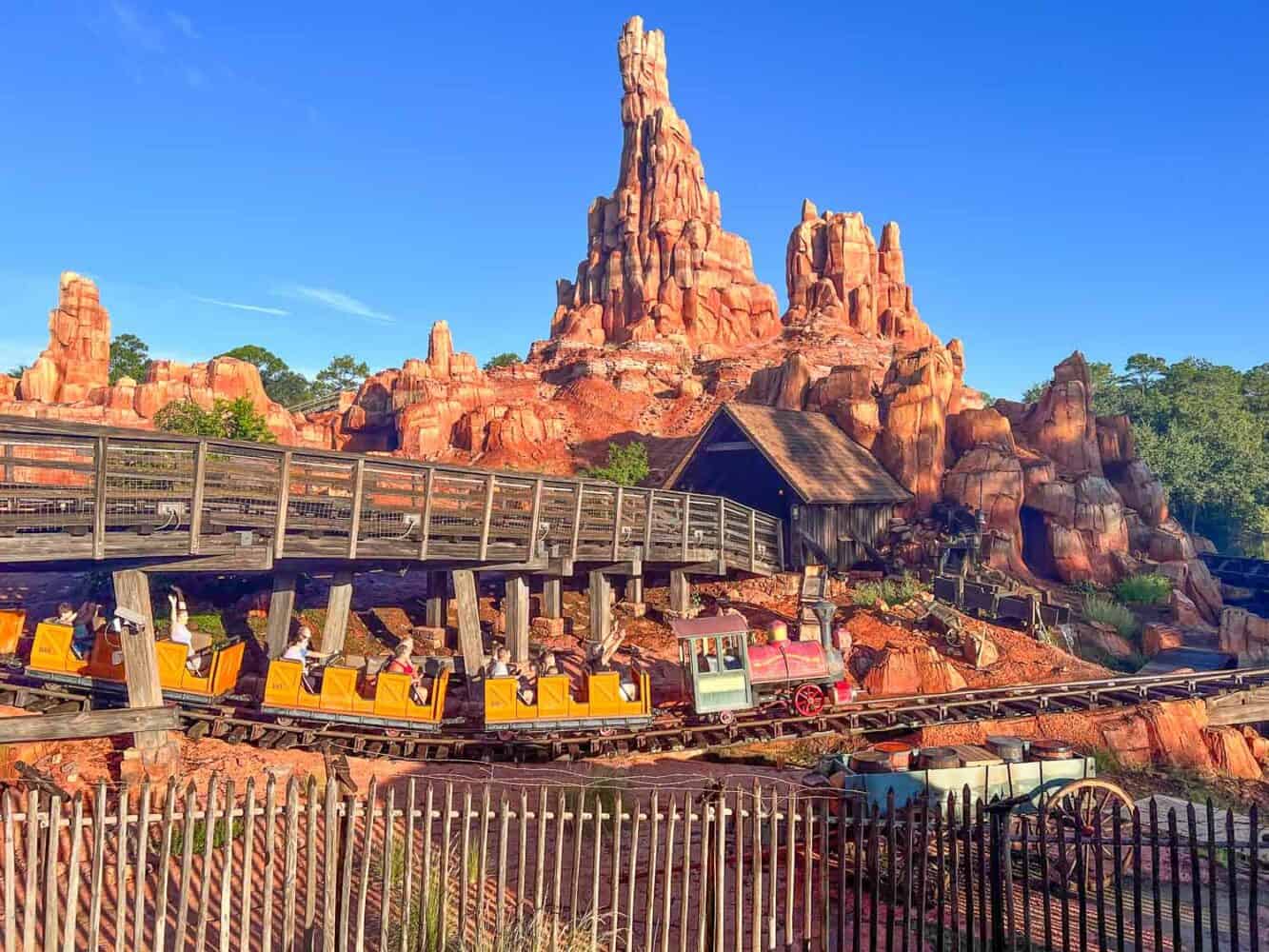 Big Thunder Mountain Railroad is a fun outdoor rollercoaster in Frontierland, which is our favourite area of the park with its Wild West theme.
It's not as wild as Space Mountain, but we love the theming—you're on a runaway mine train during the Gold Rush—and the views of the park.
4) Pirates of the Caribbean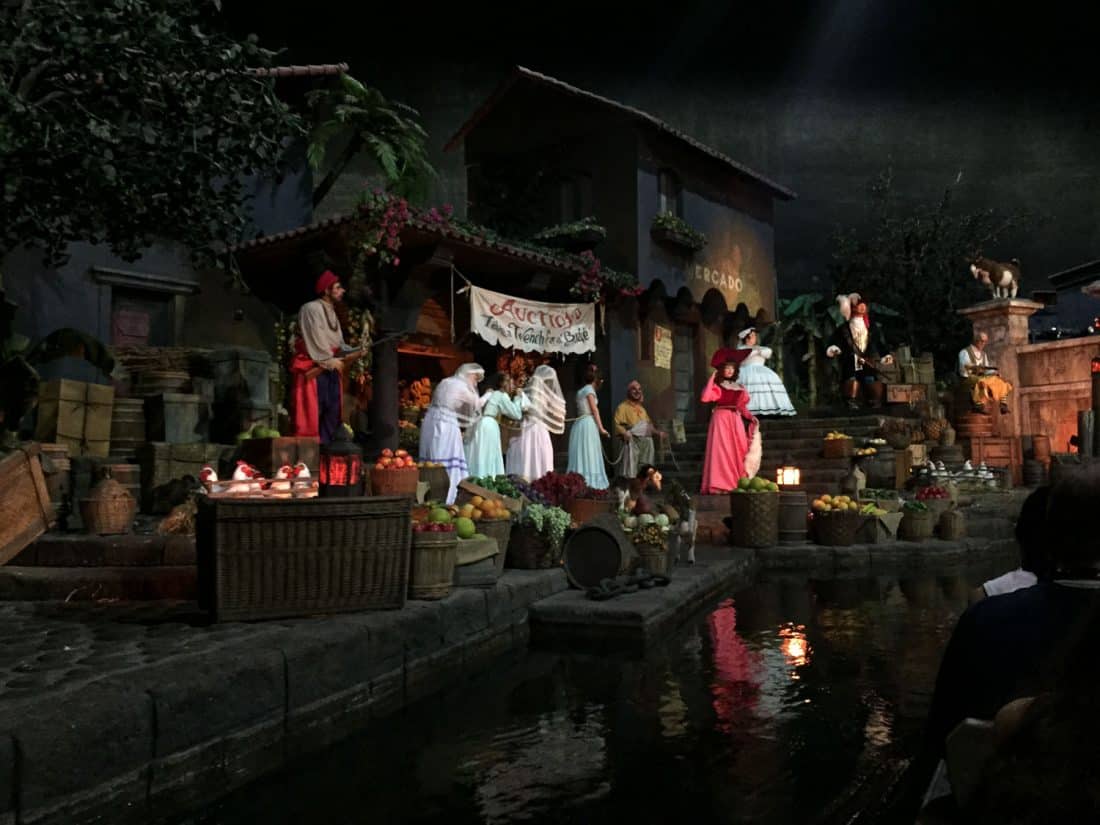 Pirates of the Caribbean is a gentle indoor cruise through scenes of a pirate raid from the bombardment of a fortress to debauchery after the victory.
Every time we ride it we notice new details. The films were inspired by this classic ride and you can now see an animatronic figure of Captain Jack Sparrow.
5) Haunted Mansion
A slow ride through a haunted estate full of ghosts and ghouls. It's fun (and often humorous) rather than scary with lots of spooky details and special effects to enjoy.
The queue features interactive elements like a musical crypt, so a slightly longer wait here is fine.
6) Buzz Lightyear's Space Ranger Spin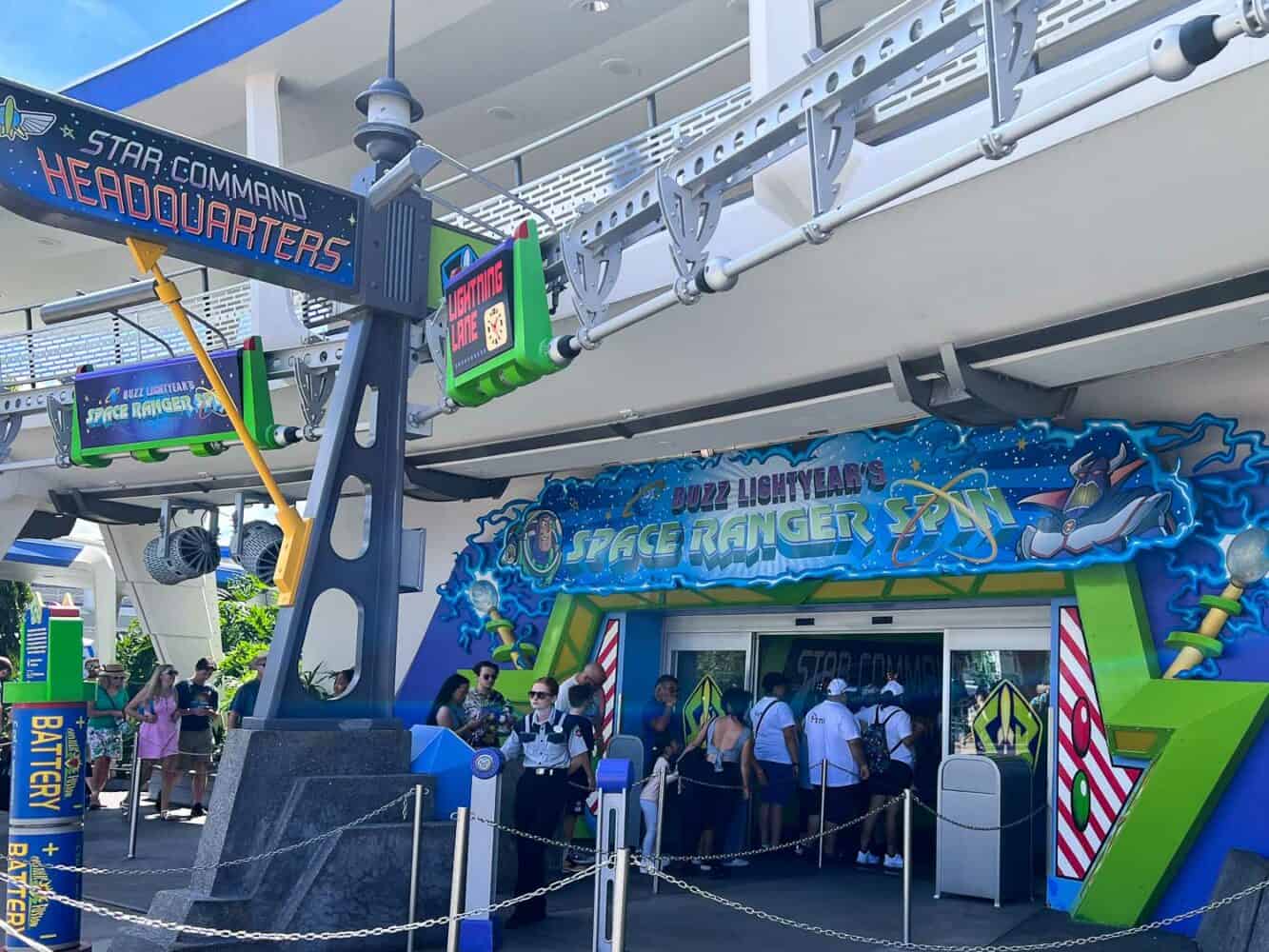 On this Toy Story-themed interactive ride, you shoot targets with laser cannons and earn points as your spinning car (you control the spin) makes its way through the scenes.
It's not as good as the similar ride at Hollywood Studios, but Simon still always wants to ride it again to beat his score.
The Best of the Rest at Magic Kingdom
Once you've got the main rides out of the way, one of the best things to do is just wander, soak up the atmosphere, and pop into one of the random shows and attractions that rarely have long waits.
If you are wondering what to do in Disney World when you're feeling hot and exhausted, I recommend musical shows like The Enchanted Tiki Room, Country Bear Jamboree (which is surprisingly racy!), and Mickey's PhilharMagic. You won't need to wait for long and they are perfect when you need a break.
We also love having a picnic on Tom Sawyer's Island, clambering up the Swiss Family Treehouse, and getting on the water on the pun-tastic Jungle Cruise or the leisurely Liberty Square Riverboat.
The Tomorrowland Transit Authority PeopleMover takes you behind the scenes of Tomorrowland's attractions and is especially lovely at sunset when you can see the park from above. We enjoy taking the Railroad around the park in the afternoon when we're feeling tired.
Finishing the day with the Magic Kingdom fireworks above the castle is a Disney World must do.
Best Genie+ Rides at Magic Kingdom
If you've purchased Genie+ for Magic Kingdom (which is worth doing), the most popular selections are Jungle Cruise (which was revamped in 2021) and Peter Pan's Flight.
After those, choose Big Thunder Mountain, Space Mountain, Haunted Mansion, and Buzz Lightyear.
See our Disney Genie Plus review for more details on this line-skipping service.
Where to Eat at Magic Kingdom
Jungle Cruise-themed Skipper Canteen is our favourite table service restaurant.
Pecos Bill Tall Tale Inn in Frontierland is our top pick for eating at Disney World on a budget—the veggie rice bowl is one of the healthier options.
Best Rides at Animal Kingdom
Since the addition of Pandora—The World of Avatar, Animal Kingdom has become one of the most enjoyable parks at Disney World.
There are fewer major attractions than at other parks, but this makes for a more relaxing experience (with fewer queues), and there's still plenty to do.
For a more detailed guide to the park, see our post on the best things to do at Animal Kingdom.
7) Avatar Flight of Passage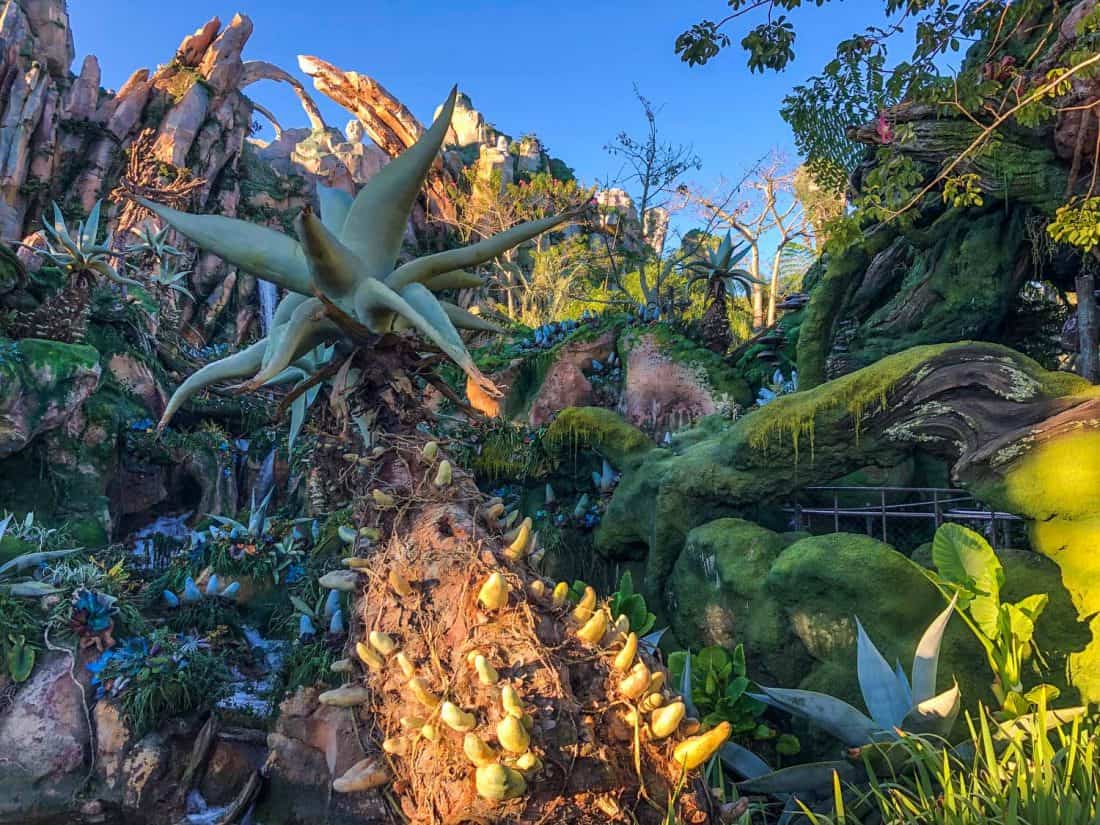 Avatar Flight of Passage is by far the most popular ride at Animal Kingdom and this unique experience is a Disney must do.
It's best ridden during Early Entry as lines are long most of the day.
Flight of Passage is well worth the wait and the beautiful queue and fun pre-show are part of the experience.
It's an exhilarating 3D flight simulator ride where you fly on the back of a dragon-like banshee. You can feel it breathe beneath you as you soar over the extraordinary Pandora world through forests and waterfalls.
While flying over the ocean a whale-like creature even jumps out of the water and splashes you. It's magical and incredibly immersive.
While it's not necessary, I'm glad I watched the first Avatar movie before we went on the ride.
8) Na'vi River Journey
The second Avatar ride is not as spectacular, but it's worth doing if you don't have to wait too long.
Na'vi River Journey is a peaceful river ride in the dark through a bioluminescent rainforest.
It's a beautiful world with plenty to see, and the graceful Shaman of Songs is Disney's most lifelike animatronic character yet.
9) Kilimanjaro Safaris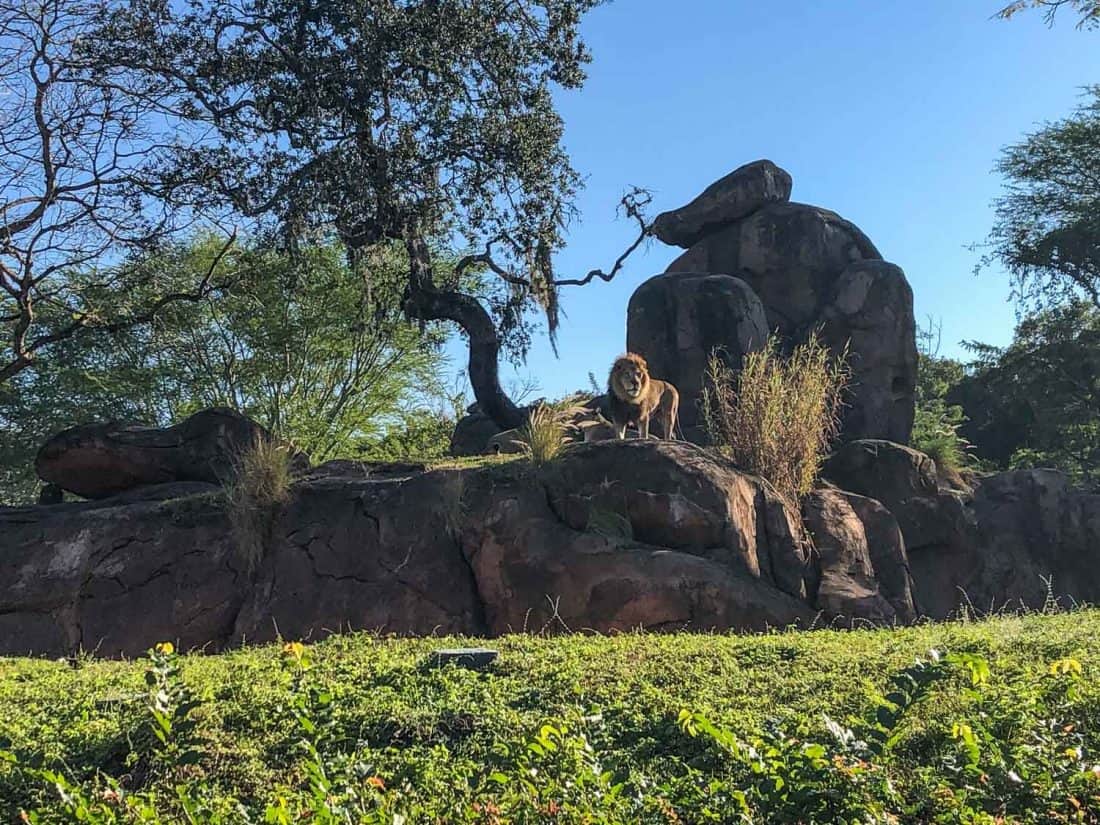 On Kilimanjaro Safaris you board a jeep to head out into Disney's safari park to see real live animals.
It's best first thing in the morning (we ride it after the two Pandora rides) when the animals are more active and the lines are shorter.
The guides are genuinely informative and you can see elephants, lions, giraffes, rhinos, cheetahs and more.
10) Expedition Everest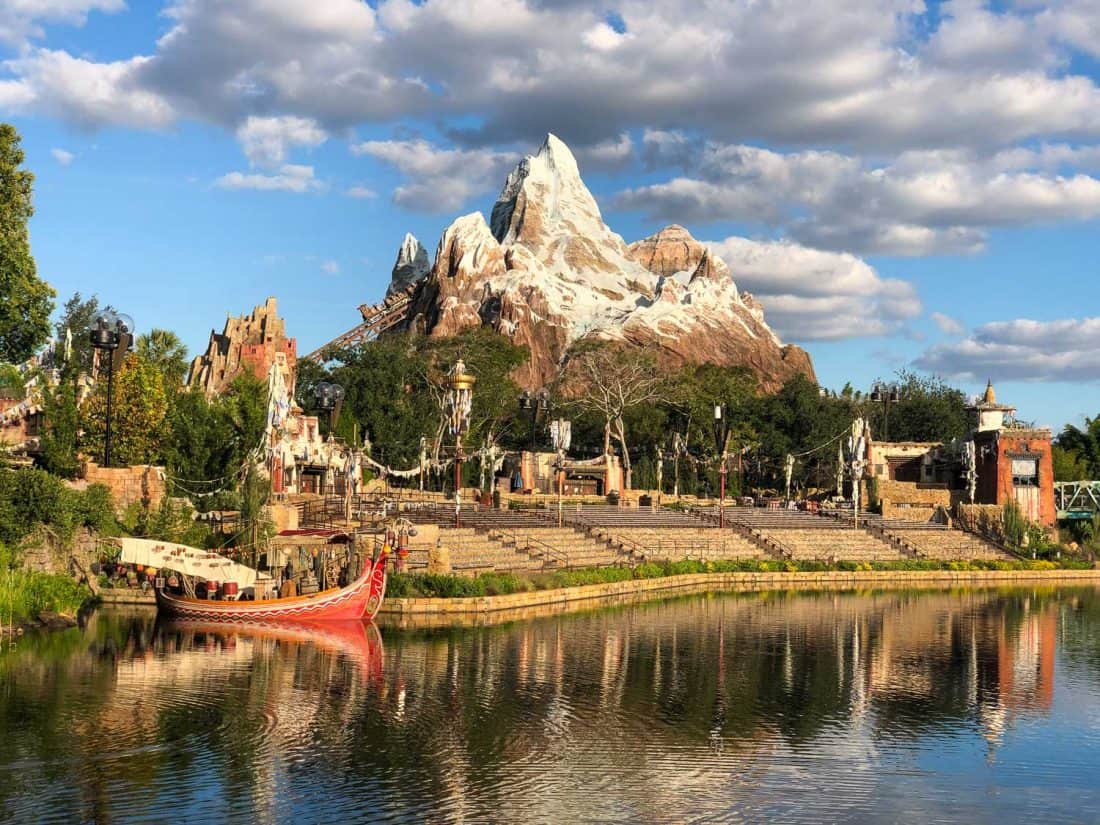 Expedition Everest is a fast rollercoaster train that speeds through the Himalayan mountains trying to avoid the mythic yeti.
The details in the queue (and in the whole Asian area of the park) reminded us so much of Nepal.
There's a single-rider line that's much quicker, so Simon usually rides it a couple of extra times by himself.
11) Kali River Rapids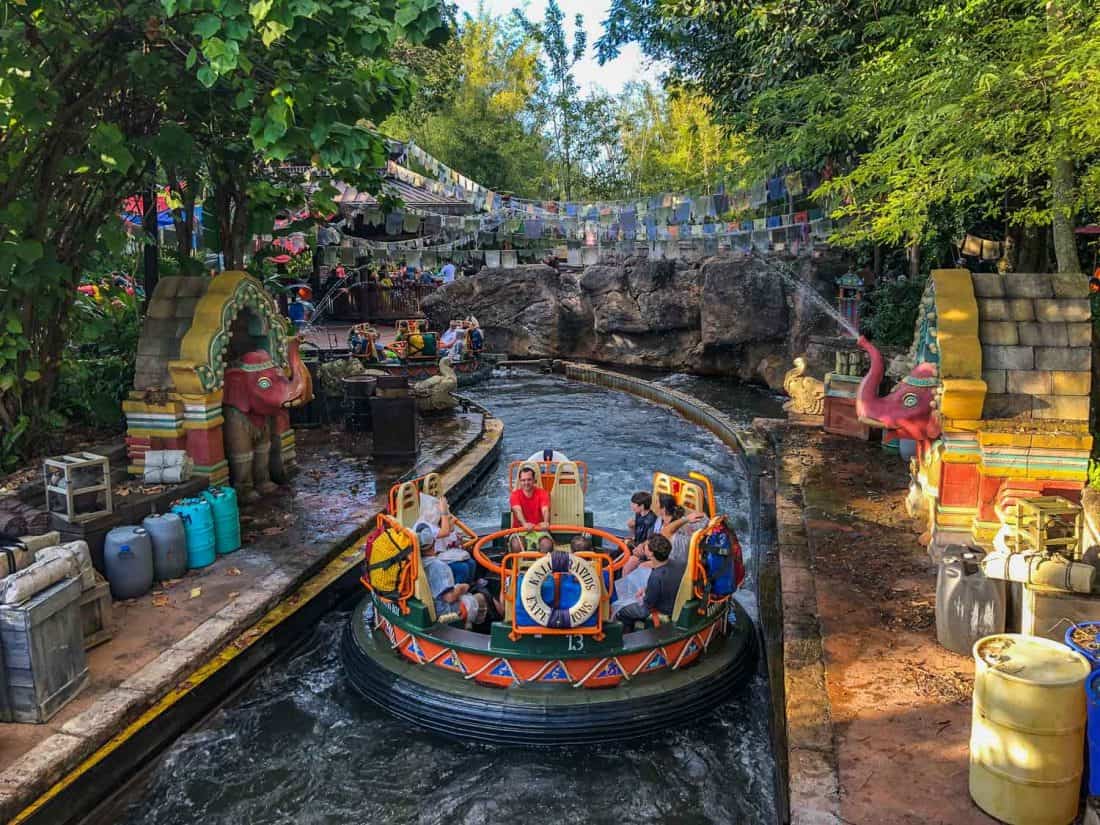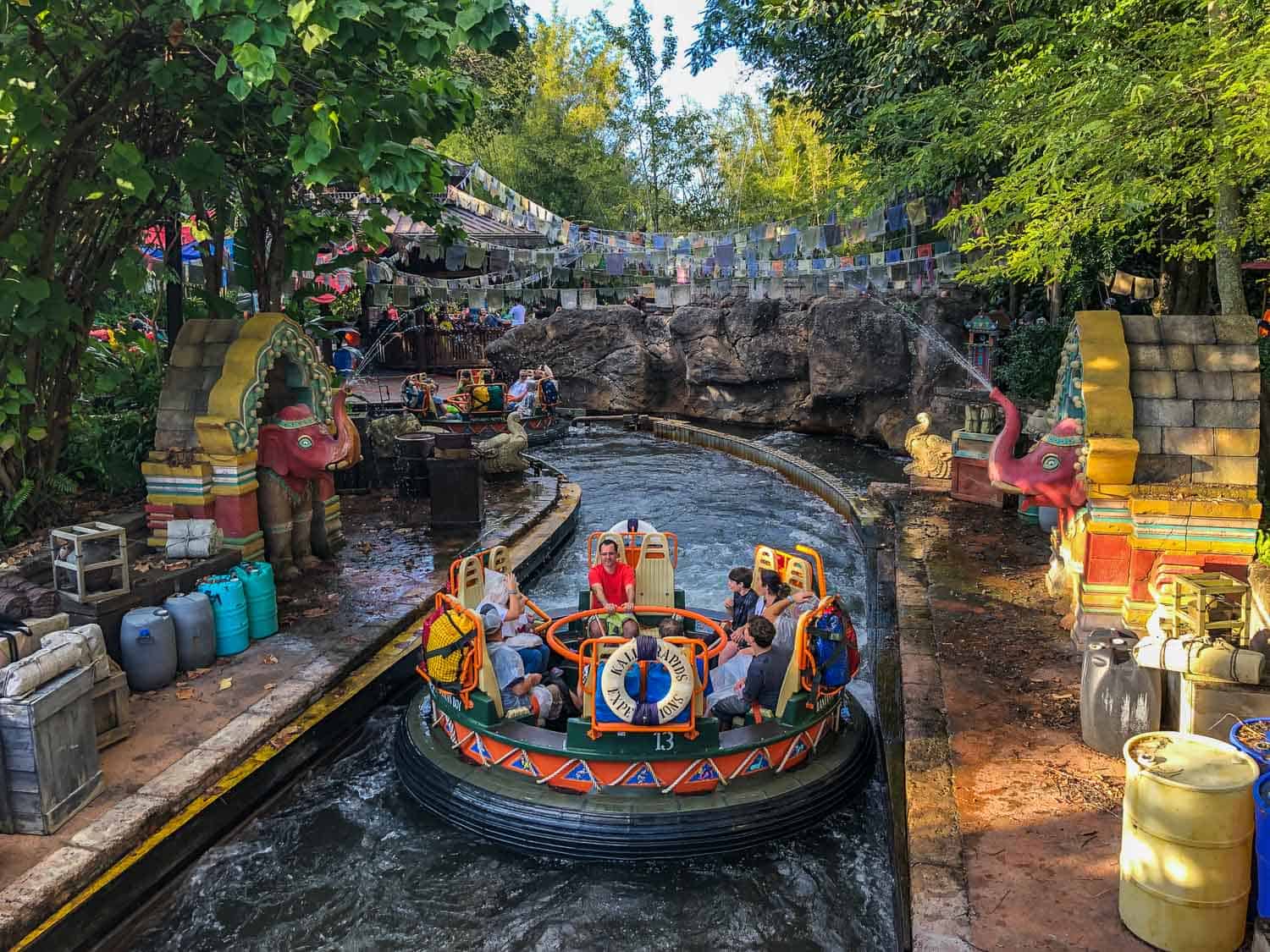 This whitewater rafting ride is fairly gentle with a few thrilling drops. The fun is in the nervousness over whether you'll get just wet (as everyone does) or truly soaked (as about one person per raft does).
The Best of the Rest at Animal Kingdom
The Dinosaur ride is surprisingly scary and doesn't usually have long waits.
It's well worth walking the informative Gorilla Falls Exploration Trail and Maharajah Jungle Trek to see gorillas, tigers, and many other animals.
Our favourite show is It's Tough to be a Bug, and it's also worth seeing the Festival of the Lion King and Feathered Friends in Flight. There's plenty of street entertainment going on all day, too.
In the evening, don't miss the Tree of Life Awakening (every 10 minutes after dark) and wandering through Pandora.
Best Genie+ Rides at Animal Kingdom
Genie+ is less useful at Animal Kingdom as there are fewer rides.
Your Genie+ priority should be Na'vi River Journey followed by Kilimanjaro Safaris and Expedition Everest. Kali River Rapids and Dinosaur only really need it on busy days.
Unfortunately, Avatar Flight of Passage is only available if you pay individually. I recommend arriving early and riding it first.
Where to Eat at Animal Kingdom
Animal Kingdom has the most vegetarian-friendly food in all of Disney World.
For a quick lunch, the customisable bowls at Satu'li Canteen are a great option.
Nomad Lounge is the perfect spot for an afternoon rest, light meal, and cocktail.
We also enjoy lunch offsite at Sanaa restaurant in the nearby Animal Kingdom Lodge. You can watch giraffes and zebras wandering past as you eat, and the Indian food is delicious. Make sure to book.
See our Animal Kingdom must do guide for more suggestions.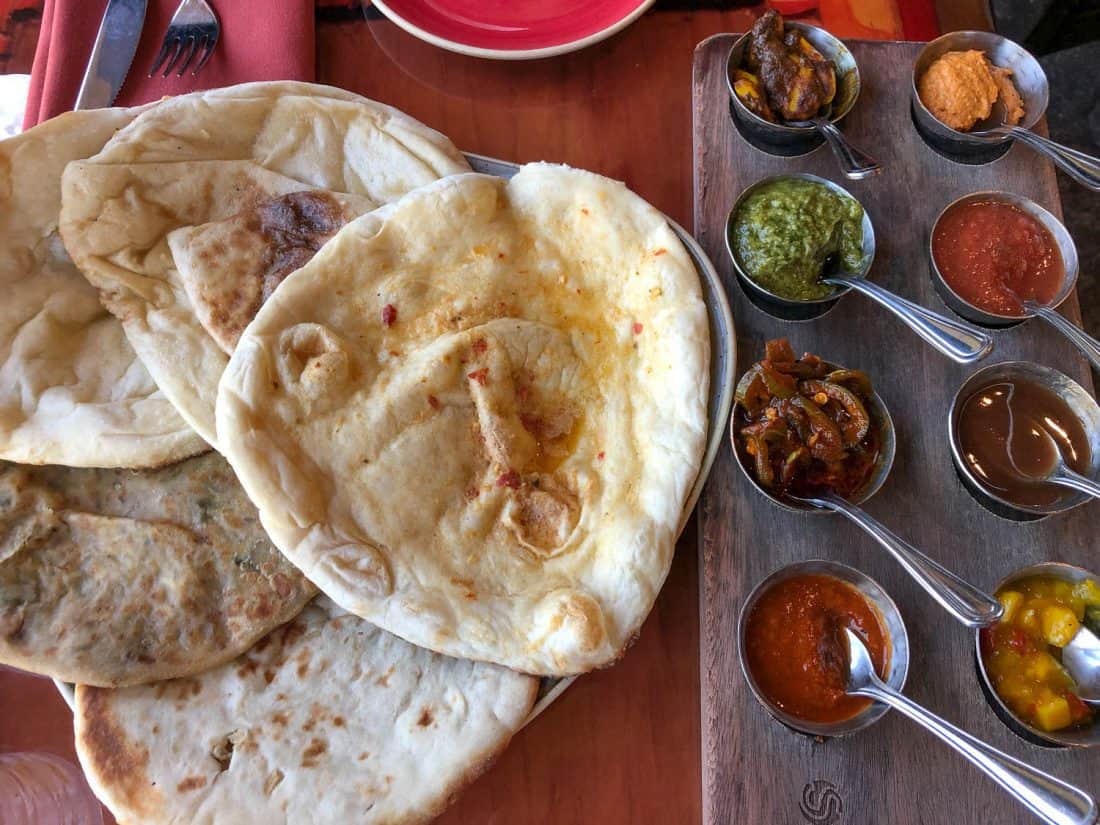 Best Rides at Epcot
While major rides at Epcot are limited, there are many other things to do.
World Showcase has pavilions representing 11 countries with shows, shops, and restaurants.
The front of the park (previously known as Future World) features the most rides plus interesting exhibitions.
12) Guardians of the Galaxy: Cosmic Rewind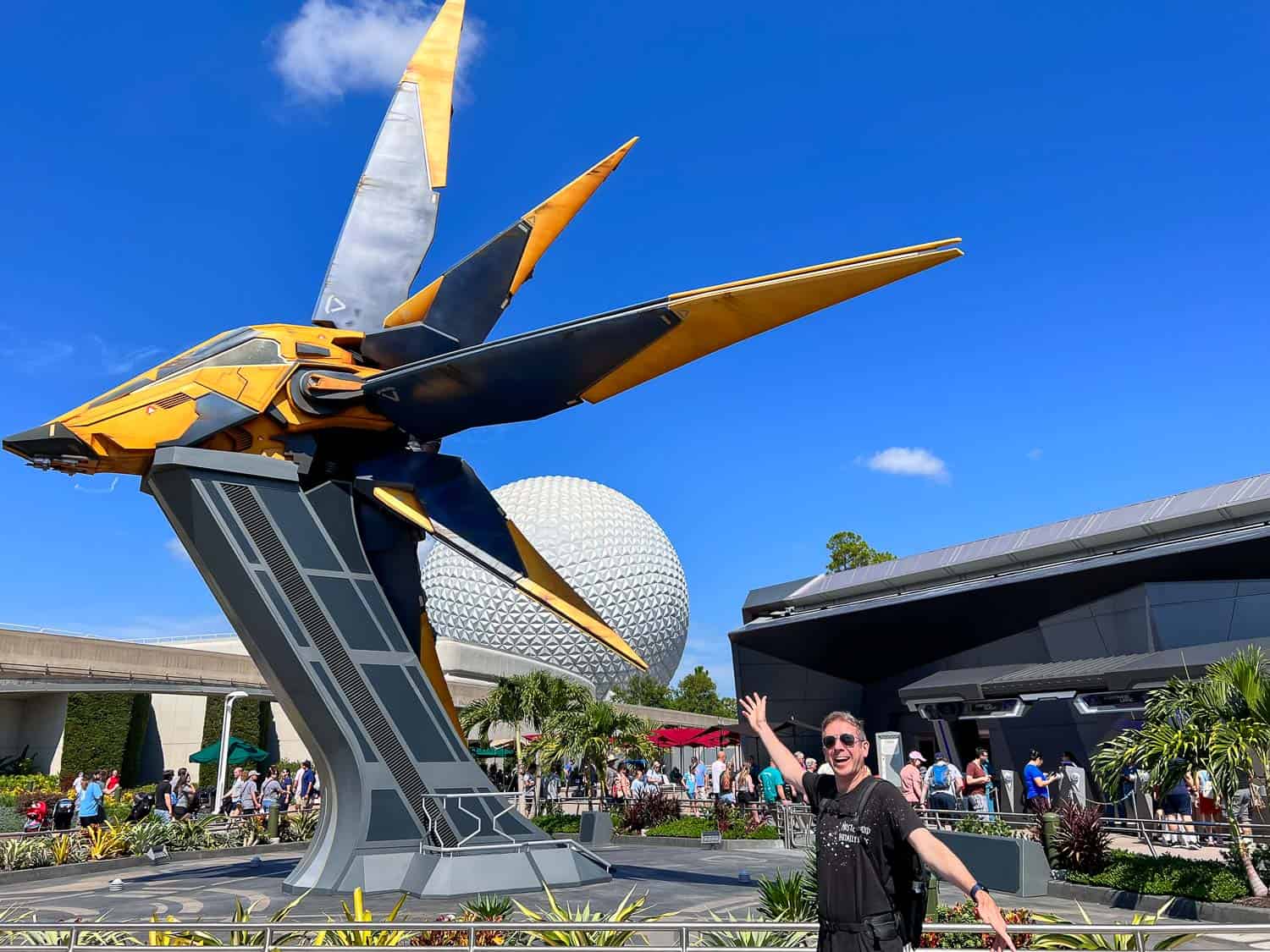 Epcot's newest ride, Guardians of the Galaxy, debuted in May 2022 and is now one of the top things to do at Disney World.
This Marvel-themed roller coaster is a thrilling dark ride where you embark on an intergalactic chase through space and time.
It's super smooth, has an amazing soundtrack and epic visuals, and is just so much fun!
You can't just turn up and queue for Guardians of the Galaxy. You must either pay for Lightning Lane access or join the free virtual queue on the My Disney Experience app at 7am or 1pm.
There's also a 6pm queue for guests staying in deluxe resorts during Extended Evening Hours (currently Mondays at Epcot).
13) Soarin' Around the World
Soarin' is a wonderfully relaxing hand-gliding ride where you soar above the world and see famous sights like the Great Wall of China, Iguazu Falls, and Sydney Harbour.
14) Test Track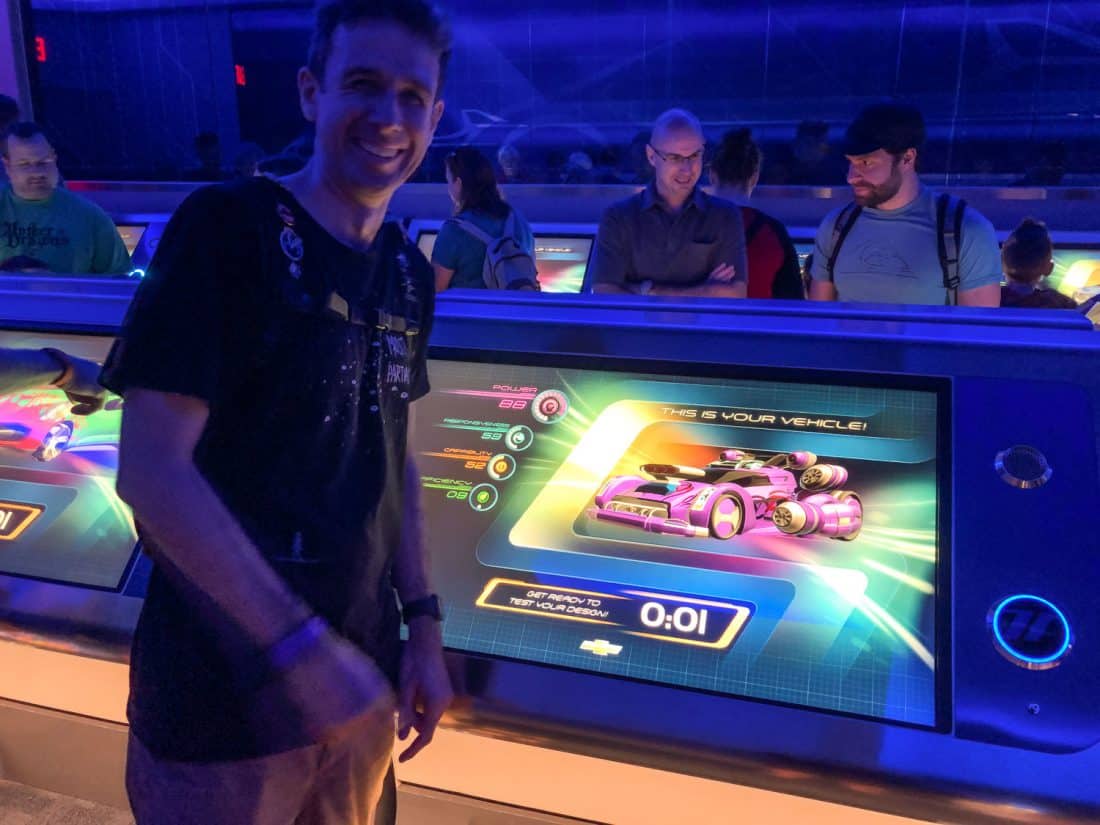 Test Track is unique because you design your own vehicle, choosing to prioritise power or efficiency or responsiveness, before taking it for a high-speed test ride.
There's a quicker single-rider line for Test Track, but you miss the design stage, so I'd only use it for a repeat ride.
15) Mission: SPACE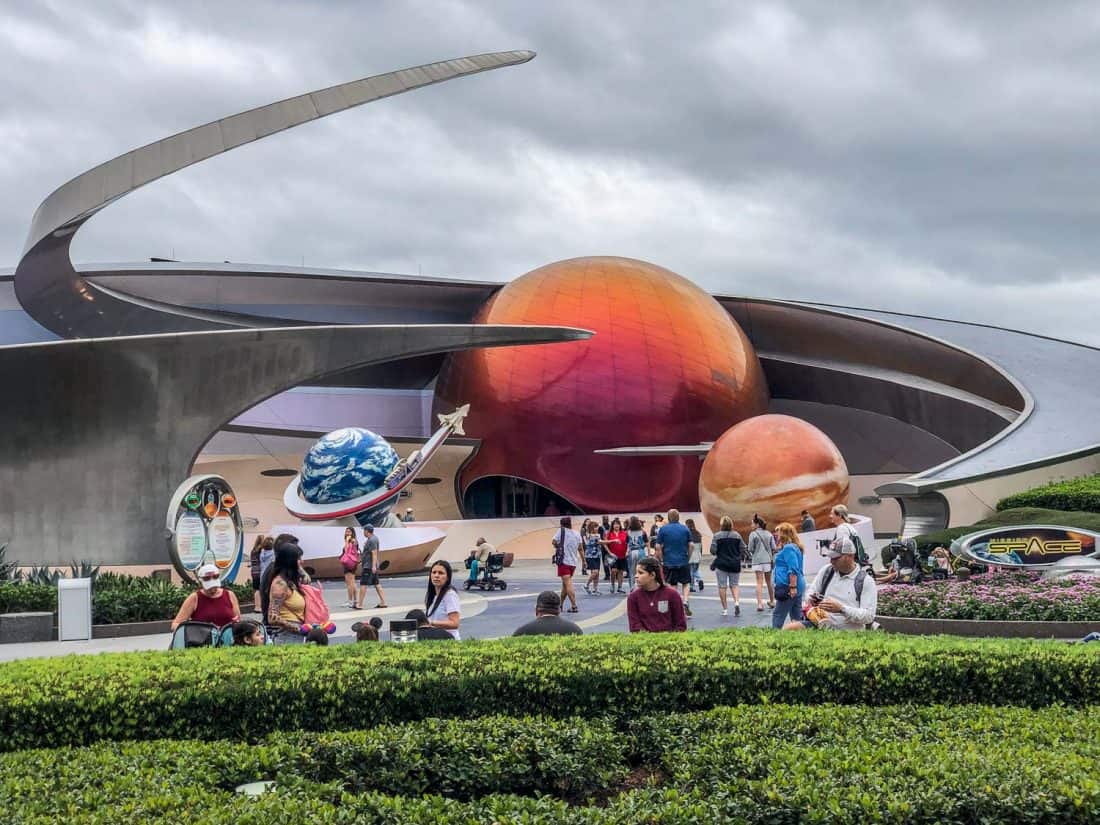 If you've ever wanted to be an astronaut, this space shuttle simulator is for you.
The Orange Mission is intense as you experience the real feel of a space launch as you rocket to Mars and dodge meteorites. The g-forces are incredibly realistic and unlike anything we've experienced before.
The Green Mission is a less intense ride without spinning where you orbit the Earth. I stick with this one as the Orange Mission aggravates my motion sickness.
16) Spaceship Earth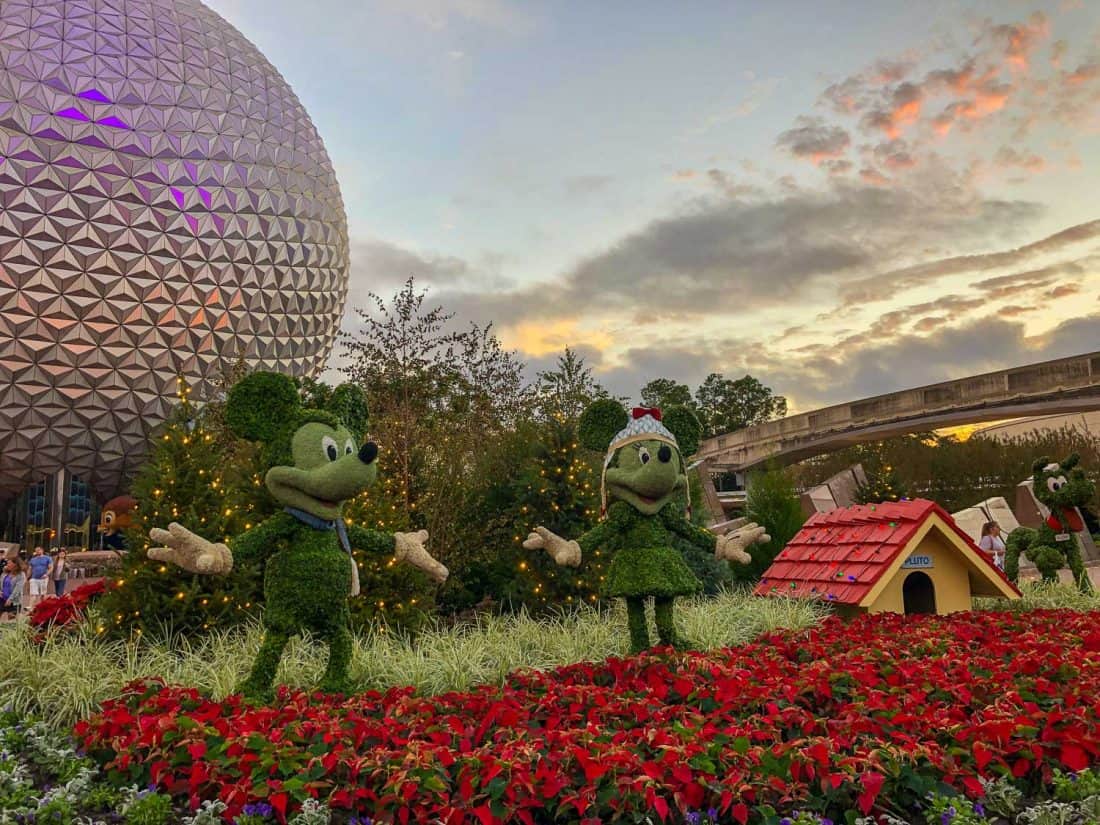 Spaceship Earth is a gentle journey exploring the history of communication from the Stone Age to the computer age.
After the ride there are interactive games and displays in Project Tomorrow—it's areas like these that mean Epcot takes longer than you expect.
17) Frozen Ever After
This took over the old Norway ride and follows the same route. It's a must for Frozen fans with excellent animatronics of Elsa and friends as you slowly ride a Norwegian vessel through the wintery world of the popular movie.
18) Remy's Ratatouille Adventure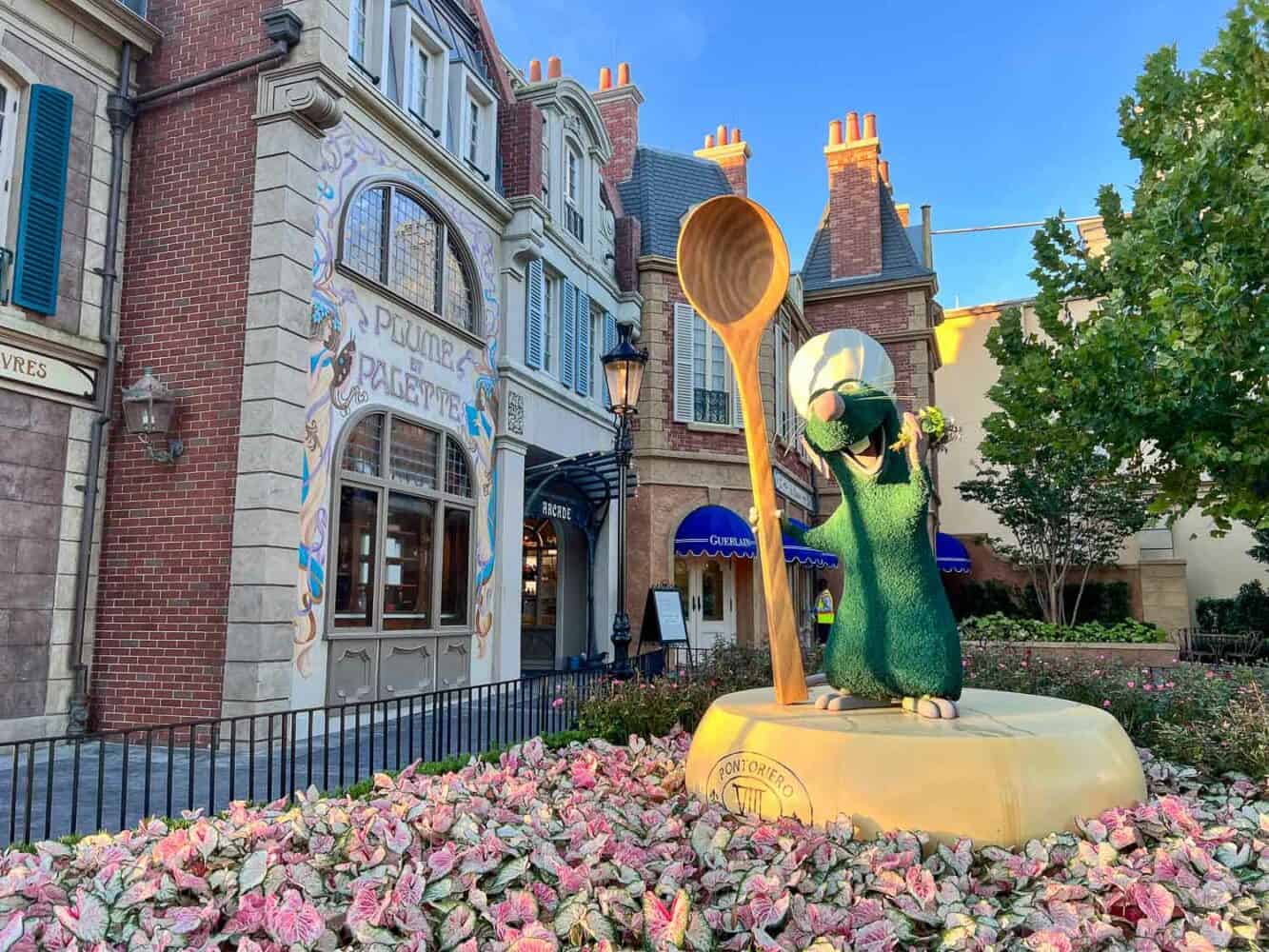 Remy's Ratatouille Adventure is located in the France Pavilion of the World Showcase and is very popular.
This exhilarating 4D ride is based on the Ratatouille movie—you feel like you've been shrunk to Chef Remy's size as you whizz around the bustling kitchen and restaurant in Paris.
This is the best ride to head to as soon as the park opens (especially if you have Early Entry). Or it's included in Genie+.
The Best of the Rest at Epcot
You can follow Nemo on The Seas and visit the aquarium afterwards. Living with the Land is also worth doing.
In the afternoon, heading over to World Showcase is a must do Disney experience. Stroll the different countries, eat and drink your way around the world, and pop into any of the shows that take your fancy.
The Impressions de France wide-screen movie is my favourite. The American Adventure is an interesting look at key moments in American history.
The Epcot fireworks show at the end of the day is a must see at Disney World.
See our Epcot must do guide for lots more suggestions
Best Genie+ Rides at Epcot
Genie+ is less useful at Epcot unless you are park hopping.
In order of priority, I would choose Remy's Ratatouille Adventure, Frozen, Test Track, and then Soarin'.
Where to Eat at Epcot
Eating and drinking your way around the world is part of the fun at Epcot and there's plenty to choose from.
Our favourite restaurant is Space 220 where you dine in a space station looking down at Earth. The set menu is pricey, though, and you'll need to book far in advance.
We love the atmosphere at San Angel Inn in Mexico. In the middle of the day, it was fun to have a romantic candlelit meal under the stars overlooking a river, temple, and volcano.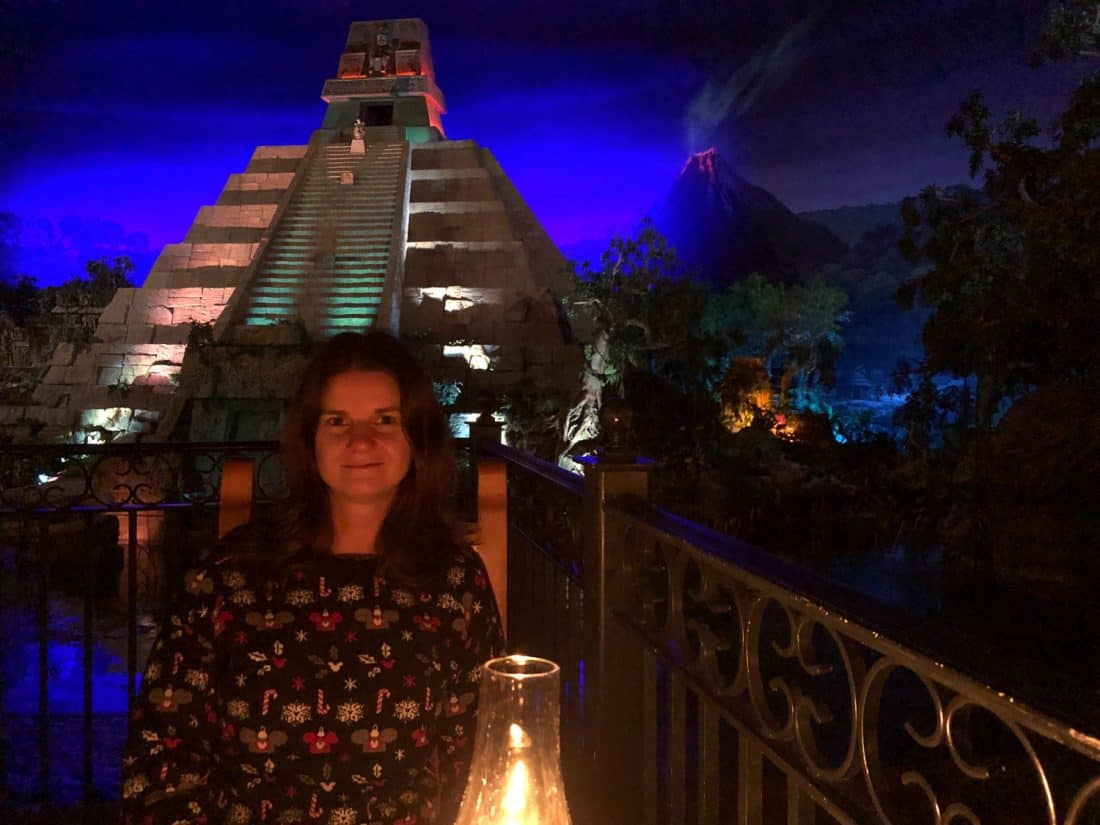 The food is decent, but the margaritas are the highlight.
You can also try them (along with 200+ tequilas) in the cosy bar next door, La Cava del Tequila—it's a Disney must do for adults.
Best Rides at Hollywood Studios
Hollywood Studios has some of our favourite Disney World rides, and we love the movie theme.
Star Wars: Galaxy's Edge is an incredibly detailed land that's wonderful to wander day and night, even if you're not a Star Wars fan.
19) Star Wars: Rise of the Resistance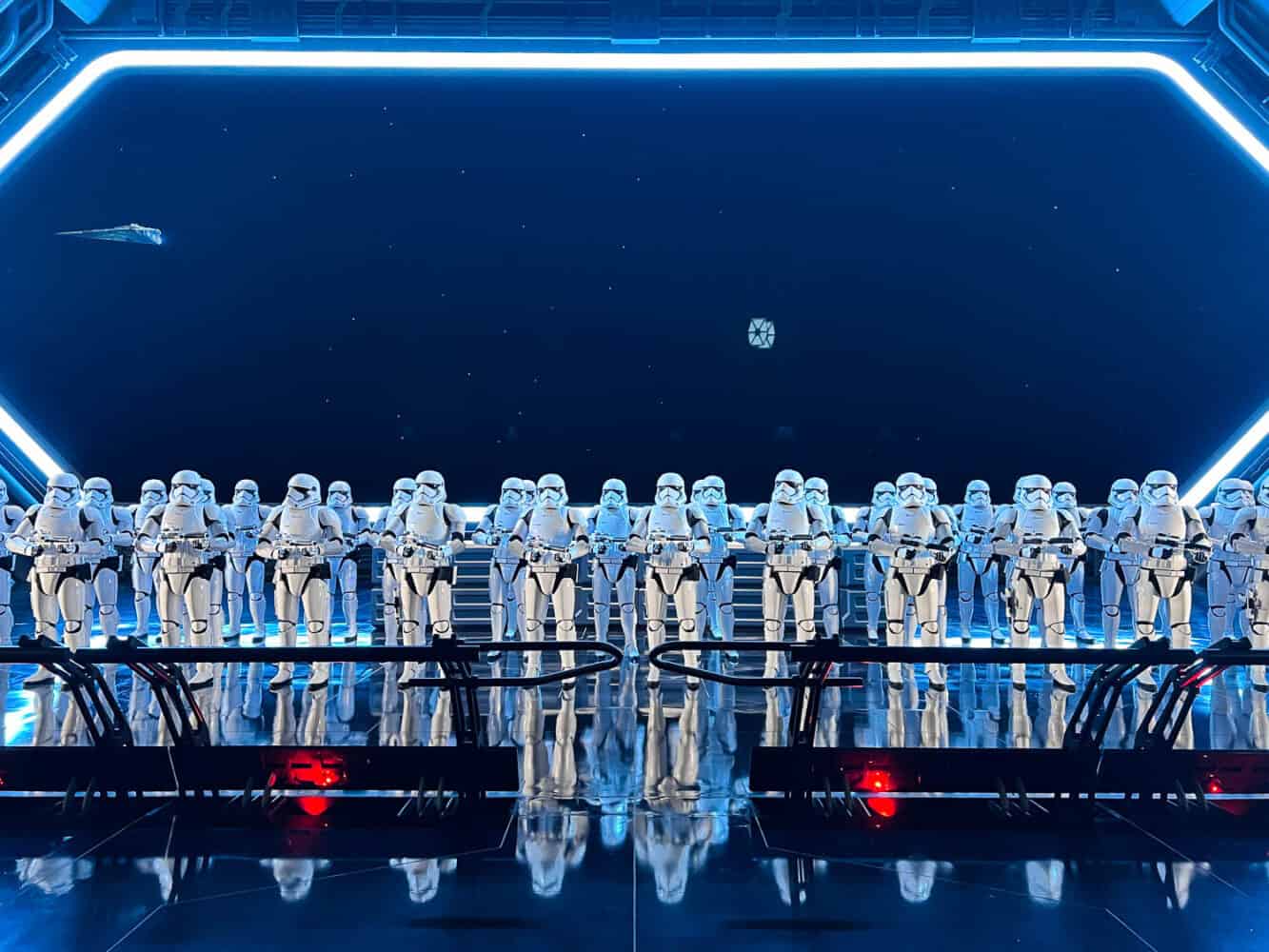 Hollywood Studios' most popular ride is Star Wars: Rise of the Resistance.
This immersive attraction takes you to the distant planet of Batuu where you join the Resistance in an epic battle against the First Order.
It's unlike any other ride at Disney (or anywhere) and we were blown away. Don't miss it!
Rise is usually quietest in the last hour of the day or you can pay $15-25 for Individual Lightning Lane access.
20) Twilight Zone Tower of Terror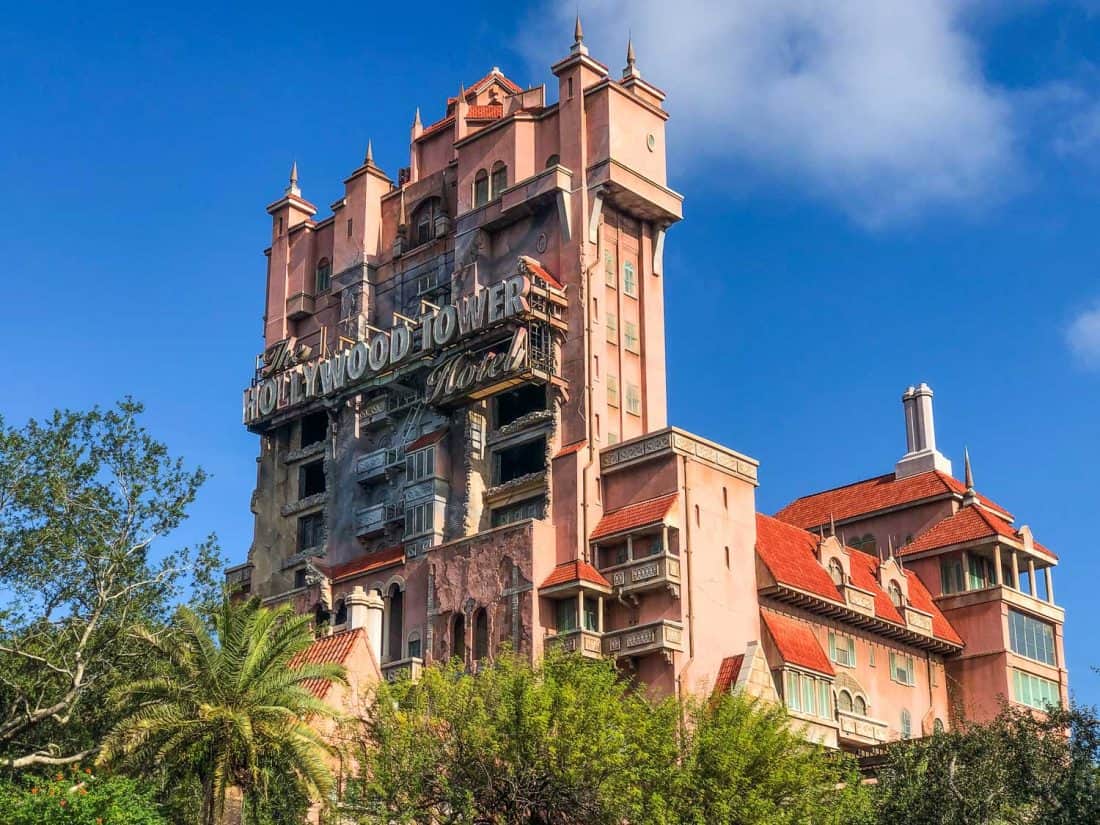 Tower of Terror is a Disney classic and is brilliant (and different) every time we ride it—it's one of our favourite Disney rides.
The theming of the abandoned hotel is exceptionally detailed and atmospheric, and there's nothing like the anticipation as you ascend in the elevator and wait for it to plummet.
21) Rock 'n' Roller Coaster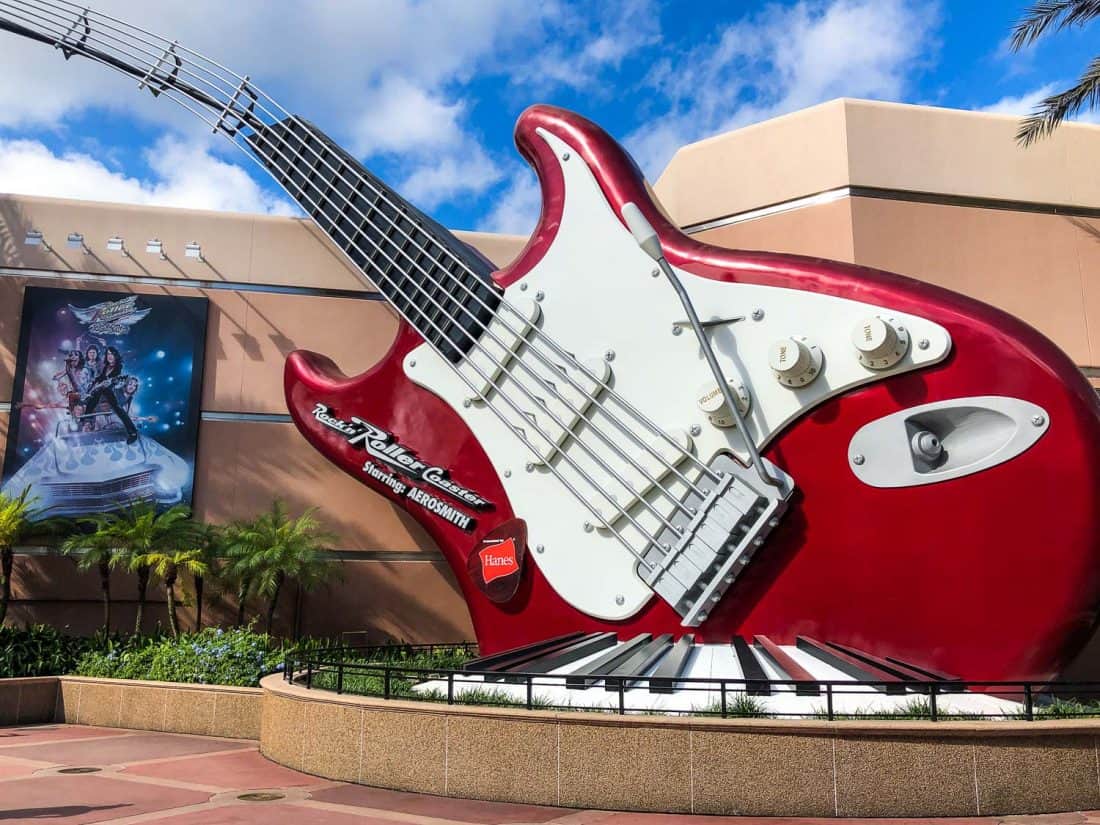 Rock 'n' Roller Coaster is one of the best things to do in Disney World for thrill-seekers.
It's the scariest rollercoaster at Disney with a fun introduction (you join Aerosmith on a race to their gig), super-fast launch, and exhilarating inversions.
There's a single-rider line which saves time, so Simon rides this one again and again. It's one of the best rides at Disney World for adults.
22) Millennium Falcon: Smuggler's Run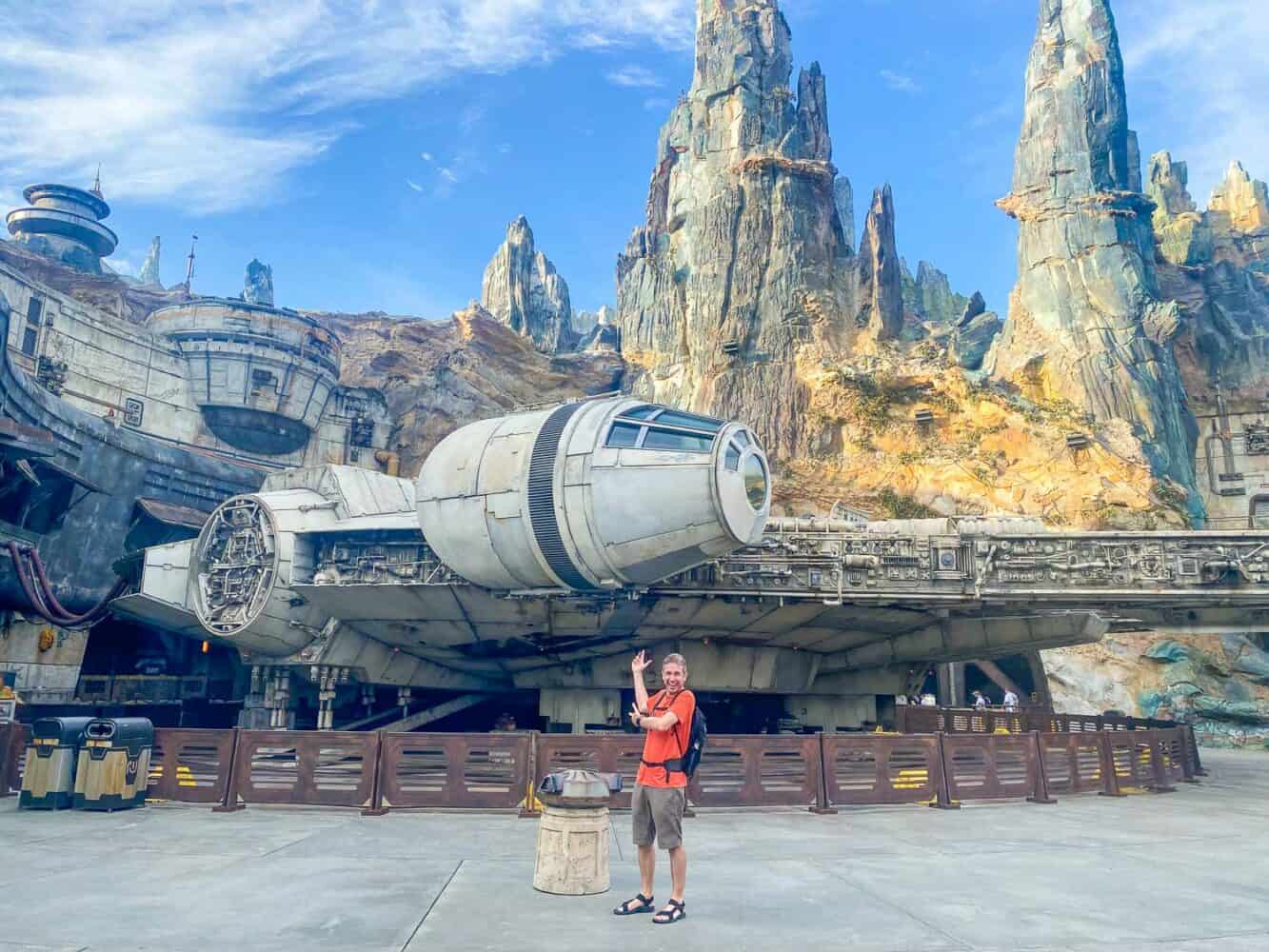 Star Wars fans will also want to ride Millennium Falcon: Smuggler's Run.
On this interactive experience, you fly the Millennium Falcon on a smuggling mission as the pilot (which is most fun), engineer or gunner.
23) Mickey and Minnie's Runaway Railway
Mickey and Minnie's Runaway Railway is a trackless dark ride that takes you into the world of cartoons with Goofy driving your train.
It's charming and fun with unexpected twists and is suitable for all ages.
24) Slinky Dog Dash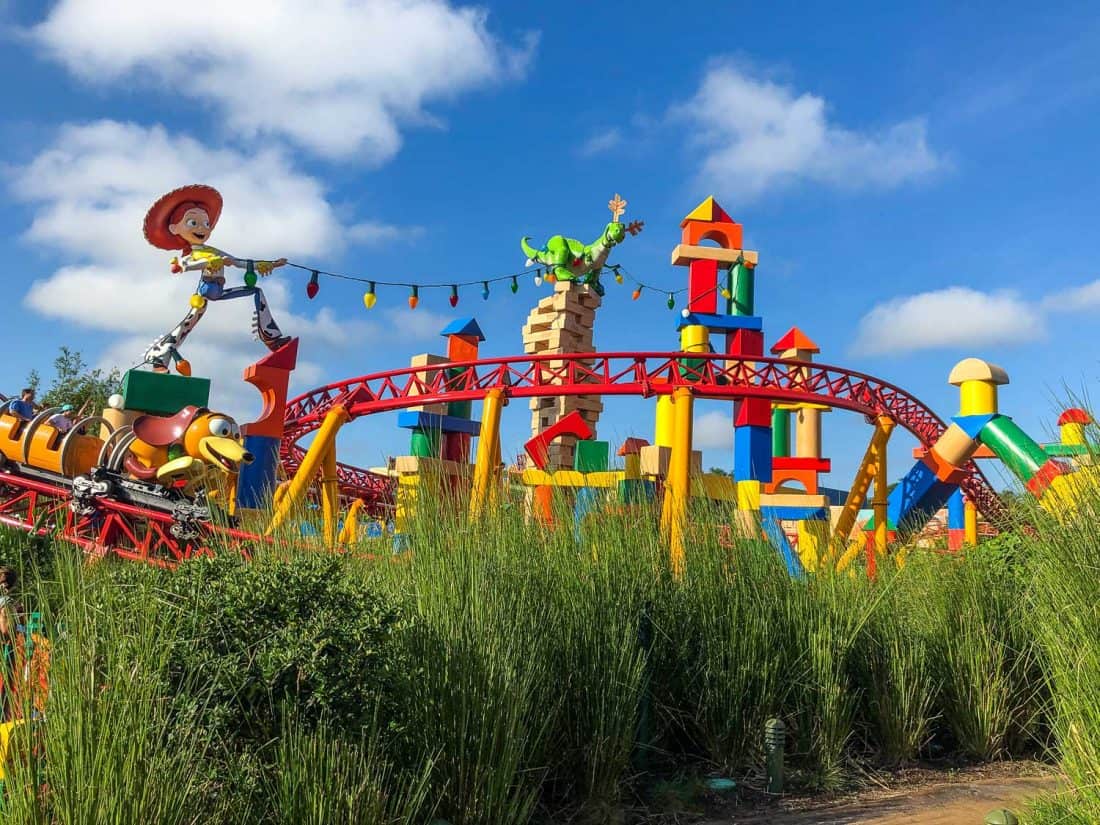 Slinky Dog Dash is located in Toy Story Land and is one of the most popular attractions at the park.
It's a gentle outdoor rollercoaster designed to look like Andy built it out of Tinkertoys. It's fun but I wouldn't wait too long for it.
Ideally, ride this with Genie+ or head there as soon as the park opens.
25) Toy Story Mania!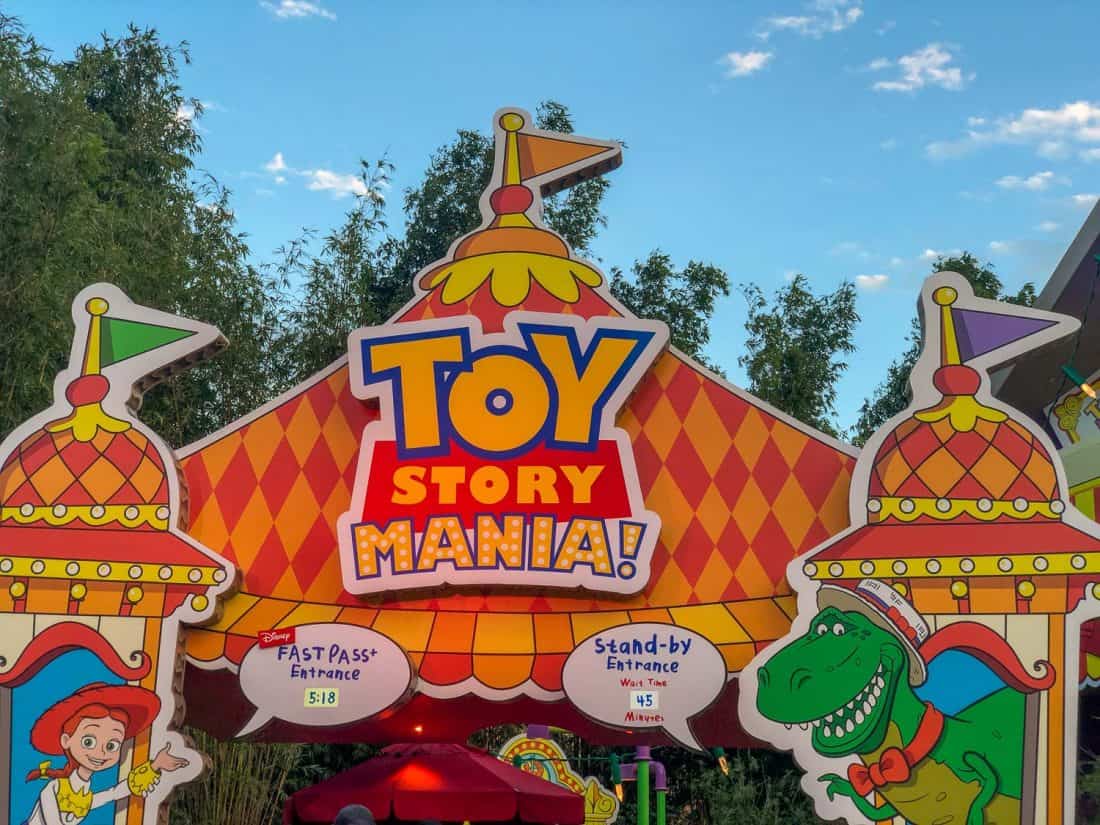 This is a much better, 4D version of the interactive Toy Story game at Magic Kingdom where you rack up points by shooting in carnival games.
26) Star Tours
Head into space on a 3D, motion-simulated space flight to popular destinations from Star Wars. Each ride is different so it's a good one to repeat. There's never a long wait.
The Best of the Rest at Hollywood Studios
Wandering Galaxy's Edge is a highlight of the park. Make a reservation for Oga's Cantina, the super fun Star Wars bar with a droid DJ and unique cocktails.
There are some good shows at Hollywood Studios including Indiana Jones Epic Stunt Spectacular, Muppet Vision 3D, and Beauty and the Beast (the latter is not a must-see but good for a break).
It's worth staying after dark for the Fantasmic show using pyrotechnics, water, laser lights, and fireworks.
See our guide to the best things to do at Hollywood Studios for more tips.
Best Genie+ Rides at Hollywood Studios
Genie+ is very useful at Hollywood Studios. The Genie+ priority is definitely Slinky Dog Dash—you may need to book at 7am to get a good return time and they can sell out.
After that, I'd choose Mickey & Minnie's Runaway Railway, Millennium Falcon: Smuggler's Run, Tower of Terror, Rock 'n' Roller Coaster, and Toy Story Mania.
Star Wars: Rise of the Resistance is only available as a paid Lightning Lane. It's worth considering paying for, but passes can sell out early.
Note that wait times at Hollywood Studios peak in the morning, so if you can stay until the evening (or park hop), you'll have shorter lines.
Where to Eat at Hollywood Studios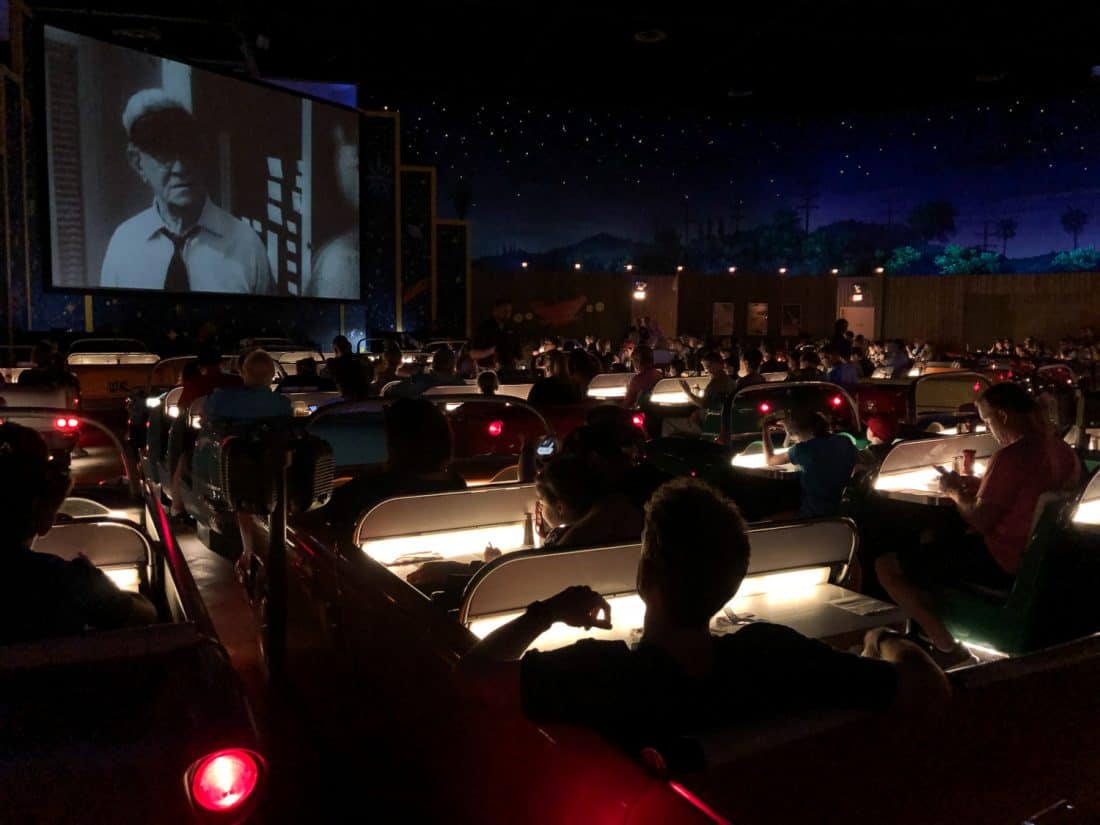 The food at Hollywood Studios has improved in recent years. The best casual options are in Galaxy's Edge at Ronto Roasters and Docking Bay 7.
For a fun sit-down meal, try to get a reservation at Sci-Fi Dine-In Theater.
The restaurant is very cool—a huge space set up like a drive-in with a starry sky, vintage cars which you sit in to eat, and a screen showing 60s cartoons and movie clips.
I'm also excited to try the new Toy Story-themed Roundup Rodeo BBQ. You eat family-style for a set price, and there are plant-based options. Book 60 days in advance.
Final Thoughts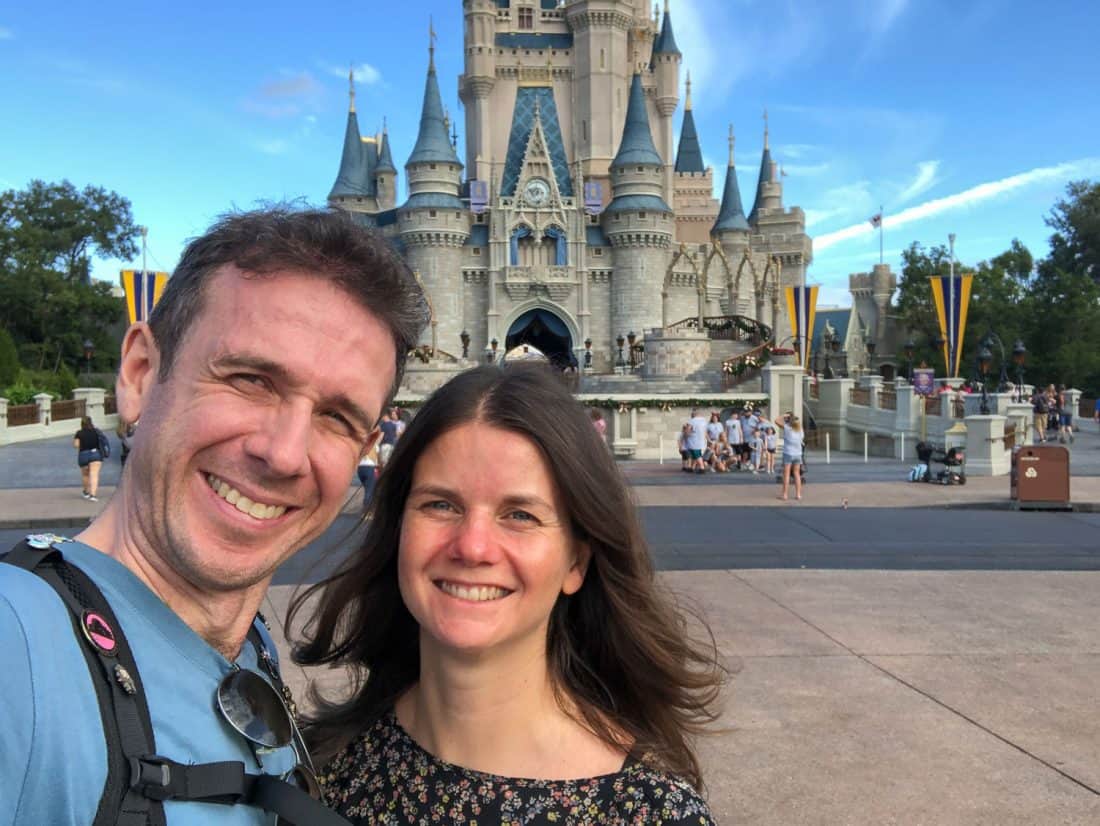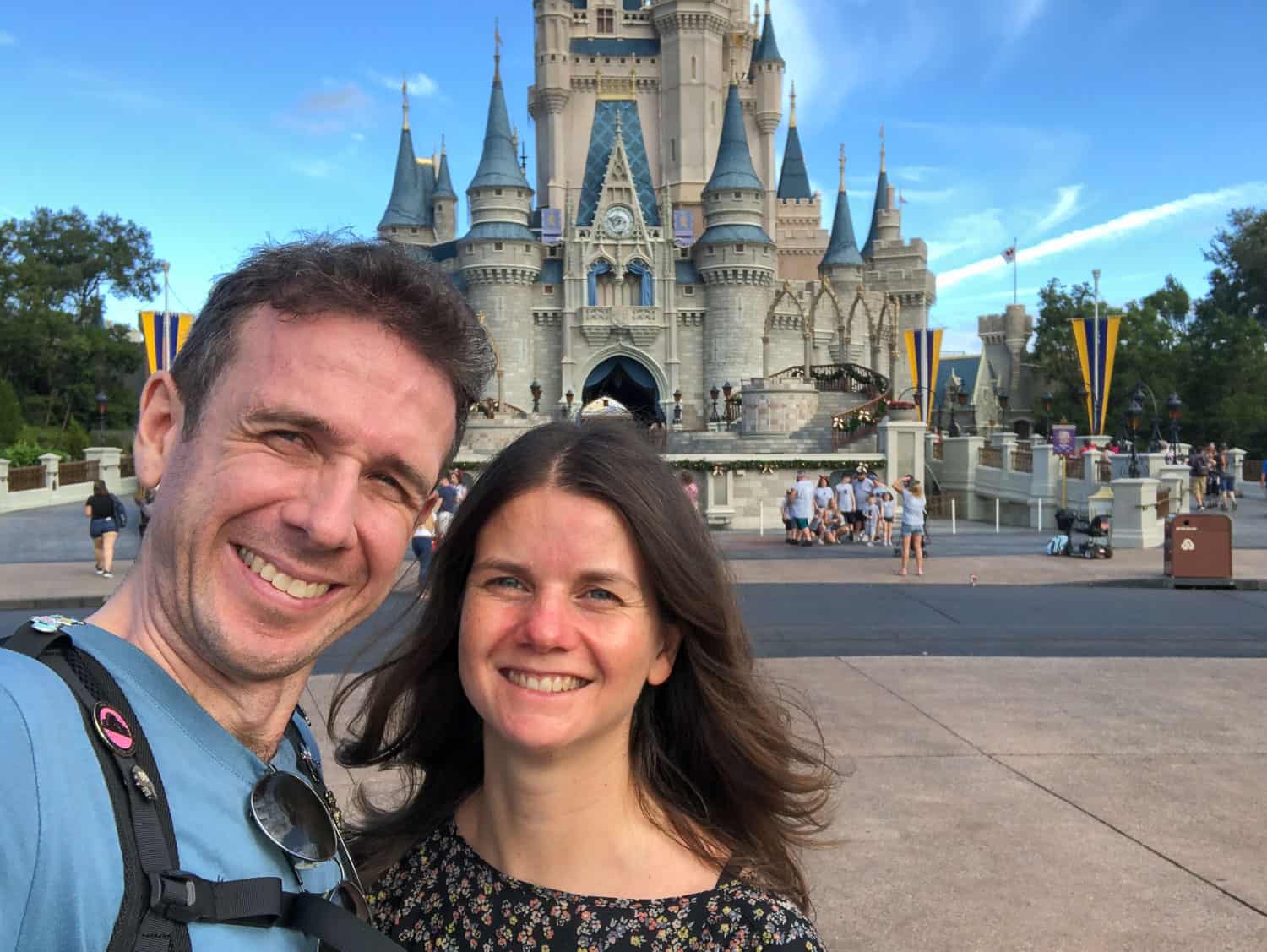 After four visits to Disney World Orlando as adults, we can attest that the magic is still alive!
It's really one of the most fun places on Earth with a wide array of exciting rides, immersive worlds, and even delicious food and drink.
Each park offers a different experience so you'll ideally spend a week exploring.
I hope our round-up of the best things to do at Disney World has helped you prioritize your time in the parks. Make sure you do some advance planning, arrive early, and have fun!
More Disney Posts
Plan your trip with our other Disney guides:
Outside of the US, we also have detailed guides to Disneyland Paris, Tokyo Disneyland, and DisneySea Tokyo.
Enjoyed this post? Pin it!