This page contains affiliate links. Please read our disclosure for more info.
It was a moment of perfect travel serendipity. We were following the Sonoma cheese trail just north of San Francisco and after picking up some excellent St George cheese from Joe Mato's farm we drove into the nearby small town of Sebastopol for bread for our picnic lunch. We were heading to the Village Bakery but we overshot the turn-off and drove down a residential street to turn around. Luckily that street was Florence Avenue which we discovered isn't your average suburban street.
Driving into Sebastopol we'd noticed some unusual giant metal sculptures by the side of the road, of a dog and a characterful train, and on Florence Avenue we found smaller versions of these cartoonish sculptures in every garden. We had no idea what we'd stumbled across but we knew we had to take a closer look so we parked the car and walked down the street exploring the sculptures and taking photos. They depict everything from witches, waitresses, and mermaids, to cowboys, baseball players, and motorbike riding skeletons. Farmers drive their tractors, surfers ride the waves, captains sail their boats, and campers toast marshmallows, all in the leafy front gardens of this quiet street.
We had big smiles on our faces the whole time as the whimsical artworks are colourful, fun, and totally unexpected in a suburban location. Florence Avenue may well be the coolest street in the US.
We had to find out more so searched for information on our iPhone. The sculptures are the creations of urban folk artists Patrick Amiot and Brigitte Laurent—he sculpts them out of scrap metal and found objects and she paints them. The couple live on Florence Avenue, and we could tell which house was theirs—there were multiple sculptures in their front garden and their car was decorated with painted daisies. Everything they create is from recycled materials, an environmentally sustainable practice which fits perfectly with the ethos of Northern California.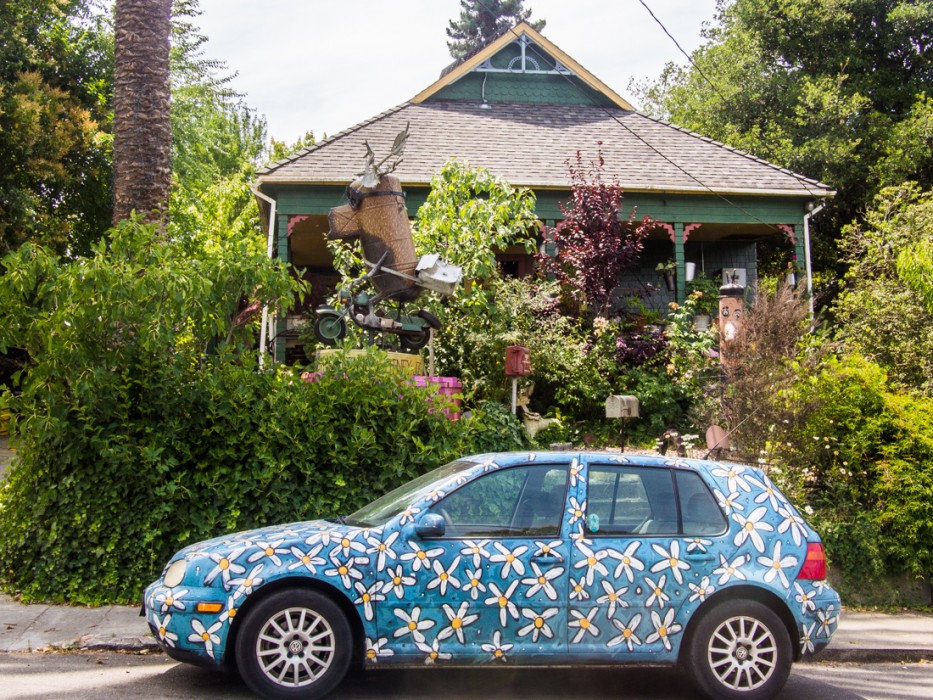 On their website Patrick Amiot explains more about his inspiration:
"The whole purpose of my work is to glorify these objects, because they have their own spirit. When a hubcap has traveled on a truck for millions of miles, and has seen the prairies in the winter and the hot summer asphalt, when it's done traveling with that truck and finds itself in the scrap yard and I find it, I kind of like to use that. This hubcap, or whatever piece of metal, from the day it was manufactured until now, has an important history. And I like to think the spirit of all these things lived incredible lives. If they could talk to you, they could tell amazing stories. That's something I don't want to hide."
Take a look down Florence Avenue:
Patrick Amiot seems to have a fascination with old cars and trucks which we also love.
In fact, many kinds of transport are recreated.
Renga Arts
There are hundreds of Amiot and Laurent's creations scattered around Sebastopol and we wanted to see more so we headed to Renga Arts which displays and sells the couple's most recent sculptures and works by other local junk artists. The large junk yard features rusting cars and decaying signs, a sculpture garden, and a shop where you can buy their sculptures or other recycled creations. It's free and a fun place to wander.
The focus of our trip to Sonoma County was cheese, wine, and nature but we're so glad that a serendipitous wrong turn led us to discover its quirky, humorous, artistic side in unconventional Sebastopol. It's inspiring to find a small town that rather than rejecting the new and strange has embraced it and welcomed Amiot's creations into the community.
Sebastopol, California is located in Sonoma County about 1 hour 15 minutes drive north of San Francisco. You can read more about Patrick Amiot and Brigitte Laurent's sculptures at patrickamiot.com and you can find a suggested route to see their work in Sebastopol here.
Thank you to Sonoma County Tourism who arranged our accommodation in Sonoma and helped us come up with a great itinerary. See sonomacounty.com for more information to help you plan a trip to the area.
Are you looking for Christmas gift ideas? See our guide to the 50 Best Gifts for Travelers which includes unique suggestions for every budget.